Category archive:

Saint Mary's Gaels
March, 2, 2013
03/02/13
1:31
AM ET
On Friday, Saint Mary's was hit with probation, a failure to monitor charge and an overall label that it acted in disregard for NCAA rules in terms of workouts and recruiting for international players.
But the penalties, when really examined, lack teeth, and the NCAA committee on infractions needs to think going forward about how the penalties are handed down.
The unethical recruiting could have carried a show-cause penalty for head coach Randy Bennett since the report stated that he knew of the actions -- impermissible workouts, benefits and travel arrangements -- of a former assistant coach. That's why he received the charge of a failure to monitor and promote an atmosphere of compliance.
Here are some of the problems with the penalties handed down Friday by the committee on infractions after the Saint Mary's hearing on Dec. 14 in Indianapolis:
• Bennett was given a five-game penalty for the start of the 2013-14 season. This has the potential to sting the Gaels, especially if the Gaels draw BYU or Gonzaga early in the WCC.
Former UConn coach Jim Calhoun, former Tennessee coach Bruce Pearl, Central Florida's Donnie Jones, Baylor's Scott Drew and Marquette's Buzz Williams all had to miss conference games for violations either attached to them or an assistant coach in the past three years. Missing conference games hits the coach and program harder.
• Bennett cannot recruit off campus for the 2013-14 season. That could hurt, but Bennett has done international recruiting more than any other coach and doesn't necessarily have to go abroad to secure players now that he has a pipeline to Australia. The Australian Institute of Sport knows Bennett and his program and would have no issue sending players to Saint Mary's without seeing him in the summer.
• Reducing scholarships from 13 to 11 for 2014-15 and 2015-16. This one could carry harsh ramifications for the Gaels since a program like Saint Mary's does need to stockpile talent.
• No foreign tour until 2017-18. The COI said on a conference call Friday that this was done to hit one four-year class coming into Saint Mary's. Fair enough, but it won't dramatically hurt the program.
• No multiteam event until 2015-16. The COI said later on in the call that if there is an existing contract, then Saint Mary's can still play in the event, but will add a year to the penalty. Well, Saint Mary's is in the Diamond Head Classic in 2013 and intends to play. Saint Mary's has been conservative in scheduling, so this may not be as much of a hit since the Gaels tend to shy away from big-time games. Saint Mary's was in Anaheim last November.
• No skill instruction in the preseason for 2013-14 and 2014-15. This penalty is a result of the impermissible workouts. The COI said on the call that the players can still work out, but not with the coaches. This one doesn't make sense. If the coaches can't work out their own players in the summer (a new rule last year), preseason or spring, then it hurts only the players and their relationship with the coaches. The players are still going to work out, but someone else will take their spot, and that person could be related to an agent or put the Gaels back facing a similar issue again. The Gaels lose Matthew Dellavedova after the season, and the need to develop a new point guard is key.
In polling four other programs that know the Saint Mary's program well, the general consensus was the penalties weren't strong enough, and if any one of them could really hurt, the reduction in scholarships may be it. An official from one program said the ability for Saint Mary's to recover will depend on how it deals with funding to stay at a high level in the sport. But the perception of committing violations will be a stigma for Saint Mary's and Bennett.
He was a name for USC and has always been a hot commodity. Bennett has coached plenty of pro players and has made Saint Mary's a regional contender and a team in contention for an NCAA bid nearly every season. But this will sting and follow him going forward. He has had universal support at the school because men's basketball is the money sport and the one that has given the school a name. By sticking with him going forward, Bennett will have to repair his and the school's image by winning without any more drama.
January, 24, 2012
01/24/12
7:24
PM ET
Saint Mary's will become a true front-runner for the WCC title and make a strong case for a high NCAA seed over the next two weeks.
Or the Gaels will settle back into the WCC pack and have to sweat it out a bit on Selection Sunday.
They're scorching right now at 19-2 overall, including 8-0 in the WCC. Saint Mary's has already beat conference newcomer BYU and rival/favorite Gonzaga. And the Gaels did so handily, defeating the Cougars by 16 and the Zags by 21.
It wasn't close.
But the schedule was front-loaded, and Saint Mary's coach Randy Bennett was well aware that road games were coming. Those games are here.
The Gaels visit surging Loyola Marymount on Thursday. The Lions stunned BYU in Provo last week and are 2½ games behind Saint Mary's in the conference standings. Saint Mary's then plays at BYU on Saturday. Following a home game with San Diego, the Gaels go to Gonzaga on Feb. 9.
"I was surprised a little bit," Bennett said of the margins of victory over BYU and Gonzaga at home. "I think they're both very good teams. We played very well in both games. I'm very cautious going into this back side of the league. We know what we're getting into. Our guys know. It's going to be tough. We'll find out."
The Gaels have earned plenty of respect from their opponents under Bennett. Saint Mary's is no longer some niche team that suddenly blossomed onto the scene. The Gaels have consistently floated in and out of the polls over the past five seasons.
Two seasons ago, they made the Sweet 16. This team doesn't have Omar Samhan in the middle or Mickey McConnell on the perimeter. But Bennett said it is better defensively and has a higher ceiling.
Bennett shies away from pumping up his players. But he should. Point guard Matthew Dellavedova has been as good a leader as the Gaels have ever had. He's averaging a team-high 15.8 points and 6.5 assists a game.
Rob Jones is averaging a double-double (14.5 ppg, 10.7 rpg), while Stephen Holt continues to improve in his role. If Clint Steindl can get shake a nagging ankle injury, the Gaels should have one of their best shooters ready to contribute.
"We're better defensively than we've been," Bennett said. "Holt and Brad Waldow are playing bigger in the post. We've got more depth inside. We're more consistent because we have more depth and athleticism, and we're bigger on the perimeter. People don't recognize Dellavedova as a really good point guard. He plays at such a slow pace. It's almost like he's walking and a guy is on his hip. It's nothing flashy. But he's hard to guard."
Loyola Marymount lost at home to Gonzaga on Jan. 14 before winning at BYU. The Lions have had an interesting season, from winning at UCLA and beating Saint Louis to losing at Morgan State and to Columbia. But LMU is more than capable of making a three-game run in the WCC tournament.
"I think it's real important for our league to have the depth in our conference," Bennett said. "We haven't had that in a while with [Gonzaga, Saint Mary's], and now BYU and Loyola."
Saint Mary's has one more important nonconference game left on the schedule. The Gaels are in a BracketBuster matchup on Feb. 17, 18 or 19. They have played Utah State in a key game between two of the top teams in the West in need of a late RPI push. The matchups don't work for the three top teams in the event -- Saint Mary's, Nevada and Long Beach State -- to play each other because they're all on the road.
That's fine. Bennett wants a road game against one of the best teams in the field outside of the region. He wants to play Creighton, which is at home. The other option is Murray State. But the Bluejays would provide a more significant pop on the résumé.
"Part of the excitement is to play somebody out of the league," Bennett said. "I hope that's what we get, a really good team in the Midwest. That would be a great game, one we want to play. We want to get a great home-and-home RPI series for us. I'm excited for us to play in an atmosphere like that."
The BracketBuster matchups will be unveiled on ESPNU on Jan. 29 at 6:30 p.m. ET.
Saint Mary's lost to San Diego last season. This Gaels team hasn't suffered a loss to a team it should beat. Its losses were at Denver and to Baylor in Las Vegas. But the schedule doesn't even compare to what Gonzaga's faced in and out of the conference.
Still, the Gaels enter the second half of the WCC schedule as the conference's first-place team. Whether they're a front-runner or favorite will be determined in the next two weeks. "This team has a lot more room for growth," Bennett said. "I see a lot more places where we can get better."
December, 29, 2011
12/29/11
7:37
PM ET
The West Coast Conference season officially started with Gonzaga's blowout win over Portland on Wednesday night. But the race to the top truly begins with Thursday's opener between BYU and Saint Mary's at McKeon Pavilion in Moraga, Calif. Here's a look at what to expect in WCC play:
The favorite: Gonzaga, winner of 11 straight regular-season titles, was the favorite in the preseason and nothing has changed heading into conference play. The Zags have rebounded well from consecutive losses to Big Ten teams (at Illinois, vs. Michigan State) with a solid stretch that includes wins against Arizona and Butler. And a 20-point win over Notre Dame in November now looks even more impressive after the Irish took apart Pitt earlier this week.
The Zags still have the most experienced big man in Robert Sacre and one of the toughest matchups in Elias Harris on the wing. The guard play is erratic, but freshman Kevin Pangos has the potential to go off with a flurry of made shots. The league schedule is loaded at the front with road games at Saint Mary's and BYU in the first half of the schedule. But that means Gonzaga will be able to finish strong with both contenders at home.
Other contenders: BYU has the talent to win the WCC, but coach Dave Rose is concerned that none of his players have played in any of the league's unique gyms. Then again, none of the WCC players have experienced the raucous Marriott Center, either.
Fact is, the Cougars are a different team now with UCLA transfer Matt Carlino as the do-everything guard. He is a playmaker and is averaging 17.3 points and 4.8 assists in the first four games of his college career. If Carlino had been eligible from the start, BYU would've likely won its opener at Utah State and at least come closer against Wisconsin.
The Cougars have enough size inside to be disruptive with Noah Hartsock and Brandon Davies and wing Charles Abouo has had his moments. Gonzaga is the favorite but if BYU were to win the WCC in its first season, no one should be stunned.
Saint Mary's isn't as balanced and doesn't have the imposing force (Omar Samhan) it did during the Sweet 16 run of 2010, but the Gaels do have two blowout wins over Missouri Valley contenders Northern Iowa and Missouri State. This team can't be dismissed.
For SMC to pull it off, it will need an exceptionally consistent season from Rob Jones inside and Matthew Dellavedova on the perimeter. Kenton Walker II has been a solid complement to Jones as well, but guards Clint Steindl, Stephen Holt and Jorden Page must have their moments for the Gaels to be a true contender.
Player of the year (so far): This is a tough one. The race is wide open. You could make a case for sharpshooting freshman Kevin Pangos, but ultimately Elias Harris is the Zags' star and has the most potential to post a double-double every game. The sleeper MVP pick could be Carlino. The early returns are strong, as he's already made a significant impact in Provo. If BYU wins the WCC, Carlino will likely be in the mix. Same goes for Rob Jones if Saint Mary's can end the Gonzaga hex.
Freshman of the year (so far): OK, this award can definitely be reserved for Pangos. The Canadian came in highly touted and hasn't disappointed one bit, leading Gonzaga with 14.9 points per game and 43 percent 3-point shooting. No other player in the league can go off in stretches the way Pangos has so far this season.
Wins to brag about: LMU over Saint Louis and UCLA; Gonzaga over Arizona; Santa Clara over New Mexico and Villanova; Saint Mary's over Northern Iowa and Missouri State; BYU over Oregon.
Losses that sting: Pepperdine to Cal State-Bakersfield; BYU to rival Utah State; Santa Clara to Houston Baptist and by 38 to Washington State; San Francisco to Holy Cross.
Pleasant surprises: LMU and Santa Clara had erratic but solid starts to the season that proved both schools could be tough outs throughout the conference season. … BYU doesn't appear to be headed for a down cycle despite the loss of Jimmer Fredette and Jackson Emery. … The WCC continues to schedule up and get quality nonconference games, many of which its teams are winning (see above).
Biggest disappointments: Portland coach Eric Reveno is one of the most solid individuals in the coaching business, but the Pilots have lost their core group of guys and are really struggling. They've lost 11 of their past 12 against a tough slate. … Loyola Marymount wins at UCLA and beats Saint Louis yet can't find any consistency. There's no shame in losing to Middle Tennessee or Harvard this season, but one would think the Lions could've taken out North Texas and Morgan State. … Santa Clara's Marc Trasolini suffered a season-ending injury in September, which has really kept the Broncos from reaching their full potential.
Three questions
Will Gonzaga finally reach the Elite Eight for the first time since 1999?
The Zags have had a few Sweet 16s, but haven't reached a regional final since that initial magical run nearly 13 years ago. Gonzaga has a shot this season if Sacre can be the strong man in the post every night. There are decent rotation players to complement him, but he has to raise his game to be a more dominant player in March.
Which team not named Gonzaga, BYU or Saint Mary's could crack the top three?
LMU hasn't shown the consistency needed to be a real contender, so the team that might have the goods is Santa Clara. The Broncos' Kevin Foster is talented enough to carry this team to some big wins and coach Kerry Keating has now been in this league long enough to understand the nuances of winning on the road.
Why should BYU be looked at as a possible favorite to win the conference tournament?
The Cougars' core is tourney-tested and that'll help, but maybe a hidden reason will be the crowd. The Brigham Young faithful have a history of traveling well to Las Vegas and there is also a strong Cougar alumni base in the area. Don't be shocked if BYU matches or surpasses the famed Gonzaga travel party at the Orleans Arena, making BYU the de facto home team.
Revised predictions
1. Gonzaga: The Zags may be just too deep for everyone else in the league.
2. BYU: The Cougars can win the title, but it might come down to three straight road games down the stretch (USF, SCU, GU).
3. Saint Mary's: The Gaels have been here before. They aren't expected to win the title, yet they'll be pushing the favorite at the end.
4. Santa Clara: Kevin Foster is a star for the Broncos and they've developed a legit home-court presence.
5. Loyola Marymount: The Lions have top-three potential, but lack the overall depth to get it done.
6. San Francisco: The Dons have been a bit of a disappointment so far, so finishing in sixth is probably just right for this crew.
7. Pepperdine: This is a complete rebuilding situation for the Waves under first-year coach Marty Wilson.
8. San Diego: Meanwhile, the rebuilding project continues for embattled coach Bill Grier.
9. Portland: The Pilots could easily climb a few spots eventually, but it's hard to put them any higher during this 1-11 stretch.

November, 14, 2011
11/14/11
9:50
PM ET
The atmosphere of the Carrier Classic, with its overwhelming sense of patriotism and the sheer uniqueness of playing a game on the deck of the USS Carl Vinson, along with the historical significance of that vessel, will be hard to top.
The view was magnificent. The Naval presence in all its glory and uniformity was as impressive as one would imagine. And the appreciation from the sailors for the break from the daily routine was genuine.
If you missed that game or any of the matchups on opening weekend, you're in for a treat because you won't be able to turn on the ESPN family of networks from 11:59 p.m. ET on Monday until about 1 a.m. ET on Wednesday without seeing college basketball on the screen.
Here are some questions to ponder as the fourth annual Tip-Off Marathon begins with Washington State at Gonzaga and ends with an NIT Season Tip-Off game the following night from Stanford.
1. Will Duke coach Mike Krzyzewski become the NCAA's all-time winningest coach? The Blue Devils play Michigan State in the first game at the Champions Classic (ESPN, 7 p.m. ET) from Madison Square Garden. Duke struggled against Belmont in its opener and then blasted Presbyterian on Saturday. Neither result should come as a surprise. The Blue Devils are usually the home team in New York, but it will be interesting to see how many Spartans fans are able to make the trip, especially if some of them just went to San Diego. Still, Michigan State has a real shot to upstage Coach K. Despite their loss to North Carolina, the Spartans were the aggressor, outrebounding the Tar Heels convincingly 42-31. The Blue Devils have as much size as North Carolina, so the challenge will be similar. But MSU must shoot better from 3-point range than it did against UNC (2-of-20). Another key to the game is seeing which team converts timely perimeter shots. If Duke wins, we'll have the unique setting of Krzyzewski winning No. 903 and passing his former coach Bob Knight, who will sit courtside calling the game for ESPN.
2. How will the Thomas Robinson-Anthony Davis matchup unfold? This could turn out to be one of the more anticipated frontcourt showdowns during the nonconference schedule, as this individual battle highlights the second game of the Champions Classic between Kentucky and Kansas (ESPN, 9:30 ET). Robinson began the season as the go-to guy for Kansas, finishing with 18 points and 11 rebounds against Towson. Meanwhile, Davis, UK's highly touted freshman, blitzed Marist with 23 points and 10 boards in the Wildcats' 50-point rout. Kentucky has more options than KU and can lean on Doron Lamb or Terrence Jones to get it plenty of points. But the tussle between Robinson and Davis will be good theater throughout the night.
3. How will Ohio State's Aaron Craft and William Buford handle Florida's perimeter? We're not conceding the Jared Sullinger-Patric Young matchup (well, we will for these purposes), but this game may come down to the guards. Florida's set of Kenny Boynton, Mike Rosario, Brad Beal and Erving Walker is off to a sensational start. Rosario scored 19 points off the bench, while Boynton scored 19 and Beal 14 (Walker added 10) in a rout of Jackson State. Craft and Buford will be tested defensively more so than they were a year ago, when Ohio State won easily at UF during this same event. The Buckeyes, who host the Gators at 8 p.m. ET (ESPN2), are the No. 3 team in the nation because of Sullinger. But this will be the first time OSU may feel the loss of defensive specialist David Lighty.
4. Can Belmont emerge from the brutal opening weekend with a split? The Bruins nearly nipped Duke in a comeback that fell one possession short. The next challenge is a visit to in-state Memphis at noon ET on ESPN. Belmont won't have any awe factor in playing the Tigers. The Bruins should come into this game oozing with confidence after their showing versus the Blue Devils. Memphis is still a young team and a work in progress. The Tigers have more talent, but the question is whether they will show patience against a Belmont team that will want to run and run and run. This could be one of the most entertaining games of the day.
5. How will Baylor handle its one and likely only test during Perry Jones III's suspension? Jones must sit for three more games after accepting an extra benefit. The Bears beat Texas Southern on Friday and Jackson State on Sunday. The two games that follow Baylor's home matchup with San Diego State (ESPN, 2 p.m. ET) are South Carolina State and Texas-Arlington. This is not the same Aztecs team from last season after the roster was gutted by graduating seniors and an early-entry NBA departure. Still, they are athletic enough to cause problems. The Bears have options with Quincy Acy, Quincy Miller and Anthony Jones, but this game should at least push Baylor a tad more than the first two did during Jones' suspension.
6. How will Gonzaga's guards respond after a poor first outing? The Bulldogs showed in a tight win over Eastern Washington that they can rely heavily on Robert Sacre (22 points and 10 boards). But the perimeter shooters went 3-of-13 on 3s, and Marquise Carter was 2-of-11 and Mike Hart, Gary Bell, Kevin Pangos and David Stockton were a combined 6-of-15 from the field. Washington State is a team in transition, and the Zags should win this game. But Gonzaga has plenty of tougher challenges ahead, and so its guard play will need to improve. Still, this will be a good chance to see Sacre and Elias Harris on display against the Cougars, tipping off the Marathon at 11:59 p.m. ET on Monday night (ESPN).
7. As for the two women's games on the Marathon schedule … How will Tennessee perform after coach Pat Summitt's health diagnosis? If you saw Robin Roberts' piece on "Good Morning America," you know it is clear that the Lady Vols are determined to win a national title for Summitt. The Tennessee coach also seems as driven as ever in her quest to keep coaching while she battles early-onset dementia. This should be an emotional game, as they all may turn out to be, for the No. 3 Lady Vols as they host No. 7 Miami (ESPN2, 6 p.m. ET). And how will Texas A&M handle its status as the reigning champs? The Aggies aren't expected to repeat as national champs, but they have established themselves as an elite program. The primer to the Tennessee game won't involve as much theater, but may be as competitive a game when No. 9 Louisville goes to College Station to play the No. 6 Aggies (ESPNU, 4 p.m. ET).
8. What should we expect from Texas' Myck Kabongo? Kabongo is an impressive young man who handles himself with poise and class. Now he has to translate that onto the court against a talented Rhode Island squad that lost at George Mason by two points in its season opener Friday. The Longhorns will lean heavily on Kabongo to start the season. How he handles this first assignment will be a strong indicator on what to expect, as URI will push Texas from the outset (ESPN, 4 p.m. ET).
9. How will Drexel handle the hype as the CAA's favorite? The Dragons play at Rider (ESPN, 6 a.m. ET) when most people might be waking up to watch the Marathon. Drexel is the early pick to win the Colonial Athletic Association, a conference that's receiving some buzz after placing its second team (VCU) in the Final Four since 2006. Drexel will be minus the injured Chris Fouch, but Samme Givens and Frantz Massenat should be enough to beat Rider. But the Dragons could do themselves a service by looking impressive, too.
10. How productive can the Saint Mary's frontcourt be this season? Randy Bennett anticipates that this frontcourt will be more productive than the one led by Omar Samhan, who led the Gaels to the Sweet 16 two seasons ago. That means Rob Jones will be getting help from Kyle Rowley, Brad Waldow, Mitchell Young and Beau Levesque. Jones dominated Fresno Pacific with 25 points and 12 boards, but Northern Iowa -- coming off an impressive road route of ODU -- will be a much more formidable foe for the Gaels (ESPN, 2 a.m. ET).
11. What should we expect from LeBryan Nash? Well, if you believe the hype, Oklahoma State has an all-Big 12 player who can elevate it to the NCAA tournament. The Cowboys will likely have plenty of chances to feature Nash against Arkansas-Pine Bluff in the NIT Season Tip-Off (ESPN3, 8 p.m. ET).
12. How polished will Syracuse look? If they defeat Manhattan on Monday, the Orange will face either Albany or Brown on Tuesday (ESPN3, 7 p.m. ET) in the NIT Season Tip-Off. The early indication is that this veteran team will be ready to compete for the Final Four. Of course, Syracuse isn't being challenged as much as some other teams, but the Orange smacked Fordham in the opener as Dion Waiters complemented Kris Joseph quite well.
13. A surprisingly close game? I'm going with Austin Peay at Cal (ESPN2, 10 p.m. ET). The Governors should be one of the favorites in the Ohio Valley Conference. Will Triggs and TyShwan Edmondson could play at any level. California is one of the Pac-12 favorites, but the Golden Bears will be tested in this CBE Classic matchup. Guards Allen Crabbe and Jorge Gutierrez will be tested versus Austin Peay.
14. What are the chances of a surprise to end the Marathon? I think Stanford will have a tough time with either SMU or Colorado State at home in the NIT Season Tip-Off. The Mustangs or the Rams are fully capable of being a pest and upsetting the Cardinal (ESPNU, 11 p.m. ET). Stanford first has to get past Fresno State, of course, to be in this matchup. To do that, Aaron Bright, Chasson Randle and Josh Owens will have to really take control.
15. How will Miami score inside? The Hurricanes are sans Reggie Johnson and Julian Gamble due to injuries. The given has been that the Canes have the guard play with Malcolm Grant and Durand Scott. But Rutgers will try and make Miami (ESPN3, 7 p.m. ET) beat the Scarlet Knights on the inside. This could turn out to be one of the closer games in the Marathon.
16. What should we expect from Villanova? This is somewhat of a blank slate. The Coreys -- Mr. Fisher and Mr. Stokes -- are gone. Maalik Wayns will be the dominant presence, but there are plenty of other options as Mouphtaou Yarou, JayVaughn Pinkston, Dominic Cheek and James Bell could all star against La Salle (ESPN3, 7 p.m. ET). The Wildcats are an unknown in the Big East, and this game will at least give us a taste of what we may see.
17. Is Kevin Jones ready to be a star? For two seasons, West Virginia's Bob Huggins has been waiting for Jones to emerge. He scored 20 points and grabbed eight rebounds in a season-opening seven-point win over Oral Roberts. Kent State will hardly be a walk for the Mountaineers (ESPN, 10 a.m. ET). Darryl Bryant can offset Jones' production, but the offense will likely flow through Jones as he adapts to being the front man for the Mountaineers.
18. How ready is Hawaii to make a run at Utah State? Gib Arnold has gone through a complete roster makeover and coached the Warriors to an impressive 19-13 record in his first season in Honolulu. Utah State beat BYU to open the season while one of the WAC favorites, Nevada, was flat at home in losing to Missouri State. Hawaii has a real shot to make a move in its final season in the WAC before heading to the Big West. Establishing an identity in a new conference is always key and ensuring that Cal State-Northridge (ESPN, 4 a.m. ET) is well aware of what it is in for when it visits the Stan Sheriff Center would do wonders for a first impression.
19. What will Morehead State and College of Charleston look like after losing their stars? This game could be one of the more competitive because of who both teams lost, rather than who they gained. Morehead State no longer has Kenneth Faried, while Charleston is without Andrew Goudelock. The Eagles made the NCAA tournament last season, defeating Louisville and then falling to Richmond. The Cougars reached the NIT quarterfinals before losing to eventual champ Wichita State. Regardless of how these teams look (ESPN, 8 a.m. ET) on Tuesday, you can expect them both to be factors in their respective conferences by February.
20. What are the chances Virginia Tech doesn't end up in New York for the NIT semifinals? We'll find out Tuesday night. The Hokies will likely play George Mason, assuming the Patriots beat Florida International and Virginia Tech knocks off Monmouth on Monday. Mason beat Rhode Island by two in overtime in its opener, and while it is a more depleted roster than expected when Paul Hewitt took the job, this is still a formidable squad. Virginia Tech used balanced scoring to beat East Tennessee State by 11 in its opener, but hitting 5-of-18 on 3s was an indicator that the perimeter shooting may not be the Hokies' strong suit.
Other notable names to watch: Does Tu Holloway have a monster game for Xavier against IPFW (7 p.m. ET)? Will Cincinnati's Yancy Gates dominate against Jacksonville State (7 p.m. ET)? How will Harvard fare as the hunted team on the road, even against a rebuilding Holy Cross squad (7 p.m. ET)? How will Dayton's Archie Miller fare in his road debut as head coach at Miami-Ohio (7 p.m. ET)? Will Mike Scott be a double-double performer for Virginia against Winthrop (7 p.m. ET)? Will LSU avoid plunging into irrelevance by winning at Coastal Carolina (7 p.m. ET)? Will Butler avoid a shaky 0-2 start by winning at home against Chattanooga (7 p.m. ET)? Will Saint Louis prove to be the team projected as an A-10 contender and win games it should -- even on the road at Southern Illinois (8 p.m. ET)? Will Missouri State continue to win on the road and take down Arkansas State (8 p.m. ET)? How impressive will Royce White be for Iowa State against Drake (9 p.m. ET)? How will Wyoming play for new coach Larry Shyatt against Northern Colorado (9 p.m.)? Will Arizona State start its climb toward respectability by winning a game at home versus Pepperdine (8:30 p.m. ET)? Will Utah State follow up its BYU win by beating rival Weber State (9 p.m.) on the road?
Andy Katz is a senior writer for ESPN.com.
November, 4, 2011
11/04/11
9:06
PM ET
During the conference alignment feeding frenzy, one of the best moves was made by a league that doesn't play in the Football Bowl Subdivision.
And one team may benefit more than most.
The West Coast Conference's quick decision to offer a soft landing spot for Brigham Young as it sought football independence may ultimately help Saint Mary's more than any other school in the league. The Gaels, who have fancied themselves as Gonzaga's chief rival, needed another team to chase, to compete with to enhance their constant quest for an improved conference power rating.
The Zags will always be the team to chase in the WCC. Gonzaga plays a national schedule, recruits two-thirds of the country and internationally, and isn't going to take a dip anytime soon. But Saint Mary's needed someone else to give the Gaels a chance to pick up power-rating points within the conference and earn important status points among the selection committee by winning conference games. Sure, Santa Clara and San Francisco seem to be on the rise, but the Gaels needed another national program. BYU can deliver just that. The Cougars will slip without Jimmer Fredette and Jackson Emery and won't be a top-25 team, let alone a lock for the NCAA tournament this season, but they will be in the mix for a bid and won't fall too far under Dave Rose.
"I think this is great for our league,'' Saint Mary's coach Randy Bennett said. "It means this league is better. I don't think Gonzaga is getting any worse. We're not getting any worse.''
WCC commissioner Jamie Zaninovich is grinning over getting all six combinations of the Gonzaga-Saint Mary's-BYU games on ESPN's networks in its conference package. The league needed to diversify its profile programs to ensure there was more depth.
"I think Saint Mary's and BYU will give Gonzaga fits,'' Zaninovich said. "Saint Mary's and Gonzaga know each other so well, and BYU will have the strength in there too. There will be big-time frontlines in all cases.''
Zaninovich is touting the Gaels as perhaps Bennett's best team, comparing this squad to his Sweet 16 team from two years ago. Bennett isn't going to go there yet. Gonzaga is still the team to beat with Elias Harris, Robert Sacre, Sam Dower, Kelly Olynyk and Ryan Spangler making up possibly Mark Few's most talented and certainly deepest frontcourt during his tenure.
The backcourt of Marquise Carter, Kevin Pangos, Gary Bell Jr. and David Stockton is still relatively inexperienced, but the potential is there for this team to once again make a run.
Saint Mary's has experience returning in Matthew Dellavedova and Clint Steindl, but it's the Gaels' frontcourt that could be the difference for them. Getting Jordan Page back after a season-ending knee injury last season is critical if SMC wants to hang with the Zags and Cougars. And Rob Jones now has help inside with Mitchell Young, Kyle Rowley and Brad Waldow.
"We're bigger inside. We didn't have that last year,'' Bennett said. "We will have a physical presence at the 5. We got worn down last season. We're going to have more of a low-post guy. People forget that Page is coming back. He was pretty good as a freshman. We have experience. If we do what we're supposed to do and stay healthy, then we can be in those big games.''
Bennett said if going from the Sweet 16 to not making the NCAAs but still playing for the league title is a dip, then so be it. Competing for the league title is where the Gaels want to be every season. Now they've got even more competition, which is even better for this team and the league.
"BYU is coming here while we're on the upswing,'' Bennett said of the WCC. "Bringing BYU over changes the landscape.''
The Cougars can offer up Brandon Davies, Stephen Rogers, Noah Hartsock, Ian Harward and Nate Austin, while UCLA transfer Matt Carlino will help on the perimeter once he's eligible in December with Charles Abouo and Brock Zylstra.
"The toughest challenge yet for us," Rose said. "They are both really good and we won't have a player or a coach that has competed in their buildings. We have no experience at all to take on the road."
That won't always be fun for the Cougars, but it should be big things for the West Coast Conference.
"Everybody's got people back," Few said. "Its literally the best the league has ever been -- and I've been in it 23 years -- with the depth of teams."
October, 3, 2011
10/03/11
6:17
PM ET
At this time last year, Ben Hansbrough's name didn't appear on the Wooden Award preseason watch list.
Five months later, he edged out Connecticut's Kemba Walker for Big East Player of the Year.
Using that as a backdrop, let's remember that the list of 50 Wooden nominees is flawed, much like any of the award lists. The Wooden Award does not allow its voters to nominate any freshmen or transfers (either four-year or junior college) on their ballots.
And with college basketball as loaded with talent as any year since 2007-08, narrowing it down to 50 is not easy. So below I've attempted to come up with the names that didn't make it, either as "just missed the cut" omissions or just because they're freshmen or transfers. These guys aren't on the list (which can be found here), but might show up when it's updated during the season.
This group is by no means definitive, either. There's no telling who else might emerge nationally as the games get under way.
Let's take a look …
The omissions (in alphabetical order):
Julian Boyd, Long Island: The Blackbirds are the favorite again in the Northeast Conference and the main reason is because Boyd is back and ready to dominate the stat sheet.
D.J. Cooper, Ohio: The diminutive point guard does a little bit of everything; he averaged 15.8 ppg, 7.5 apg and 5.0 rpg for the Bobcats last season.
[+] Enlarge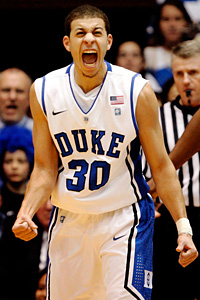 Streeter Lecka/Getty ImagesSeth Curry hasn't done enough to warrant a mention on a preseason watch list, but he might end up being a Wooden addition.
Jared Cunningham, Oregon State: Cunningham has some of the best hops in the sport and a chance to be a Pac-12 star, allowing the Beavers to finally move up in the standings this season.
Seth Curry, Duke: Curry was a standout shooter for the Blue Devils on their trip to China and could be one of the top scorers on the team.
Brandon Davies, BYU: Davies was recently reinstated to the Cougars, and the offense is expected to flow through him inside and out as BYU mounts a campaign to win the WCC in its first year in the league.
Matthew Dellavedova, Saint Mary's: SMC coach Randy Bennett envisions this as one of the best teams he's ever had, but a lot of that will have to do with whether Dellavedova can shoot like Mickey McConnell did last season.
Greg Echenique, Creighton: Echenique was a rebounding force for Venezuela this summer and should do even more for the Bluejays with a full season to work with.
TyShwan Edmondson, Austin Peay: The Governors should be the favorite in the Ohio Valley with a legit scorer like Edmondson, who has a strong man, Will Triggs, to take pressure off him.
Kyle Fogg, Arizona: Fogg is next in line to assume a leadership position for the Wildcats, who are in a position to compete for Pac-12 titles for years to come.
Kevin Foster, Santa Clara: As a sophomore, Foster sort of came out of nowhere to average 20.2 ppg and become one of the nation's top 3-point shooters.
Chris Gaston, Fordham: The Rams aren't any good, but the nation's leading returning rebounder (11.3 rpg) at least deserves a shout-out in this space.
Yancy Gates, Cincinnati: UC coach Mick Cronin said he'd be surprised if Gates wasn't one of the 10 names on the Big East preseason first team.
Malcolm Grant, Miami (Fla.): The Hurricanes have to play most of the season without big man Reggie Johnson, so Grant will have more opportunities to shine.
Rob Jones, Saint Mary's: Jones could be a double-double regular for the Gaels, and for Saint Mary's to win the WCC, Jones will have to be a star.
Doron Lamb, Kentucky: John Calipari says Lamb will be the Wildcats' best player. Just Coach Cal mind games, or the truth?
Meyers Leonard, Illinois: Leonard didn't contribute a whole lot as a freshman, but he was a hidden gem on the U.S. U-19 team in Latvia this summer. The Illini are expecting big things out of him.
C.J. McCollum, Lehigh: McCollum is the nation's leading returning scorer (21.8 ppg) and is in the top five in steals (2.5 spg). Oh, and he did that as a freshman. What more do you need to know?
Cameron Moore, UAB: The Blazers have been consistently good under Mike Davis and have had unheralded C-USA stars. Moore is the latest.
Toure' Murry, Wichita State: If the Shockers win the Missouri Valley over Creighton, a lot of the credit will end up going to the veteran Murry.
[+] Enlarge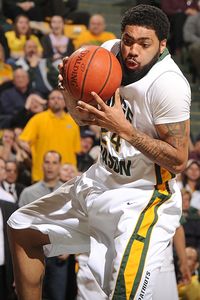 Rafael Suanes/US PresswireRyan Pearson looks to lead Mason to another run to the NCAAs.
Brandon Paul, Illinois: Illini coach Bruce Weber was a bit surprised Paul didn't crack the top 50 on the Wooden list, given his overall importance to this team.
Ryan Pearson, George Mason: The Patriots are a trendy pick for the Top 25 and a lot of that has to do with the versatility of Pearson.
Damier Pitts, Marshall: The Thundering Herd are a real sleeper to gain an NCAA tourney berth out of Conference USA in large part because of Pitts.
Herb Pope, Seton Hall: Pope has come back from multiple life-threatening situations and has a real shot as a senior to put it all together and finally shine.
Terrence Ross, Washington: The Huskies can't be dismissed as a major player for the Pac-12 title, and if they win it, Ross will be a significant reason why.
Robert Sacre, Gonzaga: Sacre has matured into a solid post player, and that progress shows no signs of stopping as the Zags once again compete for the West Coast title.
Mike Scott, Virginia: If the sleeper Cavs mount a run to the NCAA tournament, the oft-injured Scott will be the reason why.
Renardo Sidney, Mississippi State: If Sidney is in shape and plays up to his potential, he has SEC Player of the Year potential and could be the difference between the Bulldogs making the NCAAs or NIT.
Andrew Smith, Butler: The Bulldogs will have fewer stars this season, but Smith has a chance to outshine Khyle Marshall and newcomer Roosevelt Jones with his scoring prowess in the post.
Chace Stanback, UNLV: Stanback's suspension to start the season is only one game, so that won't diminish his ability to lead the Rebels in their hunt for a Mountain West title.
Raymond Taylor, Florida Atlantic: FAU quietly won the Sun Belt East Division last season and Mike Jarvis' diminutive point guard was the catalyst behind the regular-season championship.
Hollis Thompson, Georgetown: If the Hoyas are to make the NCAA tournament again and be a pest in the upper half of the Big East, then Thompson needs a breakout season.
Kyle Weems, Missouri State: Doug McDermott is the one everyone is talking about in the Valley, but let's not forget that Weems is the reigning MVC Player of the Year. Too bad for the Bears he's their only returning starter.
Kendall Williams, New Mexico: The sophomore guard was the leading scorer in four postseason NIT games for the Lobos and should only get better with the addition of Australian Hugh Greenwood.
The transfers
Dewayne Dedmon, USC: Trojans coach Kevin O'Neill firmly believes this JC transfer is an NBA talent who could dominate the post and average a double-double for SC.
Arnett Moultrie, Mississippi State: The former UTEP big man is ready to have a bust-out season for a team that has serious bounce-back potential after a disappointing 2010-11 campaign.
Mike Rosario, Florida: The former Rutgers scoring guard finally has plenty of support around him and will put up numbers for a winner.
Rakim Sanders, Fairfield: The Boston College transfer should flourish after dropping down a level, and he should get coach Sydney Johnson another trip to the NCAA tourney. Johnson is beginning his first year at Fairfield after leading Princeton to the 2011 tourney.
Royce White, Iowa State: White is finally ready to be a star on the college scene after multiple transgressions at Minnesota.
Brandon Wood, Michigan State: The Spartans picked up a rare senior transfer (taking advantage of the graduate transfer rule) from Valparaiso who could be one of the best shooters in the Big Ten.
Tony Woods, Oregon: The embattled Woods arrived from Wake Forest after legal issues and has a chance to really shine as a double-double player for the first time in his career.
The freshmen
Bradley Beal, Florida: Beal has a chance to be a productive player in a frontcourt that has a vacuum after multiple seniors departed.
Gary Bell Jr., Gonzaga: Coach Mark Few has been anticipating Bell's arrival for over a year now. He's expected to step in and deliver right away.
Wayne Blackshear, Louisville: The Cardinals fancy themselves a Big East title contender, and that's partly because they consider Blackshear a star in the making.
Jabari Brown, Oregon: Brown was the star of the Ducks' trip to Italy with his scoring prowess, and expect that to continue in the Pac-12.
Jahii Carson, Arizona State: There is some question right now as to Carson's eligibility, but if he's good to go, the Sun Devils might become relevant in the Pac-12 again.
[+] Enlarge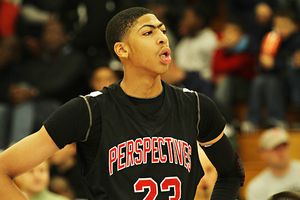 Brendan NolanThere seems to be little doubt that freshman Anthony Davis will have a major impact for UK.
Erik Copes, George Mason: Copes was bound for George Washington before Karl Hobbs was fired; now he'll be a headline performer for the Patriots and first-year coach Paul Hewitt.
Anthony Davis, Kentucky: Davis has a chance to be the SEC Player of the Year and the No. 1 pick in the NBA draft, so expect him to be on the midseason list when freshmen are allowed.
Andre Drummond, Connecticut: He will be an immediate star and help lift the Huskies into the national title chase again. He's more than likely a future top-five pick in the NBA.
Myck Kabongo, Texas: Coach Rick Barnes has had quite a bit of success with big-time freshmen guards, and Kabongo is next in line.
Michael Kidd-Gilchrist, Kentucky: Gilchrist will be another star on what will be a headline team throughout the season.
Johnny O'Bryant, LSU: Coach Trent Johnson needs the Tigers to start trending upward again, and he has a shot with the arrival of the big man from Mississippi.
LeBryan Nash, Oklahoma State: OSU is a bit of a mystery team in the Big 12, but the All-American from Dallas could push the Cowboys into contention.
Austin Rivers, Duke: Rivers will have the ball in his hands quite a bit and appears to be the next Duke star in a lengthy list of recognizable names.
Josiah Turner, Arizona: The Wildcats will win the Pac-12 regular-season title if Turner is as good as advertised.
Cody Zeller, Indiana: If coach Tom Crean is going to turn the Hoosiers into a relevant team this season, it will be because of Zeller and his impact in the Big Ten.