Category archive:

Vermont Catamounts
December, 1, 2011
12/01/11
8:02
PM ET
Post-tournament games haven't been good to some teams.
• Duke had the toughest post-tourney matchup at Ohio State. And the Blue Devils lost -- big.
• Dayton followed its Old Spice Classic win by getting smoked by Buffalo -- at home.
• Saint Louis added a game at Loyola Marymount in nearby Anaheim on the back end of its 76 Classic title game. SLU, fresh off a No. 25 ranking, lost to LMU.
Will Harvard be next in line to fall on Thursday night?
Yes, it's a new world when there is legitimate reason to pay attention to a Harvard at Vermont game in Burlington.
The Crimson won the Battle 4 Atlantis and are thisclose to joining the top 25. They have a big-time game next Thursday at Connecticut, which would be an acceptable loss in the maturation of a possible NCAA-bound team.
[+] Enlarge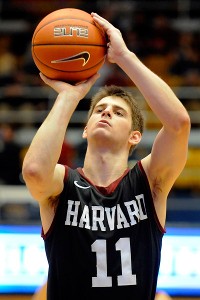 Mitchell Layton/Getty ImagesDon't expect Oliver McNally and Harvard to overlook Vermont.
But what will the perception be if the Crimson lose at Vermont?
Well, it shouldn't be diminished all that much. The Catamounts are off to a 4-2 start under new head coach John Becker. Vermont won in overtime at Old Dominion and squeaked out a win over Siena. The losses -- at downtrodden South Florida and to NEC favorite Long Island University -- aren't horrible.
Vermont is more than capable of fending off Boston University and others to ultimately win the America East. For Harvard, beating the Catamounts would be akin to what Creighton has consistently done when challenged -- win games it should, even on the road, if it is to be taken seriously at a high level. The Bluejays won at UAB, a team that is playing subpar at this juncture in Conference USA. But that's still a road win. They also beat a struggling Iowa squad on a neutral court. But their first real quality win came late Wednesday night in an 85-83 comeback win at San Diego State. That's the same Aztecs team that won at Arizona. Harvard winning at Vermont won't be on equal footing with Creighton's victory over San Diego State. But it would fall in line with what the Crimson have done previously in winning at Loyola Marymount, which beat a mediocre UCLA team and knocked off an elite A-10 squad in the Billikens.
Harvard senior Oliver McNally made it clear en route from the Bahamas last Sunday that the Crimson wouldn't overlook Vermont. He said that the game should have an Ivy League feel to it, and he fully expected the Catamounts to treat the Crimson with respect. The target is clearly on Harvard's back because beating the Crimson is now a quality win for the opponent. "We're really excited about this," Becker said. "Harvard is very good and playing real well. They understand that this will be a challenge. They realize that they're coming into Patrick Gym and it's not going to be easy for them. I don't think Coach [Tommy] Amaker will let them come out flat."
In the strange twist of scheduling, Becker saw the Harvard win at Loyola Marymount -- a key sign that the Crimson are no fluke -- and then watched LMU-Saint Louis since Vermont visits SLU on Dec. 7. He noticed the poise the Crimson play with on the road. "I told our kids that this is a great opportunity for us," Becker said. "We feel that we have a really good mid-major program, one of the best in the last 10 years. Outside of UConn, no other program in New England has won more games. We have a lot of pride. Harvard has been coming on strong under Coach Amaker. But we've got a really good program. We've got a lot of good players."
Vermont hosting Harvard is a quality game, one that will have significance for the Crimson.
Yes, that statement is being written on Dec. 1. And it's true, Vermont would still have to win the America East tournament to earn an NCAA berth. There is always an outside shot if Harvard has a gaudy record that it could be in the mix for an at-large berth. Winning games like Thursday, though, are a must.
"Harvard at Vermont, it's great. It will be a great environment," Becker said. "It's early in the year but we can show that we can compete. This is really exciting for us, a great opportunity. I think you'll see where some of the mid-major programs are. The town is exciting. Burlington is buzzing over this game."
October, 5, 2011
10/05/11
7:03
PM ET
Karl Hobbs' nightmare was Mike Lonergan's dream.
Hobbs said in August, at a Jim Calhoun golf outing in Connecticut, that he had no idea he was going to get fired in late April, weeks after the normal coaching carousel takes a turn.
Lonergan anticipated that something could occur at George Washington. He had a hunch after longtime athletic director Jack Kvancz retired and the school hired America East commissioner Patrick Nero as his replacement.
Lonergan was right. Hobbs was out.
And after getting through a two-man race with Kansas assistant Joe Dooley, who had plenty of support after playing at GW, Lonergan was finally at peace in his college coaching career.
The new GW coach was home. And he won't leave again until he's done with coaching or the school makes a decision for him.
"This is my last job,'' said the 45-year-old Lonergan, who is from Bowie, Md., and went to Archbishop Carroll High. He ttended and played at Catholic University of America in D.C., coached there, met his basketball-coaching wife Maggie there and plans to stay in the area for the foreseeable future with her and their four children.
"I started coaching at 22 years old, and this is my 24th year in coaching. And while I'm not burned out, I don't want to do this when I'm 60 years old,'' Lonergan said. "This is really it for me. I've put together a staff of guys [who] I think can develop players the way we did at Catholic and Vermont.
[+] Enlarge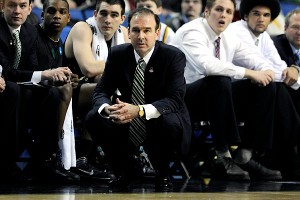 Richard Mackson/US PresswireAfter getting hired by George Washington, Mike Lonergan is finally at peace in his coaching career.
"When I leave, I want to leave the next guy with a great program. I think I'll end up being an AD at a D-3 or something and let my wife get back into coaching.''
Maggie Lonergan was the winningest coach in Catholic University women's history when she left her job in 2005 to follow her husband to Vermont. Mike Lonergan said the deal between them was that whoever got a Division I coaching job first, the other would give up his or her job so they could continue to raise a family. Lonergan took an assistant coaching job at Maryland for one year to replace his longtime friend Jimmy Patsos, who left to become the head coach at Loyola (Md.).
Midway through his one season with Gary Williams, Vermont started its replacement search for the legendary Tom Brennan, who announced he was retiring at the end of the season.
Lonergan was anxious about interviewing while working for Williams at the time, but he did get Williams' support to pursue the opening.
"Gary told me, 'You should do it,''' Lonergan said. "Mike Brey [a Maryland native and GW alumnus] told me he had been in the league at Delaware and said that Vermont was a hard job. But Catholic was a hard job. He told me that there was a strong fan base. I listened to him. He might have been the only guy, outside of Gary, to tell me to take the job.''
Part of the reason for Lonergan's concern was that he had to replace Brennan, a local legend. Brennan had three remarkable years at Vermont, leading the Catamounts to the NCAA tournament, including a stunning first-round win over Syracuse in 2005, his final season. UVM had plenty of off seasons under Brennan, but the latter three were magical in Burlington. And Brennan, who had his own statewide radio show, was as much of an iconic figure as he was a coach.
The personalities couldn't have been more opposite. Brennan is a comic who doesn't mind chatting up anyone around him, from the postman to the janitor. Lonergan is much more of an introvert and puts up a bit of anxiety because of his attention to detail.
"When I first got there, I regretted it for a month,'' Lonergan said. "We didn't have much back. We were starting over. And Coach Brennan was like the mayor. Everyone knew him.''
Brennan stayed in Burlington and eventually had a two-year run as an ESPN analyst -- and he was supportive of Lonergan.
The new coach kept Vermont at a high level, something that seemed difficult at the time. The Catamounts went to the NCAA tournament once (2010), had two NIT appearances (2007 and 2011) and a CBI appearance (2009).
But Lonergan was more than ready to make the jump to the Atlantic 10.
"When the [Colonials] changed ADs, I just had a feeling that they might make a move,'' Lonergan said. "There were other jobs that were out there that I heard about, like Towson and Bradley, but I just felt that I should lay low and see if this happened. I was guessing.''
Lonergan said he always looked at George Washington or Richmond as his dream job.
"It was the location,'' Lonergan said. "I knew it was going to be impossible to get into the ACC or the Big East from where I was. This is my recruiting area. It's where I'm most familiar. It's close to home. I know people say things like this, but it was my dream job.''
Williams said Lonergan was always looking at the GW job.
"He had the connections in the area,'' Williams said. "He's a regular guy. High school coaches like him. He doesn't knock your socks off when you met him. But his teams play well, and he's a good choice for them. He showed me something at Catholic. He wasn't worried about getting good big men because he couldn't. So he went after guys who could shoot 3s, a good point guard, and then they were going to cover you. He found guys who could play.''
"We're very different people. We're like the opposite brothers,'' said Patsos, who was the best man at Lonergan's wedding. Patsos said Lonergan, nicknamed "Fresh" for always being clean-cut, is a lot like Williams -- never completely happy but intense. "Mike Lonergan and I grew up going to games in the area. We were both at Catholic U. We saw GW go 1-27 when Joe Dooley was playing. We even thought it was a dream job then. GW is really a Washington school. I think it is his dream job. But the A-10 is difficult to top."
Patsos added that he agreed for Loyola to play GW every other year at the Smith Center. "Xavier and Dayton have raised their programs and Fran Dunphy and Temple are doing a great job. I'm glad Mike got his dream job, but it's going to really hard. But he's got time. He's got the rest of his life."
Hobbs anticipated that he would have one of his best teams in 2011-12. GW went 17-14 last season and a surprising 10-6 in the A-10. The Colonials are only six seasons removed from going 27-3 overall, 16-0 in the A-10 and losing in the second round of the NCAA tournament to Duke.
Lonergan didn't keep former associate head coach Roland Houston on his staff. Houston got a new gig at nearby George Mason, and GW's top recruit, Erik Copes, went with him. Former Georgia Tech coach Paul Hewitt is about to begin his first season at George Mason.
The GW staff of Hajj Turner, who was with Lonergan at Vermont, Pete Strickland and Kevin Sutton are all part of the development equation that Lonergan is professing. The return of top two scorers Tony Taylor and Dwayne Smith will help the Colonials become competitive in the A-10. Not having Copes hurts, though.
George Washington is now chasing Xavier, Temple and Richmond for a top spot in the A-10 every season. Xavier and Temple have separated themselves from the pack and are the benchmark for the rest of the league.
There is transition in the conference, though, with Dayton going through a coaching change (from Brian Gregory to Archie Miller). Saint Louis appears ready to mount a move under Rick Majerus. Rhode Island and Duquesne have been consistent of late, but just not good enough to merit NCAA berths. St. Bonaventure is looking to break through, with forward Andrew Nicholson leading the Bonnies, and Saint Joseph's can never be dismissed as a factor.
"We have to regain respect locally,'' Lonergan said. "It's all about what have you done lately. But six years ago isn't that long ago. We have to get the local guys to buy into that. We have to work hard in recruiting. We have to get lucky with a sleeper like we did at Vermont with Marqus Blakely or Joe Trapani, but at this level. And we've got to go international [like Mike Jarvis did at GW]. We also could use transfers. We'd love to get players who come back to this area who were homesick but don't have baggage and are good academically.''
The changing landscape in college sports hasn't filtered down to the A-10 yet. GW is likely in a decent position because of its location. Regardless, Lonergan isn't budging. He said this is his last job, and he is determined to make it work.
"I look at Coach Williams,'' Lonergan said. "He's enjoying life a bit more. I don't want to go on forever.''
May, 16, 2011
05/16/11
7:35
PM ET
New Texas A&M coach Billy Kennedy said late Sunday night by text that he would be pushing assistant Steve Prohm to replace him at Murray State.
If Prohm gets the job, he'll be well on his way toward a potential higher-level gig.
Murray State has become one of the hottest jobs to get off the traditional coaching grid. The résumés of the former coaches back up the importance of being the head coach of the Racers.
Three of the last four coaches at Murray State made significant leaps.
Mark Gottfried went from Murray to Alabama.
Mick Cronin followed Tevester Anderson, and three years later he was the head coach at Cincinnati.
Kennedy just finished his fifth season and he was scheduled to be introduced as the next head coach at Texas A&M on Monday.
"It's a great job because they want to win," Gottfried said of Murray State. "They make a commitment to basketball and expect championships and NCAA tourneys. It's a coaching launching pad and they accept that."
That's the key statement. The Racers know who they are and don't try to fool anyone. Murray State is the class program of the Ohio Valley Conference and it is located in a state that deeply loves the sport. But the Racers have found a way to differentiate themselves in the OVC by winning on a consistent basis. Murray will never be Louisville or Kentucky. Some might even argue Western Kentucky has more of a national name. And Morehead State had its moment in March by knocking off Louisville in the NCAA tournament.
But inside and outside of the commonwealth, Murray State has quite a deal of respect around the sport.
"Murray State is a great job because of the tradition, support of the university and the community," Cronin said. "I have never been treated as well in my life as I was by the people in Murray, Kentucky. It's just a special place.
"Although it is a mid-major job, winning is expected there and there is pressure to keep the tradition going. The fans are passionate so there are similarities to the high-major jobs in college basketball."
Murray has had consistent rivalries with strong contenders like Austin Peay and Tennessee Tech, and the emergence of Morehead State has certainly helped the conference. So will the recent addition of Belmont, which will move to the OVC from the Atlantic Sun after next season.
As for Prohm, he was with Kennedy as an assistant at Southeastern Louisiana as well as Murray State. So the easiest transition for the Racers' administration would be to promote. If they don't, then low-major head coaches looking to jump up and certainly significant assistants will draw interest.
The Vermont job is open as well, and so is Navy after head coach Billy Lange left to rejoin Jay Wright's Villanova staff. UVM brought in Washington assistant Raphael Chillious and former Boston College assistant and current Northeastern associate head coach Pat Duquette over the weekend as two of the possible replacements (there are supposedly two others) for Mike Lonergan, who left for George Washington. Former Catamounts player and fan favorite Jeff Brown, who now coaches at nearby Middlebury College, told ESPN.com he wasn't going to pursue the job.
It's clear neither of those openings compares to the springboard that has become Murray.
The Racers have had a consistent presence atop the conference standings and have made several NCAA tournament appearances over the past decade, including an upset win over fourth-seeded Vanderbilt, followed by a two-point loss to eventual nation runner-up Butler in 2010.
The respect this program has amid college coaches and administrators is high. Cronin mentioned that coaching at Murray is tremendous prep work for a high-level job because it is essentially a high-level job.
So Kennedy should be in position to handle any scrutiny at Texas A&M. He landed the Aggies job by hanging around in the search while some higher-profile coaches (Buzz Williams, Josh Pastner, Gregg Marshall) took themselves out of the running early. And ultimately he was a better fit for A&M than Northern Iowa's Ben Jacobson, who talked to the school a few hours after Kennedy interviewed.
In the end, Texas A&M hired Kennedy, who will likely see his salary double. But he does leave behind one of the hidden gems in coaching, a job that should be coveted by plenty and will likely continue to be a stepping-stone to a power-six job.
February, 18, 2011
02/18/11
8:23
PM ET
The pressure to win two or three games in a conference tournament can be intense for a traditional one-bid league.
But the NIT rule guaranteeing the regular-season winner a spot in its 32-team field has actually taken the pressure off the fear that a conference champ would get frozen out of the postseason.
At least that's the approach Vermont coach Mike Lonergan has taken after the Catamounts, along with Fairfield, became the first two regular-season conference champs in college basketball.
[+] Enlarge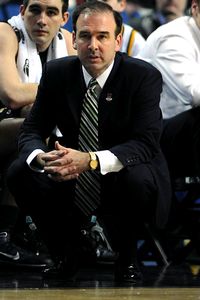 Richard Mackson/US PresswireMike Lonergan and Vermont have taken some pressure off by clinching the America East regular-season title.
"It does take the pressure off,'' said Lonergan. "We're definitely playing well but those [conference] tournaments can be scary even when you're playing well. It's great to know you've got a good spot, at the worst, in the NIT.''
Vermont has won 10 in a row and clinched the America East title Wednesday at Maine with a 13-2 record. After Saturday's BracketBuster game at College of Charleston, the Catamounts have one game left to play in the league -- against Boston University on Feb. 27.
Maine looked like it should be the America East's BracketBuster television representative -- at least I thought it did -- after the Black Bears won at Penn State in December. But since Jan. 29, they have lost five in a row.
Vermont has to go to Hartford for the first two rounds of the America East tournament. If it wins, it will host the final a week later in Burlington, like it did a year ago.
Lonergan is confident that the Catamounts, which played and lost at Connecticut and to BYU in Glens Falls, N.Y., in the Jimmer Fredette homecoming, will get a No. 14 seed in the NCAA tournament. If they were to land a seed like that, then they at least have a chance in the first round.
The problem is that Lonergan can also see the vulnerability of his youthful team which could get knocked off prior to the final. Binghamton is a wild card. So, too, is BU and maybe Maine if the Black Bears can get their act together. And if that happens, at least Vermont has an established postseason home.
Fairfield will feel more heat, though, after winning the MAAC regular-season title. The Stags finally wrestled the MAAC tournament from Albany -- home of Siena -- and will host at Harbor Yard in Bridgeport, Conn.
Siena beat Fairfield in the final seconds last season in Albany, and then won the tournament championship over the Stags in overtime.
Iona coach Tim Cluess said he could see as many as seven teams winning the MAAC tournament -- even in Bridgeport. Look for Iona, Rider, St. Peter's, Canisius, Loyola (Md.) and Siena to come into the tournament believing they can knock off Fairfield.
Fairfield coach Ed Cooley has done a tremendous job resurrecting the Stag program, and winning the regular-season title is quite an accomplishment. Closing the deal by winning the MAAC tournament, regardless of what happens versus Austin Peay on BracketBuster Saturday and the final two conference games against Siena and at Iona, will still be the ultimate judgment on the year. Getting the top seed and hosting, sets up Fairfield for its potential fourth NCAA tournament appearance in school history.
"I hope we win this year,'' Cooley said. "If we win, who knows, maybe we'll be a 13 at best. I'm just trying to win this game. I haven't been to the NCAA in five years [since leaving Boston College as an assistant]. I want to get there.''
Fairfield enters BracketBuster weekend at 21-5 overall and 14-2 in the league (three games ahead of three teams tied for second).
But like Vermont, Fairfield will at least be in the NIT, a safety net that ensures the regular-season champs are protected.
October, 15, 2009
10/15/09
4:09
PM ET
Georgetown expects to challenge for the Big East title.
And it's obvious with the turnover of rosters that Louisville and Pitt should drop out of the top two slots from last season to make room for a contender that finished in the bottom six.
Connecticut, which was tied with Pitt, a game behind Louisville, will slide down a peg, too, albeit maybe just out of the title chase.
Upstart teams like Cincinnati, Seton Hall and St. John's all say they're going to make runs at NCAA berths. If that's the case, a team from the top eight of the Big East has to drop to the bottom seven, right?
Picking Providence to drop makes sense because it lost five key players off last season's team. The Friars didn't make the NCAA tournament but did win 10 league games. Second-year coach Keno Davis has to put his own imprint on the roster this season.
But that's still not enough if those other teams are going to climb higher in the Big East. Another team has to drop.
The consensus among the rest of the league is that team probably will be Marquette, which lost a trio of guards (Jerel McNeal, Wesley Matthews and Dominic James), the driving force in Tom Crean's and Buzz Williams' success on the court the past three seasons.
"Everyone is making that push, and in order for someone to go up, someone else has to go down,'' second-year Golden Eagles coach Williams said late Wednesday as he finished an exhausting day that started with a 5 a.m. boot camp wakeup call with his team. Marquette is preparing for Friday's first official day of practice. "If Providence and Marquette are those teams, then maybe that's what it will be.''
With Cincinnati's addition of highly touted talent Lance Stephenson, the healthy return of Anthony Mason Jr. for a veteran St. John's team, and the impact of transfers Herb Pope and Keon Lawrence for surging Seton Hall, Williams isn't dismissing the expected turnarounds.
He's not going to argue any of those points.
But it would be hard to push the Marquette staff into thinking it isn't finishing somewhere in the top eight with the current roster, despite a turbulent offseason.
Marquette's staff exhibits pride, albeit somewhat privately, and its members believe there's no reason the Golden Eagles should be seen as any less deserving of consideration among possible postseason teams than Pitt, which lost four of five starters and two key players for this season (Jermaine Dixon and Gilbert Brown, who currently are shelved with a broken foot and a fall academic suspension, respectively).
The Pitt comeback is hard to debate, considering the Panthers do have an immense talent in 6-foot-9, 235-pound big man Dante Taylor to replace DeJuan Blair, a gold-medal-winning (Under-19 U.S. team) point guard in Ashton Gibbs and a coach in Jamie Dixon who has a stellar 163-45 record in his first six seasons as a head coach. With Dixon's track record, the expectation is he won't slide out of a top-eight finish.
The Golden Eagles' case would be stronger had freshman point Junior Cadougan not ruptured his right Achilles tendon, which will keep him sidelined for the season. Their case to stay relevant this season would have been nearly impossible had senior guard Maurice Acker not flip-flopped and returned to the team after deciding earlier in the summer to focus on his academics. Acker's minutes jumped from three a game to more than 27 after Dominic James went out with a foot injury in the final six games of the 2008-09 regular season.
Williams said it was déjà vu that Acker was in the same position from last winter to now, standing idle until an injury opened up an opportunity for him.
The other point Marquette was counting on was sophomore Darius Johnson-Odom, who injured his left foot in a workout last month. The hope is Johnson-Odom can come back next week.
The off-court news got worse last month when 2010-11 committed recruit Monterale Clark was arrested and charged in an alleged sexual assault at Hill College in Hillsboro, Texas. The 6-foot-10 Clark was a highly touted junior college player who was being heavily pursued by schools in the Big 12 and SEC. Clark hadn't signed a national letter of intent yet (until the November signing period), so the Golden Eagles can't comment on him. However, privately they say that regardless of what happens with the case, Clark will never play for them.
The eligibility of Youssoupha Mbao, a 7-foot-2 freshman expected to contribute, is not settled, and junior forward Joe Fulce is still recovering from surgery on his right knee.
Despite all the body blows that seem to be coming, the Golden Eagles don't seem to be wilting. There are high expectations for senior Lazar Hayward, who averaged 16.3 points and 8.6 rebounds a game last season, and won a bronze medal for the U.S. at the World University Games. And the returns of Acker and sixth man Jimmy Butler, who averaged 5.6 points and 3.9 rebounds last season on the wing, certainly help.
"Lazar will be one of the better players in the league,'' Marquette assistant coach Tony Benford said. "Acker, Hayward and Butler all averaged 25 minutes or more toward the end of last season when James went down, and we have experience at the right spots -- point guard and the 4 man. Everybody is going to pick us [as the team that drops]. We'll see.''
While Johnson-Odom is expected back, not having Cadougan is a blow. The expectation that senior point David Cubillan will cushion some of it means the Golden Eagles will have two seniors sharing the point, even though neither was projected to be the main distributor at the end of last season.
If junior college stud Dwight Buycks can make an impact on the perimeter, freshman wing Jeronne Maymon can produce, and there is helpful depth behind Hayward with Fulce, sophomore center Chris Otule, freshman Erik Williams and Mbao (assuming his eligibility is resolved and he doesn't miss games), there will be quality depth, as Benford professes.
Benford isn't shying away from the Golden Eagles' needing Otule to score on the block, Maymon to be the strong power body inside or Mbao to be the skilled big man who can run the floor and defend. "Everybody thinks it's going to be us, the team that slides,'' Benford said. "But we'll defend. And you know a Buzz team is going to play hard.''
Getting an early read on this squad could come in late November at the Old Spice Classic in Orlando, Fla. Marquette opens with Xavier and then plays either Creighton or Michigan on Thanksgiving weekend.
Playing rebuilding NC State and at Wisconsin in December also will tell a tale about where this team is headed before it opens the Big East with easily the hardest first four games of any team in the league. Marquette faces three favorites who might win the league: at West Virginia, Villanova, Georgetown and at Villanova. That slate alone could push Marquette to the cellar. Whether it stays there will be determined by how much the newcomers have matured by January.
Williams was facing a daunting task of filling the roster with high-profile recruits after the expected departures of Jerel McNeal, Wesley Matthews and James.
He did that.
He couldn't control the injury to Cadougan, and the 2010 recruiting took a major hit with the Clark situation. Getting Jamail Jones (the No. 13 small forward in the ESPNU Top 100) out of Montverde Academy in Decatur, Ga., helps.
But the long-term success of this program might be determined by how Williams handles this season now that Cadougan is gone and the focus will be on whether or not the Golden Eagles fall in the league.
Since the expectation is that they will drop, finishing in the top 10 in the Big East will be seen as a major accomplishment that proves the Golden Eagles have sustaining power even in a transition year.
• Equal time for the rest of the America East is due after all the negative words focused on Binghamton's issues. Albany returns two all-conference players, Tim Ambrose (14.3 ppg) and Virginia transfer Will Harris (12.9 ppg), to a team that was fourth nationally in rebound margin. Boston University first-year coach Pat Chambers is loaded with 91.5 percent of the scoring back from last season, including John Holland (18.1), Corey Lowe (17.2) and league rookie of the year Jake O'Brien (12.5). New Hampshire coach Bill Herrion made the America East semifinals last season for the second time since 1995, and Alvin Abreu (12.8 ppg), Tyrone Conley (8.9 ppg) will ease replacing two-time all-conference player Tyrece Gibbs. With 16 wins last season, Stony Brook's total was its most in Division I, and it should be a factor again with Muhammad El-Amin (15.7 ppg) and all-rookie players Tommy Brenton (6.7 ppg, 8.9 rpg) and Bryan Dougher (11.2 ppg). SBU held teams to only 60.9 points a game last season. Vermont returns the America East player and defensive player of the year, Marqus Blakely (16.1 ppg, 9 rebounds per game and 2.7 blocks per game), and Michigan State transfer Maurice Joseph (8.1). The Catamounts averaged a league-best 76.1 points a game. Hartford's Dan Leibovitz is hopeful he'll have an injury-free team this season. Leibovitz got his team motivated by proving he can stay in shape, too. He ran and finished the Hartford Marathon on Saturday -- his first.