Category archive:

Stony Brook Seawolves
June, 18, 2012
06/18/12
8:52
PM ET
Boston University announced last week that it will leave the America East for the Patriot League after next season, leaving a mixed reaction from the remaining members.
Stony Brook, the strongest America East school, couldn't care less, while Vermont, one of the more successful programs in the league, senses some apprehension.
Regardless, the America East remains a one-bid league that was hit again with a departure. Losing Delaware, Drexel, Hofstra, Northeastern and Towson to the CAA over the past 10 years have been major blows to the conference.
The addition of Binghamton helped, but Stony Brook is the big add. The Seawolves are investing in athletics like few programs at the one-bid level, and the baseball team just completed a historic season that ended this weekend with an appearance in the College World Series.
"I don't think it does anything to our league," said Stony Brook athletic director Jim Fiore about losing BU. "They've been trying to get out of the league for 15 years to the A-10 or the CAA. I personally say you're either with us or you're not. They went to the Patriot [League], which is a conference that advocates for academics. We wish them the best."
Fiore said he was disappointed in the decision since the two schools had developed a friendly rivalry. This wasn't Duke-Carolina or even Lehigh-Lafayette, but it was evolving.
"We're not in any anxiety right now. We have eight real solid schools, which are committed," said Fiore.
There is natural trepidation when alignment issues trickle down to a conference like the America East.
"It does make everyone a little nervous," said Vermont coach John Becker. "BU leaving means one less game in our conference tournament. We just get rid of the 8-9 game. But Stony Brook has been looking for a new conference too."
That's not the case, according to Fiore and coach Steve Pikiell.
"We have the right number at eight," said Pikiell. "We're happy at eight. We're not aggressively hunting for a conference. We want to stay in the America East."
Fiore said the CAA is going through its own issues after losing Old Dominion to C-USA, VCU to the A-10 and Georgia State to the Sun Belt.
CAA commissioner Tom Yeager is actively looking at expansion and, according to Davidson coach Bob McKillop, was on the Charlotte-area campus. But no formal offer was given, and it's unclear if Davidson would accept since it is comfortable in the Southern Conference. The CAA is also looking at Charleston and, according to sources, Furman and Elon are on a lengthy list. However, Stony Brook makes the most sense if it wants to link up its northern teams with Hofstra.
"It's a turbulent time, but I like where we are," said Fiore. "We want to be the Gonzaga of the East. We're committed to the America East and the next level. We're putting in $20-25 million into a basketball arena. We were just in the College World Series. We're committed from the top down. I like the people in our league, and I think we have a great new commissioner in Amy Huchthausen."
Becker said losing the Boston area isn't a huge blow since he wants to add the Terriers to the nonconference schedule. New Hampshire and other schools will likely try to do the same.
"We'll figure it out," Becker said.
If the America East were to expand, the obvious choices would include the former league members that are now in the CAA. But if that can't occur, the NEC's two more highly respected academic schools -- Quinnipiac and Bryant -- would be targeted, according to multiple sources.
Quinnipiac and Bryant don't fit the academic profile of the NEC, as both schools profess to be of a higher quality. Quinnipiac puts more money into athletics than probably any other NEC school and has the top arena in the league. Bryant is eligible for the conference tournament and postseason in 2013 for the first time since transitioning to Division I.
Bryant would likely jump at the chance to be in a bus league with the state schools in New England and New York. Quinnipiac would rather be in the CAA or A-10 if given the choice.
Quinnipiac coach Tom Moore said the school has consistently been moving forward. But Fiore doesn't see an America East fit for either school -- for now.
"I don't think either are on our radar," Fiore said. "The presidents want to be patient. We're not in any rush to add anybody."
Colonial Athletic Association commissioner Tom Yeager called Southern Conference commissioner John Iamarino on Thursday to give him the professional courtesy of knowing that he would be contacting a few of Iamarino's member schools, widely believed to be Davidson and College of Charleston.
[+] Enlarge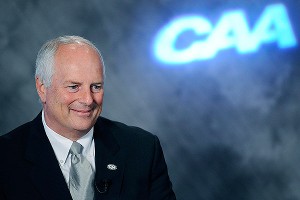 Rafael Suanes/US PresswireCAA commissioner Tom Yeager has seen three member schools depart in recent weeks.
"I appreciate that and I'm hoping to convince them [to stay]," Iamarino said. "We've got league meetings coming up [May 29-June 1 in Asheville, N.C.] and like every other conference, except the Ivy League, I suspect, 85 to 90 percent of the issues will be centered around realignment issues."
The trickle-down effect of conference realignment seems to never end. The CAA loses anchor programs VCU (to the Atlantic 10 in the fall of 2012) and Old Dominion (to Conference USA in the fall of 2013). Those two moves came on the heels of Georgia State moving to the Sun Belt.
The CAA has to do something to maintain relevance, and the Southern Conference, and possibly the America East Conference, are ripe for the pickings. (America East commissioner Amy Huchthausen said the league won't comment on any overtures from the CAA or anyone else toward its programs, such as Boston University and Stony Brook.)
"[The CAA] is such a Southern league I think they have to replace them with Southern teams," Delaware coach Monte Ross said. "I think they have to have that Southern flavor that the league is known for, and Davidson is a quality name and program."
Said Towson coach Pat Skerry: "But we've got to get someone in the North, too. Stony Brook could be a viable option."
Davidson and College of Charleston are the most obvious choices.
Iamarino is well aware of the interest in his league's programs. But he said he has every intent of reminding the schools that they are in a competitive league and the proximity of the member schools offers low travel costs.
"We're all within the geographic footprint," Iamarino said. "We avoid missing class time. The fans can travel to road games. That's why conferences were normally put together in the first place."
Iamarino said the exit fee is $300,000 for notice of two years or more and $600,000 for less than two years.
Charleston athletic director Joe Hull said the school doesn't have a position on the matter yet and said his school was happy in the Southern Conference.
Davidson athletic director James Murphy said it wouldn't be appropriate to comment on conference affiliation. But head coach Bob McKillop was willing to speak.
He said that 25 percent of the 1,800 students on campus play a sport, meaning that a move to the CAA affects a high percentage of the student population.
[+] Enlarge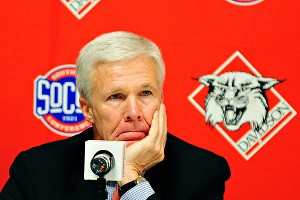 Jeff Siner/Getty ImagesDavidson head coach Bob McKillop doesn't necessarily believe the Wildcats' prospects would be improved by a move out of the Southern Conference.
"We have rigorous academic standards," McKillop said. "We've been to the NCAA tournament five times and the NIT twice in the past 10 years. We present a unique situation. But any decision will be made at the presidential level, not just a basketball decision."
Translation: Davidson is doing just fine in the Southern and doesn't necessarily need to move to the CAA. It also means that their options may not be limited to the CAA. The CAA needs Davidson to beef up its membership and provide a consistent competitor for the likes of George Mason and Drexel.
"VCU left the Colonial for the A-10, but who is to say the A-10 isn't going to change in the next three to four months? Who is to say the Big East or who is to say the Colonial won't change more?" McKillop said. "The dominoes have been blowing from the BCS. There are so many kinds of hypotheticals. Maybe James Madison and Delaware will go to the MAC in football or William & Mary to the Patriot."
Northeastern coach Bill Coen said he's hopeful that there are no knee-jerk reactions in the CAA.
"I think everyone needs to take a breath," Coen said. "You have to guard against doing something quickly that might not be a long-term solution."
George Mason athletic director Tom O'Connor said the onus is on the remaining schools to continue to show a commitment to remaining in the league.
"We all need to be proactive," O'Connor said. "You can't be stagnant. If you look internally and basketball is important to you then make sure you give the program all the tools to be successful."
Georgia State and Old Dominion are in the Colonial next season, but league bylaws prohibit their participation in the conference tournament. Towson and UNC Wilmington are ineligible for the tournament based on poor academic scores; Towson is appealing.
At this juncture, unless something changes, only seven schools would be eligible for the conference tournament in 2013.
O'Connor said the bylaw preventing Old Dominion and Georgia State from postseason participation should be changed when the league meets next week.
"My philosophy is that we should let the student-athletes play in championships," O'Connor said. "I think we can have conversations about our bylaws in the CAA."
O'Connor said there should be discussion about suspending or doing away with the rule altogether. He said the bylaw was put in place 10 years ago but "the world has changed in a lot of different ways. Student-athletes should have an opportunity to participate in championships."
If the membership can resolve the tournament issue, that might be the first step in trying to move ahead as one conference thinking about each other rather than the individual interests.
The CAA has to stick together at this point, or it will quickly fade from relevance.
April, 15, 2010
04/15/10
9:11
PM ET
Kyle Singler
has one of the toughest decisions of any player on the fence about the NBA draft.
If Singler stays at Duke for his senior season, he could get his jersey retired and would have a chance to conclude his career with a national player of the year award and back-to-back national titles, something the Blue Devils did in 1991 and '92. If he waits, Singler could very well move into or near the lottery in the 2011 draft, assuming an NBA lockout doesn't wipe it out.
These are the selling points Duke's staff is providing for Singler and his family, according to sources with knowledge of the situation.
If he were to declare and remain in the draft pool -- which is what he told The Oregonian earlier this week when he said, "I'll probably declare or not. I don't want to test the waters. I don't see any value in that." -- then he'll likely fall somewhere in the mid-to-late first round.
"He's basically a 3-man and that position is pretty deep in this draft,'' said one NBA personnel director. "He doesn't blow me away. You can see how he struggled against Baylor, a more athletic team. He does have a tough decision.''
Singler was 0-for-10 from the field against the Bears, his worst performance of the season in Duke's seven-point Elite Eight win. He came back and was stellar in the next two games: 21 points and 9 rebounds against West Virginia and 19 points and 9 rebounds against Butler. That effort earned him a national title in Indy and the Final Four's most outstanding player award.
Singler is right about not needing to test the waters. With the new NCAA rule, players have only until May 8 to withdraw from the NBA draft. Players have until April 25 to declare and workouts can begin April 29. But a number of teams, especially playoff teams, aren't expected to conduct workouts during that short amount of time.
Singler wasn't even considered to be a possible early entrant until the latter part of the season. He struggled finding his own shot during his first two months as a junior. He was 2-of-13 in a loss at Georgia Tech in early January, which followed a 5-of-15 performance against Iowa State. After that, Duke recognized it had to change its offense a bit to get Singler more looks. He started to flourish more and hunt his shot aggressively.
While he's certainly a viable option if available, Singler doesn't have NBA teams anxiously awaiting his decision. Butler's Gordon Hayward has more buzz and is considered a lottery pick, which might make it hard for him to return to the Bulldogs. The one other star holdout is Georgetown's Greg Monroe, who has proved to be a tough player to predict.
"He would be crazy not to come out,'' said one NBA personnel director of Monroe. "A lot of teams in the lottery like him.''
Georgetown's staff wouldn't be stunned if Monroe declares, but he has been honest about not feeling he's ready personally to make the jump. Unlike Singler, if Monroe were to enter the draft, he would shoot up to the lottery without hesitation. Or he could return for his junior season and contend for player of the year and have the Hoyas in the national title hunt.
• There were some rumors that he might be headed to Holy Cross, but Stony Brook's Steve Pikiell has been told he will receive a contract extension. The new contract would be for five more years.
• Orlando Early's decision to leave his head-coaching position at Louisiana-Monroe to be an assistant at South Carolina is the latest example of coaches who have made the head coach-to-assistant jump. Dan Leibovitz left a head-coaching job at Hartford to be an assistant at Penn, while Joe Jones left a head-coaching position at Columbia to be an assistant at Boston College. What happens is these coaches see how difficult it is at the lower level and want to get back to the taste of a power-six job -- or in the case of Leibovitz, a place where basketball is king. The money sometimes isn't that far off. I would expect this trend to continue.
October, 15, 2009
10/15/09
4:09
PM ET
Georgetown expects to challenge for the Big East title.
And it's obvious with the turnover of rosters that Louisville and Pitt should drop out of the top two slots from last season to make room for a contender that finished in the bottom six.
Connecticut, which was tied with Pitt, a game behind Louisville, will slide down a peg, too, albeit maybe just out of the title chase.
Upstart teams like Cincinnati, Seton Hall and St. John's all say they're going to make runs at NCAA berths. If that's the case, a team from the top eight of the Big East has to drop to the bottom seven, right?
Picking Providence to drop makes sense because it lost five key players off last season's team. The Friars didn't make the NCAA tournament but did win 10 league games. Second-year coach Keno Davis has to put his own imprint on the roster this season.
But that's still not enough if those other teams are going to climb higher in the Big East. Another team has to drop.
The consensus among the rest of the league is that team probably will be Marquette, which lost a trio of guards (Jerel McNeal, Wesley Matthews and Dominic James), the driving force in Tom Crean's and Buzz Williams' success on the court the past three seasons.
"Everyone is making that push, and in order for someone to go up, someone else has to go down,'' second-year Golden Eagles coach Williams said late Wednesday as he finished an exhausting day that started with a 5 a.m. boot camp wakeup call with his team. Marquette is preparing for Friday's first official day of practice. "If Providence and Marquette are those teams, then maybe that's what it will be.''
With Cincinnati's addition of highly touted talent Lance Stephenson, the healthy return of Anthony Mason Jr. for a veteran St. John's team, and the impact of transfers Herb Pope and Keon Lawrence for surging Seton Hall, Williams isn't dismissing the expected turnarounds.
He's not going to argue any of those points.
But it would be hard to push the Marquette staff into thinking it isn't finishing somewhere in the top eight with the current roster, despite a turbulent offseason.
Marquette's staff exhibits pride, albeit somewhat privately, and its members believe there's no reason the Golden Eagles should be seen as any less deserving of consideration among possible postseason teams than Pitt, which lost four of five starters and two key players for this season (Jermaine Dixon and Gilbert Brown, who currently are shelved with a broken foot and a fall academic suspension, respectively).
The Pitt comeback is hard to debate, considering the Panthers do have an immense talent in 6-foot-9, 235-pound big man Dante Taylor to replace DeJuan Blair, a gold-medal-winning (Under-19 U.S. team) point guard in Ashton Gibbs and a coach in Jamie Dixon who has a stellar 163-45 record in his first six seasons as a head coach. With Dixon's track record, the expectation is he won't slide out of a top-eight finish.
The Golden Eagles' case would be stronger had freshman point Junior Cadougan not ruptured his right Achilles tendon, which will keep him sidelined for the season. Their case to stay relevant this season would have been nearly impossible had senior guard Maurice Acker not flip-flopped and returned to the team after deciding earlier in the summer to focus on his academics. Acker's minutes jumped from three a game to more than 27 after Dominic James went out with a foot injury in the final six games of the 2008-09 regular season.
Williams said it was déjà vu that Acker was in the same position from last winter to now, standing idle until an injury opened up an opportunity for him.
The other point Marquette was counting on was sophomore Darius Johnson-Odom, who injured his left foot in a workout last month. The hope is Johnson-Odom can come back next week.
The off-court news got worse last month when 2010-11 committed recruit Monterale Clark was arrested and charged in an alleged sexual assault at Hill College in Hillsboro, Texas. The 6-foot-10 Clark was a highly touted junior college player who was being heavily pursued by schools in the Big 12 and SEC. Clark hadn't signed a national letter of intent yet (until the November signing period), so the Golden Eagles can't comment on him. However, privately they say that regardless of what happens with the case, Clark will never play for them.
The eligibility of Youssoupha Mbao, a 7-foot-2 freshman expected to contribute, is not settled, and junior forward Joe Fulce is still recovering from surgery on his right knee.
Despite all the body blows that seem to be coming, the Golden Eagles don't seem to be wilting. There are high expectations for senior Lazar Hayward, who averaged 16.3 points and 8.6 rebounds a game last season, and won a bronze medal for the U.S. at the World University Games. And the returns of Acker and sixth man Jimmy Butler, who averaged 5.6 points and 3.9 rebounds last season on the wing, certainly help.
"Lazar will be one of the better players in the league,'' Marquette assistant coach Tony Benford said. "Acker, Hayward and Butler all averaged 25 minutes or more toward the end of last season when James went down, and we have experience at the right spots -- point guard and the 4 man. Everybody is going to pick us [as the team that drops]. We'll see.''
While Johnson-Odom is expected back, not having Cadougan is a blow. The expectation that senior point David Cubillan will cushion some of it means the Golden Eagles will have two seniors sharing the point, even though neither was projected to be the main distributor at the end of last season.
If junior college stud Dwight Buycks can make an impact on the perimeter, freshman wing Jeronne Maymon can produce, and there is helpful depth behind Hayward with Fulce, sophomore center Chris Otule, freshman Erik Williams and Mbao (assuming his eligibility is resolved and he doesn't miss games), there will be quality depth, as Benford professes.
Benford isn't shying away from the Golden Eagles' needing Otule to score on the block, Maymon to be the strong power body inside or Mbao to be the skilled big man who can run the floor and defend. "Everybody thinks it's going to be us, the team that slides,'' Benford said. "But we'll defend. And you know a Buzz team is going to play hard.''
Getting an early read on this squad could come in late November at the Old Spice Classic in Orlando, Fla. Marquette opens with Xavier and then plays either Creighton or Michigan on Thanksgiving weekend.
Playing rebuilding NC State and at Wisconsin in December also will tell a tale about where this team is headed before it opens the Big East with easily the hardest first four games of any team in the league. Marquette faces three favorites who might win the league: at West Virginia, Villanova, Georgetown and at Villanova. That slate alone could push Marquette to the cellar. Whether it stays there will be determined by how much the newcomers have matured by January.
Williams was facing a daunting task of filling the roster with high-profile recruits after the expected departures of Jerel McNeal, Wesley Matthews and James.
He did that.
He couldn't control the injury to Cadougan, and the 2010 recruiting took a major hit with the Clark situation. Getting Jamail Jones (the No. 13 small forward in the ESPNU Top 100) out of Montverde Academy in Decatur, Ga., helps.
But the long-term success of this program might be determined by how Williams handles this season now that Cadougan is gone and the focus will be on whether or not the Golden Eagles fall in the league.
Since the expectation is that they will drop, finishing in the top 10 in the Big East will be seen as a major accomplishment that proves the Golden Eagles have sustaining power even in a transition year.
• Equal time for the rest of the America East is due after all the negative words focused on Binghamton's issues. Albany returns two all-conference players, Tim Ambrose (14.3 ppg) and Virginia transfer Will Harris (12.9 ppg), to a team that was fourth nationally in rebound margin. Boston University first-year coach Pat Chambers is loaded with 91.5 percent of the scoring back from last season, including John Holland (18.1), Corey Lowe (17.2) and league rookie of the year Jake O'Brien (12.5). New Hampshire coach Bill Herrion made the America East semifinals last season for the second time since 1995, and Alvin Abreu (12.8 ppg), Tyrone Conley (8.9 ppg) will ease replacing two-time all-conference player Tyrece Gibbs. With 16 wins last season, Stony Brook's total was its most in Division I, and it should be a factor again with Muhammad El-Amin (15.7 ppg) and all-rookie players Tommy Brenton (6.7 ppg, 8.9 rpg) and Bryan Dougher (11.2 ppg). SBU held teams to only 60.9 points a game last season. Vermont returns the America East player and defensive player of the year, Marqus Blakely (16.1 ppg, 9 rebounds per game and 2.7 blocks per game), and Michigan State transfer Maurice Joseph (8.1). The Catamounts averaged a league-best 76.1 points a game. Hartford's Dan Leibovitz is hopeful he'll have an injury-free team this season. Leibovitz got his team motivated by proving he can stay in shape, too. He ran and finished the Hartford Marathon on Saturday -- his first.