Category archive:

Tennessee Volunteers
June, 20, 2013
06/20/13
4:20
PM ET
The FIBA U-19 World Championships may not resonate here at home, but the goal of winning gold has never been more explicit within USA basketball.
As the seriousness of the men's national team has taken on a new level in the last eight years, the junior national team has followed that example.
Coaches are returning. Players are, too. Suddenly, playing for Team USA has value -- as it should.
But this is not an all-star team. This is a team that will compete in Prague next week, crafted to fit Florida's Billy Donovan's coaching style. He wanted a team that could press, rebound, defend and generate turnovers. The havoc fits the way one of his assistants -- VCU's Shaka Smart -- loves to coach.
"I like this team a lot,'' Donovan said. "More than anything this group of kids understands the sacrifice and attitude and work ethic.''
Here is the final 12-man roster and Donovan's assessment of what they've done and can do for Team USA, which begins play in the Czech Republic on June 27. The gold-medal game is set for July 7.
Michael Frazier, 6-4, G, So., Florida
"He comes in as the best shooter. One of the things we struggled with was behind the line. He really provides shooting. In our scrimmage against Air Force he was 4 of 6. He can be a spot-up shooter against a zone and help us space the floor a bit.''
Aaron Gordon, 6-6, F, Fr., Arizona
"He's really, really athletic. He's got a great motor. He can play the 3, the 4. He's really, really good in the press. He's really, really active, and he's going to be a very good player with a great motor.''
[+] Enlarge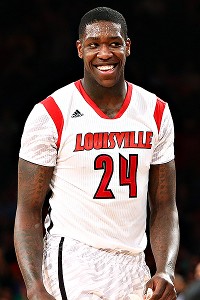 Debby Wong/USA TODAY SportsMontrezl Harrell will have an increased role at Louisville this season and his experience with Team USA should help.
Jerami Grant, 6-6, F, So., Syracuse
"He's been sick with strep throat. But he'll be healthy [for the tournament]. Like Gordon, he gives us another versatile frontcourt guy. Like Gordon, he can play a 3, 4 and 5 and his shooting has gotten better. He was on the team a year ago. He gives us great length and is versatile.''
Montrezl Harrell, 6-7, F, So., Louisville
"He's like Gordon and Grant in that he's really athletic. His skill level has gotten better [since last year]. He's really active. We can do a lot of things defensively with those three guys in Gordon, Harrell and Grant. We can press and switch and they can guard a lot of different positions, get out and run a little bit. We could play all three at the same time.''
Jahlil Okafor, 6-10, C, Whitney Young HS, Chicago
"He's really, really skilled in the low post. He's got a big body with a long wingspan. The way we're playing fast, running and pressing, he's the guy we can throw the ball inside and he'll make good things happen. He's a lot more mature than his age. He's going to play well with the pick-and-roll. He's a big, strong kid. We can go high-low with him and he can work his way to the basket. He's got a good skill level.''
Elfrid Payton, 6-3, G, Jr., Louisiana-Lafayette
"He came in as the surprise. He's really rangy and a very good defender. He can play multiple positions. He's really crafty with the ball and can get in the lane. The best thing he does is pass. He's a really good on-ball defender.''
Marcus Smart, 6-4, G, So., Oklahoma State
"He's been great leadership-wise. I think he's gotten better shooting the ball. His presence and competitiveness and strength and size will help us. So will his will. He came back to school and to us and that really helps our team. He has an incredible presence. I will play him at the point. But he'll also play the 2 and 3. We've got a lot of guys who can play different positions.''
Jarnell Stokes, 6-8, F, Jr., Tennessee
"He's really physical. He was with us last year and he can be a monster around the basket for us. Last year, we kept more guards. This year, more frontcourt guys.''
Rasheed Sulaimon, 6-3, G, So., Duke
"He's a good scorer. He was with us last year. He's shooting the ball with more consistency. He's more comfortable with the international line. We've got to get him to take over more of a leadership role. He was on the trip last year with Smart [when Donovan led them to the gold in Brazil for the U-18 title]. And he played a lot with Duke and that's important.''
Mike Tobey, 6-11, F, So., Virginia
"He's been really good. I think he'll really help us against the zone. After the first day or two, he adjusted and played really well.''
Nigel Williams-Goss, 6-3, G, Fr., Washington
"He's got a lot of the intangibles. He's a great leader and a really good motor. He's more advanced than his age. He's always played at a high level. He'll play the 2 for us.''
Justise Winslow, 6-6, F, St. John's HS, Houston
"He's a 6-6 guy that can play the 2, 3, 4 and really good in the press. The thing that's good for him is his overall skill, passing and unselfishness. He can guard several different positions. He's really athletic. He's a pass-first player that can slash to the basket.''
January, 23, 2012
01/23/12
7:09
PM ET
Tennessee freshman forward
Jarnell Stokes
won't be a trendsetter.
Stokes joined the Vols earlier this month, midway through his senior year of high school, since he was able to graduate a semester early. But first-year Tennessee coach Cuonzo Martin doesn't see many players being ready academically to step into college under those circumstances.
And maybe that's OK, because Stokes is making it hard for anyone to match what he has done so far.
"I think it can happen again, but I'm not sure, because the reason it happened was that he was such a good student," Martin said. "He never went to summer school. He did play AAU ball. But he's a legit student who took care of his business. A lot of guys need second semester. You have to be a really good student for this to be able to happen."
Stokes got to Knoxville because he wasn't eligible to play in high school after his appeal to play immediately at Southwind High in Memphis was denied by the state high school association.
[+] Enlarge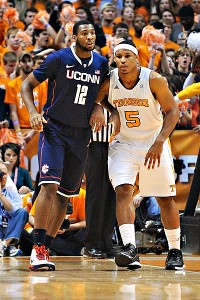 Randy Sartin/US PresswireJarnell Stokes more than held his own against UConn's big men.
But he had to be eligible to graduate early and have all his core curriculum ready for approval through the NCAA Eligibility Center. He was. And then the SEC approved his case, as well.
Martin said he would caution against this being some sort of raiding trend where college coaches poach high school seniors off their prep teams. Even if the player is ready, the big difference with football and basketball is that the season is already in progress. Sometimes a football recruit will graduate from high school a semester early and then head to college for the spring semester so he can participate in spring practices. But that's after the high school season.
If a college basketball coach took star players off their high school rosters midseason, he would run the risk of angering high school coaches and messing with future recruiting.
"[Stokes] had transferred high schools and he wasn't playing [at Southwind]," Martin said. "It would be different if he were cleared to play. We discussed this [early in the fall], and to his credit he took a class [three credits] to get it done."
But Martin didn't want to rush Stokes onto the floor, even though he is 6-foot-8 and 250 pounds and physically ready to play with any big man. He hadn't practiced. His game conditioning was an unknown. He didn't know how his coach wanted him to defend. And he certainly didn't know the offense.
So Martin kept Stokes out of the first two games he could have played (against Florida, a win at home, and at Mississippi State, a loss on the road).
Martin made his debut against Kentucky. He came off the bench and scored nine points, grabbed four rebounds and missed only one of five shots in 17 minutes. He held his own against the length of Kentucky's bigs.
Tennessee lost, though. And then the Vols were defeated at Georgia four days later. Stokes was similarly effective against the Dawgs. He scored 11 points and grabbed eight boards in 26 minutes.
Martin saw enough to start Stokes against Connecticut on Saturday. The Huskies had Andre Drummond and Alex Oriakhi. It didn't matter. Stokes scored 16 points, grabbed 12 boards, made 4 of 9 free throws and 6 of 10 shots, and blocked two shots. He committed only two fouls and didn't turn the ball over.
Tennessee won 60-57.
Up next for Stokes: The Vols travel to rival Vanderbilt for an SEC game Tuesday night, and he'll have to match senior forward Festus Ezeli.
Martin said the players embraced Stokes as soon as he arrived. There was no animosity about his suddenly taking playing time.
Martin is still working with Stokes on boxing out fundamentals, switching screens and where to be on the weak side defensively.
Stokes (12 ppg) is already second on the team in scoring average, behind Trae Golden's 13.6, and first in rebounding average (8 rpg), ahead of Jeronne Maymon.
The Vols (9-10, 1-3 SEC) aren't an NCAA tournament team unless they win the SEC tournament, even with the singular wins over Florida and UConn at home. The record is too much to overcome, barring some sort of one- or two-loss run the rest of the conference schedule.
But the good news for the Vols is that Stokes has to return for the 2012-13 season. The NBA draft rule is 19 years of age and one year out of high school.
"Barring an injury, I know it's after next year anyway," said Martin, who was right back in the recruiting hotbed of Memphis on Saturday night after the victory over the Huskies, mining for similar talent. "It doesn't bother me at all. We're putting him in a position to be successful. I don't want to hold a guy back like that."
October, 14, 2011
10/14/11
5:15
PM ET
Locked out by NBA owners,
Kemba Walker
is spending his October working out with his former Connecticut teammates.
Walker doesn't have second thoughts about declaring for the NBA draft. He was gone as soon as the Huskies won the national title, and his decision was probably made far earlier.
As college basketball practices begin Friday evening and the lockout continues, it is worth pondering the players who might be questioning their moves last spring and what their old college teams would look like right now if they'd made the decision to stay in school.
It was no secret that the lockout was a likely occurrence. The possibility was hardly a secret. Yet plenty of questionable moves were made by players who decided to stay in the draft. Some were selected later than they were projected; others weren't selected at all.
[+] Enlarge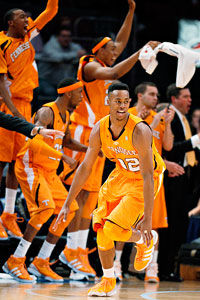 AP Photos/Henny Ray AbramsUndrafted Scotty Hopson certainly could've helped the rebuilding efforts at Tennessee.
Scotty Hopson, Tennessee: Hopson had no business leaving for the NBA, even if Bruce Pearl had not been fired. Hopson was never a consistent shooter and didn't continue to progress on an upward trajectory. He wasn't selected in the NBA draft like his teammate Tobias Harris, who landed in the first round. Had Hopson realized he wasn't going to get picked -- something that he had to have heard many times -- then he would have been a key bridge for new coach Cuonzo Martin. Martin could have used Hopson's experience and shooting to keep the Volunteers relevant in a transition year. Hopson would have been a volume shooter and improved his chances of being selected in 2012. Instead, Hopson and the Vols both lost. Tennessee is in rebuilding mode and will have a hard time staying afloat in the SEC.
Jereme Richmond, Illinois: Richmond clearly had issues, as evidenced by his arrest on assault and weapons charges in August. So it might have been best for all parties that he split. But maybe, just maybe, had he decided to return to Illinois he wouldn't have found himself over the summer as an undrafted, lost young man. This may be a reach, but it would be interesting to see what could have occurred in his life had he decided to stick out his commitment to Illinois. If he had bought into the program for a second year, he would have helped offset some significant senior losses for the Illini. In the end, Illinois wins by not having his baggage on the squad. Richmond lost by declaring, not being selected and now seemingly untouchable due to his arrest. Illinois is a team that has the potential to be a sleeper in the Big Ten with Brandon Paul and Meyers Leonard. But there are plenty of question marks to lock in the Illini as an NCAA tournament team.
Carleton Scott, Notre Dame: Scott surprised the Irish by staying in the NBA draft. He had a chance to play one more season with Tim Abromaitis and help Notre Dame offset the loss of valued senior leader Ben Hansbrough. Scott was never going to be a star for the Irish. He wasn't going to be a lock for the NBA, either. His best bet was to play professional basketball somewhere internationally. Notre Dame was going to take a step back with Hansbrough's departure anyway, but the Irish could have used another anchor inside to keep their head above water in a rugged middle of the conference. Now the Irish is depleted in the post. Scott could have definitely helped there.
Cory Joseph, Texas: Joseph did find his way into the first round, barely. So it's hard to completely fault him here, despite failing to leave his mark in Austin. The Longhorns have one of the top guards in the country in freshman Myck Kabongo. Joseph could have complemented Kabongo and allowed the Horns to have a stellar backcourt. Texas will still have talent, but will be lacking experience. The Longhorns were going to lose Tristan Thompson and Jordan Hamilton early to the draft. But it wasn't a given that Joseph was going to leave, too. The triple hit might be too much for UT to overcome with so many teams competing for the Big 12 title.
Shelvin Mack, Butler: Would Mack have gone to three straight national championship games? The odds would have been exceedingly low. Losing Matt Howard was a crushing blow to the Bulldogs. I didn't blame Mack for leaving last April because of the sting of losing two straight national championship games. Mack had come back without teammate Gordon Hayward and now he was expected to do it again without Howard? Still, the lockout is on, and Mack isn't in Washington playing for the Wizards. Put Mack on the Bulldogs next to Ronald Nored and newcomer Roosevelt Jones with Andrew Smith and Khyle Marshall inside, and the Bulldogs are once again an intriguing threat to go deep. If the lockout lasts well into the winter, Mack may watch Butler games and find himself at Hinkle Fieldhouse longing for his final season of eligibility. It would be a shame if the lockout lasts for months and Mack sits idle. He had one more run in him.
Travis Leslie and Trey Thompkins, Georgia: The Bulldogs made the NCAA tournament last season. If Leslie and Thompkins had come back alongside returnee Gerald Robinson, UGA would have made the NCAAs again. The SEC is stronger this season with possible NCAA teams Kentucky, Florida, Vandy, Alabama and Mississippi State. Georgia would have comfortably made it six. Instead, the Bulldogs are rebuilding or at least seriously retooling under Mark Fox.
[+] Enlarge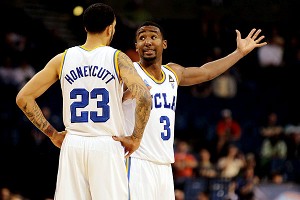 Kim Klement/US PresswireUCLA will still contend in the Pac-12, but Tyler Honeycutt and Malcolm Lee might've been the difference in taking the next step in March.
Tyler Honeycutt and Malcolm Lee, UCLA: The Bruins have a loaded frontcourt with Reeves Nelson, Josh Smith and North Carolina transfers David and Travis Wear. But the Bruins are lacking proven, productive experience on the perimeter. That could be the difference between an NCAA berth and a team that could have made a run toward New Orleans. Honeycutt and Lee didn't get drafted in the first round, going in the second instead. And now they can't play in the NBA for the foreseeable future. UCLA will still be a Pac-12 title contender and NCAA team. But the possibilities had those two returned to Westwood have to gnawing at coach Ben Howland.
Josh Selby, Kansas: Selby wasn't eligible and then he was hurt and never played a full season for the Jayhawks. He didn't get into the first round, either. And it's too bad. Selby should have shown more maturity, or at least someone associated with him maybe could have advised him better. He needed to play a full season to prove that he could do it. If he had, then the Jayhawks would be much more likely to make a Big 12 title run and Final Four quest. The Jayhawks were still selected to win the Big 12 on Thursday. But that might be more out of fear of selecting Baylor or Texas A&M and getting burned by KU once again.
DeAndre Liggins, Kentucky: Liggins did well enough to warrant a second-round selection, and the Wildcats aren't hurting, either. They are a consensus top-four selection in the preseason. But Kentucky still lacks overall experience. Sure, Terrence Jones and Darius Miller are back, but toss in Liggins and suddenly the Cats don't have to rely so much on the freshmen. Liggins would have fit in even better with his length, and the style UK will play this season with the long set of newcomers that John Calipari brought in this season. Liggins may long to be in Rupp Arena if the lockout drags and the Wildcats are pushing for a return trip to the Final Four.
Jordan Williams, Maryland: Williams was selected high in the second round and fulfilled his dream of being an NBA draft pick. His return may not have changed Gary Williams' decision to retire. But had the talented sophomore stayed he would have been beloved by new coach Mark Turgeon, who thirsts for a big halfcourt playes like Williams. He would have been one of the premier bigs in the country and relished his role as the anchor on a Maryland team that would have fed him even more in the post. Maryland probably wasn't an NCAA team even if Williams had returned, but he would have been featured even more as a junior. Now he sits idle and the Terps under Turgeon are in complete rebuild mode.
Darius Morris, Michigan: Morris missed a potential tying bucket against Duke in the NCAA tournament. If he had returned to join Tim Hardaway Jr., there is a chance the seeds would have been reversed if the two teams played again this season. Morris could have been a difference for Michigan. Instead, the Wolverines lack experience next to Hardaway and he loses a quality sidekick who can be just as disruptive as he can be offensively. Morris was picked by the Lakers in the second round, but he's not playing for them now. Michigan may get another crack at Duke if the two teams win first-round games in the Maui Invitational. Meet in Maui with Morris and the Wolverines probably would have been the pick. Instead, Michigan is once again the underdog, seeking respect as a consistent national player.
September, 30, 2011
09/30/11
7:53
PM ET
A suspension, a financial hit and a firing would seem to be a pretty effective deterrent to misleading the NCAA enforcement staff and department superiors.
But the fallout that occurs when a staff is collectively penalized -- as was the case with Bruce Pearl and his assistants at Tennessee -- should be a major wake-up call, too. In a recent story on CBSSports.com, Gary Parrish detailed the bitterness and hard feelings that have developed among a group of Vols coaches that used to be considered tight-knit.
[+] Enlarge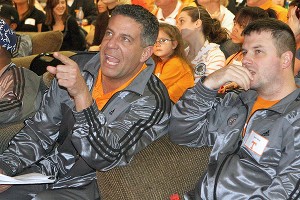 AP Photo/Lisa Norman-HudsonBruce Pearl and longtime assistant Jason Shay (right) have grown apart in the ugly aftermath of Tennessee's turmoil with the NCAA.
So as a loss of friendship is added to the list of consequences of breaking the rules, the law firm that represented former UT assistants Jason Shay, Steve Forbes and Tony Jones is using the Tennessee case as a course study on what not to do, given how the Committee on Infractions is now handling cases.
The summary of the case came down to a 2008 photo from a cookout at Pearl's house that involved a few prospective student-athletes (one of whom was Ohio State point guard Aaron Craft), which was a violation since juniors aren't allowed to have visits off campus. A photo of the event surfaced nearly two years later, and when initially questioned about the photo and the cookout, the coaches didn't answer truthfully. There were impermissible calls as well, and the end result was a three-year show-cause penalty for Pearl and one year each for the three assistants.
It was a devastating blow to all of their careers. Forbes is coaching junior college at Northwest Florida State and Shay is his assistant, making $20,000 a year. Jones, the interim coach at UT during Pearl's suspension last season, is coaching high school basketball in the Knoxville area. And while he is doing just fine financially, Pearl has essentially been banned from coaching in college for three years.
These were serious consequences. So with that in mind, the Indianapolis-based Ice Miller legal team sent a memo to its clients in September with some lessons to take away from this fiasco. They may seem like basic lessons, but clearly coaches need to be reminded. Here is the text of the memo, with my take on each item:
1) Handling even a minor violation "unofficially" without proper reporting can lead to a secondary infraction becoming a major infractions case. The Committee stated that on its own the underlying basketball cookout violation most likely was a secondary violation. If properly reported, the violation would have been resolved with relatively minor penalties, and the devastating consequences for the university, its basketball program, and the basketball coaches would have been avoided.
My take: Coaches have for years taken what appears to be a minor violation and turned it into something major by the way they have handled themselves upon being interviewed. The Tennessee case is another example of the initial violation not being a major deal, but how it was handled ensured that it would be treated as a significant case. Lying is never the answer in any of these cases.
2) Providing false, misleading, or incomplete information to the enforcement staff is an extremely serious violation, even when an interviewee subsequently corrects the record. For a head coach, such conduct very likely leads to the Committee finding unethical conduct and failure to promote rules compliance in the coach's program. In this case, the Committee imposed a three-year show-cause penalty on the head basketball coach despite the facts that (A.) he provided misinformation regarding only one subject during his initial interview; (B.) he personally initiated a follow-up interview in which he corrected the record; (C.) he publicly acknowledged and accepted responsibility for his mistake; and (D.) Tennessee and the Southeastern Conference previously imposed significant professional and financial restrictions upon him. Individuals need to provide the enforcement staff with truthful and complete information from the beginning of any infractions investigation.
My take: Pearl always contested that he told the truth once he called the NCAA back to explain himself. That was never a good enough answer, and shouldn't have been. He knew where the cookout was and who was in the picture he was shown. An honest answer would have led to a secondary violation and some more restrictions, but he would still have his job. Calling Craft's father to "get the story straight" on what was being told to the NCAA was another major mistake that contributed to the problems for Pearl, and ultimately his staff.
3) The popularity of digital cameras, Internet blogs, and social media significantly increases the likelihood of questionable recruiting conduct being revealed. A number of recent major infractions cases in addition to the Tennessee case have developed from information posted on blogs or social media websites. The variety and number of individuals who monitor, photograph, record, write about, or otherwise reveal recruiting related activities is immense and includes recruits and their "advisors," current and former student-athletes, opposing coaches, and fans of rival schools. Additionally, the NCAA enforcement staff regularly monitors on-line activity, including "friending" top prospective student-athletes in order to have access to their individual web postings.
My take: We are living in a new world. Everything is essentially on the record. Recruits now tweet when a coach has visited their home or when they've made a decision. Andre Drummond caught UConn off guard when he announced he was going to the Huskies before they had time to figure out who was going to give up a scholarship for him to come. If a coach expects secrecy when he's recruiting and doesn't expect some form of social media or digital form of recording to occur, then he's not clued into the world in which we live.
4) Individuals facing enforcement staff interviews should retain personal legal counsel experienced in NCAA matters prior to their initial interviews -- and their institution are well served when those individuals retain such counsel. Several recent infractions cases involve coaches, administrators, or student-athletes who, in the absence of counsel, made poor decisions early in NCAA compliance related matters, making situations much worse than necessary for themselves and their schools. In this case, none of the basketball coaches retained counsel prior to their initial interviews. As often happens, under stress, during the back-and-forth of the interviews, and without anyone to assist them, they provided either incomplete or misleading answers to a few questions. The involvement of personal legal counsel almost certainly would have prevented or immediately remedied these errors -- avoiding the devastating consequences that resulted for the coaches and the university.
My take: Of course, this is Ice Miller trying to prove its value. And the legal team may be right here, but the NCAA enforcement still has the hammer that each of these coaches work for a member institution, and failing to talk always leads to worse circumstances. I'd like to see the NCAA's response if every time an enforcement staffer questioned a coach or a player, those being questioned demanded they have an attorney with them before answering a single question.
5) The Committee does not "rubber stamp" the enforcement staff's allegations. Individuals and schools can successfully challenge alleged violations that lack sufficient factual support. As noted above, in both the basketball and football aspects of this case, the Committee disagreed with the enforcement staff regarding highly publicized issues which the enforcement staff alleged as major violations. The ability to successfully contest alleged major violations demonstrates the value of retaining counsel with NCAA experience to help analyze the enforcement staff's allegations and present appropriate defenses.
My take: This is becoming more apparent. The notice of allegations has tended to be more inflammatory than the final Committee on Infractions report. The stories of misdeeds tend to sound even worse when the first notice comes out. Legal teams have time to mount a counter before the COI hearings. The self-imposed sanctions also help lessen the penalties by the time the COI delivers its punishments.
September, 27, 2011
09/27/11
7:42
PM ET
Connecticut is putting on the full-court press to join the ACC in case the league decides to expand again. And Duke coach Mike Krzyzewski and North Carolina coach Roy Williams both told ESPN.com they would like to see the league eventually go to 16 teams, with two eight-team divisions.
But there is no sense of urgency in the ACC, especially since the Big East for the moment is making Pitt and Syracuse stay for 27 months per the league's bylaws. The conference has plenty of time to figure out how to schedule its 14-team league.
So the attention now returns to the SEC with Monday's official announcement that Texas A&M will join the conference for the 2012-13 season. That gives the league 13 teams.
Should there be more?
Like Krzyzewski and Williams, Kentucky coach John Calipari would eventually like to see his conference get to 16.
"I don't think this stuff is done yet," Calipari said. "I've said for months that there may be four conferences with 16 or 18 teams each. But I can tell you that the SEC at 13, 14 or 16 is going to be stable. We're fine. If they're going to add, I'd like us to go and get Virginia Tech, Maryland and Missouri to go along with Texas A&M. We're not going to do anything at the expense of academics. You're also going to see basketball step up in the next five years in the SEC."
[+] Enlarge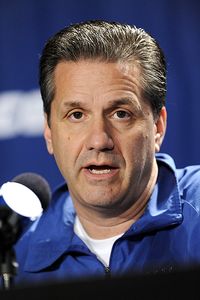 Howard Smith/US PresswireJohn Calipari would like to see the SEC add Missouri, Virginia Tech and Maryland.
Calipari tweeted Monday that he thought the move to add the Aggies was tremendous for the league and new coach Billy Kennedy, a native of SEC country (Louisiana).
"Texas A&M is a great school academically, has a well-run athletic department and will fit well," Calipari said. "Their fan base is ridiculous, just like all of us. The SEC is different. The SEC is about schools with strong fan bases and geography. We want the markets. There is no buyout in the SEC because no one wants to leave."
Vanderbilt coach Kevin Stallings said he would have been fine with the SEC staying put at 12 teams, but he's not against the expansion.
"I like the simplicity of an even number and I'm not sure it was completely necessary," Stallings said. "I don't think we're finished seeing movement and if so, if we end up at 14 or 16, if that's what the commissioner's office said we need, then I'm fine with it. Our league isn't going anywhere. We're as stable as any league in college athletics and we have visionaries who run our league. If they think we're better suited to be at 14 or 16, then I'm OK with that."
The SEC will run into issues on further expansion since it would be hard to take a team from a state where there is already a conference member. The new ACC buyout of up to $20 million poses a problem, too. But the new markets in new states is what Calipari was talking about when he rattled off Missouri, Maryland and Virginia Tech. Still, it would be extremely difficult to pry the Terrapins away from playing Duke and North Carolina every year or the Hokies from rival Virginia after Tech expended a lot of political capital with the Cavaliers to not block the school's move from the Big East to the ACC eight years ago.
The SEC's current number of 13 will be a scheduling issue for football and basketball. Football still has divisions, which is a matter unto itself as the league decides what to do with the Aggies and how to handle an unbalanced schedule.
The SEC got rid of divisions for men's basketball for this season, but the scheduling format still mirrors the football East-West split with each team playing its old side twice and the other once for the 2011-12 season.
Stallings was on an SEC committee to determine a 12-team, no-division schedule for 2012-13. The consensus was to have everyone play each other once (11 games), with seven more games coming from doubling up against league opponents to get to 18 league games. The SEC currently plays 16. The same formula is expected to be applied to a 13-team, no-division SEC next season. The Atlantic 10, which has 14 teams, has a format of playing only 16 league games with every team playing each other at least once, three teams twice.
The question for the SEC will be which rivalries are protected in a doubling-up scenario. There are a few natural ones to protect like Alabama-Auburn, Ole Miss-Mississippi State and Vanderbilt-Tennessee with newer ones like Kentucky-Florida and maybe more traditional ones like Tennessee-Kentucky or Florida-Georgia kept, as well. There could be a need to ensure Texas A&M plays LSU twice as well, or perhaps twice with Arkansas, a former rival from the Southwest Conference.
Whatever the case, Stallings doesn't seem all that worried.
"I think we just have to have an open mind going forward," he said. "We'll come to the best concept relative to 13."
July, 12, 2011
07/12/11
6:45
PM ET
Quick hitters for this Tuesday:
• Florida coach Billy Donovan has been working the mental side of his suddenly loaded perimeter to get the guards ready for a heavy load next season.
The Gators return guards Erving Walker, Kenny Boynton and Scottie Wilbekin, while also adding Rutgers transfer Mike Rosario, a high-scoring talent who did well in the Big East. Toss in impact-freshman wing Brad Beal and the Gators will tip heavily toward the perimeter with the departures of forwards Alex Tyus, Vernon Macklin and Chandler Parsons. Patric Young, fresh off competing for Team USA at the U-19 World Championships in Latvia, will be the focal point in the post.
"The last two years we played with a lack of depth on the perimeter,'' Donovan said. "Now we add Rosario and Beal and we're going to be a much better shooting team and will have more experience. Now the test is how much will those four guys make each other better.''
Donovan said Rosario had everything run through him at Rutgers and he anticipated he'd be on his way to the NBA after two years. But it didn't happen. Now he has to check the ego at the door and become a winner, something that never materialized at Rutgers.
Donovan said he has told Walker that he wants him to lead the SEC in assists since there will be more than enough offense on the wings this season. Walker's assists actually went down from his sophomore to junior year, from 4.9 to 3.4 a game.
"We want everyone to understand a good shot,'' Donovan said. "I'm excited with the challenges of dealing with the guards.''
Donovan said Kentucky will have the most talent in the SEC, while Vanderbilt returns its team intact and will also be a contender. But he fully expects the Gators to be right in the mix for the SEC title.
• Duke held its first two practices on Sunday and Monday in advance of the team's trip to China and Dubai next month. Duke will take a break this week as the coaches go on the road recruiting, but the team will resume workouts here shortly.
[+] Enlarge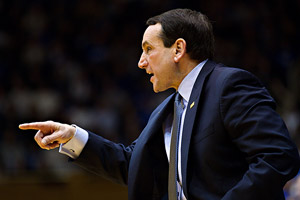 Peyton Williams/Getty ImagesDuke coach Mike Krzyzewski is open to adding Notre Dame to the ACC, but he would like to see revenue sharing as part of the deal.
Duke coach Mike Krzyzewski said the practices will be a huge benefit for the Blue Devils in trying to figure out how to play this season, let alone on the trip.
"We're giving these guys opportunities to show us who they are,'' Krzyzewski said. "How we do this trip obviously won't be how we do the season. We have to get to know our guys, not just individually but how they interact with each other. It's a great opportunity for us, a big-time trip.''
This will be Krzyzewski's first time to see all three Plumlees on the floor together in competitive games. Marshall Plumlee joins his older brothers Mason and Miles on the Blue Devils' roster.
"Marshall is a real good player with a great attitude,'' Krzyzewski said. "It's time for Miles and Mason to take a huge step forward as a senior and junior. That's the same for Seth [Curry] and Andre [Dawkins]. Seth would normally be a senior [after transferring from Liberty]. Andre is a junior but he's finally older [on the court] since he's still only 19 [he came to school early out of high school]. It's a rite of passage for these guys.''
Krzyzewski said there is plenty of work to do but he's pleased with the early progress. This is the first time the Blue Devils have taken an overseas trip since they went to London in October 2002.
"Most schools do this every four years, but with my involvement in USA basketball we haven't been able to,'' Krzyzewski said. "Another benefit of winning the World Championships last summer is that we can go to China and Dubai. This is great for us.''
The title last summer in Turkey allowed the Americans to qualify for the London Olympics so they wouldn't have to this summer, giving Krzyzewski the summer off from USA Basketball.
• The summer lockout could help BYU prep even more for its trip to Greece in August. Jimmer Fredette is expected in Provo next month to work out, and BYU coach Dave Rose is hopeful that former Cougars can scrimmage against the current crop in preparation for the trip.
• The benefits of being in the West Coast Conference are already helping the Cougars in scheduling. The WCC had no issue holding off its formation of the conference schedule to work in a bye date for BYU so it could schedule a home-and-home series with Virginia Tech with the first game in Blacksburg in January. The return game will be the following year in Salt Lake City.
• Kansas' staff continues to believe that Thomas Robinson is headed for a banner season after sitting behind three first-round draft picks -- Cole Aldrich and the Morris twins, Marcus and Markieff -- the past two seasons. Robinson is expected to be the go-to guy at forward for the Jayhawks. Apparently Elijah Johnson is also ready to take on even more of a featured role.
• In discussing the Big 12 race with a few coaches, the one school that keeps coming up as the favorite may be surprising to some: Texas A&M. The Aggies return the core of their team from a year ago, led by Khris Middleton. The consensus seems to be that the coaching change from Mark Turgeon to Billy Kennedy is similar enough that there shouldn't be a hiccup.
• The Maui Invitational bracket is being worked on this month with an expected announcement coming soon. A few things you can expect: Duke won't play Chaminade in the first round and Memphis won't play Tennessee, since the two teams have a regular series. Duke doesn't like to play non-Division I teams and makes it quite clear when it signs up for these events that it would rather not be matched in the first round with the host school.
If the tournament were seeded it would probably go: 1. Duke; 2. Memphis; 3. Michigan; 4. Kansas; 5. UCLA; 6. Georgetown; 7. Tennessee; 8. Chaminade. But the tournament won't be matched by seeds. One possible grouping that makes sense based on the parameters is: Kansas-Chaminade and UCLA-Memphis on one side of the bracket; Georgetown-Michigan and Duke-Tennessee on the other. No one would deny that a possible Duke-Kansas final helps the overall health of the tournament and would rate well. But KU would have to possibly get by Conference USA-favorite Memphis and that's with the assumption that Duke can beat Michigan if the two were to meet in the semifinals. The Blue Devils defeated the Wolverines by just two in last season's NCAA tournament.
July, 7, 2011
07/07/11
10:20
PM ET
Bruce Pearl is in Knoxville this month, exactly where he would have been had he not been fired by Tennessee in March.
Remember, Pearl was banned for a year from off-campus recruiting as part of his school-sanctioned penalty, so he would be sitting at home during this busy month anyway. But regardless of being employed or not, the start of the July evaluation period has left him feeling empty.
[+] Enlarge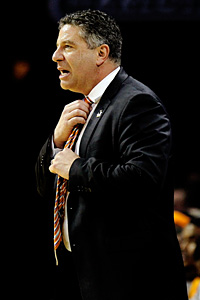 Kevin C. Cox/Getty ImagesFormer Tennessee coach Bruce Pearl says he will miss the July evaluation period, but not all the travel requirements.
"I went out on the road for the first time when I was 22 years old, so for the first time in 30 years, I'm not on the road in July," Pearl told ESPN.com on Thursday.
Pearl is awaiting word from the NCAA Committee on Infractions. He met with the COI in Indianapolis on June 11, but won't know his fate until August at the earliest, possibly into the fall. He's likely to be hit hard for the charge of misleading investigators.
In an interview with Atlanta radio station 790 on Wednesday, he said he answered "148 out of 150 questions" truthfully. But he didn't initially tell the truth about hosting a cookout on an unofficial visit for a recruit and where it was held. It was at his house, and he knew exactly who was in the photo that he was shown by the NCAA.
He eventually told the truth. But it was too late, and then the NCAA also hit him with a charge of an unofficial contact just two weeks after the school called a news conference to issue his sanctions and just days before his one-year ban was set to begin.
Pearl said he panicked when first questioned.
"There's no good excuse for not answering correctly," Pearl said. "No excuse."
Pearl's next move is in limbo. He wants to coach in college again but fully understands that he won't in the foreseeable future if he's hit with a show-cause penalty. If he isn't, then he's hopeful he'll get a chance. He's interested in becoming a broadcaster, too.
There are potential opportunities in the NBA Developmental League, but if he were to pursue an NBA coaching career, he would rather go the route of former banned college coach Kelvin Sampson, who learned on the bench with the Milwaukee Bucks and is now a legitimate candidate for head-coaching jobs.
Yet this month, Pearl's focus is on what he's missing.
"July Fourth had other connotations over the years that after the holiday weekend I was scheduled to go out on the road," he said. "Every coach has his strength and weaknesses and one of the things I did differently was that I would be the guy on the staff to identify the players. Then I would bring my assistants and say, 'What do you think?' I was out every day that I could be as a head coach. I didn't miss a day in 30 years."
Pearl said he enjoyed evaluating, rather than babysitting a potential recruit or committed player.
"I would have my assistants do some of that," Pearl said. "I liked being in the smaller gyms. I really enjoyed evaluating prospects and watching them play."
He even watched some of the teams in search of plays. He said he remembers watching a Friends of Hoop team out of Seattle and liking a sideline-out-of-bounds play they used with three seconds remaining.
"It was an unbelievable play," Pearl said. "I used it."
What Pearl doesn't miss about July is the travel.
"I won't miss going from the heat to the air-conditioned gym to the heat," Pearl said. "I won't miss driving all over Vegas."
He's got bigger worries these days. For now, he has to wait for the COI verdict in his case. Until then he's in limbo, waiting to see his next career move.
Tennessee has moved on with the hiring of Cuonzo Martin. The new UT coaches can hit the road recruiting since the penalties were imposed by the school on the previous staff, not the program. The COI could still come down on the Vols and sanction recruiting. But any kind of ban on coaches who weren't party to the infractions is unlikely.
There's no question that Pearl will be the main target. And so now he waits.
In one of the most hectic months of the year for coaches, that's really all he can do.
June, 8, 2011
06/08/11
6:05
PM ET
On Saturday, the former men's basketball coaches at Tennessee will go in front of the Committee on Infractions in Indianapolis with the intention of challenging at least one of the three major violations that were thrown at the staff.
According to multiple sources with knowledge of the situation, the "bump" that former coach Bruce Pearl and associate head coach Tony Jones had with Oak Hill Academy (Va.) 2012 recruit Jordan Adams on Sept. 14, 2010, will be refuted by the two coaches during their testimony.
The bump happened just four days after a news conference in which Pearl tearfully apologized for initially misleading investigators. Pearl and Jones will say that the contact with Adams was inadvertent, not intentional, and lasted only a few moments.
According to one source with knowledge of the situation, the violation shouldn't be considered major and was only termed that way because of the timing.
The alleged bump is one of three major issues that will be on the table during the COI hearing. Tennessee will state its case Saturday, a day after Boise State's football hearing. NCAA hearings aren't open to the public.
Former coaches Pearl, Jones, Steve Forbes and Jason Shay will be in attendance, as well as former athletic director Mike Hamilton and new men's basketball coach Cuonzo Martin. There are football issues too, which means former UT coach Lane Kiffin will be there as well as USC AD Pat Haden, current UT football coach Derek Dooley and attorneys for all of the coaches who are dealing with potential violations.
[+] Enlarge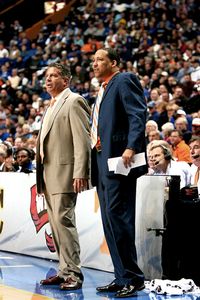 Danny Murphy/Icon SMIBruce Pearl and Tony Jones will be part of the Tennessee contingent in Indianapolis this weekend.
Pearl and Jones can't and won't dispute one of the three charges -- the extra phone calls. According to a source, Forbes has been relieved of any phone call charges. Forbes is now the head coach at Northwest Florida State College, a Division I junior college in Niceville, Fla.
According to a source, Jones will acknowledge that he made too many calls. Jones, who was the interim coach during Pearl's SEC-mandated eight-game suspension last season, told ESPN.com during last month's NBA draft combine that he was looking at coaching in South Korea while awaiting his NCAA fate. The COI will take at least six weeks to render a decision in the case.
The incident that sparked the major investigation was a barbecue at Pearl's house on Sept. 20, 2008, when rising Ohio State sophomore point guard Aaron Craft, among others, was in attendance. Craft was a junior in high school and on an unofficial visit. Unofficial visits are supposed to take place on campus, not at a coach's home.
At issue was a photo from the cookout that Pearl was initially questioned about by an NCAA official. Pearl didn't correctly identify the photo as taken at his house, even though Shay's wife was in the photo.
Pearl called the NCAA after the initial interview to clarify his statements and acknowledge that the cookout was at his house.
According to a source, the assistant coaches are going to state they didn't say anything about the cookout because it was at their head coach's house and weren't about to contradict their head coach. This will play into the charge of unethical conduct and failing to create an atmosphere of compliance in the program.
Pearl, who will be at the center of the investigation for hosting the cookout and initially misleading investigators, will almost certainly argue that he has already paid a stiff price.
He was suspended for eight conferences games, lost his job, lost $1.5 million in salary, lost the benefits of a six-year contract and lost a lot of credibility nationally.
Pearl's likely best-case scenario, according to multiple sources, is to be given a retroactive show-cause penalty that would be one to two years and include this coming season. The worst-case scenario obviously would be much longer.
Pearl, who is still living in Knoxville, is not planning on coaching professionally in the D-League (a recent report said one franchise was pursuing him) and he's not actively seeking any opportunities in the NBA or overseas. Pearl's next move might be in broadcasting, regardless of the outcome of the COI hearing, although that won't likely occur until there is a final decision.
According to sources, Tennessee initially kept Pearl (while docking his pay, terminating his contract and taking him off the road) because he admitted that he made a mistake. But the "bump" being billed as a major violation and coming so soon after the first news conference and just 10 days before his one-year off-campus recruiting ban was set to begin, set in motion his dismissal.
As for Jones, he will have to work somewhere for now and hope that he is spared the dreaded show-cause penalty. Both he and Pearl will tread lightly in how strong they challenge the charges. The bump will be the one they argue the most vociferously.
If the COI buys the reasons for the bump or the minor nature of it, that might help a little bit. But the committee won't take kindly to the initial lying from Pearl. Ultimately, that's the main reason we might not see him back on a college court for quite some time.
March, 19, 2011
03/19/11
3:59
AM ET
Quick hitters on Friday night from Charlotte, N.C.:
• Tennessee coach Bruce Pearl expects freshman Tobias Harris to enter the NBA draft, or at least test the waters. Harris was non-committal after the Vols' 30-point loss to Michigan on Friday. But he did say he would investigate his options after the season. If Pearl is out as Tennessee's coach, as expected, then it's hard to see Harris returning regardless. In a weak draft, Harris is a lock for the first round.
[+] Enlarge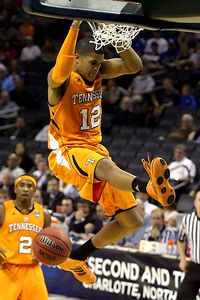 Streeter Lecka/Getty ImagesTobias Harris could take his game to the NBA next season.
• Junior guard Scotty Hopson may also test his draft stock, but Hopson has been so inconsistent this season that he's likely to go undrafted if he were to enter the draft.
• Kyrie Irving's return for Duke, albeit against Hampton, makes an even stronger case that he will go into the NBA draft. Irving is a top-three pick, and possibly the No. 1 pick overall. It's hard to see anything Irving does from this juncture hurting his position in the draft.
• If Memphis doesn't lose any underclassmen and with another elite recruiting class coming in, the Tigers will start next season as the Conference USA favorite and a lock for the Top 25. Memphis coach Josh Pastner did a fantastic job coaching the Tigers into the NCAA tournament, including a near upset of his alma mater.
• Hard to see Arizona's Derrick Williams returning next season. He has to be in competition with Irving and Enes Kanter, who was ruled ineligible at Kentucky, for the No. 1 pick.
• One of the overriding themes of the early part of the NCAA tournament is that the regular-season was an indicator of what was to come in this tournament. Michigan State, Villanova and Missouri had average, erratic seasons and as a result are gone after one game. The Colonial was the best conference outside the power eight. George Mason and VCU advanced and Old Dominion came within a bucket of moving on.
• Jobs in the CAA are suddenly at a higher premium. The league has become the new Missouri Valley. Athletic directors should lock in coaches as much as possible (Shaka Smart of VCU).
• The WCC should be ecstatic that Gonzaga and BYU are in the third round against each other. This is the start of a new rivalry that should be one of the best in the West for years to come.
• No one is chasing Butler's Brad Stevens this coaching carousel. They shouldn't. He has made it clear his perfect fit is at Butler and that he loves being with the Bulldogs. Stevens is not going anywhere.
• USC coach Kevin O'Neill was fortunate to just get the one-game suspension from new AD Pat Haden. There are private penalties that will be implemented, O'Neill said, but it's clear Haden isn't going to tolerate any kind of misbehavior.
• Richmond's Chris Mooney will become the hot name next week in the coaching carousel. But he's no fool. NC State and Georgia Tech are worth jumping too, but he doesn't fit in any of the Big 12 spots.
• I'm not sure I've seen a coach who is as passionate about his alma mater as Sydney Johnson has been for Princeton. His emotions were let loose after beating Harvard in the Ivy League playoff, and it was genuine after losing on a final possession to Kentucky. This coach loves his school. And he has done a tremendous job resurrecting a proud program in such a short time.
• The First Four concept worked -- for me -- but the timing of the games for the winners was simply not fair. It's an easy switch. The teams that play Tuesday night should play Thursday night and the same goes for Wednesday night teams playing Friday night. Clemson playing at noon in Tampa on Thursday against West Virginia after playing Tuesday night was just wrong.
• The pod system has been in place now for a few years and it does work in helping with attendance or at least keeping interest in some of these locales. If the pod system caught on then the First Four will, too.
January, 7, 2011
01/07/11
8:27
PM ET
Memphis has to win Conference USA's regular-season title to earn an NCAA tournament berth.
At least that's the focus of second-year coach Josh Pastner. It has to be. He knows there are no guarantees for an at-large bid after the Tigers concluded all but one game in their nonconference schedule with an 11-3 record. All three of the losses came against three likely NCAA teams (Kansas in New York, Georgetown at home and at Tennessee). The best nonconference win came against Miami at home on Nov. 16. That's not enough for a bid.
[+] Enlarge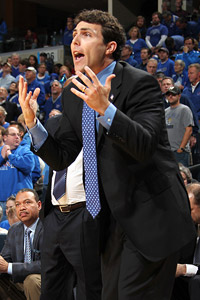 Joe Murphy/Getty ImagesMemphis coach Josh Pastner is struggling to find an answer for his team's defensive struggles in recent games.
But would it be catastrophic if the Tigers didn't win their conference and weren't an NCAA team? Hardly. This is a young team with only one player from the 2008 recruiting class in Will Coleman and only one remaining from the 2009 recruiting class in Wesley Witherspoon, according to Pastner. The team lost two key rotation players in Angel Garcia, who quit after eight games to pursue a professional contract in Spain, and Jelan Kendrick, who was dismissed for his poor behavior and ultimately transferred to Ole Miss.
The Tigers are essentially led by all freshmen, save Witherspoon (a junior who's missed two games with a knee injury) and a lone senior in Coleman and a junior transfer from New Orleans, Charles Carmouche. But Will Barton, Antonio Barton, Joe Jackson, Chris Crawford and Tarik Black are the core of this team. All are freshmen.
That doesn't explain getting pummeled at Tennessee by 20 Wednesday night. When asked to explain the Tigers' poor defensive effort and giving up 12 3s to the Vols, Pastner said Friday, "There was none."
Memphis opens up C-USA play at home against East Carolina on Saturday before going to SMU on Wednesday and hosting Marshall next Saturday. You would expect the Tigers to win those three games, but as Pastner said, nothing is certain with this squad.
If the Tigers are to be worthy of winning C-USA and taking it away from new favorite UCF and possibly Southern Miss, then it will come down to a one-month stretch:
Jan. 19: at Southern Miss
Jan. 22: at UAB
Jan. 26: vs. UCF
Jan. 29: at Marshall
Feb. 2: vs. Tulsa
Feb. 5: vs. Gonzaga (Spokane Arena)
Feb. 9: at Central Florida
Feb. 12: Southern Miss
Feb. 16: UAB
"We've got to find a way to win as many games in conference as possible," Pastner said. "We've got to find a way to get more wins. We're done talking about it. We need to win the league. Our goal is to win the league. We want to do that and it's not going to be easy. Central Florida is the favorite. Southern Miss, UAB, Marshall and UTEP are all good. East Carolina isn't going to be easy."
Pastner said he can't explain the poor defensive showing against Georgetown and Tennessee.
"Scoring isn't the issue; it's defense, we've got to defend," Pastner said.
Pastner said preseason expectations of winning a league title were based on the highly ranked recruiting class that hadn't accomplished anything. Take away Kendrick and the class dips a bit. Take away Garcia and the Tigers' depth is down a tad.
Pastner took over a program that was gutted with the departure of former coach John Calipari and his incoming recruiting class. This team is a work in progress and it may take more than one season -- time the Tigers likely have since no one on the roster is ready to be a one-and-done. That doesn't mean they can't win the league, but it will be a struggle.
"We have not peaked," Pastner said. "We've got a lot of games left. We've got to hang our hat on defense to [win]."
• Tennessee got further clarification on what head coach Bruce Pearl can and can't do during his eight-game SEC penalty that takes effect beginning with Saturday's game at Arkansas.
Pearl was with the team Thursday night as it flew to Arkansas. The Vols will practice and have the normal team meetings Friday in Arkansas. When Pearl meets with the team Friday night in Fayetteville, that will be the last time he can visit with the players and staff until after Saturday's game, according to a Tennessee spokesperson.
The eight-game penalty imposed by SEC commissioner Mike Slive after Pearl admitted to a recruiting violation (after he initially misled investigators) is effective only on the day of the game. Pearl cannot participate in any game-day activities, including the morning meal at the hotel. Normally, teams have their bags packed and leave to return home after a road game from the site. In this case, details are still being worked out as to whether Pearl will be picked up back at the team hotel by the bus after the game or if he will meet the team at the airport for the flight back to Knoxville.
Tennessee associate head coach Tony Jones will coach the Vols during Pearl's game-day absence. Pearl cannot have contact with the staff during the game, either.
It's still unknown when the notice of allegations will be sent to Tennessee, which is the first step in starting the process of getting a hearing in front of the NCAA committee on infractions. Once that occurs, likely in the spring, at the earliest, the Vols will learn of any further penalties. At this rate, those penalties won't be known until the summer.
• Kentucky freshman Enes Kanter, who was initially ruled permanently ineligible by the NCAA for a violation of amateurism rules, was the subject of a conference call late Thursday with the reinstatement committee. Kentucky resubmitted his case based on the clearance of Auburn quarterback Cam Newton, in which the NCAA ruled Newton was not aware that his father had made a pay-for-play offer to Mississippi State during his recruitment, an offer that was turned down. A final ruling on Kanter, a likely top-five NBA draft pick, could occur late Friday. Kentucky plays at Georgia on Saturday.