Category archive:

UTEP Miners
August, 5, 2011
08/05/11
8:13
PM ET
Billy Gillispie doesn't appear to have changed one bit.
He's a coach. A basketball coach. That's really all he wants to do. That's who he is. And to define him in any other way is probably a mistake.
And now he's back in the Big 12 at Texas Tech, tucked away in Lubbock, where he can grind away and produce a winner in relative obscurity, much like he did when he left Bill Self's staff at Illinois to head up UTEP and Texas A&M before accepting one of the highest profile jobs in the sport at Kentucky.
[+] Enlarge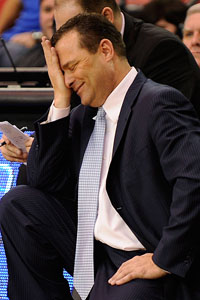 AP Photo/John CurryBilly Gillispie's time in charge of storied Kentucky ended after just two seasons.
"I've been lucky,'' said Gillispie, a native of Abilene, Texas. "We've improved the teams and we've won. I'm proud of where we are and what we can achieve at Texas Tech.''
The Kentucky experience ended rather abruptly after just two seasons. The Wildcats didn't win a NCAA tournament game during his short tenure in Lexington. He didn't even make the NCAAs in his second season, snapping the school's 17-year streak. He never even signed his original contract and ultimately sued the school for the $6 million left on his deal. The two sides settled for just under $3 million.
In short, it was a mess.
You would think Gillispie would have a negative view of his rocky two years in the Bluegrass State. But think again. Whether you believe him or not, Gillispie refuses, at least publicly, to look at the experience as anything but positive.
"I thought our outcome was great,'' he said of his tenure, which ended with a 40-27 record. "I thought we did a lot of good work. Nobody wants to lose their job. I'm proud of what we've done. Sometimes it gets looked at as perceived failure. I don't look at it like that. I'm very proud of what we were able to do there and at Texas A&M and everywhere else.''
But he's had some rough personal moments since he was fired at Kentucky in the spring of 2009.
That August, just a few months after his departure from UK, he was arrested in Lawrenceburg, Ky., for a DUI. It was his third offense in the past decade, according to a Yahoo Sports! report on March 8.
This January, he lost his mother, Winfred, to lung cancer. And then within the last month, in what turned out to be a major error in judgment that spiraled out of his control, Gillispie discovered he lost what is being estimated as millions in two financial scams.
One is being investigated as a Ponzi scheme involving former Georgia football coach and ESPN analyst Jim Donnan, and the other involves the late David Salinas, who committed suicide after he allegedly defrauded hundreds of people in a bond scam. The U.S. Securities and Exchange Commission was investigating Salinas before the Houston-area financial advisor took his own life.
Gillispie said he's not yet at liberty to discuss his personal financial losses, and wanted to emphasize that he lost a good friend in Salinas and that people should remember that a human life was lost.
Through all the personal losses and setback, Gillispie's passion has always been coaching. He didn't do television during his two years away from the game. That wasn't for him. He knew that. The networks knew that.
"I stayed true to myself and understand the strengths and weaknesses I have,'' Gillispie said. "TV is great for some people -- not for me."
As he looks back, one of the few positives that came from being out of the game for two years was the opportunity to be with his ailing mother before she died.
"That's one of the things that was a blessing,'' said the 51-year-old Gillispie. "If I had been in coaching the past couple of years, then I wouldn't have been able to be there. I wouldn't have had as much time available to me. I spent more time with her than I ever have.''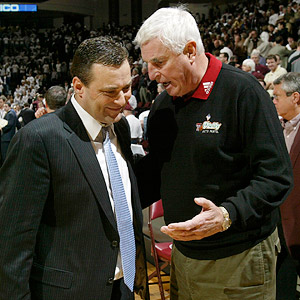 AP Photo/Paul ZoellerGillispie is the first person not named Knight to lead TTU since The General took over a decade ago.
He said he wouldn't trade that time with his mom for any years he has spent in coaching.
"There are so many hours in the day that you spend coaching basketball,'' Gillispie said. "No matter how hard you try, it would be impossible to spend all that time.''
Gillispie is still hopeful that the financial aspect of his life will work itself out. Clearly, plenty of mistakes have been made, both by him and the people he trusted. But he doesn't give any sign he's overly concerned.
For now, he's locked in on recruiting for Texas Tech. Like all coaches in Division I, he just finished his 20-day evaluation period in July. But he wasn't nearly as visible as he once was at Kentucky.
"We're rebuilding the roster,'' said Gillispie, who has just four returning players this season as the Red Raiders prepare for a slimmed-down, 10-team Big 12 that will be even more competitive with an 18-game, round-robin schedule.
A veteran TTU team entered last season with heightened expectations, but finished a disappointing 13-19 (5-11 in the Big 12) as head coach Pat Knight was let go after a largely unsuccessful tenure.
"We've got a really inexperienced team," Gillispie said. "But I haven't been around a better group in the summer. That doesn't always equate to more wins than losses, but we're focused on the foundation of our program and I'm really excited about it.''
As for Gillispie's legacy at Kentucky, it doesn't appear to keep him up at night. After all, how many coaches have had two Big 12 jobs, another job that has had a history of success with a passionate local fan base (UTEP) and another with one of the all-time blue-bloods in all of college sports? He says he feels fortunate.
"I had a great time [at Kentucky]. I wanted it to last longer. Because of the great tradition there, I didn't mind the attention at all. We always try to go about our business, get good players and win games. That's the same thing we'll try to do at Texas Tech.''
For Gillispie to land another Big 12 job, in his home state, just two years removed from being fired and getting arrested, shows that his coaching ability is still well-respected on the circuit.
"The worst thing in my life was my mother passing [not his downfall at UK],'' Gillispie said. "It will take time to get over. But you have to move on at some point. And I'm very fortunate and blessed to be around great people. I totally believe in what we're doing.
"I'm moving on to the next challenge. There is great support here.''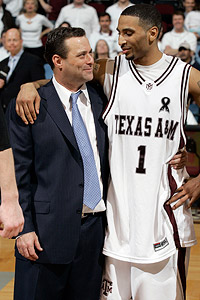 AP Photo/Paul ZoellerGillispie went a remarkable 70-26 at a "football school" like A&M.
UTEP had won under the late Don Haskins, but Gillispie came in when the program was down. A year after winning just six games in his first season, he won 24 and got the Miners to the NCAA tournament. The Aggies called next and after a season that ended in the NIT, he took Texas A&M to two straight NCAA tournaments, including a Sweet 16. No one can dispute that he helped recreate the energy and buzz for hoops at those two Texas schools.
Now he has to do the same at a third.
Over the years, his teams have been defined by hard work, defense and lockdown fundamentals. It doesn't always produce a beautiful game, but more times than not it produces wins. He'll try to establish that same identity with the Red Raiders.
"Texas Tech wants to win,'' Gillispie said.
It will take time, however. His team will be grossly inexperienced. The league will always have standard-bearer Kansas, and Texas, Texas A&M, Baylor and Missouri aren't going anywhere.
Kansas State has created a tough mentality, and you get the feeling the Wildcats will always be in the mix under Frank Martin. Behind a slew of transfers, second-year coach Fred Hoiberg seems to be building Iowa State back up. So that puts even more pressure on Tech to regain the relevancy it once had under Bob Knight.
"I've very fortunate for this opportunity at Texas Tech," Gillispie said. "If you asked me if I enjoyed my time off, then the answer is no. I made the most of it, but I didn't enjoy it. I learned a lot of stuff watching stuff. But I didn't enjoy it.
"I like having a team, building it together and forming a special chemistry. That's what is important to me and I was champing at the bit to get back to it.''
He now has his chance. Back home. Back on the bench.
Back where he belongs.
February, 25, 2011
02/25/11
8:23
PM ET
SEC commissioner Mike Slive started a trend of suspending a head coach for a significant indiscretion by sitting Tennessee coach Bruce Pearl for eight SEC games.
The NCAA's committee on infractions took the lead and penalized Connecticut coach Jim Calhoun for the first three games of the Big East season in 2011-12.
Pearl was forced to sit because he misled NCAA investigators about a cookout at his house that had high school juniors in attendance on an unofficial visit. Calhoun is being punished for failing to create an atmosphere of compliance in the recruitment of Nate Miles.
The trend is to discipline coaches for their actions or their inability to police their staffs.
Conference USA must not be paying attention to the news.
Twice this season Conference USA commissioner Britton Banowsky has had an opportunity to send a strong message to his conference and coaches everywhere. But he whiffed on both occasions.
Southern Miss coach Larry Eustachy was ejected from a game at Marshall on Jan. 8. His behavior was so threatening that a policeman had to come onto the court to escort him off the floor.
Then on Wednesday, in a odd coincidence, Eustachy's good friend, UTEP coach Tim Floyd, was ejected from a game at East Carolina and had to be escorted off the court by a policeman. Floyd's longtime assistant Phil Johnson was also ejected but at least he walked off without the help of police.
Conference USA spokesperson Courtney Morrison-Archer said it is standard game-operating procedure to have a policeman escort a coach off the floor if he doesn't leave. One of the officials who worked one of the games told ESPN.com that is the case. Police are expected to come onto the court and help the officials if the coach won't get off the floor.
The obvious response from Banowsky should have been to suspend Eustachy and Floyd for a game. Banowsky discussed the possibility of suspending Eustachy with Southern Miss in January and did the same with UTEP on Thursday. But in both cases he chose to issue a statement admonishing the action and calling it unacceptable.
Banowsky said this in a statement Thursday:
"I have spoken with [UTEP Athletics Director] Bob Stull and [UTEP Head Coach] Tim Floyd about the ejections in last night's game. When a coach is ejected, I expect them to leave the floor. Coach Floyd's actions were unacceptable. I have made our expectations clear going forward and do not expect this to happen again."
But didn't it already happen in the conference? It did with Eustachy, and the rest of the coaches should have seen him suspended in January so that another occurrence would warrant the same penalty.
Floyd and Eustachy have been highly successful during their careers. They both had meltdown moments. And they both should have been suspended for a game. The NCAA and the SEC have sent a strong message to coaches that a violation, or failing to prevent a violation within the program, won't be tolerated without a coach having to face a consequence of missing his team's game. The Big East suspended former Seton Hall coach Bobby Gonzalez for his postgame antics.
How is this behavior not in line for a suspension? One coach said Thursday that the message sent by Banowsky to younger coaches is that you can behave in this manner and still get away without any real penalty.
Conference USA doesn't have a dominant team this season. The league may only get one bid. But the competitive basketball being played among Memphis, Southern Miss, UAB, UTEP coupled with the turnarounds by SMU, Tulsa and Marshall and to some extent East Carolina and Central Florida, are now overshadowed by how the league handled Eustachy and Floyd.
Banowsky is on the NCAA's committee on infractions. He knows about how to penalize a coach to ensure it matters. The COI isn't supposed to be in the business of sending a message. But a conference commissioner can dole out punishment to do just that. Banowsky failed to do so and his league is the lesser for it.
February, 9, 2011
02/09/11
8:03
PM ET
The villains are missing.
The hatred, the jealousy and the nastiness are no more.
Rivalries have tamed in college basketball.
My two favorites from covering the sport for the past 20 years -- outside of the obvious North Carolina-Duke -- were obscure nationally but not in the region in which I worked.
The New Mexico State-New Mexico and BYU-Utah rivalries in the 1990s had real venom between the coaches, programs and schools.
Then-New Mexico State coach Neil McCarthy was a classic villain. He loved and relished that role. He recruited off the radar, trolling around for junior college- and four-year transfers. He was his own breed. He didn't conform. He would smoke a clove cigarette on the ramp leading down to the Pit floor at New Mexico, despite the clear violation of doing so in the building. He didn't care. I witnessed him scoff at those who passed by as he puffed. He loved to challenge the media, once pounding the press table after a key play during the game and saying to a colleague of mine, "How'd you like that?" This was during the game.
He loved being the one person who everyone in the building wanted to boo. And, of course, he loved to send Dave Bliss and the Lobos cowering back three hours from Las Cruces to Albuquerque if they won at the Pan Am Center.
New Mexico was the favored state school. New Mexico State? It was the less-publicized of the two since it was closer to Texas than the state capital in Santa Fe.
McCarthy and Bliss didn't like each other. The players weren't chums. And the fan bases couldn't stand one another, either.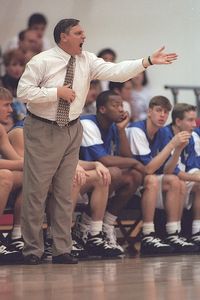 Jamie Squire/Allsport Former BYU coach Roger Reid's hatred for Utah's Rick Majerus made the Cougars-Utes rivalry one to watch in the 1990s.
The hatred between BYU and Utah was even more intense. BYU coach Roger Reid, now the coach at Southern Utah, couldn't stand Utah's Rick Majerus, now the coach at Saint Louis, because of Majerus' popularity with the national media and the power brokers in the state. They weren't friends. They didn't pretend to be buddies. There was an obvious jealousy that Reid had of Majerus that was apparent every time their teams played.
The games were nasty, chippy and intense. It helped that, as was the case in the Lobos-Aggies rivalry, both teams performed at a high level in the '90s. But what made Utah-BYU even more intense was that they were in the WAC together. Utah was the state school and BYU was owned and operated by the Mormon Church. The players were familiar with each other and there was an intensity that existed in every game.
When Reid left, the Cougars sunk (before their revival began under Steve Cleveland and now has flourished under Dave Rose), and the rivalry was tempered. Ray Giacoletti of Utah was not an antagonist, either, and the intensity of the rivalry waned. The common respect between current coaches Rose and Utah's Jim Boylen has lessened the rivalry as well. Now that the schools are heading off to different conferences -- Utah to the Pac-12 and BYU the WCC -- it will be hard to replicate the rivalry. If the schools choose to do what New Mexico and New Mexico State still do -- play home-and-home despite being in different leagues -- then it has a chance to survive. But much like the Lobos-Aggies rivalry has been diminished because of the calm nature of Steve Alford (UNM) and Marvin Menzies (NMSU), the BYU-Utah rivalry may be hard to go back to its angry stage of the '90s.
I asked my colleagues on ESPNU's "The Experts" on Tuesday what were their favorite rivalries in the sport as a player, coach or fan. Here's what they had to say:
Mark Gottfried, former Alabama player: "To me it was Auburn-Alabama back when it was Wimp Sanderson and Sonny Smith. The recruiting battles were nasty."
Stephen Bardo, former Illinois player: "Our rival was Iowa. We hated Iowa. They had pros like B.J. Armstrong, Roy Marble, Brad Lohaus; they had eight pros. We never won in Iowa City. And you had the whole Bruce Pearl thing [turning in Illinois as an Iowa assistant for a recruiting violation]. Now that's come full circle."
Adrian Branch, former Maryland player and area product: "Growing up for me it was NC State versus Maryland. Whoever beat each other was going to win the national championship in 1974. When I played, it was us and Virginia, the two most Northern schools before Virginia Tech got in the ACC. In my four years, it was us then. But growing up it was Len Elmore of Maryland against David Thompson of NC State. "
Len Elmore, former Maryland player, native of New York: "Back then, it was St. John's before the Big East. The rivalries were with all the other New York schools. There was a lot of good college basketball. But I'd also say Davidson versus North Carolina when it was Lefty Driesell versus Dean Smith."
Fran Fraschilla, who was once a former assistant at Providence: "The Providence-Rhode Island rivalry was the most hated I've been a part of.''
Going forward, these are the rivalries I'm interested in seeing develop:
[+] Enlarge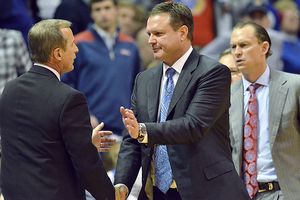 Denny Medley/US PresswireKansas coach Bill Self (right) and Texas' Rick Barnes have a friendly rivalry that should only get better in future seasons.
Kansas-Texas: Bill Self and Rick Barnes don't have a testy relationship. They like each other quite well. But these are clearly the two best teams in the Big 12 and now the 10-team Big 12. Finally, the two will play home-and-home every season, allowing the fans for both squads to get a look at the other each season. The rivalry has a real chance of developing, even if it's not nasty, because it will be the two elite programs going forward in the league.
Baylor-Texas A&M: There is no love between these two staffs. They play twice each season and the games have been very competitive. This trend should continue. The rivalry doesn't get much attention out of Texas, but it should.
St. John's-Rutgers: There is no way Steve Lavin could have a tense rivalry with anyone. It's not in his nature. But there will be a rivalry between the two staffs in recruiting now that Mike Rice is at Rutgers. And if Rutgers can continue to improve, this should be a competitive rivalry, which would be good for the New York-area market.
Memphis-UTEP: Josh Pastner is hardly someone to dislike, either. But Tim Floyd's presence in El Paso means Memphis will have a competitor in recruiting for the long haul. Expect these two programs to set the standard in Conference USA.
Harvard-Princeton: Penn coach Jerome Allen will have something to say about the top two spots in the Ivy. And nothing in the Ivy can or will replace Penn-Princeton. But the top spot for the foreseeable future is Harvard-Princeton. It might be the most competitive competition for the next few years as Sydney Johnson and Tommy Amaker build conference powers.
Arizona-UCLA: Welcome back this rivalry. Sean Miller has the Wildcats atop the Pac-10. UCLA isn't going to fade. And while Washington has been a consistent top-four Pac-10 program, the two elites in this conference in the '90s were UCLA and Arizona. They have the most national reach. And it should be the best annual rivalry in the future. Hopefully, under the new Pac-12 basketball schedule, this is a protected rivalry that ensures they play twice every season.
October, 14, 2010
10/14/10
6:26
PM ET
NEW YORK -- If you put Memphis in a corner and asked the Tigers where they want their program to be, the answer would be the Big East.
If you directed that question toward UTEP and Houston, it would probably be the Mountain West.
Football decisions drive the direction of conferences, though, and Conference USA isn't exactly a football powerhouse.
"Basketball coaches aren't in control of any of that," said new UTEP coach Tim Floyd. "They were humbled this summer to find out how important college basketball was in the overall scheme."
So the collection of C-USA schools are stuck with each other for the foreseeable future and what that means is that this league has to make its basketball marquee this season, as in a multiple-bid league that advances in the NCAA tournament.
Conference USA needs to become at least as valuable a basketball property as non-Big Six leagues like the Atlantic 10 and Mountain West.
UTEP went 26-6 and 15-1 in the conference last season, but was one of the final at-large teams selected to the NCAA tourney after losing to Houston in the conference finals. The fact that the Miners had to sweat out Selection Sunday is unacceptable.
"We need multiple teams in the tournament, and last year with UTEP going 15-1 and barely getting in is a little bit scary," said Tulsa coach Doug Wojcik, in New York City on Wednesday for a media day event intended to get the league more national attention.
[+] Enlarge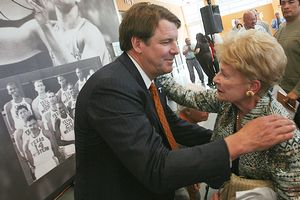 AP Photo/El Paso Times/Victor CalzadaFloyd, seen here with the widow of Don Haskins, landed at UTEP after his controversial tenure at USC.
What's the identity of this league? It certainly has a host of second-chance coaches who have had plenty of on-court success elsewhere, like Floyd, UAB's Mike Davis, Southern Miss' Larry Eustachy, SMU's Matt Doherty, Rice's Ben Braun, East Carolina's Jeff Lebo and Houston's James Dickey. All of those coaches were considered on the rise at one point in their careers, but losing or off-court issues led to their search for a new home.
Donnie Jones went from Marshall to Central Florida, and former Division I head coach Tom Herrion took over the Thundering Herd. Those are two of the league's six new head coaches -- exactly half the league.
Conference USA's coaches preach the league party line -- as they did Wednesday -- about having more draft picks since 2005 than the Big Ten or Pac-10 (including this past draft). Memphis coach Josh Pastner said the league is played above the rim with plenty of athletes, "which makes watching this league fun for everyone."
Still, there is a perception problem. It's undeniable.
From March 2006 to January 2010, the Tigers played and beat 64 straight opponents from C-USA. It is tied for the longest Division I conference win streak of all time. So whether it was fair or not, the national attitude about Conference USA was that Memphis steamrolled through an inferior conference.
"I grew up around the Pac-10, coached in the SEC and coached in the Big 12 and it's strange to me how underrated this league is," Eustachy said. "My only thinking is that Memphis made such a mockery of it for [64] straight games, but then they made a mockery of Texas [and Michigan State and UCLA] in the NCAA tournament and should have won the national championship [in 2008]. People look at our league and think no one could beat them for [64] straight games.
"Memphis was great, but the league has never been more competitive and has great coaches."
UAB's Davis, who has been on the cusp of getting an at-large bid the past few seasons, said Memphis' dominance under Calipari completely overshadowed the league. Having the conference tournament in Memphis also hindered getting a second bid for the league. But a year ago, the tournament was in Tulsa and the league was nearly left with just one again after Houston upset UTEP in the championship game.
"Does this league have the opportunity to be better than the WCC, when it had three teams in with Gonzaga, Saint Mary's and San Diego? My guess is certainly yes, when you see the history of this league with the coaches and the players," Floyd said. "This league has to do what the Mountain West did last year and get four teams in and win."
The coaches know who has to be good for this league to ultimately survive in a changing, challenging college landscape. Memphis, UTEP, Tulsa, UAB and Houston have the most national name recognition with a national title in the group (Texas Western) and a few national championship game appearances (Memphis and Houston).
Eustachy says Southern Miss, with Angelo Johnson and Gary Flowers, are ready to challenge for the conference title. Their continued improvement would certainly help the league, but the Golden Eagles still don't resonate much nationally.
[+] Enlarge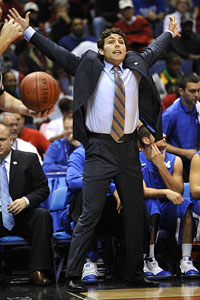 Scott Rovak/US PresswireExpectations weren't high for Josh Pastner's first season at Memphis. They certainly are for his second.
The pressure to be at the top still resides in Memphis.
"We need to be good; there's no doubt about that. We need to be good," Pastner said. "We've recruited well. We now have to perform well on the floor. That's the bottom line."
Eustachy disputes that Memphis has come back to the pack, despite missing the NCAAs this past season after four straight trips that included a title-game appearance, three Elite Eights and a Sweet 16.
"Memphis may have as good a players as Cal's better teams," Eustachy said.
Tulsa has had a rich history of NCAA tournament success under a plethora of name coaches like Tubby Smith, Nolan Richardson and Bill Self. Buzz Peterson won an NIT. Wojcik won a College Basketball Invitational. The Golden Hurricane had a great shot to be an NCAA tourney team last season, but weren't able to stand up and win the key games down the stretch when they had an elite center in Jerome Jordan, a second-round NBA draft pick.
"I think from a fan enthusiasm standpoint, they need us to be successful," Wojcik said. "What we need is multiple teams in the tournament."
To do that, though, the league's teams will need to start playing tough nonconference schedules in November and December -- and win some of those games, too.
That's not an issue for Memphis, which did that under John Calipari and still does so with Pastner. The Tigers play Miami and Georgetown at home, Tennessee and Gonzaga on the road and face Kansas at Madison Square Garden.
UAB has generally the same philosophy, and beat Butler and Cincinnati last season. The Blazers play Duke, Arizona State, Arkansas and Georgia this season. Floyd said he wants UTEP to have the scheduling attitude he had at USC, where he scheduled just about anyone to upgrade the team's power rating.
Tulsa has had solid shots to upgrade and does play in the Big 12 footprint, allowing it to get games with the Oklahoma schools. Southern Miss could use some success in Cancun this season, along with road wins at Ole Miss, South Florida and Cal that would greatly improve its national perception. Road wins always help.
"This is a process, but you've got to win those nonconference games and you've got to have 23 or 24 wins going into the conference tournament," Davis said. "It's difficult not to take a team that has closer to 30 wins than one that has 23 or 24. So if you can get to 25 or 26 or 27, you've got a better chance to get in."
A new identity for a host of schools that would probably like to be somewhere else would come if it could get multiple bids in the NCAA tournament and advance. Sounds easy enough, right?
"There are a lot of coaches in this league that have won a lot of games, a lot more than I have," Pastner said. "The league has gotten better. Memphis' dominance made everyone raise the level of recruiting and now the league has better players and is as athletic as ever before."
Five more observations from Conference USA media day:
1. So much talk was about the Memphis freshmen -- and it is a top-five class that deserves plenty of attention. But the consensus is that if the Tigers are going to be one of the nation's elite, then Wesley Witherspoon has to be a major presence. Memphis coach Josh Pastner is convinced that Witherspoon will be, or rather has to be, the star of this team.
2. C-USA put out its all-conference team, and one player was missing that could end up being a stud. UAB coach Mike Davis said Jamarr Sanders, a onetime guard at Alabama State, could be one of the best players he has ever coached. Sanders averaged 10.4 points and 4.9 rebounds a game for the Blazers last season, but Davis said he was just figuring out how to play the game after sitting out a year.
3. UTEP's Randy Culpepper was tabbed as the preseason player of the year, but the question Davis had was whether Culpepper was going to be set free to go up and down or if he would be in more of a half-court set. If it's the latter, that could change Culpepper's effectiveness. UTEP coach Tim Floyd has been known to change to his personnel, and that's why without a real serious post threat (no Derrick Caracter or Arnett Moultrie), it's hard to see this team slowing down too much.
4. The best news for the teams that might be struggling in the bottom half of the league is that at least three have a star. Rice coach Ben Braun said Iranian Arsalan Kazemi, who played for the national team at the world championships in Turkey, had a sensational summer and should be ready for a major season. East Carolina's Brock Young and SMU's Papa Dia, who made the preseason first- and second-teams respectively, will at least provide a reason to watch the Pirates and Mustangs this season.
5. When you sit at lunch and see the collection of coaches in this league, it really is amazing. When you look around the table and see Larry Eustachy, Tim Floyd, Matt Doherty, Jeff Lebo, Ben Braun, James Dickey and Mike Davis and know that they were all in high-major conferences and are now in this league, it says a lot about the coaching business. It is a fickle one at best. Fame is fleeting in this profession, but there is almost always a second chance. Conference USA is the epitome of that.
July, 29, 2010
07/29/10
8:01
PM ET
ORLANDO, Fla. -- New UTEP coach Tim Floyd continues to profess that he did nothing wrong at USC and was used as a "scapegoat" by outgoing athletic director Mike Garrett before Floyd abruptly resigned in June 2009.
"It's a shame that USC went through penalties when our coaching staff had no violations,'' said Floyd as he was recruiting at the AAU Super Showcase at ESPN's Wide World of Sports Complex. "When I left, I said it wasn't admission of guilt. I felt like I was being made the scapegoat by my boss when I told him that I had done nothing wrong and our staff had done nothing wrong.''
[+] Enlarge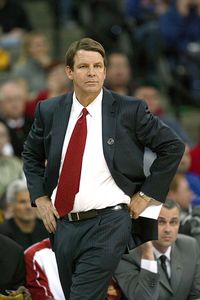 Jamie Squire/Getty ImagesFloyd enjoyed success at USC, but his tenure ended in resignation.
The NCAA didn't attach any violations to Floyd when it released its findings and sanctions June 10. The NCAA report's most damaging statement toward Floyd was that he sat in on a meeting with runner Rodney Guillory, who was pushing USC to recruit O.J. Mayo, and that the SC staff continued to recruit Mayo through Guillory even though they had "Googled" to find out that Guillory was identified as a "runner" for a sports agent in a case involving another NCAA member institution.
Since Floyd resigned, there has been quite an upheaval at USC.
Mayo's name is mud, with all visuals and records from his one season in Los Angeles removed or vacated. The Trojans lost an entire recruiting class, which subsequently helped Arizona rebuild last season under first-year coach Sean Miller.
The Trojans were playing like a Pac-10 title contender at one point last season, but then self-imposed a postseason ban. USC also lost two scholarships over two seasons and had to give back $206,020 for playing in the 2008 NCAA tournament.
But the worst is over for the former staff. Assistant Bob Cantu survived to stay on Kevin O'Neill's staff. Former assistant Gib Arnold is now the head coach at Hawaii. And a year later, Floyd is back at UTEP, coaching the Miners at the Don Haskins Center, named after the late coach who was Floyd's mentor and close friend. On Floyd's staff is Phil Johnson, his former assistant with the Trojans and Chicago Bulls.
Gone from USC is Garrett, who was recently replaced by Pat Haden. While the cleansing begins at USC, Floyd is the one who is still standing -- and is actually in a better position, at a school he has a clear fondness for since it gave him his start.
"I loved USC, I loved what we were building and I loved the way we were building it,'' Floyd said, "but life does move on and we'll move on as well.
"I'm disappointed for the school [USC] because I love the school, but what we've seen in the last 10 days has been an issue that has been brewing for a long, long time,'' added Floyd, referring to all the high-profile college football programs dealing with the agent issue. "Football guys get their hands around this better than basketball guys do and I expect them to make some dramatic, dramatic changes in the way agents approach players on college campuses. I think we'll see a revision as a result of all this.''
Floyd said he has taken "75 to 80" calls from coaches on how he dealt with agents on campus. He said he's hearing their stories.
One thing Floyd may want to tell coaches is that too many people had access to the USC locker room. It was not rare, as I saw for myself during a game in the Mayo era, to see "people with connections" to players milling about in the lounge outside the locker room.
Floyd, who also coached the New Orleans Hornets, isn't na´ve about how pervasive the agent/runner issue is in basketball.
"It's been a bigger problem [in basketball],'' Floyd said. "It's more inbred in our sport than any other sport. It's something that the NCAA is trying to get their arms around right now. Part of what happened at USC is a failure to maybe legislate either federally or through the NCAA to have stronger rules. The burden is back on the school and the universities are finding out how hard it is to police and how hard it is to control it. Hopefully it will all work out and I trust that it will. But I do think it's an issue.''
Being at UTEP has been a relief for Floyd. The school hired him before it knew whether or not Floyd would be named in the USC findings. But it may not have mattered. He is beloved in El Paso and was one of Haskins' closest confidantes.
"I just feel so proud to be back,'' Floyd said. "It's just such a huge, huge part of my life. I never took a job without asking Coach Haskins first and consulting him. There were a lot of jobs I didn't take as a result of consulting him. His thoughts on the business without a doubt were the biggest influence on my career and I talked [to Haskins] four times a week until his death. I was with him the day that he died. It means everything to me [to be coaching at UTEP]. I know it's a tremendous motivation.''
Floyd replaced Tony Barbee, who left for Auburn after leading the Miners to the Conference USA regular-season title and an NCAA tournament berth. But Derrick Caracter declared for the NBA draft (second round to the Lakers) and Arnett Moultrie transferred to Mississippi State, leaving a monster hole in the middle.
"There was a chance [of Moultrie returning], but I didn't feel it was a good fit,'' Floyd said. "He's talented, but it wasn't going to work out over the long haul.''
The Miners will need one of their three new bigs -- 6-foot-8 Rashanti Harris, 6-9 John Bohannon or 6-6 Michael Haynes -- to come through. Barbee left Floyd one of the top backcourts in C-USA. The Miners bring back guards Randy Culpepper, Julyan Stone and Christian Polk.
"We've got a returning base of perimeter players that will probably mean we'll play four perimeter players like we did at USC,'' Floyd said.
When Floyd was with the Trojans, he sat in his office and told me that USC was his last job. He coached there for four seasons, going to the NCAA tournament three times, including a Sweet 16 appearance.
"At 56, when you've been around the block like I have, you have to find your motivations from different things and it's not quite what they were when you were 32,'' said Floyd of being motivated to coach a program made famous by his mentor. "I said at USC that I planned on it being my last job, but sometimes things don't always work out. I would like this one to be my last job but you can't predict life. I've sure enjoyed the ride, it's been great. I know this one feels very comfortable and very familiar, and it's great to be back.''
June, 25, 2010
06/25/10
6:07
PM ET
NEW YORK -- You can blame it on poor advice, workouts, injuries, the NCAA's very early early-entry withdrawal date or whatever else you might choose.
But it's hard not to think about the players who came out early and went undrafted Thursday night.
Not everyone's situation was dire, of course. There's no reason to pick on any early-entrant that went in the first round. They made a wise decision. Period.
If you want, you could point out that Elliot Williams might have gone higher next season than No. 22 or Dominique Jones could have landed at a better number than No. 25 or certainly Kentucky's Daniel Orton may have been a much higher selection next season than No. 29.
But Williams can be a fit as a solid backup guard on a likely playoff team (Portland), Jones should fit in well as a scorer off the bench in Dallas and Orton should get a shot to grow and mature with the consistently surging Magic.
But for now, let's examine the rest of the relevant early-entrants:
The Mistakes
Hassan Whiteside, Marshall (No. 33 -- Sacramento): Whiteside declared to be at least a mid-first round pick. Sure, his coach Donnie Jones split for Central Florida, but had he played for Tom Herrion next season I'd be shocked if he wasn't a lottery pick in 2011. Instead, this raw 6-foot-11, 227-pound center went No. 33 to Sacramento, where he might not make the squad after the Kings selected DeMarcus Cousins of Kentucky at No. 5 and earlier in the week made a deal to acquire veteran center Samuel Dalembert from the Sixers.
[+] Enlarge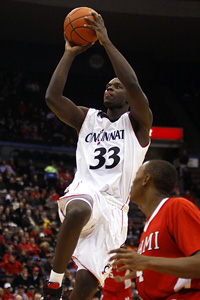 AP Photo/Tony TribbleThe much-hyped Lance "Born Ready" Stephenson was drafted 40th overall on Thursday.
Lance Stephenson, Cincinnati (No. 40 -- Indiana): The Pacers do need guards and maybe Stephenson can flourish with Indiana if he makes the squad. But there's no way, with all the hype he had coming out of New York, that he projected himself to be a middle second-round pick. Stephenson had a real shot next season with the Bearcats to be an all-Big East player. He would have refined his game and been able to mature even more. Now he'll have to scratch out a career the hard way.
Gani Lawal, Georgia Tech (No. 46 -- Phoenix): This is actually one of those cases where the player may have been better served leaving early last year. He was a borderline first-round pick a year ago. He's more mature and maybe more ready to handle the NBA now, but the middle of the second round has to be a major disappointment. His best hope is that free agent Amare Stoudemire hits the road and frees up a little room at power forward.
Solomon Alabi, Florida State (No. 50 -- Dallas to Toronto): I was stunned Alabi slipped this far. I'm sure he and his representation were too, considering he was bandied about as a first-round pick from 19 on down. Alabi could have been the dominant shot-blocking center next season in college, much like Mississippi State's Jarvis Varnado. Alabi had to work on his offensive game and would have been featured even more by Florida State. Instead, he now has to make the Raptors. Not an easy road.
Derrick Caracter, UTEP (No. 58 -- Los Angeles Lakers): Caracter had a complete transformation with his body, mind and attitude for Tony Barbee last season after a dysfunctional career at Louisville. He was a real player. Had he stayed to play for new coach Tim Floyd next season, I'd be stunned if he didn't improve his overall game and become at least a first-round pick. Instead, he chose to bolt and now he'll have a difficult time making a squad and may be forced to go overseas.
The Good Fits
Terrico White, Ole Miss (No. 36 -- Detroit): White was convinced he was a first-round pick and he nearly went to Atlanta at No. 24. Washington would have had interest had it kept its pick at No. 30. But going to the Pistons could be a good move for White. He should fit in quite well under the Joe Dumars plan and Dumars might see some of himself in White if he can become a better defender and a true pro. White has the stocky build to deal with the physical style of the NBA. He's a tremendous athlete too and could flourish on the break.
Devin Ebanks, West Virginia (No. 43 -- Los Angeles Lakers): Ebanks was a projected first-round selection when he came out of high school. He could have tantalized some NBA personnel a year ago after his freshman season. But there were questions during his sophomore season after an early, unexplained three-game absence and an offensive game that faded at times. His defensive game-changing ability made him an integral part of West Virginia's Final Four appearance. He was considered a first-round talent, but he slipped a bit. He was fortunate he landed with the Lakers. If he makes the squad, he could be a Trevor Ariza-like find for L.A. His defense would be much welcomed by the champions and he has a real shot to make this squad. Going to the best team in the league isn't a bad spot to land, even in the second round.
Hard To Know
Armon Johnson, Nevada (No. 34 -- Portland): Johnson was a relative unknown nationally. He wasn't a lock to be in the first round had he stayed around Reno, so going this high in the second was probably better than expected. But it's unclear if he can make the Blazers, so the location might not work out well.
Darington Hobson, New Mexico (No. 37 -- Milwaukee): Hobson had a stellar season for the Lobos. Had he returned he might not have been any higher than where he went this season. The Bucks probably can't keep all of their picks, so he'll have to work hard to make the squad.
Tiny Gallon, Oklahoma (No. 47 -- Milwaukee): Gallon was one of the more polite players I met during the NBA draft combine in Chicago last month. He is clearly trying to make this work. It didn't work out at OU. If he can stick with the Bucks as a second-round pick, that's better than most expected when he left after only one season.
The Enigma
Willie Warren, Oklahoma (No. 54 -- Los Angeles Clippers): Warren could be a steal for the Clippers. If he makes the team, he'll be joining former teammate Blake Griffin, who will play his rookie season next year after being hurt all of last season. But that's a big if. Warren was a preseason all-American and the preseason Sporting News player of the year. Instead, he battled injuries and illnesses throughout the season, was questioned about his poor body language and clearly wanted out of OU. His drop from headline name to afterthought is almost unheard of within one year in the basketball world. He was humbled by his play and the Sooners' swoon last season. Now he's been pushed further down by being selected at No. 54. How he reacts to his latest setback will tell us quite a bit about his desire and character going forward.
The Forgotten
Armon Bassett, Ohio: He had a memorable run in the MAC tournament and contributed to the Bobcats' stunning win over Georgetown in the first round of the NCAA tournament. He wasn't going to go back to Ohio. He didn't get selected, so it's likely off to Europe unless he can land on a summer-league team and make his way.
Charles Garcia, Seattle: Garcia was a hit early for NBA scouts. He drew their attention with his productivity on the glass. But he wasn't able to crack the second round and will have to see if he can make a squad.
[+] Enlarge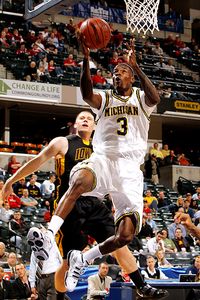 Jonathan Daniel/Getty ImagesManny Harris was one of the more notable college players left on the sidelines at the NBA draft.
Manny Harris, Michigan: Harris must not have enjoyed playing for the Wolverines much last season or got horrible advice. Or both. Harris had a chance to be a all-Big Ten first-teamer and a candidate for conference player of the year had he stayed in school. He did not and he didn't get drafted.
Courtney Fortson, Arkansas: Fortson had been suspended at Arkansas during his career. Had he been able to stay with the Hogs, he would have been one of the top point guards in the SEC. Alas, he could not. Fortson will have to find his own way and try to earn money around the globe.
Mac Koshwal, DePaul: Koshwal could have returned to play for Oliver Purnell and make some headlines in the Big East. Instead, he goes unselected. Not a good tradeoff.
Sylven Landesberg, Virginia: Landesberg couldn't have come back to the Cavs after being suspended at the end of the season. He had to make his way through the draft. It didn't happen and now he'll likely have to earn coin overseas.
Tommy Mason-Griffin, Oklahoma: There is no explanation for this decision unless he simply had no choice. He wasn't going to get drafted. He did not.
Elijah Millsap, UAB: The legacy of his family name in the NBA didn't do much for him. Had he returned to play for Mike Davis, he would have had a shot to increase his profile. Now he'll have to forge a difficult path.
A.J. Ogilvy, Vanderbilt: This one is a real shame for Kevin Stallings and his Vandy players. The Commodores would have had a real shot to compete for a top-two spot in the SEC East with the return of Ogilvy. Without him, they will likely be fending off Georgia for fourth. The Australian has a real shot to earn significant dollars overseas, but going unselected was hardly the projection he probably had for himself.
Samardo Samuels, Louisville: There was a buzz about Samuels' excellent work ethic late in the draft process. That might be enough to carry him onto a summer-league team and get a real shot to make a fall camp roster. But there's no way he thought that was his path when he decided to leave the Cardinals. Had he stayed he would have been one of the top big men in the Big East. He would have had free promotion from network television. Instead, he will have to make a team in an obscure manner.
March, 25, 2010
03/25/10
4:19
PM ET
If you put up blind résumés for coaches, much like we do with bubble teams, then you would probably pick Billy Gillispie and Tim Floyd for available jobs over a number of other candidates.
Rebuilding programs, win totals and NCAA appearances, save Gillispie's second season at Kentucky, would probably indicate that these two would be solid choices to take over programs.
Both coaches are well respected in terms of practice, game and tactical decisions. Both are hard-working. Both are tireless recruiters.
But both have baggage.
And yet Gillispie and Floyd are seriously in the running for three open Conference USA jobs: Houston, Central Florida and now UTEP.
Both have ties to UTEP. Gillispie engineered quite a turnaround at the school by taking the Miners to the NCAAs. He did the same at Texas A&M before his tumultuous stint at Kentucky. Gillispie took the Miners from six wins to 24 in his two seasons with the school. He took the Aggies to two NCAA tournaments in three seasons and one of two at Kentucky. Gillispie was fired at Kentucky and then had a rough offseason, as he was arrested for a DUI before checking himself into rehab.
The UTEP job might be more of a rebuilding situation if Derrick Caracter leaves, as expected, for the NBA draft. Caracter wasn't on the team charter back from San Jose last week after losing to Butler. UTEP officials are expecting him to declare for the draft and possibly not return to school to finish the semester.
Meanwhile, Floyd has coached in the NBA for the Chicago Bulls and New Orleans Hornets and all levels in college (Idaho, New Orleans, Iowa State and USC). He was an assistant to Don Haskins at UTEP before moving on to a head-coaching job.
Floyd's last college stint, at USC, ended with his abrupt resignation last year, and was marred by an NCAA investigation of violations, including an allegation that he paid O.J. Mayo's confidant Rodney Guillory $1,000 cash -- a charge Floyd denied. USC appeared in front of the committee on infractions in February, with a decision due sometime in the next month. Floyd was out of coaching for the first part of this season before being hired as an assistant on the Hornets' staff.
But what will it take to hire Gillispie or Floyd at one of these three jobs?
According to a few sources, at least one within Conference USA, there has to be a few things going for the schools to make these hires:
• A school president who is willing to take a gamble, who puts a premium on winning and who can stand in front of the media and handle the tough questions.
• A strong athletic director who is empowered by the president. The AD can't make this hire alone. But by making the hire, he is saying that he wants to win. At the time then-Indiana athletic director Rick Greenspan hired Kelvin Sampson, Greenspan was in a powerful position. Sampson had already had NCAA issues at Oklahoma, and when similar violations occurred at Indiana the coach was forced out and, eventually, so too was Greenspan.
• Whichever school makes the hire, it would need to have a sympathetic community and fan base. Clearly, UTEP and Houston would fit this more than a potentially apathetic Orlando community around Central Florida.
If you remember, at the time Bob Knight was available, he needed this base to line up at Texas Tech after he was fired at Indiana. He had all of the above elements in place in Lubbock. The same was true for Bob Huggins when he was looking for work at Kansas State after being fired at Cincinnati.
No one disputes that Gillispie deserves a second chance. Floyd, however, will be an interesting case to watch. It might be hard to see if a school hires him before the NCAA renders its decision on USC. There is also a split view among a number of coaches of the timing of Floyd's decision to resign. His former assistants were a bit miffed at the time that Floyd didn't stand his ground and fight the allegations. He might not have had a choice from USC athletic director Mike Garrett, but the resignation caught a number of coaches, including his staff, off guard. Floyd has started to become more outspoken recently about not being supported by Garrett. That's why Floyd will need a sympathetic ear, and his best chance is likely at UTEP, where he is fondly remembered. Houston would likely do the same for Gillispie since he was so well-liked at nearby Texas A&M for helping turn the program around.
If they both end up in Conference USA, then it would truly be the landing ground for coaches in search of a second or third chance. Southern Miss' Larry Eustachy, one of Floyd's good friends, and SMU's Matt Doherty are two of the latest examples. East Carolina just hired Auburn's fired Jeff Lebo. Rice coach Ben Braun was fired at Cal.
Houston is looking closely at Floyd, Gillispie, Sam Houston State's Bob Marlin and Texas assistant Rodney Terry. UTEP will likely focus on Gillispie, Floyd and Marlin, while UCF has already targeted Gillispie, Floyd, Murray State's Billy Kennedy, Marshall's Donnie Jones, former Sacramento Kings and New Mexico State coach Reggie Theus, Morgan State coach Todd Bozeman and former Alabama and current ESPN analyst Mark Gottfried.
If Floyd and Gillispie are going to get back in as Division I head coaches at a high level, then it appears one of these three Conference USA jobs might be their best chance.
March, 17, 2010
03/17/10
10:23
PM ET
Fran McCaffery has had quite a run of late, taking Siena to three straight NCAA tournaments, including two upsets in the first round.
The Saints are a trendy pick to win a third straight first-round game as No. 13 Siena goes up against No. 4 Purdue in Spokane on Friday.
Whenever McCaffery is done coaching this month, he'll have a decision to make.
Does he stay at Siena, where he has recently ruled the MAAC, or chase a bigger payday in a tougher conference?
Two years ago, he could have been a major player for the Providence job that Drake's Keno Davis ended up taking. McCaffery, however, was smart to stay put and not push for the job.
Now, McCaffery is definitely high up on the lists at Seton Hall and DePaul. If Norm Roberts isn't able to survive at St. John's, he could be in play there as well. McCaffery has the pedigree of someone who would be marketable to these Catholic schools. He was an assistant at Notre Dame under Digger Phelps. He is coaching at a similar institution now, though it is smaller and in a less rigorous conference. He has strong ties in the New York metro area, and there are no NCAA violations or any behavioral issues on his record. It would also make sense for Charlotte to look at him since he was once at UNC-Greensboro.
Still, he has to balance what would be a big payday with the assurance that it's the absolute right job he's taking.
He's a winner. But this is an intriguing situation for someone like McCaffery. There always seems to be the assumption that you have to go where the money and the league says you should. But do you?
I've covered the game for 20 years now, and I've seen plenty of questionable moves. The most recognizable ones came out of Butler. Few coaches have realized just how good a gig they've had in Indianapolis. Todd Lickliter left for Iowa and was fired three years later. Lickliter believed he could turn the Hawkeyes around. Barry Collier left for Nebraska. He was fired and ended up back at Butler as the athletic director.
McCaffery has to be careful here. He must make the right decision at a critical point in his career. Does also he look at Iowa, where he could be a fit since he was at Notre Dame and knows the Midwest?
The same could be true of someone like UTEP's Tony Barbee, who is a strong candidate at Auburn and DePaul. Barbee has the Miners in the NCAA tournament as a 12-seed and regular-season champions of Conference USA.
UTEP should be just as good next season, assuming the NBA doesn't grab Derrick Caracter and/or Randy Culpepper as early entrants. Barbee could be even hotter as a candidate with another successful season in El Paso. Another strong season could really improve his position in the market; he might not have to take a job at the bottom of a league that doesn't present much of an opportunity to move up in the standings quickly.
The most intriguing development Wednesday was Rutgers' announcement that it was sticking with Fred Hill. That news came to light hours after it was reported by the Newark Star-Ledger that Bobby Gonzalez was out at Seton Hall. Hill's contract situation didn't help Rutgers make a move -- he's reportedly owed over $1 million. But while Hill has had some attrition lately, such as losing big man Greg Echenique, he didn't draw attention to himself like Gonzo.
Gonzo's antics didn't help him. That fact was clear Wednesday. The lack of decorum of his Second Chance U. players -- from Keon Lawrence's wrong-way driving in the fall to Herb Pope's punch in the groin Tuesday night in the NIT loss to Texas Tech -- the Hall's appearance was not appealing.
Seton Hall should try to woo someone like McCaffery or Davidson's Bob McKillop, but the school is also smart enough to know that both coaches are in good situations. McKillop loves his life in the Davidson community north of Charlotte. Why would someone want to leave what makes sense for the craziness of the bottom of the Big East in the competitive New York metro area?
Still, the Hall will have to go with someone who has had no trouble in his past. Likewise, Fordham is trying to do that in looking for a replacement for Dereck Whittenburg. The Rams are looking to make a splash with the hire, but instead they need to ensure it is someone who makes sense, who wants to rebuild and doesn't mind grinding. That's why someone like Rhode Island's Jim Baron -- who might have overstayed his situation at URI after failing to make the NCAAs -- would be an interesting call. But why not look at a coach at a school that can't compete financially, like Northeastern's Bill Coen? There are coaches out there who need to take a gamble to move up rather than leave a comfortable situation. That's why places like Fordham and Seton Hall should also consider Tom Herrion, the top assistant at Pitt, or Hofstra's Tom Pecora. These might be jobs at which NCAA tournament appearances or success isn't the issue, but character and personality fit are more likely the answers. Pitt promoted Jamie Dixon as an assistant and that worked, right? Robert Morris' Mike Rice worked at Fordham, where he is an alum.
Some other quick hitters

• Hawaii already interviewed Gib Arnold, the former USC assistant, and Saint Mary's Kyle Smith. Arnold and Smith have strong ties to Honolulu. UH officials were on the mainland in Los Angeles on Wednesday talking to Gonzaga assistant and former Utah and Eastern Washington head coach Ray Giacoletti, Colorado assistant and former Wyoming coach Steve McClain and Southern Miss assistant and former San Jose State coach Steve Barnes. The Warriors couldn't go wrong with any of these choices. All have a sense of the difficulties of the job at Hawaii. I still contend it is a quality job.
• Charlotte is lurking as a quality gig for someone who can move quickly up the A-10 ladder. What will be interesting is whether former Charlotte assistant Dalonte Hill, now at Kansas State, can get a serious look after he left the 49ers and took committed player Michael Beasley with him to Manhattan. I would think the 49ers would get a lot of hits from head coaches.
• Oregon will wait until Gonzaga's Mark Few finishes the season before an official push. After that, expect the Oregon program to look long and hard at coaches with Nike ties who have been at a national-championship level. That's why Minnesota's Tubby Smith will be dangled as a candidate.
• Would Providence's Keno Davis go back to Iowa to coach the Hawkeyes after his father Tom was pushed out? I would say yes. Would they hire him? I think it would be hard after the way the Friars' season ended.
• I find it hard to believe that Trent Johnson would leave LSU and head back home to Boise State. Coaches are squawking about this occurring. I would be surprised if Johnson left an SEC job for the WAC. This was one bad year at LSU after winning the SEC West the previous season, but give him time.
• I'm not just shilling for a fellow colleague. I do love the knowledge Fran Fraschilla and Tim Welsh share with me on the game. They both were and should coach again if they feel it's right for them and their families. One coach just started with us and I wouldn't be surprised if he got a call this spring: former Alabama coach Mark Gottfried. He won with the Tide and reached the Elite Eight but had a number of injuries that derailed him late in his tenure. Gottfried deserves another shot.
• Was the Ernie Kent firing the longest, most drawn-out process recently? Why didn't Oregon just make it official when Mike Bellotti informed Kent? It made no sense to wait.
March, 8, 2010
03/08/10
6:51
PM ET
The Weekly Watch ended last week, but we should still acknowledge a few teams and players who distinguished themselves at the end of the regular season.
Team of the week
Memphis: Won at UAB 70-65; beat Tulsa 75-53
If the theme of the final week of the regular season is to earn your way into the NCAA tournament, then the Tigers are doing their job.
[+] Enlarge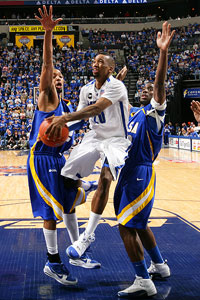 Joe Murphy/Getty ImagesMemphis helped its bubble chances with wins over UAB and Tulsa to close the regular season.
Memphis couldn't afford one slip in its final two games against a pair of teams picked to be at or near the top of Conference USA. Knocking off UAB earlier in the week gave the Tigers a tremendous asset: a sweep of the Blazers, with a third matchup likely coming in the semifinals of the Conference USA tournament in Tulsa, Okla.
If Memphis gets three wins over UAB, it would be hard to keep the Tigers out. They also delivered a knockout punch to Tulsa on Saturday. Maybe the Golden Hurricane can wake up and hold serve at home in the conference tournament. But the one-time favorites in this conference enter it on wobbly footing. Tulsa will also have to deal with a likely matchup against Marshall in the quarterfinals; not an easy draw, considering the Thundering Herd are playing quite well heading into the tournament after a convincing win over SMU in Dallas.
Other contenders
Maryland: The Terps won a share of the ACC title with a late-possession home win over Duke earlier in the week, and then took out the Sylven Landesberg-less Cavaliers at Virginia. Great week, tremendous season, and an effort from Gary Williams worthy of coach of the year honors.
Notre Dame: Like Memphis, the Irish had to win two games down the stretch to stay on the right side of the bubble. They did it by beating Connecticut at home and taking out Marquette on the road in a thrilling overtime win in which they were saved at the end of regulation with a 3-pointer off a loose-ball situation.
Purdue: There was reason to doubt the Boilermakers after an offensive struggle against Michigan State the previous Sunday in their first full game without Robbie Hummel. But Purdue won the games it was supposed to last week by beating Indiana at home and taking out a gritty Penn State team in State College.
West Virginia: Well, my original pick to win the Big East championship never settled its point guard situation, but still found a way to finish strong with a convincing win over Georgetown at home and then a thrilling comeback win over Villanova in overtime Saturday to give the Mountaineers some momentum and mojo.
Player of the week
Da'Sean Butler, West Virginia: He was "Big Shot" Butler, making a 3-pointer at the end of regulation and then a running shot to beat Villanova in Philadelphia on Saturday. Butler finished with 21 points in 43 minutes. He was actually only 3-of-10 from the field, but made two huge shots and was 13-of-14 at the free throw line. He also scored 22 points in an earlier win over Georgetown as the Mountaineers finished strong.
• Oregon coach Ernie Kent is adamant that he's not out. I'm not sure I've met another coach with as much passion about fighting off rumors about his job status.
If Kent is out, as has been widely reported, then the Oregon job becomes the highest-profile gig available. DePaul doesn't come close. Oregon is in a league with plenty of movement. The Ducks have been to two Elite Eights in the past 10 years. Oregon has a massive new state-of-the-art arena to play in next season, and has the financial backing of Nike.
The Nike angle will be the driving force in deciding who the next coach is, if Kent is indeed out. After the obligatory run at Gonzaga's Mark Few, the list of coaches the Nike/Oregon Ducks will go after likely includes Minnesota's Tubby Smith, Texas A&M's Mark Turgeon and New Mexico's Steve Alford, among a few others. Whether assistant Kenny Payne, who has been the team's lead recruiter, will stay is another interesting twist. The DePaul interim staff might be asked to stay on as well, which might not give much flexibility to hire a new staff to whoever takes both jobs.
But as enticing as the Oregon job could be, it still won't be the best gig in the Pac-10. That will fall to UCLA, and I would put the tradition and passion of Arizona and the recruiting bases at Washington and USC ahead of the Ducks. As long as Cal has a coach like Mike Montgomery heading the Bears, it's hard to doubt their staying power, either. This is not easy stuff. Oregon will have to find its way on a consistent basis whoever is chosen to lead the Ducks. This is of course assuming that the reports are correct and Kent is gone.
The other coaching jobs that will be interesting to watch in the next week are in the Big East (St. John's and Rutgers) and the SEC (Auburn). The telling detail in these cash-strapped times for higher education will be whether schools have the money to buy out coaches, not so much whether the firing is justified.
March, 5, 2010
03/05/10
2:24
AM ET
Georgetown coach John Thompson III reiterated late Thursday night that
Austin Freeman
will play again this season. Freeman has been diagnosed with diabetes. Whether it's Type 1 or Type 2 is still to be determined. "He will absolutely play again this season," Thompson said. "He's learning about his body, how his blood-sugar levels fluctuate. He may play Saturday [against Cincinnati]. It will be a doctor's decision at this point." Thompson said that if Freeman, who is Georgetown's leading scorer, doesn't play against the Bearcats, he likely will return in the Big East tournament next week.
Thompson also said Freeman practiced well Thursday and that he fully expects Freeman's scoring numbers to be back to normal.
"It's a change of lifestyle," Thompson said. "He's had a tough week. We've had a rough week healthwise, and he was the most pressing." Freeman was complaining of a stomach virus before being diagnosed. He had blood work done, and his sugar levels were shown to be "incredibly high," Thompson said. "We now know how to manage it," Thompson said. "We will have an endocrinologist from Georgetown with our team for the rest of the season. He was at the last few practices monitoring Austin and will be with us the rest of the season, watching Austin's levels continuously." Freeman, who is averaging 17 points a game, scored 29 points in a win at Louisville on Feb. 23 but clearly wasn't himself in a loss at Notre Dame four days later. He played 23 minutes and scored just five points on 2-of-5 shooting. Freeman had been on a tear, scoring 20 in a win over Duke in late January, 33 in a win over UConn earlier that month and 25 in a home win against Villanova in early February. "He looks like himself again," Thompson said. "It's good to see, because he had been sluggish for a while." Thompson said part of the reason for the Hoyas' inconsistency -- they've lost four of their past five games -- has been a flu bug that affected much of the team. "We've been healthy now for a few days," Thompson said. "It's the first time in a few weeks." Thompson said the decision on when Freeman will play will be up to the doctor. "It's just a question of him learning his body," Thompson said. Thompson said there is no question the Hoyas, who will have to lean even more on
Greg Monroe
,
Jason Clark
and
Chris Wright
, can return to being a more consistent team. That means being a possible conference tournament title contender in the Big East. "There's no doubt in my mind that we will," Thompson said. • What would Florida's at-large profile look like without a win over Michigan State?
Not good.
That's why the decision by the Gazelle Group, organizers of the Legends Classic in New Jersey, to have Michigan State and Florida play in a semifinal has turned out to be one of the most important factors concerning the Gators' postseason hopes. The decision seemed odd at the time. The other prearranged semifinal matchup was UMass and Rutgers. When the bracket was announced, it looked bizarre that the two best teams would play before the final. But the organizers wanted to ensure the Spartans and Gators played. Florida won the game, and that result stands out as the Gators' best nonconference win.
There were doubts by Florida and Michigan State about playing in a semifinal, but ultimately they agreed.
"We knew guaranteeing the Florida versus Michigan State matchup would generate the most publicity for the event -- driving ticket sales and television appeal," said Rick Giles, owner of the Princeton-based Gazelle Group. "We were also worried that we might not get it, having experienced numerous semifinal upsets over the years and not getting the championship match that everyone anticipated." The other reason Giles went to MSU's Tom Izzo and Florida's Billy Donovan was to give the game its biggest pop on a Friday night during Thanksgiving weekend, opposite the NIT final. The feeling was that if the game was played on Saturday, it would get lost amid college football games. "We paired them in the semifinal so we could knowingly promote it," Giles said. "Our semifinal ticket sales were 50 percent higher than our championship."
Florida won its annual game against Florida State, lost to Richmond in Sunrise, Fla., hosted Xavier and lost, lost to Syracuse in the SEC-Big East Invitational in Tampa, Fla., won at NC State and had a bad nonconference loss at home to South Alabama. That's why playing Michigan State in the semifinals will turn out to be the best decision the Gators made in the offseason.
Florida assistant coach Larry Shyatt said playing the game ended up being a blessing for the Gators.
"We wanted to play this game, and Tommy [Izzo] was kind enough to do it," Shyatt said.
The Gators are glad he was. Imagine if Florida went to New Jersey and played UMass in the semifinals and then, if MSU lost, played Rutgers in the final? Ensuring a Michigan State game -- and getting the win -- could ultimately be the reason the Gators get a bid.
• Conference USA is on the offensive after UAB lost at home to Memphis on Wednesday night. The loss, a league official says, shouldn't affect C-USA receiving multiple bids. But there seems to be some angst. For four straight years, Conference USA has had one bid. Memphis, when it was led by current Kentucky coach John Calipari, dominated the conference. The perception was the league couldn't deliver on getting an at-large bid. The image was of a one-bid league, no different than a host of other conferences that receive only one bid. If C-USA doesn't receive multiple bids this season, when the bubble appears incredibly soft, it will have a hard time building credibility. The opportunity is clearly there for UAB and Memphis to join UTEP in the Big Dance. "Our teams have played themselves into position to be considered as at-large teams," C-USA assistant commissioner Chris Woolard said. "Since the realignment, this is the best the top of the league has been in the last five years." As the regular season concludes, five of the 12 teams have double-figure wins in league play. Tulsa has been a bit of a disappointment, finishing with a 10-5 mark after being a preseason favorite. The Golden Hurricane will host the tournament next week. Marshall has been the surprise team with a 10-5 league record. UAB has won games it wasn't supposed to, beating Cincinnati and Butler at home. UTEP and Memphis entered as preseason favorites and have lived up to that hype. Memphis has a shot to knock off Tulsa on Saturday to enhance its résumé. Obviously, reaching the C-USA final in Tulsa, Okla., would do wonders to get the Tigers back to the Big Dance, which would be quite an accomplishment for first-year coach Josh Pastner in his quest to live up to the massive shadow left by Calipari. But the ongoing debate with conferences outside of the power six, especially in C-USA, the MWC and A-10, is whether losses to top teams are a detriment. "We don't think [losing to Memphis] should impact UAB's chances," Woolard said. "UAB has done everything. Both UTEP and UAB have done everything needed to get considered for an at-large bid. Look at the numbers. Look at the records. Look at the strength of schedule. We keep hearing about the eye test. It's hard to argue that they're not two of the best teams in the country." We shall see. The problem for C-USA is that a conference is judged by how many teams it gets into the field and then how far they can advance. C-USA is recognized much more as a basketball conference than a football conference. Earning multiple bids into the field is paramount to its national reputation. If the league fails to do that this season, it will be difficult to give it the benefit of the doubt going forward. There's an opportunity for the league to differentiate itself. Losing that chance will be costly.