Category archive:

Texas Tech Red Raiders
October, 3, 2012
10/03/12
2:20
PM ET
Texas Tech is expected to decide in the coming days what to do with its head-coaching position this season.
The official start of practice is Oct. 12. Red Raiders officials say a decision on the interim coach is imminent.
[+] Enlarge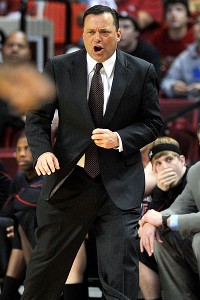 US PresswireThe Texas Tech coaching situation has been up in the air since Billy Gillispie resigned in September.
At this point, there doesn't appear to be a real decision. Of the natural candidates outside Texas Tech -- former Nebraska and UTEP coach and current Kansas director of basketball operations Doc Sadler and current North Texas assistant, former Arizona State and Ole Miss coach and onetime Tech assistant Rob Evans -- neither has been contacted about the job.
That doesn't mean there aren't others out there for athletic director Kirby Hocutt. But if he were going to go with an interim head coach other than Sadler or Evans, he had to ensure it was someone who had a strong connection to the school.
The only choice appears to be Chris Walker, who has been low-key since he was named the day-to-day interim coach after Billy Gillispie resigned on Sept. 20.
The Red Raiders players have toned down the rhetoric and are locked in on the season, enjoying themselves as evidenced by this video of Trency Jackson dunking.
Jackson is one of nine new players on the roster, and Walker should get credit for keeping the players together at a time when they could have asked to leave.
Walker's résumé is loaded with stops from 1992 to 2011 at Loyola Marymount, Vanderbilt, Pepperdine, UMass, New Mexico and Villanova, his alma mater. Walker worked for Steve Lappas and Jay Wright at 'Nova and Steve Alford at UNM.
"He has coached in a number of conferences and under a number of head coaches," Wright said Wednesday. "He has been taking notes from everyone he works for and creating his own philosophy.
"He's preparing and been planning for this opportunity someday. He is very astute X-and-O-wise, and his rep as a recruiter is there, because that's what people see. But in coaches' meetings, he is very savvy basketball-wise. His biggest challenge will be the same challenge Billy would face coaching an inexperienced team in a tough conference."
Walker has no guarantee he would get the full-time gig. If Walker lands the interim job, Hocutt has to make it clear what the parameters are of the contract so there is no confusion.
Steve Lavin was tabbed as the full-time coach during his interim season at UCLA after replacing a fired Jim Harrick in November 1996. This season, UConn alumnus Kevin Ollie has a seven-month contract at UConn to replace Jim Calhoun. He has a legitimate chance to replace Calhoun for the long term, and everyone around the program is rooting for him.
Walker is in a much different situation. He just got to Texas Tech in 2011, so there isn't a strong attachment to the program. Neither side has invested much time yet.
If the job were to open up, there will be a number of candidates in the spring, such as Scott Sutton (Oral Roberts coach), Bob Marlin (Louisiana Lafayette coach) and Craig Neal (New Mexico associate head coach).
But that's six months from now. The Red Raiders can't disrupt the team yet again with a fresh face now that they have waited weeks since Gillispie's resignation and a month-plus since he first took a medical leave of absence.
"He's a Texas guy," said Alford of Walker, who is from Houston. "He knows how to recruit and has a very good basketball IQ. He has good knowledge of the game and how to develop a program. The challenges are, if given the interim position, you must win quickly, and that's going to be a huge challenge this year."
He's right. Walker can't just audition for the job based on wins and losses. If that were the case, he doesn't have a chance. He would earn more points in Lubbock and with other athletic directors around the country if he stabilizes the team and runs a quality program that competes and shows improvement.
The Red Raiders should produce more than one Big 12 win this season, but don't expect them to move above ninth or 10th in the standings in a league that should have as many as eight teams vying for postseason berths.
Texas Tech has to make a decision on Walker sooner than later so the season can begin again for the Red Raiders. The window has passed to bring in someone from the outside. They need to tab Walker as the interim and decide in 2013 what to do next.
September, 20, 2012
09/20/12
11:13
PM ET
After Billy Gillispie's resignation Thursday night, a number of coaches with Texas Tech and Big 12 ties told ESPN.com the Red Raiders are facing a two-to-three-year setback in recruiting and even lengthier rebuilding period than they were already facing.
"This isn't UCLA or Indiana or Arizona, where you can bounce right back," said a coach with Texas ties who didn't want to use his name. "It's going to be extremely tough to do at a place like Texas Tech that is now at the bottom of the Big 12."
That's why athletic director Kirby Hocutt is facing one of the most important decisions of his career.
[+] Enlarge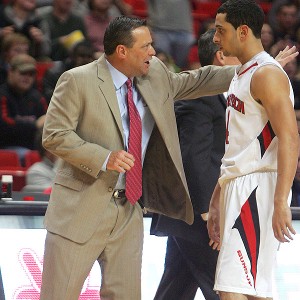 Michael C. Johnson/US PresswireAfter the resignation of Billy Gillispie, TTU AD Kirby Hocutt has a huge decision on his hands.
The interim coach must be someone who has a connection to West Texas, to Texas Tech and is committed to selling the Red Raiders. This can't be about just coaching a TTU team that is coming off a 1-17 Big 12 season.
Texas Tech spokesperson Blayne Beal said Thursday the university is open to going outside the program for an interim coach and isn't married to handing the job over to assistant Chris Walker, who has been the de facto head coach during Gillispie's medical leave the past few weeks.
One source said the Tech administration may be leery of hiring someone from Gillispie's staff in light of the allegations from the players of a demanding coaching style and excessive practice time. According to a source with knowledge of the situation, former TTU athletic director Gerald Myers could also be consulted as to which direction to turn in the immediate future.
"You've got to know the people," said one coach with West Texas ties. "You've got to be creative. You've got to have a niche recruiting wise. The people in West Texas have to feel you. They want to know you.
"Who's going to go there and play if you can't really sell it over the next seven months. If you can't, then it will set them back years."
If Walker isn't the interim choice, then the options are limited for Hocutt. But there are a few that could make sense.
The easy solution would be for Hocutt to grab North Texas assistant Rob Evans, a former head coach at Ole Miss and Arizona State. An assistant most recently at Arkansas and TCU, Evans is now working with his cousin, new UNT head coach Tony Benford.
Evans was also a former assistant to Myers at Texas Tech and recruited Benford to play for the Red Raiders in the early 1980s. Benford won't and can't go back to his alma mater at this point in the year after moving from the Marquette staff to the Mean Green head job this spring.
But barring a disaster at UNT, Benford would have to listen after the season. The Mean Green have a shot to win the Sun Belt with star forward Tony Mitchell returning, so Benford could be a hot commodity anyway. In the meantime, Evans would be a stabilizing presence for the season until either Benford or someone with strong ties can be found.
On the other hand, if Hocutt wants to hire a permanent coach now, two names come to mind -- one who would definitely take the job and another who would have to listen, even if it would put him in an awkward position.
[+] Enlarge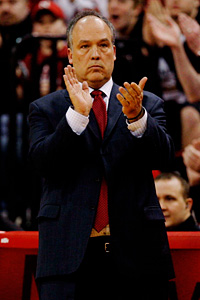 Bruce Thorson/US PRESSWIRECould Texas native Doc Sadler be the answer in Lubbock?
The latter is at Kansas these days. Doc Sadler succeeded his good friend Gillispie at UTEP before landing a head-coaching job at Nebraska, where he was let go this spring. KU coach Bill Self, another friend of Gillispie's, added Sadler to his staff as the director of basketball operations.
Sadler could come in to a league that he knows extremely well after coaching in the Big 12 at Nebraska. He also understands West Texas as a longtime junior college coach who mined the area and had to recruit it again at UTEP.
The other name that immediately comes to mind? Former New Mexico State coach Reggie Theus, who was also a head coach with the Sacramento Kings and an assistant with the Minnesota Timberwolves. Theus would give the Red Raiders a name, like Sadler, and infuse energy in the program after a troubled season.
If Hocutt sticks with Walker and the current staff, then he hasn't solved the long-term problem. Two returning players told ESPN.com weeks ago that they weren't sure they wanted to play for the assistants. So it will be up to Hocutt to assess whether or not the program is poisoned. And if he determines the assistants can sell and stabilize the program for this season, will others buy in?
Bringing in Evans would give the Red Raiders instant credibility in the state and region and give them someone who would rep Tech even if he knew he wouldn't land the job full-time. Sadler and Theus, meanwhile, could be long-term solutions.
Regardless of his choice, Hocutt has to act quickly. All of these coaches would answer the phone if he dials them up Friday. The onus is on Hocutt to make the right choice now for the future of the program.
If he whiffs, the Red Raiders may fall too far behind in the Big 12 and end up being banished to the basement for quite some time.
September, 6, 2012
09/06/12
10:27
AM ET
The start of official practice is still five weeks away, and it's pretty clear Texas Tech coach Billy Gillispie has already lost his team.
Is his job next?
As he sits in a Lubbock University Medical Center hospital room, Gillispie may have already had his coaching fate decided by athletic director Kirby Hocutt and university administration.
If a decision hasn't yet been made, how could Gillispie earn the trust back of his players and the administration after allegations of breaking secondary rules dealing with excessive practice time and putting demands on his players that were too much for them to bear?
The simple answer, in my opinion: He can't.
When Gillispie committed a secondary violation concerning practice time in the winter, he was "issued a reprimand that there would be no tolerance for further disregard for rules," Hocutt said.
[+] Enlarge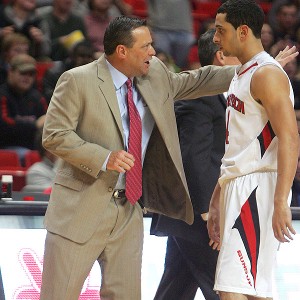 Michael C. Johnson/US PresswireBilly Gillispie is at the center of a firestorm in Lubbock. Will it cost him his job?
That seems pretty cut and dry. But once Gillispie is out of the hospital and can give his side of the story, can he possibly save his job?
"That's a hard question to answer," said Eddie Fogler, a former head coach at South Carolina and Vanderbilt who now heads search firms for schools looking for head coaches.
As Fogler pointed out, Gillispie had similar problems in his past, so it will be hard to create a defense. The recurring theme hurts him.
If he does get a second chance in Lubbock, Gillispie "will have to change how you go about your business if you can, if you want to," Fogler said. "But that change doesn't come easy for a coach who's been around as long as Billy's been doing it."
Fogler said a coach has to get the players to trust him and be willing to work hard for him.
"Getting that mutual trust is hard," Fogler said. "They have to understand what you want, and when they're not doing what they're supposed to do, then you have to hold them accountable."
Fogler said the rules have to be spelled out before practice starts. If there is a policy for tardiness or missing class, he said, the players have to know the consequences up front. They can't have arbitrary punishments.
"You have to have everyone on board," Fogler said. "Most coaches have it written down and get the kids to sign it and agree to it so they know what they're accountable for."
Does Gillispie deserve a fair hearing to respond to the allegations made by past and current players during his brief tenure at Texas Tech?
"Whether it's Billy Gillispie or anybody else, the coach needs to have a chance to answer the charges," said National Association of Basketball Coaches deputy executive director Reggie Minton.
Minton said Gillispie can retain his job only if his superiors support him. He said Gillispie and Hocutt have to meet to see if Hocutt is satisfied with Gillispie's response, something Hocutt said he wants to do once Gillispie gets out of the hospital.
The coach will know within minutes if the athletic director has his back when they meet, Minton said, referencing the forced resignation of Dartmouth coach Terry Dunn.
"The players went in and said they would boycott if he kept the coach on," said Minton. "The AD then let him go right there and then on the spot. But I talked to another AD after the season in the same league who said if it happened he would have thrown the players out of his office."
Former Wake Forest and South Carolina coach Dave Odom said the first step in getting the team back is to ensure the administration is on your side.
"If you go to the administration and they say this team is yours and they're backing you, then you can go forward," he said. "But you can't plow straight into your team and ignore the administration."
Odom said if he were the coach in question, he would work with the upperclassmen in small groups and use a team meeting to try to win back his team.
"You have to air out the differences," Odom said. "You have to have them sit in front of you and tell you what they object to. You have to give them a chance to look you in the face. Then you have to be able to say you've made some mistakes if you've used bad language or been too hard on them. You have to compromise and meet them halfway."
Odom said accepting some responsibility is a must to get the team back. The coach would have to admit his mistakes.
"But he does have to say, 'I am the coach and you are the players, and at some point I'm going to have to make decisions that are best for your team, and you have to trust me in good faith,'" Odom said. "You've got to be able to say, though, that you're not perfect and you made mistakes."
If this were Gillispie's first offense, all of this would be possible. But it's not.
Odom, Minton and Fogler made sage points, convincing arguments that a coach in that sort of situation can get his team back.
The problem is that Gillispie hasn't shown he can change or be trusted to remain in the clear.
Hocutt essentially gave him a second chance already, after a miserable 1-17 Big 12 season in which Gillispie was already pushing too hard with excessive practice hours that broke the rules.
Does he get a third opportunity?
Because of Gillispie's actions, his future is out of his hands.
October, 21, 2011
10/21/11
8:22
AM ET
KANSAS CITY, Mo. -- In 2011-12, the Big 12 will be the only power-six conference playing a true round-robin schedule to determine a regular-season champ.
And if the decision were up to the men's basketball coaches (although it never is), they would rather see the balanced schedule continue, regardless of what Missouri decides to do with its conference affiliation.
The Big 12 has 10 remaining schools this season after losing Nebraska (Big Ten) and Colorado (Pac-12). So the conference finally was able to scrap the unbalanced schedule that was based on a north-south football split that saw Texas and Kansas playing only once every season. The need to have those two teams play twice was so real that Texas coach Rick Barnes said he looked into playing a nonconference game against the Jayhawks at one point.
Texas A&M is off to the SEC in 2012, but the Big 12 has already replaced the Aggies with TCU for next season. If Missouri were to leave at some point for the SEC, it would leave the Big 12 with nine schools. That's where Kansas coach Bill Self would stop, if it were up to him.
[+] Enlarge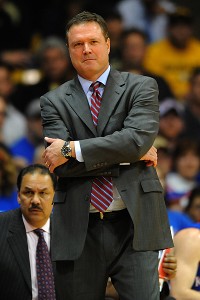 Ron Chenoy/US PresswireBill Self has certainly had plenty of opinions on the realignment occurring in college sports.
"I want nine, that's what I want, to choose to stay at nine," Self said. "That way we would have 16 league games and a round-robin instead of 18. If we don't do nine, then I'd rather do 12 for 16 games."
Multiple Big 12 sources said Mizzou is leaning toward a departure to the SEC, but there is still a chance that the Missouri board of curators could decide to stay in the Big 12 with the new revenue sharing and grant of rights for Tier I and Tier II television games.
If the Tigers leave, then the Big 12 has to decide if it wants to go to 10 (Self's wish of nine is highly unlikely) or bump up to 12. The choices for either are centered on West Virginia, Louisville and Cincinnati from the Big East and BYU, which is an independent in football and in the WCC for everything else.
"I'd like to stay at 10 for a bit and see what happens with it," Barnes said. "I'd love to see us at 10. I love the round robin. When I was in the ACC and Big East, we were at nine teams. As long as we keep Kansas, we're going to have a good league."
Barnes said that as Self walked by to give him a ribbing. But Barnes did say playing 16 games allows the Big 12 schools to play a "great non-league schedule."
Oklahoma State coach Travis Ford wants to see the Big 12 pull an ACC and be proactive, going after elite basketball schools the way the ACC did with Pitt and Syracuse.
"I have so many mixed emotions here, but I'd love for Louisville, West Virginia and Cincinnati to come in for basketball and make us a 12-team league," Ford said. "But if we went 12 and went divisions, I wouldn't be a fan of that. I do like 10. I like that the schedule is fair. And I think it will be exciting for fans to see all the teams come through the gym. We'll have a true champion. A guy like me from Kentucky, I'd love to see Louisville. Boy, what a great basketball league you'd have. But we're in a good position now."
Oklahoma coach Lon Kruger is coming off a true round-robin schedule in the Mountain West while at UNLV. He doesn't want to see a change.
"It's a true champion," Kruger said. "It's good for the fans too. It's the best way to determine a championship."
Iowa State coach Fred Hoiberg agreed with that assessment. So, too, did Baylor's Scott Drew, Kansas State's Frank Martin and Texas Tech's Billy Gillispie.
The Pac-10 used to have a true champion, the ultimate grind of home-and-home with every school. But then the additions of Utah and Colorado meant there would be unbalanced scheduling. A true champ isn't a foreign concept and happens in various conferences in Division I. The Missouri Valley comes to mind.
Less is more for the men's basketball coaches. They'd like to see the league preserve something that they've coveted for some time -- a true home-and-home with every school.
This season -- Texas A&M's last -- will give the Big 12 the feeling of truly being a conference. If Missouri is in the league next season, then the Big 12 can experience two seasons of this so-called scheduling bliss.
Beyond that is still a great unknown. The basketball coaches don't have a vote. They have a voice and they have expressed it. But clearly, like almost everything else, this will be a football-driven decision.
That seems to be a common theme of late.
September, 19, 2011
09/19/11
2:45
PM ET
The current 10-team Big 12 has only one season as it's currently configured.
What a shame.
When Nebraska (Big Ten) and Colorado (Pac-12) bolted, the league was left with 10 schools that are all on the upward trend. There are no bad teams. None. All of the schools are now fully committed to making men's basketball a premier sport. Finally, the Big 12 was going to have a true round-robin schedule in the sport. The Big 12 was going to be the newest and only major conference to play a balanced schedule.
And this season promises to deliver on one of the country's most competitive conference races.
But the Aggies will soon be gone for the SEC, if they can get over their legal woes, and the rest of the league is in serious doubt. If Oklahoma hadn't started the latest round of Big 12 exploration, nine remaining Big 12 schools would be together and all would be relatively well. But the Sooners are indeed exploring and that means four could bolt to the Pac-12, with Oklahoma leading Texas and those two schools dragging Oklahoma State and Texas Tech, too.
It's a tough pill to swallow for the men's basketball coaches at the remaining schools.
"Look at those nine teams in all major sports -- football, men's and women's basketball, baseball, I don't understand," Kansas State coach Frank Martin said. "What other league has what we do top to bottom?"
Added Kansas coach Bill Self: "I think every school but Iowa State [and Texas Tech] has been to the Elite Eight since 2004. No other league could probably say that."
Here are the facts the Big 12 likes to tout:
• The nine schools have combined for a total of 201 NCAA tournament appearances.
• Of the 115 NCAA victories in the history of the Big 12 (since 1996-97), a total of 109 wins (94.8 percent) have come from the nine teams that would make up the league if the Big 12 remained together.
• The Big 12 has earned 80 NCAA bids in its history (since 1996-97), all but nine (88.8 percent) have come from those nine schools.
• The Big 12 has 24 NCAA bids in the past four years and 42 since 2004. Only six of those bids came from one of the three other teams (Texas A&M).
• A total of 24 of the 26 consensus All-Americans in Big 12 history have come from the remaining nine schools.

So let's pause for a moment and actually consider what could be lost from a basketball standpoint if the remaining nine don't stay together …
[+] Enlarge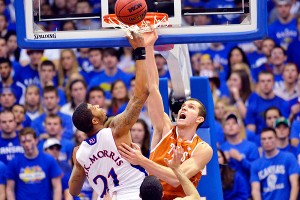 Denny Medley/US PresswireTexas and Kansas have developed a nice rivalry over the past decade. Could that soon be gone?
Kansas: This one is easy. KU is one of the five best programs in the country. Phog Allen is easily one of the top three venues in the sport. The Jayhawks consistently rank in the top 10. Bill Self won a national championship in 2008.
Texas: Rick Barnes has one of the best jobs in the country. Texas can pluck the best talent in the state or go elsewhere as it did with Kevin Durant and its host of Canadian imports (Tristan Thompson, Cory Joseph, Myck Kabongo et al). The Longhorns are consistent winners, usually play a national schedule and are regulars in the NCAA tournament.
Kansas State: The Wildcats were dormant not long ago, but Frank Martin (with an opening assist from Bob Huggins) has helped resurrect the program and ensured that Kansas State is a regular in the NCAA tournament. The Wildcats were in the Elite Eight two seasons ago. The passion for the Wildcats isn't equal to Kansas, but it's not too far behind anymore.
Baylor: The Bears were a disappointment a season ago but were in the Elite Eight in 2010. Baylor has hauled in some elite talent over the last few years, and it's clear that Scott Drew can get it done on the recruiting trail. The Bears already have the fifth-ranked class in the country lined up for 2012 and have a potential lottery pick (Perry Jones) suiting up for another year in Waco.
Iowa State: The Cyclones have hit a rough patch of late, but go back a few years and ask what opponents thought of going into Hilton Coliseum. They will tell you that it was one of the toughest environments in the league. Fred Hoiberg is going with a combination of transfers and new recruits. Let's see if that works. But you can't deny the talent he is bringing into Ames. If it works, Iowa State suddenly is relevant again.
Missouri: The Tigers have consistently had a winner in the region and been an Elite Eight team, despite coaching changes. If Frank Haith stays on despite the Miami allegations, he has an opportunity to continue the winning ways in Columbia. Athletic director Mike Alden is backing Haith, and that's a good sign for now. The Tigers have tremendous fan base, too.
Oklahoma State: The Cowboys haven't been a Big 12 title team, but Travis Ford has had them as a regular pest in the league. Oklahoma State has as passionate a following as any of these schools, and Gallagher-Iba is a gem of an arena. Ford's recruiting has picked up, and the Cowboys are clearly on the rise.
Oklahoma: The Sooners are in a rebuilding mode after the gut of early entries, attrition and an NCAA investigation sent OU down to the bottom of the league. But this is a proud program that has had a history of national talent and success. Lon Kruger is an undervalued coach who has won wherever he has coached in college. There is apathy in the hoops fan base, but this program will trend upward under Kruger.
Texas Tech: The Red Raiders haven't done much on the court lately, but they hired the right coach in Billy Gillispie. He has won in the state of Texas at UTEP and Texas A&M. He will win in Lubbock. The fan base needs to be prodded, but Gillispie will produce a product that will be a consistently decent team.
So that's what could've been.
"It would no question be an extremely strong basketball league," Ford said. "One of the positives of staying together, it keeps us all together in the region. Our rivalries would be strong. That will help with the excitement with the fans. I think it's a premier basketball league and this is the first year we're playing everybody twice. Even if it went to nine teams, it will be a battle every single night."
These schools have and will continue to produce strong, NBA-level talent. It would be too bad if they can't keep it all together.
"The Big 12 has had the most NBA lottery picks, first-round picks, total picks in the last four years and almost all of them have come from the nine schools left," Baylor coach Scott Drew said, clearly conscience of the league's talking points. "Since 2002, nine schools have had 17 Elite Eight teams and that's the most of any conference in the country. The second highest is the Big East with 14."
As you can tell, the Big 12 coaches are ready with ammunition. They don't have to be. Just look at the preseason top 25 when it comes out next month. More than likely, four of those remaining nine will be ranked -- Baylor, Missouri, Kansas and Texas (along with Texas A&M).
That speaks for itself.
August, 5, 2011
08/05/11
1:13
PM ET
Billy Gillispie doesn't appear to have changed one bit.
He's a coach. A basketball coach. That's really all he wants to do. That's who he is. And to define him in any other way is probably a mistake.
And now he's back in the Big 12 at Texas Tech, tucked away in Lubbock, where he can grind away and produce a winner in relative obscurity, much like he did when he left Bill Self's staff at Illinois to head up UTEP and Texas A&M before accepting one of the highest profile jobs in the sport at Kentucky.
[+] Enlarge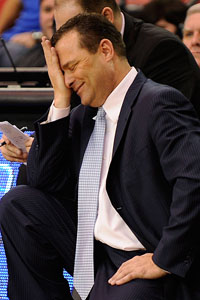 AP Photo/John CurryBilly Gillispie's time in charge of storied Kentucky ended after just two seasons.
"I've been lucky,'' said Gillispie, a native of Abilene, Texas. "We've improved the teams and we've won. I'm proud of where we are and what we can achieve at Texas Tech.''
The Kentucky experience ended rather abruptly after just two seasons. The Wildcats didn't win a NCAA tournament game during his short tenure in Lexington. He didn't even make the NCAAs in his second season, snapping the school's 17-year streak. He never even signed his original contract and ultimately sued the school for the $6 million left on his deal. The two sides settled for just under $3 million.
In short, it was a mess.
You would think Gillispie would have a negative view of his rocky two years in the Bluegrass State. But think again. Whether you believe him or not, Gillispie refuses, at least publicly, to look at the experience as anything but positive.
"I thought our outcome was great,'' he said of his tenure, which ended with a 40-27 record. "I thought we did a lot of good work. Nobody wants to lose their job. I'm proud of what we've done. Sometimes it gets looked at as perceived failure. I don't look at it like that. I'm very proud of what we were able to do there and at Texas A&M and everywhere else.''
But he's had some rough personal moments since he was fired at Kentucky in the spring of 2009.
That August, just a few months after his departure from UK, he was arrested in Lawrenceburg, Ky., for a DUI. It was his third offense in the past decade, according to a Yahoo Sports! report on March 8.
This January, he lost his mother, Winfred, to lung cancer. And then within the last month, in what turned out to be a major error in judgment that spiraled out of his control, Gillispie discovered he lost what is being estimated as millions in two financial scams.
One is being investigated as a Ponzi scheme involving former Georgia football coach and ESPN analyst Jim Donnan, and the other involves the late David Salinas, who committed suicide after he allegedly defrauded hundreds of people in a bond scam. The U.S. Securities and Exchange Commission was investigating Salinas before the Houston-area financial advisor took his own life.
Gillispie said he's not yet at liberty to discuss his personal financial losses, and wanted to emphasize that he lost a good friend in Salinas and that people should remember that a human life was lost.
Through all the personal losses and setback, Gillispie's passion has always been coaching. He didn't do television during his two years away from the game. That wasn't for him. He knew that. The networks knew that.
"I stayed true to myself and understand the strengths and weaknesses I have,'' Gillispie said. "TV is great for some people -- not for me."
As he looks back, one of the few positives that came from being out of the game for two years was the opportunity to be with his ailing mother before she died.
"That's one of the things that was a blessing,'' said the 51-year-old Gillispie. "If I had been in coaching the past couple of years, then I wouldn't have been able to be there. I wouldn't have had as much time available to me. I spent more time with her than I ever have.''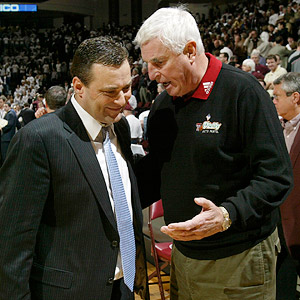 AP Photo/Paul ZoellerGillispie is the first person not named Knight to lead TTU since The General took over a decade ago.
He said he wouldn't trade that time with his mom for any years he has spent in coaching.
"There are so many hours in the day that you spend coaching basketball,'' Gillispie said. "No matter how hard you try, it would be impossible to spend all that time.''
Gillispie is still hopeful that the financial aspect of his life will work itself out. Clearly, plenty of mistakes have been made, both by him and the people he trusted. But he doesn't give any sign he's overly concerned.
For now, he's locked in on recruiting for Texas Tech. Like all coaches in Division I, he just finished his 20-day evaluation period in July. But he wasn't nearly as visible as he once was at Kentucky.
"We're rebuilding the roster,'' said Gillispie, who has just four returning players this season as the Red Raiders prepare for a slimmed-down, 10-team Big 12 that will be even more competitive with an 18-game, round-robin schedule.
A veteran TTU team entered last season with heightened expectations, but finished a disappointing 13-19 (5-11 in the Big 12) as head coach Pat Knight was let go after a largely unsuccessful tenure.
"We've got a really inexperienced team," Gillispie said. "But I haven't been around a better group in the summer. That doesn't always equate to more wins than losses, but we're focused on the foundation of our program and I'm really excited about it.''
As for Gillispie's legacy at Kentucky, it doesn't appear to keep him up at night. After all, how many coaches have had two Big 12 jobs, another job that has had a history of success with a passionate local fan base (UTEP) and another with one of the all-time blue-bloods in all of college sports? He says he feels fortunate.
"I had a great time [at Kentucky]. I wanted it to last longer. Because of the great tradition there, I didn't mind the attention at all. We always try to go about our business, get good players and win games. That's the same thing we'll try to do at Texas Tech.''
For Gillispie to land another Big 12 job, in his home state, just two years removed from being fired and getting arrested, shows that his coaching ability is still well-respected on the circuit.
"The worst thing in my life was my mother passing [not his downfall at UK],'' Gillispie said. "It will take time to get over. But you have to move on at some point. And I'm very fortunate and blessed to be around great people. I totally believe in what we're doing.
"I'm moving on to the next challenge. There is great support here.''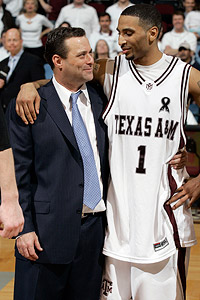 AP Photo/Paul ZoellerGillispie went a remarkable 70-26 at a "football school" like A&M.
UTEP had won under the late Don Haskins, but Gillispie came in when the program was down. A year after winning just six games in his first season, he won 24 and got the Miners to the NCAA tournament. The Aggies called next and after a season that ended in the NIT, he took Texas A&M to two straight NCAA tournaments, including a Sweet 16. No one can dispute that he helped recreate the energy and buzz for hoops at those two Texas schools.
Now he has to do the same at a third.
Over the years, his teams have been defined by hard work, defense and lockdown fundamentals. It doesn't always produce a beautiful game, but more times than not it produces wins. He'll try to establish that same identity with the Red Raiders.
"Texas Tech wants to win,'' Gillispie said.
It will take time, however. His team will be grossly inexperienced. The league will always have standard-bearer Kansas, and Texas, Texas A&M, Baylor and Missouri aren't going anywhere.
Kansas State has created a tough mentality, and you get the feeling the Wildcats will always be in the mix under Frank Martin. Behind a slew of transfers, second-year coach Fred Hoiberg seems to be building Iowa State back up. So that puts even more pressure on Tech to regain the relevancy it once had under Bob Knight.
"I've very fortunate for this opportunity at Texas Tech," Gillispie said. "If you asked me if I enjoyed my time off, then the answer is no. I made the most of it, but I didn't enjoy it. I learned a lot of stuff watching stuff. But I didn't enjoy it.
"I like having a team, building it together and forming a special chemistry. That's what is important to me and I was champing at the bit to get back to it.''
He now has his chance. Back home. Back on the bench.
Back where he belongs.
June, 16, 2010
06/16/10
12:49
PM ET
Nebraska and Colorado can't get out of the Big 12 fast enough for the remaining 10 schools to relish the most competitive college basketball league in the country.
"If you look at who we lost and where they've been basketball-wise, we got stronger,'' Texas A&M coach Mark Turgeon said. "It's going to be a great league. How great would it be, if, when we have 10 teams, that we get six to seven teams in the NCAA tournament in good years? As basketball coaches, we knew we wanted to save this league because we knew we had something special.''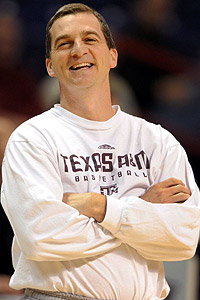 Steve Dykes/US PresswireTexas A&M coach Mark Turgeon is all smiles after hearing about his new league.
The current plan is for the Huskers to leave for the Big Ten by next summer for the fall of 2011. Meanwhile, Colorado exits for the Pac-10 in 2012, giving the league one more season of 12 teams and a 16-game men's basketball schedule, and a possible season of 11 teams and a 16- or 18-game schedule before the league goes to a tidy 10 teams in 2012. The plan for 2012-13 is an 18-game schedule with home-and-home games.
It might sound simplistic, but the Big 12 held on to a football divisional schedule even though the league standings were 1 through 12. While Kansas State and Missouri have become major national players the past two seasons, Nebraska and Colorado were still in the North. That meant the Big 12 South traditionally had tougher home-and-home games. Not having Kansas and Texas play twice in recent years, save last season's nosedive from Texas, was a disservice to the league.
Kansas coach Bill Self said the ACC, Big East, SEC, Big Ten and Big 12 didn't have true champions. Only the Pac-10 did.
But the RPI and the overall scheduling for the teams in the Big 12 North (Kansas, Kansas State, Missouri and Iowa State) will change dramatically.
"We're trading four games with Nebraska and Colorado for another game against Oklahoma, Texas, Baylor, Texas A&M and Texas Tech,'' Self said of the true home-and-home series and the jump to two more overall league games from 16 to 18.
"When we didn't get in four years ago and two years ago, we were criticized for being in the weaker Big 12 North, and therefore our conference record was weaker than teams in the Big 12 South,'' Kansas State coach Frank Martin said. "Well, the only thing that will matter is that we play everybody twice -- no ifs, ands or buts. That argument is no longer valid. ''
That's when the Big 12 becomes unquestionably the best college basketball conference in the country. No dogs. None. Not even Iowa State, which has slid toward the bottom but still has potentially one of the better home court in the country.
The Pac-10 had the envy of other power conferences because of its schedule. The true round-robin schedule produces a real regular-season champion. There is no way to hide behind the premise that the regular-season champion doesn't matter as much because the teams don't play the same schedule.
What the Pac-10 had over its fellow power conferences, it will lose once it adds Colorado and possibly Utah, which will mean 12 teams. Washington coach Lorenzo Romar said the familiarity and consistency of home-and-home games was a huge plus. He said he remembered how tough it was being in an unbalanced schedule in Conference USA with St. Louis, Cincinnati, Marquette, Louisville and Charlotte. Losing the home-and-home aspect within the Pac-10 is something Romar said he'll have to sit down, digest and figure out the best course of action for the league, assuming it will drop from 18 to 16 games.
Turgeon said he wasn't thrilled to jump from 16 to 18 league games just in number alone, but the format is the best. No one is questioning that.
No one seems to question the direction of every program in the remaining Big 12, with Kansas, Kansas State, Baylor and Missouri -- four schools that were being left out of possible expansion -- likely in the top 20 this fall. Texas won't be far behind. Oklahoma State has been a consistent winner. Oklahoma had one disastrous season but is two seasons removed from being a national title contender with then-player of the year Blake Griffin. Assuming OU coach Jeff Capel won't let the Sooners slide again, they should be in the thick of the chase soon. The coaches all agree Texas Tech's Pat Knight is ready to turn the corner this season as a factor in the Big 12 mix. The question is whether Iowa State can regroup and recruit under new coach Fred Hoiberg? If he can, there is no weak link in the bunch and there are no wins that can be counted on to get into the NCAA tournament in a given season.
If the football side agrees that other programs (Memphis, Louisville or Mountain West schools) wouldn't add serious value to the league, the compacted Big 12 could easily exist for years and become one of the most competitive leagues in the country.
The Big 12 has produced national players of the year in Griffin (Oklahoma) and Kevin Durant (Texas), and one who was close to earning it in Michael Beasley (Kansas State).
Duke and North Carolina won the past two national championships. However, outside of Memphis and Kentucky these past two seasons, Big 12 schools have had some of the top storylines in the country. That should only continue as the league matures into a 10-team conference that will become the envy of the other power-six schools because of how easily it will be managed.
Navigating wins will be tough, but there will be no letdowns. Every game will be important. As rivalries are enhanced, interest in conference games will increase, and to the benefit of the Big 12, the ratings might rise, too.
December, 11, 2009
12/11/09
12:14
PM ET
Assuming his grades are reported as expected, UTEP will add enigmatic center
Derrick Caracter
to its lineup Sunday against New Mexico State. (Update: As announced Saturday, Caracter will indeed
make his debut with the Miners this weekend
.)
UTEP coach Tony Barbee doesn't expect a hitch in getting Caracter into the Miners' rotation. He backloaded their nonconference schedule knowing the team would be without Caracter early in the season.
The Miners, a trendy pick to push Tulsa and Memphis and win Conference USA, are 5-0 with a glut of nonconference games remaining against Ole Miss in Southaven, Miss. (Dec. 16), Oklahoma in Oklahoma City (Dec. 21), at Texas Tech (Jan. 3) and against BYU (Jan. 9). Their C-USA schedule begins SMU on Jan. 6. "I tried to play the fewest amount of games I could prior to Dec. 13," Barbee said. "If I could have played two games, I would have, but there weren't enough dates after it. I had to play some home games." According to Barbee, Caracter has been a model citizen since his arrival in El Paso after transferring from Louisville because of differences with Cardinals coach Rick Pitino about weight and work. Barbee said Caracter, who was hyped as the "next great thing" since he was 14 years old and attending school in New Jersey, has been a loyal foot soldier on the scout team. But don't for a second think that Caracter is the only reason UTEP should be watched throughout the season. The Miners, who lost to Oregon State in a decisive third game of the College Basketball Invitational in April, have one of the better-balanced scoring rosters. UTEP has five players averaging double figures -- guards
Randy Culpepper
,
Julyan Stone
and
Christian Polk
and forwards
Arnett Moultrie
and
Jeremy Williams
. "I told Derrick that he wasn't coming here to be the savior or that this would be a one-man show," Barbee said. "This is a team that we've built here. This is our fourth year, and we're where we want to be. We talked about being balanced, and we are. Derrick will make us better, but he doesn't become our team." The Miners relied heavily on Stefon Jackson early in Barbee's tenure. But although Culpepper and Stone don't have similar star power, they're much more of a complementary pair. Moultrie is a developing talent who will thrive even more with Caracter next to him. The Miners should have the best shot-blocking tandem in the league with this pair, even more so than true center
Jerome Jordan
of Tulsa, who wouldn't have as meaty a mate next to him as Moultrie will with Caracter. Barbee talked about how high this team can go once he has everyone eligible. Still, the Miners may not have as much room for error in Conference USA, which should be extremely competitive. Building a résumé with wins now will only help, and unlike a lot of other potential NCAA teams, the Miners have purposely gotten off to a quiet start. Once Caracter is eligible, the higher-profile games will start rolling in, and we'll have a more accurate picture of the possibility of UTEP being a true team to watch for the next three months. • Florida's loss meant there were 15 remaining unbeaten teams this season. It's still so early and it doesn't mean that much -- yet.
But still, which is the most surprising unblemished team?
Texas Tech. The Red Raiders' overtime win over Washington is still one of the more surprising results this season. New Mexico probably would finish second in this group. The Lobos play Texas A&M on Saturday in Houston. Which of the one-loss teams has been one of the most overlooked? Saint Mary's. If the Gaels had beaten Vanderbilt instead of losing by a deuce, they might've been one of the more-talked-about teams.
Omar Samhan
has been stellar so far, and so has the guard play. The Gaels got overshadowed by Gonzaga and Portland in November, but check who is atop the West Coast Conference standings in overall record in mid-December. Of schools outside the power six leagues, which one-loss teams should you keep tabs on? Northern Colorado at 8-1 is now a favorite to win the Big Sky, and a battle is brewing in the Missouri Valley among undefeated Missouri State (8-0), Illinois State (7-0), Wichita State (8-1) and preseason favorite Northern Iowa (6-1).