Category archive:

The Citadel Bulldogs
September, 30, 2010
09/30/10
10:26
AM ET
Chuck Driesell went from hearing Gary Williams yell at Maryland to, well, a lot of yelling in general on The Citadel campus.
"Everybody is yelling here now," Driesell said in jest. "Getting a head job is not easy, tough to get. When you find one and get an opportunity to get one and everything matches up, it's a good feeling because of what I've worked for."
His predecessor, Ed Conroy, decided the unique challenges of The Citadel weren't enough for him so he took on what most consider a difficult job at Tulane, a program still trying to find its identity and regain firm footing five years after the flood that followed Hurricane Katrina and reshaped New Orleans for decades to come.
"It's a challenge -- like The Citadel," Conroy said. "But I wouldn't have gone there if I didn't think this job could be at a high level and within reach."
These two coaches haven't been given a silver spoon. Driesell did play at Maryland in the early 1980s under his father Lefty. He then went to work as a prep school coach at the Naval Academy, where he roomed with former Midshipman and current Tulsa coach Doug Wojcik. Driesell had to join the Navy on a three-year administrative commitment (1985 to 1988) to coach the prep school team, so coaching at a military school like The Citadel isn't completely foreign to him.
Driesell then ran the gamut of experience, from working under his father at James Madison (1989 to 1996), to head coach at Division III Marymount (1997 to 2003), to Georgetown assistant (2003-04), to Maryland high school coach (2004 to 2006) and then to assistant coach and recruiting coordinator at the University of Maryland (2006 to 2010), where his dad was a legendary coach for 18 seasons.
"I've never felt like I was in my father's shadow," Driesell said. "He's had a tremendous career. I think he's the best in the business. He's my dad and I never felt like I was in his shadow. It was there, but I've always felt I could accomplish what I put my mind to."
[+] Enlarge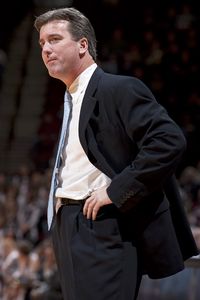 AP Photo/Dave EinselIn leaving The Citadel for Tulane, Ed Conroy went from one tough job to another.
Conroy's cousin, Pat, wrote the 2002 book "My Losing Season," about his experience at The Citadel as a guard during the 1966-67 season. He's also the author of the 1976 book "The Great Santini," which was made into a successful movie starring Robert Duvall.
Conroy spent grunt time as an assistant at NC State, VMI and Furman, and on Buzz Peterson's staffs at Tulsa, Tennessee and Coastal Carolina before getting The Citadel job in 2006, where he took over a program that won just one Southern Conference game in 2005-06. The Bulldogs won four league games under Conroy in his first season, one in his second and then shot up to 15 in the Southern and 20 overall in his third season before a little slide back last season to 16-16 overall, 9-9 in the league.
Conroy was in the running for the UNC Wilmington job, but his old boss Peterson ended up getting the job. Everything worked out best for both parties, though, as Peterson wanted to remain in his home state of North Carolina more than Conroy, who saw the challenge and the ability to live in New Orleans as more enticing.
"He did a heckuva job at The Citadel," Peterson said. "He's in a tough league now too. But he'll build that program up too. He was the right man for a long time at The Citadel."
Conroy said the leadership from Tulane president Scott Cowen to athletic director Rick Dickson cinched the deal. He faced challenges in recruiting to The Citadel and he realizes he'll face them again with the Green Wave.
Conroy has to change the perception of Tulane hoops and the city of New Orleans in the post-Katrina era. The success of the Super Bowl champion Saints certainly helped, but recruits probably still need to see the day-to-day life on Tulane's campus to understand the school's commitment going forward. Hearing that the University of New Orleans had to drop down to Division III because of cost concerns doesn't help with publicity. Tulane has to distance itself from UNO's troubles and let recruits know that one school is privately funded and the other publicly.
"We've got a new practice facility, there are things being done budget-wise," Conroy said. "The team at Tulane handled the adversity, and the tragedy [of Katrina] gave them a chance to see how top-notch they are. They attacked the problem. I saw what they could do if they put their minds to it. They are committed to basketball now."
Former head coach Dave Dickerson had to deal with the Katrina effect and a Green Wave program that was temporarily displaced. His five-year tenure at Tulane ended last season with an 8-22 overall record, 3-13 in Conference USA. The former Maryland assistant -- now on Thad Matta's staff at Ohio State -- did handle a difficult situation reasonably well, winning 60 games in his four years before the wheels fell off last season.
The landscape in Conference USA has also changed with Memphis back on top with a heralded recruiting class, but still not as intimidating as it was under John Calipari. UTEP should be a major factor with Tim Floyd, and programs like Southern Miss and UCF should be improved. But there's no reason to believe that there can't be upward mobility in this conference.
Conroy is banking on that premise. Nothing seems to faze him. Over at Conroy's former stomping grounds, Driesell has just as tough a slate in the Southern Conference, where he's stuck in the same division as league powers Davidson, Charleston and Wofford.
Both coaches have famous last names, but they are out to enhance their own identity. If they can do it at challenging spots such as The Citadel and Tulane, it would go a long way toward proving they can be successful just about anywhere.