Category archive:

Washington State Cougars
May, 4, 2012
05/04/12
12:58
PM ET
UCLA's recent mediocrity hasn't been celebrated or seen by the rest of the Pac-12 as an opportunity.
Instead, the conference desperately needs the Bruins to come back -- and fast. Having Arizona dip, even just for one season, didn't help either.
So when the coaches gathered this week for the annual spring meetings in Phoenix, the mood was upbeat. The Pac-12 -- that ultimate big-boy punching bag in college basketball lately -- has two of the nation's top three recruiting classes. And they're from the league's two most prestigious programs.
[+] Enlarge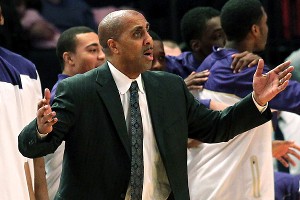 Anthony Gruppuso/US PresswireYou know it's a down year when your regular-season champ doesn't make the NCAA tournament.
"I think any buzz for our league is good for everybody,'' Oregon State coach Craig Robinson said. "As competitors, we would like the buzz to be about us, but as long as it's somebody in our conference and especially a brand name like UCLA, that can only be good for the rest of us.''
The Pac-12 had only two teams make the NCAA tournament in 2012, and one of those (Cal) was in the First Four in Dayton and lost. Regular-season champ Washington didn't get a bid, an embarrassing situation for the conference, which became the first big six league to not have its regular-season winner receive a bid.
Utah arrived in the conference and was abysmal in its first season, finishing 3-15 in the Pac-12 and 6-25 overall. Arizona State fell apart and finished 10-21. USC was decimated by injuries and was the worst of all, finishing a stunning 1-17 in league play and 6-26 overall.
The saving face of the Pac-12 was actually new member Colorado. The Buffaloes won the conference tournament, beat UNLV in the NCAA tourney and hung around with Baylor before losing in the Round of 32.
But perception of the league being down wasn't a reach. It was reality. The numbers and results didn't lie. The Pac-12 was an almost hard-to-fathom 1-25 against the RPI top 40 in nonconference play.
So with Arizona loaded up with four ESPNU 100 recruits in the Class of 2012 and UCLA having secured Kyle Anderson in the fall, the Bruins kept up the momentum in the spring by grabbing another top-five recruit (Shabazz Muhammad) and a four-star big man (Tony Parker).
That's not just good for those two schools, it's welcomed by the rest of the league.
Don't think Pac-12 commissioner Larry Scott didn't take notice of the Bruins' big April.
"It's extremely important,'' Scott said. "The public and media follow big brands, and it doesn't get any bigger than UCLA basketball in our conference.
"Having them have a strong recruiting class [and] a new Pauley Pavilion to move into is great news for our conference. We've got new TV deals. The timing couldn't be better.''
The conference's coaches have long complained about the television package and a general lack of national exposure. A few years ago, first-place Cal was at USC in a critical game and it wasn't even televised.
Well, the Pac-12 finally has a new TV package that will allow every conference game to be televised on one of three networks: ESPN, Fox or the new Pac-12 Network. The league will shift from a straight Thursday-Saturday/Sunday schedule to one that has more flexibility.
[+] Enlarge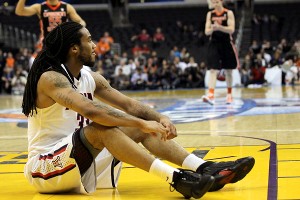 Stephen Dunn/Getty ImagesThe Pac-12 tourney has had some thrillers over the years, but few in L.A. bothered to notice.
In addition, the conference tournament now has a chance to have a sellout with the league choosing Las Vegas as the neutral destination. The Pac-12 had struggled mightily to draw consistent crowds to the Staples Center in Los Angeles. That shouldn't be the case at a destination venue like the MGM Grand, where the Pac-12 will become the fourth conference to play its conference tournament in Vegas, joining the Mountain West (Thomas & Mack Center), WCC and WAC (both at the Orleans Arena).
What will this conference look like by next March, though?
A year ago, the league was gutted by early entrants to the NBA draft at USC, UCLA, Washington, Washington State, Arizona and Stanford.
"Our league wasn't going to be good in the nonconference in November or December because of who left,'' Oregon coach Dana Altman said. "And then UCLA lost Reeves Nelson [dismissed early in the season] and so we weren't in a position to do well.''
Now they must be.
"We need some top-10 teams,'' said Cal coach Mike Montgomery, who has consistently been a Pac-12 title contender at Stanford and Cal. "We didn't have any, and it hurt us. Based on the recruiting, Arizona and UCLA should be in the mix.
"You need good teams going in. It will help us all if we're competing against better teams. Our RPI goes up. One through nine we were pretty good last year.''
The early onus will be on UCLA. The Bruins have to show well at the Legends Classic in Brooklyn, N.Y., with Georgetown and ESPN.com preseason No. 1 Indiana in the four-team field.
"We've had some bad losses out there,'' Montgomery said of the Pac-12's shoddy nonconference record lately. "Typically, everyone looks at UCLA and makes a judgment. It may not be fair or right and they haven't been the best team, but when they [are down], it hurts everybody. It's incumbent on everybody to win the games [you're supposed to win] in the pre-conference.''
Montgomery didn't excuse his own team. The Bears beat no one of significance outside league play last season and were annihilated by Missouri and UNLV.
"We didn't perform well, and that hurt our league,'' Montgomery said. "The impressions start early. We shouldn't lose games we shouldn't lose, because then when the league plays each other, we're screwed. We can't do anything to improve the reputation. That's on all of us to have a better November and December heading into the conference.''
USC coach Kevin O'Neill isn't doubting the Pac-12's ability to bounce back this season with several NCAA tournament teams.
"And we plan on being one of them,'' O'Neill said of the Trojans, led by Jio Fontan, who missed last season with a knee injury. "UCLA and Arizona had top recruiting classes, and that helps everybody improve. I think it's great. We'll see how they react to stressful situations.
"All our teams look good on paper, and we should be one of the top leagues in the country. We lost more pros in this league than the five other power leagues together the last few years. We're producing great players and most are doing well. But all of that is going to change. It's going to be a great year for our league.''
November, 14, 2011
11/14/11
1:50
PM ET
The atmosphere of the Carrier Classic, with its overwhelming sense of patriotism and the sheer uniqueness of playing a game on the deck of the USS Carl Vinson, along with the historical significance of that vessel, will be hard to top.
The view was magnificent. The Naval presence in all its glory and uniformity was as impressive as one would imagine. And the appreciation from the sailors for the break from the daily routine was genuine.
If you missed that game or any of the matchups on opening weekend, you're in for a treat because you won't be able to turn on the ESPN family of networks from 11:59 p.m. ET on Monday until about 1 a.m. ET on Wednesday without seeing college basketball on the screen.
Here are some questions to ponder as the fourth annual Tip-Off Marathon begins with Washington State at Gonzaga and ends with an NIT Season Tip-Off game the following night from Stanford.
1. Will Duke coach Mike Krzyzewski become the NCAA's all-time winningest coach? The Blue Devils play Michigan State in the first game at the Champions Classic (ESPN, 7 p.m. ET) from Madison Square Garden. Duke struggled against Belmont in its opener and then blasted Presbyterian on Saturday. Neither result should come as a surprise. The Blue Devils are usually the home team in New York, but it will be interesting to see how many Spartans fans are able to make the trip, especially if some of them just went to San Diego. Still, Michigan State has a real shot to upstage Coach K. Despite their loss to North Carolina, the Spartans were the aggressor, outrebounding the Tar Heels convincingly 42-31. The Blue Devils have as much size as North Carolina, so the challenge will be similar. But MSU must shoot better from 3-point range than it did against UNC (2-of-20). Another key to the game is seeing which team converts timely perimeter shots. If Duke wins, we'll have the unique setting of Krzyzewski winning No. 903 and passing his former coach Bob Knight, who will sit courtside calling the game for ESPN.
2. How will the Thomas Robinson-Anthony Davis matchup unfold? This could turn out to be one of the more anticipated frontcourt showdowns during the nonconference schedule, as this individual battle highlights the second game of the Champions Classic between Kentucky and Kansas (ESPN, 9:30 ET). Robinson began the season as the go-to guy for Kansas, finishing with 18 points and 11 rebounds against Towson. Meanwhile, Davis, UK's highly touted freshman, blitzed Marist with 23 points and 10 boards in the Wildcats' 50-point rout. Kentucky has more options than KU and can lean on Doron Lamb or Terrence Jones to get it plenty of points. But the tussle between Robinson and Davis will be good theater throughout the night.
3. How will Ohio State's Aaron Craft and William Buford handle Florida's perimeter? We're not conceding the Jared Sullinger-Patric Young matchup (well, we will for these purposes), but this game may come down to the guards. Florida's set of Kenny Boynton, Mike Rosario, Brad Beal and Erving Walker is off to a sensational start. Rosario scored 19 points off the bench, while Boynton scored 19 and Beal 14 (Walker added 10) in a rout of Jackson State. Craft and Buford will be tested defensively more so than they were a year ago, when Ohio State won easily at UF during this same event. The Buckeyes, who host the Gators at 8 p.m. ET (ESPN2), are the No. 3 team in the nation because of Sullinger. But this will be the first time OSU may feel the loss of defensive specialist David Lighty.
4. Can Belmont emerge from the brutal opening weekend with a split? The Bruins nearly nipped Duke in a comeback that fell one possession short. The next challenge is a visit to in-state Memphis at noon ET on ESPN. Belmont won't have any awe factor in playing the Tigers. The Bruins should come into this game oozing with confidence after their showing versus the Blue Devils. Memphis is still a young team and a work in progress. The Tigers have more talent, but the question is whether they will show patience against a Belmont team that will want to run and run and run. This could be one of the most entertaining games of the day.
5. How will Baylor handle its one and likely only test during Perry Jones III's suspension? Jones must sit for three more games after accepting an extra benefit. The Bears beat Texas Southern on Friday and Jackson State on Sunday. The two games that follow Baylor's home matchup with San Diego State (ESPN, 2 p.m. ET) are South Carolina State and Texas-Arlington. This is not the same Aztecs team from last season after the roster was gutted by graduating seniors and an early-entry NBA departure. Still, they are athletic enough to cause problems. The Bears have options with Quincy Acy, Quincy Miller and Anthony Jones, but this game should at least push Baylor a tad more than the first two did during Jones' suspension.
6. How will Gonzaga's guards respond after a poor first outing? The Bulldogs showed in a tight win over Eastern Washington that they can rely heavily on Robert Sacre (22 points and 10 boards). But the perimeter shooters went 3-of-13 on 3s, and Marquise Carter was 2-of-11 and Mike Hart, Gary Bell, Kevin Pangos and David Stockton were a combined 6-of-15 from the field. Washington State is a team in transition, and the Zags should win this game. But Gonzaga has plenty of tougher challenges ahead, and so its guard play will need to improve. Still, this will be a good chance to see Sacre and Elias Harris on display against the Cougars, tipping off the Marathon at 11:59 p.m. ET on Monday night (ESPN).
7. As for the two women's games on the Marathon schedule … How will Tennessee perform after coach Pat Summitt's health diagnosis? If you saw Robin Roberts' piece on "Good Morning America," you know it is clear that the Lady Vols are determined to win a national title for Summitt. The Tennessee coach also seems as driven as ever in her quest to keep coaching while she battles early-onset dementia. This should be an emotional game, as they all may turn out to be, for the No. 3 Lady Vols as they host No. 7 Miami (ESPN2, 6 p.m. ET). And how will Texas A&M handle its status as the reigning champs? The Aggies aren't expected to repeat as national champs, but they have established themselves as an elite program. The primer to the Tennessee game won't involve as much theater, but may be as competitive a game when No. 9 Louisville goes to College Station to play the No. 6 Aggies (ESPNU, 4 p.m. ET).
8. What should we expect from Texas' Myck Kabongo? Kabongo is an impressive young man who handles himself with poise and class. Now he has to translate that onto the court against a talented Rhode Island squad that lost at George Mason by two points in its season opener Friday. The Longhorns will lean heavily on Kabongo to start the season. How he handles this first assignment will be a strong indicator on what to expect, as URI will push Texas from the outset (ESPN, 4 p.m. ET).
9. How will Drexel handle the hype as the CAA's favorite? The Dragons play at Rider (ESPN, 6 a.m. ET) when most people might be waking up to watch the Marathon. Drexel is the early pick to win the Colonial Athletic Association, a conference that's receiving some buzz after placing its second team (VCU) in the Final Four since 2006. Drexel will be minus the injured Chris Fouch, but Samme Givens and Frantz Massenat should be enough to beat Rider. But the Dragons could do themselves a service by looking impressive, too.
10. How productive can the Saint Mary's frontcourt be this season? Randy Bennett anticipates that this frontcourt will be more productive than the one led by Omar Samhan, who led the Gaels to the Sweet 16 two seasons ago. That means Rob Jones will be getting help from Kyle Rowley, Brad Waldow, Mitchell Young and Beau Levesque. Jones dominated Fresno Pacific with 25 points and 12 boards, but Northern Iowa -- coming off an impressive road route of ODU -- will be a much more formidable foe for the Gaels (ESPN, 2 a.m. ET).
11. What should we expect from LeBryan Nash? Well, if you believe the hype, Oklahoma State has an all-Big 12 player who can elevate it to the NCAA tournament. The Cowboys will likely have plenty of chances to feature Nash against Arkansas-Pine Bluff in the NIT Season Tip-Off (ESPN3, 8 p.m. ET).
12. How polished will Syracuse look? If they defeat Manhattan on Monday, the Orange will face either Albany or Brown on Tuesday (ESPN3, 7 p.m. ET) in the NIT Season Tip-Off. The early indication is that this veteran team will be ready to compete for the Final Four. Of course, Syracuse isn't being challenged as much as some other teams, but the Orange smacked Fordham in the opener as Dion Waiters complemented Kris Joseph quite well.
13. A surprisingly close game? I'm going with Austin Peay at Cal (ESPN2, 10 p.m. ET). The Governors should be one of the favorites in the Ohio Valley Conference. Will Triggs and TyShwan Edmondson could play at any level. California is one of the Pac-12 favorites, but the Golden Bears will be tested in this CBE Classic matchup. Guards Allen Crabbe and Jorge Gutierrez will be tested versus Austin Peay.
14. What are the chances of a surprise to end the Marathon? I think Stanford will have a tough time with either SMU or Colorado State at home in the NIT Season Tip-Off. The Mustangs or the Rams are fully capable of being a pest and upsetting the Cardinal (ESPNU, 11 p.m. ET). Stanford first has to get past Fresno State, of course, to be in this matchup. To do that, Aaron Bright, Chasson Randle and Josh Owens will have to really take control.
15. How will Miami score inside? The Hurricanes are sans Reggie Johnson and Julian Gamble due to injuries. The given has been that the Canes have the guard play with Malcolm Grant and Durand Scott. But Rutgers will try and make Miami (ESPN3, 7 p.m. ET) beat the Scarlet Knights on the inside. This could turn out to be one of the closer games in the Marathon.
16. What should we expect from Villanova? This is somewhat of a blank slate. The Coreys -- Mr. Fisher and Mr. Stokes -- are gone. Maalik Wayns will be the dominant presence, but there are plenty of other options as Mouphtaou Yarou, JayVaughn Pinkston, Dominic Cheek and James Bell could all star against La Salle (ESPN3, 7 p.m. ET). The Wildcats are an unknown in the Big East, and this game will at least give us a taste of what we may see.
17. Is Kevin Jones ready to be a star? For two seasons, West Virginia's Bob Huggins has been waiting for Jones to emerge. He scored 20 points and grabbed eight rebounds in a season-opening seven-point win over Oral Roberts. Kent State will hardly be a walk for the Mountaineers (ESPN, 10 a.m. ET). Darryl Bryant can offset Jones' production, but the offense will likely flow through Jones as he adapts to being the front man for the Mountaineers.
18. How ready is Hawaii to make a run at Utah State? Gib Arnold has gone through a complete roster makeover and coached the Warriors to an impressive 19-13 record in his first season in Honolulu. Utah State beat BYU to open the season while one of the WAC favorites, Nevada, was flat at home in losing to Missouri State. Hawaii has a real shot to make a move in its final season in the WAC before heading to the Big West. Establishing an identity in a new conference is always key and ensuring that Cal State-Northridge (ESPN, 4 a.m. ET) is well aware of what it is in for when it visits the Stan Sheriff Center would do wonders for a first impression.
19. What will Morehead State and College of Charleston look like after losing their stars? This game could be one of the more competitive because of who both teams lost, rather than who they gained. Morehead State no longer has Kenneth Faried, while Charleston is without Andrew Goudelock. The Eagles made the NCAA tournament last season, defeating Louisville and then falling to Richmond. The Cougars reached the NIT quarterfinals before losing to eventual champ Wichita State. Regardless of how these teams look (ESPN, 8 a.m. ET) on Tuesday, you can expect them both to be factors in their respective conferences by February.
20. What are the chances Virginia Tech doesn't end up in New York for the NIT semifinals? We'll find out Tuesday night. The Hokies will likely play George Mason, assuming the Patriots beat Florida International and Virginia Tech knocks off Monmouth on Monday. Mason beat Rhode Island by two in overtime in its opener, and while it is a more depleted roster than expected when Paul Hewitt took the job, this is still a formidable squad. Virginia Tech used balanced scoring to beat East Tennessee State by 11 in its opener, but hitting 5-of-18 on 3s was an indicator that the perimeter shooting may not be the Hokies' strong suit.
Other notable names to watch: Does Tu Holloway have a monster game for Xavier against IPFW (7 p.m. ET)? Will Cincinnati's Yancy Gates dominate against Jacksonville State (7 p.m. ET)? How will Harvard fare as the hunted team on the road, even against a rebuilding Holy Cross squad (7 p.m. ET)? How will Dayton's Archie Miller fare in his road debut as head coach at Miami-Ohio (7 p.m. ET)? Will Mike Scott be a double-double performer for Virginia against Winthrop (7 p.m. ET)? Will LSU avoid plunging into irrelevance by winning at Coastal Carolina (7 p.m. ET)? Will Butler avoid a shaky 0-2 start by winning at home against Chattanooga (7 p.m. ET)? Will Saint Louis prove to be the team projected as an A-10 contender and win games it should -- even on the road at Southern Illinois (8 p.m. ET)? Will Missouri State continue to win on the road and take down Arkansas State (8 p.m. ET)? How impressive will Royce White be for Iowa State against Drake (9 p.m. ET)? How will Wyoming play for new coach Larry Shyatt against Northern Colorado (9 p.m.)? Will Arizona State start its climb toward respectability by winning a game at home versus Pepperdine (8:30 p.m. ET)? Will Utah State follow up its BYU win by beating rival Weber State (9 p.m.) on the road?
Andy Katz is a senior writer for ESPN.com.
March, 1, 2011
03/01/11
5:07
PM ET
Quick thoughts for the final week of the regular season:
• If Kansas State continues on its current pace and finishes in third place in the Big 12, why shouldn't Frank Martin be coach of the year in the league? Martin has dealt with multiple suspensions and defections and has the Wildcats positioned to be a threat to win the Big 12 conference tournament and go into the NCAAs on quite a high.
Even though it took until late in the season, Martin got Jacob Pullen to become the leader he needed him to be for the Wildcats. Martin is pushing the right buttons with this squad at the right time and, ultimately, isn't that how a coach should be judged? How a team finishes, not just how it starts, should be part of the criteria.
• Brigham Young's Jimmer Fredette is the leader for national player of the year. Why isn't Dave Rose getting similar attention for national coach of the year? Rose has the Cougars in position to nab a No. 1 seed or at the very least a No. 2. The Cougars have become a solid interior defensive team as evidenced by how they handled San Diego State on Saturday and they've been calm, cool and collected in hostile road games throughout Mountain West play. Rose has BYU on the verge of a historic season. He's also coached and developed Fredette into a star.
• I'd love to hear from the selection committee if wins over Duke by Florida State and Virginia Tech were the deciding factors in admitting them into the Dance. St. John's didn't need just its win over Duke to earn a bid. But will the Duke win be all the Seminoles and Hokies have to show on their résumés? The numbers may add up for selection but how much of that bid would be based on beating Duke?
• We had an interesting debate on our Experts show Tuesday about comparing middling high majors with conference champs from lower-tier leagues with a gaudy record. Belmont would be an interesting team to watch if the Bruins (19-1 in the Atlantic Sun, 27-4 overall) were to lose in the conference championship. They likely wouldn't get a bid but could be a first-round upset team if they make the tournament.
• The Colonial may be the most competitive conference tournament outside of the power six. The top four seeds -- George Mason, Old Dominion, VCU and Hofstra -- are all capable of winning the event in Richmond, Va. Drexel, the No. 5 seed, has shown that it can beat anybody in the league as well as lose to just about anybody. The winner of this tournament will be battle-tested for a first-round NCAA tournament matchup. A George Mason-ODU final would be an NCAA-caliber type affair.
• We chose our most disappointing teams on the Experts show Tuesday. Michigan State is an easy answer. But I believed Northwestern would make the Dance this season. That's the second time I've predicted Northwestern would make the field (last season being the first). The Wildcats didn't make it then, they won't make now -- they had a number of chances to win quality games and whiffed.
• WCC commissioner Jamie Zaninovich is on quite a roll of late. He lured BYU into the WCC after a deal with the WAC fell apart and he's getting the Cougars after what could be a historic season in Provo. This week he was named to a five-year term on the NCAA tournament selection committee, beginning in the fall. Zaninovich joins LSU athletic director Joe Alleva as the new members on the committee.
• Purdue's JaJuan Johnson has to be a first-team All-American. And if Purdue ends up tied with Ohio State for the Big Ten title then why shouldn't he be Big Ten Player of the Year over Ohio State's Jared Sullinger?
• A month ago Connecticut's Jim Calhoun and Kemba Walker looked like the coach and player of the year in the Big East. Now, I don't think Calhoun will win the award with St. John's Steve Lavin, Louisville's Rick Pitino, Notre Dame's Mike Brey and Pitt's Jamie Dixon ahead of him. Meanwhile, St. John's Dwight Hardy and Notre Dame's Ben Hansbrough may have the inside track on Big East Player of the Year.
• Long Beach State coach Dan Monson was relieved when he left Minnesota in 2006. He was able to secure the best job in the Big West and now has a league title. Minnesota continues to be a tough place to coach, as Tubby Smith has learned.
• Conference USA is highly competitive from top to bottom. But that doesn't mean it should get more than one bid. If forced to choose the stronger conference between the CAA and C-USA, I'd go with the CAA -- it will have more bids and a better chance to advance in the tournament.
• If there is one team that should be in a better position now it's Washington State. The Cougars crushed Washington in Seattle and secured the season sweep of the Huskies. But Wazzu shouldn't be 8-8 in the Pac-10. The Cougars had a chance to beat Kansas State at home in December and lost, beat Gonzaga and Baylor, and then lost to Butler in the Diamond Head Classic final. But Wazzu couldn't beat Arizona at home, lost at Oregon, and had befuddling losses to Stanford at home and at Arizona State. Wazzu has been the most erratic team in the Pac-10 and yet could end up winning the Pac-10 tournament.
December, 29, 2010
12/29/10
1:50
PM ET
Jordan Taylor
led Wisconsin with 22 points in the Big Ten opener, a 68-60 victory over Minnesota on Tuesday night in Madison.
Jon Leuer
finished with 16 points.
And while Taylor's steady play at the point is critical to Wisconsin's climb toward contender status in the Big Ten, the Badgers will rise and fall with Leuer.
[+] Enlarge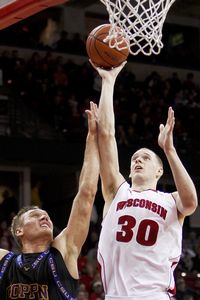 AP Photo/Andy ManisJon Leuer finished with 16 points in the victory over Minnesota.
There are a number of teams that are relying on one key player this season.
• Junior guard Kemba Walker will determine if Connecticut makes the NCAA tournament. He is clearly one of the frontrunners for national player of the year and Big East player of the year, and he's been one of the most dominating performers in the nation to this point in the season. But if he's off his game, then the Huskies likely have no chance against elite competition.
• Washington State relies heavily on Klay Thompson to be on his game. He has been in nearly every contest. But even when he did score well against Butler (31 points), it wasn't enough to beat the Bulldogs in the Diamond Head Classic final. If Washington State is going to challenge for the Pac-10 title, it will be due to Thompson, even if he gets help from guards Faisal Aden and Reggie Moore and DeAngelo Casto inside.
• BYU got a stellar game out of Jackson Emery, but does anyone really believe the Cougars can win the Mountain West if Jimmer Fredette isn't playing at a high level? Fredette is the money player who can change a game with his shot.
• And Boston College's rise as a potential second-place finisher in the ACC is all because of Reggie Jackson. Jackson had the talent to be a star the past two seasons, but he's really blossomed in Year 3. He gets help at times from Corey Raji, Biko Paris and Joe Trapani. But Jackson is the one player on the Eagles who can create good offense out of poor execution.
Leuer has become that kind of player for the Badgers, despite being a big man. "That's a position he has put himself in by delivering,'' Wisconsin coach Bo Ryan said Wednesday. "It's not like he got all these accolades, and everybody is supposed to move aside. The other guys need to play well defensively, rebounding and scoring-wise but he's a threat, and he gets the attention from the other teams.''
Ryan concurred that Leuer is that "guy," much like Fredette, Walker, Thompson and Jackson. Jackson didn't have his best shooting game against the Badgers in Orlando (6-of-21, 18 points), and the Eagles lost, 65-55.
When Leuer was injured last season, Trevon Hughes was the player the Badgers leaned on to get out of broken plays. Taylor has assumed Hughes' role, but when the offense goes awry, Leuer is the one who can change the direction of the possession. "If he's guarded by a big and someone is helping on Jordan penetrating, then that leaves Jon open,'' Ryan said. "He's a big factor for us. He's tough, hard-nosed. Jon is our go-to guy. We do have one big and one small like that so we're pretty steady.''
The reliance on one player is hardly a new development. But it shows the difference among some of these potential NCAA teams and the ones that are more likely to challenge for the title.
Ohio State has been led by freshmen Jared Sullinger, Deshaun Thomas and guards William Buford and David Lighty.
Duke lost the top guard in the country in Kyrie Irving, but having All-Americans Kyle Singler and Nolan Smith and role players Mason and Miles Plumlee make the Blue Devils balanced. Kansas, arguably the third team in the race for the national title at this juncture, has an elite lead guard now in Josh Selby and power players in Marcus and Markieff Morris. The Jayhawks don't need just one player to perform to win at a high level.
And that's why Walker, Leuer, Fredette, Thompson and Jackson should be applauded for their play. They are taking on more than most, with the need to be on for every game and provide leadership for their teams.
September, 29, 2010
09/29/10
2:38
PM ET
The new 12-team Pac-10 will likely follow the lead of the new 12-team Big Ten. In other words, starting in the 2011-12 school year, it looks like the conference will split into two divisions for football but remain one, 12-team entity in basketball that plays 18 conference games.
The Big Ten already formally announced its two football divisions and will make its official decision about basketball at its annual meetings this spring, with the consensus being there will be 18 league games with every team playing each other at least once, rivalries protected and the other crossover games done on a random basis for competitive balance.
The Pac-10 athletic directors meet next week (Oct. 6-7) and are likely to follow a similar path, with the final say going to the presidents and chancellors who will meet on Oct. 21.
There are still a number of options for the football divisions, from a simple split between North (Washington, Washington State, Oregon State, Oregon, Utah, Colorado) and South (Cal, Stanford, UCLA, USC, Arizona State, Arizona) and variations off that, as well as a zipper option with each rivalry split to form the two divisions (Washington and Washington State on different sides with Utah and Colorado being the two new rivals). Of course, in football, much like the Big Ten did with Ohio State-Michigan, if a rivalry was split in divisions, that game would be one of the mandatory crossover games every season.
More than likely, the men's basketball schedule will have 11 games against every other team, the 12th game would be against the natural rival and then the other six games would be chosen at random, leaving four schools that a team would play only once a season.
The hitch in the Pac-10's scheduling is that every school wants at least one road trip to L.A. and the Bay Area for recruiting and alumni purposes. League officials have to be cognizant of that sentiment.
Oregon State coach Craig Robinson said it was his preference to make sure the Beavers, or for that matter every school, gets to L.A. and the Bay Area each season.
"And we have to play Oregon every year twice, I don't think we should skip that one," Robinson said.
The Pac-10 is the last power-six conference to still play a true round robin schedule in men's basketball. But when the Pac-10 gives up that title, the Big 12 will assume the role of being the only power-six conference that anoints a true champion. The Big 12 will be a 10-team league in 2011-12 with the departure of Nebraska (Big Ten) and Colorado (Pac-10). The conference has already made it known it will play a true, 18-game round-robin schedule when it's a 10-team league.
Twelve teams might be the perfect number for football with two six-team divisions and a championship game. But going from 10 to 12 in men's basketball takes away the equitable scheduling and the true champion and creates a competitively imbalanced schedule. That's what the Big East, Big Ten, SEC, ACC and Big 12 have dealt with lately. The Pac-10 has not.
"I would select the model that gives the opportunity for us to play each other home-and-home as many times as possible in the shortest window of years," Arizona State coach Herb Sendek said. "You want every team to touch each other in the shortest time possible. That's the fairest way to do it."
UCLA athletic director Dan Guerrero said there have been a number of different models discussed, such as playing 16, 18 or even 20 or 22 league games.
"But the overall sentiment is to stay at 18," Guerrero said. "You want a scheduling model where you play your natural rival and do some home-and-homes. We might go to Oregon but they don't come and return. We might play host to Oregon State but not go to Corvallis. Nothing is definitive."
Guerrero said a number of athletic directors are on record as saying they covet being in the Los Angeles market and "we're looking at ways to make that happen."
Guerrero said the consensus among the athletic directors was to go with one division, 18 games and avoid any no-plays in basketball.
"Those are the parameters to build a model around," Guerrero said. "We could have gone with a 22-game model and still kept the double round robin, but that limits nonconference flexibility. I think 18 is the most appropriate."
Guerrero just came off leading the men's basketball selection committee, which created the "First Four" format under the newly expanded 68-team tournament. In that format, Guerrero and the other nine members of the committee reached a compromise where two of the games will involve the last four 16th-seeded teams and two of the games will include the last four at-large teams.
Guerrero has been a peacemaker/mediator with these types of NCAA issues and his experience should serve him well at the Pac-10 meetings next week.
January, 5, 2010
01/05/10
2:53
PM ET
There are a number of hot topics to discuss this afternoon:
• On Wednesday, Cornell plays at top-ranked Kansas at 8 p.m. ET on ESPN360.com.
The Jayhawks, who crushed Temple in Philadelphia on Saturday, have won 50 straight home games, easily the longest active streak in the country and third all-time at KU. Kansas is 13-0 overall.
So it's crazy to think the 12-2 Big Red could pull off an upset, right?
[+] Enlarge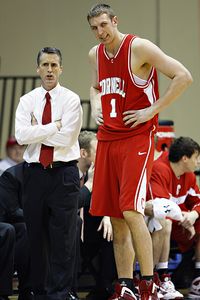 AP Photo/Matt SlocumDo Steve Donahue, Jeff Foote and the rest of the Big Red have a shot against mighty KU?
Here's how it could happen:
"The one thing we've got is a big kid who we can go to," said Cornell coach Steven Donahue on Tuesday en route to Lawrence. "We can go to him and that takes the pressure off the other guys."
Donahue is referring to 7-foot center Jeff Foote. If you've seen him you know that he's more than serviceable. Bryant's Tim O'Shea, who coached in the Ivy at Yale and has been at Boston College, Rhode Island and Ohio, said Foote is the best center in the Ivy since Chris Dudley. Foote has proved he can produce with 28 points and 18 boards at Bucknell and in games against higher-level competition he had 19 and 11 in the win over St. John's and 17 points in the win at Alabama. (Granted, the Red Storm and Crimson Tide aren't exactly KU.)
The Big Red have a stellar shooter in Ryan Wittman, who is shooting 43.8 percent on 3s, scored 34 points in a win at La Salle and like Foote is a senior.
Fellow senior point guard Louis Dale is back from an Achilles/ankle injury after missing the last three games. He has had his stellar moments at the point, like dishing out nine assists without a turnover in a win at Toledo.
Cornell has played only four home games, winning at Alabama, UMass, Toledo, Drexel, Bucknell, St. John's and La Salle and beating Davidson on a neutral court in New York. The only losses were at home to Seton Hall and at Syracuse. Now, of course none of the wins came against anyone the caliber of the Jayhawks, but Cornell goes into Phog Allen incredibly confident.
"Kansas has great length and athleticism and will provide a lot of pressure, but with Jeff we have options inside," Donahue said. "We expect Jeff to score and pass it out."
Donahue said he also sees opportunities for transition buckets on KU's defense.
"This group has been through so much over the last four years with 100 games under their belt," Donahue said. "These guys have been looking forward to this game all year and are excited to play on this stage. We'll play with confidence and play hard."
But like any typical Ivy League team, win or lose the Big Red have a ridiculous road trip. They leave Kansas to bus to Vermillion, S.D., to play the South Dakota Coyotes at the DakotaDome two days later.
"I don't even know where it is," Donahue said. "I just know we're busing from Lawrence and will stop in Blair, Neb. [home of Cornell senior forward Pete Reynolds] to practice."
• As it starts Mountain West play, UNLV faces its toughest week of the season by going to BYU on Wednesday and New Mexico on Saturday. To expect the Runnin' Rebels to sweep this week would be fairly unrealistic -- a split should be applauded nationally. And even if the Rebels did get swept, that wouldn't necessarily be cause for alarm.
"I think BYU has lost one conference home game in the last four years and New Mexico doesn't lose many either," UNLV coach Lon Kruger said. "If you win one of those two you put yourself in good position after the first week of conference play. If you lose two, it's a matter of maintaining. I'm not worried as much either way."
Kruger said the hoops nation doesn't fully appreciate how difficult the Mountain West will be this season. BYU is ranked No. 23 and blew out Arizona by 30 behind Jimmer Fredette's 49 at McKale Arena. The 14-1 Cougars finally got some national love this week. New Mexico, ranked No. 14, has already beaten Texas A&M in Houston; Cal, Texas Tech and Dayton at home; and is 14-1 (with the one loss coming at Oral Roberts).
UNLV's two losses were to Kansas State at the Orleans Arena in Vegas and to USC in the final of the Diamond Head Classic in Honolulu. The Rebels had already won at Arizona in overtime and knocked off Louisville at home. A year ago, UNLV stunned Louisville at Freedom Hall, but couldn't put together a quality MWC résumé, finishing 9-7 in the league and ending up in the NIT.
"We need to do much more in the league this year than a year ago," Kruger said. "This year's group is deeper and more players can make plays off the dribble. We're more athletic too."
Kruger said the Rebels have more room for growth as well. They have their share of transfers in Tre'Von Willis (14.5 ppg), Chace Stanback (8.6) and Derrick Jasper (7.6), but sophomore Oscar Bellfield (11.1) has been just as important and consistent.
Kruger said the Rebels didn't progress as much as he hoped after the Louisville win. They have a much better shot now. The offense was out of sorts against USC and K-State, but a lot of that credit has to go to the respective defenses.
How UNLV plays in these two road games, regardless of the ultimate outcome, should let us know if the Rebels are worth discussing in March.
"For us [MWC] to get four teams in, those four teams have to separate themselves and beat each other," Kruger said. "But I don't think that will happen. Every other team is good, too."
Kruger still believes there are at least four NCAA-bound teams in the Mountain West. He's right. UNLV and San Diego State, which hosts New Mexico this week, have to do their part to stay with the Lobos and Cougars as the résumés are being built.
• Marquette should be considered one of the hardest-working teams in the country. Of course, every coach usually thinks his team plays hard. But the Golden Eagles clearly aren't as talented as Villanova or West Virginia, yet went down to the final possession with a chance to win each game.
[+] Enlarge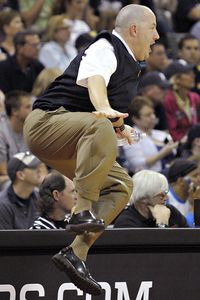 AP Photo/Phelan M. EbenhackBuzz Williams hasn't exactly been jumping for joy in the final moments of his team's last two games.
So what does Marquette coach Buzz Williams do to get these players to overachieve?
"Everything in practice is competitive," said Marquette assistant Tony Benford. "We compete in every drill. He puts them in a position to do that, whether it's 4-on-4, 3-on-3, 2-on-2 or 1-on-2. We keep score every time."
Jimmy Butler had a chance to beat Villanova, but missed a bucket in close to the basket. Of course, the Golden Eagles couldn't stop the fantastic plays made by Nova's Scottie Reynolds and West Virginia's Da'Sean Butler to put their teams ahead in the last two games.
Marquette hosts Georgetown Wednesday in a game the Golden Eagles must win to start building an NCAA case. The Golden Eagles did beat Xavier and Michigan in Orlando, but it's unclear how much those wins will matter in March. Marquette has already missed chances by losing to Florida State in the final of that event, falling to NC State at home, losing at Wisconsin and starting 0-2 in the Big East.
If the Eagles can find a way to go 3-3 in the first six league games (that's Georgetown, at Villanova, Providence, at DePaul), they'll at least be in position to make a run. But every game is going to be a grind, in large part because of the way Williams coaches this squad.
• When we spoke last week, William & Mary coach Tony Shaver knew the red-hot Tribe were now going to get everyone's best shot in the Colonial. The Tribe survived a road win at Hofstra by one, but UNC Wilmington clipped them 62-61 on Monday night. This is how it's going to be in the CAA this season. Unfortunately, the Tribe must finish first or second for a shot at an at-large and must do so with a quality record. The nonconference wins at Maryland, Wake Forest and over Richmond will have shelf life.
• Officiating roundup:
Officials have been at the center of a lot of controversial plays/calls this season. Time to add another one to the list. Mercer's Jeff Smith beat Jacksonville 74-72 on a so-called buzzer-beater, but if you watch the video, the shot leaves his hand after the sound of the buzzer. Jacksonville complained to the Atlantic Sun office and associate athletic director Joel Lamp said the school was told that the game wouldn't be overturned. Lamp said the school was told the shot did come after the horn and that officials mishandled the final possession.
I was told by an officiating source who reviewed the tape that Jacksonville's in-house camera does show the ball in the hands of the shooter with the red light from the backboard lit. That would mean no basket, but there was no courtside monitor and so by rule officials could not review the call made on the floor. The source said that about 40 percent of Division I college games do not have a courtside monitor. This was just an example of a poor judgment call, not a misapplication of a rule.
• John Adams, the NCAA's chair of officiating, said the officials correctly handled the skirmish in the first minute of Saturday's Kentucky-Louisville game. Technical fouls were assessed to Kentucky's DeMarcus Cousins and Louisville's Jared Swopshire and Reginald Delk. At issue was whether Cousins threw a purposeful elbow at Swopshire's head and should have been ejected. UK claims Cousins can be seen taking a knee to the head prior to the elbow.
"[The officials] reviewed the play and assessed an intentional personal foul to Cousins," Adams said. "It was offset by an intentional personal four on a Louisville player and they had a taunting T on another Louisville player. That taunting T resulted in the two free throws that Cousins shot as he was designated by Kentucky to shoot free throws."
• Adams and Bill McCabe, the Pac-10's coordinator of officials, said the officiating crew for last Thursday's Oregon-Washington State game also made the correct call to assess a technical on the Cougars' bench after it ran on the court following a go-ahead basket with three-tenths of a second remaining in the first overtime. The two-shot technical foul put Oregon's Tajuan Porter at the line. He made the free throws and Oregon won in double overtime in Pullman.
Adams cited Rule 10, Section 2, Article 9, d.: "It is an administrative technical foul for delaying the game by preventing the ball from being promptly made live or by preventing continuous play, such as but not limited to, followers entering the playing court before the player activity has been terminated. When the delay does not interfere with play, it shall be ignored."
Oregon's Ernie Kent said after the game that the Ducks couldn't inbound the ball because of the Wazzu players on the court.
McCabe said the officials were put in a difficult situation, but handled the play correctly.
"When there are three-tenths of a second to play, Oregon has the right to try to score a basket and every right to complete that," said McCabe. "Players or managers came on the court and you have no choice but to shut down the play. You can't force Oregon to throw over additional players. Once you shut it down, now the rule is applied and it was pretty clear. You can't ignore it or you face suspension [as an official] for not citing a rule. You do what you're supposed to do and assess a technical. It put them in a difficult position, but did they do the right thing? Yes."
December, 18, 2009
12/18/09
8:37
AM ET
Quick hitters for Friday during exam week (not for me, but for those NCAA student-athletes):
• When I was with Minnesota in Anaheim at the 76 Classic, I never got the sense that Royce White was going to return to the team. White, who announced recently that he's leaving Minnesota because of his legal troubles, had a much different case than Trevor Mbakwe in that there seemed to be only one side.
The Gophers had a hard time defending the shoplifting charge and were starting to really question if it made sense for White to be a part of the program. Mbakwe, who is currently suspended pending an assault case, always had a much better chance of joining the team if he is proven innocent. Minnesota coach Tubby Smith doesn't put up with much and he wasn't about to disrupt his program if there was no need. White's announcement that he's no longer a part of the program was likely a preemptive move on his part, before a decision was officially made for him by the Gophers.
• Boston College's plan was to bring in Brady Heslip early so he could redshirt and learn Al Skinner's system. Heslip has already graduated from Burlington, Ontario's Nelson High but has been playing at New Hampton Prep (N.H.). Skinner announced Thursday that Heslip was joining the squad. He will technically be eligible to play this month but unless there is a glaring need for a sharp shooter -- which there is -- the Eagles will likely continue to redshirt him. But if the 6-2 guard has a quick learning curve and is knocking down shots then the Eagles might be tempted to bring him off his redshirt.
• The Bob Cousy Award named its candidates for the honor for the top point guard in the country. Harvard's Jeremy Lin was not one of them. According to at least one member of the committee Lin wasn't nominated by the Crimson. But he will be added. He should. Lin is one of the top point guards in the country.
• I'm not sure you could get any basketball coach among Pitt's Jamie Dixon, Syracuse's Jim Boeheim, Rutgers' Fred Hill, Nebraska's Doc Sadler or Missouri's Mike Anderson to say they would want to leave their current conference and go to the Big Ten. Sources close to the situation in the Big East claim there is mutual interest among the Big Ten and Rutgers. That may be the case, and it is so early in the process, but I still don't get how Rutgers makes sense. I don't see the Big Ten penetrating the New York media market when Rutgers can't consistently do it. Rutgers basketball in the Big Ten would be a disaster. It's barely surviving in the Big East. Memphis would have to be the choice for the Big East if it loses a member. Central Florida is fool's gold. Memphis' faithful care about the Tigers more than any other prospective school's fan base. It's not even close. The Florida infatuation is limited to the big three in the state -- Florida, Florida State and Miami.
• There is no reason to be optimistic that Renardo Sidney will play for Mississippi State this season. The NCAA will conduct more interviews next week with the Sidney family. The key thing here is this: The NCAA is under no legal pressure to clear Sidney to play. Sidney's legal team won't sue to get a court injunction because Mississippi State won't play him without an NCAA clearance and run the risk of one day having to vacate games.
• Two of most inspirational stories so far this fall have been BYU's Dave Rose coming back from a rare pancreatic cancerous tumor and the graduation of Duquesne shooting victim Sam Ashaolu. I'm no longer a voting member of the United States Basketball Writers Association, but both are deserving honorees of the Most Courageous Award.
• Penn may flirt with current Siena and former Quaker coach Fran McCaffery but it might be considered a lateral move. McCaffery has told me in the past how much he loves his gig. Penn is arguably the best job in the Ivy League but Siena is the top job -- with scholarships -- in the MAAC.
• As much as Siena, Niagara and Rider got the early-season pub, the best team in the MAAC may end up being Fairfield. Coach Ed Cooley was raving in the preseason about his combo of Yorel Hawkins and Derek Needham, both averaging in the mid-teens.
• The A-10 is deep, but maybe too deep. There is no question that Charlotte, Rhode Island, Temple, Dayton, Richmond, La Salle, Xavier and Saint Joseph's have the capability to beat each other up and to sleep on Duquesne, George Washington and Saint Louis in league play would be a mistake. The problem for the A-10 may come if the top four to five teams have four or five losses.
• Watching high school senior Jared Sullinger play Thursday night must make Ohio State melt. The Buckeyes could desperately use Sullinger -- now. If Evan Turner comes back from his fracture in his back to play next season then the Buckeyes -- with Sullinger -- should be in line to compete for the Big Ten title and make a deep NCAA run. Sullinger holds the ball like an oversized grapefruit, can handle the ball and post up. He's everything the Buckeyes need now to shore up the middle, assuming they get Turner back.
• It's amazing that UCLA at Notre Dame Saturday has no pregame buzz. That speaks volumes about the season the Bruins are having and the drop the Irish suffered after losing at home to Loyola Marymount.
• I did say on a preseason Big East show on ESPNU that West Virginia would win the league by two games. That was before Syracuse emerged as not only a league title threat but a national championship threat as well. Still, I do like the Mountaineers quite a bit. Maybe not as much as the Orange right now, but West Virginia will continue to improve and the addition of Turkish center Deniz Kilicli in early February could be a huge boost, filling a necessary big man void.
• Good to see Mike Davis at ease at UAB. Watching Davis coach the Blazers to the rout of Cincinnati might have been the most comfortable I've seen Davis in a decade.
• Seriously, I would not be surprised if Washington State won the Pac-10. Washington and Cal should win the league but there is no reason to have complete faith in either one of those squads. No one in the league has been as dominant as Klay Thompson at Wazzu.
• Tasmin Mitchell came back to LSU for his senior season to be a leader and a productive player. He hasn't disappointed. Mitchell has been Mr. Everything and so far, averaging nearly 17 points and almost nine boards a game for the Tigers. He had a 24-point and 18-rebound game for the Tigers against SE Louisiana.
• I'm not sure I've seen a player come back from major knee surgery (ACL) as well as Ole Miss' Chris Warren. He has been superb, averaging 19 a game for the Rebels. The two Ole Miss-Mississippi State games should be dandies.
• Coach of the year so far? If you don't have Northwestern's Bill Carmody on the list then you're missing something. Carmody has done an outstanding job putting the Wildcats at 8-1 without Kevin Coble (foot injury and done for the year). The Wildcats looked toast after losing at home to Butler and now are cruising with wins over Iowa State, Notre Dame and NC State. None of those wins may be NCAA-caliber but the Wildcats will be in contention for a bid from this point forward.