Category archive:

Virginia Commonwealth Rams
January, 25, 2013
01/25/13
8:58
PM ET
Every team in the A-10 needs to thank the Horizon League and the Colonial Athletic Association for their stringent rules preventing Butler and VCU from playing in the conference tournament.
That was the reason the Bulldogs and Rams bolted a year early to the A-10 once the leagues said a pending departure meant they couldn't represent the league in the conference tournament or play for the automatic berth per the bylaws.
Take those two teams out of the A-10 this season, and suddenly the league is suspect and loses the high-profile matchups that have occurred this past week and resulted in court storming.
[+] Enlarge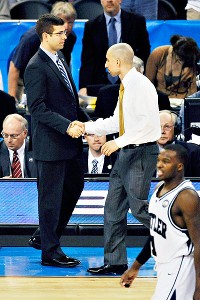 Richard Mackson/US PresswireBrad Stevens and Shaka Smart have brought a new legitimacy to the A-10.
La Salle's win over Butler helped validate the Explorers. Take Butler out of the league and suddenly La Salle doesn't have the same opportunity. Xavier is not ranked, and while the Musketeers are doing their normal thing in the A-10 and hovering atop the standings, beating X doesn't mean as much this season. The same is true of Temple.
"The win for us is a great one because we beat a top-50 team, and top-20 wins are key to getting in the NCAA tournament,'' said La Salle coach John Giannini. "It's also a great perception win for your recruits and alums because [Butler is] a recognized national program.
"From a coaching perspective, they play so hard and are so sound, they force you to be better yourself,'' said Giannini. "If you could scrimmage them every day you would become a top team, because they raise your bar so high. For the league, they give you the opportunity for a marquee win, they raise the RPI and give exposure.''
The same applies for VCU. Richmond and VCU were once in the CAA together in the late '90s. Having the two programs in the same league again for the first time since 2001 means they will play twice a season. The game created interest in the local media and will be a key rivalry going forward in the A-10. They are also guaranteed sellouts for both VCU and Richmond.
La Salle's win over Butler produced a court storming. Would La Salle storm on any other A-10 school, outside of VCU, now?
The A-10 has had a number of teams take turns at the top, with the two most consistent programs being Xavier and Temple. Temple will be gone to the Big East next season. When the A-10 secured Butler and VCU as members and then actually got them a year earlier, it turned out to be the biggest coup in all of the realignment moves.
Clearly, there have been moves made for financial and football reasons that have helped and will help some of the top conferences. But the Butler and VCU moves, while not done for money, have improved the competitive balance, national recognition and profile of the A-10 more than any other expansion moves in recent memory.
And that's why it will be imperative for the A-10 to do whatever it can to keep them from being poached by the departing Big East Catholic seven schools. If those schools take Xavier and/or Dayton, then it will be a hit for the league. Losing Butler, though, would be devastating. The Butler brand resonates with this class of students more than any other school in the A-10 because they remember the consecutive title-game appearances. Butler will likely be courted and will probably go if the offer is too good. The schools departing the Big East will likely go only with private schools, not just religiously based, which means VCU is out. But it's still a fluid situation.
No one would have noticed if La Salle was atop the standings and had beaten Xavier or Temple. But knocking off Butler and the subsequent court storm gets the league and its programs the national recognition they so desperately need.
LAKE BUENA VISTA, Fla. -- After Temple decided to bolt for the Big East, coach Fran Dunphy never even considered the possibility that the Owls wouldn't be allowed to play in the 2013 Atlantic 10 tournament.
And why would he? That's not the way the A-10 operates. The league wanted no part of being bitter and vindictive, especially toward one of its most recognizable and successful programs.
[+] Enlarge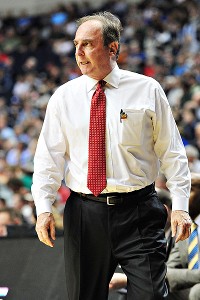 Don McPeak/US Presswire Fran Dunphy's Owls prepare for one final season in the Atlantic 10.
"I never thought about it,'' Dunphy said as he watched a recent AAU game at ESPN's Wide World of Sports Complex. "There are a lot of bittersweet feelings from the Temple point of view. I hope we've been great members of the Atlantic 10 over the years. In my six years, it has been a fabulous basketball conference and this year could be off the charts with as many good teams as there are.''
Why will there be so many good teams? Partly because of the bitterness emanating from the Horizon League and Colonial Athletic Association toward its most recognizable and successful programs, Butler and VCU.
Apologists for both leagues will argue that there are bylaws that clearly state if a school announces its future departure, it can't play in a championship. The America East is doing the same to Boston University, which is bound for the Patriot League but will be stuck with one final lame-duck season before departing. Same goes for Old Dominion (C-USA) and Georgia State (Sun Belt) in the CAA.
The presidents in those respective leagues easily could have voted to put grudges aside and be grown-ups. Instead, they acted like scorned children who didn't get their way and won't have their best teams represent them in the NCAA tournament.
The A-10, meanwhile, was ready to pounce once Temple and Charlotte made football moves for their own perceived athletic department survival. The Owls football team, once tossed aside by the Big East and eventually forced to prove itself again in the MAC, was invited back for the 2012 season to replace West Virginia. Charlotte started its football program up and found a home in a desperate C-USA looking for new members after the Big East's raid of Memphis, UCF, Houston and SMU.
Atlantic 10 commissioner Bernadette McGlade couldn't believe Butler and VCU would be available so soon, but with the backing of the A-10 presidents, she led a charge for early entry once those programs were officially banned from their league postseasons.
McGlade said the A-10 CEOs had developed a plan in November 2010 to solidify membership in the event of realignment. The September 2011 move of Pitt and Syracuse from the Big East to the ACC forced the A-10 into a proactive posture. That's when the league sought out Butler and VCU as possibilities (along with Old Dominion and George Mason).
McGlade gobbled up the two recent Final Four teams for the 2013-14 season. When they were possibly available for the 2012-13 season, there was no question that the A-10's welcoming policy of not booting out Temple and Charlotte a year early was going to be enticing.
McGlade had already led the charge to move the A-10 tournament from the dormant atmosphere of Atlantic City to the suddenly vibrant Brooklyn neighborhood where the new Barclays Center was being built. And she had already taken a bit of flak privately from the old guard at the A-10 offices for the questionable move of the conference office to southern Virginia instead of leaving it in more centralized Philadelphia.
But no one seems to be questioning the Atlantic 10 now.
Two programs that have produced three Final Four appearances in the past three seasons have been added. The league tournament moved to a media center and a trendy new spot at Barclays that might rival the Big East tournament in 2013 with the possibility of at least a half-dozen NCAA tournament bids at stake (Saint Louis, Butler, VCU, Temple, Xavier, UMass and St. Joe's, along with a few sleepers).
The Owls will no doubt be in the mix in March -- and for that, Dunphy is grateful.
"I never thought anyone would say to us, 'By the way, you're not allowed to be in the conference tournament.' And it didn't happen and I appreciate that stance from the Atlantic 10,'' Dunphy said.
"Would we have then sped up going to the Big East like our football team this year? I don't know."
The answer to Dunphy's question is probably yes. And that ultimately would have hurt the A-10.
The conference wasn't about to waste an opportunity of having a record amount of bids, even if one of them is from a departing member. And so what if it is? Temple will still be representing the A-10, not the Big East, if it earns a bid.
"I hope we're one of them,'' Dunphy said. "This will be a great challenge for us. But we're really excited.''
How about that? A coach that can't wait for the season, in a conference that is treating it with respect before it departs.
Bravo to the grown-ups in the room. The A-10 gets it. Too bad the other conferences do not.
Why not live in the moment rather than constantly worrying about the future? This is about games and who gets to play in them. Nothing more. Nothing less.
The Atlantic 10 understood that. The CAA and Horizon did not -- and the consequence is that both leagues will slip off the main grid this season, while the A-10 surges way ahead.
July, 6, 2012
07/06/12
6:59
PM ET
When it came to bylaws about departing teams, the Horizon, Colonial and America East didn't buckle.
There are consequences that come along with a departure. Being ineligible for the conference tournament is one of them for these leagues. Butler (Horizon) and Virginia Commonwealth (CAA) accepted that and got to the Atlantic 10 as fast as possible.
What school wouldn't do the same if the opportunity existed? Scheduling, television exposure and tourney access are the most important reasons -- outside of the financial benefits -- for being in a conference.
Take away the ability to play for an automatic NCAA tournament berth and the season can seem like a waste. Postseason bans, such as the one USC had recently and the one Connecticut will endure this season, take the air out of the season -- even if the schools and coaches do all they can to create a new goal of winning a regular-season title.
Even though both would likely be contenders for at-large berths, Butler and VCU took no chances.
Boston University, on the other hand, probably would leave for the Patriot League tomorrow if it could. The Terriers weren't pleased with the decision by the America East to uphold its bylaws, but they are stuck. The current team will have to deal with it.
Old Dominion and Georgia State were hoping the CAA would lift its ban, but it did not. Georgia State went as far as to explore trying to get into the Sun Belt sooner, but that didn't happen.
The Horizon, CAA and America East are actually not the norm historically.
After losing members in the past decade, the Big East, Atlantic 10, Big West, C-USA, Mountain West and WAC have not even broached the subject, much like the Big 12 didn't when it lost members to the Pac-12, Big Ten and SEC. The Big East didn't block West Virginia from playing in the conference tournament a year ago after it announced its hasty departure to the Big 12. Perhaps the smaller conferences are worried that the league will have only one bid and don't want it to go to the school with one foot out the door.
[+] Enlarge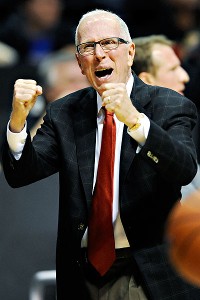 Christopher Hanewinckel/US PresswireSteve Fisher and the Aztecs will get a chance to compete in their final MWC tourney.
But when I asked some of the coaches playing in their final season in a conference, the question was met with near astonishment.
Pitt coach Jamie Dixon wanted to know if I was joking. San Diego State's Steve Fisher said he hadn't even heard of these conferences not allowing schools to participate. Utah State's Stew Morrill said he didn't think the WAC would do such a thing since previous schools that left weren't treated in that manner. Memphis coach Josh Pastner said he would be incredibly disappointed if that occurred. (C-USA took away the conference tournament from the city of Memphis but didn't remove the Tigers' ability to play for the title.)
But what would happen if these conferences turned on the departing teams in 2013? It's too late to change the bylaws and isn't going to happen, but it's still fun to play the "what if" game.
What effect would it have had on the Big East to take Pittsburgh and Syracuse out of the tournament?
A serious blow. The league may be squabbling with the two schools -- and will do so in court with Pitt -- but it needs these two in the conference tournament as long as possible. Syracuse is a natural draw at Madison Square Garden. Taking the Orange out of the Big East would have been a major mistake. The Orange and Panthers still don't have a definitive arrival date in the ACC, but it's likely to be in the summer of 2013.
What would it have done to Syracuse and Pitt for a potential at-large berth?
Likely no issue at all. Both have teams that look like virtual locks for an at-large bid.
What would happen to the Atlantic 10 if Temple and Charlotte weren't allowed in the tournament?
Let's be honest: Charlotte won't be missed on its way back to Conference USA. But Temple's departure will be a hit, as the Owls have consistently been a major part of the A-10 tournament. Not having a Temple presence, prior to the Owls' exit to the Big East, would have hurt the tourney's debut in Brooklyn. Bringing in Butler and VCU will offset the loss, but Temple still is very much associated with the A-10 brand.
What if the Big West banned Pacific?
That would be just cruel. The Big West has had teams leave before, and it might happen again. Plus, this is coach Bob Thomason's final season after a quarter-century at his alma mater, and he said he has a team that could challenge for the Big West title. He has been a loyal member, and Pacific is leaving for the all-private WCC. No harm in letting the Tigers finish up, and it won't hurt the Big West one bit.
What if Conference USA blocked Memphis, SMU, UCF and Houston?
Then C-USA would have a tournament that lacked any sort of buzz. Marshall is a legitimate title challenger to Memphis, and UTEP should be in contention. If the Tigers had been blocked from being in the tournament, after it was taken from the city, C-USA's relevance during Championship Week would have been diminished even more. It's still hard to say how many Memphis fans will travel to Tulsa, Okla., but the Tigers do have a significant following. This was a smart move by the league to not play bitter politics with the departing members.
What would the Mountain West tournament be like without San Diego State and Boise State?
A bit less exciting. The Aztecs have been one of the consistent winners in the MWC with UNLV and New Mexico. Take SDSU, off to the Big West, out of the event in Las Vegas, and the tournament would lose luster. No offense to Boise, but no one would likely notice if the Broncos weren't invited. But SDSU matters a great deal. The Aztecs will be a top-25 team alongside UNLV. Taking them out of the conference tournament would have been a storyline the MWC doesn't need in March.
What would a WAC tournament look like without Utah State and San Jose State?
Not worth it. USU has been the benchmark program in the WAC since Morrill arrived. New Mexico State can't anchor the conference on its own. NMSU needs a rival, and Utah State has been that nemesis. San Jose State wouldn't be missed, but the Aggies' absence would have been a glaring omission in Las Vegas. Rebuilding Utah State will likely need the tournament to get a bid this season, but the WAC was in no position to be punitive. So the Aggies will have one final chance to represent the WAC before it joins SJSU and former WAC members Fresno State and Nevada in the Mountain West.
Colonial Athletic Association commissioner Tom Yeager called Southern Conference commissioner John Iamarino on Thursday to give him the professional courtesy of knowing that he would be contacting a few of Iamarino's member schools, widely believed to be Davidson and College of Charleston.
[+] Enlarge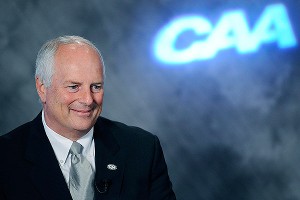 Rafael Suanes/US PresswireCAA commissioner Tom Yeager has seen three member schools depart in recent weeks.
"I appreciate that and I'm hoping to convince them [to stay]," Iamarino said. "We've got league meetings coming up [May 29-June 1 in Asheville, N.C.] and like every other conference, except the Ivy League, I suspect, 85 to 90 percent of the issues will be centered around realignment issues."
The trickle-down effect of conference realignment seems to never end. The CAA loses anchor programs VCU (to the Atlantic 10 in the fall of 2012) and Old Dominion (to Conference USA in the fall of 2013). Those two moves came on the heels of Georgia State moving to the Sun Belt.
The CAA has to do something to maintain relevance, and the Southern Conference, and possibly the America East Conference, are ripe for the pickings. (America East commissioner Amy Huchthausen said the league won't comment on any overtures from the CAA or anyone else toward its programs, such as Boston University and Stony Brook.)
"[The CAA] is such a Southern league I think they have to replace them with Southern teams," Delaware coach Monte Ross said. "I think they have to have that Southern flavor that the league is known for, and Davidson is a quality name and program."
Said Towson coach Pat Skerry: "But we've got to get someone in the North, too. Stony Brook could be a viable option."
Davidson and College of Charleston are the most obvious choices.
Iamarino is well aware of the interest in his league's programs. But he said he has every intent of reminding the schools that they are in a competitive league and the proximity of the member schools offers low travel costs.
"We're all within the geographic footprint," Iamarino said. "We avoid missing class time. The fans can travel to road games. That's why conferences were normally put together in the first place."
Iamarino said the exit fee is $300,000 for notice of two years or more and $600,000 for less than two years.
Charleston athletic director Joe Hull said the school doesn't have a position on the matter yet and said his school was happy in the Southern Conference.
Davidson athletic director James Murphy said it wouldn't be appropriate to comment on conference affiliation. But head coach Bob McKillop was willing to speak.
He said that 25 percent of the 1,800 students on campus play a sport, meaning that a move to the CAA affects a high percentage of the student population.
[+] Enlarge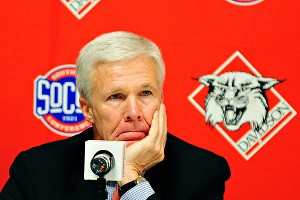 Jeff Siner/Getty ImagesDavidson head coach Bob McKillop doesn't necessarily believe the Wildcats' prospects would be improved by a move out of the Southern Conference.
"We have rigorous academic standards," McKillop said. "We've been to the NCAA tournament five times and the NIT twice in the past 10 years. We present a unique situation. But any decision will be made at the presidential level, not just a basketball decision."
Translation: Davidson is doing just fine in the Southern and doesn't necessarily need to move to the CAA. It also means that their options may not be limited to the CAA. The CAA needs Davidson to beef up its membership and provide a consistent competitor for the likes of George Mason and Drexel.
"VCU left the Colonial for the A-10, but who is to say the A-10 isn't going to change in the next three to four months? Who is to say the Big East or who is to say the Colonial won't change more?" McKillop said. "The dominoes have been blowing from the BCS. There are so many kinds of hypotheticals. Maybe James Madison and Delaware will go to the MAC in football or William & Mary to the Patriot."
Northeastern coach Bill Coen said he's hopeful that there are no knee-jerk reactions in the CAA.
"I think everyone needs to take a breath," Coen said. "You have to guard against doing something quickly that might not be a long-term solution."
George Mason athletic director Tom O'Connor said the onus is on the remaining schools to continue to show a commitment to remaining in the league.
"We all need to be proactive," O'Connor said. "You can't be stagnant. If you look internally and basketball is important to you then make sure you give the program all the tools to be successful."
Georgia State and Old Dominion are in the Colonial next season, but league bylaws prohibit their participation in the conference tournament. Towson and UNC Wilmington are ineligible for the tournament based on poor academic scores; Towson is appealing.
At this juncture, unless something changes, only seven schools would be eligible for the conference tournament in 2013.
O'Connor said the bylaw preventing Old Dominion and Georgia State from postseason participation should be changed when the league meets next week.
"My philosophy is that we should let the student-athletes play in championships," O'Connor said. "I think we can have conversations about our bylaws in the CAA."
O'Connor said there should be discussion about suspending or doing away with the rule altogether. He said the bylaw was put in place 10 years ago but "the world has changed in a lot of different ways. Student-athletes should have an opportunity to participate in championships."
If the membership can resolve the tournament issue, that might be the first step in trying to move ahead as one conference thinking about each other rather than the individual interests.
The CAA has to stick together at this point, or it will quickly fade from relevance.
March, 21, 2012
03/21/12
6:08
PM ET
Editor's Note: Shaka Smart announced Wednesday afternoon that he will not take the Illinois job and will remain at VCU.
Shaka Smart may like living in Richmond.
He might really enjoy being the head coach at VCU.
He actually may want to stay put.
Or not.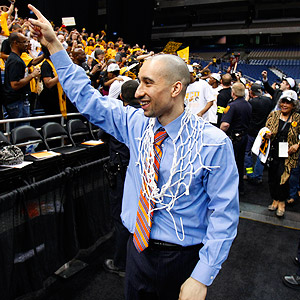 Bob Donnan/US PresswireWill Illinois be able to convince Shaka Smart to leave VCU?
Two coaches who know exactly what he's going through as he mulls over a possible offer from Illinois are Gonzaga's Mark Few and Butler's Brad Stevens.
Both coaches could have had their pick of jobs recently. But they have stayed for the very reasons that might keep Smart at VCU.
They each got significant pay raises, which provided longevity and security. Both love living and working at their respective spots in Spokane (Gonzaga) and Indianapolis (Butler).
"The most important thing and the advice I always give to somebody is that you have to make a decision that is for you and your family,'' said Stevens. "And that may not be the same for everybody.
"There is usually a long list, and happiness is on there,'' Stevens said. "People that you work with every day and where you live have to factor into everything. I would also say, don't take the advice of someone that's not impacted by the decision.''
Stevens genuinely loves his situation at Butler, and he loves working for athletic director Barry Collier. It would take a Herculean job to extricate Stevens from the program. He is now well-compensated financially, too.
Few has had countless chances to leave Gonzaga. But he is native to the area and has no desire to start over somewhere else. Smart is from the Midwest but has been a bit nomadic as an assistant, and he has recruiting ties to the Southeast, too.
Smart hasn't hid his affinity for VCU, especially after the Rams reached the Final Four, and he was compensated well for that run. The Rams, who've had a revolving door among quality head coaches (such as Smart's predecessor, Anthony Grant) gave Smart an eight-year deal after the Final Four.
Illinois certainly offers a high-profile job in a fertile recruiting ground. There's also a comfort in knowing that quality NCAA-bid type games are plentiful in the Big Ten.
If Smart turns down Illinois, he's making a Stevens/Few-like commitment to VCU. In the NCAA tournament this past weekend, the Rams knocked off Wichita State in the second round and lost to Indiana in the third round in Portland, Ore.
"The biggest mistake is that everybody tries to project their own feelings and own thoughts and own values into what you think a guy should do,'' said Few. "It comes down to what that individual person wants in life.
"The only people that matter is the coach and the family and what they want and value and where they're at in life,'' said Few. "Do you want to pack up and move young kids, kids in junior high, high school? That's where it becomes an individual choice and situation.''
Few said that advancing to the NCAA tournament, which VCU has done in consecutive seasons under Smart, is paramount to the definition of a good job.
"If you're winning and advancing to the NCAA tournament and your teams are good enough to go far in the tournament, then what else do you need?'' Few said.
Few could have gone to Oregon. Indiana made a run at him, too. There were others. Gonzaga hasn't won a national title, but the Zags have been in the NCAA tournament every season he has coached, which is more than those jobs can claim.
"I just watched Butler compete for two titles in a row,'' Few said. "That's a pretty strong statement [to stay put].''
February, 27, 2012
02/27/12
5:09
PM ET
Quick hitters for a Monday:
• South Florida coach Stan Heath coached the Bulls to their 11th Big East win, leading them over Cincinnati on Sunday. The Bulls have won five of six games, holding opponents to fewer than 52 points each time. Their loss was to Syracuse, a game in which the Orange scored just 56.
"We grind it out," Heath said Sunday. "We're not great offensively but we guard."
[+] Enlarge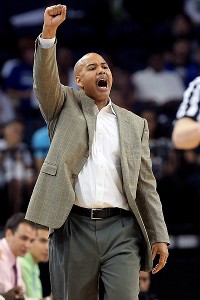 Kim Klement/US PresswireWith commitments for Chris Perry and John Egbunu, USF coach Stan Heath has his frontcourt of the future.
So, do the Bulls deserve an NCAA berth? Their overall résumé says no. The selection committee judges each team individually, regardless of conference affiliation, and the Bulls simply don't have any meat with the best nonconference win coming against Cleveland State. And only one of the 11 Big East wins was against a team in the top six (Cincinnati).
The Bulls have two games left, at Louisville on Wednesday and then home versus West Virginia on Saturday.
Beating Louisville would suffice for a top six Big East win. West Virginia would not.
"I think this team is worthy," Heath said of a bid. "I know we have to continue to win. But 11 wins in this conference? Should we be penalized for beating Pitt [twice] when they had a full deck? Or sweeping Villanova?"
Heath's point is that in a normal year picking up four wins against those two traditional powers would have meant a bid. But Pitt and Villanova will play on the first day of the Big East tournament. South Florida will not. The Bulls won't get a double bye but will likely have a single bye.
"We haven't lost to a team that isn't ranked in the Top 25 since Dec. 28 and the only other teams that can say that are Kentucky, North Carolina and Syracuse," Heath said. "We should get credit for the teams you're supposed to beat."
Notre Dame was awful in the nonconference. South Florida wasn't much better. The Irish have one more win in the Big East than South Florida. But the Irish beat elite Big East teams Syracuse, Marquette, Louisville and South Florida.
"It shouldn't be us or them," Heath said.
And it's not. The Bulls will be judged independently and that's why the 11 Big East wins isn't enough yet due to the unbalanced schedule. The Bulls continue to give themselves a chance. But they're not in yet.
• Drexel won the Colonial Athletic Association for the first time since joining the conference and will be the top seed in the CAA tournament. I've gone on record that I believe the selection committee will reward the Dragons for winning the CAA regular season outright, regardless of the nonconference RPI or strength of schedule. Drexel coach Bruiser Flint agrees. Flint said winning 17 games in a row and 23 out of 24 should count for something. The Dragons have lost one game in 2012 -- at Georgia State on Jan. 2. Flint makes one more strong argument: "We're good." Hard to debate.
• VCU was in the Final Four a year ago and to get back in the Dance, the Rams may need some help. Or will they? VCU finished second to Drexel and could be headed for a 1-2 matchup in the CAA tournament in VCU's home in Richmond. VCU coach Shaka Smart doesn't want to promote the Rams' case, but it's extremely similar to that of Drexel. VCU has won 14 out of 15 and has lost just three times in 2012. VCU took a while to figure itself out after losing most of the core from last season's team. One thing Smart said is that he wishes he could have replayed some of the nonconference games. Smart said this season's team had a better regular season than a year ago. And he quoted Butler's Brad Stevens that the pressure is on teams like VCU and Butler during the regular season but once they get in the NCAAs it's all off. All true.
• Harvard is potentially going to have to earn the NCAA bid again the hard way -- through a playoff game. The loss to Penn on Saturday means that the Crimson will have to sweep Columbia and Cornell on the road and then wait to watch Penn go to Princeton on March 6. That's assuming Penn sweeps Brown and Yale at home. If the home teams prevail and Penn beats Princeton, Penn will play Harvard in a playoff for the bid. If Princeton beats Penn and the Crimson win out, Harvard wins by not playing.
• Harvard coach Tommy Amaker said the Ivy is crazy like all the other conferences. And he won't dare look ahead past Columbia.
• Penn's Zack Rosen has been "super human," according to the Quakers' staff. Penn's staff firmly believes it has the defense to win these three games to force a playoff but this is still a tall task.
• Purdue coach Matt Painter said that putting more shooters on the floor offensively and playing better position defense has been the difference for the Boilermakers. Purdue clinched a bid -- if it was ever in doubt -- by winning at Michigan over the weekend.
• Wichita State coach Gregg Marshall isn't taking anything for granted with the Missouri Valley Conference title. The bracket has potholes for the Shockers. Indiana State could be the first opponent if it gets past Southern Illinois. Northern Iowa, which faces Illinois State, could be next, and then a possible final game against rival Creighton. "It is no easy road," Marshall said. "Indiana State won it last year. UNI was 11 in the RPI coming out of the nonconference. There are going to be a lot of tough teams."
• Butler has quite a road to get back to the NCAAs as the Horizon League automatic qualifier. The Bulldogs have to beat Wright State and then possible nemesis Milwaukee before playing at champ Valparaiso in a possible semifinal. "It's a tough draw and we look forward to the challenge," Butler's Brad Stevens said. Does this team have the ability to win three games? "We will find out."
• Georgia has won at Mississippi State and upset Florida at home. The Bulldogs could be a spoiler in the SEC tournament. How has Mark Fox done this so far? "Without [Trey] Thompkins and [Travis] Leslie we've been a jump shooting team," Fox said. "When it goes in, we can compete with most people."
February, 16, 2012
02/16/12
11:03
PM ET
Saint Mary's, Murray State, Creighton, Long Beach State and Wichita State have all been receiving the necessary pre-BracketBusters buzz.
But Drexel may end up having the most important game of the weekend.
The Dragons are tied with George Mason for first place at 14-2 in the Colonial Athletic Association. Drexel (22-5 overall) has been one of the hottest teams in the country, losing just once since Dec. 3 (by 14 at Georgia State). That's 14 straight wins and 20 out of 21.
Drexel is at Cleveland State on Saturday, the second-place team in the Horizon League behind Valparaiso.
If Drexel wins this road game, it will be akin to George Mason and VCU winning at Wichita State in the BracketBusters event in 2006 and 2011, respectively. Both teams received an at-large berth and ultimately went to the Final Four.
Drexel won't need an at-large berth if it wins the CAA tournament. But beating Cleveland State on the road will certainly help the résumé.
[+] Enlarge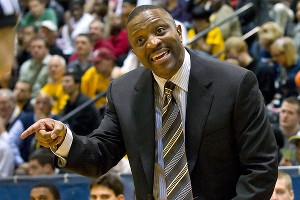 Christopher Szagola/US PresswireBruiser Flint's Drexel squad has won 20 of its past 21 games this season.
Drexel coach Bruiser Flint said he would be surprised if his team isn't in the NCAA tournament.
But Flint isn't denying this game could be decisive for the Dragons.
"The eye test is big for us in this BracketBusters game," Flint said. "We need to go out and play well and get a win. It's not going to be easy."
Flint said he received tongue-in-cheek text messages from former CAA coaches Tom Pecora (then of Hofstra and now of Fordham) and Jim Larranaga (then of George Mason and now of Miami) encouraging Flint to finally get a bid.
Drexel has been to the NCAA tournament before, but the Dragons would be breaking ground in the CAA. No former America East team (Hofstra, Towson, Drexel or Northeastern) has made the NCAA tournament since joining the CAA.
The only team not from the state of Virginia that has won the CAA is UNC Wilmington and former member Navy.
"It's been hard, since Old Dominion, VCU and George Mason have great tradition," Flint said. "Those teams are really good. They've been able to dominate the league. You've got to give them credit.
"But the championship and conference is in Richmond and VCU is down the street, so it's a home game and Old Dominion gets a great crowd," Flint said. "There has been a big three."
After being forced out at UMass, Flint bounced back and was hired right away at Drexel in the spring of 2001. He had an impossible task at UMass, following John Calipari in 1996 after a Final Four berth. Four years later, Flint had another tall order: take over a hometown school in Drexel. The Dragons have four NIT appearances under Flint, but no NCAA berths.
"I've been in this league now 11 years, and people don't realize that we have the fourth-most wins since the merger," Flint said. "Me and [ODU coach] Blaine Taylor are the only ones left since the merger. It's been a long process."
Flint said that when he took the job he had no idea the Dragons were moving into the CAA.
"I didn't expect this league to be as good as it turned out to be," Flint said. "It's a really, really good league."
Flint said the CAA has three really strong teams this season, mentioning Drexel in the same sentence as VCU and George Mason. The problem is that none of the teams stood out in the nonconference.
Drexel had injury problems but the defense never wavered. The offense, long an issue for the Dragons, is no longer stagnant.
"One thing we can do is score the ball," said Flint. "We've got guys who can score the ball."
The Dragons don't have a marquee nonconference win. The only Top 25 team they've played has been Virginia, in the Paradise Jam in the Virgin Islands on Nov. 18 (Drexel lost 49-35).
The Dragons have plenty of options: Chris Fouch is healthy; Frantz Massenat is playing at a CAA Player of the Year level (the award should be his, Flint said); Damion Lee is on the perimeter, balancing out Samme Givens; and Dartaye Ruffin is on the inside.
Calipari, now the head coach at Kentucky, said Thursday that Flint should be coach of the year -- nationally.
"If we can be in the tournament," Flint said. "That would be special."
The quest for a bid could take a decided upward turn Saturday in Cleveland.
August, 26, 2011
08/26/11
6:27
PM ET
The Colonial Athletic Association buzz is at an all-time high.
VCU went to the Final Four last season.
George Mason went in 2006.
[+] Enlarge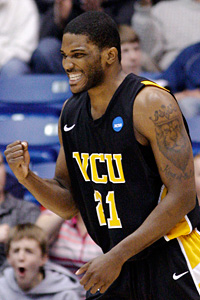 AP PhotoVCU went to the Final Four last season as a No. 11 seed.
The conference has put two more teams in the Final Four in the past six seasons than every other league outside the power six, although Memphis went from Conference USA in 2008 and Butler represented the Horizon League the past two years.
But the CAA still hasn't solved its provincial problem. The Virginia-based league hasn't had a team outside the state win the regular-season conference title since UNC Wilmington in 2006, and outside of Wilmington capturing the title four times since 2000, no other team outside Virginia has won the title since former member Navy did in 1987.
Look deeper at the stats, and you'll see that no Northern team has won the conference, either, unless you're going to count Navy's three-year title run from 1985-87 as a team from the North because it's in Annapolis, Md.
Granted, the conference is made up of five teams from Virginia, so that tilts the odds in the favor of the state. But the former America East schools -- Delaware, Drexel, Hofstra, Northeastern and Towson -- that arrived to change the demographic of the Colonial in the middle of the past decade haven't been able to crack through and earn a regular-season CAA title or a conference tournament championship.
That has to change for the CAA to truly be looked at as a game-changing conference, not just a collection of strong schools at the top with VCU, George Mason and Old Dominion as the most consistent players.
"It's pretty much been a steady three of late with VCU, Old Dominion and Mason," ODU coach Blaine Taylor said. "We've been more consistent than them, but we just don't have a Final Four run."
And if there is a chance that a Northern team can finally break through this year, the one candidate is Drexel if it can knock off favorite George Mason.
"Northern teams have always been in the mix, but it's been tough to win it," Northeastern coach Bill Coen said. "I think Bruiser [Flint] and Drexel have a chance. Drexel does two things terrific every game. They are outstanding defensively and one of the best teams in the country in rebounding. If you're going to separate yourself, it will come down to someone making a play at the end of the game, and in this league, typically you have to have upperclassmen to win it."
VCU had a strong senior class last season led by Joey Rodriguez and Jamie Skeen. Mason had an upperclassman-dominated team in 2006. ODU, which finished second to Mason last season, had a senior-dominated lineup.
Drexel didn't. The Dragons finished one game behind VCU and lost by two points in the CAA quarterfinals to the Rams.
"If VCU doesn't win that game they probably don't get a bid and ultimately go to the Final Four," Taylor said. "Drexel will be quite good this year. The thing that separates our league from other BCS conferences is that we have a lot of seniors or upperclassmen."
Drexel actually has more of a mix this season, but that could be enough with sophomores Dartaye Ruffin and Frantz Massenat complementing juniors Chris Fouch and Derrick Thomas and senior Samme Givens.
"We were one of the younger teams in the league last season and we won games," Flint said. "But we essentially return everybody."
The problem for the CAA is still a perception-based issue. Drexel won at Louisville last season, won 21 games and lost out to fellow member Hofstra for the College Basketball Invitational bid out of the CAA. James Madison, which finished behind Drexel, also received a CBI bid. The CAA had no NIT teams. Drexel didn't have any other postseason opportunities.
"VCU came in fourth in our league, and people forget that," Flint said. "Our conference doesn't get the respect it deserves. We're good, but we won't surprise anybody."
Flint didn't take any one-way guarantees this season and that will hurt the Dragons. Two seasons ago, the Dragons played at Syracuse and at Louisville last season -- splitting the two games.
Drexel has a soft schedule with games against still-struggling Saint Joseph's, likely second-place Ivy Princeton, Binghamton and St. Francis (Pa). Flint said he didn't want to add more guarantee games like last season because he had only three home games slated originally. A year ago, Drexel played only four nonconference home games. That puts even more pressure on the Dragons to do well in the Paradise Jam, in which the Dragons could get a chance to play upstart Virginia in their bracket, then possibly Marquette on the other side -- two possible NCAA tournament teams. Flint said he's working on a deal to play co-MAAC favorite Fairfield.
"We understand that to win this league you may have to go 16-2, but we're in the same boat as Mason was last year," Flint said. "We'll see. I'm not going to fool myself. The expectations are high for us. We can't let games get away from us. We want to be the first team not from Virginia, not Wilmington, to win a championship."
June, 29, 2011
06/29/11
10:41
PM ET
Some news and notes on this Wednesday afternoon:
• Team USA's two exhibition losses to Lithuania have caused some concern stateside, but the Lithuanians are considered the favorites heading into the U-19 World Championship tournament in Latvia this week.
The Americans lost 101-72 to the U-20 Lithuanian team and then 108-75 to the U-19 team, which got 23 points out of the Toronto Raptors' No. 5 draft pick Jonas Valanciunas.
The Americans start pool play Thursday against Egypt and play Serbia and China before the second round begins. Medal round games begin on July 9.
"Lithuania is the best team and we didn't play well,'' said Syracuse coach Jim Boeheim, who is the chair of the junior national team and helped select the squad in Colorado Springs earlier this month. "We're not as strong as we'd like. But we're better than we've played so far.''
Boeheim said UConn's Jeremy Lamb, expected to be a star on this squad, hasn't played as well as expected yet. In the two exhibition games, Lamb is shooting 22.2 percent on 3s and 35 percent overall. He's averaging 9.5 points a game. Butler's Kyhle Marshall is even worse, shooting 23.1 percent overall.
Boeheim also singled out Tony Mitchell, the former Missouri recruit who is headed to North Texas. Mitchell has taken only four shots, making one.
"They've gotten off to a slow start,'' Boeheim said. "They've struggled more than we thought they would.''
The surprise has been the play of Creighton's Doug McDermott, son of Bluejays coach Greg McDermott. The rising sophomore has been the most consistent player so far, averaging a team-high 13.5 points a game. He is shooting 61.1 percent from the field. Memphis' Joe Jackson is at 12.5 ppg on 40.9 percent shooting and Michigan's Tim Hardaway Jr. is averaging 11.5 points a game but is shooting a woeful 26.9 percent (taking a team-high 26 shots) and 16.7 percent on 3s (2-of-12).
It's perhaps worth noting that the foul calls on the road were noticeably different, with the two Lithuanian teams taking a combined 88 free throws to the Americans' 54.
"We knew this would be a tough tournament,'' Boeheim said. "We [also] don't have some guys who chose to go to summer school. That happens.''
Duke guard Austin Rivers or Ohio State freshman forward Jared Sullinger both chose to stay home rather than play. Clearly, Sullinger would have had a major impact on this team had he decided to play. The U.S. team got outrebounded by an average of 12 boards in the two games.
This is the same tournament in which the Americans won gold in New Zealand in 2009, the first time the U.S. had won the gold medal since 1991. Pitt's Jamie Dixon coached that team, assisted by Purdue's Matt Painter (who will coach the University Games team heading to China in August) and Southern Illinois' Chris Lowery. New George Mason coach Paul Hewitt is coaching this squad in Latvia, assisted by Saint Mary's Randy Bennett and Jacksonville's Cliff Warren, who was an assistant under Hewitt at Georgia Tech.
• The Washington Times reported on Shaka Smart's new deal with Virginia Commonwealth. The eight-year contract is worth $1.2 million annually. VCU got creative by bumping up his salary from $325,000 to $450,000 and adding in a supplemental income of $700,000 that is paid quarterly. Smart could have gone to a power-six job -- possibly NC State -- but stayed put with the Rams. The Final Four run pushed his package over $1 million, a significant bump for a school like VCU but also a necessity in order to stay competitive at an elite level. That's what Gonzaga and Butler have had to do to keep their respective coaches content.
• A number of college coaches are gearing up for 20 days on the road next month by finalizing their nonconference schedules now. One school that needs a quality nonconference slate is Marshall. Thundering Herd coach Tom Herrion fancies his team to be an NCAA tournament squad and a real challenger to Memphis in Conference USA. The Herd return Damier Pitts (16.2 ppg, 4.7 apg) at the point, whom Herrion said should be considered the top point guard in C-USA, along with last season's freshman of the year in the league in DeAndre Kane (15.1 ppg, 5.6 rpg). MU has four starters returning and brings in a recruiting class that has two highly rated JC transfers in power forwards Robert Goff and Dennis Tinnon. Shooting guard Justin Coleman, a one-time Louisville commit, is also eligible after sitting out the year. He was never able to get eligible for the Cardinals.
So what did Herrion do for his schedule? He is playing at Cincinnati in a multiple-team event that has three home games against low-level teams in Alabama State, Jacksonville State and Northwestern State. He will play the annual game in Charleston against West Virginia. That gives him two Big East opponents, one road and one neutral. The Bearcats will be a top-25 team in the preseason, and West Virginia will always be in play for a bid under Bob Huggins.
Herrion also did a home-and-home with perennial Atlantic Sun favorite Belmont, bought a home game against MAAC favorite Iona, has home games against MAC favorites Ohio and Akron and will play at UNC Wilmington out of the Colonial. Herrion is trying to grab a successful team from the A-10, Missouri Valley or CAA -- someone like an Old Dominion or Creighton. He'll need at least one more of those games.
Scheduling is an art form for these coaches. And if a school like Marshall can't get elite home-and-home games out of region, then it has to be creative by plucking some of the best mid-major schools for home-and-home series. That can be a plus for power-rating points. The C-USA schedule helps Marshall too, since the Herd will play perennial contenders Memphis and UAB twice as well as UCF, Southern Miss and upstart East Carolina in the unbalanced schedule.
"Now we've got to go out and win games,'' said Herrion, whose team was 22-12 (9-7 C-USA) in his first season as head coach in Huntington. "We've got to get another projected NCAA team. But we've got to go out and win those games. I do think we can be an NCAA tournament team. But we can't come out of Conference USA with six or seven or eight losses and expect to be.''
• Texas fans are probably down about losing three underclassmen to the NBA, but having a trio of three first-round players (Tristan Thompson, Jordan Hamilton and Cory Joseph) can come in handy. The Longhorns now have the most first-round NBA draft picks (eight) of any school over the past six years. Kansas and Kentucky are tied for second with seven. If you push it back to 2000, Texas is third with 10 but just one behind North Carolina and Kansas for the lead. Connecticut, Duke and Kentucky have had nine in that span. The Longhorns have also had six lottery picks since 2000, which is tied for fifth with Arizona. Kansas tops that list with nine, followed by UConn and Duke with eight and North Carolina with seven.
• St. John's is quietly putting together one of the top nonconference schedules in the country. The Red Storm will play at Duke, at Kentucky in the SEC-Big East Challenge, host UCLA, play in the 2K Sports Classic benefiting Coaches vs. Cancer with Arizona, Texas A&M and Mississippi State, and open up Dick Vitale Court against Horizon upstart Detroit. That's all with a team dominated by freshmen. Kudos to coach Steve Lavin, who isn't afraid to challenge his team.
June, 27, 2011
06/27/11
9:34
PM ET
Quick hitters for Monday:
• The speculation about whether 6-foot-10 Andre Drummond, the No. 1 player in 2012 (currently at St. Thomas More School in Middletown, Conn.), could end up playing in the fall at UConn is over. It's not happening. According to Drummond's representatives, including his mother, he will not be in college this fall but will instead go for a post-graduate year. That plan is St. Thomas More for now. There had been plenty of chatter about the possibility that Drummond could be ready for the Huskies in the fall, but that point is moot. He hasn't committed to UConn, either. He's a serious player for Kentucky, North Carolina and Florida. And according to ESPN's recruiting site, he's still considering Pitt, Georgetown and Duke. Drummond will likely be shadowed by the aforementioned schools' head coaches at various stops in July. He'll be in Indianapolis on July 6-9; in New England at various events, including Springfield on July 10-18; in Las Vegas July 22-26 and Orlando on July 27-Aug. 1.
• As a preseason top-25 team, Cincinnati's nonconference schedule is certainly worthy of criticism. But coach Mick Cronin makes a good point in the difficulties of getting into the elite tournaments as a Big East team. Tournaments are not allowed to take two teams from a conference, and a team can return to a tournament on a four-year cycle. That makes it very tough for a team like Cincinnati, which doesn't have as high a profile, to move ahead of teams such as Connecticut, Syracuse, Georgetown and Villanova for some of the elite tournaments. Pitt has chosen to stay away from the neutral-site events of late, so that takes the Panthers out of the mix for a Maui or Orlando event. That's why Cronin elected for a makeshift, multi-team event. He landed Marshall as a partner, and the Thundering Herd will be a viable contender for second behind Memphis in Conference USA. Still, the schedule, which includes Xavier (an annual series), at Georgia, Oklahoma and Marshall, could have used at least one more given top-25 team. Xavier is the only squad on this list that the Bearcats can comfortably say will be an NCAA tournament team -- as of now.
• Bruce Weber is in a no-win situation at times at Illinois. He lands an elite player such as Jereme Richmond, and it's a big deal. And then the player ends up failing to have a major impact and bolts for the NBA draft, only to go undrafted and have a relative spout out about how he was wronged. I won't be surprised at some point if Weber pulls a Herb Sendek and takes another gig to restart the career.
• John Calipari's contract with Kentucky is another indicator that we've entered a new era when the Wildcats will continue to be in step with any other elite school for the top recruits. I just don't see that ending anytime soon.
• Dayton was tabbed as the site for the First Four in 2012 and 2013. The NCAA men's basketball selection committee is spending the week in Utah also discussing the issues that arose from the First Four. Clemson shouldn't have been forced to go from Dayton to Tampa inMarch and play an early game. If a team has to travel to a different part of the country, then there must be consideration given for the start time of the game.
• The NCAA should look into other venues, though, such as the Palestra.
• The NCAA is selling that VCU went to the Final Four through Dayton's First Four. If it continues, then we've entered a new era in the tournament.
• Butler assistant Matt Graves lost out to BC assistant Joe Jones for the Boston University job. This confirms former Butler assistant Micah Shrewsberry's claim that it's hard to become a head coach as an assistant out of a Horizon League-like conference, including Butler. Jones was down the road as a head coach at Columbia. Obviously I wasn't in the interviewing process, but it's hard to compare that with the recent success of Butler, which is coming off consecutive national championship game appearances. Well, there is no comparison.
• The NCAA will do the right thing in allowing Michigan to help Austin Hatch in any way it can during this horrific tragedy. Hatch is struggling for his life after going through the second plane crash in his young life. Hatch recently committed to the Wolverines for the 2013 season.
• It will be interesting to see how USA U19 handles being blitzed by Lithuania's U20 team in an exhibition game 101-72 on Sunday in Panevezys, Lithuania. Michigan's Tim Hardaway Jr. came off the bench to score 18 points for the Americans. Butler's Khyle Marshall didn't make a field goal (0-for-7). This tournament will be critical for Marshall, UConn's Jeremy Lamb and Michigan State's Keith Appling to prove they can shoulder more responsibility. Lamb was 2-of-6, and Appling missed his only two shot attempts. Memphis' Joe Jackson did have a highlight dunk toward the end of this clip. Jackson scored 13 points and was 5-of-13 from the floor.