Category archive:

Weber State Wildcats
June, 5, 2012
06/05/12
4:53
PM ET
Weber State coach Randy Rahe will be at the Chicago pre-draft camp this week to support
Damian Lillard
in a public forum, and to also show his gratitude for what Lillard has done for the Wildcats.
Lillard ensured that Weber State was a Big Sky contender every season. And while the Wildcats didn't make the NCAA tournament during his four seasons at the school, he was a dominant performer, a headline act in the Big Sky and a drawing card to Ogden, Utah.
[+] Enlarge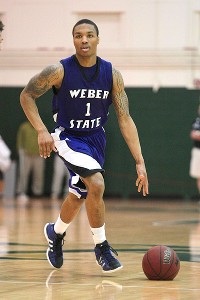 Kelley L Cox/US Presswire Damian Lillard's success at Weber State will help the Wildcats for years to come.
Rahe is convinced his 6-foot-3 star has left his mark with the program, as a trail of recruits will follow his lead.
Rahe isn't naive enough to think he'll find another hidden gem like Lillard, a lock for the NBA lottery and quite likely the first lead guard selected in the June 28 draft. But he is convinced that the dynamics of Weber State's recruiting has changed.
Eastern Washington wasn't able to capitalize on the attention that its first-round pick (Rodney Stuckey) gained in 2007. Rahe is determined to not let this opportunity slide.
"We feel like he has already helped us [get] in with some kids that we shouldn't have,'' said Rahe. "We've gotten in with kids that were above us.''
Rahe said that Lillard's presence helped land 6-foot-7 Keller (Texas) Central High School power forward Joel Bolomboy.
"New Mexico, Clemson, Auburn and Texas Tech were all recruiting him,'' Rahe said of the November signee. "Damian is getting us in the door, and now it's up to us to close.''
Rahe is selling the fact that Lillard was loyal to the first school that recruited him. He worked consistently on his game and became a star at a Big Sky school. Lillard didn't bolt on the Wildcats, either, after his freshman season.
Rahe said that Lillard was pursued by other schools after a 2008-09 freshman season in which he averaged 11.5 points a game.
"There were people in his ear about leaving,'' Rahe said. "But he wouldn't do it. He was loyal. Thank God for it. We could have lost him.''
Weber State was fortunate to land Lillard. He was under-recruited out of Oakland. Rahe said he knew Lillard's AAU program well, and he was in hot pursuit of the guard during the summer between his junior and senior seasons.
"I went and watched him that spring, [and] saw that he was really good while he was playing for the Oakland Rebels,'' Rahe said. "It wasn't a big-time AAU program like the Oakland Soldiers. But there were others who saw it too, like San Diego State, Washington State, SMU, Saint Mary's and some Pac-10 schools. But none were that serious.
"He didn't care about going to the highest level. He wanted to win games. He wanted to be with people [who] he trusted. I knew he was a damn good player.''
Rahe said Lillard grew up with two parents who instilled a strong work ethic in him, saying they "did a great job of putting the values in with him. He works his ass off, and he knows right from wrong. He treats people the way he wants to be treated. He's a self-made player.''
Lillard's progression was exactly what a player and coach want to see: The Wildcats won 21 games when he was a freshman (and reached the NIT), 20 as a sophomore (and another NIT berth after a second straight Big Sky regular-season title), 18 as a junior (and a CBI berth, even though he was hurt for all but nine games) and 25 as a senior (CIT berth). Lillard's production went from 11.5 to 19.9 to 17.7 (injured) to 24.5 points a game.
Throughout the past month, a number of NBA personnel people have told ESPN.com that Lillard has been one of the top players they have seen, and they have nothing but glowing reviews. Lillard is expected to interview extremely well during the Chicago pre-draft camp and in the weeks that follow when he visits individual teams.
Rahe said that Portland, which has the Nos. 6 and 11 picks, has been calling quite often. Utah, which doesn't have a first-round selection, would love to find a way to get involved. Rahe said he has talked to Cleveland, although the Cavaliers already have Kyrie Irving, so selecting Lillard may not make as much sense at No. 4, which is also deemed too high for Lillard to get drafted. Golden State, which has the No. 7 pick, has also called Rahe. That might be a starting point for him, but the latest team that Rahe has heard from is Toronto, which picks at No. 8.
Lillard, listed as a junior athletically, redshirted during his normal junior year after playing in only nine games. He technically was an early entry, but was in his fourth year of school.
"The thing about Damian is that he's obsessed with improving his weaknesses,'' Rahe said. "He's got such a great sense of his maturity. Every year, he would be in the gym and work on what his weaknesses were.
"He was a scorer when we got him, and he couldn't run off a stagger screen to catch and shoot it,'' Rahe said. "Then it was his middle game. That was important to him and [he] worked on that, too, as well as his pick-and-roll offense. He worked on all of that. He takes the weaknesses and becomes obsessed with it. He never thinks he's good enough. It drives him crazy.''
Lillard is a prime example of how a player can go to a school off the main basketball grid, develop his game and become a lottery pick. Lillard did this while winning at Weber State, but he couldn't get to the NCAA tournament to entertain the masses and build on his credibility. Norfolk State's Kyle O'Quinn is a hot name because of his performance (26 points, 14 rebounds) in an upset of Missouri in the opening round of the NCAA tournament
Rahe is convinced that if Weber State didn't lose two starters to injuries, it would have been a tournament team. Still, the Wildcats were able to get to the Big Sky championship game at Montana, losing to the Grizzlies, 85-66. Lillard played in two CIT postseason games and scored a combined 48 points.
"He handled everything as well as anyone could,'' Rahe said. "There were NBA scouts coming through here, but all he cared about was winning.''
But can Rahe find another Lillard?
"It's really hard,'' Rahe said. "It's not going to happen often. We were very lucky. We did our work. We got the right kid to come and do it. Finding the kids that will pass up a Pac-12 or Mountain West scholarship for one in the Big Sky is rare. It will happen, but it's rare. It was the perfect storm for us. Our next test is to find another one like him.''
January, 17, 2012
01/17/12
9:29
PM ET
College basketball could use a Heisman-like award, one main honor instead of the five mainstream national awards.
The problem is that finding a consensus for the Wooden, Naismith, AP, Rupp and Oscar Robertson honors is no easy task.
The awards voters do tend to coalesce behind one candidate. And maybe that will be the case again.
But it seems that this season's race will be as wide open as ever. If you need more evidence, take a look at the 25 finalists for the Wooden Award, released on ESPNU and ESPN.com on Tuesday.
It appears that the only two players who are consensus candidates are Kansas' Thomas Robinson and Creighton's Doug McDermott. It's not a reach to say these two players are the favorites in mid-January, a stunning development considering how much preseason hype Ohio State's Jared Sullinger and North Carolina's Harrison Barnes received. The amazing part thus far is that I don't believe Sullinger nor Barnes would be a first-team All-American if the voting were conducted today.
Before we get to the list of players compiled by the Wooden folks, it's important to note that these are simply the 25 players who they felt should be honored on their midseason list. Players who do not show up are still very much eligible to win the Wooden Award at the end of the season and will be given equal consideration.
So players who have legitimate claims to being on this list -- Maryland's Terrell Stoglin and Seton Hall teammates Herb Pope and Jordan Theodore come to mind -- still have a shot.
So without further ado, here are the 25 Wooden finalists (in alphabetical order):
Harrison Barnes, 6-foot-8, So., F, North Carolina Stat line: 16.8 ppg, 4.8 rpg
Chances: Fading. Still has a shot to be a second-team All-American. Barnes hasn't been the dominating player on the Tar Heels. To be fair, he has some of the best talent in the country (John Henson, Tyler Zeller and Kendall Marshall) surrounding him. UNC's 33-point loss to Florida State didn't help his case, either.
Will Barton, 6-6, So., F, Memphis Stat line: 18.2 ppg, 9.0 rpg
Chances: No shot. He could be the Conference USA Player of the Year, though. Barton has greatly improved and has been the most consistent player during the Tigers' inconsistent season.
William Buford, 6-6, Sr., G, Ohio State Stat line: 15.2 ppg, 4.6 rpg
Chances: No shot. Buford won't win Big Ten POY, either. He has been OSU's best perimeter threat, but he won't be a first-team All-American. Buford might not even be first-team All-Big Ten. He is an integral part of the Buckeyes' title hopes, but is not a POY contender.
Anthony Davis, 6-10, Fr., C, Kentucky Stat line: 13.1 ppg, 10.2 rpg, 4.6 bpg
Chances: High. Davis has been the most dominant post player in the country. He blocked a last-second shot by North Carolina's John Henson in December, preventing the Tar Heels from winning a game at Rupp. He alters and changes more shots than any other player. If the Wildcats win the national title, Davis will be one of the reasons why. He would be ahead of Ohio State's Jared Sullinger on the All-America ballot if you had to choose one of them.
Marcus Denmon, 6-3, Sr., G, Missouri Stat line: 17.8 ppg, 5.5 rpg
Chances: Not great. Denmon is the leading scorer for Mizzou. But it's hard to separate him from Kim English, Ricardo Ratliffe, Michael Dixon and Flip Pressey in his importance to the Tigers. They all have played an equal role in Missouri's impressive start. It will be interesting to see which of these players earns first-team All-Big 12.
Draymond Green, 6-7, Sr., F, Michigan State Stat line: 15.8 ppg, 10.1 rpg
Chances: In the mix. If he continues his current pace of scoring and rebounding, Green could end up nudging out Sullinger for Big Ten Player of the Year. The Spartans did lose at Northwestern on Saturday, but Green has been a tremendous leader. He will stay in the chase for a first-team All-American spot if his team stays in the race for the Big Ten title.
John Henson, 6-11, Jr., C, North Carolina Stat line: 14.4 ppg, 9.7 rpg
Chances: No shot. Henson didn't convert the biggest shot of his season against Kentucky. Davis blocked it. And if Barnes isn't the national player of the year, Henson isn't either. The 33-point loss to Florida State will haunt all Tar Heels candidates.
John Jenkins, 6-4, Jr., G, Vanderbilt Stat line: 19.8 ppg, 2.8 rpg
Chances: No shot. Jenkins is a superb shooter and scorer and is leading the revitalized Commodores. But his role isn't more important than Jeffery Taylor, Brad Tinsley or Festus Ezeli -- it is equally important. The 'Dores mid-nonconference slide hurts Jenkins' campaign. The success of the Kentucky freshmen also makes it almost impossible for Jenkins to get SEC Player of the Year.
Orlando Johnson, 6-5, Sr., G, UCSB Stat line: 20.2 ppg, 6.4 rpg
Chances: No shot. Johnson is having a stellar season for the Gauchos, and he may be one of the higher draft picks on this list. But the Gauchos are 8-6 and are trailing Long Beach State in the Big West. Johnson should be an All-American, but he won't make the first team.
Darius Johnson-Odom, 6-2, Sr., G, Marquette Stat line: 18.2 ppg, 3.3 rpg
Chances: No shot. DJO has had a superb season for the Golden Eagles. He has a legit shot at Big East Player of the Year. But that won't be enough to get a first-team All-American spot or the national POY. Marquette has been decent, but not great enough for DJO to stand out on that pedestal.
Kevin Jones, 6-8, Sr., F, West Virginia Stat line: 20.6 ppg, 11.1 rpg
Chances: Decent. Jones has put it all together as a senior and has put up just a monster season for the Mountaineers. Just seems like it's double-double after double-double for Jones, who will need to keep the Mountaineers in the top 3 of the Big East in order to stay in Wooden contention.
Perry Jones III, 6-11, So., C, Baylor Stat line: 14.2 ppg, 7.5 rpg
Chances: No shot at player of the year, but he is in the hunt for a first-team All-American slot. The problem for Jones' candidacy is that Quincy Acy has been a comparable inside scorer and guard Pierre Jackson has been an integral member of this team. Jones didn't help his case when he and the Bears were dominated by Kansas' Thomas Robinson in a loss on Monday night. But he can't win national POY if he isn't the Big 12 Player of the Year. And Robinson is the favorite for that honor.
Kris Joseph, 6-7, Sr., F, Syracuse Stat line: 13.7 ppg, 4.6 rpg
Chances: No shot. Joseph is leading the Orange, but this team is so deep, so talented and so balanced that you would have a hard time picking just him. Dion Waiters may be Syracuse's MVP. A number of other players have taken turns being the star for the Orange, too.
Michael Kidd-Gilchrist, 6-7, Fr., F, Kentucky Stat line: 13.4 ppg, 7.7 rpg, 49.4 FG percentage
Chances: Solid. Kidd-Gilchrist could be the SEC Player of the Year. And if he gets that honor, he'll be in contention for the national POY. Kidd-Gilchrist took a few games to get going, but once he did he was an offensive force. He has delivered on his talent and effort.
Jeremy Lamb, 6-5, So., G, Connecticut Stat line: 17.9 ppg, 4.2 rpg
Chances: No shot. Lamb is leading the Huskies in scoring. But UConn is still finding its way in the Big East. The Huskies haven't featured Lamb as much, either. Andre Drummond may end up being the team's featured scorer by season's end. Lamb isn't the Big East Player of the Year right now, so he isn't winning the national honor.
Damian Lillard, 6-3, Jr., G, Weber State Stat line: 25.5 ppg, 5.8 rpg, 3.5 apg
Chances: He won't win national POY, but he should be in contention for second-team All-American honors. Lillard is having a stellar season for the Wildcats, who are in first place in the Big Sky. He leads the nation in scoring and his stat line is as good as any in the country. The problem is that Weber has been in obscurity so far this season. Lillard will likely not be seen by the masses until March.
Doug McDermott, 6-7, So., F, Creighton Stat line: 24.3 ppg, 8.5 rpg, 62.1 FG
Chances: High. McDermott has been one of the most complete players in the country and is a first-team All-American, at the very least. He could be this season's Jimmer Fredette, coming from outside a power six conference to win the national player of the year honor. McDermott has led the Bluejays to the top of the Missouri Valley and into the Top 25. He is the focus of every opposing defense, too.
Scott Machado, 6-1, Sr., G, Iona Stat line: 13.1 ppg, 4.7 rpg, 10.3 apg
Chances: Not happening for POY, but he's in the hunt as a first-team All-American. Machado has been the most dominant point guard this season and easily leads the country in assists. Iona has played a decent schedule and is the team to beat in the MAAC. Few teams will want to face the Gaels in March, and Machado is one of the key reasons why.
Kendall Marshall, 6-4, So., G, North Carolina Stat line: 5.8 ppg, 9.6 apg
Chances: No shot. Marshall is a key for the Tar Heels. He hasn't been the best point guard in the country, but has been a solid contributor this season and does rank second behind Machado in assists. But that isn't enough to win the award or be a first-team candidate.
Mike Moser, 6-8, So., F, UNLV Stat line: 13.9 ppg, 11.2 rpg
Chances: No shot. But Moser has to be in contention for a first- or second-team All-American spot. His rebounding has been epic (especially against North Carolina). Moser and fellow UCLA transfer Chace Stanback have been the major reasons the Runnin' Rebels are ranked and in contention for the MWC title.
Arnett Moultrie, 6-11, Jr., C, Mississippi State Stat line: 16.5 ppg, 10.9 rpg, 0.9 bpg
Chances: Not good for POY, but he's a serious candidate for first-team All-American. Outside of Moser, Moultrie has had the most impact of any transfer. He has increased MSU's chances of being a serious threat to Kentucky in the SEC. Moultrie is a double-double machine for coach Rick Stansbury and has allowed the Bulldogs to avoid relying only on Renardo Sidney.
Thomas Robinson, 6-9, Jr., F, Kansas Stat line: 17.8 ppg, 12.3 rpg
Chances: High. Robinson is the POY favorite at this juncture. He should be a consensus first-team All-American. He has had to take on immense responsibility with the departure of the Morris twins and has responded without a hitch. He carries the weight of the incredible burden of losing his mother during last season. And yet he is as focused as ever in 2011-12. Robinson dominated in the rout over Baylor on Monday night with 27 points and 14 rebounds.
Mike Scott, 6-8, Sr., F, Virginia Stat line: 16.9 ppg, 8.9 rpg
Chances: He has no shot for national POY, but Scott is one of the favorites for ACC Player of the Year. He has been the most consistent big man in the league. Take Scott off the Cavs, and they don't come close to the top of the league standings. But Virginia did lose at Duke and also fell to TCU. Scott will have to keep the Cavs in the ACC's top three to have a chance at the league's POY.
Jared Sullinger, 6-9, So., F, Ohio State Stat line: 17.3 ppg, 9.3 rpg
Chances: Still strong. Sullinger has been battling injuries (back, foot) and missed the road game at Kansas in December. That's part of the reason he is not the favorite right now. Sullinger still has plenty of time to be a first-team All-American and the Big Ten Player of the Year. But it would help if he had some dominating performances down the stretch.
Cody Zeller, 6-11, Fr., C, Indiana Stat line: 14.8 ppg, 6.4 rpg, 1.4 bpg
Chances: No shot. But Zeller is in the chase for Big Ten Player of the Year. At the very least, he'll be the Big Ten Rookie of the Year. It's amazing that he's on this list and his older brother Tyler (a senior at North Carolina) is not. Cody has helped transform Indiana into a national player, but the Hoosiers' recent two-game skid does take his chances for Big Ten POY down a peg.
My midseason All-America team choices: First team: Robinson, McDermott, Davis, Moultrie, Machado Second team: Kidd-Gilchrist, Sullinger, Green, K. Jones, C. Zeller