Category archive:

William & Mary Tribe
Colonial Athletic Association commissioner Tom Yeager called Southern Conference commissioner John Iamarino on Thursday to give him the professional courtesy of knowing that he would be contacting a few of Iamarino's member schools, widely believed to be Davidson and College of Charleston.
[+] Enlarge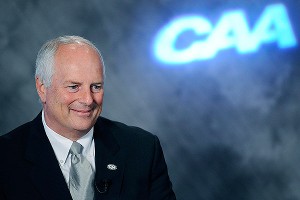 Rafael Suanes/US PresswireCAA commissioner Tom Yeager has seen three member schools depart in recent weeks.
"I appreciate that and I'm hoping to convince them [to stay]," Iamarino said. "We've got league meetings coming up [May 29-June 1 in Asheville, N.C.] and like every other conference, except the Ivy League, I suspect, 85 to 90 percent of the issues will be centered around realignment issues."
The trickle-down effect of conference realignment seems to never end. The CAA loses anchor programs VCU (to the Atlantic 10 in the fall of 2012) and Old Dominion (to Conference USA in the fall of 2013). Those two moves came on the heels of Georgia State moving to the Sun Belt.
The CAA has to do something to maintain relevance, and the Southern Conference, and possibly the America East Conference, are ripe for the pickings. (America East commissioner Amy Huchthausen said the league won't comment on any overtures from the CAA or anyone else toward its programs, such as Boston University and Stony Brook.)
"[The CAA] is such a Southern league I think they have to replace them with Southern teams," Delaware coach Monte Ross said. "I think they have to have that Southern flavor that the league is known for, and Davidson is a quality name and program."
Said Towson coach Pat Skerry: "But we've got to get someone in the North, too. Stony Brook could be a viable option."
Davidson and College of Charleston are the most obvious choices.
Iamarino is well aware of the interest in his league's programs. But he said he has every intent of reminding the schools that they are in a competitive league and the proximity of the member schools offers low travel costs.
"We're all within the geographic footprint," Iamarino said. "We avoid missing class time. The fans can travel to road games. That's why conferences were normally put together in the first place."
Iamarino said the exit fee is $300,000 for notice of two years or more and $600,000 for less than two years.
Charleston athletic director Joe Hull said the school doesn't have a position on the matter yet and said his school was happy in the Southern Conference.
Davidson athletic director James Murphy said it wouldn't be appropriate to comment on conference affiliation. But head coach Bob McKillop was willing to speak.
He said that 25 percent of the 1,800 students on campus play a sport, meaning that a move to the CAA affects a high percentage of the student population.
[+] Enlarge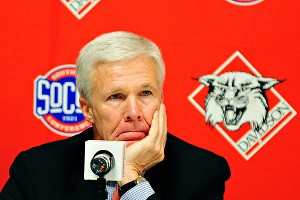 Jeff Siner/Getty ImagesDavidson head coach Bob McKillop doesn't necessarily believe the Wildcats' prospects would be improved by a move out of the Southern Conference.
"We have rigorous academic standards," McKillop said. "We've been to the NCAA tournament five times and the NIT twice in the past 10 years. We present a unique situation. But any decision will be made at the presidential level, not just a basketball decision."
Translation: Davidson is doing just fine in the Southern and doesn't necessarily need to move to the CAA. It also means that their options may not be limited to the CAA. The CAA needs Davidson to beef up its membership and provide a consistent competitor for the likes of George Mason and Drexel.
"VCU left the Colonial for the A-10, but who is to say the A-10 isn't going to change in the next three to four months? Who is to say the Big East or who is to say the Colonial won't change more?" McKillop said. "The dominoes have been blowing from the BCS. There are so many kinds of hypotheticals. Maybe James Madison and Delaware will go to the MAC in football or William & Mary to the Patriot."
Northeastern coach Bill Coen said he's hopeful that there are no knee-jerk reactions in the CAA.
"I think everyone needs to take a breath," Coen said. "You have to guard against doing something quickly that might not be a long-term solution."
George Mason athletic director Tom O'Connor said the onus is on the remaining schools to continue to show a commitment to remaining in the league.
"We all need to be proactive," O'Connor said. "You can't be stagnant. If you look internally and basketball is important to you then make sure you give the program all the tools to be successful."
Georgia State and Old Dominion are in the Colonial next season, but league bylaws prohibit their participation in the conference tournament. Towson and UNC Wilmington are ineligible for the tournament based on poor academic scores; Towson is appealing.
At this juncture, unless something changes, only seven schools would be eligible for the conference tournament in 2013.
O'Connor said the bylaw preventing Old Dominion and Georgia State from postseason participation should be changed when the league meets next week.
"My philosophy is that we should let the student-athletes play in championships," O'Connor said. "I think we can have conversations about our bylaws in the CAA."
O'Connor said there should be discussion about suspending or doing away with the rule altogether. He said the bylaw was put in place 10 years ago but "the world has changed in a lot of different ways. Student-athletes should have an opportunity to participate in championships."
If the membership can resolve the tournament issue, that might be the first step in trying to move ahead as one conference thinking about each other rather than the individual interests.
The CAA has to stick together at this point, or it will quickly fade from relevance.
January, 26, 2010
01/26/10
2:25
PM ET
Siena is in the midst of a three-game road swing and is currently without its best player,
Edwin Ubiles
, who is out with a shoulder injury.
If the Saints, who are cruising in the MAAC with a 10-0 record, can survive this stretch -- let alone another five-game string against upstart Iona and Fairfield at home and Niagara, Canisius and Rider on the road -- still unbeaten in the league, then the BracketBusters opponent on either Feb. 19 or 20 will be even more important to the Saints' NCAA at-large hopes.
It's essentially Butler or bust.
If the Saints can win this week (at St. Peter's Thursday and at Marist on Saturday), there's a very good chance the Saints will be Butler's opponent in the highest-profile BracketBusters game. Matchups will be made this weekend so teams have a few weeks to deal with travel and scouting.
The concept has done wonders for some and been irrelevant for others, but one thing is certain: Teams that have an outside shot at an NCAA tourney at-large or are looking for a seed boost once they qualify as an automatic can't go wrong with another quality nonconference game in late February.
Some teams won't get that chance. The West Coast Conference isn't participating in the event and there are some omissions from other conferences like the Summit (only Oral Roberts and not Oakland), the America East (no Maine), the Big Sky (served up only Montana State and not Northern Colorado or Weber State).
There are 98 teams involved in 49 games during BracketBusters. The 11 games that will air on the ESPN family of networks are determined first and then the conference commissioners will pair up the remaining 76 teams.
Home and road teams are already set for the event, so it's a bit difficult to maneuver who can go where. But the most important aspect of matching teams should be done based on who has a shot to be in the field. Not all of the 22 set teams are in that group. Actually, maybe only six could have an outside shot at an at-large.
[+] Enlarge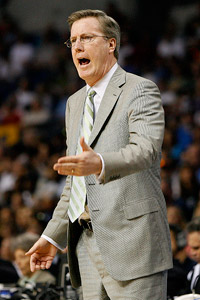 AP Photo/Mike CarlsonFran McCaffery is hoping BracketBusters provides a way to boost his team's NCAA at-large chances.
Siena is one of them.
"It's going to mean something and I would say if we could have a phenomenal league record and beat Butler and then not lose until the finals of the [MAAC] then we'd have a shot," said Siena coach Fran McCaffery. "We'll be right there in that discussion, but we don't want to get ahead of ourselves and assume the next five or six games."
McCaffery would actually be in favor of holding off on announcing the BracketBusters matchups until a few more weeks. But nevertheless, he still wants that Butler game. From a storyline perspective, it makes sense. Those are two of the better-known programs in the field and each has had some NCAA tournament success (Siena has won its last two first-round games).
"We're hoping we can put ourselves in position to get an at-large bid," McCaffery said. The problem for the Saints will be the six games prior to a possible showdown with Butler at Hinkle Fieldhouse in Indianapolis.
Ubiles didn't play against Manhattan on Jan. 18, played 33 minutes in a win over Loyola (Md.) on Jan. 21, but then missed the road game at Manhattan on Sunday. Meanwhile, guard Kyle Downey, who scored 16 points in Ubiles' absence in the first Manhattan game, broke his foot and is now out, possibly for the season.
"We're short-handed for this tough stretch, but I know we have to keep winning," said McCaffery.
Siena did beat Northeastern early in the season for what might turn out to be a solid win. It was a game McCaffery said was scheduled because "nobody wanted to play us and nobody wanted to play them and we're two hours away." But losses to Temple, St. John's, Georgia Tech and Northern Iowa were the supposed "up" games that the Saints failed to win.
Meanwhile, Butler has been rolling in the Horizon at 9-0 with a 16-4 record overall. That mark includes a win at Northwestern and home victories against Ohio State (without Evan Turner) and Xavier. Playing Clemson on a neutral court and UAB on the road (both losses) will help the power rating.
A year ago, Butler coach Brad Stevens said beating Davidson on the road was a key win for helping the Bulldogs get an at-large bid after losing to eventual champ Cleveland State in the conference tournament.
"We were coming off two losses that week before the Davidson game," Stevens said. "And you don't want to be on a losing streak at that time of the year. Doubt starts to creep in. That was a good win that got us going in the right direction."
Stevens knows the Bulldogs will get a quality BracketBusters opponent as the premier home team. There was a time when the staff was anticipating Wichita State as a possible opponent, but two losses last week for the Shockers have led to a belief that it could be Siena. Louisiana Tech, which tops the WAC, is also a possibility, but the name value of a Siena-Butler matchup may have more cachet.
The Bulldogs are handling their business in the Horizon as they become the top draw in every opposing building. That won't change as the Bulldogs go to Green Bay on Friday (ESPNU, 9 ET) and then to Milwaukee, two places the Bulldogs lost last season.
With Matt Howard staying out of foul trouble in the league after being in it throughout the nonconference, the Bulldogs are getting more of a complete effort. Gordon Hayward has been a Horizon MVP and barring a complete collapse, the Bulldogs are in good shape as far as the NCAA tournament is concerned.
Joining Butler as a BracketBusters home squad is Northern Iowa (8-1, 17-2), which leads the Missouri Valley. But Siena has already played Northern Iowa (the Panthers won 82-65) and that's why it makes more sense to send Siena to Butler and Louisiana Tech to Northern Iowa. The latter matchup may not seem headline-worthy to the mainstream fan, but these are the leaders in the WAC and MVC and both teams are talented enough to win a first-round NCAA tournament game.
If you were to pit Siena-Butler and Louisiana Tech-Northern Iowa, you'd likely have four teams that are going to be in the field of 65 matching up a few weeks before Selection Sunday.
The other hot teams are in the Colonial, but they obviously can't go up against each other. Northeastern, Old Dominion, George Mason and William & Mary all could be in play for the CAA's automatic bid with the Tribe the most likely at-large candidate because of nonconference wins over Wake Forest and Maryland on the road and Richmond at home.
That's why the question of who will play at GMU and Northeastern and where ODU and William & Mary will play during BracketBusters will be a fluid process this week.
I'd like to see the following: Wichita State at Northeastern as two of the top teams in the MVC and CAA; William & Mary hitting the road to play the best team in the Ohio Valley (Murray State); ODU traveling to Green Bay, pitting one of the top teams in the CAA against the second-best in the Horizon; and Charleston, which took out North Carolina, makes sense at George Mason in a matchup of two of the best from the Southern and CAA.
"We need a good game," said Northeastern coach Bill Coen, whose Huskies have won 11 games in a row, the third-longest streak in the country. "We've used all our mulligans and probably need to stay perfect the rest of the way to get an at-large berth. But in the spirit of the BracketBusters, we'd like to play our way into the conversation."
Northeastern failed to win games in the nonconference against potential NCAA teams Siena, Rhode Island and Saint Mary's before a humbling loss to Western Michigan in Honolulu on Dec. 23 -- its last loss -- set the team straight.
"It was good for us to be on the road because we had to take a hard look at ourselves," Coen said. "It was like a foreign tour. We were together all the time and had to go eat together breakfast, lunch and dinner and figure it out."
What happened was Northeastern got back to defending and Chaisson Allen started to play the point like Coen expected, teaming up with potential CAA Player of the Year Matt Janning.
Now Coen says the Huskies are cheering for a BracketBusters game "that will help us the most."
They're not alone.
January, 5, 2010
01/05/10
2:53
PM ET
There are a number of hot topics to discuss this afternoon:
• On Wednesday, Cornell plays at top-ranked Kansas at 8 p.m. ET on ESPN360.com.
The Jayhawks, who crushed Temple in Philadelphia on Saturday, have won 50 straight home games, easily the longest active streak in the country and third all-time at KU. Kansas is 13-0 overall.
So it's crazy to think the 12-2 Big Red could pull off an upset, right?
[+] Enlarge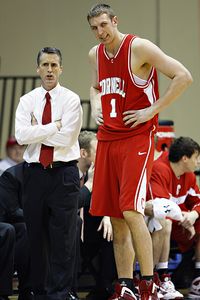 AP Photo/Matt SlocumDo Steve Donahue, Jeff Foote and the rest of the Big Red have a shot against mighty KU?
Here's how it could happen:
"The one thing we've got is a big kid who we can go to," said Cornell coach Steven Donahue on Tuesday en route to Lawrence. "We can go to him and that takes the pressure off the other guys."
Donahue is referring to 7-foot center Jeff Foote. If you've seen him you know that he's more than serviceable. Bryant's Tim O'Shea, who coached in the Ivy at Yale and has been at Boston College, Rhode Island and Ohio, said Foote is the best center in the Ivy since Chris Dudley. Foote has proved he can produce with 28 points and 18 boards at Bucknell and in games against higher-level competition he had 19 and 11 in the win over St. John's and 17 points in the win at Alabama. (Granted, the Red Storm and Crimson Tide aren't exactly KU.)
The Big Red have a stellar shooter in Ryan Wittman, who is shooting 43.8 percent on 3s, scored 34 points in a win at La Salle and like Foote is a senior.
Fellow senior point guard Louis Dale is back from an Achilles/ankle injury after missing the last three games. He has had his stellar moments at the point, like dishing out nine assists without a turnover in a win at Toledo.
Cornell has played only four home games, winning at Alabama, UMass, Toledo, Drexel, Bucknell, St. John's and La Salle and beating Davidson on a neutral court in New York. The only losses were at home to Seton Hall and at Syracuse. Now, of course none of the wins came against anyone the caliber of the Jayhawks, but Cornell goes into Phog Allen incredibly confident.
"Kansas has great length and athleticism and will provide a lot of pressure, but with Jeff we have options inside," Donahue said. "We expect Jeff to score and pass it out."
Donahue said he also sees opportunities for transition buckets on KU's defense.
"This group has been through so much over the last four years with 100 games under their belt," Donahue said. "These guys have been looking forward to this game all year and are excited to play on this stage. We'll play with confidence and play hard."
But like any typical Ivy League team, win or lose the Big Red have a ridiculous road trip. They leave Kansas to bus to Vermillion, S.D., to play the South Dakota Coyotes at the DakotaDome two days later.
"I don't even know where it is," Donahue said. "I just know we're busing from Lawrence and will stop in Blair, Neb. [home of Cornell senior forward Pete Reynolds] to practice."
• As it starts Mountain West play, UNLV faces its toughest week of the season by going to BYU on Wednesday and New Mexico on Saturday. To expect the Runnin' Rebels to sweep this week would be fairly unrealistic -- a split should be applauded nationally. And even if the Rebels did get swept, that wouldn't necessarily be cause for alarm.
"I think BYU has lost one conference home game in the last four years and New Mexico doesn't lose many either," UNLV coach Lon Kruger said. "If you win one of those two you put yourself in good position after the first week of conference play. If you lose two, it's a matter of maintaining. I'm not worried as much either way."
Kruger said the hoops nation doesn't fully appreciate how difficult the Mountain West will be this season. BYU is ranked No. 23 and blew out Arizona by 30 behind Jimmer Fredette's 49 at McKale Arena. The 14-1 Cougars finally got some national love this week. New Mexico, ranked No. 14, has already beaten Texas A&M in Houston; Cal, Texas Tech and Dayton at home; and is 14-1 (with the one loss coming at Oral Roberts).
UNLV's two losses were to Kansas State at the Orleans Arena in Vegas and to USC in the final of the Diamond Head Classic in Honolulu. The Rebels had already won at Arizona in overtime and knocked off Louisville at home. A year ago, UNLV stunned Louisville at Freedom Hall, but couldn't put together a quality MWC résumé, finishing 9-7 in the league and ending up in the NIT.
"We need to do much more in the league this year than a year ago," Kruger said. "This year's group is deeper and more players can make plays off the dribble. We're more athletic too."
Kruger said the Rebels have more room for growth as well. They have their share of transfers in Tre'Von Willis (14.5 ppg), Chace Stanback (8.6) and Derrick Jasper (7.6), but sophomore Oscar Bellfield (11.1) has been just as important and consistent.
Kruger said the Rebels didn't progress as much as he hoped after the Louisville win. They have a much better shot now. The offense was out of sorts against USC and K-State, but a lot of that credit has to go to the respective defenses.
How UNLV plays in these two road games, regardless of the ultimate outcome, should let us know if the Rebels are worth discussing in March.
"For us [MWC] to get four teams in, those four teams have to separate themselves and beat each other," Kruger said. "But I don't think that will happen. Every other team is good, too."
Kruger still believes there are at least four NCAA-bound teams in the Mountain West. He's right. UNLV and San Diego State, which hosts New Mexico this week, have to do their part to stay with the Lobos and Cougars as the résumés are being built.
• Marquette should be considered one of the hardest-working teams in the country. Of course, every coach usually thinks his team plays hard. But the Golden Eagles clearly aren't as talented as Villanova or West Virginia, yet went down to the final possession with a chance to win each game.
[+] Enlarge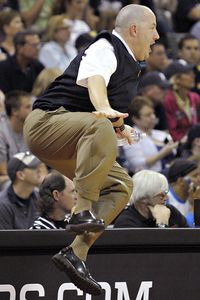 AP Photo/Phelan M. EbenhackBuzz Williams hasn't exactly been jumping for joy in the final moments of his team's last two games.
So what does Marquette coach Buzz Williams do to get these players to overachieve?
"Everything in practice is competitive," said Marquette assistant Tony Benford. "We compete in every drill. He puts them in a position to do that, whether it's 4-on-4, 3-on-3, 2-on-2 or 1-on-2. We keep score every time."
Jimmy Butler had a chance to beat Villanova, but missed a bucket in close to the basket. Of course, the Golden Eagles couldn't stop the fantastic plays made by Nova's Scottie Reynolds and West Virginia's Da'Sean Butler to put their teams ahead in the last two games.
Marquette hosts Georgetown Wednesday in a game the Golden Eagles must win to start building an NCAA case. The Golden Eagles did beat Xavier and Michigan in Orlando, but it's unclear how much those wins will matter in March. Marquette has already missed chances by losing to Florida State in the final of that event, falling to NC State at home, losing at Wisconsin and starting 0-2 in the Big East.
If the Eagles can find a way to go 3-3 in the first six league games (that's Georgetown, at Villanova, Providence, at DePaul), they'll at least be in position to make a run. But every game is going to be a grind, in large part because of the way Williams coaches this squad.
• When we spoke last week, William & Mary coach Tony Shaver knew the red-hot Tribe were now going to get everyone's best shot in the Colonial. The Tribe survived a road win at Hofstra by one, but UNC Wilmington clipped them 62-61 on Monday night. This is how it's going to be in the CAA this season. Unfortunately, the Tribe must finish first or second for a shot at an at-large and must do so with a quality record. The nonconference wins at Maryland, Wake Forest and over Richmond will have shelf life.
• Officiating roundup:
Officials have been at the center of a lot of controversial plays/calls this season. Time to add another one to the list. Mercer's Jeff Smith beat Jacksonville 74-72 on a so-called buzzer-beater, but if you watch the video, the shot leaves his hand after the sound of the buzzer. Jacksonville complained to the Atlantic Sun office and associate athletic director Joel Lamp said the school was told that the game wouldn't be overturned. Lamp said the school was told the shot did come after the horn and that officials mishandled the final possession.
I was told by an officiating source who reviewed the tape that Jacksonville's in-house camera does show the ball in the hands of the shooter with the red light from the backboard lit. That would mean no basket, but there was no courtside monitor and so by rule officials could not review the call made on the floor. The source said that about 40 percent of Division I college games do not have a courtside monitor. This was just an example of a poor judgment call, not a misapplication of a rule.
• John Adams, the NCAA's chair of officiating, said the officials correctly handled the skirmish in the first minute of Saturday's Kentucky-Louisville game. Technical fouls were assessed to Kentucky's DeMarcus Cousins and Louisville's Jared Swopshire and Reginald Delk. At issue was whether Cousins threw a purposeful elbow at Swopshire's head and should have been ejected. UK claims Cousins can be seen taking a knee to the head prior to the elbow.
"[The officials] reviewed the play and assessed an intentional personal foul to Cousins," Adams said. "It was offset by an intentional personal four on a Louisville player and they had a taunting T on another Louisville player. That taunting T resulted in the two free throws that Cousins shot as he was designated by Kentucky to shoot free throws."
• Adams and Bill McCabe, the Pac-10's coordinator of officials, said the officiating crew for last Thursday's Oregon-Washington State game also made the correct call to assess a technical on the Cougars' bench after it ran on the court following a go-ahead basket with three-tenths of a second remaining in the first overtime. The two-shot technical foul put Oregon's Tajuan Porter at the line. He made the free throws and Oregon won in double overtime in Pullman.
Adams cited Rule 10, Section 2, Article 9, d.: "It is an administrative technical foul for delaying the game by preventing the ball from being promptly made live or by preventing continuous play, such as but not limited to, followers entering the playing court before the player activity has been terminated. When the delay does not interfere with play, it shall be ignored."
Oregon's Ernie Kent said after the game that the Ducks couldn't inbound the ball because of the Wazzu players on the court.
McCabe said the officials were put in a difficult situation, but handled the play correctly.
"When there are three-tenths of a second to play, Oregon has the right to try to score a basket and every right to complete that," said McCabe. "Players or managers came on the court and you have no choice but to shut down the play. You can't force Oregon to throw over additional players. Once you shut it down, now the rule is applied and it was pretty clear. You can't ignore it or you face suspension [as an official] for not citing a rule. You do what you're supposed to do and assess a technical. It put them in a difficult position, but did they do the right thing? Yes."
January, 1, 2010
01/01/10
6:01
PM ET
How were we all so wrong about William & Mary?
Wait. Did I just say that out loud? Was there a reason to be even thinking about this historical institution founded in 1693 in the colonial hamlet of Williamsburg, Va.?
This is a school that has never been to the NCAA tournament. Its only appearance in the NIT came in 1983. The Tribe have never been ranked.
The joke of losing to Bill and Mary just isn't funny anymore. It's a tired tale. But it's time to take this men's basketball team about as serious as the students on campus must handle midterms.
[+] Enlarge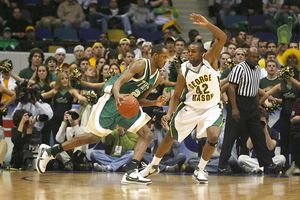 Geoff Burke/US PresswireDanny Sumner, left, and William & Mary are a CAA team to watch this season.
William & Mary was ranked No. 7 in the collegerpi.com poll through Sunday's games and that isn't likely to drop this week.
Why not? The Tribe won at Maryland on Wednesday. They had already won at Wake Forest and defeated a Richmond team that has wins over Mississippi State, Missouri and Florida and just lost to that same Demon Deacons club in overtime.
The RPI is buoyed by losing by nine at Connecticut and a triple-overtime, buzzer-beating loss at Harvard, which as we all know now is no slouch.
On Dec. 5, the Tribe also took out one of the Colonial favorites, VCU, by one to start league play. The league slate continues Saturday with a road game at Hofstra.
Blue Ribbon picked William & Mary 11th in the CAA. The Tribe's final RPI the past five years reads like this: 238, 159, 203, 263 and 286. The win totals aren't much better with 10 a year ago, a rare blip two seasons ago with 17 (and an appearance in the conference tournament final), then 15, eight and eight.
"I wouldn't blame anyone for picking us 11th,'' said sophomore guard Quinn McDowell, who scored a career-high 28 points in the win over the Terps. "We were pretty bad last year. The expectations were pretty low.''
William & Mary has as good a résumé as any school in a non-power six conference. As long as the Tribe, which now have to be considered a CAA favorite, finish in the top two in the league, they should get an at-large bid. So what happened?
"We found something that works,'' McDowell said. "We went to work in the offseason. Had a commitment to each other and found a great system that we believe in.''
William & Mary coach Tony Shaver was a Dean Smith disciple, playing at North Carolina in the 1970s. He was schooled on being a press, run and trapping team. But let's be honest here: That's just not going to fly at William & Mary. This is a school that needs to be niche.
"I made a gut-wrenching decision,'' Shaver said. "I had to abandon my system. I knew it wouldn't lead to the best results at William & Mary.''
So Shaver did what countless coaches have admittedly done from Roy Williams to John Calipari. He went poaching.
"I stole some from John Beilein [from West Virginia and Michigan], the NC State stuff [and now Arizona State] from Herb Sendek and then added some stuff we like,'' Shaver said. "It's a style offensively that is predicated on a lot of 3s, opening the floor, a bit of backdoor cuts and defensively we're doing a lot of different things from some matchup to man.''
It's hard to argue. The Tribe have won nine straight games, one shy of a school-record 10 straight by the 1929-30 team. The Tribe's two road wins against ACC schools was a first in school history.
McDowell said four of the five players on the court can all make shots. The 5-man is a passer and screener. Look at the balance as David Schneider (averaging 16.7 points and 6.2 rebounds), McDowell (16, 3.5), Danny Sumner (13.1, 3.9), Marcus Kitts (6.9, 6.4) and Sean McCurdy (6.5, 4.4 apg) make for a solid five. If it sounds similar to the hybrids out of the original Princeton offense that Georgetown, Northwestern, Arizona State, Oregon State and Richmond all run in some variation to their liking, then that's fine to toss that blanket over it if you'd like.
The interchangeable parts make it hard to guard as long as the Tribe make shots. But there has to be more than just a system. These players have to believe in themselves and not get rattled at perceived higher competition. That was the case at the Comcast Center. McDowell said Shaver made it clear in the locker room that the win over Wake Forest was solid, but beating Maryland would prove they belong.
"I wish I could tell you that there was some kind of magic pixy dust in our water,'' McDowell said. "I don't think there is. It's been a combination of things from the offense, to this team. We're not blowing out teams. But we find ways to win, especially in tough environments on the road.''
In years past, teams such as Gardner-Webb have made their mark with a stunning road win at Kentucky or something similar. But then they fade by the New Year, never to be heard from again, even within their respective conference.
That doesn't seem to apply here.
The Tribe followed an opening weekend of losses to UConn and Harvard with the Richmond and Wake wins and then won at Maryland weeks later.
This just doesn't happen at William & Mary.
"It's no secret,'' McDowell said. "It's not a rich basketball tradition here. But that's part of the excitement trying to build something that's never been done before.''
What Shaver did in switching his philosophy was make his program unique. In the Pac-10, no one enjoyed playing Oregon State, Arizona State or Washington State last season. The same is true of playing Richmond in the Atlantic 10 or Northwestern in the Big Ten.
"I wanted our program to be hard to prepare for,'' Shave said. "We do some unusual things. I wanted to have a system that skilled players could really flourish in with passing and shooting. All of those are a lost art. It helped us find good players that knew they would fit in here.''
Shaver said the Tribe clearly snuck up on Wake. But he said that wasn't the case against the Terps. Now, the Tribe are no longer the given win, the team other CAA teams will look down upon. The Tribe are suddenly the team to beat. The wins at Wake and Maryland made the Tribe the first CAA school since the league was formed in 1985 to win two road games against ACC opponents in the same season. They were only the third and fourth road wins at an ACC school for a CAA school.
Those results demand and command respect.
"We're going to get everybody's best shot now,'' McDowell said. "The programs in the CAA know us better, they've played us multiple times and in some way playing those hostile road games will be tougher than playing at Maryland.''
As the new year starts this weekend, the Tribe have a bid in front of them to earn. They have done quite enough to warrant the attention of all 10 members of the NCAA tournament selection committee. Remember, it is the best 34 at-large teams remaining after the automatic berths. History means nothing in that room. You earn your spot based on what you've done this season. William & Mary has done more than most so far.
"It would mean the world to a lot of people,'' said Shaver of a first-ever NCAA berth. "Not just to the guys here, but to the guys who have played here a long time. I know it's premature for me to talk about that, but it would mean the world.''