Category archive:

Wisconsin-Green Bay Phoenix
May, 24, 2013
05/24/13
4:47
PM ET
Wisconsin-Green Bay coach Brian Wardle was called into a meeting in April and handed a letter accusing him of verbal abuse and mistreating his players.
"It was hard to read," Wardle said in an exclusive interview by phone Friday afternoon. "I swore I would cooperate with the investigation, be quiet and let the process play out. I sat there knowing the truth would come out one day and felt confident in the person and coach that I am. I'm a demanding head coach, not demeaning. I'm demanding, not demeaning."
Wardle's patience paid off. An exhaustive independent investigation by local attorney Joseph Nicks determined that Wardle was guilty of using inappropriate language, but not of forcing former walk-on Ryan Bross to continue a running drill and ignoring him when he complained he was ill and later defecated on himself.
Wardle will remain UW-Green Bay's coach, the school announced Friday. The story made national headlines, coming just weeks after Rutgers fired men's basketball coach Mike Rice and his assistant, Jimmy Martelli, after evidence obtained by ESPN showed Rice committing physical and verbal abuse.
Nicks put together a 39-page report that was released Friday. Chancellor Tom Harden did what Rutgers did not, immediately going outside the university to conduct an investigation. Wardle praised Harden and UWGB athletic director Ken Bothof for their support.
"I totally understand the chancellor's decision supported the university during the investigation," said Wardle. "I thought it was a very smart decision."
The report concluded Wardle should have sent Bross back to the locker room earlier during the drill, but that he did not humiliate him in front of teammates. The report does indicate that certain inappropriate words were used; as a result, Wardle will have an adviser with him next season to monitor how he motivates his players.
He also will have a disciplinary letter put in his file for the use of vulgar and obscene language and for his "suggestion that a player have sex." At this point, his contract won't be extended beyond its current end date of 2017. But Harden said future extensions still could be done.
"I've learned that the coaching climate has changed," Wardle said. "You have to be willing to make tweaks out of your coaching style to get the most out of every kid. I know it has changed the last 10 years. But you've got to make those tweaks. Now I know."
Wardle, 33, leaned heavily on his wife, Lecia, a former soccer player at Marquette, whom he met when he was a member of Tom Crean's staff at Marquette.
"My main concern was my family, my 6-year-old, my 3-year-old, my 1-year-old, my parents in the Chicagoland area, the program, the administration, all of them," Wardle said. "I had to keep positive. We signed a player during this time, we got a commitment. I knew we could work through this. It was hard not to defend myself. I've been in Green Bay the last eight years as an assistant and head coach. I knew that people knew my character. I knew they thought I was trustworthy. [The allegations] were inconsistent with who I am and how I act."
Wardle said Crean, now the coach at Indiana, was a tremendous asset during the month-long investigation.
"I was never worried about what they were going to find, never," Crean told ESPN.com Friday. "I told him to stay true to yourself, to your family. You know how your players view you and how strong your relationship is with them."
Crean said his biggest concern was ensuring Wardle had the right attorney to help him navigate the investigation.
"I'm sick over him and his family having to go through this," Crean said. "In the same vein, he will be better for it and will learn a ton about people and their agendas and that will serve him well. I appreciate people supported him and the truth came out."
Wardle said the episode was hard to deal with, but he did his best to be patient.
"There's nothing you can do about it," he said. "What I knew was how I respond from this day forward is what matters. My goal is to make sure everyone is proud of Green Bay basketball and show them this year and years to come what we can do. I'm proud of what we've done here."
Wardle said his practices are open and he will remain accessible.
But, as he said, he will have to tweak his approach a bit. He said he knew that his case would be viewed in a different light because of the Rutgers situation, but he was confident in the truth.
"I learned that in coaching moments, when things are heated and emotional and competitive in practice, the things you say can make a difference to a young man," Wardle said. "I'm conscious of that now and I will correct them.
"I knew that once these allegations were made about me, I knew that I hadn't acted like that. Obviously physical abuse you can't do and verbal abuse cannot be done to these young men. Social media makes everything instantaneous. It can become a national story. I believe I'm not a perfect coach. I've grown, though, and over time my character will stand the test of time."
November, 3, 2011
11/03/11
9:26
AM ET
Butler lost its exhibition opener Wednesday night 53-50 to Northern State.
But that won't change the opinion of Detroit's Ray McCallum or most of the coaches in the Horizon League.
The Titans may have the most talent, but the Bulldogs are still the pick to win the conference.
"They've gone to the national championship game two straight seasons,'' said Valparaiso coach Bryce Drew, who is entering his first year as head coach after serving as a Valpo assistant. "It's hard not to pick them to win the league. They still have some of the best talent in the league.''
The common theme among the league's coaches is that if Detroit senior center Eli Holman is playing, the Titans can dethrone Butler.
But he won't be playing -- at least for the immediate future. McCallum said Wednesday night that Holman is still not with the team after being removed from all team-related activities in late September. The Varsity News reported on Sept. 28 that Holman assaulted a student in mid-September. Holman led the team in rebounding (9.8 ppg) and was third in scoring (11.8) last season. Take Holman, a former Indiana recruit for Kelvin Sampson, out of the lineup, and the Titans remain formidable. But they lose their inside presence.
"Eli is still away from the team right now, and he's trying to work his way back,'' McCallum said.
But Detroit has the best backcourt in the conference: sophomore Ray McCallum Jr. (13.5 ppg, 4.9 apg, preseason player of the year), senior Chase Simon (13.5 ppg) and junior Jason Calliste (8.6 ppg). Add senior forward Nick Minnerath (11.2 ppg, 4.8 rpg) -- whom McCallum Sr. said will be a superb power forward who can knock down 3s -- to the mix, and the Travis Leslie-like Doug Anderson at small forward, and the Titans have a good squad. McCallum is already calling Anderson a human highlight film for his dunks.
"They're still pretty good without him, but they're not the same force inside without Eli,'' said Milwaukee coach Rob Jeter.
"I think Detroit can [knock off Butler],'' said Cleveland State coach Gary Waters. "Detroit has three of the top five players in the league. It surprised me that they weren't picked No. 1. Butler has been good for so long, and they lost the player who was the best player, in my estimation, the past four years and that's Matt Howard. [Detroit] has a very good point guard in McCallum, great size and great length. Minnerath may be the best 4-man in the league. I won't be surprised if he's leading them in scoring. They're on the verge, but they haven't completed the task. They've got the veterans now.''
McCallum isn't sold yet.
Detroit finished tied for the fifth-best record in the Horizon last season at 10-8, three games behind the three-team tie for first -- Milwaukee, Butler and Cleveland State. The Titans were one game above .500 overall at 17-16. McCallum was quick to point out that in his team's combined eight games against the four league schools that finished ahead of Detroit (including second-place Valparaiso), the Titans won only one game -- Cleveland State at home in early February.
But Detroit was picked to finish second to Butler in the preseason poll, losing out by 15 points. The Titans did receive 19 first-place votes to Butler's 28 in a vote from the conference's coaches, media and sports information directors.
The Titans had three of the five players on the preseason first team: McCallum, Holman and Simon. Butler had none.
"I'm not falling for it,'' McCallum Sr. said. "We're just crawling along from going 10th to seventh to fifth. We're getting closer, but we'll see. We haven't done it yet. We haven't done it yet. It's time for us to step up with Cleveland State, Butler, Milwaukee and Valparaiso.''
Butler has its own identity. The Bulldogs will grind out games and have a defensive mindset, and they never seem to beat themselves. They are a bear to play in nonconference and can hang with any team in the country.
Detroit must become relevant in November and December to chase Butler in February and March.
"Butler knows who they are,'' McCallum said. "[Coach] Brad [Stevens] has the program to the point where they've lost key players, and they just fill in the blanks and then they're household names. Nothing fazes them. They just go out and play the same way every night.''
McCallum isn't worried about rebounding or scoring, but consistent defense is a concern. The Titans will shoot more 3s without Holman, McCallum said, but they have to figure out who they are from the outset. Butler knows. Detroit must figure it out in order to get through a decent nonconference schedule that has the Titans playing at Notre Dame, hosting St. John's and Mississippi State, and visiting Alabama and Akron.
Jeter said Butler has always had the mindset that it can play with any team in the country. Where the Bulldogs have struggled, according to Jeter, is when the competition is mediocre.
"It seems like there is a big weight off of them, and they play a lot differently once they get to the [NCAA] tournament,'' Jeter said. "You see it when they've had to play a team like Old Dominion or Murray State early in the tournament.''
Milwaukee swept the Bulldogs during the regular season, but couldn't beat Butler when the game mattered most -- at home in the Horizon League tournament title game with the NCAA automatic berth on the line. Detroit needs to adopt that mindset of finishing off Butler when the games count.
"Butler deserves the limelight; they've earned it,'' Jeter said. "But there are teams in this league that have pushed them.''
To Stevens' credit, he has constantly mentioned how tough it is to win on the road in the Horizon League. Butler has consistently been the hunted team and easily the biggest game on the road in the league, whether it's at Youngstown State or UIC. Detroit won't get that same rep this season, even with a potential first-place team. But the Titans have to approach every game like they are the team to beat.
"We've got 11 postseason teams on our schedule, with no easy games on our schedule,'' McCallum said. "We'll be in a position to win some of those games. But we've got to approach it that we've got to win the Horizon League tournament. To go to the Big Dance, we've gone out and scheduled up this year. Hopefully it will work out for us.''
January, 26, 2010
01/26/10
2:25
PM ET
Siena is in the midst of a three-game road swing and is currently without its best player,
Edwin Ubiles
, who is out with a shoulder injury.
If the Saints, who are cruising in the MAAC with a 10-0 record, can survive this stretch -- let alone another five-game string against upstart Iona and Fairfield at home and Niagara, Canisius and Rider on the road -- still unbeaten in the league, then the BracketBusters opponent on either Feb. 19 or 20 will be even more important to the Saints' NCAA at-large hopes.
It's essentially Butler or bust.
If the Saints can win this week (at St. Peter's Thursday and at Marist on Saturday), there's a very good chance the Saints will be Butler's opponent in the highest-profile BracketBusters game. Matchups will be made this weekend so teams have a few weeks to deal with travel and scouting.
The concept has done wonders for some and been irrelevant for others, but one thing is certain: Teams that have an outside shot at an NCAA tourney at-large or are looking for a seed boost once they qualify as an automatic can't go wrong with another quality nonconference game in late February.
Some teams won't get that chance. The West Coast Conference isn't participating in the event and there are some omissions from other conferences like the Summit (only Oral Roberts and not Oakland), the America East (no Maine), the Big Sky (served up only Montana State and not Northern Colorado or Weber State).
There are 98 teams involved in 49 games during BracketBusters. The 11 games that will air on the ESPN family of networks are determined first and then the conference commissioners will pair up the remaining 76 teams.
Home and road teams are already set for the event, so it's a bit difficult to maneuver who can go where. But the most important aspect of matching teams should be done based on who has a shot to be in the field. Not all of the 22 set teams are in that group. Actually, maybe only six could have an outside shot at an at-large.
[+] Enlarge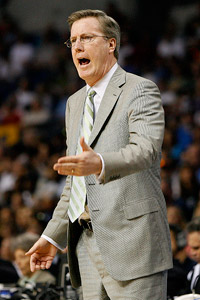 AP Photo/Mike CarlsonFran McCaffery is hoping BracketBusters provides a way to boost his team's NCAA at-large chances.
Siena is one of them.
"It's going to mean something and I would say if we could have a phenomenal league record and beat Butler and then not lose until the finals of the [MAAC] then we'd have a shot," said Siena coach Fran McCaffery. "We'll be right there in that discussion, but we don't want to get ahead of ourselves and assume the next five or six games."
McCaffery would actually be in favor of holding off on announcing the BracketBusters matchups until a few more weeks. But nevertheless, he still wants that Butler game. From a storyline perspective, it makes sense. Those are two of the better-known programs in the field and each has had some NCAA tournament success (Siena has won its last two first-round games).
"We're hoping we can put ourselves in position to get an at-large bid," McCaffery said. The problem for the Saints will be the six games prior to a possible showdown with Butler at Hinkle Fieldhouse in Indianapolis.
Ubiles didn't play against Manhattan on Jan. 18, played 33 minutes in a win over Loyola (Md.) on Jan. 21, but then missed the road game at Manhattan on Sunday. Meanwhile, guard Kyle Downey, who scored 16 points in Ubiles' absence in the first Manhattan game, broke his foot and is now out, possibly for the season.
"We're short-handed for this tough stretch, but I know we have to keep winning," said McCaffery.
Siena did beat Northeastern early in the season for what might turn out to be a solid win. It was a game McCaffery said was scheduled because "nobody wanted to play us and nobody wanted to play them and we're two hours away." But losses to Temple, St. John's, Georgia Tech and Northern Iowa were the supposed "up" games that the Saints failed to win.
Meanwhile, Butler has been rolling in the Horizon at 9-0 with a 16-4 record overall. That mark includes a win at Northwestern and home victories against Ohio State (without Evan Turner) and Xavier. Playing Clemson on a neutral court and UAB on the road (both losses) will help the power rating.
A year ago, Butler coach Brad Stevens said beating Davidson on the road was a key win for helping the Bulldogs get an at-large bid after losing to eventual champ Cleveland State in the conference tournament.
"We were coming off two losses that week before the Davidson game," Stevens said. "And you don't want to be on a losing streak at that time of the year. Doubt starts to creep in. That was a good win that got us going in the right direction."
Stevens knows the Bulldogs will get a quality BracketBusters opponent as the premier home team. There was a time when the staff was anticipating Wichita State as a possible opponent, but two losses last week for the Shockers have led to a belief that it could be Siena. Louisiana Tech, which tops the WAC, is also a possibility, but the name value of a Siena-Butler matchup may have more cachet.
The Bulldogs are handling their business in the Horizon as they become the top draw in every opposing building. That won't change as the Bulldogs go to Green Bay on Friday (ESPNU, 9 ET) and then to Milwaukee, two places the Bulldogs lost last season.
With Matt Howard staying out of foul trouble in the league after being in it throughout the nonconference, the Bulldogs are getting more of a complete effort. Gordon Hayward has been a Horizon MVP and barring a complete collapse, the Bulldogs are in good shape as far as the NCAA tournament is concerned.
Joining Butler as a BracketBusters home squad is Northern Iowa (8-1, 17-2), which leads the Missouri Valley. But Siena has already played Northern Iowa (the Panthers won 82-65) and that's why it makes more sense to send Siena to Butler and Louisiana Tech to Northern Iowa. The latter matchup may not seem headline-worthy to the mainstream fan, but these are the leaders in the WAC and MVC and both teams are talented enough to win a first-round NCAA tournament game.
If you were to pit Siena-Butler and Louisiana Tech-Northern Iowa, you'd likely have four teams that are going to be in the field of 65 matching up a few weeks before Selection Sunday.
The other hot teams are in the Colonial, but they obviously can't go up against each other. Northeastern, Old Dominion, George Mason and William & Mary all could be in play for the CAA's automatic bid with the Tribe the most likely at-large candidate because of nonconference wins over Wake Forest and Maryland on the road and Richmond at home.
That's why the question of who will play at GMU and Northeastern and where ODU and William & Mary will play during BracketBusters will be a fluid process this week.
I'd like to see the following: Wichita State at Northeastern as two of the top teams in the MVC and CAA; William & Mary hitting the road to play the best team in the Ohio Valley (Murray State); ODU traveling to Green Bay, pitting one of the top teams in the CAA against the second-best in the Horizon; and Charleston, which took out North Carolina, makes sense at George Mason in a matchup of two of the best from the Southern and CAA.
"We need a good game," said Northeastern coach Bill Coen, whose Huskies have won 11 games in a row, the third-longest streak in the country. "We've used all our mulligans and probably need to stay perfect the rest of the way to get an at-large berth. But in the spirit of the BracketBusters, we'd like to play our way into the conversation."
Northeastern failed to win games in the nonconference against potential NCAA teams Siena, Rhode Island and Saint Mary's before a humbling loss to Western Michigan in Honolulu on Dec. 23 -- its last loss -- set the team straight.
"It was good for us to be on the road because we had to take a hard look at ourselves," Coen said. "It was like a foreign tour. We were together all the time and had to go eat together breakfast, lunch and dinner and figure it out."
What happened was Northeastern got back to defending and Chaisson Allen started to play the point like Coen expected, teaming up with potential CAA Player of the Year Matt Janning.
Now Coen says the Huskies are cheering for a BracketBusters game "that will help us the most."
They're not alone.