Category archive:

Wyoming Cowboys
January, 16, 2013
01/16/13
11:31
PM ET
Wyoming coach Larry Shyatt knew
Luke Martinez
had been in some sort of melee at a bar, which resulted in a broken hand.
Shyatt was naturally upset. At 22, Martinez was of age to be in a bar. But as a senior leader, on an undefeated team that was on the verge of something special, he never should have been out that late.
Shyatt said he wanted the few players who were at the bar to spend a few hours volunteering before the team left for Dallas to play SMU.
[+] Enlarge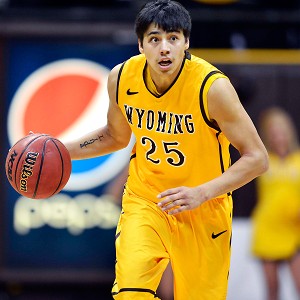 Ron Chenoy/USA TODAY SportsLuke Martinez's decision to go to a Wyoming bar late at night was a poor choice.
"When I found out, they were out,'' said Shyatt. "I made them do community service without knowing all the facts yet.''
Shyatt and assistant Scott Duncan had heard chatter that Martinez was struck first and that he was defending himself. But that was the extent of any information they received.
They both say that they knew nothing else and were told that no charges were going to be filed.
Martinez was out with the broken hand. In his absence, the team went to SMU and beat the Mustangs before losing the Mountain West opener to Boise State.
Last Saturday, Wyoming visited Reno to play Nevada, a game the Cowboys won 59-48.
They returned late at night, and Shyatt said he got a call at 2 a.m. that Martinez had been brought in for questioning.
What happened next was detailed in an affidavit that should cause serious concern for a team that still has a chance to make the NCAA tournament and finish near the top of the MWC.
According to the Casper Star-Tribune, the affidavit has three eyewitness accounts from employees at the Buckhorn Bar which details Martinez allegedly kicking a victim in the face after teammate Derek Cooke Jr. knocked the victim out with a punch. Martinez was arraigned Tuesday, with Duncan in attendance, on charges of causing serious bodily injury to the man. Junior Nathan Sobey was at the scene as well, according to the report.
The report states that Martinez said he was punched first but then stepped or stomped on the victim's head. This interview took place at 1:30 a.m. and he was arrested at 2:15 a.m.
Martinez was released on $25,000 bond, and he has to check in both with the Wyoming athletic director and defense attorney three times a week as well as stay away from drugs and alcohol.
Duncan said the first time he had heard about the extenuating charges and details of the case was while he was sitting in the court room Tuesday. Shyatt said he wasn't aware of the details, either.
Shyatt and Duncan have brought new energy and passion to this program and turned it into a winner in just two seasons.
But Martinez let his teammates, staff and the university down by going out at that hour. So, too, did the other two teammates. The bar fight reportedly turned ugly and could take away from what has been a special season so far.
He put himself in the position where something could -- and did -- happen. He may have been defending himself, but he never should have been there in the first place.
Sure, he's a college student. But there are privileges that go with playing high-level Division I basketball. Now he'll pay the consequences and so will his team.
The Cowboys went 2-1 without him, but they may have a hard time staying in the top six in one of the best conferences in the country without him over the next seven weeks.
Martinez now has to deal with the legal issue, which could be less forgiving than the shame from any university/coach/teammate.
Shyatt said Martinez is within four classes of graduating. He was a player inherited by the current staff. That staff warmed up to him and embraced him, and Shyatt said they will stick by him. But he isn't defending the actions of being out, getting into a fight and the results of that fight. He called it horrible and foolish, but he's not going to abandon him, either.
The Cowboys had to play two full games, and most of two others from Nov. 28-Dec. 18 without sophomore guard Riley Grabau after he suffered a knee injury. Grabau had started the season with 23 assists and three turnovers. Yet, they won all four of the games in which he was out, including a comeback win at Illinois State and a road game at UCSB.
Playing without another key player, "is nothing new for these guys,'' said Shyatt. "It's just one less guy.''
True. But Martinez has drawn undue attention on Wyoming when a 14-1 record should have been the only thing being discussed about these Cowboys.
For more on Andy Katz's final thoughts on Luke Martinez and Wyoming, check out Katz's Korner.
December, 27, 2012
12/27/12
11:48
PM ET
The beauty of the college basketball regular season is that a team can lose a few games and still be in fine position for a national championship run.
But there is always an allure about those who enter their conference season unblemished to see how invincible they will be entering the New Year.
Prior to Thursday night's games, there were five remaining unbeaten teams and 19 one-loss teams, as well as two others (Florida, 8-2) and (Kentucky, 8-3) that cannot and should not be dismissed from any Final Four discussion. Both the Wildcats and Gators have played a much more difficult schedule than the majority of one-loss and undefeated teams.
There are a slew of one-loss teams that are more than capable of winning the national title such as Kansas (10-1), Louisville (11-1), Syracuse (10-1), Indiana (11-1), Creighton (11-1), UNLV (11-1), Missouri (10-1) and Gonzaga (11-1). And it's easy to make the argument that those teams, such as Kansas, Louisville, Syracuse and Indiana, are more likely to challenge for the national title than the five remaining undefeated teams.
But for the purposes of this argument, let's look at the remaining unbeatens as they stand today:
Duke (11-0)

Most impressive wins: Minnesota, VCU and Louisville in successive days in Atlantis; Kentucky in Atlanta; Ohio State at home and Temple in New Jersey.
Biggest question answered: Quinn Cook is a starting point guard and has been a stable presence.
National player of the year candidate: Mason Plumlee. Plumlee has been a double-double machine for the Blue Devils. He may be the most reliable player at his position in the country.
Difference-maker: When Seth Curry is making 3s, the Blue Devils are even harder to beat.
What to watch for: How will Duke handle true road games in the ACC? The three toughest games on the schedule would seem to be at NC State (Jan. 12), at Maryland (Feb. 16) and at North Carolina (March 9).
Final Four potential: Duke has to be considered a favorite to land in Atlanta. The team possesses experience at key positions, younger players who are becoming increasingly comfortable, there is size inside and now a growing confidence that it can win the championship.
Michigan (12-0)

Most impressive wins: Pitt in New York at the NIT Season Tip-Off and NC State in the ACC-Big Ten Challenge.
Biggest question answered: The Wolverines don't miss Stu Douglass and Zach Novak as much as was predicted. The youthful Wolverines have bought into John Beilein's defensive concepts.
National player of the year candidate: Trey Burke is an exceptional point guard. He gets the Wolverines up and running as efficiently as any point in the country. His play has allowed Tim Hardaway Jr., to flourish in his natural position.
Difference-maker: The continued development of the Michigan big men in Jordan Morgan, Mitch McGary and Glen Robinson III as well as the stretch shooting of Nik Stauskas.
What to watch for: How does Michigan get through the Big Ten gauntlet? The Big Ten is the toughest conference this season, and Michigan will have to navigate trips to Ohio State (Jan. 13), Minnesota (Jan. 17), Illinois (Jan. 27), Indiana (Feb. 2), Wisconsin (Feb. 9) and Michigan State (Feb. 12). I would put that conference road schedule against any other contender in the country. It's not close. This is the toughest.
Final Four potential: Michigan has proved that it has the point guard play, the shooting, the power play inside and can defend well enough to get to Atlanta.
Arizona (12-0)

Most impressive wins: Florida in Tucson and San Diego State in the final of the Diamond Head Classic in Honolulu.
Biggest question answered: Mark Lyons has adjusted as well as any one-year transfer I can remember. He was handed a leadership role and has excelled, making a game-winning shot to beat Florida. He has proved to be a consistent presence for the Wildcats at the point.
National player of the year candidate: Lyons, Solomon Hill and Nick Johnson have all had their moments and will be in contention for Pac-12 player of the year. But none will get enough momentum for consideration for national player of the year.
Difference-maker: Johnson. He has been the ultimate glue guy, making key plays in a variety of ways, none bigger than blocking Chase Tapley's potential game-winning layup in the Diamond Head final.
What to watch for: Arizona is the favorite in the Pac-12 and enters the conference doing more than enough to raise the conference's profile. The road wins at Texas Tech and Clemson were games the Wildcats should have won and they did. The comeback win over Florida was a tremendous effort and confidence boost. Getting through the rugged Diamond Head proved they had the stamina. Now, Arizona has to rise to the challenge of being the team to beat in the Pac-12. It is more than doable based on the inconsistency of the rest of the conference.
Final Four potential: This squad has it. The key will be the continued development of the newcomers, notably Kaleb Tarczewski, who is getting featured more and more as he improves his activity on the court.
Cincinnati (12-0)

Most impressive wins: Oregon in Las Vegas; Xavier in a rivalry game and Alabama at home when the Tide were playing well.
Biggest question answered: The Bearcats are never going to be a dominant low-post scoring team. But when needed, the Bearcats have been able to finish around the basket. Titus Rubles, JaQuon Parker, Justin Jackson and Cheikh Mbodj can take care of business of scoring and defending the post when locked in to the task at hand. The Bearcats have bigs serviceable enough to get by in the Big East.
National player of the year candidate: Sean Kilpatrick will enter the Big East as a legit player of the year contender. He has the ability to score in bunches. He flourishes playing off Cashmere Wright, who has stabilized the point.
Difference-maker: Wright. Mick Cronin has the confidence to hand him the ball and let him make a play, as he did against Alabama. Wright is a senior and has asserted himself as much more of a leader on a team that desperately needed to be led.
What to watch for: The Bearcats take possessions off and sometimes go through the motions. That cannot happen in the Big East with a host of teams that could easily knock them from their perch. Cincinnati believes it is in the same category as Louisville and Syracuse and above Pitt, Georgetown and Notre Dame in the pecking order of Big East title contenders. Now the Bearcats have to prove it. The schedule didn't do them any favors since they go to Syracuse (Jan. 21) and Louisville (March 4) without a return game. Cincinnati will find out about itself early at Pitt (Dec. 31) and at home against Notre Dame (Jan. 7).
Final Four potential: The Bearcats have it, but I'd be surprised. The lack of a proven post player may cost them in trying to win four in the NCAA tournament. Their lack of focus at times could bite them in an early round.
Wyoming (12-0)

Most impressive wins: Colorado and at Illinois State.
Biggest question answered: Leonard Washington has been a leader for the Cowboys despite all his issues, including a suspension last year. The Cowboys weren't sure who they could rely on early on but Washington has done everything asked of him so far.
National player of the year candidate: Washington is a Mountain West Conference Player of the Year candidate, but he won't be in the conversation for the national honor.
Difference-maker: Larry Nance Jr. The sophomore has played up in the big games for Wyoming, scoring 14 against Colorado, 19 in the win over Illinois State and 21 in a win over rival Denver. The Cowboys' staple has been their defense, as you'd expect from a Larry Shyatt-coached team, but it's their surprisingly-balanced offense that has been a pleasant plus.
What to watch for: Wyoming may be in the most balanced league in the country. It has to deal with two games against UNLV, San Diego State, New Mexico, Colorado State and Boise State, let alone playing Nevada and Air Force. There are zero easy games on this schedule. To expect Wyoming to get through this without getting beaten up is unrealistic.
Final Four potential: No shot. But the Cowboys are going to the postseason. Shyatt has already put the Cowboys in the NIT conversation, barring a complete collapse. An NCAA berth is hardly out of the question if they can hold serve at the Arena Auditorium.
April, 26, 2011
04/26/11
6:46
PM ET
Who goes back to Wyoming if there is no tie to the state, the region or the school?
When has Wyoming ever been a destination job, rather than a step along a career path toward something grander, more mainstream or at the very least metropolitan?
Who does that? Who would go back?
Laramie, Wyo., is blustery. It can be downright frigid. The road from Fort Collins, Colo., can close down. Snow drifts can make it hard to distinguish road from shoulder.
"There are very few people who would do this that didn't have ties to this part of the country, people like myself," Wyoming athletic director Tom Burman said. "The weather is rough, and that's being polite."
But the university is still a drawing card. The fan base is still passionate about the Cowboys. Arena-Auditorium, the advantageous altitude and the rich basketball history are still worth promoting. Wyoming did win a national title, even if it was in 1943.
Not everyone understands that.
Larry Shyatt did, and does.
And that's why he's back, returning to the school where he earned Mountain West Coach of the Year while leading UW to the NIT in 1997-98.
"No coach in football or basketball has ever returned [to be head coach] at Wyoming," Shyatt said. "People always escape. I like the outdoors. I like small college towns -- Laramie; Clemson, S.C.; Gainesville, Fla. My wife, Pam, enjoys cool weather. She doesn't enjoy deep heat and humidity. I know everyone thinks coming back is odd."
[+] Enlarge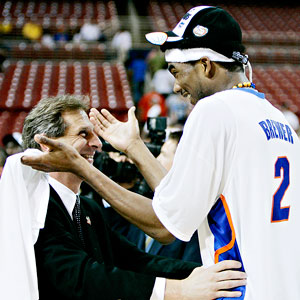 AP Photo/Jeff RobersonLarry Shyatt was a key component in Florida's back-to-back national titles in 2006 and '07.
The top assistant to Billy Donovan at Florida (where he helped the Gators to a pair of national titles) since 2004, Shyatt made the decision to leave his cushy job in the Sunshine State because of two reasons: Burman and a feeling that he cut out on Wyoming too soon.
In his first tenure with the team, Shyatt lasted one season. Burman's old boss, former AD Lee Moon, gave Shyatt his first head-coaching experience after 22 years as an assistant at Utah, Cleveland State, New Mexico, Providence and Clemson. And when Clemson called to offer Shyatt a head-coaching job and his top assistant and best friend in coaching, Scott Duncan, a spot on the bench, they both bolted for the ACC.
Shyatt lasted five seasons with the Tigers before being fired. Duncan cut out a few years earlier to go to Oregon as an assistant.
"I didn't like the way I left the first time," Shyatt said. "It was the right thing for my children. They wanted to go to Clemson. I wouldn't have changed it. But I can't say I felt good about it."
Nevertheless, Burman said the year Shyatt was head coach the Cowboys played with great passion and toughness that the fan base embraced, along with Shyatt's natural PR skills.
"He had an engaging personality that we needed then and we need it now," Burman said.
The fifth-year AD made the move to get rid of previous coach Heath Schroyer on Feb. 8, after four mostly mediocre seasons. In each of the last two years, Wyoming has finished 3-13 in the MWC and 10-21 overall.
"It was jointly made," Burman said. "He asked me, 'Am I going to get fired at the end of the year.' I said, 'Yes, unless there is a dramatic turnaround. We have to have a reason to sell to our fans.' He said, 'Then if that's the case, I want out.' I would probably have done it differently. I don't believe we gained anything to have seven weeks of games with an interim coach. [Assistant coach] Fred [Langley] did a good job of managing the program, but in hindsight I don't think I would have done it the same way."
Sophomores Desmar Jackson and Amath M'Baye left the team during the coaching change, and Burman said he wouldn't be surprised if the interim situation contributed to the team's two top scorers being wooed to leave.
As for the hiring, Burman wanted Shyatt from the beginning but wasn't sure he would or could get him. Shyatt wasn't going to talk to Wyoming until Florida lost in the postseason. The Gators reached the Elite Eight.
While Shyatt coached, Wyoming didn't want to wait and be held hostage.
"President [Tom] Buchanan wanted a comprehensive search and, at the end of the day, wanted something to compare to Larry," Burman said.
So the school hired Dan Parker's search firm. There were a number of inquiries made to see if head coaches who had no tie to Wyoming would want the job. None bit. The Cowboys made a serious push to lure Old Dominion's Blaine Taylor back to the region (he coached at Montana), but Taylor decided to stay put after the Cowboys flew East to talk to him.
Then, after Florida lost to Butler in the regional final, Burman and Buchanan met with Shyatt in Atlanta, where Parker's firm is based.
"I needed Larry to sell me and my boss," Burman said. "I needed to hear it from him, that he could sell me on what happened 13 years ago. It was important for President Buchanan to hear it from Larry."
He apparently liked what he heard, because Wyoming made a significant commitment, going from paying Schroyer $375,000 annually to just under $650,000 for Shyatt. The school also made sure the assistants were well-compensated.
Shyatt made sure Duncan was returning with him, too.
Not only did Shyatt leave a great situation at Florida to go to Wyoming, but Duncan put aside a secure deal at UCLA as Ben Howland's assistant to return to Laramie.
[+] Enlarge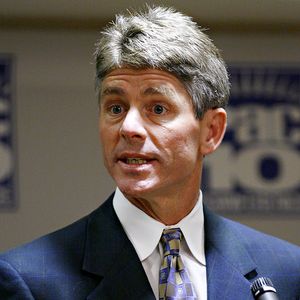 AP Photo/Danny MoloshokAs part of the move, Larry Shyatt was able to lure his pal, Scott Duncan (pictured), away from UCLA.
"Shyatt is my best friend," said the 55-year-old Duncan of Shyatt, who is five years his senior. "Not too many times in life can you share a last journey with your best friend. This could be a last challenge that we do together. Tom Burman is the other reason. He was our best friend when we were here. We thought in a coaching profession that hasn't been a lot of fun at times, this was a chance to have some fun. It was a no-brainer."
Duncan got the title of associate head coach and a multiyear deal. He's never been a head coach. There's always the chance he could succeed Shyatt long term.
A religious runner, Duncan has been at Oregon and UCLA most recently and now must adapt again to the weather in Wyoming.
"In honor of me, they built an indoor practice facility where Shyatt and I will run until May," Duncan said in jest.
Shyatt also got Wes Long to move from UCLA and assigned him as the director of player development and the strength and conditioning coach. Shyatt's son, Jeremy, who got his degree from Clemson in 2003, came over from North Florida and will serve as an assistant. So too will Allen Edwards, who was an assistant at Western Kentucky and played in three Final Fours at Kentucky in the '90s.
All of that sounds great, but before the return is romanticized too much, realize that Wyoming is in a serious down cycle.
As previously mentioned, the Cowboys have lost 42 games over the last two seasons, including a 6-26 record in the Mountain West. The top two scorers are gone. In the last 23 seasons, there's been exactly one NCAA tournament appearance (2002). Before that, Wyoming enjoyed plenty of success in the '80s (remember Fennis Dembo?) and since then there's been plenty of talent come through, such as Reginald Slater, Mo Alexander, Theo Ratliff, Ugo Udezue and Josh Davis. But not consistently. Not year after year.
And now, the league Shyatt returns to won't have historically dominant teams BYU and Utah anymore, as they will depart for the WCC and Pac-12, respectively. More changes are afoot with Boise State joining this season and Fresno State and Nevada in 2012, with TCU departing for the Big East.
"The geography hasn't changed about the job, but the rivalries have changed, and we're entering unfamiliar territory," Shyatt said.
San Diego State, New Mexico and UNLV are the new powers, with Colorado State on the rise.
Duncan said BYU and Utah leaving gives more hope to the rest of the league.
"I think it's realistic to compete for postseason play and compete in the upper half of the league and then every once in a while hang a banner," Burman said. "I'm not sure how often at this stage. We've got a ways to go and we recognize that. But with BYU and Utah leaving, it will be more balanced. Obviously, New Mexico, San Diego State and UNLV have done a great job. We have a better chance but we have a long way to go, no doubt about it."
Shyatt said he told the returning players he won't watch a single tape of their previous games. He said he's going to change the culture -- the catch phrase for every new coach. With a senior class that could be as crowded as seven this coming season, a major shift will occur with the program in terms of personnel. It will have to, if the Cowboys are to make a successful transition.
In the end, Wyoming ultimately got the one coach who will have passion for the job, a desire to fix what ails the program and a mission to leave more of a legacy than a one-year stopover can produce.
"They've been down, they were a last-place team and they've lost that love affair," Shyatt said of the fans and the program. "Everyone here was honest and open about where they're at now. I want to bring back that passion and fire and competitiveness. I wasn't going to just take another college job. It had to be for the right reasons. I loved working for Billy and [Florida AD] Jeremy Foley. But it was too easy. I had very little impact there. I can have a big impact here."
February, 15, 2011
02/15/11
7:15
PM ET
San Diego State coach Steve Fisher has the cachet to challenge the pointless February firing of a college basketball coach.
And the Mountain West is looking small by reprimanding him in a public forum.
Fisher was irate, and rightfully so, at Wyoming's decision to fire coach Heath Schroyer on Feb. 7. Schroyer was going to lose his job at the conclusion of the season anyway, which is the appropriate time for college firings to occur (barring NCAA violations or legal issues).
When DePaul fired Jerry Wainwright in January last season, did it really change anything for the Blue Demons? No. Did it help DePaul get a head start on its head-coaching search? No. Clemson's Oliver Purnell was a surprise choice to take over the DePaul job when it was announced on the night of the national title game, three months after Wainwright's exit. The same was true of Fordham getting rid of Dereck Whittenburg in December 2009; Hofstra's Tom Pecora eventually got the job and likely would have had gotten it regardless of when Whittenburg was fired.
If the purpose of such decisions is to allow the school a head start on looking for a new coach, isn't that the type of tampering athletic directors squawk about when their coach talks to other schools during the season?
[+] Enlarge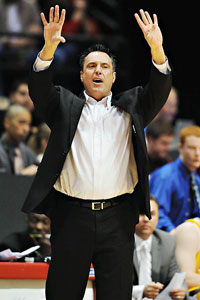 Christopher Hanewinckel/US PresswireSteve Fisher was reprimanded by the MWC for critical comments he made about Wyoming's firing of coach Heath Schroyer (above).
Fisher's comments in question were:
"For a coach to be fired with six weeks to go in the season is inexcusable. We talk to our players about commitment, not cutting and running, and yet when things go south a little bit, often our administrators say, 'What do we do to please our biggest donor or the perception standpoint?'
"This is not the NBA. This is not the NFL. Yes, I do know this has happened before and will happen again. That doesn't make it right.
"It's wrong. It should not have been that way. It should have been done in a professional manner. A six-week jump on the market is not worth it."
The Mountain West said Monday night that it has a strict policy that no coach is allowed to criticize another member institution in public. Seriously? The MWC needs to get a thicker skin. This isn't criticizing officials. This is about looking at the timing of a firing. I highly doubt Fisher would have called out Wyoming if Schroyer had been fired in mid-March or April once Wyoming was eliminated from the conference tournament and its season was over.
Wyoming is one of the most difficult jobs in a top-eight conference with few players in the region. A number of coaches have tried to get traction to no avail, from Jim Brandenburg to Benny Dees to Joby Wright to Larry Shyatt to Steve McClain and now Schroyer.
Assistant Fred Langley, who has taken over as interim head coach, likely has no shot to get the job full time, and giving him three weeks to prove himself is pointless. The Cowboys were 8-15, 1-8 in the MWC, when Schroyer was fired. He was in his fourth season, which was enough time to turn the program around. He didn't. But that doesn't make the timing of his dismissal any less troubling.
It's a job that requires someone with a command of the region and the conference. Former UTEP, Texas A&M and Kentucky coach Billy Gillispie makes sense because Wyoming must be able to recruit the Southwest, but if the Cowboys are looking for someone who is revered within the region and has had success wherever he has gone, they should look strongly at BYU assistant Dave Rice, who has been at UNLV and Utah State. Rice would jump at the chance to take over at Wyoming -- after BYU's season is over, which is the way a job search should work. There is plenty of time to make the appropriate change.
Fisher spoke from the heart and, when reached Monday night, didn't want to go into the topic further. The MWC should be fawning over what Fisher has accomplished at San Diego State, not making national headlines for publicly reprimanding him.
Fisher let Schroyer know at the right time that he would defend him. And it came during a conference call.
As for the season, not much has gone wrong for Fisher outside of a number of possessions at BYU in the Aztecs' only loss thus far.
"When it looks like the wheels are going to come off, we get it going again," Fisher said of the Aztecs' 25-1 overall record (10-1 in the MWC). So much of the chatter has been about Kawhi Leonard, and rightfully so, but D.J. Gay hit a game winner to beat Colorado State on the road, then scored 20 points in 40 minutes at UNLV on Saturday.
"There's always different people," Fisher said. "That's been the mark of this team, and I'm proud of how we've been able to accomplish it. We have not panicked. We've been able to maintain composure, and that has allowed us to have a chance."
San Diego State has never won an NCAA tournament game. The Aztecs were a No. 11 seed last season, losing to No. 6 Tennessee in the first round. San Diego State is in contention for a No. 1 seed if other teams slip from now until Selection Sunday, and it should be in the No. 2 range and no lower than a No. 3 seed.
The top six of Leonard, Gay, Billy White, Malcolm Thomas, James Rahon and Brian Carlwell are all highly productive for the Aztecs.
"We've got a good team, and we can beat you in a variety of ways," Fisher said. "D.J. has been spectacular for us the way he has played at both ends of the floor. He guards smartly, and he's gone forever without a turnover." (To be precise, it's four games without a turnover and only one in his past seven games.)
Fisher said he's not giving one thought to being a top seed, especially with the slew of close games the Aztecs have won (UNLV by six, TCU by seven, CSU by two) and with New Mexico paying a visit on Wednesday.
"I don't want to get too far ahead of myself," Fisher said. "I appreciate what we've done so far, and if we can continue to win, then we'll see down the road. But absolutely, we've never had the luxury of a high seed, and, in the three times we've been to the tournament at San Diego State while I've been here, we've been a double-digit seed. Seeding is critical to give us an opportunity to get a win for the first time in the history of the program, and once you get a win, who knows what can happen? We're in a position now to get a good seed, and with that good seed, it's on us to perform."
Fisher doesn't muzzle himself. And he shouldn't. He talks up his team when he should, and he can this season. And he spoke out against the timing of Schroyer's firing when he could, regardless of the discipline he faced from a thin-skinned MWC.