Category archive:

Xavier Musketeers
December, 19, 2012
12/19/12
11:46
PM ET
CINCINNATI -- Father Michael Graham is an avid sports fan who likes to reminisce about his time as a graduate student at Georgetown, working games as a young Jesuit student at the old Cap Center during the Patrick Ewing era in the mid-1980s.
He loves being the president of Xavier and cheering on the Musketeers.
But he was ready to move past the Crosstown Classic game against Cincinnati. He wanted to move on, get a year or more past the black mark that last season's brawl at the Cintas Center put on the rivalry.
"There was talk early on that they should cancel this game altogether,'' Graham said earlier Wednesday in a conference room at the Cintas Center in a meeting with Cincinnati president Santa Ono.
"But our point of view is that this game doesn't belong to us. This is a community tradition and it belongs to the community. We needed to remind everybody of this. It's good for Cincinnati and is one of the great rivalries in the country.''
Cincinnati coach Mick Cronin wasn't at the meeting, but he picked up on the theme of Graham's comments from somewhere else. Minutes after shaking Xavier coach Chris Mack's hand following UC's 60-45 victory at neutral U.S. Bank Arena, Cronin proclaimed where the rivalry should be played -- every year.
"I don't know how anybody doesn't say this wasn't off the chart,'' said Cronin, a native of the Queen City. "It reminded me of the Final Four when Louisville played Kentucky. It was the way it should be.''
[+] Enlarge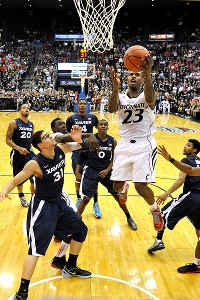 Jamie Sabau/Getty ImagesSean Kilpatrick scored 25 to lead 11-0 Cincinnati over Xavier.
The crowd was fairly evenly split. Xavier fans and Cincinnati fans were divided from midcourt to the left and right with one side mostly in blue and white and the other clad in red and black.
"It's the city's game, and if it's the city's game then it needs to be in downtown Cincinnati,'' Cronin said. "This shouldn't just be for season-ticket holders only. I'm a firm believer that what happened last year had been building for three years. This game [at U.S. Bank Arena] eliminates the hatred that spewed in a campus environment. It keeps it positive for everybody.''
Cronin added that he doesn't want the game to return to campus where "stuff was thrown at my 71-year old father. That shouldn't happen. I have no interest in being a part of that. This was all positive.''
Cronin's boss, UC athletic director Whit Babcock, was listening to Cronin's plea to keep the game at a neutral site.
"I support my coach,'' Babcock said. "I support what Mick said. We talked about this being a two-year series and we would evaluate it. But I thought it was a fantastic environment. I liken it to Missouri-Illinois in St. Louis. That's the model I see and I like, and I think this a good step in the direction.''
Cincinnati senior guard Cashmere Wright said that he loved having the two schools represented. But the two sides have to agree.
They don't. If the game does return to a campus, then it would be at Cincinnati in 2013 or 2014 -- both sides agree on that. But will it remain at a neutral site or go back to campuses?
"I love Mick, but I don't agree with him,'' Xavier coach Chris Mack said. "[Playing the game] on campus has always been good. It's one man's opinion and he's entitled to it. But it was a great atmosphere.''
Cronin said he doesn't have a say in where the game is played. Neither does Mack.
"We said after two years we would think about it,'' Xavier athletic director Mike Bobinski said. "It was a loud atmosphere. It had a great feel to it. But he doesn't make the decision. Both of us have a vested interest in having it on campus.''
Bobinski was referring to his season-ticket holders, who want this game on the schedule every other year.
"You have to have the whole picture,'' said Bobinski. "But I agree that this was good.''
Ono said that it was important for the two schools to play the game and do even more since the brawl last year. The two presidents rattled off joint events over the past year, from the student governments working for the Boys& Girls Club, a joined walk for awareness of a multicultural, faith and diverse society and the two men's and women's teams going together to the National Underground Railroad Freedom Center, next to the U.S. Bank Arena.
"Our students got a black eye since it was in our house,'' Graham said. "They were eager to show the world that's not who we are.''
Ono added that the two schools have service in their missions and should be working together more in the future. Ono, who said he's a huge sports fan and during the game Wednesday was lifted up by the cheering squad, said the relationship between the two schools is imperative for the city.
As for Wednesday, it was a game of two halves as Xavier's pressure defense flustered the Bearcats in the first 20 minutes. Cronin called the Bearcats' offense a debacle in the first half as Xavier scored plenty off transition. But cramps to Semaj Christon and Dee Davis -- as well as allowing the Bearcats to completely flip the script by getting to the basket, rebounding and forcing turnovers -- led to a UC reversal.
The Bearcats' win kept them undefeated at 11-0, while Xavier dropped to 7-3.
And more important, the game survived. No incidents. No embarrassments.
The question now will be where it lives -- on campus or on a neutral court?
The two schools are getting along well and showing unity, but it's unknown if they can agree on where to play this game in 2013 and beyond.
August, 30, 2012
08/30/12
3:45
PM ET
The NCAA will have a potentially precedent-setting case if it decides to grant expelled Xavier forward
Dezmine Wells
immediate eligibility.
Wells took a visit Thursday to Kentucky. If he doesn't commit to the Wildcats right away, according to a source, he likely would visit Maryland during the weekend. Terrapins assistant coach Bino Ranson was on the Xavier staff while Wells was being recruited to the school. Memphis is also very much in the mix.
Each school would try to get Wells a waiver so he could play this season, despite the fall semester already starting. But the NCAA has a clear rule on this matter. NCAA spokesperson Stacey Osburn said schools have the ability to file a waiver to allow immediate competition due to special circumstances.
The rule is 14.5.1.2, detailing disciplinary suspension:
A student who transfers to any NCAA institution from a collegiate institution while the student is disqualified or suspended from the previous institution for disciplinary reasons (as opposed to academic reasons) must complete one calendar year of residence at the certifying institution. (Revised: 1/14/97 effective 8/1/97)
Osburn said the NCAA staff would review the waiver and consider several factors, including what "caused the dismissal from school and the results of any institutional appellate processes."
But would the NCAA grant immediate eligibility to a player who was expelled from another school? That is the question. It would certainly put Xavier in a poor light if that were to occur.
Wells was expelled for a "serious violation of the Code of Student Conduct.'' Xavier athletic director Mike Bobinski told ESPN.com that the athletic department had nothing to do with the decision and that this was the university's call.
The Xavier conduct board ruled on the matter, which involved allegations of a sexual assault. The ruling was upheld by an appeals board at the university, but a county grand jury declined to charge Wells on Tuesday, and Hamilton County prosecutor Joe Deters and Wells attorney Merlyn Shiverdecker issued strong statements about the way in which Xavier handled the case
On the court, the Wells departure is a crushing blow for the Musketeers, who already were losing Tu Holloway, Mark Lyons and Kenny Frease off last season's Sweet 16 team.
Wells started 32 games as a freshman in 2011-12 and was set to be the team's leading returning scorer. He was on the Atlantic 10 all-rookie team and averaged 9.8 points and 4.9 rebounds.
So where will he end up? If Wells was cleared to play immediately, he obviously would be a huge boost for any of the reported finalists.
He would give scoring and rebounding help, as well as much-needed game experience to Kentucky's youthful team. The Wildcats will lean heavily on freshmen like Willie Cauley, Alex Poythress and Nerlens Noel, along with sophomore Kyle Wiltjer and Wright State transfer Julius Mays. But Wells would add even more depth and pop to the defending champs.
Memphis would have playing time available next to Tarik Black, Shaq Goodwin, Ferrakohn Hall and Adonis Thomas.
But Maryland may need his game experience more than any other team, with the youngest roster among the three contenders. The Terrapins have some veteran experience, but also will be trying to incorporate five freshmen into the mix, including Shaquille Cleare and Jake Layman. Evan Smotrycz is a Michigan transfer and has to sit out the year.
Will Wells have to do the same? First he has to pick a school, then he'll wait to see on the waiver.
The case is tricky. A precedent would be set. And the direction of a season could change for one of the schools, with the decision on his eligibility possibility not coming until the start of practice in October.
March, 20, 2012
03/20/12
12:06
PM ET
A Sweet 16 appearance elevates a program to the next level.
A Final Four moves it up another notch.
The matchups usually make the difference in getting this far. Talent -- and star power -- also play big roles.
There is a certain level of pressure for all coaches and programs. For some, it's self-induced. For others, it comes from a passionate fan base. Some programs need to reach the Final Four for the season to be considered a success. Some do not.
With that being said, here is our Final Four pressure-meter (1 feels the least amount of pressure and 10 feels the most):
[+] Enlarge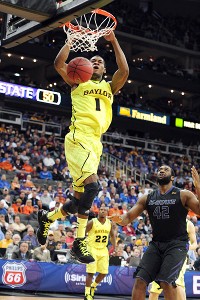 Peter G. Aiken/US PresswirePerry Jones' Bears have the talent to reach New Orleans, but they have a big hurdle to clear in the South Region.
Baylor (5): The men's team doesn't need to make a Final Four appearance. The women will take care of that, as they are the favorites to win the national title. But the men's team has the makeup to make this run a rare one. Few teams have length like the Bears do, and it's unlikely that Perry Jones III will stick around for a third season. The reason Baylor doesn't have as much pressure to reach the Final Four, even though it has the personnel to make it to New Orleans, is the bracket it's in. Kentucky could stand in the way of Baylor's potential first men's Final Four appearance. The Wildcats are the clear favorites, so expecting the Bears to advance to the Final Four from the South wouldn't be fair.
Cincinnati (3): Cincinnati has survived suspensions and a bumpy ride in the Big East. The Bearcats thrived at the end of the season and reached the conference title game. Mick Cronin and this crew have exceeded expectations by reaching the Sweet 16. Playing one of the favorites in Ohio State takes more pressure off the Bearcats. This ride now is all about extra credit for Cronin and Co.
Florida (4): The Gators won two national titles in consecutive seasons. It will be hard for any program to duplicate that -- ever again. Keeping a team together like the '04 class for the '06 and '07 titles will be extremely difficult to match unless the NBA draft rules change again. The Gators had an easier road to the Sweet 16 thanks to a depleted Virginia team and playing Norfolk State, which exhausted itself with the stunning upset over Missouri. But the Gators don't need to get to the Final Four. If Florida does reach New Orleans with this flawed group and its suspect inside game, it would be quite a feat. The Gators are the lowest remaining seed in the West, too. Expecting them to get past Marquette and possibly top seed Michigan State would be a bit much.
Indiana (3): Tom Crean has turned the corner in Bloomington. There was legitimate reason to be concerned last season. But Crean recruited exceptionally well, getting a star in Cody Zeller, and he got his players to believe they could win big-time games. The victory over Kentucky will resonate for some time. Reaching the Sweet 16 gives Crean even more credibility and respect in the state. However, for this team to get past Kentucky would be asking too much. No one should expect a win over the Wildcats again. To advance to the Elite Eight and the Final Four would be sensational accomplishments. Even though the fan base expects greatness, Indiana has already exceeded any expectations by getting this far.
Louisville (5): The Cardinals are the "pro" team in town. And like Kentucky, the expectations include Final Four appearances. But Louisville has gone through a slew of injuries, and there was no reason to believe it could maintain a high level of play throughout the season. Still, the Cards survived to reach the Sweet 16 and face top-seeded Michigan State. The most pressure may be felt in trying to keep up with rival Kentucky. The expectation is that the Wildcats will be in the Final Four, so why not join them and create even more frenzy in a hoops-crazed state?
Kansas (9): The Jayhawks have two of the top players at their positions in Thomas Robinson and Tyshawn Taylor. Kansas expects to compete for conference and national titles, regardless of personnel, every season. And while Bill Self had to deal with rotation players not being eligible, including top newcomer Ben McLemore, the Jayhawks still won the Big 12 regular-season title for the eighth straight time. Kansas survived against Purdue, but had it not been for a guard meltdown the Jayhawks may be idle right now. Instead, they have new life in the Midwest, thanks to NC State's Sweet 16 run and North Carolina potentially being without Kendall Marshall in the Elite Eight (if the Tar Heels get past Ohio). The pressure has ratcheted up for the Jayhawks. If Marshall is out for this weekend in St. Louis, the Jayhawks are the new favorites in the Midwest.
[+] Enlarge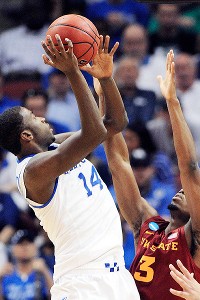 Jamie Rhodes/US PresswireAs the favorite to win the title, Michael Kidd-Gilchrist and Kentucky have to feel the pressure.
Kentucky (10): The Wildcats are the front-runners to win the national title, not just get to the Final Four. Let's be honest, anything less than a title would be a disappointment. No team in the Sweet 16 has as much pressure to get to the Final Four as Kentucky. The Wildcats have the most talent, the national player of the year in Anthony Davis, and plenty of other pro talent on the roster (Michael Kidd-Gilchrist, Terrence Jones and Doron Lamb). Darius Miller also played in the Final Four last season. John Calipari has coached in three Final Fours. The Wildcats are playing a team that handed them their only regular-season loss. A possible matchup with Baylor is more than formidable. The Bears can match Kentucky's length and shooting, but Baylor's defense has never been its strong suit. The region still lays out well for Kentucky in SEC-rich Catlanta.
Marquette (6): The Golden Eagles play as hard, if not harder, than any other team in the field. Marquette's beat down of BYU in the second half and its ability to run past Murray State late were quite impressive. Now, the Eagles get a Florida team that it matches up well with since they can defend the 3-point shot. Marquette should be the favorite in this game and has the personnel and the toughness to beat Michigan State or Louisville. A Final Four isn't expected with this group, but now the bracket has opened up a bit with Missouri gone. A loss in the Elite Eight makes more sense, but there is some pressure for Marquette to advance with Jae Crowder and Darius Johnson-Odom leading the way. The Eagles have been to a Final Four with Dwyane Wade under Crean. A berth for Buzz Williams would raise his coaching profile.
Michigan State (8): The Spartans lost one of their key rotation players in Branden Dawson in the final regular-season game against Ohio State. But they won the Big Ten tournament title without him and earned a No. 1 seed in the NCAAs. Draymond Green has been the most valuable player so far in the NCAA tournament and has a legit shot to lead the Spartans to another Final Four. Michigan State expects Final Fours under Tom Izzo, but this team certainly didn't look the part early in the season. It has matured into a title contender. And while the bracket is filled with potential hurdles, the Spartans have the pressure of being a top seed and the expectation of a Final Four appearance.
North Carolina (8): The Tar Heels would have had a 10 in this spot if Marshall didn't fracture his wrist against Creighton and have surgery on Monday. Now, the pressure of reaching the Final Four has dropped a few spots. North Carolina was as healthy as it had been in weeks at the start of the game with the Bluejays. But the Marshall injury makes the Tar Heels extremely vulnerable. Ohio is capable of pulling off another upset. And if the Tar Heels get past Ohio, a revenge-minded NC State team or title-contending Kansas awaits. The Tar Heels were built to win a title. That's why Harrison Barnes didn't opt for the NBA. Tyler Zeller had opportunities, as well. The roster is deep enough to absorb injuries to Leslie McDonald and Dexter Strickland. Let's see if it can take its worst hit and survive without Marshall or having him only on a limited basis. The expectations for a Final Four may have dropped outside of Chapel Hill, but it hasn't inside the Dean Smith Center. Carolina should expect to be in the Final Four yet again. It's just tougher with Marshall's injury and Kansas potentially looming.
NC State (2): The Wolfpack have far exceeded expectations under Mark Gottfried. NC State was the last team revealed on Selection Sunday. It had to be one of the last teams in the field prior to the four at-large teams that played in the First Four. NC State lost a 19-point lead at Duke, and the Wolfpack couldn't close out UNC in the ACC tournament. But they grinded out wins over San Diego State and Georgetown in their first two games of the tournament. This program has had low expectations for years. The Final Four would be gravy on what has already been deemed a highly successful season. The Wolfpack draw Kansas and if they somehow get past KU (not improbable), they could face a rematch with UNC. One can only imagine the scene in Raleigh if NC State, and not UNC, made the Final Four.
[+] Enlarge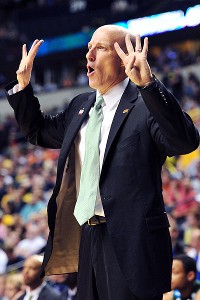 Don McPeak/US PresswireOhio coach John Groce could be walking into a difficult situation if he leaves for Illinois.
Ohio (1): The Bobcats are one of the tournament's great stories. Ohio played one of the more dramatic conference tournament title games when it knocked off Akron in thrilling fashion. The Bobcats got a decent seed at 13 and were matched up against a flawed Michigan squad. Ohio was aggressive and had the more experienced lead guard in D.J. Cooper (vs. the heralded Trey Burke) against the Wolverines. The Bobcats then faced a 12-seed in South Florida that couldn't score and was playing its third game of the tournament. Now, Ohio is playing with house money. The Bobcats have zero pressure in reaching the Final Four. Sure, they are facing a North Carolina team that will likely be sans Marshall. But to expect Ohio to win two more and get to the Final Four would be unfair. Ohio has already made its mark with this Sweet 16 appearance and coach John Groce can likely write his own ticket to a higher-paying job in the Big Ten if he chooses to do so.
Ohio State (9): The Buckeyes would have been a 1-seed if they had beaten Michigan State in the Big Ten title game. Jared Sullinger is healthy again, and the personnel hasn't changed. The Buckeyes possess some of the top players at their respective positions in Aaron Craft (top on-ball defender), William Buford (elite shooter) and Deshaun Thomas (a tough matchup as a face-up forward). Ohio State drew an instate rival in Cincinnati. The Bearcats will muck up the game and challenge everything. The top part of the bracket would be just as difficult with either a lock-down defensive team in Wisconsin or an up-and-down transition squad with a pesky zone in top seed Syracuse. But the Orange don't have Fab Melo, so if you were to re-rank the East bracket, the Buckeyes would have to be the favorites. That puts more pressure on Ohio State, and with Sullinger possibly leaving for the NBA, the window to reach the Final Four is now.
Syracuse (9): The Orange were built for a Final Four run. No team had players coming off the bench like Dion Waiters, C.J. Fair and Michael Carter-Williams. Fair is starting now, but the overall depth is still impressive. Melo's ineligibility knocks the Orange down from a 10. The expectation was Final Four or bust since they started showing their dominance during the Big East season. Syracuse has tremendous versatility with Scoop Jardine, Brandon Triche and Kris Joseph all able to make key shots. The Orange weren't tested by Kansas State after surviving a scare from UNC Asheville. The expectation is that it should beat Wisconsin and play against Ohio State. Syracuse may not be projected to beat the Buckeyes in a possible Elite Eight matchup now, sans Melo, but the pressure is there to get to a Final Four with a group that won't be together next season.
Wisconsin (4): Bo Ryan has never reached the Final Four. But he has had better teams projected to go farther. This squad has improved more than any of the previous teams he's coached at Wisconsin. The Badgers lost three early-season home games, and that rattled their confidence. But it didn't take away their resolve. Wisconsin found its shooting stroke, maintained its defensive intensity and got star-level play out of a role player in Ryan Evans. Jordan Taylor is still the leader and will take -- and make -- the big shots. The Badgers were the more polished team in wins over Montana and Vanderbilt. The expectation to knock off Syracuse isn't high. But if that occurs, then a team they already beat -- Ohio State -- could be standing in their way. The Badgers' last Final Four appearance was in 2000. The fan base is hungry for another run, but it doesn't need one. Ryan would like one, but he knows this may not be his best shot. Still, it's plausible in the current bracket.
Xavier (3): The Musketeers may not have been here had it not been for an A-10 title game appearance. Xavier had to mount a season-long repair project to get to this point. And it worked. Coach Chris Mack deserves as much credit for this run as the criticism he took for the way he initially handled the post-brawl situation. He matured as a coach during the season, dealt with his own knee injury and clearly got his lead guards, notably Tu Holloway, to refocus on the task at hand. Xavier survived Notre Dame by playing smarter than the Irish. It showed more moxie than Lehigh in finishing with a strong kick. No one is expecting Xavier to make the Final Four, even those that projected the Musketeers to do so in November. But Baylor is beatable. Taking down Kentucky would be quite a feat. The pressure is low. Xavier has already exceeded the expectations of a team that once had Final Four aspirations but didn't play that way for most of the Atlantic 10 season. Now that it's two wins away, the pressure is even lower. Xavier has already done well to finish the season on a high.
December, 13, 2011
12/13/11
1:47
PM ET
Editor's Note: To see Andy's interview with Frank Martin on ESPN's campus,
click here
.
Frank Martin is intense.
And by the definition of that word, you could easily describe him as tough.
But the Kansas State head coach knows the difference between being responsible and irresponsible. That's why the actions during the Cincinnati-Xavier brawl Saturday afternoon struck a nerve with him, like most associated with the sport.
[+] Enlarge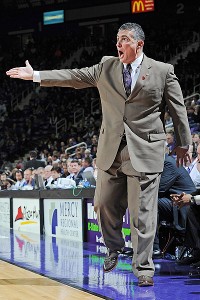 Peter G. Aiken/Getty ImagesFrank Martin says that as a coach, he can never let his players lose sight of whom they represent.
"If you're on the street and not representing a university, a team or other people, then toughness is a little different than when you are representing a university,'' Martin said as he visited ESPN's campus Tuesday afternoon in Bristol. "The word 'tough' is not whether or not you're willing to fight. It means being able to do your job to the best of your abilities.
"It's your job to never lose sight of who you are and what you represent,'' Martin said. "You do your job, and you don't accept fear of anybody. But you don't cross the line, either.''
Martin said the fight between the Bearcats and Musketeers reminded him of a similar melee that he witnessed in 1990 as an assistant coach at Miami Senior High when his team was in a tournament in Ocala, Fla., against D.C. Dunbar.
"It was an ugly scene,'' Martin said. "It was a tremendous teaching point for me as a 23-year-old high school coach to never lose sight of what can happen. You can't let your players lose sight of who they represent.
"Everyone wants to talk about my intensity and my desire to get our teams to play hard. That's the way it should be. But I never get technical fouls -- only three in my career. My players don't get technical fouls. We're intense with each other. But we don't cross the line. We represent our university, the game of basketball and our sport. We represent something that is supposed to be an avenue to prevent people [from] acting like that and to teach people how to handle moments better than that. It's an unfortunate situation.''
Martin was an assistant under Bob Huggins when he was the head coach at Cincinnati. So he understands the intensity of the UC-XU rivalry.
"The two schools are so close [in proximity] and compete for the same social scene, but they have completely different student bodies,'' Martin said. "It's a rivalry that's deeper than the game. But there's no place for that. We have to preach to our guys to never cross the line and that toughness on the street is a different world than toughness in education.''
Martin said he wasn't surprised by the nastiness leading up to the game, but he also said that hiding behind a computer created some of the bitterness between the two schools that led up to the game.
"It's different than looking in someone's face and articulating that,'' Martin said of the Twitter banter. "Our youth today puts stuff out there that they wouldn't say in front of people. It creates unfortunate moments.''
Martin said that the officials failed to get control of the game Saturday by not issuing technical fouls for the trash-talking that was going on between players on the court and on the bench. Both coaches at Xavier and Cincinnati agree on this point, but Atlantic 10 coordinator of officials Reggie Greenwood said Monday that the officials were right in not calling any technical fouls for talking before the fight.
"If my players talk to the other bench, then I take them out of the game and they don't play again,'' Martin said. "I don't budge. Jamar Samuels got a T at Oklahoma State and didn't play, and [former player] Bill Walker got T at Nebraska, and he didn't play again. I have no room for that. I'm not trying to throw Chris Mack or Mick Cronin under. We all have to be on our own [players].''
Martin said that he feels for both coaches because what occurred last Saturday could happen to any coach -- even one who is as intense with his team and preaches controlled toughness the way Martin does.
"I fear being in that moment,'' Martin said. "I've been there [at Miami Senior HS], and it's not comfortable. It's an embarrassing situation. I feel for Mick. It's a difficult place to be in.
"But I don't blame the kids. The kids are only a product of what adults allow them to do,'' Martin said. "Those kids were in a difficult moment and didn't act the way we'd like. We have to, as adults, put our arms around them and teach them so that the next group does the right things and show why it happened and how it should not happen again.''
August, 24, 2011
08/24/11
2:33
PM ET
Saint Louis is in the midst of a Canadian tour, prepping to be the new challenger to Xavier in the Atlantic 10.
The Billikens will be just the latest team to take a turn trying to catch the Musketeers, who finished 15-1 and won another league title last season.
Temple has for the most part remained a consistent challenger. The Owls tied for the regular-season title in 2010 and finished just one game back last season. Richmond has had a recent run under Chris Mooney. Dayton, George Washington, Saint Joseph's and, at times, Duquesne and Rhode Island have flirted with reaching the top of the league.
But let's be honest: The A-10 has become Xavier's world, and everyone else is living in it for the foreseeable future.
"I wouldn't be surprised to see Xavier as a dark-horse Final Four team or even standing at the end," Saint Joseph's coach Phil Martelli said. "The program, the university seek domination. Some schools seek wins; others seek championships. They're seeking championships.
"They are also great front-runners. When they get out ahead of you, they want to crush you."
[+] Enlarge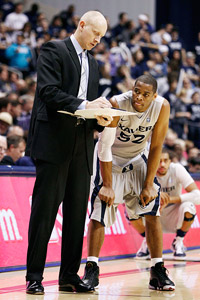 Frank Victores/US PresswireChris Mack and Tu Holloway will look to lead X to its sixth straight league title.
XU's domination of late has been quite remarkable and is akin to what Gonzaga has done in the West Coast Conference. Xavier has been in the NCAA tournament 10 of the past 11 seasons. The Musketeers have won or shared the league title five years in a row. Two years ago, in Chris Mack's first season after taking over for Sean Miller, the Musketeers reached the Sweet 16. They have made appearances in the Elite Eight.
And ticket sales, according to XU athletic director Mike Bobinski, are at 97 percent capacity with the Muskies drawing an average of 10,098 in an arena that seats 10,250.
"With the world around us, in order for us to stay relevant, we don't try to be good every three or four years," Bobinski said. "We try to be as good as we can be every year. We consciously talk about it."
Bobinski locked up Mack, an X alumnus, with a new seven-year deal after last season. Mack could have entertained serious attempts by Missouri, NC State and Tennessee but declined. Sean Miller, Thad Matta and the late Skip Prosser moved on to better-paying and higher-profile jobs at the time. But Mack stayed put, and the consistency will only help Xavier continue to be the team to chase in the A-10.
Martelli said the Musketeers have created a separation from the others in their ability to get nonconference home games, lining up schools like Georgia, Purdue and Vanderbilt for home-and-home series.
"Not too many A-10 teams can get those games," Martelli said, with Temple being one of the lone exceptions.
The return of Tu Holloway gives the Musketeers a star attraction at the point. Having big man Kenny Frease, Jeff Robinson, Mark Lyons and a healthy Brad Redford returning gives the Musketeers plenty of offensive options.
Saint Louis, with Kwamain Mitchell and Mike McCall leading the way, as well as a talented but young Temple team led by Juan Fernandez, are the two likely challengers to Xavier.
Richmond is now a perennial contender under Mooney, but the Spiders are rebuilding a bit after losing Kevin Anderson, Justin Harper and Dan Geriot off last season's Sweet 16 squad. Dayton has also been in the mix as well. The Flyers had a coaching change in the spring as Brian Gregory left for Georgia Tech and Archie Miller, a former assistant to his brother Sean Miller at Arizona, was hired to keep the Flyers in the mix. Dayton has the facilities, the support and the history to be a regular contender, but hasn't been a regular in the NCAA tournament like Xavier.
"Our league has to have more promotion," Rhode Island coach Jim Baron said. "I think this league has been as tough as it's ever been. Xavier has been above everyone else. The players really do develop. But there are some good coaches in this league. I see these Big East teams that win 17 or 18 games, and what's the difference? Our top to bottom deserves more credit. We've won 109 games in five years. There are a lot of teams that don't want to play you home and away."
Baron added in his former team and alma mater St. Bonaventure as a possible sleeper because of the return of seniors Andrew Nicholson and Michael Davenport, two consistent scorers for the Bonnies.
"It's the same old stuff; we all have to overachieve," Baron said. "But the perception should be that this is a helluva league with a lot of good coaches. We don't get the splash."
No one will until there is a consistent challenger to Xavier. Plenty of teams take turns and have significant runs in the conference and in the NCAA tournament. But maintaining that consistency has been the biggest chore.
"We've got a lead dog and a strong middle that's chasing," Martelli said of the conference. "You need universitywide commitment, you need creative scheduling, you need effective recruiting, and you need to catch a break and you need a player who can help get you there. Xavier has handled being the target. But we've had other good teams, and the challenge in our league is to promote a team, like Saint Louis that isn't in our time zone, as a postseason team."
Ultimately, Xavier has, as Martelli said, exceeded its ceiling nearly every season. The rest of the programs have to do so as well to keep up with the Musketeers.
July, 26, 2011
07/26/11
1:07
PM ET
LAKE BUENA VISTA, Fla. -- Wofford assistant coach Mark Prosser was a bit bleary-eyed Monday night, fresh off a red-eye flight from Las Vegas to Orlando, Fla.
He hustled straight to the Milk House on the ESPN Wide World of Sports campus for an AAU tournament and he stayed into the evening to watch a game before heading to the hotel to shut it down and take Tuesday off.
It just made sense for him to take a day off after the red eye, but it wasn't about just that. The decision to sit idle and reflect is much deeper than that.
It was on this day four years ago that his father, George Edward "Skip" Prosser, died of a heart attack at 56 years old. Skip had taken the red-eye flight from Vegas to Orlando like countless coaches did before him and coaches continue to do to get from one recruiting event to another. Prosser then flew home so he could speak at a Wake Forest basketball camp. He went for a jog in the Carolina heat then collapsed in his office.
"It's been four years,'' said Mark, as he sat in the stands watching a game Monday night in Orlando. "I'm off the road [Tuesday]. I won't be here. That will be good.''
[+] Enlarge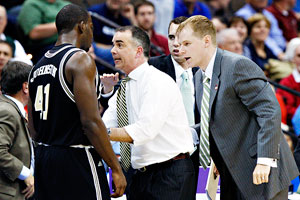 AP Photo/Steve HelberMark Prosser, right, is entering his fourth season as an assistant at Wofford.
Mark, then an assistant at Bucknell, was in a gym four years ago, when he received a phone call that his father had collapsed. He ran out of the building and headed immediately to catch a flight to North Carolina. Being in the gym that day was incredibly eerie. Seeing Mark sitting there then bolting was a haunting experience for those in the gym. The talk that day centered around Skip. When word spread throughout the gym of his death, it had a paralyzing effect on everyone there.
A year later, there was a memorial service on the Wake Forest court as those close to him spoke about what Skip meant to them.
Three years have passed since the unique church service on a basketball court. Yet, Skip's legacy is enriching and has been celebrated, not fading, in the years since his death.
There are awards named in his honor: The ACC's Skip Prosser Award to the top scholar-athlete (won by North Carolina's Tyler Zeller in 2011); the CollegeInsider.com Skip Prosser Man of the Year Award (won by Xavier's Chris Mack last spring); and the U.S. Merchant Marine Academy Alumni Association honors its fallen graduate with a Skip Prosser Achievement Award for honesty, integrity, dedication and determination to serve others.
"I miss being at these things with him,'' Mark said. "Obviously I'm happy I'm off the road [Tuesday]. It's not a sentimental thing. I just thought it made sense with the red eye coming right here. I just know my dad this week would have been so happy that the lockout ended and his Steelers are back playing. We would have talked about that.
"He would have loved the success the Pirates are having. It's been four years. And yet when I see other coaches, his friends like Ed DeChellis [now at Navy] they love telling me stories. That's what keeps everything in the forefront.''
Mark said his father would have done the red eye again. He doesn't think his dad would have changed one bit of his routine. He said he believes his father's heart attack was a cumulative effect and running in the Carolina heat didn't help him.
Yet, Skip's death still has had a tremendous effect on one of his mentees, Pat Kelsey, also a friend of Mark's. Kelsey, who played for Skip at Xavier, was on the Wake Forest staff and was on campus when Skip died. He stayed on in Winston-Salem with Dino Gaudio and Jeff Battle then went to work with another Skip Prosser pupil, Chris Mack, at Xavier. But Kelsey abruptly quit the business after this past season, saying he wanted to spend more time with his family. He mentioned Skip at the time of his decision.
Kelsey said in a statement on May 16: "For a long time I have struggled internally with this decision but I have decided to step away from college coaching at this time. Four years ago, I witnessed first-hand coach Skip Prosser's death in the basketball office at Wake Forest. That day, my perspective on the profession and life was forever altered. My role as a father and husband is everything to me and the rigors of this business can make that challenging. My family and my health comes first."
The younger Prosser said he wasn't expecting the decision.
"I was shocked when I heard that,'' Mark said. "I've talked to him. He seemed happy. I respect that. Pat is in great shape, so it's not a health thing. He wants to be around his family, his girls. I know that was a big motivating factor for him.''
Skip's legacy is important to Mark, and it has been celebrated even more in the years since his death.
"It's about doing things the right way, and what people remember most about him is that he was a normal guy,'' Mark said. "He worked his brains out. He enjoyed this on a day-to-day basis. He loved being here. He loved Vegas, Orlando and all this stuff. He wanted to go back to speaking at the camp. He went from a JV football coach in Wheeling, West Virginia, to being a head coach in the ACC. It was an unbelievable journey. He worked for it and was very fortunate to be around good people.''
Mark called his father a renaissance man who loved to travel overseas to Ireland, study history and read on the beach. He said his father originally just wanted to be a teacher.
Mark got married two years ago to Emily Criscione. Emily had a chance to meet Skip prior to his death. Six months ago the couple had their first child, a girl named Ava Grace.
"She has red hair and blue eyes like my father,'' Mark said. "She's so much fun. He would have enjoyed her. He wasn't the touchiest-feeliest kind of guy. But that would have been great for him. It would have been good to see. It's tough that she won't know him. I just know that Ava would have softened him up.''
Mark is cognizant of Ava Grace's early moments. Like most fathers, he doesn't want to miss anything significant.
"I don't want her first words to be 'Where's Daddy?' Oh, 'He's in Orlando or Vegas,''' he said.
Mark turns 33 this year. He's in his 10th year as an assistant coach and has worked at two successful lower-profile programs, coaching in four NCAA tournaments, working for Pat Flannery at Bucknell and now Mike Young at Wofford.
"I've had impeccable timing, working for two really good coaches,'' he said. "I can't believe it's 10 years as an assistant. It seems like it's been flying by.''
It has been four years since Skip Prosser died. That too seems hard to believe for his son.
"Four years,'' Mark said. "What do I miss most? I just miss talking to him on a daily basis.''
July, 20, 2011
07/20/11
12:40
PM ET
Quick hitters for this Wednesday afternoon:
• A high-level NCAA source said there will be discussion at the presidential level within the membership of closing the gap of full cost of attendance for student-athletes. That gap is estimated at $2,000 to $5,000 a year.
But the source said that's likely as far as any pay-for-play would go. He added that the full cost of attendance won't be universal, but rather along conference lines. If the Big Ten or SEC choose to do so, then it would once the legislation is cleared. But if the Ivy League or NEC decided against such a move, they wouldn't have to participate.
The other issue that could complicate things is the potential deficit reduction that could affect Pell Grants and other federal money. Those cost of attendance gaps have been aided by the addition of grants. The discussion at the presidential level will be the financial need of those who require assistance.
The source said the discussion has been strong and vibrant, but to assume that the movement is headed toward a true pay-for-play system would be naive. "It's not going there,'' said the source.
• Kentucky coach John Calipari said Tuesday night that Jon Hood may need to redshirt after suffering a torn ACL in a pickup game Monday. "We'll see how it goes,'' he said. "It's a possibility. It might help him.'' Calipari said that having Hood work out against the loaded incoming recruiting class will help him in the long run if he sits out this season.
• Vanderbilt coach Kevin Stallings said Festus Ezeli (knee) and Steve Tchiengang (ankle) had minor surgery and both are expected to be cleared to go full speed when school starts late next month.
• Iona is the preseason favorite to win the MAAC, and head coach Tim Cluess is doing what he can to strengthen the schedule. The Gaels are in the Puerto Rico Tip-Off (with Alabama, Purdue, Temple, Wichita State, Maryland and Colorado), will head to dangerous Marshall and possibly Arkansas, and will play Tulane at Madison Square Garden. The Gaels will also hit the road for games at William & Mary and Hofstra. The only "marquee" home game is Saint Joseph's. Iona, like a number of mid-major schools, has a hard time finding home games.
• According to Cluess, Iona won't know until the fall if Arizona transfer Momo Jones will be eligible to play this season. Cluess said the paperwork is in and Jones is attempting to become eligible immediately through a waiver because of an ill grandmother. Jones would potentially join Scott Machado and Michael Glover in what could be a seriously loaded MAAC team.
• Long Island University is the favorite to repeat as NEC champs yet coach Jim Ferry couldn't get a decent slate of games. The Blackbirds will play 11 of their first 12 games away from home with matchups at Hofstra, at Old Dominion and at Penn State, followed by neutral-site games against Radford then either Vermont or Marist, then at Iona, at home against Wagner in a league game, at Mount Saint Mary's, at Lafayette, at Columbia and at Norfolk State. This isn't a schedule that will get the Blackbirds an at-large berth obviously since the NEC never produces one. But it proves yet again how difficult it is for even quality teams at a lower-level to simply play at home prior to conference play.
• Xavier got great news when it learned that Vanderbilt transfer Andre Walker will be eligible immediately for his last season. Walker was a solid change of pace player for the Commodores in the 15 games he played for them last season. Walker will be a solid backup to Tu Holloway, if not a side partner. Holloway chose to bypass the World University Games team this summer heading off to China so he could focus on playing with his teammates and going to school.
July, 14, 2011
07/14/11
10:53
AM ET
No need to offer up scheduling excuses when Xavier athletic director Mike Bobinski takes over as the chair of the men's basketball selection committee in 2012-13.
If you want into the NCAA tournament as an at-large school that season, then you best take care of business in the offseason when it's time to handle the games you can control.
The selection committee has taken this stance for years -- scheduling and then winning those games, especially away from home, tend to be the most important aspect of Selection Sunday.
Former chair Tom O'Connor of George Mason certainly understood the need to schedule up. And UCLA athletic director Dan Guerrero had that mindset, too. And while outgoing chair Gene Smith (Ohio State AD) and incoming 2012 chair Jeff Hathaway (Connecticut AD) are on board as well, no AD has had to manage a schedule as well as Bobinski.
Xavier has always prided itself on managing its nonconference games as if they were prized possessions. The Musketeers aren't afraid to play games away from home in true road fashion or certainly on neutral courts.
"He understands what it takes to be an NCAA tournament team,'' Xavier coach Chris Mack said. "He has helped us build our schedule the last 10 years or so. We're also a basketball-only school. We don't get sidetracked. We're never on that football mission at our school. I don't think there is a better AD in the country. He'll do a tremendous job. I told him, 'Don't screw it up.' And he won't.''
This season, XU will play games at Memphis, Butler and Vanderbilt, three likely NCAA tournament teams and conference contenders. The Musketeers also play home games against Purdue, Georgia and rival Cincinnati and will participate in the Diamond Head Classic in Honolulu with possible postseason teams like Kansas State, Clemson, Long Beach State and UTEP.
"There's no question that since I've been on the committee the last three years we've seen what's important, to see how teams test each other with different competition around the country,'' said the 53-year-old Bobinski. "We've tried to follow that model. That's the way we're evaluating team A vs. B.''
Of course the argument from some of the power-six schools is that they have a tough conference slate to get through. And while that's true, ignoring the games that they can schedule is simply playing ignorant to the process. Ask last season's teams from Alabama or Colorado if nonconference scheduling matters. Both played well in their respective conferences but really had nothing to show in the nonconference portion of their schedules.
"It makes it clearly more challenging to overcome a decidedly poor nonconference schedule,'' Bobinski said. "The reality is that you have to be an exception the rest of the time or you put yourself in great risk and it becomes a much more tenuous situation in order to get into the field.''
Bobinski is just one vote out of 10, but he will be the spokesperson for the committee and can certainly be influential in 2013. He also will come at a time when the committee needs him most. Like it or not, Smith and Hathaway were tabbed to serve on the most important, influential and high-profile NCAA committee despite both of their athletic departments' highest-profile programs being investigated by the NCAA for rules violations.
Smith won't be on the committee when the hearing for OSU's football program occurs. Hathaway's timing has helped him since he wasn't the public figure of the committee during UConn's hearing. Each member of the committee has a five-year term.
"Jeff will do a terrific job,'' Bobinski said. "He's a bright guy and knows the game at a high level. I'll build on what he does this year.''
The committee met two weeks ago in Park City, Utah, and discussed tweaking the First Four just a tad after its inaugural run. The First Four concept was adopted once the field was expanded from 65 to 68 with two games between 16 seeds and two that involved the last four at-large teams in the bracket.
"The First Four was great and the validation couldn't have been stronger to get a team from the First Four to the Final Four,'' Bobinski said of VCU. "That may never happen again, but it happened in the first year.''
The scheduling criticism was valid, though, as Clemson beat UAB in the First Four in Dayton and then had to quickly turn around and play West Virginia in Tampa two days later in the noon ET television slot.
Bobinski said that won't happen next season.
"We will not put teams at a disadvantage as much as they were last year,'' Bobinski said. "So you will see some subtle changes. We've talked to our broadcast partners [CBS and Turner] and they said they will work with us. The second- and third-round sites are more favorable geographically, so the travel won't be as bad for those teams in advance, plus they'll work with us on the game time. We don't want to put Turner and CBS in a bad situation, but they understand it's difficult to put a team in an early game after a late game.''
The eight sites for 2012 are Pittsburgh, Louisville, Columbus, Nashville, Omaha, Greensboro, Portland and Albuquerque. So don't be surprised to see the four winners of the First Four games kept within the first four cities mentioned since all are more than manageable from Dayton. The regional sites this season are Boston, Phoenix, St. Louis and Atlanta, with the Final Four in New Orleans.
Bobinski said the setup of having Tuesday and Wednesday feature one at-large matchup and one 16 vs. 16 game each won't change since it worked well "ratings-wise'' for Turner.
"We'll stay the same way next year and evaluate it,'' Bobinski said.
February, 8, 2011
02/08/11
5:17
PM ET
Wisconsin coach Bo Ryan sat down with Bob Cousy recently to discuss the definition of a true point guard.
[+] Enlarge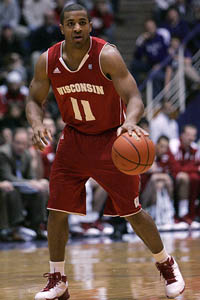 Tommy Giglio/US PresswireWisconsin's Jordan Taylor averages close to 18 points and dishes out almost 5 assists per game.
Ryan said Cousy laid out the essential qualities of the position: a player who sees the floor and makes his team better.
"Jordan Taylor is exactly what Cousy was talking about," Ryan said.
So, too, is Xavier's Tu Holloway. Yet, somehow neither Taylor nor Holloway made the list of 10 finalists for the award released Monday.
The finalists include some obvious choices like BYU's Jimmer Fredette, Connecticut's Kemba Walker, Kentucky's Brandon Knight, Villanova's Corey Fisher, Washington's Isaiah Thomas and even Duke's Nolan Smith, who is more of a shooting guard than point, but still can be on this list since Kyrie Irving has been sidelined with a toe injury. San Diego State's D.J. Gay merits inclusion on the list, too, with the Aztecs sitting with one loss so far this season.
Saint Mary's Mickey McConnell is a bit of a push since you could make the argument that Matthew Dellavedova handles the ball as well and has dished it out as much as McConnell (5.7 assists per game to McConnell's 6.3).
But Illinois' Demetri McCamey over Taylor? Illinois is 5-5 in the Big Ten, 15-8 overall, and McCamey is the epitome of inconsistency. His production in Illini losses (five assists and four turnovers in a loss at home to Ohio State; five turnovers and three assists in a three-point loss at Indiana) stands in stark contrast to his more impressive games (21 points, seven assists and two turnovers in a win over Wisconsin).
Taylor leads the nation in assist-to-turnover ratio at 3.88 (101 assists and 26 turnovers). He's turned the ball over only 43 times in 46 career Big Ten games. He's second in scoring in Big Ten play at 20.7 points a game and is averaging 35.5 minutes a game. And he is a tremendous defender, taking on McCamey, Michigan State's Kalin Lucas and Michigan's Darius Morris in key assignments.
But most importantly, Wisconsin is 7-3 in the Big Ten, 17-5 overall and ranked No. 14. No offense to Josh Gasser but it's not as if Taylor has an all-league player next to him on the perimeter. And Taylor has made life a lot easier for Jon Leuer and Keaton Nankivil.
[+] Enlarge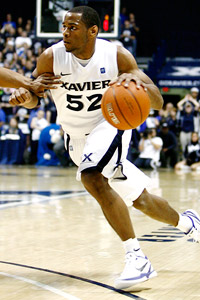 Icon SMIXavier's Holloway is a shoo-in for A-10 Player of the Year.
"He doesn't turn it over, he makes the extra pass and it's like a hockey assist, he makes the pass to the pass that gets the assist," Ryan said. "He's always thinking about one play ahead. I think Cousy was the same kind of guy, making that pass. He could always see the next pass, two passes ahead. And when teammates relish the time on the floor with somebody, I know the impact he's had on our team."
Taylor should be a first-team All-Big Ten selection. McCamey should not.
And Cleveland State's Norris Cole over Holloway? Cole is having an exceptional season with 20.3 points, 5.6 rebounds and 5.3 assists a game. But the Vikings are 21-5 overall, without a signature nonconference win, and tied for second place in the Horizon (10-4) behind Valparaiso.
Holloway leads the A-10 in scoring (20.8) and free throw percentage (86.6) and is second in assists (5.0). He plays 38.4 minutes a game and is handling a depleted roster. He has scored 20 or more points in 14 games and can drive to the hoop as well as pull up. Saint Louis went box-and-one on Holloway and he got 12 first-half points for Kenny Frease. He then adjusted to score 20 of his 24 points in the second half. He's one of four Division I players averaging 20 points and five assists.
Hofstra's Charles Jenkins isn't on the list for some reason, either, with his 23.2 points and 5.1 assists for the 9-4, 15-9 Pride. But Holloway has the Musketeers at 8-1 and tied with Duquesne atop the A-10 and 16-6 overall heading into Tuesday's game at Georgia.
"His numbers are better than half of the players listed," Xavier coach Chris Mack said. "Not sure of the exact criteria but it can't be based on his production."
Not sure, either, but Taylor, Holloway and of course Jenkins should have been listed as Cousy finalists.
November, 2, 2010
11/02/10
11:08
AM ET
As Xavier and Saint Louis prepare for their respective exhibition openers Tuesday night, both teams enter the season without two players each was counting on when the fall semester began.
[+] Enlarge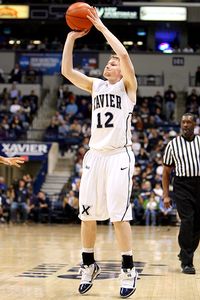 Jim Owens/Icon SMIXavier will miss Brad Redford's 3-point shooting. The junior guard will miss the entire season after suffering an ACL injury.
The Musketeers lost junior guard Brad Redford, their top 3-point shooter at 42.5 percent (48 3s) last season, to a season-ending ACL knee injury. Impact 6-foot-7 freshman Justin Martin was ruled academically ineligible for the year, although he still can practice.
Saint Louis suspended junior point guard Kwamain Mitchell (15.9 ppg, 3 apg) and junior forward Willie Reed (12.4 ppg, 7.9 rpg) for an alleged sexual assault of a female student in May, according to the St. Louis Post-Dispatch. The school wouldn't comment beyond saying they were not enrolled in school and wouldn't divulge any more information because of privacy concerns. The Post-Dispatch reported that a one-year ban from school was recommended, but through an appeal it was dropped to one semester. Reed is expected to transfer to Kansas State, while Mitchell probably will return in January at the end of his suspension.
Xavier can recover enough to compete for the Atlantic 10 title with Temple, Dayton and Richmond. Saint Louis likely cannot.
"We'll be thinner in the backcourt, but it's not going to change a lot of what we do," said second-year Xavier coach Chris Mack, whose Musketeers went 26-9 in his first season and reached the Sweet 16 before falling to Kansas State in a thrilling contest in Salt Lake City. "We have to watch beating up our perimeter players. We need to be playing our best basketball at the end of the year, so we have to monitor our minutes."
The Musketeers still have plenty of experience in 6-foot junior guard Tu Holloway, 6-5 senior guard Dante Jackson and 6-1 sophomore guard Mark Lyons. Losing Redford, whom Mack called the best shooter in the country, means they won't get that scoring pop off the bench. Seeing Martin in practice gives Mack a taste of what could have been. He was "the furthest along of any of the freshmen, but that's now irrelevant for this season. [Martin] has a great IQ for the game and can certainly shoot the ball. He has size on the wing and gave us more versatility. We're smaller in the backcourt without Justin."
SLU was a trendy pick to compete for an A-10 title after a strong finish last season at 11-5, 23-13 overall in what was Rick Majerus' best record in his three years at the school. Getting Mitchell back in time for the A-10 schedule is important because the alternative is starting a freshman at the point with either Jordair Jett or Mike McCall in contention. Losing Reed for the season means the Billikens lose their top frontcourt player, which means 6-11 freshman Rob Loe from New Zealand may start.
"We were a good team, but it's hard to lose two all-league players," Majerus said. "You can't go all young. But we've got to deal with it. We might be the youngest team in the country two years in a row. We won't have a senior. We'll have two juniors, playing four freshmen, possibly starting one or two freshmen."
The Billikens should get even more production out of 6-8 Australian sophomore Cody Ellis, who wasn't eligible until midseason because of an SAT score. Ellis finished as a significant contributor with 10.5 points and 4.9 rebounds a game. Majerus is banking on sophomore Cory Remekun to be a major contributor, too. He ended last season with 13 points and seven boards against VCU.
"We've got nine scholarship players, and the first thing we can't do is wear them out," Majerus said. "We've got to bring along the freshmen, though, and I'll use one walk-on. We'll be very, very young. But I really like these guys."
Majerus is confident that the Billikens will show even more improvement in 2011-12. Getting through this season now could be a chore with a tougher schedule than he wanted for a team that he originally thought could compete for the A-10 title.
[+] Enlarge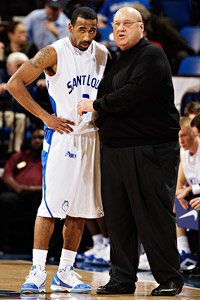 AP Photo/Jeff RobersonSaint Louis coach Rick Majerus will likely be without Kwamain Mitchell until January.
The Billikens will host surging Georgia on Nov. 20 and play at No. 1 Duke on Dec. 11. Going to Portland on Nov. 30 before the Duke game will be a challenge. Missouri State, which is expected to challenge Wichita State in the Missouri Valley, will host SLU on Dec. 18. And then the Billikens will go to Cancun for the Governor's Cup tournament, in which a top-three C-USA team in Southern Miss could await them as well as Ole Miss.
"I wanted to play a terrific schedule," Majerus said. "I tried to play Michigan State in a buy game, but they wouldn't play us. I took the Duke game because it was a good game. Next year we'll have everyone back, and we'll probably go on a foreign trip to Australia or New Zealand prior to the season."
Majerus will still coach this team up and make the Billikens a tough out, even with limited numbers. Expect the games to be low-scoring, with points hard to come by against a stingy defense that held opponents to 60.2 points per game last season -- a trademark of a Majerus-coached team. (SLU gave up the fewest 3s in the league with 138.)
Xavier's schedule is even more daunting, as one would expect. Mack said it helps that athletic director Mike Bobinski is on the NCAA tournament selection committee. He won't stand for a soft slate. The Musketeers will be in the Paradise Jam in St. Thomas (Nov. 19-22), in which after playing Big Ten bottom-feeder Iowa, the Musketeers will meet possible NCAA tournament teams in Alabama or Seton Hall. On the other side of the bracket, there are conference favorites such as Long Beach State (Big West), Old Dominion (CAA) and Clemson, a regular in the ACC's upper tier even if the Tigers are going through a transition under new coach Brad Brownell.
Facing Wofford, which won the Southern Conference last season, at home on Nov. 27 won't be an easy out. They'll travel on Dec. 1 to rival Miami (Ohio), and that's never an easy trip. Playing Butler (Dec. 9), the Horizon League favorite, facing Wake Forest (Dec. 18), which still has quality guard play, going to WCC favorite Gonzaga (Dec. 22) and then hosting SEC favorite Florida on New Year's Eve makes this schedule one of Xavier's toughest. The annual rivalry game against Cincinnati (Jan. 6) is on the road this season, and for good measure, the X slipped in a road game at Georgia on Feb. 8 in the middle of the A-10 season.
Holloway has been the leader in practice, which is what Mack expected. Junior forward Jamel McLean's development in the post has been a huge plus as well. Mack said that the game has slowed down for McLean and that he has played with poise in practice. "He's a brick house, a real strong player and hopefully he'll be consistent, because we need him," Mack said.
Losing Martin and Redford didn't lower the expectations one bit at the X. The Musketeers still plan on playing for the A-10 title, an NCAA tournament bid and a deep NCAA tourney run. Losing Jordan Crawford off last season's team was going to hurt regardless. But the mood of this squad doesn't seem to dampen under the highly energetic Mack.
"A huge part of who we are is that we're willing to play [anyone]," Mack said. "If you have only one or two opportunities against power-conference teams, then it's a lot of pressure on the kids. For us, we want to challenge them. We don't want to be foolish, but we need to play those games to get ready for the A-10 and for them to be talking about Xavier in that room in March."