Category archive:

Marshall Thundering Herd
October, 24, 2012
10/24/12
6:30
PM ET
DeAndre Kane
was done with basketball. His mind was mush. His heart crushed. He just wanted to go home.
At least once every other day Kane would talk to his father, Calvin, about basketball, his shot, his game and how he had to lead Marshall.
And then, without notice, he was gone.
The cruelty of a brain aneurysm for those who have lost a loved one to this sudden death is that there's no chance to say goodbye, to reflect, to simply prepare for the grieving process.
Calvin died a week before he would have turned 50 years old in February.
"I didn't want to play basketball no more," Kane said. "I was done. I wanted to stay home, try to get a job. I was close to my dad. It hurt me a lot, still hurts me. I've got a tattoo on my arm now. I think about him every day."
Kane still managed to go with the Herd to a game at Central Florida. He said he went because he needed to be with his friends on the team. He then headed home to Pittsburgh for the funeral and missed the East Carolina game. He thought about not returning. But his uncle and mother convinced him to return, saying that his father would want him to play.
"I had just talked to him two days before he passed," Kane said. "He was supposed to come here during the summer and work with me on my jump shot. I was shooting so bad from the 3-point line that we were going to work on it all summer.
"We talked every day; if not every day, then every other day on the phone," said Kane, who has five siblings. "They say he's in a better place. But it still hurts and it's hard to get over it. It's only been five months. He's still right there with me every day. I'm still fighting it."
Kane approached Marshall coach Tom Herrion about a number change. He wanted 50 instead of the 24 that was on his jersey as an all-Conference USA guard last season as a sophomore, averaging 16.5 points, 5.4 rebounds and 3.4 assists.
He chose 50 because that's how old his father would have been a week later.
"It was so tragic," Herrion said. "They were really, really close. He's trying to be motivated by it, trying to turn the page."
Kane came out of a hard-working Pittsburgh neighborhood and played with former Panthers star and NBA forward DeJuan Blair. Herrion was an assistant on the Panthers when Blair was coming out of high school. But Kane had to go to Patterson Prep in Lenoir, N.C., and even then wasn't eligible out of high school. He sat out as a freshman but then as a redshirt sophomore -- but a first-year player -- was the CUSA Freshman of the Year. He was a first-team All-CUSA player last season in leading the Herd to their first NIT appearance since 1988. He enters the season with the most points of any junior in college basketball except for Creighton's Doug McDermott.
Kane can be a star this season amid a plethora of players outside the power six conferences who could make up a legitimate first- or second-team all-American list.
But he has to somehow focus on his tasks. He has had anger issues on the court, leading the country in technical fouls the past two seasons with seven each, according to statsheet.com.
"I don't think I'll do that this year," Kane said.
Could he be like Damian Lillard of Weber State, leading a team to a conference regular-season title, even over a high-profile team like Memphis and then getting drafted?
"I think I can fall into that category," Kane said. "I'm coachable and I play hard."
Herrion said to take that next step Kane has to become a great leader.
"The game comes easy to him," Herrion said. "He's such a physical player. He's a big guard at 6-4, 205-210 pounds. He's got really good instincts and feel for the game. As much as he scored for us, he's a willing passer and he can defend very well. He's one of the best defenders."
But even Lillard didn't reach the NCAA tournament, losing in the Big Sky tournament. Kane has help with the return of Dennis Tinnon. And the Herd have chances like playing West Virginia and Cincinnati in Charleston, W.Va., and at Kentucky. But this still a team that finished 9-7 in CUSA last season and, as Herrion said, that simply wasn't good enough.
The Herd haven't been to the NCAA tournament since 1987.
"There were a lot of things that went on in the locker room with different players that hurt us last year, and going 9-7 was unacceptable," Kane said. "We lost games we shouldn't have lost like East Carolina, UAB and losing three times to Memphis. Guys were satisfied with losing and losing didn't hurt as much."
Kane said Marshall is more athletic and the team's length should equate to a more productive defensive effort.
"We definitely want to beat Memphis after they beat us bad in the conference championship game," Kane said. "We were tired and banged up and had played two games and they blew us out in their gym. To beat them before they leave [for the Big East] would be great for our fans."
Can Marshall pull a Southern Miss from last season and get a second bid out of CUSA , assuming Memphis gets the other?
"I want us to be us," Herrion said. "We took big steps last year, had a low RPI in the 40s and a top-five nonconference schedule. But 9-7 didn't get it done in the regular season. We've got to continue to schedule aggressively. To go this long without an NCAA tournament is a long time with all the great coaches and players who have come through here."
Kane says he wants to end the streak. He wasn't so sure last winter if he should even be thinking of such things after his father's death. But he did return and averaged 22 points in the CUSA tournament.
"I came back and dedicated it to him," Kane said. "I focused to get this done. This was his dream. He wanted me to get to the NBA more than I did. I want to succeed his dream and wear number 50 for him."
November, 10, 2011
11/10/11
6:51
PM ET
The elite powers have resurfaced at the top of the Top 25 and across the high-major conferences.
A few schools, like Xavier, Gonzaga and Memphis, as well as newcomers Baylor, Marquette and Vanderbilt are expected to challenge with deep NCAA tournament runs and possible Final Four berths.
But what about the programs that missed the NCAA tournament a season ago? The ones that appear destined to rise this season?
A run to New Orleans might not be prudent to predict. But then again, no one had VCU headed to Houston last April. But even the Rams didn't have a consistent regular season. VCU squeaked into the field and then enjoyed a magnificent postseason run. Connecticut, another team that had been nearly as erratic, albeit against superior competition, won the national title.
Below are 10 programs headed for breakout seasons. If they fall flat, they may have no one to blame but themselves. The talent is in place. The landscape is open. And the opportunity exists for any team in this group to make the bracket its own for a weekend or two in March.
Oklahoma State: The Cowboys are picked to finish in the middle of the pack in the Big 12 -- and with good reason. Baylor, Texas A&M, Kansas and Missouri should all be deemed favorites. Texas arguably could finish higher than the Cowboys. But Oklahoma State has one of the top freshmen in the country who few discuss outside of the region in LeBryan Nash. He could be a star by midseason. Oklahoma State coach Travis Ford has assembled a cast that is more apt to run this season and cause havoc the way he's envisioned. The Cowboys have a loaded schedule after picking up a challenging game versus Pitt at Madison Square Garden on Dec. 10. Oklahoma State may still finish as low as fifth or sixth in the Big 12. But if they get into the NCAA field, consider the Cowboys a potential breakthrough team with an ability to cause problems in March.
Marshall: Memphis is the clear favorite in Conference USA. But the Thundering Herd have two guards -- DeAndre Kane and Damier Pitts -- who can match up with any of the players on the Tigers. Marshall has plenty to prove to be worthy of a team that should be taken seriously. There are a number of nonconference games -- Belmont, Iona, West Virginia and Cincinnati -- that will show if Marshall is worthy of significant hype. And of course the Herd must make Huntington a tough place to play and be consistent to nudge at Memphis throughout the winter. If Marshall does that, you'll take the Herd seriously in March.
Harvard: The Crimson are the pick to win the Ivy. They technically won a share of the regular-season title with Princeton last season. But Harvard lost the playoff game against the Tigers on a buzzer-beater and then got blasted at Oklahoma State in the NIT. Harvard is finally ready to be the Ivy leader from the season's start to its finish. Coach Tommy Amaker has the core of his team returning, and Harvard can compete with most teams in the country. Keith Wright is a legit All-America candidate. Kyle Casey, Brandyn Curry, Christian Webster and Oliver McNally are all experienced. The Crimson can make a name for themselves with a win at Connecticut on Dec. 8, easily the most recognizable game on the schedule. But if not, don't fade on Harvard during the winter. This team will be relevant in March and a trendy first-weekend upset pick.
Detroit: Slaying Butler in the Horizon League has been like the search for the Holy Grail for conference opponents. Milwaukee thought it had the Bulldogs beaten when it hosted the conference tournament title game, only to lose. Detroit has the personnel to dethrone Butler, even with Eli Holman's status in doubt. The majority of coaches in the league tab the Titans as the team to beat and the most talented with Ray McCallum Jr., Chase Simon, Nick Minnerath and Doug Anderson. Members of the Valparaiso staff said last week that the Titans look like a formidable Big Ten team when they step on the court. Detroit has the opportunity to make the NCAAs with a solid schedule. Get there, and the Titans will be a hard out.
Creighton: Greg McDermott was no fool when he left Iowa State on his own terms and seized the Bluejays' job once Dana Altman went to Oregon last year. McDermott had been in the Missouri Valley at Northern Iowa and seen the success and potential of arguably the top job in the conference. The Bluejays have a number of hidden gems who are flying under the national radar in Doug McDermott, Greg Echenique and Antoine Young. The problem for Creighton is that the schedule could have been stronger. It may need to have a significant run during the Valley tournament, which won't be easy at all due to the strength of Wichita State and Indiana State, to ensure a bid. But once they're in, the Bluejays have the personnel in the right positions to be a serious pest.
New Mexico: Coach Steve Alford is going through a bit of a renaissance in Albuquerque. The Lobos had a big-time run two seasons ago but then took a dip last season. The ability to bounce back quickly will be on display in 2011-12. Alford has found the right mix of four-year transfers (Drew Gordon and Demetrius Walker), hidden gems out of high school (Kendall Williams and A.J. Hardeman) and an international sharp shooter (Australia's Hugh Greenwood) to put together a conference champ. The Lobos will have to manage the nonconference well and get past UNLV, but this team has the ability to be a second-weekend squad in the tournament.
Saint Louis: Rick Majerus had a horrendous personal year with the death of his mother and multiple injuries and illnesses. He's also had to deal with the suspensions of his two best players. But he seems energized this fall and has a team that is committed to making serious strides in the A-10. Kwamain Mitchell is back after a suspension. He joins Mike McCall and Kyle Cassity as the core of this team. Majerus put together a challenging slate of nonconference games, giving the Billikens ample tests to see if they're worthy of the praise. Xavier and Temple are the standards in the A-10. St. Bonaventure is a legitimate upstart with perhaps the best all-around player in the league in Andrew Nicholson. But Saint Louis should a formidable team, poised to get Majerus back to the NCAA tournament.
Virginia: The plan at Washington State was to get players out of high schools and take chances, in hopes they develop and reach their potential. The Cougars did, and Tony Bennett got them to the NCAA tournament. Wazzu's program isn't close to Virginia's. The Cavs have more resources, finances and access to players. Still, Bennett hasn't deviated from his plan. And now that Mike Scott is healthy inside, Bennett has a team that gets him, his style and his commitment to defense. The Cavs should be able to score and close games, rather than sit on the doorstep, unable to get significant wins. The timing is perfect for Virginia, too. The ACC is in a rebuilding mode outside of North Carolina, Duke and to some extent Florida State. The rest of the league is in flux, giving Virginia ample chances for wins and to establish itself as a top-four team en route to the NCAAs.
Oregon: The Ducks have the Nike resources, the state-of-the-art everything and have been consistently recruiting talented players to the Northwest from urban centers in the Midwest -- regardless of the coach. Dana Altman also fully understood the need to infuse a few transfers, one is a risk in Wake Forest's Tony Woods, and another is a lock for success in Louisiana Tech graduate Olu Ashaolu. The infusion of newcomer Jabari Brown, who was a hit on a summer trip to Italy, is a game-changer for the Ducks. Altman said Brown still needs to be consistent, but who doesn't at this stage in the season? Oregon has a challenging schedule, which includes opening at Vanderbilt, so be patient with the Ducks. In a Pac-12 where there is no clear favorite (not Cal, UCLA, Washington or Arizona), the opportunity is there for Oregon to surprise. The Ducks won the CBI tournament over Altman's old team, Creighton. The natural next step will be the NCAAs.
Long Beach State: Dan Monson has had a long road back to the point where he feels comfortable in the game. He left Gonzaga to try to rebuild Minnesota after NCAA violations. He wasn't able to turn that program around on a consistent basis. Now he's done that at Long Beach State. The 49ers were atop the Big West last season but didn't win the conference tournament. Long Beach will have to fend off Orlando Johnson and UC Santa Barbara again, but with Casper Ware and Larry Anderson, the 49ers should prevail. Long Beach has a monster nonconference schedule that could set up an at-large berth if it falls short in the Big West tourney. Long Beach will have the talent to win a game in March.
October, 10, 2011
10/10/11
4:04
PM ET
Memphis will be ranked somewhere in the top 15, possibly in the top 10.
Marshall won't be in the top 25. The Thundering Herd probably won't be even close to the top 30.
Is the difference that wide between the projected top two teams in Conference USA?
"I think Marshall is really, really good. I think Marshall could easily win the conference and are worthy of [being] a top 25 team,'' Memphis coach Josh Pastner said. "Just look at [its] roster. I wouldn't be surprised if the rest of the league picked them as the favorite to win the league title. The perception on Marshall hasn't caught up to the reality.''
This is called spin. This is called deflection. Or is it? Could Marshall really be a serious challenger to Memphis with the Tigers' loaded roster of Tarik Black, Joe Jackson, Will Barton and Wesley Witherspoon, and the addition of Adonis Thomas?
Marshall does return its top scorers in Damier Pitts and DeAndre Kane, but the Herd may not have the depth.
One Conference USA coach was quick to point out that Marshall is getting an awful lot of publicity for a team that hasn't even made it to the conference championship game.
"Marshall is really strong in the backcourt and [it] can match Memphis in the backcourt, and that alone is a big statement,'' Tulsa coach Doug Wojcik said. "But I still say Tarik Black isn't getting enough credit. To me Memphis has the better combination of inside and out, and no one has someone like Wesley Witherspoon.''
The Herd finished 9-7 in the league last season (22-12 overall) and were tied for fifth with Southern Miss -- another team which is supposed to be a challenger, according to its coach, Larry Eustachy.
Marshall coach Tom Herrion playfully said that Kane should have been on my Wooden Award snub list. He wasn't. Maybe he should have been.
"He had great numbers last year,'' Herrion said of Kane (15.2 ppg, 5.5 rpg and 3.4 apg). "We're perceived to be a better team than last year. We had the rookie of the year last year and with what we have coming back we're not going to be worse. We're only going to get better.''
Herrion said he's not grandstanding about the Herd's potential. Marshall split the two games with Memphis last season, with each team winning its game at home. But Herrion is not going to dismiss the obvious: This Herd team hasn't won anything substantial so far.
"We haven't done anything yet,'' Herrion said. "I feel good about our personnel, and it's nice that other coaches in the league think our team is good, but we haven't proven anything yet.''
The Herd have had a relatively quiet summer, save for the addition of former Miami assistant Jorge Fernandez. Former Miami booster Nevin Shapiro said in a Yahoo! Sports report that he witnessed Fernandez having impermissible contact with Miami football players in 2008 and entertaining then-AAU coach Moe Hicks (now on St. John's staff). Herrion said Fernandez talked to the NCAA enforcement staff, but he was given no indication that Fernandez would be in any trouble.
"It won't be a distraction at all,'' Herrion said.
A new assistant can't be trouble at any time, let alone with a team that is poised for a breakout season. Herrion has scheduled as if he is confident this team will be a threat.
Marshall is playing at a top-25 team in Cincinnati, at Big East tri-favorite Syracuse and the annual series against West Virginia in Charleston, W.Va. But Herrion found three games versus teams that don't get the publicity, and they should be just as tough as playing any other contender in C-USA, save Memphis. The Herd will have a home-and-home series with Belmont and a home game against MAAC co-favorite Iona.
Herrion, who had an 80-38 record at College of Charleston in his only other head-coaching stint, has Marshall in line to be a contender just as quickly as he did when he was in the Southern Conference. The difference, of course, is that there was never a team in the SoCon quite like Memphis. "I feel much better in Year 2 here,'' Herrion said. "We've got a very good foundation on how to build this thing. We've got a much more experienced staff here.''
The experience up front isn't the same as it is in the backcourt. And that will be the difference against the higher-level teams. If Herrion can play to the perimeter strengths, he has a chance to have sustained success this season. But the Herd will know early and often if they are contenders or pretenders.
Doing well in C-USA won't be enough to warrant an NCAA at-large berth. They have to do something significant with this nonconference slate -- like win a few of the key games -- or at least one against one of the three Big East teams.
"I know we scheduled aggressively,'' Herrion said. "Now we have to go out and win games. We've got great opportunities and have a tremendous challenge. We're playing three Big East teams but none are in our building.
As for Pastner, he won't quit on his pumping of the Herd.
"People just don't give them credit,'' he said. "Marshall could compete in the top three or four in a number of leagues. Marshall is totally underrated nationally.''
OK, well let's see if that's the case. The onus is on the Herd now to prove it, and not just to their fan base and to Herrion for putting together the schedule. Marshall needs to back up Pastner's claim that it can be a legitimate top-25 squad this season.
We'll find out soon enough.
October, 3, 2011
10/03/11
6:17
PM ET
At this time last year, Ben Hansbrough's name didn't appear on the Wooden Award preseason watch list.
Five months later, he edged out Connecticut's Kemba Walker for Big East Player of the Year.
Using that as a backdrop, let's remember that the list of 50 Wooden nominees is flawed, much like any of the award lists. The Wooden Award does not allow its voters to nominate any freshmen or transfers (either four-year or junior college) on their ballots.
And with college basketball as loaded with talent as any year since 2007-08, narrowing it down to 50 is not easy. So below I've attempted to come up with the names that didn't make it, either as "just missed the cut" omissions or just because they're freshmen or transfers. These guys aren't on the list (which can be found here), but might show up when it's updated during the season.
This group is by no means definitive, either. There's no telling who else might emerge nationally as the games get under way.
Let's take a look …
The omissions (in alphabetical order):
Julian Boyd, Long Island: The Blackbirds are the favorite again in the Northeast Conference and the main reason is because Boyd is back and ready to dominate the stat sheet.
D.J. Cooper, Ohio: The diminutive point guard does a little bit of everything; he averaged 15.8 ppg, 7.5 apg and 5.0 rpg for the Bobcats last season.
[+] Enlarge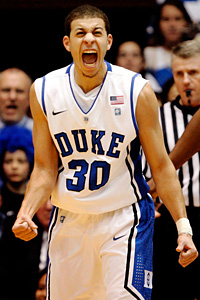 Streeter Lecka/Getty ImagesSeth Curry hasn't done enough to warrant a mention on a preseason watch list, but he might end up being a Wooden addition.
Jared Cunningham, Oregon State: Cunningham has some of the best hops in the sport and a chance to be a Pac-12 star, allowing the Beavers to finally move up in the standings this season.
Seth Curry, Duke: Curry was a standout shooter for the Blue Devils on their trip to China and could be one of the top scorers on the team.
Brandon Davies, BYU: Davies was recently reinstated to the Cougars, and the offense is expected to flow through him inside and out as BYU mounts a campaign to win the WCC in its first year in the league.
Matthew Dellavedova, Saint Mary's: SMC coach Randy Bennett envisions this as one of the best teams he's ever had, but a lot of that will have to do with whether Dellavedova can shoot like Mickey McConnell did last season.
Greg Echenique, Creighton: Echenique was a rebounding force for Venezuela this summer and should do even more for the Bluejays with a full season to work with.
TyShwan Edmondson, Austin Peay: The Governors should be the favorite in the Ohio Valley with a legit scorer like Edmondson, who has a strong man, Will Triggs, to take pressure off him.
Kyle Fogg, Arizona: Fogg is next in line to assume a leadership position for the Wildcats, who are in a position to compete for Pac-12 titles for years to come.
Kevin Foster, Santa Clara: As a sophomore, Foster sort of came out of nowhere to average 20.2 ppg and become one of the nation's top 3-point shooters.
Chris Gaston, Fordham: The Rams aren't any good, but the nation's leading returning rebounder (11.3 rpg) at least deserves a shout-out in this space.
Yancy Gates, Cincinnati: UC coach Mick Cronin said he'd be surprised if Gates wasn't one of the 10 names on the Big East preseason first team.
Malcolm Grant, Miami (Fla.): The Hurricanes have to play most of the season without big man Reggie Johnson, so Grant will have more opportunities to shine.
Rob Jones, Saint Mary's: Jones could be a double-double regular for the Gaels, and for Saint Mary's to win the WCC, Jones will have to be a star.
Doron Lamb, Kentucky: John Calipari says Lamb will be the Wildcats' best player. Just Coach Cal mind games, or the truth?
Meyers Leonard, Illinois: Leonard didn't contribute a whole lot as a freshman, but he was a hidden gem on the U.S. U-19 team in Latvia this summer. The Illini are expecting big things out of him.
C.J. McCollum, Lehigh: McCollum is the nation's leading returning scorer (21.8 ppg) and is in the top five in steals (2.5 spg). Oh, and he did that as a freshman. What more do you need to know?
Cameron Moore, UAB: The Blazers have been consistently good under Mike Davis and have had unheralded C-USA stars. Moore is the latest.
Toure' Murry, Wichita State: If the Shockers win the Missouri Valley over Creighton, a lot of the credit will end up going to the veteran Murry.
[+] Enlarge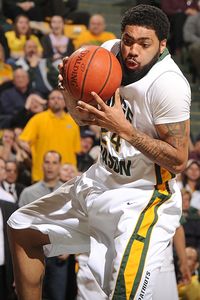 Rafael Suanes/US PresswireRyan Pearson looks to lead Mason to another run to the NCAAs.
Brandon Paul, Illinois: Illini coach Bruce Weber was a bit surprised Paul didn't crack the top 50 on the Wooden list, given his overall importance to this team.
Ryan Pearson, George Mason: The Patriots are a trendy pick for the Top 25 and a lot of that has to do with the versatility of Pearson.
Damier Pitts, Marshall: The Thundering Herd are a real sleeper to gain an NCAA tourney berth out of Conference USA in large part because of Pitts.
Herb Pope, Seton Hall: Pope has come back from multiple life-threatening situations and has a real shot as a senior to put it all together and finally shine.
Terrence Ross, Washington: The Huskies can't be dismissed as a major player for the Pac-12 title, and if they win it, Ross will be a significant reason why.
Robert Sacre, Gonzaga: Sacre has matured into a solid post player, and that progress shows no signs of stopping as the Zags once again compete for the West Coast title.
Mike Scott, Virginia: If the sleeper Cavs mount a run to the NCAA tournament, the oft-injured Scott will be the reason why.
Renardo Sidney, Mississippi State: If Sidney is in shape and plays up to his potential, he has SEC Player of the Year potential and could be the difference between the Bulldogs making the NCAAs or NIT.
Andrew Smith, Butler: The Bulldogs will have fewer stars this season, but Smith has a chance to outshine Khyle Marshall and newcomer Roosevelt Jones with his scoring prowess in the post.
Chace Stanback, UNLV: Stanback's suspension to start the season is only one game, so that won't diminish his ability to lead the Rebels in their hunt for a Mountain West title.
Raymond Taylor, Florida Atlantic: FAU quietly won the Sun Belt East Division last season and Mike Jarvis' diminutive point guard was the catalyst behind the regular-season championship.
Hollis Thompson, Georgetown: If the Hoyas are to make the NCAA tournament again and be a pest in the upper half of the Big East, then Thompson needs a breakout season.
Kyle Weems, Missouri State: Doug McDermott is the one everyone is talking about in the Valley, but let's not forget that Weems is the reigning MVC Player of the Year. Too bad for the Bears he's their only returning starter.
Kendall Williams, New Mexico: The sophomore guard was the leading scorer in four postseason NIT games for the Lobos and should only get better with the addition of Australian Hugh Greenwood.
The transfers
Dewayne Dedmon, USC: Trojans coach Kevin O'Neill firmly believes this JC transfer is an NBA talent who could dominate the post and average a double-double for SC.
Arnett Moultrie, Mississippi State: The former UTEP big man is ready to have a bust-out season for a team that has serious bounce-back potential after a disappointing 2010-11 campaign.
Mike Rosario, Florida: The former Rutgers scoring guard finally has plenty of support around him and will put up numbers for a winner.
Rakim Sanders, Fairfield: The Boston College transfer should flourish after dropping down a level, and he should get coach Sydney Johnson another trip to the NCAA tourney. Johnson is beginning his first year at Fairfield after leading Princeton to the 2011 tourney.
Royce White, Iowa State: White is finally ready to be a star on the college scene after multiple transgressions at Minnesota.
Brandon Wood, Michigan State: The Spartans picked up a rare senior transfer (taking advantage of the graduate transfer rule) from Valparaiso who could be one of the best shooters in the Big Ten.
Tony Woods, Oregon: The embattled Woods arrived from Wake Forest after legal issues and has a chance to really shine as a double-double player for the first time in his career.
The freshmen
Bradley Beal, Florida: Beal has a chance to be a productive player in a frontcourt that has a vacuum after multiple seniors departed.
Gary Bell Jr., Gonzaga: Coach Mark Few has been anticipating Bell's arrival for over a year now. He's expected to step in and deliver right away.
Wayne Blackshear, Louisville: The Cardinals fancy themselves a Big East title contender, and that's partly because they consider Blackshear a star in the making.
Jabari Brown, Oregon: Brown was the star of the Ducks' trip to Italy with his scoring prowess, and expect that to continue in the Pac-12.
Jahii Carson, Arizona State: There is some question right now as to Carson's eligibility, but if he's good to go, the Sun Devils might become relevant in the Pac-12 again.
[+] Enlarge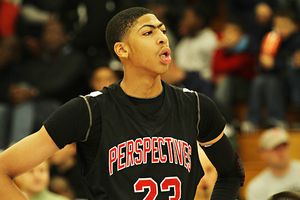 Brendan NolanThere seems to be little doubt that freshman Anthony Davis will have a major impact for UK.
Erik Copes, George Mason: Copes was bound for George Washington before Karl Hobbs was fired; now he'll be a headline performer for the Patriots and first-year coach Paul Hewitt.
Anthony Davis, Kentucky: Davis has a chance to be the SEC Player of the Year and the No. 1 pick in the NBA draft, so expect him to be on the midseason list when freshmen are allowed.
Andre Drummond, Connecticut: He will be an immediate star and help lift the Huskies into the national title chase again. He's more than likely a future top-five pick in the NBA.
Myck Kabongo, Texas: Coach Rick Barnes has had quite a bit of success with big-time freshmen guards, and Kabongo is next in line.
Michael Kidd-Gilchrist, Kentucky: Gilchrist will be another star on what will be a headline team throughout the season.
Johnny O'Bryant, LSU: Coach Trent Johnson needs the Tigers to start trending upward again, and he has a shot with the arrival of the big man from Mississippi.
LeBryan Nash, Oklahoma State: OSU is a bit of a mystery team in the Big 12, but the All-American from Dallas could push the Cowboys into contention.
Austin Rivers, Duke: Rivers will have the ball in his hands quite a bit and appears to be the next Duke star in a lengthy list of recognizable names.
Josiah Turner, Arizona: The Wildcats will win the Pac-12 regular-season title if Turner is as good as advertised.
Cody Zeller, Indiana: If coach Tom Crean is going to turn the Hoosiers into a relevant team this season, it will be because of Zeller and his impact in the Big Ten.