Category archive:

West Virginia Mountaineers
October, 30, 2013
10/30/13
2:22
PM ET
If the 2014 NBA draft lives up to its hype, the upcoming college basketball season could rival or supersede any since the turn of the century.
That's a big if.
But the buzz isn't going away and won't unless the returning and incoming talent takes a dramatic drop from preseason projections.
Let's assume Kansas freshman Andrew Wiggins, Kentucky freshman Julius Randle and Oklahoma State sophomore Marcus Smart are locks for the top three to five spots in the NBA draft. Who else registers with NBA decision-makers to fill out the top 10?
Parker will pair up with Mississippi State transfer Rodney Hood to create a dynamic tandem for the Blue Devils. Parker's overall basketball IQ makes him a cinch to be in the top 10. He will be in the running for ACC Player of the Year with Hood, Virginia's Joe Harris and Syracuse's C.J. Fair.
Wiggins has swallowed most of the oxygen coming from Lawrence, but Bill Self potentially has one of the best big men he has coached at KU in Embiid. He is a sponge, soaking up knowledge, and could be the most dominant big man outside of Randle this season.

Robinson is described as having a pro game with excellent shooting skills. The trick will be how he handles being much more of a featured presence for the Wolverines.

McGary could have easily bolted from Michigan after its Final Four run last season. He was a hot candidate in an incredibly weak draft, yet he chose to return. Now, he's battling back issues. The upside is there, but he needs to show well for a full season.
Kentucky coach John Calipari isn't hesitating promoting Young's skill set. If he has Michael Kidd-Gilchrist's work ethic but is even better in the skill department, Young could be a sleeper to shoot up into the top five in June.
Gordon was the MVP of the United States' under-19 gold-medal-winning team in the Czech Republic in July. His athleticism was on full display in the event. But Gordon will need to show he can shoot and defend to ensure he's a top-five talent.
Harrison will step in as the Wildcats' point guard. If he stands out, the long line of highly placed Calipari-coached point guards will continue to dominate the lottery.
October, 29, 2013
10/29/13
4:56
PM ET
With alignment on hold until after next season, the lines have been drawn, the places set. Now, it's time for programs that have lost their way to lock in and start the climb out of mediocrity.
Such as:
The Demon Deacons stuck with Jeff Bzdelik for a fourth season after winning just 13 games in each of the past two seasons. Transfers have become all too common in the program. There was progress last season: winning six conference games, beating ACC champ Miami and knocking off NC State. But the Demon Deacons couldn't win on the road. Climbing out of the bottom third will be even tougher this year with the additions of Syracuse, Pitt and Notre Dame, not to mention the forthcoming switch of Maryland for Louisville. Wake Forest athletic director Ron Wellman and Bzdelik are good friends. Wellman put his stake in Bzdelik and has to see this through. Now is the time for the Demon Deacons to make a move to ensure that the rocky road was worth the wait. The Wake Forest fan base is one of the most passionate in the league. It's a shame that it hasn't had the opportunity to create a feared, frenzied atmosphere like the one it had less than 10 years ago.
The Cornhuskers are investing in basketball like never before. Nebraska is playing in $179 million Pinnacle Bank Arena. Coach Tim Miles is entering his second season. He has a young team in Lincoln, and there will be growing pains. Still, there needs to be a return investment. The Huskers must make Lincoln a feared road stop in the Big Ten going forward. Nebraska has a chance to show promise. The time is now to make a move before even the most passionate fans begin to lose interest.
The Mountaineers' transition to a new league might have been the toughest of any team that moved. That shouldn't have derailed a program Bob Huggins had rolling to a Final Four just over three years ago. Huggins has too much pride to let West Virginia wallow in mediocrity, but the talent drain was in effect last season. There were recruiting mistakes and opportunities lost. The Mountaineers must make Morgantown as difficult a road stop for opposing teams. Moving into the league's top four is more than doable for the Mountaineers.
The Pirates might be one of the biggest beneficiaries of a move to a smaller conference. Seton Hall was lost amid the bloated old Big East. Now the opportunity is there for the Hall to climb. A strong 2014-15 recruiting class should give hope. There is optimism for one of the most difficult high-major jobs in the Northeast. Kevin Willard is entering his fourth season as a .500 coach, but he could be judged with a clean slate in a new league where the true round-robin schedule will be a fair barometer. The new Big East desperately needs the New York-market teams to matter in March. St. John's appears to be ready to accept the responsibility. The Pirates must do their share, too.
If you've never seen the Huntsman Center rocking, then you've missed out on one of the top home courts in the West. The problem is that those instances, since the late Rick Majerus was on the sideline, have been limited. Crime-fighting coach Larry Krystkowiak has the right demeanor, character and credibility to deliver a winner, but the corner must be turned soon. Utah can -- and should -- be one of the rising teams in a conference that allows plenty of chances for schools to take a turn near the top. If once downtrodden Colorado can be a regular, established contender, then Utah can as well. Krystkowiak said he believes in the younger players in the program. Now it must ignite the passion that once made Salt Lake City an intimidating destination.
Georgia has always been one of the more intriguing SEC teams not named Kentucky or Florida. The Bulldogs are within range of plenty of talent, notably in Atlanta, even going against hometown Georgia Tech. The Bulldogs have a determined and loyal fan base that craves a winner. Mark Fox has coached and recruited pros, but he hasn't been able to get that talent to win consistently in the postseason. The SEC is wide open beyond the top two teams, with room after that for whoever can produce. If there ever was a time to make a move back into being a team of consequence, this is it.
When Guy Lewis was inducted into the Basketball Hall of Fame last month, it brought back memories of the Cougars' dominance in the 1980s. That era is long gone while Houston has spent time in the Witness Protection Program. Now the Cougars have come out of their shell in the American Conference, where there is a real opportunity for Houston to get on the national stage. Once Louisville leaves, UConn, Memphis and Cincinnati will need challengers. Temple and SMU might take their shot. Houston, though, can draw from as much, if not more, of a talent base than any school outside of Memphis. The Cougars might never have a better chance to be a factor than right now. The 1980s aren't coming back, but Houston has a shot to create its own revival.
May, 22, 2012
05/22/12
12:22
PM ET
The Big East will send out its annual straw poll to its coaches to get their preseason predictions about the strength of the league's teams to help put together next season's conference schedule.
The league office said Syracuse's Jim Boeheim and Pitt's Jamie Dixon will be allowed to vote in the poll, even though the schools are leaving the conference for the ACC. They weren't invited to the conference meetings earlier this week in Florida.
The results of the poll will determine which teams face each other twice during the conference schedule. Having a tiered system based on those predictions has worked well for the Big East, rather than the predetermined rotations of which teams play each other twice used by the Big Ten, ACC and SEC.
[+] Enlarge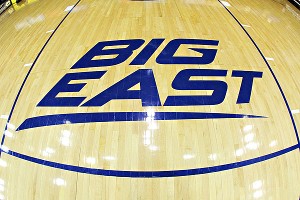 Bill Streicher/Icon SMIBig East coaches are confident the formula the league uses to determine conference schedules ahead of each season has helped in getting more NCAA tournament bids.
The Big East had 11 teams in the NCAA tournament in 2011; it sent nine teams last season. Coaches firmly believe handling scheduling this way is the reason.
"We've been able to give the league the flexibility to balance the schedule," Cincinnati's Mick Cronin said after the Big East meetings wrapped up Tuesday morning in Ponte Vedra Beach. "The repeat opponents have been set up by the hierarchy of the league in the summer. Something has been done right. We've had 11 teams and then nine teams in the NCAA. The coaches were against 18 league games but then it has helped us get more teams in [the tournament]."
Notre Dame coach Mike Brey agreed that the formula has worked for the Big East.
"It has driven us to get more bids," said Brey, who added it was odd not to have Boeheim at the Big East meetings for the first time during Brey's tenure at Notre Dame. "We've got to stay with this formula. It's not too constrictive. We don't want a rotation. We've got to keep an open mind. Some of it is by design, some of it is by luck, but it has really worked. You can sit there as a coach and say, 'If you're in the top eight, you're in the tournament.'"
There were 13 men's basketball coaches in attendance at Monday's meeting. Four coaches stayed to meet with athletic directors Tuesday. UConn's Jim Calhoun and Louisville's Rick Pitino weren't in attendance and neither were coaches from incoming 2013 members Temple (Fran Dunphy), Memphis (Josh Pastner) and SMU (Larry Brown).
According to Brey, the 11 other coaches in attendance, outside of him and Cronin, were: Stan Heath (South Florida), Ed Cooley (Providence), Kevin Willard (Seton Hall), Steve Lavin (St. John's), Mike Rice (Rutgers), Jay Wright (Villanova), Buzz Williams (Marquette), John Thompson III (Georgetown), Oliver Purnell (DePaul) and 2013 new members Donnie Jones (Central Florida) and James Dickey (Houston).
Heath said that there was even discussion about possibly opening up to 20 games from 18 when the new teams come into the conference.
"We had some conversation, but nothing was shot down," Heath said.
Heath, Cronin and Brey all said there was a renewed sense of optimism in the room, especially with presentations from television executives from NBC and Fox. ESPN and CBS have the current Big East rights, but the league will enter a new negotiating period in the fall.
"There was excitement over the TV presentation possibilities," Cronin said. "The Big East can't negotiate now but there was interest in our product. You could see people spending valuable time on the presentations and they say we'll be even stronger with the media market changes in adding Dallas, Houston and Orlando, which only helps the big picture."
The coaches agreed that the conference tournament must include all members in 2013, regardless of that number.
Heath said he brought up to the coaches that former USF player Kentrell Gransberry never played at Madison Square Garden during his career at South Florida because all the teams weren't invited.
"It's meaningful to the players and the teams even if it's one game," Heath said. "It's a big part of being in the Big East."
The format for the 2013 Big East tournament is still being discussed. There are 15 teams in the league this season with West Virginia's departure. Connecticut is currently not eligible for the tournament since it is not allowed to play in the postseason because of an NCAA ban for poor academics.
The coaches said the plan would be a for 14-team tournament with two games on Tuesday (instead of the previous four) and the rest of the schedule going forward from Wednesday on during championship week with the remaining teams.
Brey said the number of games for an 18-team Big East is still an issue.
"Everybody wants to play everybody," Brey said. "We can't have no-plays. And we need all of the schools to come to New York. A lot of these schools do a lot of business around the Big East tournament. We've got to figure out a way to do this. We're going to figure this all out together."
May, 2, 2012
05/02/12
10:54
AM ET
If the most pressing issue for the Big 12 in its new configuration is how to schedule West Virginia road trips, there isn't much to be concerned about going forward.
The Big 12 men's basketball coaches wrapped up their meetings Tuesday in Phoenix with its new members -- West Virginia and TCU -- replacing the departed Missouri and Texas A&M.
[+] Enlarge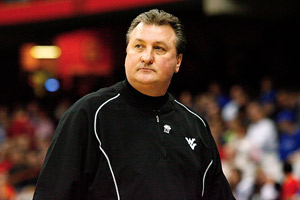 Chris Chambers/Getty ImagesThe Big 12 welcomes WVU, which has made five straight NCAA tourney trips under Bob Huggins.
And the consensus was that the league is actually as strong as it's ever been.
"I never questioned the stability," Texas coach Rick Barnes said. "The anchors were always the ones that wanted to keep it together -- Texas, Oklahoma and Kansas. I know our AD [DeLoss Dodds] never wavered on keeping the league together. We're very comfortable with where it is right now."
The Big 12 made an easy switch in adding West Virginia and TCU. The league will continue as a 10-team conference for the foreseeable future with a new television agreement that will ensure even more status quo.
Kansas is coming off an appearance in the national title game. Baylor made an Elite Eight trip for the second time in three years. And four others made the NCAA tournament, meaning 60 percent of the league went dancing. The odds are high that the Big 12 can duplicate that percentage going forward.
And keeping the conference at 10 teams also ensures that the round-robin schedule will continue. The Big 12 is now the only conference among the power six that plays a true round-robin.
"It's the best basketball league in the country," Barnes said. "Divisional play wasn't fair. [With the round-robin] you play everybody twice and the rivalries continue, so we can build our league."
Even though his team won the conference yet again last season, Kansas coach Bill Self said the 18-game, round-robin schedule was "tiring."
"I thought it was long. My opinion is that the perfect number of league games is 16," he said. "But it was still great and it was better from a fan perspective to play everybody twice. But it's a long season."
Iowa State coach Fred Hoiberg called the league slate a "grind" but added that crowning a true champion was a "great format, and it really prepared you for the postseason."
New Kansas State coach Bruce Weber didn't have a true round-robin with Illinois in the Big Ten. But he did when he was at Southern Illinois in the Missouri Valley.
"As far as getting in the NCAA tournament, it helps your RPI and gets you more quality games," Weber said.
Trent Johnson, who came over from LSU to TCU, said he enjoyed the Pac-10's round-robin schedule while head coach at Stanford and that it "was the right way to determine a true champion."
West Virginia coach Bob Huggins agreed.
"It just makes it hard if you don't play everybody twice," Huggins said. "It's more fair to play everybody home-and-home. I think we went to Syracuse 12 years in a row. Well, maybe it was three, maybe four."
Weber, Johnson and Huggins all said they were impressed by the growing sense of stability in the Big 12.
As for going to Morgantown, a place that is 870 miles away from its nearest Big 12 neighbor (Iowa State)? Well, this is an era in which every team travels by charter, so by and large the coaches contacted by ESPN.com didn't seem all that concerned. Hoiberg said the trip to WVU will be looked at like the road trip to Colorado in the Big 12 before the Buffaloes left.
As for the Mountaineers' schedule, Huggins said he wouldn't be against playing several road games -- a Texas road trip for example -- in early January, when school isn't in session.
The Big 12 said that's unlikely, however.
"It's not my call," Huggins said. "I'll do what they want."
February, 14, 2012
02/14/12
3:38
PM ET
The Big 12 essentially traded Missouri for West Virginia and Texas A&M for TCU for the 2012-13 season, and no one associated with Big 12 basketball seems to be fretting one bit.
Missouri should be able to find its way toward the top five in the SEC, while Texas A&M will have to slog through a muddled middle of the conference.
The absence of a Missouri-Kansas and Texas-Texas A&M rivalry will hurt the Big 12. No one will debate that fact since those four games are always well-attended and hotly contested, and usually mean something in the standings.
And while Mizzou and A&M plan to continue the rivalry, Kansas and Texas have said no.
So, ultimately nobody in the Big 12 appears to be whining over the departures. The 10-team Big 12 can go forward without a hitch in its new round-robin schedule and its equitable conference tournament.
[+] Enlarge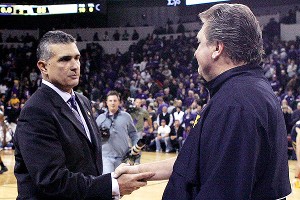 Scott Sewell/US PresswireFrank Martin is happy to welcome old boss Bob Huggins and WVU into the Big 12.
West Virginia's location in Morgantown is just another college campus that isn't easily accessible by a major airport, so that's nothing new for the Big 12. Try getting to other league schools in Columbia, Ames, Lubbock, Stillwater or Manhattan. TCU, in the Dallas/Fort Worth area, is actually easier to get to by air or car than Texas A&M is in College Station.
TCU has plenty to do to be highly competitive in the Big 12. But West Virginia will step in immediately and provide a highly competitive team that will be a tough out in Morgantown and on the road.
The Mountaineers have a top transfer sitting out this season, former La Salle big man Aaric Murray, and ex-Dayton guard Juwan Staten isn't too shabby, either.
No one seems to care about the Mountaineers' roster as long as Bob Huggins is the coach. He was universally applauded by his new Big 12 colleagues Tuesday.
"He's one of the most respected coaches in the country," Iowa State's Fred Hoiberg said. "They instantly will make our league tougher. We're getting an outstanding program, one with great tradition. West Virginia has been an NCAA tournament team in six of the last seven years."
Kansas coach Bill Self said that West Virginia adds tremendous value, and with TCU the Big 12 schools can recruit in the Metroplex area even more.
"It all adds stability to an already great league," said Self.
Kansas State's Frank Martin said the addition of West Virginia ensures that the Big 12 will be even stronger going forward.
"We're adding a Final Four team, and a Hall of Fame coach," Martin said.
Martin's praise is understandable. He's one of Huggins' closest friends, having worked for him at Cincinnati and heading to Kansas State with him for one season before Huggins went to his alma mater at West Virginia. Martin then replaced him at Kansas State.
"I have tremendous respect for that league," Huggins said Tuesday. "We're going from one great league to another."
Huggins said the travel won't be an issue for West Virginia.
"We've got a lot further to go than everybody else, but we'll just charter in and out," Huggins said. "I tell you what impressed me [in the Big 12] is the student turnout is terrific. When the students are in there, there is such enthusiasm."
Huggins is right. The Big East's college campus arenas don't come close to the Big 12's arenas. The Big 12 blows the Big East away, save a few places like Louisville and Pitt.
Huggins said the Mountaineers will be in the mix immediately in the Big 12 with the transfer additions, even with the departure of senior Kevin Jones.
West Virginia is still scheduled to play Kansas State in a return game, but Huggins said he'll let Martin out of the game unless he wants to come to the state twice in the same season.
West Virginia athletic director Oliver Luck said on a conference call Tuesday that the Backyard Brawl in football between Pitt and West Virginia won't be played in 2012. If that's the case, then don't expect it to be played in men's basketball as the Mountaineers will have an 18-game Big 12 schedule and will need to adjust their nonconference slate. Pitt will still play an 18-game Big East schedule in 2012-13. The Big East was noncommittal about the changes to the Big East schedule with a 15-team league for one regular season and conference tournament. Pitt and Syracuse could still depart for the ACC a year earlier than projected, but not for 2012-13.
The ACC got better with those additions. Those moves weren't done for survival, though. The Big 12 had to replace Mizzou for 2012-13 or face a nine-team league that would have been down a notch. West Virginia allows the Big 12 to avoid a major hiccup. The league should still have one of the most competitive conferences with multiple bids in 2013, too.
The fallout from the Big East's shakeup in football and basketball this week will continue for weeks, if not months or years.
[+] Enlarge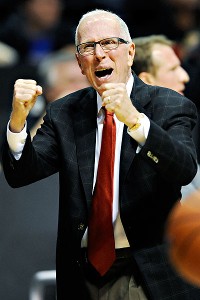 Christopher Hanewinckel/US PresswireSan Diego State could be the Gonzaga of the Big West under Steve Fisher.
So after another week of changes, the basketball winners and losers can be summed up this way:
Winner
The Big West: Getting San Diego State is a major coup for this league. Steve Fisher's Aztecs are going to be an NCAA tournament team on a regular basis and a national player for getting marquee games. SDSU has a chance to be the Gonzaga of the Big West. The Aztecs won't be as good as the old UNLV teams that won a national title, but being the dominant player that can attract marquee games and attention for the Big West is a great get.
Loser
The Big East: You simply can't make this three-team trade (Out: Pitt, Syracuse, West Virginia; In: Central Florida, Houston, SMU) and not come out looking worse. The pool of teams the Big East had to choose from was small, but it still could have made a few more moves to appease football and basketball. The conference acquired new television markets, but the quality of play will go down and the matchups for the television partners won't be as palatable.
Biggest mess
The 2013 season: If Big East commissioner John Marinatto gets his way, the Big East will have 19 members for one season when the three new schools come aboard and Pitt, Syracuse and West Virginia have to stay. Big East associate commissioner Tom Odjakjian will have a thankless job as he tries to schedule a season that will keep him up at night.
The ongoing fight
West Virginia: The Mountaineers want to play in the Big 12. The Big East says they have to stay. This will likely end up being decided by a judge.
The unknown
Boise State: If coach Leon Rice can continue to improve the program, the Broncos can flourish in the WAC and become a player for a bid quicker there than in the Mountain West.
The potential
Houston, which has a solid recruiting class in 2012, and SMU have had their moments in the past, but the school that gets the tag as the one with the most potential of all the additions could be Central Florida. The Knights have a shot to make more of an impact in the Big East than South Florida has because of UCF's location and facilities. The Knights must stay out of the way of the NCAA's enforcement group after getting caught with violations that cost coach Donnie Jones the first three games of the C-USA season. Still, Jones has taken down Florida and Connecticut on neutral courts in each of the past two seasons.
The biggest question
When the 2014 season begins, will Louisville, Connecticut and Notre Dame be in the Big East? We just don't know.
November, 14, 2011
11/14/11
1:50
PM ET
The atmosphere of the Carrier Classic, with its overwhelming sense of patriotism and the sheer uniqueness of playing a game on the deck of the USS Carl Vinson, along with the historical significance of that vessel, will be hard to top.
The view was magnificent. The Naval presence in all its glory and uniformity was as impressive as one would imagine. And the appreciation from the sailors for the break from the daily routine was genuine.
If you missed that game or any of the matchups on opening weekend, you're in for a treat because you won't be able to turn on the ESPN family of networks from 11:59 p.m. ET on Monday until about 1 a.m. ET on Wednesday without seeing college basketball on the screen.
Here are some questions to ponder as the fourth annual Tip-Off Marathon begins with Washington State at Gonzaga and ends with an NIT Season Tip-Off game the following night from Stanford.
1. Will Duke coach Mike Krzyzewski become the NCAA's all-time winningest coach? The Blue Devils play Michigan State in the first game at the Champions Classic (ESPN, 7 p.m. ET) from Madison Square Garden. Duke struggled against Belmont in its opener and then blasted Presbyterian on Saturday. Neither result should come as a surprise. The Blue Devils are usually the home team in New York, but it will be interesting to see how many Spartans fans are able to make the trip, especially if some of them just went to San Diego. Still, Michigan State has a real shot to upstage Coach K. Despite their loss to North Carolina, the Spartans were the aggressor, outrebounding the Tar Heels convincingly 42-31. The Blue Devils have as much size as North Carolina, so the challenge will be similar. But MSU must shoot better from 3-point range than it did against UNC (2-of-20). Another key to the game is seeing which team converts timely perimeter shots. If Duke wins, we'll have the unique setting of Krzyzewski winning No. 903 and passing his former coach Bob Knight, who will sit courtside calling the game for ESPN.
2. How will the Thomas Robinson-Anthony Davis matchup unfold? This could turn out to be one of the more anticipated frontcourt showdowns during the nonconference schedule, as this individual battle highlights the second game of the Champions Classic between Kentucky and Kansas (ESPN, 9:30 ET). Robinson began the season as the go-to guy for Kansas, finishing with 18 points and 11 rebounds against Towson. Meanwhile, Davis, UK's highly touted freshman, blitzed Marist with 23 points and 10 boards in the Wildcats' 50-point rout. Kentucky has more options than KU and can lean on Doron Lamb or Terrence Jones to get it plenty of points. But the tussle between Robinson and Davis will be good theater throughout the night.
3. How will Ohio State's Aaron Craft and William Buford handle Florida's perimeter? We're not conceding the Jared Sullinger-Patric Young matchup (well, we will for these purposes), but this game may come down to the guards. Florida's set of Kenny Boynton, Mike Rosario, Brad Beal and Erving Walker is off to a sensational start. Rosario scored 19 points off the bench, while Boynton scored 19 and Beal 14 (Walker added 10) in a rout of Jackson State. Craft and Buford will be tested defensively more so than they were a year ago, when Ohio State won easily at UF during this same event. The Buckeyes, who host the Gators at 8 p.m. ET (ESPN2), are the No. 3 team in the nation because of Sullinger. But this will be the first time OSU may feel the loss of defensive specialist David Lighty.
4. Can Belmont emerge from the brutal opening weekend with a split? The Bruins nearly nipped Duke in a comeback that fell one possession short. The next challenge is a visit to in-state Memphis at noon ET on ESPN. Belmont won't have any awe factor in playing the Tigers. The Bruins should come into this game oozing with confidence after their showing versus the Blue Devils. Memphis is still a young team and a work in progress. The Tigers have more talent, but the question is whether they will show patience against a Belmont team that will want to run and run and run. This could be one of the most entertaining games of the day.
5. How will Baylor handle its one and likely only test during Perry Jones III's suspension? Jones must sit for three more games after accepting an extra benefit. The Bears beat Texas Southern on Friday and Jackson State on Sunday. The two games that follow Baylor's home matchup with San Diego State (ESPN, 2 p.m. ET) are South Carolina State and Texas-Arlington. This is not the same Aztecs team from last season after the roster was gutted by graduating seniors and an early-entry NBA departure. Still, they are athletic enough to cause problems. The Bears have options with Quincy Acy, Quincy Miller and Anthony Jones, but this game should at least push Baylor a tad more than the first two did during Jones' suspension.
6. How will Gonzaga's guards respond after a poor first outing? The Bulldogs showed in a tight win over Eastern Washington that they can rely heavily on Robert Sacre (22 points and 10 boards). But the perimeter shooters went 3-of-13 on 3s, and Marquise Carter was 2-of-11 and Mike Hart, Gary Bell, Kevin Pangos and David Stockton were a combined 6-of-15 from the field. Washington State is a team in transition, and the Zags should win this game. But Gonzaga has plenty of tougher challenges ahead, and so its guard play will need to improve. Still, this will be a good chance to see Sacre and Elias Harris on display against the Cougars, tipping off the Marathon at 11:59 p.m. ET on Monday night (ESPN).
7. As for the two women's games on the Marathon schedule … How will Tennessee perform after coach Pat Summitt's health diagnosis? If you saw Robin Roberts' piece on "Good Morning America," you know it is clear that the Lady Vols are determined to win a national title for Summitt. The Tennessee coach also seems as driven as ever in her quest to keep coaching while she battles early-onset dementia. This should be an emotional game, as they all may turn out to be, for the No. 3 Lady Vols as they host No. 7 Miami (ESPN2, 6 p.m. ET). And how will Texas A&M handle its status as the reigning champs? The Aggies aren't expected to repeat as national champs, but they have established themselves as an elite program. The primer to the Tennessee game won't involve as much theater, but may be as competitive a game when No. 9 Louisville goes to College Station to play the No. 6 Aggies (ESPNU, 4 p.m. ET).
8. What should we expect from Texas' Myck Kabongo? Kabongo is an impressive young man who handles himself with poise and class. Now he has to translate that onto the court against a talented Rhode Island squad that lost at George Mason by two points in its season opener Friday. The Longhorns will lean heavily on Kabongo to start the season. How he handles this first assignment will be a strong indicator on what to expect, as URI will push Texas from the outset (ESPN, 4 p.m. ET).
9. How will Drexel handle the hype as the CAA's favorite? The Dragons play at Rider (ESPN, 6 a.m. ET) when most people might be waking up to watch the Marathon. Drexel is the early pick to win the Colonial Athletic Association, a conference that's receiving some buzz after placing its second team (VCU) in the Final Four since 2006. Drexel will be minus the injured Chris Fouch, but Samme Givens and Frantz Massenat should be enough to beat Rider. But the Dragons could do themselves a service by looking impressive, too.
10. How productive can the Saint Mary's frontcourt be this season? Randy Bennett anticipates that this frontcourt will be more productive than the one led by Omar Samhan, who led the Gaels to the Sweet 16 two seasons ago. That means Rob Jones will be getting help from Kyle Rowley, Brad Waldow, Mitchell Young and Beau Levesque. Jones dominated Fresno Pacific with 25 points and 12 boards, but Northern Iowa -- coming off an impressive road route of ODU -- will be a much more formidable foe for the Gaels (ESPN, 2 a.m. ET).
11. What should we expect from LeBryan Nash? Well, if you believe the hype, Oklahoma State has an all-Big 12 player who can elevate it to the NCAA tournament. The Cowboys will likely have plenty of chances to feature Nash against Arkansas-Pine Bluff in the NIT Season Tip-Off (ESPN3, 8 p.m. ET).
12. How polished will Syracuse look? If they defeat Manhattan on Monday, the Orange will face either Albany or Brown on Tuesday (ESPN3, 7 p.m. ET) in the NIT Season Tip-Off. The early indication is that this veteran team will be ready to compete for the Final Four. Of course, Syracuse isn't being challenged as much as some other teams, but the Orange smacked Fordham in the opener as Dion Waiters complemented Kris Joseph quite well.
13. A surprisingly close game? I'm going with Austin Peay at Cal (ESPN2, 10 p.m. ET). The Governors should be one of the favorites in the Ohio Valley Conference. Will Triggs and TyShwan Edmondson could play at any level. California is one of the Pac-12 favorites, but the Golden Bears will be tested in this CBE Classic matchup. Guards Allen Crabbe and Jorge Gutierrez will be tested versus Austin Peay.
14. What are the chances of a surprise to end the Marathon? I think Stanford will have a tough time with either SMU or Colorado State at home in the NIT Season Tip-Off. The Mustangs or the Rams are fully capable of being a pest and upsetting the Cardinal (ESPNU, 11 p.m. ET). Stanford first has to get past Fresno State, of course, to be in this matchup. To do that, Aaron Bright, Chasson Randle and Josh Owens will have to really take control.
15. How will Miami score inside? The Hurricanes are sans Reggie Johnson and Julian Gamble due to injuries. The given has been that the Canes have the guard play with Malcolm Grant and Durand Scott. But Rutgers will try and make Miami (ESPN3, 7 p.m. ET) beat the Scarlet Knights on the inside. This could turn out to be one of the closer games in the Marathon.
16. What should we expect from Villanova? This is somewhat of a blank slate. The Coreys -- Mr. Fisher and Mr. Stokes -- are gone. Maalik Wayns will be the dominant presence, but there are plenty of other options as Mouphtaou Yarou, JayVaughn Pinkston, Dominic Cheek and James Bell could all star against La Salle (ESPN3, 7 p.m. ET). The Wildcats are an unknown in the Big East, and this game will at least give us a taste of what we may see.
17. Is Kevin Jones ready to be a star? For two seasons, West Virginia's Bob Huggins has been waiting for Jones to emerge. He scored 20 points and grabbed eight rebounds in a season-opening seven-point win over Oral Roberts. Kent State will hardly be a walk for the Mountaineers (ESPN, 10 a.m. ET). Darryl Bryant can offset Jones' production, but the offense will likely flow through Jones as he adapts to being the front man for the Mountaineers.
18. How ready is Hawaii to make a run at Utah State? Gib Arnold has gone through a complete roster makeover and coached the Warriors to an impressive 19-13 record in his first season in Honolulu. Utah State beat BYU to open the season while one of the WAC favorites, Nevada, was flat at home in losing to Missouri State. Hawaii has a real shot to make a move in its final season in the WAC before heading to the Big West. Establishing an identity in a new conference is always key and ensuring that Cal State-Northridge (ESPN, 4 a.m. ET) is well aware of what it is in for when it visits the Stan Sheriff Center would do wonders for a first impression.
19. What will Morehead State and College of Charleston look like after losing their stars? This game could be one of the more competitive because of who both teams lost, rather than who they gained. Morehead State no longer has Kenneth Faried, while Charleston is without Andrew Goudelock. The Eagles made the NCAA tournament last season, defeating Louisville and then falling to Richmond. The Cougars reached the NIT quarterfinals before losing to eventual champ Wichita State. Regardless of how these teams look (ESPN, 8 a.m. ET) on Tuesday, you can expect them both to be factors in their respective conferences by February.
20. What are the chances Virginia Tech doesn't end up in New York for the NIT semifinals? We'll find out Tuesday night. The Hokies will likely play George Mason, assuming the Patriots beat Florida International and Virginia Tech knocks off Monmouth on Monday. Mason beat Rhode Island by two in overtime in its opener, and while it is a more depleted roster than expected when Paul Hewitt took the job, this is still a formidable squad. Virginia Tech used balanced scoring to beat East Tennessee State by 11 in its opener, but hitting 5-of-18 on 3s was an indicator that the perimeter shooting may not be the Hokies' strong suit.
Other notable names to watch: Does Tu Holloway have a monster game for Xavier against IPFW (7 p.m. ET)? Will Cincinnati's Yancy Gates dominate against Jacksonville State (7 p.m. ET)? How will Harvard fare as the hunted team on the road, even against a rebuilding Holy Cross squad (7 p.m. ET)? How will Dayton's Archie Miller fare in his road debut as head coach at Miami-Ohio (7 p.m. ET)? Will Mike Scott be a double-double performer for Virginia against Winthrop (7 p.m. ET)? Will LSU avoid plunging into irrelevance by winning at Coastal Carolina (7 p.m. ET)? Will Butler avoid a shaky 0-2 start by winning at home against Chattanooga (7 p.m. ET)? Will Saint Louis prove to be the team projected as an A-10 contender and win games it should -- even on the road at Southern Illinois (8 p.m. ET)? Will Missouri State continue to win on the road and take down Arkansas State (8 p.m. ET)? How impressive will Royce White be for Iowa State against Drake (9 p.m. ET)? How will Wyoming play for new coach Larry Shyatt against Northern Colorado (9 p.m.)? Will Arizona State start its climb toward respectability by winning a game at home versus Pepperdine (8:30 p.m. ET)? Will Utah State follow up its BYU win by beating rival Weber State (9 p.m.) on the road?
Andy Katz is a senior writer for ESPN.com.
August, 29, 2011
08/29/11
2:20
PM ET
In case BYU didn't get a stark enough reminder in March of what life is like in the paint without
Brandon Davies
, the Cougars were reminded with force during their recent tour of Greece.
[+] Enlarge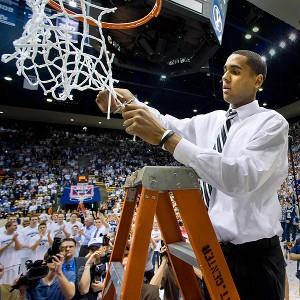 Douglas C. Pizac/US PresswireBrandon Davies was able to take part in the MWC title celebration, but his absence severely hurt the team's Final Four chances.
Having Davies might not have changed the outcome against the talented Greek and Italian national teams (BYU lost to Italy by 39 points), but there's no question the return of Davies will change everything for the Cougars in the post-Jimmer Fredette world they are set to embark upon in the West Coast Conference. Friday, Brigham Young University announced it was reinstating Davies, who was issued a much-publicized season-ending suspension March 1 after a violation of the school's honor code.
"Jimmer is impossible to replace, but Davies gives them a great go-to guy in the post,'' said New Mexico coach Steve Alford, who doesn't have to face the Cougars this season since BYU left the Mountain West for the WCC. "He is a very talented, hard-working post guy. He should be close to a double-double guy.''
BYU was ranked No. 2 in the country and in line for a possible No. 1 seed after beating San Diego State on the road by 13 Feb. 26. Davies had a modest statistical game with six boards and four points but helped neutralize the Aztecs' bigs. He was averaging 11.1 points and 6.2 rebounds before being dismissed from the team in the days after the SDSU game after having admitted to pre-marital sex, which is strictly prohibited at BYU.
The program didn't just toss Davies to the curb. Instead, the Cougars and their fans embraced him, and he was a fixture on the bench, cheering on the team throughout the rest of the regular season and during the postseason, which ended in an overtime loss to Florida in the Sweet 16.
But could BYU have gone even further and made its first Final Four appearance if it had its only true frontcourt presence on the court during the stretch run? We'll never know. But we do know the Cougars would not have been blown out by New Mexico and San Diego State late in the season with Davies patrolling the paint. His importance to this team is simply not up for debate.
"He means everything to them,'' said Colorado State coach Tim Miles, whose Rams had trouble containing Davies in multiple meetings last season. Davies had 15 boards and 14 points in a win over the Rams three days before the Aztecs game. "BYU went zone to protect the perimeter guys and Brandon would end the possession with a big rebound. It's just a matter of time before they should be able to run their offense through him. He should be a first-team All-West Coast Conference player.''
If the plan being drawn up in Provo proves successful, Davies might even have a shot at WCC Player of the Year.
BYU coach Dave Rose said the Cougars will go back to the way they played a few years ago when Trent Plaisted was manning the post.
"The ball went into Trent four out of five possessions, and then the past two years we changed things because of Jimmer,'' Rose said. "We'll go back to playing the majority of the possessions with the ball going in the post first."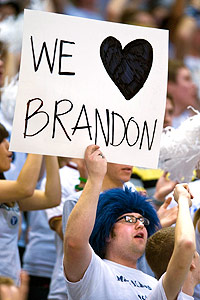 Douglas C. Pizac/US PresswireEven though his loss hurt, most fans in Provo still embraced their hometown favorite.
Clearly, Davies is a critical part of that strategy.
"The one thing that was difficult in those last two games on the trip was to play through our post guys,'' said Rose, who was also without big men and recent missionaries Nate Austin and Ian Harward. "We were a little bit undersized and had to play Noah [Hartsock] at the 5. With Brandon, he can go back to being a 4. There's no question our offense will work better. Brandon's experience with what he's been through will definitely help.''
The Cougars got stellar play out of junior Brock Zylstra on the four-game trip, as he averaged 17.3 points and six rebounds. Zylstra didn't get much time behind Jackson Emery on the wing last season, but he has loads of experience and is on the seven-year BYU plan after redshirting then going on a two-year mission.
Charles Abouo averaged 14.8 points on the trip to give the Cougars a solid backcourt presence, and freshman Damarcus Harrison averaged 9.3 points, just behind Hartsock's 10.8 and forward Stephen Rogers' 12.3 a game.
• According to a number of sources at the school, nearly everyone involved with BYU is looking forward to beginning play in the WCC and as an independent in football. The Cougars were waiting to get the chance to play on their own in football and once there was no chance they would be with Utah, which joined the Pac-12, they jumped at the opportunity.
That's why there is no movement, according to sources, to be a possible replacement for Texas A&M in the Big 12 if the Aggies go to the SEC. BYU is not an easy addition for conferences with its restrictions on playing on Sundays. The Cougars do have their own television network and a new deal with ESPN, and the football team has had no issues scheduling for the upcoming season. Sources said the Cougars want to see how this plays out before joining a conference such as the Big 12 that may have some stability issues.
Meanwhile, according to a number of sources, the SEC is more than likely going to pause for a bit if it adds the Aggies. There is clearly a movement within the conference members to block any in-state additions such as Georgia Tech (by Georgia), Florida State (Florida) and Clemson (South Carolina). Big East member Louisville (by Kentucky) fits into this as well. Blocking in-state schools in the same conference has gone on for quite some time (think Utah-Utah State, New Mexico-New Mexico State).
Virginia was never enamored with Virginia Tech joining the ACC, but politics forced the two together, so it wouldn't be out of the realm of possibility for the Hokies to leave. The one new intriguing name out there is North Carolina State, which is very similar to Texas A&M in the Big 12. The Wolfpack are the constantly overlooked "little brother" in the shadow of the all-consuming Duke-North Carolina rivalry.
One thing that is certain is no one wants to leave the comfort of the SEC (see: Arkansas). Missouri's location and TV markets make it a more realistic alternative than Big East teams such as West Virginia or Pitt. But one certainty is that the SEC will take its time on what to do with a possible 14th school and could easily go with 13 for a year rather than rush into a decision.
August, 23, 2011
08/23/11
1:07
PM ET
Marshall and Western Kentucky say they did their due diligence before hiring former Miami assistants Jorge Fernandez and Jake Morton, respectively.
Both schools' head coaches -- Marshall's Tom Herrion and Western Kentucky's Ken McDonald -- said they went through the proper protocol, as did their compliance offices. That means an email or phone call to the NCAA enforcement to see if there are any violations, even if they are secondary, on the record of the individual.
But what is not given up is whether there is an ongoing investigation.
"We've never received information like that," said Marshall's Derek Gwinn, the school's associate director of athletics for compliance. "It's always been that they won't comment on ongoing investigations."
Bob Williams, the NCAA's vice president of communications, confirmed as much.
"What we do is tell schools who have secondary or major violations," Williams said. "If there is an investigation ongoing, they won't say the individual is under investigation because of the confidentiality clause."
The NCAA has said it's been investigating Miami for five months, while Yahoo! Sports spent 11 months on its investigation. The allegations broke by Yahoo! on Fernandez were that Miami booster Nevin Shapiro witnessed him having impermissible contact with Miami football players in 2008 and entertaining then-AAU-coach Moe Hicks (now on the St. John's staff).
The allegations against Morton were more serious. Shapiro alleges that Morton was aware a family member of then-recruit and current senior DeQuan Jones wanted $10,000 for a commitment to Miami and that Shapiro agreed to front the money. The allegation is Morton met Shapiro to pick up the cash and Morton returned the money after Shapiro went to prison.
Former Miami head coach Frank Haith didn't take Morton and Fernandez with him to Missouri.
So far, according to Marshall and Western Kentucky, neither Morton nor Fernandez has spoken to NCAA investigators. That sort of leaves them in limbo, but Herrion and McDonald are sticking with their new assistants and have been told by each that the two men didn't do anything wrong. Both coaches say the cases have to run their course before any judgment can be reached. Both coaches will remain on staff and continue to recruit.
Meanwhile, Haith isn't allowed to comment on the case as he waits to be interviewed by the NCAA for his alleged role in knowing about a payment for Jones. Haith is being kept in limbo as well since the NCAA investigation will likely last into 2012 since it also involves football. That means Haith will have a shadow over him for quite some time, forcing Missouri to decide if it is going to stick with him or cut him a negotiated settlement (which would likely be in the millions) before any investigation is complete. Haith has publicly professed his innocence in a statement but can't speak anymore on the subject, making it harder for him to defend himself.
The former assistants are in a similar situation, but with a much dimmer spotlight on them. Yet, like Haith, both are at new institutions, and that makes it more difficult since neither has built up any equity at his new job.
More news and notes from around the country:
• Herrion said Marshall has signed up to play at Syracuse this season for a $100,000 guarantee. The Thundering Herd, which fancy themselves contenders with Memphis for the Conference USA title, will play two other notable Big East teams -- at Cincinnati (a return game in 2012-13 will be in Charleston, W. Va.) and the annual rivalry game against West Virginia in Charleston. MAAC favorite Iona is going to Huntington, as is MAC contender Akron. Marshall is also playing an in-season home-and-home against a Belmont team that won 30 games last season and returns nearly everyone. Games against Ohio, UNC Wilmington and High Point are also on the schedule as Marshall looks for one more game.
• The NCAA is expected to resolve outgoing UConn athletic director Jeff Hathaway's situation as incoming chair of the men's basketball tournament committee in weeks, not months, according to a NCAA spokesperson. The Big East would like to see Hathaway in the same role and trust his due diligence on the committee, even if he's not employed at a member institution. He will, after all, be technically paid by one during his year as chair since UConn reached a settlement with Hathaway.
• Williams said you can expect a number of the actions discussed at the presidential retreat to be enacted at either the next board of presidents meeting in October or in January at the NCAA convention. Williams said the new cut score for the APR (930) will likely be adopted and that teams will start missing the NCAA tournament if they don't average at least that number over a four-year period. Williams said it wouldn't affect the 2012 tournament since the schools need time to adjust to the new score. It'll kick in for the 2013 tourney at the earliest, but likely later.
• The Big East hopes to finish its conference schedule sometime around Labor Day. And that means Connecticut will know who its opponents will be for the first three Big East games that coach Jim Calhoun will have to miss due to an NCAA-imposed suspension. The Big East traditionally is the last conference to publish its league schedule as it works with a number of NBA and NHL arenas on scheduling dates.
• The MAC's decision to advance the top two teams to the semifinals of its league tournament was a much-needed change. The MAC had to do something to protect the best teams and give them the best chance to advance to the NCAA tournament then win a game. This is the same move that a number of leagues, notably the WCC, have made recently.
• Texas A&M to the SEC makes sense with the conference getting into the Houston market and dipping into a state that certainly loves its football. Leaving Texas and its natural rivalries would be a sacrifice worth taking for the more lucrative payday and passion within the Southeastern Conference. But figuring out the SEC's 14th fit -- if it comes to that -- is a bit trickier. If the SEC schools were to block out schools from their own states, that eliminates Florida State, Georgia Tech, Louisville and Clemson.
Virginia Tech would seem a natural, but the Hokies like their competitive position in the ACC and there are also the political ramifications to "breaking up" with rival Virginia. If there is one school that's a dark horse, it's West Virginia. The Mountaineers certainly could hang in both major sports (football and men's basketball) and compete at a high level. The SEC offers a lot more stability than the Big East in football and WVU's passion for its sports teams is akin to the SEC.
The problem of course is that the media market is small and doesn't deliver much to the SEC in terms of number of households. West Virginia can dip into the Pittsburgh area and that wouldn't hurt. The school would also likely have the least resistance politically of any of the other candidates. From a hoops standpoint, adding Bob Huggins to the mix and renewing an old rivalry with his old pal John Calipari would be entertaining for all.
November, 29, 2010
11/29/10
3:17
PM ET
The Big East was supposed to take a back seat to the Big Ten in the conference rankings.
So far no other conference is close to the Big East -- at least in winning early season tournaments.
The Big East has won six traditional tournaments (those with at least semifinals and finals played on a neutral court):
Pitt beat Texas to win the Coaches vs. Cancer Classic in New York. Georgetown beat NC State to win the Charleston Classic. Connecticut beat Kentucky to win the Maui Invitational. Syracuse beat Georgia Tech to win the Legends Classic in Atlantic City.
Notre Dame beat Wisconsin to win the Old Spice Classic in Orlando.
St. John's beat Arizona State to win the Great Alaska Shootout.
West Virginia lost to Minnesota in the final of the Puerto Rico Tip-Off.
Villanova lost in the final to Tennessee in the NIT Season Tip-Off.

On the flip side, DePaul had an 0-3 showing in the 76 Classic in Anaheim and Seton Hall won only one game in the Paradise Jam in St. Thomas. Marquette failed to reach the title game at the CBE Classic in Kansas City, losing in the semifinals to No. 1 Duke.
But those last three are hardly blemishes for the league. The six wins and the two title losses speak much louder to its overall strength.
[+] Enlarge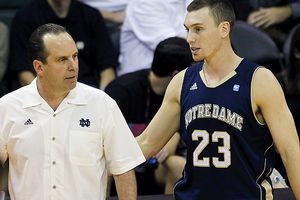 Cliff Welch/Icon SMINotre Dame coach Mike Brey is pleased with his team's 7-0 start, which includes a win at the Old Spice Classic.
"Every year the media wants to come up with another best league, some other conference," said Pitt coach Jamie Dixon. "Yet, we've done this year after year. We're easy to dismiss. But then we'll beat each other up in January and February and our RPI won't be as high so we won't get as many higher seeds."
The wins by Pitt, Georgetown, Syracuse and St. John's, based on the overall fields in each tournament, shouldn't have been a shock.
More surprising was Notre Dame winning in Orlando and certainly Connecticut's run in Maui.
The Irish were picked seventh in the Big East by the coaches in the preseason; UConn was picked 10th.
Notre Dame had to knock off a possible SEC darling in Georgia (playing without a healthy Trey Thompkins at the start of the event), then an offensively challenged Cal before disposing of the always pesky Wisconsin. UConn, though, had the more formidable task of beating Missouri Valley favorite Wichita State, then Big Ten favorite Michigan State and the uber-talented Kentucky.
"We're going to get eight bids [to the NCAA tournament] again," said Notre Dame coach Mike Brey. "That's what it looks like based on these early returns."
Connecticut has a national player of the year candidate in Kemba Walker. The Huskies also have some time to avoid a hangover from their Maui win with a soft five-game schedule (save a game against a surging Harvard, which just beat Colorado) prior to their Big East opener at Pitt on Dec. 27. The Huskies' next major nonconference games aren't until January (at Texas on Jan. 8 and home against Tennessee on Jan. 22).
Meanwhile, Notre Dame's week includes a matchup with Valley upstart Indiana State on Tuesday before going to Kentucky on Dec. 8 and then hosting Gonzaga on Dec. 11.
"It's a Big East week," Brey said. "That's why we set it up. There's nothing like having this experience."
Brey said the experience of having Tim Abromaitis, Ben Hansbrough, Tyrone Nash, Carleton Scott and even Purdue transfer Scott Martin play three games in four days in Orlando paid off. Brey also got much-needed scoring out of freshman guard Eric Atkins in Orlando, who scored 12 points in the title win over Wisconsin on Sunday night.
"We need Atkins and Martin to emerge for us to be really good," Brey said. "Ultimately, those two guys played well and found a rhythm. I really love this team. I've got a good vibe about them now. I'm so impressed with their focus and concentration. They all chased a common goal."
And that was to win a tournament championship. Ultimately by doing that, just like Georgetown, UConn, Pitt, Syracuse and St. John's did, the Irish proved that the Big East will have the depth to be an even tougher conference with enough good teams to possibly land 50 percent of its membership in the NCAAs in March.