Category archive:

Fresno State Bulldogs
January, 9, 2013
01/09/13
10:49
PM ET
Jerry Tarkanian should be in the Basketball Hall of Fame.
The voters for the Basketball Hall of Fame are mulling over their ballots, and they have 31 names to peruse.
There is a process, which involves getting seven of nine votes on the first ballot from the screening committee to become a finalist, that each candidate has to get through. That list will be announced at the NBA All-Star Game weekend Feb. 15. If you make that cut, you need to get through the honors committee and receive 18 of 24 votes to reach enshrinement in Springfield next fall.
[+] Enlarge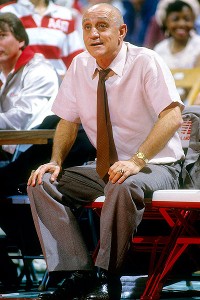 Focus on Sport/Getty ImagesFew college coaches have had an influence on the game like Jerry Tarkanian.
Tark is on a list with a number of other college coaches: Lefty Driesell, Gene Keady, Guy Lewis, William "Speedy" Morris, Rick Pitino, Eddie Sutton and Gary Williams. None -- or maybe one or two -- get in.
The Naismith Basketball Hall of Fame, not the College Basketball Hall of Fame in Kansas City, Mo., where Tark should also ultimately get a plaque, has its share of coaches in the Hall.
Bob Knight, Dean Smith, John Thompson Jr., John Chaney, Lute Olson, Jim Calhoun and active coaches Mike Krzyzewski, Jim Boeheim and Roy Williams are all in the HOF. Deservedly so. (I'm not even including iconic figures like John Wooden on this list.)
All of them, in their own way, were innovators and champions in some form. They've had no issue bucking the system in some cases and being cantankerous at times, dominating the profession through their win-loss records or using their influence and powerful personae to get what they wanted when they wanted at their respective schools.
I could make a Hall case for a number of coaches like Pitino, Lewis, Keady, Driesell, Sutton or Williams. If any of them get in, I'd provide the appropriate praise if I felt compelled to do so. I'm sure there will be a time soon when current coaches like Tom Izzo and Bill Self get their turn on the ballot, and they should be considered. I'm convinced they're both heading toward that destination when they retire.
The numbers for Gonzaga's Mark Few could also be Hall of Fame worthy if he were to continue on this path and win a championship or reach multiple Final Fours. Few is already eighth all-time in winning percentage (.792) during his brief 12-year career.
But few coaches in the past 40 years have influenced the game like Tark. He should be in the Hall, and it isn't because he has been battling health issues as he entered his 80s.
His numbers are so lofty that if you were to go on stats alone he would sail through the process. He is in the top 10 in winning percentage and the top 16 in overall wins (729), and he owns a national title and multiple Final Fours.
Like most of Tark's career in the sport, though, everything about him has been provocative.
Tark battled the NCAA for decades from Long Beach State to UNLV to Fresno State. He ultimately won a $2.5 million settlement against the organization in 1998. Arizona, Syracuse and UConn all dealt with NCAA issues under their respective Hall of Fame head coaches. Few, if any, have gone unscathed in some form from the NCAA.
This isn't to cover up or gloss over the allegations against Tark while he was coaching, but to dismiss the accomplishments of what his teams did on the court would be a disservice to the game. Tarkanian's teams changed the culture of the sport. He helped create a sports buzz in building UNLV's program at the time Las Vegas was blossoming as a destination.
College basketball hasn't had a team like UNLV since the Runnin' Rebels were deconstructed upon Tark's exit. The consecutive Final Four UNLV-Duke games -- the blowout and the stunning upset in 1990 and '91 -- will go down as two of the NCAA's greatest events.
One provided one of the most dominating performances in the history of the tournament, while the other essentially created the modern-day Duke dynasty. Duke started anew as a national player with the 1986 Final Four appearance behind Johnny Dawkins and ESPN's Jay Bilas in the starting lineup. But when Duke knocked off UNLV, it was the starting point to this modern run.
On Wednesday, the Baseball Hall of Fame elected zero players to this year's class. The reasons for not taking Barry Bonds or Roger Clemens are clearly steroid-related. The reason for not selecting Tark to either the college or Naismith Hall of Fame can only be because of NCAA-related issues.
Tarkanian's influence on the sport, his innovation for the way his teams played, especially on the defensive end, and the identity his teams took on from the first day he coached to the last make for a lasting legacy.
Whether coaches are banding together or not, I have not heard anyone speak against Tark, and that includes Krzyzewski, Thompson and countless others. The coaches who competed and recruited against him have no issue with him being honored to this degree.
I covered Tarkanian. I spent four years with him when he got to Fresno State. That was a different Tark, an older, and at times less-guarded, Tark. He made mistakes. He took too many chances. But he has plenty of success stories. The legacy for Tark's greatest teams at UNLV in the early '90s is seen by how successful players like Greg Anthony, Stacey Augmon and Larry Johnson became.
Chris Herren was Fresno State's most heralded player under Tarkanian. He is indebted to Tark for giving him another chance. Herren battled his personal demons of addiction while he was in Fresno, which was wonderfully documented in a 30-for-30 documentary and in his book. But the clean and sober Herren I saw recently speaks so fondly of Tark and what he did for him.
There is a kinship to Tark from his former players and coaches that I have rarely seen in 22-plus years covering the sport. Having Tarkanian return to UNLV and be embraced has helped him through his recent health problems. He has loved being around the program, going to games and getting involved as much as his health will allow.
I'm convinced that, if he were inducted, there would be a long line of former players and coaches who would be in attendance, discussing how much he meant to them in their life.
Tark had faults in the game. He was entrenched at times. He had to endure a long battle with the NCAA. Both sides won in some way, as Tark had to get out of UNLV but claimed victory with a financial win in the lawsuit. But you cannot dismiss his influence on college basketball. You cannot wipe away the decades he spent making his mark on the sport. He was an iconic figure, a lightning rod and one of the great characters of the game.
Tark deserves to be recognized by the Hall and his peers. He put too much of his life into the sport to not receive the proper gratitude. Hall of fames sometimes don't have as much purpose to the general public, but they matter to those who spent their careers in the sport and especially to the families who had to sacrifice so much time with their loved ones while they played or coached. Being in the Hall of Fame is relevant to the spouses, children and grandchildren.
It's time. The family is on a campaign to get Tark into the Hall. It is passionate, energized and working like a grassroots political campaign. The effort may not have any influence with the voters. They shouldn't need to be convinced. Considering his imprint on the game, he gets into the Hall.
We'll see next month if he even gets close enough to have a chance.
August, 15, 2011
08/15/11
7:15
PM ET
For years, the Fresno State athletic department has desperately wanted to be a national player.
That's why the Bulldogs hired their most famous alumnus, Jerry Tarkanian, in 1995.
That's why the football team has consistently been willing to play whomever, whenever for television purposes.
That's why Fresno was crushed when the Mountain West Conference split from the 16-team WAC in 1998 and didn't include the Bulldogs -- and subsequently showed no interest in the decade-plus that followed.
So one can imagine the school's elation when Utah's abrupt departure and the threat of BYU's (which ultimately proved real) led to another round of expansion for the MWC that this time included FSU, which will come on board alongside Nevada in fall 2012. Boise State joins the league this season.
So, now that Fresno State got what it wanted for its football program, a seemingly safe place for the foreseeable future, what does it mean for basketball?
Well, the timing couldn't be better for new coach Rodney Terry, a former assistant at Texas who took a gamble and left the comfort zone of one of the richest programs in the country in terms of facility, funds and recruiting.
[+] Enlarge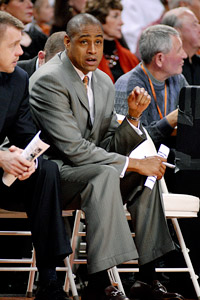 Icon SMILongtime assistant Rodney Terry is a first-time college head coach.
And he couldn't be more pumped for the challenge.
"The timing is great,'' 43-year-old Terry said. "This is a great time to enter the Mountain West. It's a great time to take our program to the next level and attract a high level of talent.''
The MWC still has three programs that are going to be the bedrock of this league for the immediate future in UNLV, New Mexico and San Diego State. The departure of BYU and Utah (no one is losing any sleep over TCU's exit), even though the Utes have been struggling of late, will open up plenty of opportunities for the rookies in this league to make their mark in 2012-13.
Fresno State has a history of modest success. from Boyd Grant to Ron Adams to Gary Colson and Tark bringing in a host of high-level transfers that transformed the image of the school but didn't translate into NCAA tournament berths.
Former BYU and Fresno City College coach Steve Cleveland came in when the program was gutted and had to deal with NCAA sanctions. Cleveland had a few NBA-level talents in Paul George and Greg Smith, but his Bulldogs never won a WAC title or advanced to the NCAA tourney. In fact, the program hasn't made the Big Dance since reaching the second round in 2001.
Enter Terry, who comes from a Texas program under Rick Barnes that has placed assistants at a traditional mid-major program (Ken McDonald to Western Kentucky) and at a power-six school (Frank Haith to Miami, and now Missouri).
"I worked with him for four years, and I knew he was always looking for the right opportunity,'' McDonald said of Terry. "He had a lot of other opportunities before this one. I saw him on the summer circuit, and he was energized about this job. I know it's out west, but Rodney can excel in any recruiting situation.''
Added Haith, who freed up a spot on the UT bench for Terry by departing for Miami: "Texas is a national school, and Rodney is very comfortable in any recruiting situation. It won't be a huge adjustment for him. Rodney has been on different levels."
He was a high school basketball coach in Texas before working at Baylor, UNC Wilmington and briefly at Richmond before the Longhorns poached him from Jerry Wainwright's staff in 2002.
Terry helped Wainwright win at a nearly 60 percent clip in seven years. He was also on the Horns staff that reached a Final Four, two Elite Eights and four Sweet 16s, and he coached and recruited a number of lottery picks during his tenure in Austin.
But he'll have to get used to a different level. If Texas is first class, then Fresno State is currently in coach.
"You do have to take a step back and recognize there are different expectations,'' McDonald said. "We all want to do big things, but we have to understand it's a process and sometimes it takes time. You have to get used to the different resources, and sometimes you're eager to do some things that may take more time.''
Terry has the benefit of following the coach who followed the legend. Cleveland had to come in and work amid the rubble and could never really get it going, ending his tenure with four consecutive losing seasons. Still, the program is in decent shape for Terry. There is a foundation there.
The city of Fresno treats its teams like its own professional franchise, much like fans in other mid-sized cities, such as Albuquerque, N.M.; Lexington, Ky.; and Knoxville, Tenn.
Fresno State's fortunes are at the center of the community with not as much to distract from the daily grind.
"This is a college town, and I know there's a lot of attention toward that,'' Terry said. "I can't emphasize enough the passion and the support here that they have for us to be successful. Pat Hill has done it in football. And we're going to a higher stage in the Mountain West in terms of exposure.
"Everything is in place to take this program to a conference championship and try to advance in the NCAA tournament. Those are the goals that I will strive for year in and year out. We can attract the best players in California and throughout the country.''
To do that, though, Terry has to have the right staff. Whether he does will have to be determined in the future, but he's off to a good start. In addition to nabbing assistant coach Michael Schwartz off Haith's staff and Byron Jones, a one-time assistant at Wilmington, Terry also went out and made the savvy hire of his former boss Wainwright.
The veteran coach made multiple trips to the NCAA tournament at Wilmington and Richmond before heading to the Big East for an ultimately doomed tenure at DePaul. Still, despite his dismissal from the Blue Demons, Wainwright is one of the most respected people in the game by his peers.
"Rick [Barnes] told me you're only as good as the people you surround yourself with,'' Terry said. "You have to have a big-time staff around you.''
In 2010, Wainwright was fired at DePaul in the middle of Big East play. The firing came shortly after he suffered a broken leg when Villanova's Corey Fisher accidently ran into him and hit his leg while going out of bounds.
As it turns out, the broken leg turned out to be a potential life-saver.
His stomach was bothering him, and he discovered that the collision had also torn a muscle in his lower abdomen, giving him a hernia. When he went for blood work, he was told that his PSA numbers were up and that he had early stages of prostate cancer.
"None of this would have been known had I not gotten hurt,'' said Wainwright, who had radiation instead of surgery. More than a year later, he said he feels great. His six-month PSA checkup went well.
"I'm in my mid-60s. I wouldn't have come back into coaching for just anybody,'' Wainwright said. "[But] Rodney deserves this chance. He'll do a great job. He's an enthusiastic guy. My job is to make sure he has fun at this. It's a tough business. He's the reason I came back. He's so excited about this place.''
Fresno State is down in numbers with just eight scholarship players listed for this season. The talent clearly will need to go up a notch when the Bulldogs join the MWC in 2012. Because there's never a whole lot of patience in Fresno. The Bulldogs and their fans in the San Joaquin Valley want to win, and sooner than later. That's the nature of a place where the school's athletic programs are woven into the fabric of the community.
"The expectations are there,'' Terry said. "No matter who you are, no matter who you are replacing. They expect a competitive team and to compete for championships.''
So does Terry. He waited for his chance. He was selective. And now he has to take advantage of the opportunity.
The Bulldogs aren't likely to win right away, but they will need to eventually.
The fans of Fresno will settle for nothing less.
October, 28, 2010
10/28/10
5:50
PM ET
The agreement to keep Fresno State and Nevada
in the WAC for two more basketball seasons
should be a benefit to the power rating of the league and any possible at-large berths that might come out of it.
Neither Fresno State nor Nevada has been a recent regular in the NCAA tournament, but the WAC couldn't afford to flounder with six members in 2011-12. The perception of being a league with one fewer member than a fledgling, non-automatic-qualifying conference like the Great West would have been damaging.
Utah State and New Mexico State, the two steadiest programs in the WAC lately and both participants in last season's NCAA tournament, couldn't afford to be left twisting in a six-team league. It would have meant finding four more games next season at a time when scheduling is as hard as it's ever been for NCAA-bound programs outside the power six conferences.
The WAC is expected to move on expansion sooner than later, even with the decision by Mountain West-bound Fresno State and Nevada to stay put for another season in exchange for a lesser exit fee.
For the WAC to make a significant step, the league must convince Montana to join for 2012-13. The WAC can land Denver and/or Seattle and has Texas-San Antonio and Texas State lined up and ready to accept a bid.
The latter two aren't going to move the meter for men's basketball. Denver has shown signs of progress under coach Joe Scott and is in a position to contend in the Sun Belt this season. If Denver was able to snag an NCAA bid, the timing could work out well for the school and the WAC, since the Denver market yearns for a college basketball winner to call its own. And in Seattle, without the NBA in town, maybe coach Cameron Dollar and the Redhawks can create a niche fan base as an alternative to Washington.
But Montana offers the most traditional college basketball program that the WAC could land out West. The pickings are slim, and the WAC won't go after a Big West school, although WAC member Hawaii could still flirt with football independence and send the rest of its sports to the Big West. So if there is another school out there that makes sense for all sports, it is Montana.
The Grizzlies first have to make a decision about moving up from the FCS to the FBS after many a successful run at the lower level of football. But the Grizz are an attraction in the state, and they have a loyal following and a history in hoops with well-regarded coaches (Jud Heathcote, Mike Montgomery, Stew Morrill, Larry Krystkowiak and now Wayne Tinkle, who led Montana to the NCAAs last March).
The Grizzlies are an annual Big Sky contender, fit in the WAC's geographic footprint and would give someone (Idaho? Utah State?) a natural rival. Montana could still play rival Montana State twice in a home-and-home, just like New Mexico and New Mexico State do even though they're in separate leagues.
Look, the WAC is in a dire situation regardless of the choices. But landing the Grizzlies would make the best of a poor situation. Adding a combination of Montana, Denver and the two Texas schools to get to an even 10 members for 2012-13 would allow the basketball league to hold water for now.
Utah State and New Mexico State -- and for that matter Hawaii, if Gib Arnold can turn the Warriors around -- desperately need programs in the league that add some value. Montana would. Denver could. Seattle is still a reach, but not out of the question because of its potential under Dollar.
If Montana chooses to stay put, the likelihood is that all four of the other candidates will join the WAC for eight members in football, 10 in men's basketball. The two Texas schools would create a bridge between members New Mexico State and Louisiana Tech. If Montana decides to join, then Seattle is likely out.
September, 14, 2010
09/14/10
9:01
PM ET
Tennessee coach Bruce Pearl still could be subject to a show-cause penalty from the NCAA Committee on Infractions
as a result of misleading NCAA investigators
, and that would force the university to make a difficult decision on how to handle his status as head coach.
The NCAA can take away a player's eligibility for failing to comply during an investigation. Unethical conduct, which is code for lying or not telling the whole truth, has come up quite a bit lately. Former Oklahoma State wide receiver Dez Bryant was caught in a similar situation a year ago when he wasn't forthright with the NCAA on a meeting he'd had with Deion Sanders.
The question, of course, is: If Bryant or any other player can lose his or her eligibility, why can't a coach lose his chance to coach in games or competition? Well, he can. The Committee on Infractions has the ability to use that as a penalty when it hears a case. In the past, when it has prevented coaches from competition, the coaches already had been terminated or left voluntarily.
[+] Enlarge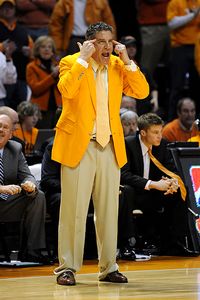 Don McPeak/US PresswirePearl and Tennessee now await the NCAA's notice of allegations.
The NCAA can't fire or hire a coach. But an institution obviously can, and contract terms can determine when that occurs (usually once an NCAA investigation is complete). If a coach such as Pearl receives a show-cause penalty, the school has to go in front of the COI to explain how the coach could be on staff while handling restrictions (no contact with recruits, competition, etc.). The committee then could rule that the coach can't participate in coaching activities for a certain number of years.
Would a school keep its head coach employed in light of his suspension? Probably not. Lying to the NCAA is one of those ethical issues that the COI has been taking a tough stand on recently after being empowered to do so.
"The COI could absolutely impose further sanctions on the head coach, and usually it does more than the self-imposed," said Atlanta-based attorney Stu Brown, who has represented coaches in NCAA cases. "It is reasonable to believe there will be additional penalties."
As the NCAA continues its investigation, which also involves the UT football program, the Vols simply have to wait for a notice of allegations. That notice will include specific details of what kind of information Pearl initially failed to give truthfully.
Tennessee could have suspended Pearl for his false statements to the NCAA. At this juncture, that's not under the NCAA's jurisdiction because all that has been released is a notice of inquiry. Pearl's being banned from going on the road for a year beginning Sept. 24 seems to be a light punishment to some because it allows Pearl to travel for the first three weeks of September to recruit for the class of 2011. Missing the July evaluation period in the summer of 2011 shouldn't be as much of a hit because Pearl recruited for this class as early as a year ago when he coached the U.S. team in the Maccabi Games in Israel.
Pearl and the University of Tennessee got out in front of this matter. But to assume that it is over and that Pearl and his staff are safe from further sanctions would be premature.
• The NCAA lacks uniformity in that it allows some players to get out of sitting out the year-in-residence requirement for transfers. Each case is taken on its own, and there is room for debate as to why some are granted exception and others aren't. Sometimes it's an extenuating circumstance for a family illness; other times it's a graduate waiver for a player who finishes one school, then goes to another school to pursue a graduate degree that wasn't offered at the previous school.
J'mison Morgan got a waiver to play immediately at Baylor after playing the past two seasons at UCLA.
Morgan said his grandmother, Dolores Brooks, who is his legal guardian and lives about 90 miles from Baylor in Dallas, has colon cancer. He said she has had it for the past two-plus years, and it has "gotten worse and worse."
"I wanted to be closer to home," Morgan said. "That's who I lived with my entire life."
Morgan said he plans to see his grandmother as often as possible such as on weekends.
"It's not hard to go from Baylor to Dallas," Morgan said. "Basically it's in the terminal stage. They're doing chemo now as the last resort, or else there is nothing else they can do."
Morgan said he is pointing to the Dec. 18 game in Dallas at American Airlines Center against Gonzaga as a game he hopes his grandmother can see.
"That's the plan," Morgan said. "She wants to be healthy enough to see this."
Morgan said he would have transferred Baylor even if he hadn't been allowed to play right away. He said he knew in the spring quarter that he wanted to leave and transfer closer to home.
"Playing this year wasn't a factor; it was for her," Morgan said. "My case is real. This should be a rule, but I know some people have tried to misuse it. The NCAA has to use the best judgment of what's real and what's not."
According to one source, the NCAA has reduced the reasons that grant the waiver because of a relative's health.
Now that Morgan will play this season at Baylor, he immediately gives the Bears one more big body up front. Morgan has battled injuries from a meniscus tear and a quad strain that limited his play at UCLA. He saw limited time for the Bruins last season with 8.7 minutes a game, averaging 1.9 points and 1.3 rebounds. The 6-foot-10 center could be the primary backup to highly touted freshman Perry Jones.
"I think I can help our team defensively and rebounding-wise," Morgan said. "I want to help in the zone. I can be a big body who block shots. Perry is incredible. He's incredible to watch. He does something new every day. It's a joy to play with him."
• Colorado coach Tad Boyle has been questioned a lot lately as to when the Buffaloes will leave the Big 12. The Buffs were originally projected to leave after this season but are struggling on a buyout figure. The Big 12 and the Pac-10 already are making plans to possibly be 11-team leagues in 2011-12 before CU leaves to make the Pac-10 the Pac-12 and the Big 12 becomes a more cohesive 10-team league with a true round-robin, 18-game schedule.
Big 12 officials say that if the league has 11 teams for 2011-12, it will go with an 18-game schedule with the scheduling format still to be determined. The Pac-10 could do something similar. "There are a lot of questions out there, and I don't have the answer," Boyle said while recruiting on the road. "We're telling kids they'll either be in the Big 12 for one year and the Pac-10 for three or the Pac-10 for all four years. Whatever is happening, it's happening above me. But we'll be in a great league either way."
• Big East coaches have received their conference schedules and are going over them, with the full schedules expected to be released to the public soon. The conference office took longer than usual thanks to the late arrival of the NBA schedule this year. The Big East has to wait on the NBA, NHL and AHL scheduling more so than any other conference because half the arenas share tenants.
• Fresno State president John Welty shouldn't be surprised to see his university is getting sued again -- this time by the WAC for deciding to leave for the Mountain West with Nevada before 2012 despite missing a deadline of July 1 to do so. WAC commissioner Karl Benson said the $5 million buyout that Fresno and Nevada owe is a separate matter, expecting the payment within 60 days starting in late August.
Under Welty's watch, three former female athletic employees have been awarded money in sexual discrimination lawsuits against the university: Former volleyball coach Lindy Vivas was awarded $5.85 million, former associate athletic director Diane Milutinovich was awarded $3.5 million and former women's basketball coach Stacy Johnson-Klein was awarded $6.6 million. According to a number of sources, Welty initiated the motion for the other WAC presidents to sign a binding agreement to stay together, only to renege on that deal a few days later. Coaches lose their jobs all the time for far less. A cash-strapped California state university system can't afford yet another lawsuit, can it?
June, 30, 2010
06/30/10
10:28
PM ET
Too often, news of transfers gets more attention than it deserves because of the slow offseason news cycle.
According to a source close to Josh Pastner, the Memphis coach didn't want Roburt Sallie back next season. Sallie wasn't going to be a main fixture on the team with a heralded recruiting class coming aboard, led by Will Barton and local product Joe Jackson.
And according to a source close to Andy Kennedy, the Ole Miss coach wanted no part of Eniel Polynice on the Rebels, regardless of losing another guard, Terrico White, to the NBA draft.
Sallie and Polynice are on track to graduate this summer from their respective schools and are seeking to use an NCAA rule to their advantage. Although it's quite a reach, the purpose of the rule is to legitimately allow a student-athlete who graduates the chance to pursue a graduate-school degree at another institution if it's not offered at the current one.
Sallie and Polynice are seeking an appeal to play immediately next season at Louisville and Seton Hall, respectively. There is plenty of paperwork to file but both will have to show that they are going for a graduate school major they cannot pursue at their previous schools.
The NCAA has shown lenience in granting immediately eligibility instead of the year-in-residence rule for players if there is an illness in the family or special circumstances like a postseason ban or a father-son combination (Lon and Kevin Kruger at UNLV). But a coaching change usually doesn't do the trick. That's why any attempt by Marquette to get Wisconsin native Jamil Wilson immediately eligible after transferring from Oregon might not work.
The school already put out a release that Wilson would be eligible in 2011-12, but there could be extenuating family circumstances that might work in his favor if the school chooses to pursue that plan. Wilson was a big-time 2009 recruit who chose Oregon over Texas, Michigan State and Marquette.
• Former NBA coach Jeff Bzdelik, now the coach at Wake Forest, offered this perspective on coaching:
"As an NBA coach, you have to be flexible,'' Bzdelik said. "You have to coach what you have. Everybody connects me with the Princeton offense, but my first day at Air Force I had no idea -- but I learned it because it was the best thing for those players at the time. I'm not coming here to run the Princeton offense. Like in the NBA, you have to take the talent we have here and make it work.''
• West Virginia may have picked up a coup in nabbing 6-foot-10 Kevin Noreen. The one-time Boston College signee was supposed to be the catch of the class for the Eagles. If Noreen can be a stretch-4 as he was projected for BC, he could help the Mountaineers immensely next season.
• A conference commissioner with knowledge of the expansion issues said Big Ten commissioner Jim Delany made it clear that unless Notre Dame is involved, the Big Ten is done with expansion after adding Nebraska as its 12th member.
• The source also said the Big East wasn't moving toward expanding in the near future. A recent report that Memphis and Central Florida were next in line was shot down by Big East officials.
• The WCC has made eight members work in basketball and the WAC will likely do the same. WAC commissioner Karl Benson said earlier in the week that the conference wouldn't move to replace Boise State in 2011-12. That means the league would stay at eight schools, playing seven conference games for football and 14 for men's and women's basketball. The WAC has looked at non-football-playing members like Denver and Seattle, but the league isn't moving in that direction.
• Fresno State desperately wanted to get into the Mountain West and was crushed when the MWC didn't call after Utah left and was replaced by Boise State. The Bulldogs have begged for years to get into the MWC or Pac-10, only to be left back in the WAC.
January, 4, 2010
01/04/10
6:56
PM ET
USC coach Kevin O'Neill assembled his players early Sunday morning to deliver the news that the Trojans' eight-game win streak and their newfound status as a Pac-10 title contender won't matter for an NCAA tournament berth.
The school had decided to self-impose penalties related to former player O.J. Mayo and his relationship with agent/runner/booster Rodney Guillory. But vacated wins from two seasons ago and a scholarship being taken away weren't tangible to this crew. Having their season end March 7 was all the players heard.
[+] Enlarge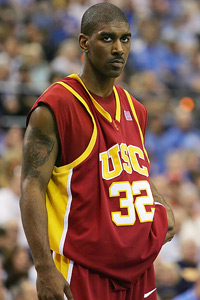 Lisa Blumenfeld/Getty ImagesO.J. Mayo's involvement with Rodney Guillory led to USC's self-imposed sanctions, including a postseason ban.
"My heart sank for a second," said senior point guard Mike Gerrity, a two-time Division I transfer from Pepperdine to Charlotte to USC. "I was frustrated. That's what you play college basketball for -- to play in March."
The Trojans haven't lost since Gerrity became eligible. Since beating Sacramento State and Idaho State before he was cleared to play Dec. 18, they've won six games with him as their lead guard. They beat Tennessee by 22 points, won the Diamond Head Classic with wins over Western Michigan, Saint Mary's and UNLV, then earned a Pac-10 season-opening home sweep of Arizona and Arizona State. The Trojans are on a roll heading into a three-game road swing to Stanford, Cal and UCLA in the next 12 days.
"It was pretty silent," Gerrity said of Sunday's team meeting. "There wasn't any yelling. Basically everybody was caught off guard. Everybody just left after that. There wasn't much talking."
O'Neill said the staff hadn't been given a choice, and the conversations about taking away the postseason had been going on for some time at the upper level of the administration. But he said he respected the decision. USC had been working with the Pac-10, which has its own investigative arm, and the NCAA.
"For our players, it's terrible; I feel terrible for them," O'Neill said. "I'm a 52-year-old professional. These guys did nothing. The people in question are not here."
The three players hurt most by the decision are the seniors: Dwight Lewis, Gerrity and Marcus Johnson. Lewis is the only one who was recruited initially by the school. Gerrity has bounced around, and when he transferred to USC, he initially wasn't on scholarship. The plan under former coach Tim Floyd was to have Gerrity as a backup with stud newcomers such as Lamont Jones coming on board this past fall. But Floyd resigned in the spring amid allegations that he paid Guillory $1,000.
Once Floyd resigned, high-profile recruits such as Jones (who's now at Arizona) bailed, and suddenly Gerrity would be the point guard when he was eligible in December. For months, O'Neill knew Gerrity was the difference between the Trojans being toast in the Pac-10 and a real contender.
Johnson had started his career at Connecticut before transferring to USC. He declared for the NBA draft this past spring, but returned to the Trojans once he knew he wouldn't be selected. There were questions regarding his senior-season eligibility even though he played only in an exhibition game in his final season at UConn, but he ultimately was granted another season. Johnson also was playing hurt much of last season with a shoulder injury, so he is taking six years to play four seasons.
USC lost to Loyola Marymount in November without Gerrity, ineligible forward Leonard Washington and injured former North Carolina forward Alex Stepheson. Stepheson returned for consecutive losses to Nebraska at home and at Texas and Georgia Tech. But Gerrity wasn't cleared to compete until just before the Dec. 19 game against Tennessee. Washington made his debut against Saint Mary's on Dec. 23.
"Life throws you a lot of curves," O'Neill said. "All three seniors were major contributors for the first time in their careers. None of that will change for the next 16 games. Our guys were shocked, disappointed, dismayed and stunned, but there was no anger."

For our players, it's terrible; I feel terrible for them. I'm a 52-year-old professional. These guys did nothing. The people in question are not here.
--USC coach Kevin O'Neill
What O'Neill did in that meeting was prey on the Trojans' competitive fire. He made it clear that USC has never won the Pac-10 title outright. Pac-10 assistant commissioner Dave Hirsch said Sunday night that the Pac-10's regular-season champ is considered the conference champion. The tournament champ is just the automatic qualifier to the NCAA tournament.
"We still have a chance to be a part of something special," Gerrity said. "When I heard that, there was a little motivation. We're still frustrated, but we can still do something that USC has never done before. We've got something to play for. No matter what, we've got our pride, and the teammates and coaches have it. We still can win a championship."
Gerrity said he was watching when the Trojans won the Pac-10 tournament title last season, beat Boston College in the first round of the NCAA tournament and flirted with a second-round upset of Michigan State before falling. He wondered about his chance the following season.
"Even though we were picked down toward the bottom [of the conference], I honestly thought we had a chance to do it," Gerrity said of winning the Pac-10 tournament.
The Pac-10 had a brutal nonconference performance except for USC the past two weeks. The Trojans arguably had the best nonconference résumé among Pac-10 schools and owned the only two wins over ranked teams at the time of the game. (Washington beat Texas A&M, but not when the Aggies were ranked.)
"I said we could compete for the league title, and I still believe we can compete for the league title," O'Neill said. "I know we've got some really good guys with high character and high integrity.
"We've never won the title outright. I'm not saying we're going to win it. But we're trying to play as best as we can."
Gerrity said the difference in the Trojans since the full complement of players were cleared is that they are a confident group that has figured out how to play together.
[+] Enlarge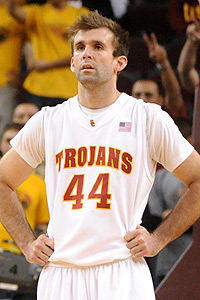 Kirby Lee/Image of Sport/US PresswireMike Gerrity is eligible for his senior season after a transferring whirlwind but now is unable to play in the postseason.
"I thought they were one of the top three teams in the Pac-10," said Saint Mary's coach Randy Bennett, whose Gaels lost to the Trojans 60-49 in the semifinals of the Diamond Head Classic in Honolulu on Dec. 23. "I don't think they have enough shooting, though, and that might make them struggle to score on the road. But they definitely defend it well.
"Gerrity is a special player. He's so smart. He's old-school. He knows his teammates and knows what they can do. I'm really impressed with what he's done."
Bennett said he was stunned that the Trojans won't be able to play in the postseason after viewing them as an NCAA tournament team following his team's game.
"It's unfortunate, but it's one of those things that's not in your control," Gerrity said. "As players, you show up and you work hard, but in a situation like this, you don't have control. I'm not happy about it, but you've got to move forward."
NCAA member schools usually self-impose a postseason ban to ease the potential harsh penalties forthcoming from the committee once the enforcement staff has issued a report on infractions. But handing down a postseason ban once the season already has started is rare.
It occurred twice in 2003 when Fresno State, fresh off winning the WAC regular-season title, was told before the conference tournament on March 3 that it wasn't eligible for the postseason because of violations related to academic fraud. That same week, Georgia was given the same news by its administration. The Bulldogs had just finished the regular season at 19-8, but violations related to academic fraud, unethical conduct and improper benefits led to the postseason ban.
James Holland was an assistant with Georgia at the time of the ban and was named the interim coach for a brief spell in the offseason once Jim Harrick was pushed out.
"We were getting ready to go to New Orleans for the SEC tournament when we got the news," Holland said. "We thought we were an Elite Eight-, Final Four-type of team. We thought we had a chance to make a nice run."
Holland said telling the players that they weren't able to go to the SEC tournament or NCAA tournament was crushing.
"Those kids had worked so hard," Holland said. "It was very, very tough to tell those kids. I thought of Southern Cal and Coach O'Neill having to do the same thing. We didn't have to keep our players motivated because the season was over, but they've got the rest of the season."
O'Neill is adamant that his reaction would have been the same had the news come during the Trojans' losing skid last month. Gerrity said that even then, the Trojans knew that they would have a much better team once they were all healthy and eligible. But, of course, he said the news of no postseason stings more after an eight-game winning streak, including a 2-0 start in the Pac-10 for the first time since 2002.
Hirsch said the league office will discuss the conference tournament Monday, but the decision essentially has been made. There will be only one instead of two opening-round games at the Staples Center in Los Angeles on March 10. Teams that finish No. 8 and No. 9 will play each other. The No. 7 team will be slotted to play the No. 2 team. Every seed will move up a line depending on where USC finishes in the standings. If USC wins the title, No. 2 would become No. 1 and so on. If USC finishes fifth, whoever is sixth will slide up to fifth.
How the NCAA tournament selection committee handles the Pac-10 will be another matter.
Former selection committee chair Tom O'Connor, the athletic director at George Mason, said all the Pac-10 teams will be treated as at-large teams as usual. He said the committee doesn't single out regular-season champions but instead looks at each team separately. So if USC wins the league, and let's say Cal or Washington finishes second and third and UCLA gets the automatic qualifier by winning the conference tournament, then Cal and Washington will be judged on their own merits against the rest of the at-large pool.
As for what happens to wins and losses against USC, Greg Shaheen, the vice president of the NCAA who is in charge of the NCAA tournament, said in an e-mail that an institution's eligibility "for postseason play [self-imposed or not] doesn't impact whether it's games appear in the current season's assessment of other teams which compete against them."
David Worlock, the NCAA tournament's media relations director and liaison to the selection committee, said that although USC will no longer be considered for the tournament, the results against the Trojans will appear on each school's team sheet. If the Trojans maintain a high RPI, any team that owns a victory over USC would benefit because the selection committee would consider it a quality win.
None of that is much solace to a senior like Gerrity, but he and the Trojans have vowed to move on.
"We've seen what we can do," Gerrity said. "We've realized how good we are. I guess right now, we see the potential of our team, the possibility of where we could take this thing. The timing is definitely hard because things are going so well."
November, 12, 2009
11/12/09
6:22
PM ET
Here are 10 programs that will jump within their respective conferences after a disappointing 2008-09 season:

Georgia Tech
2008-09 record: 2-14 ACC, 12-19 overall
Reason for optimism: The Yellow Jackets brought in arguably the best freshman center in Derrick Favors. He'll team with Gani Lawal to form a formidable frontcourt. Georgia Tech is healthy on the perimeter and deeper than it was a year ago. The Yellow Jackets also should finally know how to close out games. (Yes, I know they needed overtime to hold off Indiana of Pennsylvania in an exhibition game.) They're the only team in the ACC that will play North Carolina and Duke twice, so they should have the best power rating of any of the 12 ACC teams.
What could happen: Georgia Tech could win the ACC. Yes, the talent is in place for the team to go from two wins to the league title.
What's likely to happen: The Yellow Jackets should win nine to 11 games in conference play. That would be at least a seven-win swing, good enough to get them into the NCAA tournament.

Iowa State
2008-09 record: 4-12 Big 12, 15-17 overall
Reason for optimism: Craig Brackins returns to the Cyclones, and he has the potential to be a Big 12 Player of the Year candidate and All-American. Add junior college transfer Marquis Gilstrap, and the Cyclones could have one of the best one-two scoring punches besides Kansas and Texas in the Big 12. Iowa State's Hilton Coliseum also is one of the best home courts in the country. Don't be surprised if the Cyclones knock off one of the big boys at home this season.
What could happen: The Cyclones could pluck off a few key wins -- perhaps winning at least one game among Duke, Kansas (twice) and Texas to earn an NCAA tournament berth.
What's likely to happen: Iowa State should improve to at least a nine-win team in the Big 12 and be squarely on the tourney bubble in March.

Oregon
2008-09 record: 2-16 in the Pac-10, 8-23 overall
Reason for optimism: Coach Ernie Kent is billing Jamil Wilson as one of the top freshmen he has coached. If Wilson is as good as advertised, the Ducks have a real shot to climb in what should be a shaky Pac-10. The return of senior point guard Tajuan Porter and the likely improvement of a sophomore class that underachieved last season should give this team hope. Adding assistant Mike Dunlap should help in game management, too.
What could happen: The Ducks have enough talent to finish third in the Pac-10, jumping from two wins to 10 or 11.
What's likely to happen: Oregon probably will be in a tussle with Oregon State, UCLA and Arizona to finish in some order of 3 through 6 in the conference and be on the NCAA tournament bubble. The problem is the Ducks' nonconference slate might not be ranked high enough to earn a bid.

St. John's
2008-09 record: 6-12 Big East, 16-18 overall
Reason for optimism: The Red Storm are the only Big East team that returns all five starters. Coach Norm Roberts has focused on this season to be his best. Losing Anthony Mason Jr. for the start of the season hasn't hurt as much because Mason didn't play last season or on the team's trip to Canada during Labor Day weekend. This team already has learned how to play without him. The other thing going for St. John's -- if the Red Storm are ready to handle the pressure -- is the Big East is open to change this season. Plenty of moves could happen, with teams such as Marquette and Providence sliding to the bottom of the league, and that should allow the Red Storm to climb. That challenge will be daunting but nowhere near as imposing as it was a year ago.
What could happen: This is still the same group of players who finished 6-12 in the Big East, albeit in a stronger conference. Moving ahead of Seton Hall, Cincinnati, Pitt, Notre Dame and Syracuse would be quite a feat.
What's likely to happen: The Red Storm will be in the mix for a top-10 finish in the Big East and could move into the eight- or nine-win range in the league. But even that is likely to mean more of an NIT berth than an NCAA one.

Indiana
2008-09 record: 1-17 in the Big Ten, 6-25 overall
Reason for optimism: The carnage of the Kelvin Sampson era has finally subsided, and under the leadership of coach Tom Crean, the Hoosiers finally can begin to rebuild. Indiana adds an experienced transfer in former Georgetown guard Jeremiah Rivers, who will team with sophomore Verdell Jones III. The Hoosiers still will be one of the youngest teams in the Big Ten, but there is plenty of fight in this group.
What could happen: The Hoosiers could move past Iowa and Penn State to finish at least ninth in the Big Ten with possibly five wins in the league.
What's likely to happen: The problem is the league may be the best it has been this decade. The Hoosiers draw tough road games at Illinois, Michigan, Ohio State, Purdue and Minnesota. The only break is that Michigan State will visit Indiana, but the Hoosiers won't make a return trip to East Lansing. Indiana probably won't make the postseason, but it will show an improvement in the win-loss record in the league and be a peskier putout.

Charlotte
2008-09 record: 5-11 Atlantic 10, 11-20 overall
Reason for optimism: The 49ers are banking on Boston College transfer Shamari Spears to be their go-to inside scorer. He already proved to have soft hands during exhibition play. Finishing in practice was never an issue for Spears at BC, but when the lights were on, his fingers became butter at times. If he can be a lock for the 49ers inside, he'll prove to be the perfect balance to guards Ian Andersen and DiJuan Harris. Losing Lamont Mack hurts the scoring pop, but this team may be better-balanced.
What could happen: The Atlantic 10 will be dominated by Dayton, with Xavier and Richmond on the Flyers' heels. But don't dismiss the 49ers. They have the potential to make a significant jump into the nine- or 10-win mark. Charlotte will play Xavier twice and get two shots at Richmond. Playing at Dayton won't help, but the 49ers will have a chance to compete with the others for second.
What's likely to happen: Charlotte still should finish no higher than fourth, but it will earn enough good will through its record and ranking (playing at Louisville, at Old Dominion, home against Georgia Tech and at Tennessee) to earn a postseason berth of some kind.

Fresno State
2008-09 season: 3-13 WAC, 13-21 overall
Reason for optimism: Paul George. Can I say it again? Paul George. He is a star and one of the NEXT athletes ESPN has been pushing. The Bulldogs under Steve Cleveland have been all over the place, but there is a sense that things should settle down in a league that doesn't have an intimidating team. Sure, Utah State is the favorite in the WAC, and Nevada has Luke Babbitt, but it's not as if Fresno State can't climb from three wins to at least eight in the league.
What could happen: The Bulldogs should be in the mix, at least in the middle of the pack.
What's likely to happen: Expect Fresno State to affect the WAC race but fall short of a postseason berth.

Rice
2008-09 season: 4-12 in CUSA, 10-22 overall
Reason for optimism: The Owls recruited well under Ben Braun. The freshman class should increase the talent quickly in Houston.
What could happen: If the freshmen can produce quickly, a four-win improvement isn't totally out of the question.
What's likely to happen: The problem with moving up to eight wins is that the league is even more balanced this season with Memphis, UTEP, Tulsa and Houston capable of winning the conference.
Florida Atlantic
2008-09 season: 2-16 in the Sun Belt, 6-26 overall
Reason for optimism: Owls coach Mike Jarvis is talking up freshman point guard Raymond Taylor as the next Shawnta Rogers, his former diminutive but highly productive scorer at George Washington. The Owls will be one of the youngest teams in the league, but they should be more talented and productive.
What could happen: The Sun Belt will be led by Western Kentucky, North Texas and Denver, but it's not as if any of those teams is intimidating. There is room for FAU to climb significantly in the league standings from two wins into the seven or eight range.
What's likely to happen: FAU will climb, but it won't be enough to yield a postseason berth. If there is improvement this season, then postseason could be in the discussion in 2011.

Hartford
2008-09 season: 2-14 in the America East, 7-26 overall
Reason for optimism: Let's start with Binghamton's implosion. That should send last season's champ down to the bottom of the league, pushing up a team like Hartford. The rest of the conference is solid and has some noteworthy players, including Vermont's Maurice Joseph and Marqus Blakely. New Hampshire and Boston University should be in the mix for the title, too. But there is room for advancement for the Hawks. Newly named assistant Rick Brunson, a longtime NBA player, was added to Dan Leibovitz's staff and has raved about junior college transfer Milton Burton. Having a healthy Joe Zeglinski on the perimeter will help the balance. If this team can defend and rebound, it will have a shot to move into the eight-win range in the America East.
What could happen: Remember, the Hawks played for the America East automatic berth in 2008, and they'll host the first two rounds of the conference tournament this season. So a run to the title game isn't out of the question if they can make the Chase Arena at Reich Family Pavilion rock.
What's likely to happen: The Hawks will improve their win total but won't reach the postseason.