Category archive:

Indiana State Sycamores
January, 31, 2013
01/31/13
7:10
PM ET
Indiana State has an NCAA tournament résumé -- now.
Wins over Ole Miss and Miami in the Diamond Head Classic in Honolulu have legs that will reach to March. The road win earlier this week at Wichita State keeps Indiana State within distance of the Missouri Valley title. The Sycamores are only a game out of first place with one game to go against each of the league leaders, Creighton and Wichita State.
[+] Enlarge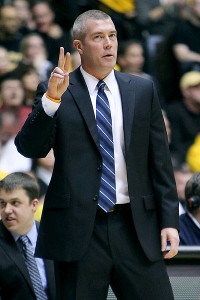 William Purnell/Icon SMIIndiana State coach Greg Lansing wants the best possible matchup for his team in the BracketBusters.
Now the trick is to get a power-rating game worthy of attention when the BracketBusters games are announced Monday at 6:30 p.m. ET on ESPNU.
The Sycamores represent the perfect candidate to benefit from this final season of the event, which was built to prop up teams outside the power six conferences. The event has wilted a bit in its importance, as higher-profile teams outside the power six have declined to participate, or in some cases, the entire conference is no longer a participant -- like the CAA this season. This may be the weakest the CAA has been in a long time, so its absence won't be as disturbing (see: no more VCU). Schools like Louisiana Tech -- leading the WAC -- fellow contender New Mexico State, Patriot League top teams Bucknell and Lehigh, and America East leader Stony Brook are all not in the event.
Indiana State (14-7, 7-3 in the Valley, power rating of 43) needs to get a quality matchup to help its cause.
The home and visiting designations are predetermined for the Feb. 22-23 event. Indiana State is a home team, which takes the Sycamores out of playing Saint Mary's, arguably the most intriguing non-Missouri Valley team in the event. The Gaels are also a home team and are almost a lock to host Creighton in the highest-profile game of the weekend.
Indiana State coach Greg Lansing said he sent a list of his requests to the conference office, which works in conjunction with ESPN programming to put together matchups. Lansing said he'd like to see the Sycamores against Detroit (78 RPI), North Dakota State (62) or South Dakota State (64), which speaks volumes about the pool this year. Lansing is also trying to manage a return game on next year's schedule.
Ohio would make a more intriguing matchup, but strictly on power rating the Bobcats at 97 don't resonate as much. But that probably shouldn't be the deciding factor since Ohio still has D.J. Cooper and the shine of a Sweet 16 appearance from a year ago. The Ohio Valley's Eastern Kentucky, which checks in at 75, might be more palatable, too. Iona wouldn't be a bad choice, but the Gaels are at an RPI of 97.
"I want to play the best team out there that we can,'' Lansing said.
Indiana State also played New Mexico at home and lost in overtime in the MWC-MVC Challenge, and pushed San Diego State in Honolulu and in the opener at UCLA before losing both.
"We wanted to be in fun tournaments that prepared us for the conference,'' Lansing said. "These teams we've played aren't any better than Creighton or Wichita State. And those two might be the two best we've played, and that includes UCLA, New Mexico, Ole Miss and Miami. Both teams are so smart, athletic and long, and switch things up. Both of those teams can make runs.''
If Creighton at Saint Mary's is the marquee game of the event, let's speculate on the other 13 TV matchups that I could see occurring:
• Detroit at Wichita State: Shockers would get a decent RPI game, but not a game changer for the tourney.

• Ohio at Indiana State: This is probably the best the Sycamores could land.

• Montana at Utah State: This makes too much sense with the Big Sky's best going against the former Grizzlies coach in Stew Morrill.

• Stephen F. Austin at Murray State: The Racers have struggled, but SFA is one of the top teams nobody is talking about but probably will in mid-March.

• Denver at Belmont: Belmont has a sensational power rating at 17, and the Pioneers are familiar to Tennessee, having just left the Sun Belt for the WAC.

• South Dakota State at Niagara: This could be a sneaky good game with Nate Wolters leading the Jackrabbits to upstate New York, where the Purple Eagles have been a MAAC surprise.

• Pacific at Valparaiso: Two private schools who play fundamentals well and could easily be in the NCAAs representing the Big West and Horizon, respectively.

• North Dakota State at Long Beach State: This could match the winner of the Summit, and the top team in the Big West.

• Iona at Akron: Both of these schools are perennial contenders in the MAAC and MAC, and with RPIs under 100 make for a solid matchup.

• Illinois State at Davidson: Jackie Carmichael has been under the radar this season, and the Wildcats are a threat to win the Southern and earn a bid.

• Canisius at College of Charleston: The Golden Griffins have been a surprise so far in the MAAC, and Charleston is always good for a decent run in the SoCon.

• Weber State at Oral Roberts: Weber is trying to catch Montana in the Big Sky, while ORU is right in line with SFA in the Southland.
October, 12, 2011
10/12/11
11:07
AM ET
Winning three games in a conference tournament is a productive run for a team, especially when it's capped off by an NCAA tournament berth.
Winning a regular-season title the next season and getting a berth again, and you've got yourself a program with staying power.
That's what Indiana State is attempting to do under coach Greg Lansing.
[+] Enlarge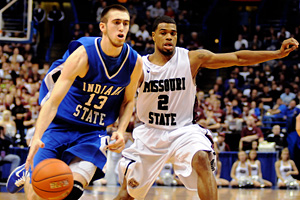 Tim Vizer/Icon SMIHometown kid Jake Odum led Indiana State to a surprise NCAA tourney appearance in 2011.
And it's going to be quite a chore.
Lansing is in his second season with the Sycamores, returning a team that has a legit shot to compete for the Missouri Valley Conference title. But in the eyes of most, Indiana State starts the season in third position. You won't find anyone picking ISU over Creighton or Wichita State. At the moment, the Sycamores' talent simply doesn't match up with those two programs.
But it might not matter. Indiana State has the experience of winning last season's tourney in St. Louis; Jake Odum is as savvy a point guard as there is in the league; and a confidence runs deep throughout the program that the Sycamores can duplicate what occurred last season.
"The goal isn't to just get lucky at the end of the year and win the conference," Lansing said. "We should be right there. We still won 12 league games last season, and that means we won on the road. We might not have the same talent as Creighton and Wichita, and they'll be 1-2 in some order, but we'll certainly be in the conversation. Our goal is to win the regular-season championship."
The Valley has been one of the best and most competitive conferences outside the traditional big six leagues for quite some time. But the MVC hasn't had that breakthrough team get to the Final Four like the Horizon or Colonial. And the depth hasn't really been there. Rather than having a 1-10 lineup of teams that is daunting, the Valley has had plenty of programs that take turns at the top, only to slide down to the bottom.
Northern Iowa, Southern Illinois, Bradley and Drake all have had their turns with Wichita State and Creighton.
Now it may be Indiana State's chance.
We'll know early if Indiana State is worth tracking throughout the season. The Sycamores have a golden shot to matter by performing well at the Old Spice Classic in Orlando. They open with the Big 12's Texas Tech in the first round. The Red Raiders are rebuilding under Billy Gillispie. If ISU beats TTU, Minnesota would be the likely semifinal opponent. The other side of the bracket should be won by Fairfield, but Dayton or Arizona State are legit possibilities.
Bottom line: This field offers Indiana State a real shot to do something special and be relevant early in the season.
Blue Ribbon Previews
Take an Inside look at the MVC with Blue Ribbon's 2012-13 team reports:

No one should expect ISU to win at Vanderbilt on Dec. 17. But road games against Louisiana-Monroe in mid-November and at Boise State in early December are winnable and will give us further indication as to whether this team is a contender or pretender.
The makeup of the roster is odd; most of the players are either seniors or sophomores. But that mix allows for an experienced crew that should be able to handle adverse situations.
Indiana State was hardly a model of consistency last season. ISU was 6-7 through 13 games, and 7-6 in the Valley after a five-game losing streak. But Odum led the turnaround for the Sycamores as they won their final five MVC games and then made the run in St. Louis, before losing to Syracuse in their opening game of the NCAA tournament.
"Jake Odum is terrific," Lansing said of the 6-foot-4 sophomore from Terre Haute, Ind., who led the Valley in steals last season and was second in assists. "I finally wised up and let him take over the leadership of the team. He has an uncanny ability to lead this team. He's so competitive and so tough to go along with that. We've got a nice nucleus, for sure."
So now the onus is on Lansing, Odum and Indiana State to challenge for the Valley regular-season title. It is doable. Yes, Creighton and Wichita State are the favorites, but Indiana State is a viable dark-horse challenger.
Even if it was for just three days, this group knows what it takes to win a championship. Can the Sycamores do it over a two-month period?
"We'd love to be in that position," Lansing said. "But we've got a long, long way to go. We can't sit back and talk about how good we are. This is a new team, a new season and we have to prove ourselves again."
October, 13, 2010
10/13/10
10:21
AM ET
Greg Lansing was once fired as an assistant at a Big Ten school and is now in charge of a historic Missouri Valley institution.
The chain of events for Lansing to be in the position at Indiana State is hard to fathom. The dominoes that led to the opportunity stretched across the country.
Oregon pursued Mark Few of Gonzaga, Tubby Smith of Minnesota, Billy Donovan of Florida, Mike Anderson of Missouri and Tom Izzo of Michigan State -- all to no avail. The Ducks' job was finally accepted by Creighton's Dana Altman.
"Look at how many people had to turn down the job before Dana accepted it," Lansing said.
Lansing was at an Indiana high school basketball coaches clinic when Altman decided to take the Oregon job in late April. Lansing was there with his Indiana State boss, head coach Kevin McKenna, and Steve Alford, who fired Lansing when the two were at Iowa.
"When we heard about Dana, Kevin wanted the job bad, it was his alma mater and you can't blame him for that," said Lansing of McKenna's desire to go to Creighton after three seasons at ISU.
Creighton is one of the elite Valley programs, having one of the top arenas and one of the largest metropolitan cities in the league, as compared to the more remote Terre Haute, Ind.
If McKenna got the Creighton job, Lansing assumed he would get the Indiana State job. He had been an assistant twice at ISU, hired both times by Royce Waltman with a seven-year stint at Iowa in between.
"All of a sudden, Kevin doesn't get the [Creighton] job and he was crushed," said Lansing of McKenna losing out to Iowa State's Greg McDermott. "I got my hopes up, not to see Kevin leave but to get the head coaching job."
But then, just like that, McKenna did leave -- to work for Altman at Oregon.
"And then a few weeks later, he's going to Oregon to run the offense for Dana," Lansing said. "The chain of events that happened -- I'd hate to guess the odds."
Go back even further, and the likelihood that someone like Lansing would be a Division I head coach seems more remote. Head coaches can rebound much easier than assistants who have been fired, even if the terms of the firing weren't controversial. There was still a stigma for Lansing.
He had befriended Sam Alford, Steve's father, when the two Valley assistants were recruiting on the road for Indiana State and Southwest Missouri State. That allowed Lansing to get close to Steve Alford, who then eventually hired him to go to Iowa.
The staff dynamic changed when Alford hired former NBA assistant Craig Neal, who has since followed Alford to New Mexico as the associate head coach. Neal meant an overhaul at Iowa and Alford told Lansing and Rich Walker that he needed to change the staff.
"Things had gotten stagnant," Alford said. "For whatever reason, things weren't moving forward. We needed a freshness, and I had to let him and Rich Walker go. I brought in Tim Buckley and Billy Garrett. I needed freshness more than anything else in regards to recruiting. There was nothing there with Greg. We were on good terms, and we still talk a lot."
Still, getting fired is never a resume builder in a profession that loves to win a news conference.
Lansing said he received plenty of calls from fellow Big Ten coaches offering support, but there weren't any job offers.
"My reputation was good," Lansing said. "I wasn't worried about it."
Waltman eventually hired Lansing because he had a comfort level with Lansing earlier in his tenure at Indiana State.
"Royce Waltman saved me twice," Lansing said. "Five years after being let go, I'm a head coach. In today's climate, the odds are slim and none. This doesn't happen. I'm just really lucky."
Lansing said being the son of a coach and coming up as a Division 2 player and working hard for everything has made him even more palatable as a head coaching candidate. He worked his way up as a high school coach and as a restricted-earnings assistant, when that title was still viable.
"That's what's carried me, my ability to work with others and persevering," Lansing said. "I don't operate with the fear of failure."
As an assistant, Lansing was instrumental in making the Sycamores somewhat relevant again in the Valley. Indiana State finished 9-9 last season, tied with Bradley and three games ahead of Southern Illinois. The Sycamores were 17-15 overall and played in the CBI, losing to Saint Louis in the first round.
They did it without Iowa transfer Jake Kelly, who suffered an ACL injury in the conference opener against Southern Illinois. (He's expected to be 100 percent this season.)
The Sycamores did have some modest success under Waltman, reaching the NCAAs in consecutive seasons in 2000 and 2001, including winning a first-round game.
Make no mistake about it, the aura of Larry Bird still resonates. Lansing is well aware that if the Sycamores can take their rotational turn atop the Valley in the near future, the specter of Bird will only increase the value of the program.
"We can sell not just one of the greatest players ever in college but in the NBA," Lansing said. "We can sell that to recruits that this community has the passion for basketball. People here like to talk about those times, but it's only 10 years ago that Waltman took those teams to the NCAA. Our plan is to be right up there and be like Northern Iowa was in March."
But there is a disparity in the Valley. There are schools that have the first-rate facilities like Creighton, Wichita State and Southern Illinois and pay their coaches around $1 million, and there are those in the Valley who are making the most out of a limited budget.
Lansing fully understands the financial challenges at Indiana State because his wife, Angie, who was former cross country runner and an academic all-American at ISU, is the current Senior Women Administrator and business manager. Her brother, Michael, was the starting point guard on the Sycamores' team that won the NCAA game in 2001 over Oklahoma.
"We have our battles to fight that a lot of schools that don't have football don't worry about," Lansing said. "It doesn't hurt to have my wife as the business manager. I hope that means there is job security. But she makes sure I understand about the spending and what we have versus the other schools. We can still sell things and we have the history of the program here, and to do it here at Indiana State would mean a lot."
One major difference is the Sycamores can't afford to buy home games. That's why they have a brutal nonconference schedule with only three home contests before the league-opener against Bradley on Dec. 29.
Lansing will have plenty of challenges with the Sycamores, but based on the way he got the job, he isn't about to complain.
"It's a tremendous opportunity for him since he's been a longtime assistant under Royce, McKenna and myself," Alford said. "He's got good Midwest ties, and it's good to see assistants get jobs instead of recycling others."