Category archive:

Long Beach State 49ers
September, 3, 2013
09/03/13
11:46
AM ET
Jerry Tarkanian is being inducted into the Basketball Hall of Fame for his innovative style, his transformative program at UNLV and his overall dominance for long stretches of his wildly successful career.
But it is his loyalty -- his unshakable loyalty -- that his players and coaches recall most fondly about his career and his life.
Tark, now 83 and weakened after myriad health problems, will finally get his just due Sunday in Springfield, Mass., recognized by his peers for a basketball life well lived.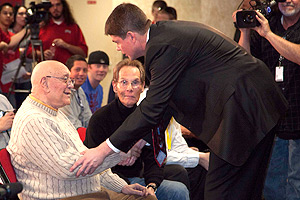 AP Photo/Julie JacobsonJerry Tarkanian was there for Dave Rice when he was introduced as UNLV's new coach in 2011.
Players from so many decades will either be there in attendance or watching on NBA TV. From each era -- the California junior college days, Long Beach State, UNLV, Fresno State -- there will be players who profess loyalty. And still do. Many of the names are familiar: Reggie Theus, Stacey Augmon, Larry Johnson, Greg Anthony, Chris Herren, etc. His former assistants like Tim Grgurich, Mark Warkentien and John Welch are also lifelong disciples.
But there is one person who stands as a prime example of Tark's loyalty to his former players: Roscoe Pondexter.
Pondexter played for Tarkanian at Long Beach State for just one season (1972-73), which was Tark's last at Long Beach before going to Vegas. Pondexter played his final season at Long Beach for Lute Olson, but it was that one year with Tark that left an indelible impression.
"I drove him to the airport [when Tark departed Long Beach for Las Vegas]. I walked him and his wife [Lois] all the way to the gate,'' said Pondexter, now 60 and working as a substitute teacher in Memphis while his son Quincy plays for the Grizzlies. "I played one year for him. But I had known him from high school and when I was in junior college. I stayed in contact with him.
"Jerry has a way of showing a kid loyalty. I'm sure if it were for four years it could have developed even more. But he still remained loyal to me all this time after one year.''
Fast-forward to Tark landing at his alma mater Fresno State in 1995. Pondexter's pro career had long been over. He was a mountain of a man and had been working as a corrections officer at Corcoran State Prison in California. There was abuse within the prison. According to the Los Angeles Times and Esquire, Pondexter gave testimony against his former co-workers in exchange for immunity from prosecution. It was the culture of the prison, he would say.
But Pondexter was out of a job. He needed help. Tark rescued him and changed his life -- and as a result Quincy's too, giving him more stability as a young lad making his way through elementary school and ultimately into the national basketball scene that would take him to the University of Washington and into the NBA.
"He invited me back [to Fresno State] to finish my education,'' said Roscoe Pondexter, who also worked as an assistant within the athletic department while finishing school. Pondexter was a de facto adviser for the Bulldogs, snuffing out problems on campus and leaning on the players to ensure they were where they were supposed to be. "This was way after my basketball days were over.
"Jerry would help athletes get jobs after they were done playing. When I think of Jerry Tarkanian, I think of loyalty and respect for his players. It was 20 years after I had finished playing basketball for him and he brought me in as part of his staff and his inner circle. My family appreciated it. He made a sacrifice for me.
"I got fired and everyone was blasting me,'' said Pondexter of the charges from the prison. "Jerry said that's not the Roscoe I know. And that was that. He refocused me on basketball again. I was in my element again. Quincy was a little kid then. He would come to school with me, see all those guys, sit on the bench with me, and it was crucial for him to see and develop that respect and admiration.''
When Tark is inducted Sunday and presented by Hall of Famer and good friend Bill Walton, his former players will be with him for everything he did for them.
[+] Enlarge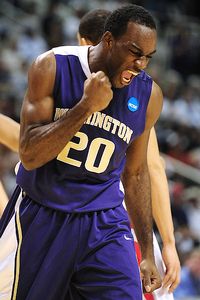 Kyle Terada/US PresswireWhile at Washington, Quincy Pondexter received a Tark pep talk at just the right time.
For all of Tark's detractors -- and there were many, mostly at the NCAA headquarters when Tark was at Long Beach, UNLV and Fresno -- none can dispute his loyalty.
"The biggest misperception about Jerry is that he only wanted these guys for basketball,'' Pondexter said. "Or that he used kids or didn't care about education or any of that stuff. That's not true at all. I'm an example of that. I was fired from a $100,000 job and had peanuts. He invited me back to work at Fresno State. Nobody else wanted to give me a chance. Jerry Tarkanian stepped up. I'll always be very thankful and blessed to play for such a loyal guy. He helped me through a very difficult period.''
Pondexter said Tark inspired his whole family. He brought up a time when Quincy was struggling at Washington and Tark came down to speak with him, to spark him. It worked.
The relationship with Tark was for life, Pondexter said.
"You could make millions and all that stuff or maybe not,'' he said. "Jerry Tarkanian helped a lot of different people from different avenues, well after basketball. A lot of what he did wasn't in the limelight.''
In 2006, a former Pondexter teammate at Long Beach State, Leonard Gray, died at age of 54. The players were gathering around at his memorial service.
"We were all sitting there, thinking about the good and the bad and then Jerry Tarkanian shows up, just by himself, no entourage, nothing,'' Pondexter said. "He could barely get out of the car before everyone ran over to him. He showed so much respect for everyone. He made the day for everybody. Everyone treated him like a father figure and he made sure everyone felt OK.''
Tark will get his due this weekend, a moment long waited for by his devoted family, friends, coaches and former players, who have always returned the loyalty and faith that he showed in them.
"Jerry comes from a different era, a different time, a different place,'' Pondexter said. "He is a guy who was true to himself and to his players. He was loyal to his players who really, really needed him outside of basketball. He gave opportunities to people that these days would never get anywhere else. He always said if you come play for me, I will be a loyal friend for life and support you. He did. He lived up to it every second.''
Editor's Note: For more reflections on Jerry Tarkanian's career, read our full coverage in the Nation blog.
November, 10, 2011
11/10/11
10:51
AM ET
The elite powers have resurfaced at the top of the Top 25 and across the high-major conferences.
A few schools, like Xavier, Gonzaga and Memphis, as well as newcomers Baylor, Marquette and Vanderbilt are expected to challenge with deep NCAA tournament runs and possible Final Four berths.
But what about the programs that missed the NCAA tournament a season ago? The ones that appear destined to rise this season?
A run to New Orleans might not be prudent to predict. But then again, no one had VCU headed to Houston last April. But even the Rams didn't have a consistent regular season. VCU squeaked into the field and then enjoyed a magnificent postseason run. Connecticut, another team that had been nearly as erratic, albeit against superior competition, won the national title.
Below are 10 programs headed for breakout seasons. If they fall flat, they may have no one to blame but themselves. The talent is in place. The landscape is open. And the opportunity exists for any team in this group to make the bracket its own for a weekend or two in March.
[+] Enlarge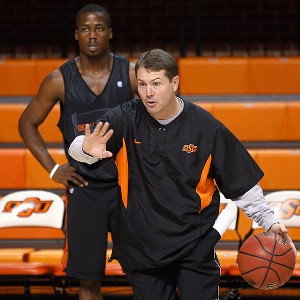 AP Photo/Sue OgrockiThe addition of freshman LeBryan Nash makes Travis Ford's Cowboys a team to watch in the Big 12.
Oklahoma State: The Cowboys are picked to finish in the middle of the pack in the Big 12 -- and with good reason. Baylor, Texas A&M, Kansas and Missouri should all be deemed favorites. Texas arguably could finish higher than the Cowboys. But Oklahoma State has one of the top freshmen in the country who few discuss outside of the region in LeBryan Nash. He could be a star by midseason. Oklahoma State coach Travis Ford has assembled a cast that is more apt to run this season and cause havoc the way he's envisioned. The Cowboys have a loaded schedule after picking up a challenging game versus Pitt at Madison Square Garden on Dec. 10. Oklahoma State may still finish as low as fifth or sixth in the Big 12. But if they get into the NCAA field, consider the Cowboys a potential breakthrough team with an ability to cause problems in March.
Marshall: Memphis is the clear favorite in Conference USA. But the Thundering Herd have two guards -- DeAndre Kane and Damier Pitts -- who can match up with any of the players on the Tigers. Marshall has plenty to prove to be worthy of a team that should be taken seriously. There are a number of nonconference games -- Belmont, Iona, West Virginia and Cincinnati -- that will show if Marshall is worthy of significant hype. And of course the Herd must make Huntington a tough place to play and be consistent to nudge at Memphis throughout the winter. If Marshall does that, you'll take the Herd seriously in March.
Harvard: The Crimson are the pick to win the Ivy. They technically won a share of the regular-season title with Princeton last season. But Harvard lost the playoff game against the Tigers on a buzzer-beater and then got blasted at Oklahoma State in the NIT. Harvard is finally ready to be the Ivy leader from the season's start to its finish. Coach Tommy Amaker has the core of his team returning, and Harvard can compete with most teams in the country. Keith Wright is a legit All-America candidate. Kyle Casey, Brandyn Curry, Christian Webster and Oliver McNally are all experienced. The Crimson can make a name for themselves with a win at Connecticut on Dec. 8, easily the most recognizable game on the schedule. But if not, don't fade on Harvard during the winter. This team will be relevant in March and a trendy first-weekend upset pick.
Detroit: Slaying Butler in the Horizon League has been like the search for the Holy Grail for conference opponents. Milwaukee thought it had the Bulldogs beaten when it hosted the conference tournament title game, only to lose. Detroit has the personnel to dethrone Butler, even with Eli Holman's status in doubt. The majority of coaches in the league tab the Titans as the team to beat and the most talented with Ray McCallum Jr., Chase Simon, Nick Minnerath and Doug Anderson. Members of the Valparaiso staff said last week that the Titans look like a formidable Big Ten team when they step on the court. Detroit has the opportunity to make the NCAAs with a solid schedule. Get there, and the Titans will be a hard out.
Creighton: Greg McDermott was no fool when he left Iowa State on his own terms and seized the Bluejays' job once Dana Altman went to Oregon last year. McDermott had been in the Missouri Valley at Northern Iowa and seen the success and potential of arguably the top job in the conference. The Bluejays have a number of hidden gems who are flying under the national radar in Doug McDermott, Greg Echenique and Antoine Young. The problem for Creighton is that the schedule could have been stronger. It may need to have a significant run during the Valley tournament, which won't be easy at all due to the strength of Wichita State and Indiana State, to ensure a bid. But once they're in, the Bluejays have the personnel in the right positions to be a serious pest.
New Mexico: Coach Steve Alford is going through a bit of a renaissance in Albuquerque. The Lobos had a big-time run two seasons ago but then took a dip last season. The ability to bounce back quickly will be on display in 2011-12. Alford has found the right mix of four-year transfers (Drew Gordon and Demetrius Walker), hidden gems out of high school (Kendall Williams and A.J. Hardeman) and an international sharp shooter (Australia's Hugh Greenwood) to put together a conference champ. The Lobos will have to manage the nonconference well and get past UNLV, but this team has the ability to be a second-weekend squad in the tournament.
Saint Louis: Rick Majerus had a horrendous personal year with the death of his mother and multiple injuries and illnesses. He's also had to deal with the suspensions of his two best players. But he seems energized this fall and has a team that is committed to making serious strides in the A-10. Kwamain Mitchell is back after a suspension. He joins Mike McCall and Kyle Cassity as the core of this team. Majerus put together a challenging slate of nonconference games, giving the Billikens ample tests to see if they're worthy of the praise. Xavier and Temple are the standards in the A-10. St. Bonaventure is a legitimate upstart with perhaps the best all-around player in the league in Andrew Nicholson. But Saint Louis should a formidable team, poised to get Majerus back to the NCAA tournament.
Virginia: The plan at Washington State was to get players out of high schools and take chances, in hopes they develop and reach their potential. The Cougars did, and Tony Bennett got them to the NCAA tournament. Wazzu's program isn't close to Virginia's. The Cavs have more resources, finances and access to players. Still, Bennett hasn't deviated from his plan. And now that Mike Scott is healthy inside, Bennett has a team that gets him, his style and his commitment to defense. The Cavs should be able to score and close games, rather than sit on the doorstep, unable to get significant wins. The timing is perfect for Virginia, too. The ACC is in a rebuilding mode outside of North Carolina, Duke and to some extent Florida State. The rest of the league is in flux, giving Virginia ample chances for wins and to establish itself as a top-four team en route to the NCAAs.
Oregon: The Ducks have the Nike resources, the state-of-the-art everything and have been consistently recruiting talented players to the Northwest from urban centers in the Midwest -- regardless of the coach. Dana Altman also fully understood the need to infuse a few transfers, one is a risk in Wake Forest's Tony Woods, and another is a lock for success in Louisiana Tech graduate Olu Ashaolu. The infusion of newcomer Jabari Brown, who was a hit on a summer trip to Italy, is a game-changer for the Ducks. Altman said Brown still needs to be consistent, but who doesn't at this stage in the season? Oregon has a challenging schedule, which includes opening at Vanderbilt, so be patient with the Ducks. In a Pac-12 where there is no clear favorite (not Cal, UCLA, Washington or Arizona), the opportunity is there for Oregon to surprise. The Ducks won the CBI tournament over Altman's old team, Creighton. The natural next step will be the NCAAs.
Long Beach State: Dan Monson has had a long road back to the point where he feels comfortable in the game. He left Gonzaga to try to rebuild Minnesota after NCAA violations. He wasn't able to turn that program around on a consistent basis. Now he's done that at Long Beach State. The 49ers were atop the Big West last season but didn't win the conference tournament. Long Beach will have to fend off Orlando Johnson and UC Santa Barbara again, but with Casper Ware and Larry Anderson, the 49ers should prevail. Long Beach has a monster nonconference schedule that could set up an at-large berth if it falls short in the Big West tourney. Long Beach will have the talent to win a game in March.
March, 1, 2011
03/01/11
5:07
PM ET
Quick thoughts for the final week of the regular season:
• If Kansas State continues on its current pace and finishes in third place in the Big 12, why shouldn't Frank Martin be coach of the year in the league? Martin has dealt with multiple suspensions and defections and has the Wildcats positioned to be a threat to win the Big 12 conference tournament and go into the NCAAs on quite a high.
Even though it took until late in the season, Martin got Jacob Pullen to become the leader he needed him to be for the Wildcats. Martin is pushing the right buttons with this squad at the right time and, ultimately, isn't that how a coach should be judged? How a team finishes, not just how it starts, should be part of the criteria.
• Brigham Young's Jimmer Fredette is the leader for national player of the year. Why isn't Dave Rose getting similar attention for national coach of the year? Rose has the Cougars in position to nab a No. 1 seed or at the very least a No. 2. The Cougars have become a solid interior defensive team as evidenced by how they handled San Diego State on Saturday and they've been calm, cool and collected in hostile road games throughout Mountain West play. Rose has BYU on the verge of a historic season. He's also coached and developed Fredette into a star.
• I'd love to hear from the selection committee if wins over Duke by Florida State and Virginia Tech were the deciding factors in admitting them into the Dance. St. John's didn't need just its win over Duke to earn a bid. But will the Duke win be all the Seminoles and Hokies have to show on their résumés? The numbers may add up for selection but how much of that bid would be based on beating Duke?
• We had an interesting debate on our Experts show Tuesday about comparing middling high majors with conference champs from lower-tier leagues with a gaudy record. Belmont would be an interesting team to watch if the Bruins (19-1 in the Atlantic Sun, 27-4 overall) were to lose in the conference championship. They likely wouldn't get a bid but could be a first-round upset team if they make the tournament.
• The Colonial may be the most competitive conference tournament outside of the power six. The top four seeds -- George Mason, Old Dominion, VCU and Hofstra -- are all capable of winning the event in Richmond, Va. Drexel, the No. 5 seed, has shown that it can beat anybody in the league as well as lose to just about anybody. The winner of this tournament will be battle-tested for a first-round NCAA tournament matchup. A George Mason-ODU final would be an NCAA-caliber type affair.
• We chose our most disappointing teams on the Experts show Tuesday. Michigan State is an easy answer. But I believed Northwestern would make the Dance this season. That's the second time I've predicted Northwestern would make the field (last season being the first). The Wildcats didn't make it then, they won't make now -- they had a number of chances to win quality games and whiffed.
• WCC commissioner Jamie Zaninovich is on quite a roll of late. He lured BYU into the WCC after a deal with the WAC fell apart and he's getting the Cougars after what could be a historic season in Provo. This week he was named to a five-year term on the NCAA tournament selection committee, beginning in the fall. Zaninovich joins LSU athletic director Joe Alleva as the new members on the committee.
• Purdue's JaJuan Johnson has to be a first-team All-American. And if Purdue ends up tied with Ohio State for the Big Ten title then why shouldn't he be Big Ten Player of the Year over Ohio State's Jared Sullinger?
• A month ago Connecticut's Jim Calhoun and Kemba Walker looked like the coach and player of the year in the Big East. Now, I don't think Calhoun will win the award with St. John's Steve Lavin, Louisville's Rick Pitino, Notre Dame's Mike Brey and Pitt's Jamie Dixon ahead of him. Meanwhile, St. John's Dwight Hardy and Notre Dame's Ben Hansbrough may have the inside track on Big East Player of the Year.
• Long Beach State coach Dan Monson was relieved when he left Minnesota in 2006. He was able to secure the best job in the Big West and now has a league title. Minnesota continues to be a tough place to coach, as Tubby Smith has learned.
• Conference USA is highly competitive from top to bottom. But that doesn't mean it should get more than one bid. If forced to choose the stronger conference between the CAA and C-USA, I'd go with the CAA -- it will have more bids and a better chance to advance in the tournament.
• If there is one team that should be in a better position now it's Washington State. The Cougars crushed Washington in Seattle and secured the season sweep of the Huskies. But Wazzu shouldn't be 8-8 in the Pac-10. The Cougars had a chance to beat Kansas State at home in December and lost, beat Gonzaga and Baylor, and then lost to Butler in the Diamond Head Classic final. But Wazzu couldn't beat Arizona at home, lost at Oregon, and had befuddling losses to Stanford at home and at Arizona State. Wazzu has been the most erratic team in the Pac-10 and yet could end up winning the Pac-10 tournament.
November, 12, 2010
11/12/10
12:05
PM ET
College basketball starts with a heavy dose of weekend games, before ESPN's 24-hour Tip-Off Marathon offers up a slew of must-see affairs Tuesday. But before looking forward, there must be some housecleaning done on a few issues. So here are my first impressions from a sprinkling of games this week: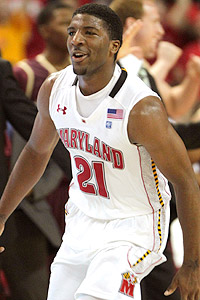 AP Photo/Rob CarrPe'Shon Howard made quite a first impression for Maryland this week.
Name to remember: Maryland freshman point guard Pe'Shon Howard
The offseason question for the Terps was who would replace Greivis Vasquez's leadership, moxie and overall late-game magic. The answer came rather quickly toward the end of the College of Charleston game. Howard made not just one, but two big-time shots to beat the Cougars. The second was all Howard, taking the ball down court and hitting a fall-back dagger of a jumper to win the game at the last second. I loved Maryland coach Gary Williams' stunned face as the buzzer sounded. He was obviously relieved, but also had to be thrilled that he had found a player who shares Vasquez's drive to do something special when the game matters most. Howard was an efficient 8-of-11 (2-of-7 at the line, though) in two games this week, scoring 19 points, dishing out 12 assists and snagging five steals.
Illinois can score: The Fighting Illini have been offensively challenged in recent years (who can forget the 38-33 loss to Penn State in '09?). But in two games this week -- albeit against poor competition -- Illinois averaged 81.5 points a game. That bodes well for a team that has plenty of talent that can push the basketball (expect games against North Carolina and at Gonzaga to be high-scoring affairs).
Texas has another stud freshman: Forward Tristan Thompson averaged 14.5 points in two games, but was even more impressive with a 17-point, seven-rebound, three-steal performance in a win over Louisiana Tech on Wednesday.
Pitt will rely on its veteran backcourt to win big: The Panthers played without injured forward Nasir Robinson in the first two games, and the consistency and production of the frontcourt is still an unknown. But Pittsburgh has two players in Ashton Gibbs and Brad Wanamaker who have matured into leaders, reliable scorers and money players in the final few minutes. Jamie Dixon can rely on these two to take over a game when needed. They carry themselves as mature young adults, ready to take the baton of leading Pitt to a possible Final Four.
Still-unresolved situations:
• Baylor coach Scott Drew said in a text message Thursday night that there had been no movement on reinstating senior guard LaceDarius Dunn for Friday's opener against Grambling State. The Bears can get by without Dunn for some time since the schedule is soft until Arizona State on Dec. 2 and Gonzaga in Dallas on Dec. 18.
• Kansas coach Bill Self said in a text Thursday night that he was hopeful there will soon be a resolution on the eligibility of point guard Josh Selby. But it didn't sound promising for the immediate future: Friday's game against Longwood and Monday against Valparaiso. Kansas starts the meat of its nonconference schedule with a rugged seven-game stretch -- Ohio, Arizona, UCLA, Memphis in New York, Colorado State, USC and at California. All of those teams, save perhaps Cal, should be in postseason contention. But the game against the defending Pac-10 champion is in Berkeley, which still makes it a difficult stop.
• Minnesota coach Tubby Smith suspended Devoe Joseph for a violation of team rules. The Gophers open against Wofford and then play Siena on Monday before going to Puerto Rico for three games, starting with Western Kentucky. Joseph is one of the better scorers for the Gophers, but this Minnesota team can take at least one suspension (unlike last season's team). In discussing this with the Minnesota staff Thursday night, I got the sense Joseph will be back sooner rather than later as long as he adheres to Smith's rules.
And now a glimpse at the weekend ahead:
Best games
No. 21 Georgetown at Old Dominion, Friday, 7 p.m. ET: The Monarchs are a CAA cofavorite, while Georgetown is a top-five Big East team. The Hoyas, who have lost two of their past three against the Monarchs, will be entering a rocking arena and will have to play well to win. This should have a February feel to it. Clearly, an ODU win will have more shelf life than a Georgetown road win. And the Hoyas have already started the season with one setback, as the school announced Friday that freshman center Moses Ayegba has to sit out the first nine games because someone who wasn't an immediate family member paid for his plane ticket to come to the United States before he enrolled in high school.
[+] Enlarge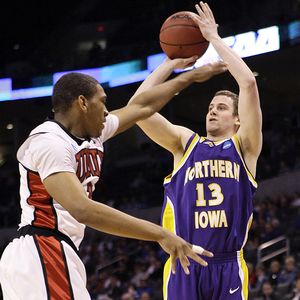 AP Photo/Tony GutierrezFresh off charming America in March, Johnny Moran and his UNI teammates open Friday at Syracuse.
Northern Iowa at No. 13 Syracuse, Friday, 7 ET (ESPN3): Don't be fooled into thinking this is the same Panthers team that upset Kansas. It's not. The Panthers lost too much of that squad to be looked at as a major threat to win at the Carrier Dome. But they will test the Orange zone. How well Kris Joseph emerges as the go-to guy and the impact of Fab Melo along the backline will be interesting developments to track.
Seton Hall at No. 22 Temple, Friday, 7:30 ET: The Pirates have been flying under the radar during all the Big East preseason talk, but still have enough talent to be a major player in the league's muddled middle. Meanwhile, Temple is the Atlantic 10 favorite and the one school at the top of the conference that has had no drama in the offseason. But a loss here at home could start the questions for Fran Dunphy's group.
Sneaky game to watch
Southern Miss at South Florida, Friday, 7 ET: The Golden Eagles project themselves as a real threat to take down Memphis in Conference USA. The Bulls are rebuilding a bit after losing Dominique Jones to the NBA. But USF is still a Big East team that won 20 games last season, so a road win here by Larry Eustachy's crew will go a long way toward earning credibility.
Notable debuts
East Tennessee State at No. 10 Kentucky, Friday, 7 ET (ESPN3): How well Brandon Knight plays at the point, Doron Lamb and Terrence Jones play on the wing and Eloy Vargas plays inside will all be interesting subplots for an Enes Kanter-less Kentucky squad. Don't forget that ETSU has gone to the NCAA tournament in each of the past two years. An upset is highly unlikely, but a young UK team had all sorts of problems with teams like Miami (Ohio) and Sam Houston State early this past season.
North Carolina A&T at No. 5 Ohio State, Friday, 7 ET (ESPN3): The Buckeyes' new stud forward, Jared Sullinger, is being billed as the possible Big Ten player/freshman of the year. Let's see if he lives up to the early-season hype.
Lipscomb at No. 9 North Carolina, Friday, 7 ET: The Tar Heels will be major players if freshman Harrison Barnes is a stud. This is our first look at America's No. 1 recruit, his fellow stud freshmen and a motivated group of UNC returnees.
Chattanooga at No. 20 Tennessee, Friday, 9 ET: The Vols have been the center of controversy this offseason due to the admitted NCAA violations by head coach Bruce Pearl and his staff. Then Tennessee lost an exhibition game to Indianapolis this week and had the critics howling. But the focus can, at least for now, return to the court and the expectations around Tobias Harris in his first game.
Detroit at New Mexico, Saturday, 9:30 ET: The Titans start the season at the refurbished Pit and get to unveil the hyped Ray McCallum Jr. The Lobos will play Tennessee transfer Emmanuel Negedu, who had to have a defibrillator put in his chest after he nearly died in 2009.
Tricky road starts
San Diego State at Long Beach State, Saturday, 7 ET: The MWC favorites begin a five-game road swing to start the season that will take them next to Spokane and then to Oxford, Ohio. Long Beach State is a Big West title contender and a heck of an opening challenge for a team with the highest expectations in SDSU history.
Florida State at UNC Greensboro, Sunday, 3:30 ET: The Seminoles, who fancy themselves to be a possible second-place finisher in the ACC, are going out of their way to challenge themselves this season with interesting road games. Florida State also goes to FIU on Nov. 18 and Loyola Marymount on Dec. 18 before opening up the Diamond Head Classic in Honolulu with a true road game against host Hawaii on Dec. 22.
October, 26, 2009
10/26/09
11:02
AM ET
There is a chance, albeit a small one, that Long Beach State could meet Minnesota in next month's 76 Classic in Anaheim, Calif.
If it occurs -- likely in a consolation game, since the schools are on opposite sides of the bracket -- then there should be an acknowledgment of how much Dan Monson helped put Minnesota in the position it is today. Tubby Smith, one of the best hires an athletic director has pulled off in the last decade, has put the Golden Gophers in the mix as a regular NCAA tournament team for years to come. But Monson shouldn't be forgotten.
The Gophers needed cleansing after the Clem Haskins academic scandal vacated the 1997 Final Four. After leading Gonzaga to the 1999 Elite Eight, the fresh-faced Monson was hired to bring some sort of normalcy back to Minneapolis. He did that.
He lasted seven-plus seasons with the Gophers, but only one NCAA tournament appearance ultimately led to his dismissal in November 2006.
Early-season firings aren't and shouldn't be the norm in college basketball, as they are in the NBA. But the four-month break was actually just enough time for Monson to decompress before the Long Beach State job opened.
Initially, his wife, Darci, cried when Long Beach called. A Northwest native, she wasn't enamored with moving to Southern California and the possible headaches of raising four children in the area. But that has quickly subsided. The family couldn't be in a better place or space.
[+] Enlarge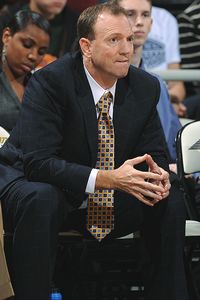 Matt A. Brown/Icon SMIDan Monson has quickly turned it around at Long Beach State.
"I enjoy going to work every day; that's the main thing that's different now," Monson said. "I don't care about the money or the league. I enjoy life again."
Two seasons after the firing, Monson is enjoying a renaissance at Long Beach State. He has pulled off a turnaround of this once-proud program, one that can claim success stories on the court under Jerry Tarkanian, Lute Olson and Seth Greenberg.
The 49ers were coming off NCAA probation that vacated the 2005-06 season, and one year later, Larry Reynolds led the program to the NCAA tournament out of the Big West. Monson went 6-25 in the first year with a depleted roster, but then last season went 15-15 and improved the conference record from 3-13 to 10-6, just one game behind first-place Cal State Northridge. LBSU lost a share of the title on a buzzer-beater by UC Santa Barbara in the regular-season finale.
This season, the 49ers should be right in the mix for the Big West title with Northridge, UCSB and UC Riverside. Among the four starters returning is Larry Anderson, who became the first Big West freshman in 35 years to earn first-team all-league honors. From 6-25 to title contention, life is good again for Dan Monson.
"He's happy and content and at peace," said former Monson assistant Mark Few, who is entering his 11th season as head coach at Gonzaga. "He's in a good place. He loves it there."
Monson's life had become so draining at Minnesota. When he first arrived in Minneapolis, Monson would gloat about what the Gophers had in a conference like the Big Ten, according to his friends. The amenities were cool at the time. But the pressure to produce now, rather than later, was not.
"I don't know if I ever felt [at peace] at Minnesota," Monson said. "Those eight years were very difficult, between the probation and all the adjustments. I don't know if I ever got into a comfortable routine."
The environment he is in at Long Beach State has much more of a Gonzaga-like feel. The Zags dominate Spokane, Wash. That's not the case in the Long Beach area near Los Angeles, with so many other interests permeating the sports and social scene. But there is still a community-like feel on campus that he missed.
Recruiting has also been much more of a joy, with the roster dominated by Californians (11). Monson spends more time at home with his wife and four children. Monson said the number of days he's at home isn't even comparable to when he was at Minnesota or Gonzaga, which does have to recruit outside the Northwest quite a bit.
"I left Minnesota feeling like I wish I would have won more, but I did what they wanted me to do, which was clean it up," Monson said. "I helped stabilize the program and run it the right way. We went to the NCAA tournament the first year off probation. We weren't a total disaster on the court. The academics and the recruiting were a solid base, but it needed a bump. Tubby has given that to them.
"I don't have a beef with the University of Minnesota at all. They gave me a lot of money, made me a better person for sure, and a lot better coach, since I had to deal with a lot of different situations there. I wouldn't trade any of what I learned about myself those eight years."
The Big West has searched for an identity since UNLV departed for the WAC (and later the Mountain West). Becoming an all-California league has helped narrow the focus, but it still could use a school like Gonzaga, a program that separates itself by garnering national publicity and becomes a barometer for the rest.
Long Beach State certainly has the history, the facility and the recruiting base to become that school. The rest of the league may challenge that statement, but the 49ers might have the first crack at distancing themselves.
"You've got to have that marquee team," Monson said. "Gonzaga lifted the other schools up to where the others are trying to match it."
Monson referenced Pacific's run from 2003 to 2006, when the Tigers were a regular in the NCAA tournament, even winning first-round NCAA games in 2004 and '05. The 2005 team went 18-0 in the Big West.
"If a league like this gets a couple of teams in the tournament, it can separate itself from the rest of the mid-majors," Monson said.
To do that, the coaching staffs need to stay somewhat intact. Pacific's Bob Thomason arrived in 1988. UC Irvine's Pat Douglass took over in 1997. UC Santa Barbara's Bob Williams got his gig in 1998. Cal State Northridge's Bobby Braswell, who earned the league's automatic berth last season, started with the Matadors in 1996.
"These are good jobs in great locations," Monson said. "I was ready again after 90 straight days going to the bus stop, ready mentally to take a head job again. And doing that for three months made me appreciate this job, made me appreciate what I have here. This is a great set up for me."
• The ACC media projected Duke and North Carolina in a dead heat for first place. That's a fair guess, as neither team is expected to dominate. Both could challenge for the national title, but both are flawed -- Duke in speed and quickness and Carolina in the experience of its guards.
But the rest of the poll is clearly debatable. Clemson was picked third, followed by Georgia Tech, Maryland, Wake Forest, Florida State, Virginia Tech, Boston College, Miami, Virginia and NC State.
A few certainties from my vantage point: Clemson, with its questionable perimeter shooting, won't finish third, and the experience and productivity returning at BC will prevent the Eagles from finishing ninth. Both are NCAA tournament teams in my mind, and so are Maryland, Georgia Tech, Wake Forest and likely Florida State. Yes, that's a possible eight teams in contention for bids out of the ACC, which is unlikely. But the balance in this league could lead to a banner season. I'm not sold yet on whether Virginia Tech or Miami can get there.
• Stats from intrasquad scrimmages don't mean much in the big picture, but they're still worth sharing.
USC desperately needs North Carolina transfer Alex Stepheson to be a major force this season. His numbers were solid in the Trojans' Gold and Cardinal scrimmage Sunday night: 13 points in 20 minutes and five boards. Leonard Washington played even though he's academically ineligible this semester. Clearly, Washington needs work -- he went 1-of-11 from the field.
If Wisconsin is going to keep its NCAA tournament streak going (11 straight appearances), Jon Leuer will need to be effective. He wasn't during Sunday's scrimmage, going 2-of-12. Trevon Hughes could be this team's stud, and he did have three steals. But he also had three turnovers and four assists.
Renardo Sidney hasn't been cleared by the NCAA's eligibility center to compete in games, but he can practice and be involved in scrimmages for Mississippi State. He certainly tantalized the Bulldogs staff with 19 points and seven boards in a 7-of-16 outing (3-of-7 on 3s, too) in 31 minutes during a Saturday afternoon scrimmage. All-America shot-blocker Jarvis Varnado was on the same side as Sidney and scored 22, making seven of 10 shots, nailing all eight free throws and blocking five shots. That was according to the box score. But the press release reported he scored 33 points. That probably tells you all you need to know about scrimmages. Either way, the Bulldogs will take a big night from Varnado. The bigger concern would be Ravern Johnson's going 2-of-13 and missing all eight 3s he attempted.
• Washington is trying to reach out to Gonzaga with a proposal to play a series in Seattle every year at Key Arena, with UW assistant athletic director Richard Kilwien saying the game would bring in $300,000 per school in the 50-50 ticket split. But the Zags' argument is that they already play a game in Seattle every season for their fans in the western part of the state. Gonzaga wants a true home-and-home series to resume with the start of the series back in Spokane -- and the Zags aren't budging. Kilwien and the rest of the Huskies aren't either, saying that they're not interested in a home-and-home series. So the stalemate continues, and the series won't continue. Gonzaga does have a true home-and-home with Washington's Pac-10 rival, Washington State.