Category archive:

Louisiana-Lafayette Ragin' Cajuns
June, 20, 2013
06/20/13
4:20
PM ET
The FIBA U-19 World Championships may not resonate here at home, but the goal of winning gold has never been more explicit within USA basketball.
As the seriousness of the men's national team has taken on a new level in the last eight years, the junior national team has followed that example.
Coaches are returning. Players are, too. Suddenly, playing for Team USA has value -- as it should.
But this is not an all-star team. This is a team that will compete in Prague next week, crafted to fit Florida's Billy Donovan's coaching style. He wanted a team that could press, rebound, defend and generate turnovers. The havoc fits the way one of his assistants -- VCU's Shaka Smart -- loves to coach.
"I like this team a lot,'' Donovan said. "More than anything this group of kids understands the sacrifice and attitude and work ethic.''
Here is the final 12-man roster and Donovan's assessment of what they've done and can do for Team USA, which begins play in the Czech Republic on June 27. The gold-medal game is set for July 7.
Michael Frazier, 6-4, G, So., Florida
"He comes in as the best shooter. One of the things we struggled with was behind the line. He really provides shooting. In our scrimmage against Air Force he was 4 of 6. He can be a spot-up shooter against a zone and help us space the floor a bit.''
Aaron Gordon, 6-6, F, Fr., Arizona
"He's really, really athletic. He's got a great motor. He can play the 3, the 4. He's really, really good in the press. He's really, really active, and he's going to be a very good player with a great motor.''
[+] Enlarge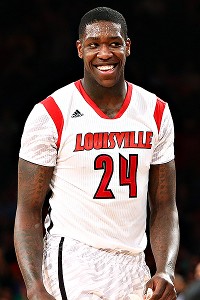 Debby Wong/USA TODAY SportsMontrezl Harrell will have an increased role at Louisville this season and his experience with Team USA should help.
Jerami Grant, 6-6, F, So., Syracuse
"He's been sick with strep throat. But he'll be healthy [for the tournament]. Like Gordon, he gives us another versatile frontcourt guy. Like Gordon, he can play a 3, 4 and 5 and his shooting has gotten better. He was on the team a year ago. He gives us great length and is versatile.''
Montrezl Harrell, 6-7, F, So., Louisville
"He's like Gordon and Grant in that he's really athletic. His skill level has gotten better [since last year]. He's really active. We can do a lot of things defensively with those three guys in Gordon, Harrell and Grant. We can press and switch and they can guard a lot of different positions, get out and run a little bit. We could play all three at the same time.''
Jahlil Okafor, 6-10, C, Whitney Young HS, Chicago
"He's really, really skilled in the low post. He's got a big body with a long wingspan. The way we're playing fast, running and pressing, he's the guy we can throw the ball inside and he'll make good things happen. He's a lot more mature than his age. He's going to play well with the pick-and-roll. He's a big, strong kid. We can go high-low with him and he can work his way to the basket. He's got a good skill level.''
Elfrid Payton, 6-3, G, Jr., Louisiana-Lafayette
"He came in as the surprise. He's really rangy and a very good defender. He can play multiple positions. He's really crafty with the ball and can get in the lane. The best thing he does is pass. He's a really good on-ball defender.''
Marcus Smart, 6-4, G, So., Oklahoma State
"He's been great leadership-wise. I think he's gotten better shooting the ball. His presence and competitiveness and strength and size will help us. So will his will. He came back to school and to us and that really helps our team. He has an incredible presence. I will play him at the point. But he'll also play the 2 and 3. We've got a lot of guys who can play different positions.''
Jarnell Stokes, 6-8, F, Jr., Tennessee
"He's really physical. He was with us last year and he can be a monster around the basket for us. Last year, we kept more guards. This year, more frontcourt guys.''
Rasheed Sulaimon, 6-3, G, So., Duke
"He's a good scorer. He was with us last year. He's shooting the ball with more consistency. He's more comfortable with the international line. We've got to get him to take over more of a leadership role. He was on the trip last year with Smart [when Donovan led them to the gold in Brazil for the U-18 title]. And he played a lot with Duke and that's important.''
Mike Tobey, 6-11, F, So., Virginia
"He's been really good. I think he'll really help us against the zone. After the first day or two, he adjusted and played really well.''
Nigel Williams-Goss, 6-3, G, Fr., Washington
"He's got a lot of the intangibles. He's a great leader and a really good motor. He's more advanced than his age. He's always played at a high level. He'll play the 2 for us.''
Justise Winslow, 6-6, F, St. John's HS, Houston
"He's a 6-6 guy that can play the 2, 3, 4 and really good in the press. The thing that's good for him is his overall skill, passing and unselfishness. He can guard several different positions. He's really athletic. He's a pass-first player that can slash to the basket.''
June, 19, 2013
06/19/13
8:04
PM ET
If
Elfrid Payton
ends up in the first round of the NBA draft at some point in the next two years, he can thank Louisiana-Lafayette coach Bob Marlin.
The number of advocates for Payton was zero before Marlin pushed. The junior-to-be was known in the Sun Belt, but was hardly noticed by Marlin's coaching peers, USA basketball or national media outlets.
None of that matters now. If Payton makes himself known in Prague during the FIBA U-19 World Championships, he won't have to worry about sending out a cheat sheet on his college career.
Payton was the surprise addition to the FIBA team that will compete for gold next week in the Czech Republic. He was placed on the roster due to his length, defense and overall activity.
Providence's Kris Dunn, Texas' Javan Felix, Villanova's Ryan Arcidiacono, Oregon's Damyean Dotson and Pitt's James Robinson didn't make the 12-player cut.
"He can play multiple positions," Marlin said. "You don't have to be at a big school to be a hard worker. He's in the gym all the time. He studies the game."
Payton averaged 15.9 points and 5.5 assists a game last season for a middling Sun Belt team that finished 13-20 overall, 8-12 in league play.
Yet, throughout the season, Payton would compare himself to Trey Burke (Michigan), Aaron Craft (Ohio State), Isaiah Canaan (Murray State), Damian Lillard (who was a lottery pick in 2012 and ended up being the NBA Rookie of the Year with Portland) and Norris Cole (the former Cleveland State guard who is playing for Miami in the NBA Finals).
"His quickness, length and feel for the game have been impressive," USA assistant coach Shaka Smart said. "Friday was the first time I've seen him play. But after seeing him the first session, I'm not surprised he made the team."
Rewind a few years ago, though, and it would've been a huge surprise.
"He wasn't even the best guard on his team in New Orleans," Marlin said of the John Ehret High graduate. "But he took his team to the last game in the Cajundome where we played. I went over the next week to his school, met with his parents at the principal's office and then signed him on an unofficial visit.
"You could tell he was going to be special when he got here. We pushed him to be a better defender. He is long, can steal the ball and has a good feel for the game."
Two years later he's representing the U.S. -- a season after leading the Sun Belt in assists and steals.
Marlin didn't have to push too hard in his campaign for Payton. He simply had to call. And his relationships helped tremendously.
Marlin wanted to get Payton exposure after the season. He tried to get him in the Nike skills camps with Chris Paul and Deron Williams, but he whiffed.
Then he got word there was a team going to China for a tournament. Marlin called and got Payton on the team coached by Jacksonville State assistant Tom Schuberth. The eight-game, 18-day tour, sponsored by a sports ministry in Kentucky called Sports Reach, got him valuable playing time.
After Payton returned, Marlin called Florida coach Billy Donovan, who is coaching the USA U-19 team.
"I told him I've got a guy for you that is really special," Marlin said. "I told him he would help his team. Billy told me they could use another guard to try out."
Sean Ford, who manages the USA basketball teams, got in contact with Marlin and made sure Payton was of age and had an updated passport, which he did for the China trip.
"Sean called some guys in their league and everyone said he's a really good player,'' Donovan said. '"When Tyus Jones scratched late, I told Sean we were better off bringing in another point guard. I left it ultimately up to him and [junior national team committee chair] Jim Boeheim.
One phone call and Payton was in -- the rest was up to him. Right on cue, he impressed the committee and the coaching staff so much at the tryouts in Colorado Springs, Colo., that it was a clear decision to add him to the roster.
"[Payton] is not a household name," Donovan said. "But he's a good player and has been in college for two years. He's a team guy and competitive. He plays the right way. Now playing on this team people will take a look at him to play at the next level.''
September, 8, 2010
09/08/10
9:23
PM ET
Keith Richard and Bob Marlin were having dinner in Las Vegas four summers ago, and both were lamenting that neither could get out of his job and to a higher level.
Richard, who had played at Louisiana-Monroe when Marlin was an assistant coach in the early 1980s, hunkered down for a meal to discuss the lack of movement at their level in the business.
[+] Enlarge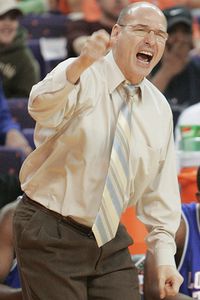 AP Photo/Patrick CollardKeith Richard, who played at Louisiana-Monroe in the early '80s, returns to the program as the Warhawks' coach.
In his last year at Louisiana Tech, Richard coached Paul Millsap, won 20 games and reached the NIT. Meanwhile, Marlin was at Sam Houston State and on the verge of winning 20-plus games in consecutive seasons.
"We were both doing a good job, but we couldn't move," Richard said, as ESPN.com continues its offseason look at all 53 new head coaches. "He was doing a good job at Sam Houston and couldn't move. I had done a good job at Louisiana Tech and couldn't move. We were talking about how fickle this business is. We knew neither of us had been to the NCAA tournament. We just hadn't won the right game to make a move. It was frustrating. We had done good jobs."
Richard was fired a year after this conversation took place. He spent a year out of basketball before he was hired by Trent Johnson as an assistant at LSU, returning to his hometown of Baton Rouge. Two seasons later, the job opened up at Louisiana-Monroe, and Richard was all over the gig and got it.
Marlin had interviewed at TCU, Rice, New Mexico State, Houston -- three times with three different athletic directors -- and met with Auburn before UTEP's Tony Barbee landed the gig. Marlin took the Louisiana-Lafayette job after finally leading the Bearkats to the NCAA tournament last season, winning 25 overall games in a conference (Southland) that has been one of the hardest to move out of for a head coach. The process is akin to coaches trying to seek upward mobility out of the SWAC and MEAC.
"We all want to get to a high level with a chance to be successful on a yearly basis," Marlin said. "But at the end of the day, I coach because of the players and the relationships and wouldn't trade that for anything."
Marlin didn't land any of the higher-profile jobs for which he interviewed during the past decade. Instead, he's the new coach a program that he says has a rich-basketball tradition where hoops comes first.
"When we saw each other at the league meetings, we talked about how that years later we're in the Sun Belt," Richard said. "There is a feeling of peace here. You can feel it with John Brady [Arkansas State], with Kermit Davis [Middle Tennessee], with Johnny Jones [North Texas], Ronnie Arrow [South Alabama], Steve Shields [Arkansas-Little Rock] and Mike Jarvis [FAU]. It's a good feeling to have a good job and have peace and feel good about it."
There is something to be said for finding that balance and not to constantly push for the right to play on the first Monday in April.
The Sun Belt is littered with coaches who have won a slew of games and have found the conference to be a resting place to work hard, pursue their craft and not worry about the next gig.
Just look at the records for the league's coaches:
UALR: Steve Shields, 113-95
Arkansas State: John Brady, 311-247
Denver: Joe Scott, 134-156
FAU: Mike Jarvis, 383-244
FIU: Isiah Thomas, 7-25
Louisiana-Lafayette: Bob Marlin, 344-166
Louisiana-Monroe: Keith Richard, 150-117
MTSU: Kermit Davis, 274-185
North Texas: Johnny Jones, 165-137
South Alabama: Ronnie Arrow, 311-219
Troy State: Don Maestri, 477-336
Western Kentucky: Ken McDonald, 46-22
For Richard, 50, and Marlin, 51, employment opportunities in the Sun Belt should be fruitful, as they have been for contemporaries in the league. Marlin didn't get fired and is one of the more well-respected coaches in the country who doesn't get much fanfare. Richard decided to go back as an assistant with Johnson at LSU as a way to enrich his career and to get back to his hometown. Getting to places where Richard and Marlin can coach -- without a concern for climbing the ladder -- has brought a necessary balance into their lives.
Richard said early in his career at Louisiana Tech that he was focused on getting out to a league that was perceived to be higher. But that urge is now gone. He said Brady told him that after the initial shock of not coaching at LSU, he realized that coaching at Arkansas State was a good gig for him.
"You get settled in," Richard said. "We've all been through the hoopla stage, and now we're trying to run the best programs we can at our place. We're happy with that."
Richard said he would have no issue if Monroe was his last stop. The same can be said for Marlin.
"We all get impatient," Marlin said. "We all want to get to a high level and the chance to be successful. But at the end of the day, I coach because of the relationships with the players. "
Monroe and Lafayette have a strong following locally. They don't get much attention nationally. That probably isn't going to change unless either school reaches the NCAA tournament and advances. If that can be an acceptable lot in the profession, there should be no reason to fret. Marlin and Richard didn't change their careers or their priorities. They both still want to win. They just don't have to do it in a power-six conference to be satisfied with their profession.