Category archive:

Iona Gaels
January, 30, 2012
01/30/12
2:19
PM ET
Lamont Jones' impact on Iona will be felt throughout the remainder of the regular season and into March.
The Arizona transfer reached the Elite Eight with the Wildcats last season. If he can put that experience to use in March, he'll have delivered on the excitement and expectations that greeted his arrival from Tucson.
[+] Enlarge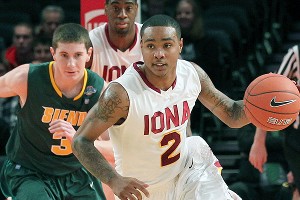 Anthony Gruppuso/US PresswireLamont "Momo" Jones is second in scoring (14.9 ppg) and assists (3.3 apg) for Iona this season.
The Gaels, who are tied atop the MAAC with Loyola (Md.) and Manhattan, are a trendy pick to win the conference tournament in Springfield, Mass., and possibly a game in the NCAA tournament.
With a collection of scrappy guards, they're a difficult matchup for opposing teams, led by arguably one of the top three point guards in the country in Scott Machado, who leads the country in assists.
Iona coach Tim Cluess, speaking after the Gaels' 71-62 win at Fairfield on Friday night, said he's starting to see the impact Jones can have on the team. His consistency has been lacking at times, but he's getting into the lane and making shots.
"He has to bring it every day," Cluess said. "That's the biggest struggle for him. It was easier at Arizona with the schools they were playing."
For his part, Jones understands what a team needs to do to win at a high level.
"Last year [at Arizona], we had a team that played together where nobody cared who scored," Jones said. "We just wanted to win. We have to get to a point where we're happy how we're playing."
The Gaels will look to push the basketball as much as possible. Machado has tremendous court vision and sets up his teammates well, in the half court and in transition.
Jones is a complement who can allow Machado to play off the ball at times. The rotation of Jermel Jenkins, Ra'Shad James, Sean Armand, Randy Dezouvre gives the Gaels plenty of options on the perimeter. Of course, if this team is going to make the NCAA tournament, Taaj Ridley has to rebound and Mike Glover has to be a consistent presence in the post and avoid foul trouble.
Strong guard play and several upperclassmen give Iona the perfect mix to be a team from outside the "power six" to make a run in the tournament.
"Guards play an important role; guards run the tournament," Jones said. "Guards do everything, and we've got to go in with a chip on our shoulder. Our backcourt has to be cohesive. We're the motor to this team."
Machado, who will soon start wearing contacts after noticing his vision wasn't clear, said he has leaned on Jones quite a bit.
"I wanted to know what it was like," Machado said of taking a team deep in the NCAAs. "We need him to come in here with his leadership to help me lead this team. What he did for that run in Arizona … I'm learning from him. And we're learning from each other.
"We have the pieces to be one helluva team."
The Gaels do have limitations, and a bigger, taller team could be a major concern. They've also had their slip-ups in the MAAC, losing at home to Manhattan and at Siena. Furthermore, Iona lost to Hofstra, one of the worst teams in the CAA this season. And none of its wins so far this season is going to wow you, even if some of the names sound good (Maryland, Richmond, LIU, Saint Joseph's).
But the Gaels have the capability to be troublemakers in March.
January, 17, 2012
01/17/12
1:29
PM ET
College basketball could use a Heisman-like award, one main honor instead of the five mainstream national awards.
The problem is that finding a consensus for the Wooden, Naismith, AP, Rupp and Oscar Robertson honors is no easy task.
The awards voters do tend to coalesce behind one candidate. And maybe that will be the case again.
But it seems that this season's race will be as wide open as ever. If you need more evidence, take a look at the 25 finalists for the Wooden Award, released on ESPNU and ESPN.com on Tuesday.
It appears that the only two players who are consensus candidates are Kansas' Thomas Robinson and Creighton's Doug McDermott. It's not a reach to say these two players are the favorites in mid-January, a stunning development considering how much preseason hype Ohio State's Jared Sullinger and North Carolina's Harrison Barnes received. The amazing part thus far is that I don't believe Sullinger nor Barnes would be a first-team All-American if the voting were conducted today.
Before we get to the list of players compiled by the Wooden folks, it's important to note that these are simply the 25 players who they felt should be honored on their midseason list. Players who do not show up are still very much eligible to win the Wooden Award at the end of the season and will be given equal consideration.
So players who have legitimate claims to being on this list -- Maryland's Terrell Stoglin and Seton Hall teammates Herb Pope and Jordan Theodore come to mind -- still have a shot.
So without further ado, here are the 25 Wooden finalists (in alphabetical order):
Harrison Barnes, 6-foot-8, So., F, North Carolina Stat line: 16.8 ppg, 4.8 rpg
Chances: Fading. Still has a shot to be a second-team All-American. Barnes hasn't been the dominating player on the Tar Heels. To be fair, he has some of the best talent in the country (John Henson, Tyler Zeller and Kendall Marshall) surrounding him. UNC's 33-point loss to Florida State didn't help his case, either.
Will Barton, 6-6, So., F, Memphis Stat line: 18.2 ppg, 9.0 rpg
Chances: No shot. He could be the Conference USA Player of the Year, though. Barton has greatly improved and has been the most consistent player during the Tigers' inconsistent season.
William Buford, 6-6, Sr., G, Ohio State Stat line: 15.2 ppg, 4.6 rpg
Chances: No shot. Buford won't win Big Ten POY, either. He has been OSU's best perimeter threat, but he won't be a first-team All-American. Buford might not even be first-team All-Big Ten. He is an integral part of the Buckeyes' title hopes, but is not a POY contender.
Anthony Davis, 6-10, Fr., C, Kentucky Stat line: 13.1 ppg, 10.2 rpg, 4.6 bpg
Chances: High. Davis has been the most dominant post player in the country. He blocked a last-second shot by North Carolina's John Henson in December, preventing the Tar Heels from winning a game at Rupp. He alters and changes more shots than any other player. If the Wildcats win the national title, Davis will be one of the reasons why. He would be ahead of Ohio State's Jared Sullinger on the All-America ballot if you had to choose one of them.
Marcus Denmon, 6-3, Sr., G, Missouri Stat line: 17.8 ppg, 5.5 rpg
Chances: Not great. Denmon is the leading scorer for Mizzou. But it's hard to separate him from Kim English, Ricardo Ratliffe, Michael Dixon and Flip Pressey in his importance to the Tigers. They all have played an equal role in Missouri's impressive start. It will be interesting to see which of these players earns first-team All-Big 12.
Draymond Green, 6-7, Sr., F, Michigan State Stat line: 15.8 ppg, 10.1 rpg
Chances: In the mix. If he continues his current pace of scoring and rebounding, Green could end up nudging out Sullinger for Big Ten Player of the Year. The Spartans did lose at Northwestern on Saturday, but Green has been a tremendous leader. He will stay in the chase for a first-team All-American spot if his team stays in the race for the Big Ten title.
John Henson, 6-11, Jr., C, North Carolina Stat line: 14.4 ppg, 9.7 rpg
Chances: No shot. Henson didn't convert the biggest shot of his season against Kentucky. Davis blocked it. And if Barnes isn't the national player of the year, Henson isn't either. The 33-point loss to Florida State will haunt all Tar Heels candidates.
John Jenkins, 6-4, Jr., G, Vanderbilt Stat line: 19.8 ppg, 2.8 rpg
Chances: No shot. Jenkins is a superb shooter and scorer and is leading the revitalized Commodores. But his role isn't more important than Jeffery Taylor, Brad Tinsley or Festus Ezeli -- it is equally important. The 'Dores mid-nonconference slide hurts Jenkins' campaign. The success of the Kentucky freshmen also makes it almost impossible for Jenkins to get SEC Player of the Year.
Orlando Johnson, 6-5, Sr., G, UCSB Stat line: 20.2 ppg, 6.4 rpg
Chances: No shot. Johnson is having a stellar season for the Gauchos, and he may be one of the higher draft picks on this list. But the Gauchos are 8-6 and are trailing Long Beach State in the Big West. Johnson should be an All-American, but he won't make the first team.
Darius Johnson-Odom, 6-2, Sr., G, Marquette Stat line: 18.2 ppg, 3.3 rpg
Chances: No shot. DJO has had a superb season for the Golden Eagles. He has a legit shot at Big East Player of the Year. But that won't be enough to get a first-team All-American spot or the national POY. Marquette has been decent, but not great enough for DJO to stand out on that pedestal.
Kevin Jones, 6-8, Sr., F, West Virginia Stat line: 20.6 ppg, 11.1 rpg
Chances: Decent. Jones has put it all together as a senior and has put up just a monster season for the Mountaineers. Just seems like it's double-double after double-double for Jones, who will need to keep the Mountaineers in the top 3 of the Big East in order to stay in Wooden contention.
Perry Jones III, 6-11, So., C, Baylor Stat line: 14.2 ppg, 7.5 rpg
Chances: No shot at player of the year, but he is in the hunt for a first-team All-American slot. The problem for Jones' candidacy is that Quincy Acy has been a comparable inside scorer and guard Pierre Jackson has been an integral member of this team. Jones didn't help his case when he and the Bears were dominated by Kansas' Thomas Robinson in a loss on Monday night. But he can't win national POY if he isn't the Big 12 Player of the Year. And Robinson is the favorite for that honor.
Kris Joseph, 6-7, Sr., F, Syracuse Stat line: 13.7 ppg, 4.6 rpg
Chances: No shot. Joseph is leading the Orange, but this team is so deep, so talented and so balanced that you would have a hard time picking just him. Dion Waiters may be Syracuse's MVP. A number of other players have taken turns being the star for the Orange, too.
Michael Kidd-Gilchrist, 6-7, Fr., F, Kentucky Stat line: 13.4 ppg, 7.7 rpg, 49.4 FG percentage
Chances: Solid. Kidd-Gilchrist could be the SEC Player of the Year. And if he gets that honor, he'll be in contention for the national POY. Kidd-Gilchrist took a few games to get going, but once he did he was an offensive force. He has delivered on his talent and effort.
Jeremy Lamb, 6-5, So., G, Connecticut Stat line: 17.9 ppg, 4.2 rpg
Chances: No shot. Lamb is leading the Huskies in scoring. But UConn is still finding its way in the Big East. The Huskies haven't featured Lamb as much, either. Andre Drummond may end up being the team's featured scorer by season's end. Lamb isn't the Big East Player of the Year right now, so he isn't winning the national honor.
Damian Lillard, 6-3, Jr., G, Weber State Stat line: 25.5 ppg, 5.8 rpg, 3.5 apg
Chances: He won't win national POY, but he should be in contention for second-team All-American honors. Lillard is having a stellar season for the Wildcats, who are in first place in the Big Sky. He leads the nation in scoring and his stat line is as good as any in the country. The problem is that Weber has been in obscurity so far this season. Lillard will likely not be seen by the masses until March.
Doug McDermott, 6-7, So., F, Creighton Stat line: 24.3 ppg, 8.5 rpg, 62.1 FG
Chances: High. McDermott has been one of the most complete players in the country and is a first-team All-American, at the very least. He could be this season's Jimmer Fredette, coming from outside a power six conference to win the national player of the year honor. McDermott has led the Bluejays to the top of the Missouri Valley and into the Top 25. He is the focus of every opposing defense, too.
Scott Machado, 6-1, Sr., G, Iona Stat line: 13.1 ppg, 4.7 rpg, 10.3 apg
Chances: Not happening for POY, but he's in the hunt as a first-team All-American. Machado has been the most dominant point guard this season and easily leads the country in assists. Iona has played a decent schedule and is the team to beat in the MAAC. Few teams will want to face the Gaels in March, and Machado is one of the key reasons why.
Kendall Marshall, 6-4, So., G, North Carolina Stat line: 5.8 ppg, 9.6 apg
Chances: No shot. Marshall is a key for the Tar Heels. He hasn't been the best point guard in the country, but has been a solid contributor this season and does rank second behind Machado in assists. But that isn't enough to win the award or be a first-team candidate.
Mike Moser, 6-8, So., F, UNLV Stat line: 13.9 ppg, 11.2 rpg
Chances: No shot. But Moser has to be in contention for a first- or second-team All-American spot. His rebounding has been epic (especially against North Carolina). Moser and fellow UCLA transfer Chace Stanback have been the major reasons the Runnin' Rebels are ranked and in contention for the MWC title.
Arnett Moultrie, 6-11, Jr., C, Mississippi State Stat line: 16.5 ppg, 10.9 rpg, 0.9 bpg
Chances: Not good for POY, but he's a serious candidate for first-team All-American. Outside of Moser, Moultrie has had the most impact of any transfer. He has increased MSU's chances of being a serious threat to Kentucky in the SEC. Moultrie is a double-double machine for coach Rick Stansbury and has allowed the Bulldogs to avoid relying only on Renardo Sidney.
Thomas Robinson, 6-9, Jr., F, Kansas Stat line: 17.8 ppg, 12.3 rpg
Chances: High. Robinson is the POY favorite at this juncture. He should be a consensus first-team All-American. He has had to take on immense responsibility with the departure of the Morris twins and has responded without a hitch. He carries the weight of the incredible burden of losing his mother during last season. And yet he is as focused as ever in 2011-12. Robinson dominated in the rout over Baylor on Monday night with 27 points and 14 rebounds.
Mike Scott, 6-8, Sr., F, Virginia Stat line: 16.9 ppg, 8.9 rpg
Chances: He has no shot for national POY, but Scott is one of the favorites for ACC Player of the Year. He has been the most consistent big man in the league. Take Scott off the Cavs, and they don't come close to the top of the league standings. But Virginia did lose at Duke and also fell to TCU. Scott will have to keep the Cavs in the ACC's top three to have a chance at the league's POY.
Jared Sullinger, 6-9, So., F, Ohio State Stat line: 17.3 ppg, 9.3 rpg
Chances: Still strong. Sullinger has been battling injuries (back, foot) and missed the road game at Kansas in December. That's part of the reason he is not the favorite right now. Sullinger still has plenty of time to be a first-team All-American and the Big Ten Player of the Year. But it would help if he had some dominating performances down the stretch.
Cody Zeller, 6-11, Fr., C, Indiana Stat line: 14.8 ppg, 6.4 rpg, 1.4 bpg
Chances: No shot. But Zeller is in the chase for Big Ten Player of the Year. At the very least, he'll be the Big Ten Rookie of the Year. It's amazing that he's on this list and his older brother Tyler (a senior at North Carolina) is not. Cody has helped transform Indiana into a national player, but the Hoosiers' recent two-game skid does take his chances for Big Ten POY down a peg.
My midseason All-America team choices: First team: Robinson, McDermott, Davis, Moultrie, Machado Second team: Kidd-Gilchrist, Sullinger, Green, K. Jones, C. Zeller
October, 24, 2011
10/24/11
11:09
AM ET
Late last week Iona received news that
Lamont "MoMo" Jones
, instrumental in helping Arizona to the Elite Eight last season, has been granted a hardship waiver and can play immediately, instead of sitting in residence under NCAA rules.
The MAAC regular-season conference race and postseason automatic qualifier berth just got more interesting and competitive with Jones joining the Gaels.
The truth is this league was already locked in to having one of the best races, outside of the power six, with or without Jones.
But now that he's eligible, the stakes are even higher with Fairfield and Iona preparing for what should be a chase to the finish. At the MAAC level, it will rival anything the Horizon or Missouri Valley has to offer this season.
[+] Enlarge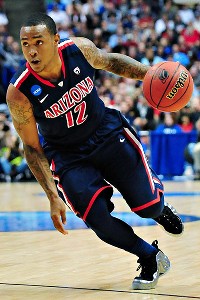 Gary A. Vasquez/US PresswireAdding MoMo Jones to Iona's lineup makes the Gaels better. But will it be good enough to get past Fairfield in the MAAC?
"This league is very top heavy,'' said St. Peter's coach John Dunne, whose Peacocks stunned the field by winning the MAAC AQ on Fairfield's home court in Bridgeport, Conn., last season. "Iona and Fairfield are the most talented. The additions they have clearly make them much more talented. But it will be interesting to see how the dynamic changes those teams.''
Loyola (Md.) and Rider, both with many returnees, are seen as the potential St. Peter's in this league -- a team that could surprise the favorites and win the automatic berth with three strong days in Springfield, Mass. (site of this season's MAAC tournament).
"We got Jordan Latham eligible from Xavier, too,'' Loyola coach Jimmy Patsos said. "I like Fairfield 1, Iona 2 and us and Rider after that. I think it could be a great race. We're deep. We're not as talented. But we're as deep as any team in the league. The key will be Jeff Jones from Virginia for Rider. Can he light it up or not? Fairfield has a new coach, but [it'll] be fine. And [Iona's] [Mike] Glover will be a targeted man.''
MoMo Jones joins an Iona team that is led by returnees Scott Machado on the wing and Glover inside.
Boston College transfer Rakim Sanders is eligible to join the Stags, last season's regular-season MAAC champs, alongside returnees Derek Needham and center Ryan Olander.
The difference between the Stags and Gaels is that Fairfield has two high-profile transfers instead of just one. Former Houston point guard Desmond Wade is also eligible, and he'll take over as the playmaker, sliding Needham to the wing with Sanders as a forward. "I think Rakim is the best player in the league,'' said former Fairfield coach Ed Cooley, now the head coach at Providence. "I don't think there is one matchup in the MAAC [that doesn't favor] him. There is an answer for Glover in the MAAC, and that's length in Olander. The question will be Fairfield's overall chemistry. Now there is a true point guard in Desmond Wade. But the X factor will be Rakim, because no one is close to him.''
Sanders was a tough matchup for ACC teams that played the Eagles. But his last season with BC started poorly with an ankle injury, and neither he nor the team recovered, as he couldn't fit back into the lineup with Reggie Jackson. Sanders found a new home with Cooley, a former BC assistant with strong ties to Sanders and Eagles coach Al Skinner. Cooley is gone, but new coach Sydney Johnson, formerly of Princeton, has been pleasantly surprised by Sanders so far.
The team went to Italy in August, and through the first week of practice, Sanders has lived up to the hype. "He has been very good for us, and there is a reason he started his career in the ACC,'' Johnson said. "He has that caliber of talent. He has a high basketball IQ. He looks the part, too. He's a strong physical kid, who is fast and quick and has an understanding of how to play. He does the right things, and he's unselfish. I'm very pleased with him.''
Johnson said Wade is much more of a natural point, but he can play off the ball like Needham. He said he plans to alternate who handles the ball.
That question is an ongoing issue at Iona now that MoMo Jones is eligible. Machado handled it last season. And Jones did the same for Arizona. Cooley said taking the ball out of Machado's hands could hurt the chemistry, unless this team jells quickly together.
Iona coach Tim Cluess hadn't addressed this topic, because he didn't know Jones' fate for this season. Jones got the waiver because he transferred back to New York, his hometown, to be closer to his ailing grandmother.
How does he solve the problem with who has the ball? "Get two balls,'' Cluess said. "That's the interesting part. Realistically we're just starting to work on it on the court since we didn't want to invest time since we didn't know if they could play together. We will look at who has the ball, will they be interchangeable or if either can play the wing.''
Finding consistency next to Glover inside is also a question for the next few weeks. The expectation was that junior forward Taaj Ridley could be that person, but he has been hampered by foot and Achilles issues.
"I think it's wide-open,'' said Cluess, whose Gaels lost to St. Peter's in the MAAC final last March after the Peacocks upset Fairfield. "Fairfield has the edge. They won it last year, and they have two high-major players. But Loyola has five starters back and is a team that is dangerous. We have to make sure we have that team chemistry. Fairfield has the Boston College transfer, and he could be the best player in the league. They added Wade to what should be a powerhouse. But I like our chances against anybody with the way we shoot the ball.''
Iona and Fairfield have the mix of high-level transfers and four-year players who have blossomed into high-level college players. Each team could win a NCAA tournament game or two in the right scenario. But getting an at-large berth will be determined in the next two months.
The schedules for each favor getting recognized by the selection committee in March. Iona is in the wide-open Puerto Rico Tip-Off with an opener against Purdue on Nov. 17 and the possibility of playing Temple if the Gaels can knock off the Boilermakers. Playing at Marshall, a C-USA top-two team and going on the road in a winnable matchup at Richmond highlight the schedule. It doesn't hurt for power-rating points that Iona plays 11 road games before January.
Fairfield plays at Minnesota, a sleeper in the Big Ten, and has a legit shot to win the weakened Old Spice Classic in Orlando, Fla. Beating Old Dominion in December in Springfield will help, too. Drawing top-five UConn in Hartford, Conn., and visiting Drexel in late December will also assist the power rating.
Johnson walked into a ready-made situation to win again. "This isn't a rebuilding project,'' said Johnson, who led the Tigers to a thrilling Ivy League playoff win over Harvard and then nearly clipped Kentucky in the NCAA tournament opener for both teams. "Ed positioned us. We don't have a lot of excuses. We're preparing ourselves the best we can for March. I want to look in the mirror and when the time comes I want us to have done everything we can to seize the moment and this opportunity.''
July, 20, 2011
07/20/11
12:40
PM ET
Quick hitters for this Wednesday afternoon:
• A high-level NCAA source said there will be discussion at the presidential level within the membership of closing the gap of full cost of attendance for student-athletes. That gap is estimated at $2,000 to $5,000 a year.
But the source said that's likely as far as any pay-for-play would go. He added that the full cost of attendance won't be universal, but rather along conference lines. If the Big Ten or SEC choose to do so, then it would once the legislation is cleared. But if the Ivy League or NEC decided against such a move, they wouldn't have to participate.
The other issue that could complicate things is the potential deficit reduction that could affect Pell Grants and other federal money. Those cost of attendance gaps have been aided by the addition of grants. The discussion at the presidential level will be the financial need of those who require assistance.
The source said the discussion has been strong and vibrant, but to assume that the movement is headed toward a true pay-for-play system would be naive. "It's not going there,'' said the source.
• Kentucky coach John Calipari said Tuesday night that Jon Hood may need to redshirt after suffering a torn ACL in a pickup game Monday. "We'll see how it goes,'' he said. "It's a possibility. It might help him.'' Calipari said that having Hood work out against the loaded incoming recruiting class will help him in the long run if he sits out this season.
• Vanderbilt coach Kevin Stallings said Festus Ezeli (knee) and Steve Tchiengang (ankle) had minor surgery and both are expected to be cleared to go full speed when school starts late next month.
• Iona is the preseason favorite to win the MAAC, and head coach Tim Cluess is doing what he can to strengthen the schedule. The Gaels are in the Puerto Rico Tip-Off (with Alabama, Purdue, Temple, Wichita State, Maryland and Colorado), will head to dangerous Marshall and possibly Arkansas, and will play Tulane at Madison Square Garden. The Gaels will also hit the road for games at William & Mary and Hofstra. The only "marquee" home game is Saint Joseph's. Iona, like a number of mid-major schools, has a hard time finding home games.
• According to Cluess, Iona won't know until the fall if Arizona transfer Momo Jones will be eligible to play this season. Cluess said the paperwork is in and Jones is attempting to become eligible immediately through a waiver because of an ill grandmother. Jones would potentially join Scott Machado and Michael Glover in what could be a seriously loaded MAAC team.
• Long Island University is the favorite to repeat as NEC champs yet coach Jim Ferry couldn't get a decent slate of games. The Blackbirds will play 11 of their first 12 games away from home with matchups at Hofstra, at Old Dominion and at Penn State, followed by neutral-site games against Radford then either Vermont or Marist, then at Iona, at home against Wagner in a league game, at Mount Saint Mary's, at Lafayette, at Columbia and at Norfolk State. This isn't a schedule that will get the Blackbirds an at-large berth obviously since the NEC never produces one. But it proves yet again how difficult it is for even quality teams at a lower-level to simply play at home prior to conference play.
• Xavier got great news when it learned that Vanderbilt transfer Andre Walker will be eligible immediately for his last season. Walker was a solid change of pace player for the Commodores in the 15 games he played for them last season. Walker will be a solid backup to Tu Holloway, if not a side partner. Holloway chose to bypass the World University Games team this summer heading off to China so he could focus on playing with his teammates and going to school.
August, 17, 2010
08/17/10
3:45
PM ET
What was so refreshing about Iona hiring Tim Cluess from Division II-level C.W. Post is that athletic director Patrick Lyons didn't use a search firm to hand pick Kevin Willard's replacement. Too often, athletic directors want to win the news conference and use a search firm to get a "sexy" candidate.
Not the case with Iona.
It wasn't a traditional hire, but Cluess couldn't have been more right for the job. He wasn't a Division I head coach and he wasn't a Division I assistant. He is 51, as much a veteran in the food service industry as he was in coaching on Long Island. Yet he didn't need a slew of big names to help him get a Div. I gig. He said he had no one call Lyons on his behalf.
He sent in his resume. He got the job.
In our summer-long look at new coaching hires, Cluess is easily the most unique.
"Obviously it wasn't the route that most take,'' Lyons said. "But I was looking for the right fit.''
Three years ago, in the post-Jeff Ruland era, Lyons went for the young, Rick Pitino assistant in Willard. Lyons figured Willard might bolt if he could. And he did this spring after the Bobby Gonzalez era came crumbling down at Seton Hall.
Willard went 45-49 in three seasons, 27-27 in the MAAC and had his best finish last season with a third-place finish at 12-6 (21-10 overall).
"We are trending upward, we return the bulk of our program and when I set out to do the search, I felt I didn't want to take the step down,'' Lyons said. "We're in a position to have some good success in the foreseeable future.''
[+] Enlarge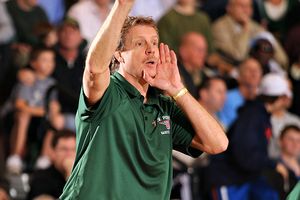 CW PostThe restaurant owner and part-time caterer racked up a 98-23 record in four seasons at C.W. Post.
Lyons interviewed coaches at the Final Four in Indianapolis and returned to New York on Easter Sunday to sift through the resumes one more time. It sounds almost too old school, right? But he did it and came across Cluess' and gave him a call later that night. Lyons told him he's a morning person and gets in at 6 a.m. He arrived at 6 Monday morning and Cluess was there to meet him. The hire came soon after.
Cluess had gone 98-23 in four seasons at C.W. Post. He had played basketball at St. John's and Hofstra and served as a high school coach in the area. To supplement his income in an attempt to keep his family from moving, he also ran a successful restaurant on Long Island and worked as a caterer for the Holiday Inn.
"I have to give Patrick credit for having an open mind,'' Cluess said. "We hit it off. To be honest with you, when this job opened up, it was the only job I applied for at the Division I level.''
Cluess said when he sent in the resume, he didn't think anything would happen. He planned on pursuing another business opportunity to open a bar or restaurant to add to his C.W. Post salary.
"I didn't expect anything,'' Cluess said. "I'm a realist. I knew this wasn't the normal path to make a move. But I didn't want to move around a lot. I wanted to keep my family close. But I never thought I'd end up at this level.''
Cluess hasn't moved his wife or two middle-school boys for a basketball job and still won't, now making the 45-minute commute to New Rochelle from his home in Floral Park, N.Y.
"This was very unexpected,'' said Cluess, who smartly tabbed Fordham assistant Jared Grasso to the staff to add local flavor. "Kevin did a nice job of re-establishing a contender in our league, and hopefully we can be playing for a championship and NCAA tournament berth. I didn't come here to be average or to fail. I came here to succeed and keep the rich tradition going.''
The Gaels lost five players from a 21-win team, including sophomore Rashard McGill, who recently to returned home to Florida for personal reasons. Ben Mockford transferred to St. Francis (N.Y.) and Keon Williams left for DII Pace University. Iona did add Aleksander Kesic from Serbia, Jayon James out of Paterson (N.J.) Catholic, Brooklyn native Sean Armand and JC transfers Randy Dezouvre and Michael Glover, all wings or forwards, to give the Gaels more depth and size and get them at the maximum 13 scholarships.
Siena is going through a transition in coaches and there might be a slight dip down. Fairfield will be a MAAC contender and one can never dismiss Niagara in the discussion. But there's no doubt the Gaels -- with leading scoring guards Scott Machado, Kyle Smyth and Alejo Rodriguez returning -- should be right in the thick of the league race.
In the meantime, Cluess no longer needs a second gig. He's out of the food and drink business. All his energy is focused on building off last season's momentum and making the Gaels a factor again.
Do that and Cluess isn't going anywhere.
Lyons said he didn't make the hire to establish stability. But it's no secret that programs in conferences such as the Missouri Valley, West Coast and Horizon can attribute the success to a coach staying put.
"I'm looking to be here for a long time, God willing,'' Cluess said.
For schools like Iona, knowing who you are and where you fit is paramount to understanding your place. Lyons appears to have figured that out. The Gaels didn't need a star; they needed someone who fit. If Cluess fits the bill, the gamble will have paid off.
January, 26, 2010
01/26/10
2:25
PM ET
Siena is in the midst of a three-game road swing and is currently without its best player,
Edwin Ubiles
, who is out with a shoulder injury.
If the Saints, who are cruising in the MAAC with a 10-0 record, can survive this stretch -- let alone another five-game string against upstart Iona and Fairfield at home and Niagara, Canisius and Rider on the road -- still unbeaten in the league, then the BracketBusters opponent on either Feb. 19 or 20 will be even more important to the Saints' NCAA at-large hopes.
It's essentially Butler or bust.
If the Saints can win this week (at St. Peter's Thursday and at Marist on Saturday), there's a very good chance the Saints will be Butler's opponent in the highest-profile BracketBusters game. Matchups will be made this weekend so teams have a few weeks to deal with travel and scouting.
The concept has done wonders for some and been irrelevant for others, but one thing is certain: Teams that have an outside shot at an NCAA tourney at-large or are looking for a seed boost once they qualify as an automatic can't go wrong with another quality nonconference game in late February.
Some teams won't get that chance. The West Coast Conference isn't participating in the event and there are some omissions from other conferences like the Summit (only Oral Roberts and not Oakland), the America East (no Maine), the Big Sky (served up only Montana State and not Northern Colorado or Weber State).
There are 98 teams involved in 49 games during BracketBusters. The 11 games that will air on the ESPN family of networks are determined first and then the conference commissioners will pair up the remaining 76 teams.
Home and road teams are already set for the event, so it's a bit difficult to maneuver who can go where. But the most important aspect of matching teams should be done based on who has a shot to be in the field. Not all of the 22 set teams are in that group. Actually, maybe only six could have an outside shot at an at-large.
[+] Enlarge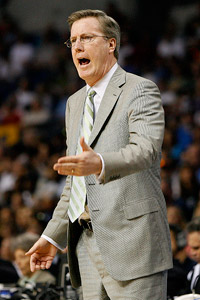 AP Photo/Mike CarlsonFran McCaffery is hoping BracketBusters provides a way to boost his team's NCAA at-large chances.
Siena is one of them.
"It's going to mean something and I would say if we could have a phenomenal league record and beat Butler and then not lose until the finals of the [MAAC] then we'd have a shot," said Siena coach Fran McCaffery. "We'll be right there in that discussion, but we don't want to get ahead of ourselves and assume the next five or six games."
McCaffery would actually be in favor of holding off on announcing the BracketBusters matchups until a few more weeks. But nevertheless, he still wants that Butler game. From a storyline perspective, it makes sense. Those are two of the better-known programs in the field and each has had some NCAA tournament success (Siena has won its last two first-round games).
"We're hoping we can put ourselves in position to get an at-large bid," McCaffery said. The problem for the Saints will be the six games prior to a possible showdown with Butler at Hinkle Fieldhouse in Indianapolis.
Ubiles didn't play against Manhattan on Jan. 18, played 33 minutes in a win over Loyola (Md.) on Jan. 21, but then missed the road game at Manhattan on Sunday. Meanwhile, guard Kyle Downey, who scored 16 points in Ubiles' absence in the first Manhattan game, broke his foot and is now out, possibly for the season.
"We're short-handed for this tough stretch, but I know we have to keep winning," said McCaffery.
Siena did beat Northeastern early in the season for what might turn out to be a solid win. It was a game McCaffery said was scheduled because "nobody wanted to play us and nobody wanted to play them and we're two hours away." But losses to Temple, St. John's, Georgia Tech and Northern Iowa were the supposed "up" games that the Saints failed to win.
Meanwhile, Butler has been rolling in the Horizon at 9-0 with a 16-4 record overall. That mark includes a win at Northwestern and home victories against Ohio State (without Evan Turner) and Xavier. Playing Clemson on a neutral court and UAB on the road (both losses) will help the power rating.
A year ago, Butler coach Brad Stevens said beating Davidson on the road was a key win for helping the Bulldogs get an at-large bid after losing to eventual champ Cleveland State in the conference tournament.
"We were coming off two losses that week before the Davidson game," Stevens said. "And you don't want to be on a losing streak at that time of the year. Doubt starts to creep in. That was a good win that got us going in the right direction."
Stevens knows the Bulldogs will get a quality BracketBusters opponent as the premier home team. There was a time when the staff was anticipating Wichita State as a possible opponent, but two losses last week for the Shockers have led to a belief that it could be Siena. Louisiana Tech, which tops the WAC, is also a possibility, but the name value of a Siena-Butler matchup may have more cachet.
The Bulldogs are handling their business in the Horizon as they become the top draw in every opposing building. That won't change as the Bulldogs go to Green Bay on Friday (ESPNU, 9 ET) and then to Milwaukee, two places the Bulldogs lost last season.
With Matt Howard staying out of foul trouble in the league after being in it throughout the nonconference, the Bulldogs are getting more of a complete effort. Gordon Hayward has been a Horizon MVP and barring a complete collapse, the Bulldogs are in good shape as far as the NCAA tournament is concerned.
Joining Butler as a BracketBusters home squad is Northern Iowa (8-1, 17-2), which leads the Missouri Valley. But Siena has already played Northern Iowa (the Panthers won 82-65) and that's why it makes more sense to send Siena to Butler and Louisiana Tech to Northern Iowa. The latter matchup may not seem headline-worthy to the mainstream fan, but these are the leaders in the WAC and MVC and both teams are talented enough to win a first-round NCAA tournament game.
If you were to pit Siena-Butler and Louisiana Tech-Northern Iowa, you'd likely have four teams that are going to be in the field of 65 matching up a few weeks before Selection Sunday.
The other hot teams are in the Colonial, but they obviously can't go up against each other. Northeastern, Old Dominion, George Mason and William & Mary all could be in play for the CAA's automatic bid with the Tribe the most likely at-large candidate because of nonconference wins over Wake Forest and Maryland on the road and Richmond at home.
That's why the question of who will play at GMU and Northeastern and where ODU and William & Mary will play during BracketBusters will be a fluid process this week.
I'd like to see the following: Wichita State at Northeastern as two of the top teams in the MVC and CAA; William & Mary hitting the road to play the best team in the Ohio Valley (Murray State); ODU traveling to Green Bay, pitting one of the top teams in the CAA against the second-best in the Horizon; and Charleston, which took out North Carolina, makes sense at George Mason in a matchup of two of the best from the Southern and CAA.
"We need a good game," said Northeastern coach Bill Coen, whose Huskies have won 11 games in a row, the third-longest streak in the country. "We've used all our mulligans and probably need to stay perfect the rest of the way to get an at-large berth. But in the spirit of the BracketBusters, we'd like to play our way into the conversation."
Northeastern failed to win games in the nonconference against potential NCAA teams Siena, Rhode Island and Saint Mary's before a humbling loss to Western Michigan in Honolulu on Dec. 23 -- its last loss -- set the team straight.
"It was good for us to be on the road because we had to take a hard look at ourselves," Coen said. "It was like a foreign tour. We were together all the time and had to go eat together breakfast, lunch and dinner and figure it out."
What happened was Northeastern got back to defending and Chaisson Allen started to play the point like Coen expected, teaming up with potential CAA Player of the Year Matt Janning.
Now Coen says the Huskies are cheering for a BracketBusters game "that will help us the most."
They're not alone.