Category archive:

Alabama Crimson Tide
February, 9, 2012
02/09/12
1:42
PM ET
Andrew Steele
ran into
Festus Ezeli
's chest while trying to get around a screen. The blow caught him off guard. It wasn't directly to the head, but it stunned him. "I was scared, and it dazed me for a while,'' said Steele, a 6-foot-4 junior. "And I thought, am I going through this all over again?''
Steele played only three minutes against Vanderbilt on Jan. 19.
It was only his fifth game back for Alabama. Hiis career was pronounced over last June due to concussion symptoms. But through further examinations and testing and an increase in Vitamin D supplements, he was cleared to give up his role as manager/scout team assistant and contribute to the Tide's hopes of making the NCAA tournament for the first time under coach Anthony Grant.
[+] Enlarge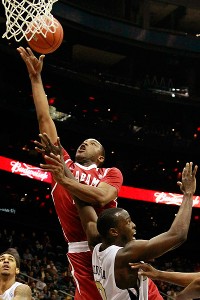 AP Photo/John BazemoreAndrew Steele is hoping he can bring more awareness to athletes who suffer concussions.
"It scared all of us,'' Grant said of Steele running into Ezeli, which caused him to sit for the rest of the game. "One of my coaches saw him running into Ezeli. With the history he has, it shook him up a bit and it concerned us. We were grateful that it wasn't another concussion. But we were nervous.''
Steele said he hadn't been eating well that week and was sick. He said he was dehydrated, and that contributed to his unstable feeling.
In the five games since, Steele has played at least 25 minutes in each contest. He continues to be a key reason the Tide have a chance to make the NCAA tournament -- especially in light of the recent suspension of Tony Mitchell.
Steele played his most important game for the Tide against Ole Miss last week. He picked up a loose ball, buried a jumper and then made 1 of 2 free throws in the final 31 seconds to beat the rival Rebels. "That speaks to everything,'' Grant said. "The defense was collapsing, and he had the presence of mind in the heat of the moment to get a shot off. That's a veteran move. A young guy may have rushed it. He recognized what he had to do.''
It would have been a disastrous defeat for Alabama as it attempts to improve its tourney résumé. Bama (16-7, 5-4 SEC) then won handily at Auburn on Tuesday.
Steele's numbers aren't going to get him on an All-America list (5.8 ppg, 3.1 rpg, 2.4 apg). This isn't about stats. This is about his importance to the team and his timely play.
And the fact that he's even on the floor at all.
"He's been great for us,'' Grant said. "You don't necessarily see it in the numbers. But watch us play and see his leadership qualities on the court. He's got an extremely high basketball IQ. He plays with great poise and great confidence. He communicates with everyone on the floor and does whatever the team needs.''
Steele has suffered four concussions in his career. He said the worst came during his freshman season against Texas A&M, forcing him to miss a week.
The last one -- against Kentucky in the SEC tournament on March 12, 2011 -- forced him to temporarily retire from the game.
Steele had had other health issues, including dealing with a sickle cell trait, a stress fracture and soreness in his knees. He played in only six games in 2009-10, and missed 13 in 2010-11. He's played in a total of 54 games in three seasons (2008-11).
"I thought I would just get into coaching,'' Steele said. "I was physically active and I was practicing with the scout team and every once in a while I would jump in and help them out.''
Steele said he listened to the medical staff advice to avoid contact. "As much as I wanted to play, it wouldn't be smart for my long-term health at the time so we made the right decision,'' Steele said.
Steele said the medical staff continued to evaluate him and realized that his Vitamin D count was low. He continued to get tested. Steele said the memory tests were a way to calculate his brain functions.
"They would list a series of numbers and tell me to recite them back in that order,'' Steele said. "Then I would do them backward and put them in numerical order. I had a list of words, and an hour later had to remember those words. We would do shapes and see how well I could function with those. It was painstaking, but I understood the importance.''
Grant said the medical staff cleared him for his return.
"The results came down and the decision with Andrew and his family was to play,'' Grant said. "He wanted to rejoin the team. We were told there was no health risk. Andrew has shown no signs of being hesitant or leery.''
Steele said he's hoping he can bring more awareness to athletes who suffer concussions. Concussion symptoms are a hot topic in sports like football and hockey, but it should also be taken as seriously in basketball or any other sport.
"It's dangerous, and you have to make a good decision,'' Steele said. "The biggest thing is the headaches. You have to be honest. It's not like you broke a bone or something. You have to be honest with your symptoms. The long-term effects aren't worth the risks.''
Steele said he had headaches, was sensitive to bright light and "really loud noises."
"You can tell that your body isn't normal,'' Steele said. "Sometimes I couldn't sleep well.''
But Steele said since he's been cleared, and of course following the Vandy game last month, he has had no concerns.
Now the focus is on getting to the NCAA tournament.
"I wasn't able to be a part of the NIT run last year,'' Steele said. "It could be a whole new experience to get in the tournament. We can't look too far ahead.''
September, 27, 2011
09/27/11
12:42
PM ET
Connecticut is putting on the full-court press to join the ACC in case the league decides to expand again. And Duke coach Mike Krzyzewski and North Carolina coach Roy Williams both told ESPN.com they would like to see the league eventually go to 16 teams, with two eight-team divisions.
But there is no sense of urgency in the ACC, especially since the Big East for the moment is making Pitt and Syracuse stay for 27 months per the league's bylaws. The conference has plenty of time to figure out how to schedule its 14-team league.
So the attention now returns to the SEC with Monday's official announcement that Texas A&M will join the conference for the 2012-13 season. That gives the league 13 teams.
Should there be more?
Like Krzyzewski and Williams, Kentucky coach John Calipari would eventually like to see his conference get to 16.
"I don't think this stuff is done yet," Calipari said. "I've said for months that there may be four conferences with 16 or 18 teams each. But I can tell you that the SEC at 13, 14 or 16 is going to be stable. We're fine. If they're going to add, I'd like us to go and get Virginia Tech, Maryland and Missouri to go along with Texas A&M. We're not going to do anything at the expense of academics. You're also going to see basketball step up in the next five years in the SEC."
[+] Enlarge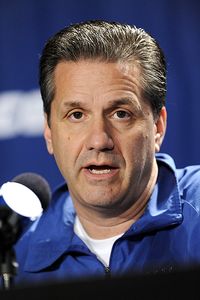 Howard Smith/US PresswireJohn Calipari would like to see the SEC add Missouri, Virginia Tech and Maryland.
Calipari tweeted Monday that he thought the move to add the Aggies was tremendous for the league and new coach Billy Kennedy, a native of SEC country (Louisiana).
"Texas A&M is a great school academically, has a well-run athletic department and will fit well," Calipari said. "Their fan base is ridiculous, just like all of us. The SEC is different. The SEC is about schools with strong fan bases and geography. We want the markets. There is no buyout in the SEC because no one wants to leave."
Vanderbilt coach Kevin Stallings said he would have been fine with the SEC staying put at 12 teams, but he's not against the expansion.
"I like the simplicity of an even number and I'm not sure it was completely necessary," Stallings said. "I don't think we're finished seeing movement and if so, if we end up at 14 or 16, if that's what the commissioner's office said we need, then I'm fine with it. Our league isn't going anywhere. We're as stable as any league in college athletics and we have visionaries who run our league. If they think we're better suited to be at 14 or 16, then I'm OK with that."
The SEC will run into issues on further expansion since it would be hard to take a team from a state where there is already a conference member. The new ACC buyout of up to $20 million poses a problem, too. But the new markets in new states is what Calipari was talking about when he rattled off Missouri, Maryland and Virginia Tech. Still, it would be extremely difficult to pry the Terrapins away from playing Duke and North Carolina every year or the Hokies from rival Virginia after Tech expended a lot of political capital with the Cavaliers to not block the school's move from the Big East to the ACC eight years ago.
The SEC's current number of 13 will be a scheduling issue for football and basketball. Football still has divisions, which is a matter unto itself as the league decides what to do with the Aggies and how to handle an unbalanced schedule.
The SEC got rid of divisions for men's basketball for this season, but the scheduling format still mirrors the football East-West split with each team playing its old side twice and the other once for the 2011-12 season.
Stallings was on an SEC committee to determine a 12-team, no-division schedule for 2012-13. The consensus was to have everyone play each other once (11 games), with seven more games coming from doubling up against league opponents to get to 18 league games. The SEC currently plays 16. The same formula is expected to be applied to a 13-team, no-division SEC next season. The Atlantic 10, which has 14 teams, has a format of playing only 16 league games with every team playing each other at least once, three teams twice.
The question for the SEC will be which rivalries are protected in a doubling-up scenario. There are a few natural ones to protect like Alabama-Auburn, Ole Miss-Mississippi State and Vanderbilt-Tennessee with newer ones like Kentucky-Florida and maybe more traditional ones like Tennessee-Kentucky or Florida-Georgia kept, as well. There could be a need to ensure Texas A&M plays LSU twice as well, or perhaps twice with Arkansas, a former rival from the Southwest Conference.
Whatever the case, Stallings doesn't seem all that worried.
"I think we just have to have an open mind going forward," he said. "We'll come to the best concept relative to 13."
August, 11, 2011
08/11/11
11:24
AM ET
Anthony Grant and Tony Barbee have figured out how to hunker down this time of year.
Alabama and Auburn are obsessed with football all 12 months of the year, but especially now as fall practice begins and the anticipation grows to a fever pitch for a new season to begin.
In other words, this is exactly the time when basketball at "football schools" like Bama and Auburn can go into lockdown mode in preparation for what should be critical seasons for both programs.
"This is the mecca of college football with what Coach [Nick] Saban has done here and the history of Alabama football,'' said Grant, who is entering his third season in Tuscaloosa. "But this is the time of year for our guys to get into shape, to get through preseason conditioning. To get our focus down. I know this is not our time. But what you do now can help structure your season.''
The Crimson Tide won 25 games last season but fell short of making the NCAA tournament. Ultimately, Alabama reached the NIT final, losing to Wichita State. But going 0-for-3 in the Paradise Jam in the Virgin Islands in November was a killer and a relatively weak nonconference schedule made for a disappointing Selection Sunday after going a stunning 12-4 in league play.
The Tide returns the core of that team, including big man JaMychal Green, who is expected to star for USA basketball at the World University Games, as well as wing Tony Mitchell, who may be just as gifted an offensive player.
Bama has a legitimate chance to finish in the top four in the SEC along with Kentucky, Vanderbilt and Florida, with Mississippi State quite possibly on its heels. The Tide will be projected as one of the favorites along with Purdue to win the Puerto Rico Tip Off in November. Playing at Dayton, against Kansas State in Kansas City, and against Oklahoma State in Birmingham gives the Tide winnable games against well-respected programs that will be in a bit of re-tooling mode this season.
"The postseason was good for us since our guys had never been,'' Grant said of the NIT run. "We played a good schedule last year but we didn't win any of those games -- at Purdue, at Providence, at Oklahoma State and the bad weekend in the Virgin Islands. We weren't able to make up for that week.''
Like most coaches at big-time football schools, Grant will take advantage and make sure all recruiting visits are scheduled around home Alabama football games. But that is for 2012 and beyond.
"There's no question that you have to take advantage of having 100,000 people on campus and get a feel for that atmosphere,'' said Grant, a former assistant at Florida and one-time head coach at VCU. "We took advantage of that at Florida and we're taking advantage of it here. We didn't have that at VCU.
"I go in stages and right now this is when my emphasis for our guys is to go to class, get off to a good start academically and get them through the preseason conditioning to get ready for practice in October. I try to compartmentalize since we go both semesters.''
Grant knows the Tide's place at this time of year. So, too, does Barbee, who is entering his second season at Auburn. This is still fairly new to Barbee, who he played at UMass and was an assistant at Memphis before he was head coach at UTEP. None of those places are dominated by football.
He makes sure he's at the home football games and said no one was as big a fan of the Tigers' national championship run as he was last season. But Barbee takes a bit of a different approach.
[+] Enlarge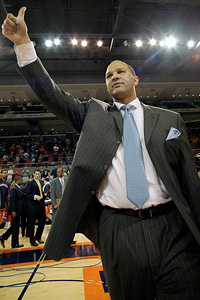 John Reed/US PresswireAuburn basketball can be a challenge to recruit for, but Tony Barbee does have a new arena to sell to recruits.
"The recruits and parents come in for those weekends and the pageantry and it's impressive," he said. "But they're not football players and they want to know what it's like for basketball and if it's over the top for every game. We have to sell them on basketball.''
And that's what he's trying to do, even in the shadows of a defending national champion.
Barbee is convinced the Tigers will be more than a pest this season in the SEC. Auburn has Texas guard Varez Ward healthy and eligible after he sat out last season. Clemson wing Noel Johnson is also eligible. And the team's top returning player -- guard Frankie Sullivan -- is healthy after an injury-riddled season limited him to only six games in 2010-11.
"We're in a good stage, similar to what occurred at UTEP where there wasn't a lot left and we've now had two good recruiting classes to set the foundation,'' Barbee said. "I think Varez Ward will be as good a point guard as anyone has in the league. Frankie Sullivan will be one of the best shooters and now we've added Noel Johnson, we've added [freshmen] Cedric McAfee and Willy Kouassi and no one is talking about us.
"And they shouldn't be. We were supposed to be the worst team in the BCS last season and yet we win four SEC games and should have won eight or nine.''
Playing its first season in the school's new $92.5 million arena, Auburn also beat Sweet 16-bound Florida State and a couple of those SEC losses were indeed decided in the final seconds.
Nevertheless, the Tigers will be picked near the bottom of the league again. But Barbee fully expects for his team to be a tough out and have a chance to finish much higher.
So here in mid-August, as the two most recent kings of college football get set for another season, not many people on either campus are buzzing much about basketball. And that's fine. It's not their time.
Most SEC basketball programs -- with the exception of Kentucky and Vanderbilt -- understand that feeling. But Barbee senses that hoops isn't the distant, mere distraction that it was for so many years.
"It seems like things are changing with what Kentucky did last year, what Florida and Georgia and Vanderbilt did,'' Barbee said. "I think this league is as tough as ever. I think you're seeing a lot more basketball talk in the SEC right now.''
No one is foolish enough to think Auburn or Alabama basketball can unseat football in popularity, now or ever. And neither coach is seeking to do so.
All they're doing is preparing their teams under the shadows of uber-elite football programs. And that's why they can't squander this time of the year when they can work in relative obscurity.
August, 10, 2011
08/10/11
2:53
PM ET
The World University Games is usually the one international competition, outside of the Olympics, the U.S. expects to win.
Elite European players aren't usually in school. And in an Olympic qualifying year, the likelihood that national teams would have top players playing in this event is low.
Still, the Americans lost this event two years ago, falling to Russia in the semifinals. The U.S. beat Israel in the consolation game to take home the bronze medal with a 6-1 mark. Host Serbia won the gold.
Purdue coach Matt Painter is well-aware of the stakes in China over the next two weeks. The U.S. is coming off a disappointing fifth-place finish at the FIBA U-19 World Championships in Latvia last month. The gold in the World University Games isn't with Team USA, either.
And that's exactly why Painter, who will be assisted by Butler's Brad Stevens and Tennessee's Cuonzo Martin, wanted to put together a team, not an all-star tour.
"We have three weeks together and we have to have the right mindset,'' Painter said prior to leaving for China on Monday. Painter was an assistant on the U-19 gold medal team two years ago in New Zealand. "It's very important to be on the same page.''
That's why he was thrilled to see two players from that U-19 gold medal-winning team on this roster in Pitt's Ashton Gibbs and Kentucky's Darius Miller.
"It was important for them to talk about their experience in New Zealand and what it meant to sacrifice minutes and how important this was,'' Painter said.
On Thursday in Huizhou, the Americans play a Chinese team called New Century in an exhibition game before pool play starts Saturday. Based on the groupings, the U.S. should win its group with the toughest challenger probably being Israel (Finland, Hungary, Mexico and South Korea are also in Group D). Host China and Brazil are in Group A; Serbia, Turkey, Canada and Australia are in Group B; and Russia and Lithuania headline Group C. The medal round is Aug. 20-22.
Here is Painter's breakdown of the 12 finalists representing the United States:
Tim Abromaitis, Sr., F, Notre Dame: "He's a very good player, and a guy that we can swing between small forward and power forward. He'll cause a lot of matchup problems for other teams.''
Marcus Denmon, Sr., G, Missouri: "When he's on, he changes the game. He can be a high-energy guy. His performances in practice have been strong. He has the potential to carry this team with his shooting and energy.''
Ashton Gibbs, Sr., G, Pitt: "He's a tough, hard-nosed player that simply gets the job done. He comes early and stays late. He's a very good shooter, can make 3s and will knock down the shots for us. He's our point like he was for us on the U-19 team.''
Draymond Green, Sr., F, Michigan State: "He's a very versatile, intelligent basketball player. He knows what's going on. He plays hard and he cares. He wants to win. He will impact the game for us.''
JaMychal Green, Sr., F, Alabama: "He's a guy that is going to have to score down low for us. He's a very talented kid. He's going to have score and rebound for this team to win.''
Scoop Jardine, Sr., G, Syracuse: "He's a very experienced player who has played in a lot of big-time games. He will help us get through the dog days of pool play to the medal round. He's a point guard who will help us and create for himself.''
John Jenkins, Jr., G, Vanderbilt: "He's a big-time shooter. He needs to score for us. He has to be aggressive. He will look for his shot and help us defensively at the 2-guard. I think we'll win the battle at the 2-guard with him.''
Orlando Johnson, Sr., G, UC Santa Barbara: "He can score the basketball. He's a good shooter, can drive the ball, post-up and pull-up with his left hand. He has to help us defensively and put points on the board. He was someone who positively surprised us at the trials. We recruited him when he left Loyola Marymount, and I'm kicking myself now that we didn't get him. He's a really good player.''
Greg Mangano, Sr., F, Yale: "I think he was the right piece for this team. He plays his role. He defends and plays post defense. He runs the court and does the little things. He could do for us what Arnett Moultrie and John Shurna did for the U-19 team two years ago -- doing key things down the stretch in the medal round. We wanted that last spot on the team to be a player with size and it came down to him and Aaric Murray [West Virginia] and Yancy Gates [Cincinnati], and we just felt that Greg would complement the other guys.''
Trevor Mbakwe, Sr., F, Minnesota: "He's tough. He's hard to handle. He's got great energy. He's got a great motor. He can really move his feet on the perimeter. He's got an impressive work ethic and a joy to coach. We were always in awe of him at Purdue. He's got brute strength and athleticism and will do a great job for us around the basket.''
Ray McCallum, So., G, Detroit: "He's so talented. His young. But he can play either guard spot and you can tell how hungry he was to make this team. He was one of the last guys we invited but he has a chance to really impact these games.''
Darius Miller, Sr., G, Kentucky: "If we throw Darius in there with Abromaitis and Green, we can play different ways. He can help us play bigger or smaller. He has really improved his shooting since we had him in New Zealand. He's going to be good against a zone, and we'll just have to find the right place to play him. He's a very good player and will help us a lot defensively.''
June, 17, 2011
06/17/11
2:10
PM ET
Andrew Steele
was working out two weeks ago, running outside in Alabama's June heat, when he stopped because of a headache.
"I had to go lay down," Steele said. "I didn't feel well. My stomach felt funny. So over the next few days I talked to the trainer."
The word was that he was still suffering from the lingering effects of a concussion. Steele's fourth concussion -- the first one occurred while playing football in high school while the other three were basketball related -- happened on March 12 in the SEC tournament against Kentucky. He didn't finish the game or play in the NIT run to New York.
Alabama coach Anthony Grant had prepared Steele for the likely end of his college career if symptoms persisted. They did, and his Crimson Tide playing days were over.
[+] Enlarge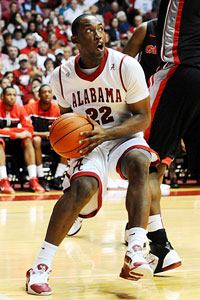 Kelly Lambert/US PresswireAndrew Steele averaged four points per game in his final season at Alabama.
"I looked at the situation and remembered how [former Alabama player] Mikhail Torrance had a heart thing and he kept going and he almost lost his life over it," Steele said. "I kept thinking about as much as I like basketball, with concussions, you can't predict which one is going to do the worst to you."
Steele has a sickle cell trait, which he said had nothing to do with the concussions, but does mean it takes a bit longer to get back to normal after recovering from illness. Steele had only played the first six games of the 2009-10 season before a stress fracture in his left leg sidelined him for the season. Steele missed the first 13 games for the 2010-11 season with soreness in his knees then the five NIT games because of the concussion.
All of that factored into his decision to stop playing basketball, graduate in December, stay on scholarship and possibly pursue a master's degree at Alabama.
"I know the risks," Steele said. "This was a good decision to make."
Steele played in 54 games in three years at Alabama from 2008-11, averaging 3.6 points and 2.3 rebounds while dishing out 44 assists and committing 39 turnovers. The story -- a player that had decent hype out of high school but just couldn't stay healthy -- could end there.
But it doesn't.
Steele is the second member of his family who was unable to finish his college career because of injury. Steele's brother, Ron Steele Jr., who played in Israel last season and is hoping to work his way into an NBA camp in the fall, dealt with a number of knee injuries during his career at Alabama. Ron missed seven games in 2006-07 then all of the 2007-08 season after surgery on both knees on April 3, 2007. He left the team on Jan. 21, 2009, after missing a pair of games because of plantar fasciitis.
"It's been a difficult process," their father, Ron Steele Sr., said "But Andrew is going to graduate and Ron graduated. Basketball ends at one point in your life and you have to go forward. Ron should have been in the NBA but he had to go overseas. He may still have a chance to make it. But we're OK. We're happy as long as they're happy."
Ron Jr. played in 104 games over a four-year period. He declared for the NBA draft after his redshirt junior season, only to come back to play in just 15 games as a senior in 2008-09. But that season was Andrew's first with the team, and former coach Mark Gottfried's last as head coach.
"I'm pretty sure it's a rare case for a family to have two sons that got hurt like this," Andrew said. "But my parents have been making sure we're always OK. They don't push us. They just wanted to make sure we were healthy first. But it actually was a blessing in disguise that my brother got hurt because we had a chance to play together for my freshman year. I needed him for that adjustment from high school to college."
Gottfried said that learning about Andrew's sudden career-ending decision made him sad.
"I feel bad for them, they have such a great family," said Gottfried, now the head coach at NC State. "I really believe that Ron would have been as good as anybody in the country but he never was able to stay healthy."
Gottfried said that Ron Jr. was never able to fully practice on a consistent basis while dealing with the knee injuries.
"I didn't get a chance to coach Ron but he has always come back and worked our camps and I saw that this is such a great family," Grant said. "We've had a lot of conversations about his health. But his attitude has always been good. He always understood the big picture. They all understand that playing athletics is an opportunity that they've been able to enjoy, but it's not the be-all, end-all. It was important for them to get an education."
The perspective that Ron Sr. has is quite obvious when you discover what other curveball he's been dealing with lately.
Ron and Linda Steele were in their home on April 27. They heard the wind. They sought cover in their home. The devastating and deadly tornado that ripped through Tuscaloosa also hit their area of Birmingham. Ron Sr. said two homes survived on his block. He and his wife were in one of them.
But the damage was severe. They have spent the past five weeks in a hotel, only returning to their home this week.
"All the other homes were blown away," Ron Sr. said. "We had a tree fall on the right side of our house. A piece of plywood came through the bathroom and ripped the shower. The backdoor was ripped off. We just ran downstairs, hid in the closet and prayed. The wind was blowing, glass was breaking and we thought we were going to leave here. In about 45 seconds to a minute, it was over, but there was a large tree blocking the front door [area]. It was a mess. There were deaths in our neighborhood."
Andrew said his apartment in Tuscaloosa was spared. He assumed his parents' home was fine, too.
"I thought the one place that I could go to and be safe was home but they took a direct hit so I couldn't avoid it," Andrew said. "But my parents are extremely strong. They told me there are so many things you can't control, but what you can control is how you react. I'm thankful that they were OK. There were people who lost everything."