Category archive:

Mississippi State Bulldogs
July, 26, 2012
07/26/12
4:01
PM ET
LAKE BUENA VISTA, Fla. -- Mississippi State was featured in two headlines on ESPN.com's college basketball page as of Thursday morning.
Neither was good for the upcoming season, especially for new head coach Rick Ray who is starting from scratch after Rick Stansbury "retired" after 14 seasons.
Stansbury had plenty of player movement during his tenure, including a high-turnover roster and a slew of players who went to the NBA, sometimes before they even arrived in Starkville under the previous NBA draft rule. But one thing Stansbury continued to do, in what's arguably one of the toughest recruiting spots in the SEC, was win.
He reached six NCAA tournaments and claimed five SEC West divisional titles. But he left a roster that imploded upon his departure.
The Bulldogs lost two seniors (Dee Bost and Brian Bryant) and two players who left a year early for the NBA draft. Arnett Moultrie, a four-year player after transferring from UTEP, was an expected departure. Moultrie was selected in the first round (27th overall) by Miami and traded to Philadelphia. He was a double-double machine for the Bulldogs at times. Renardo Sidney wasn't selected and probably would have been a headache for Ray had he stayed in school. Sidney consistently failed to get in shape, stay eligible and remain interested on the court.
The best player on the team was freshman guard Rodney Hood. Ray, a relatively unknown assistant from Clemson when he was hired, thought he had a chance to keep Hood when he got the job.
It didn't happen.
Once Hood said he was looking for another school, he became a coveted transfer who seriously considered Duke, Ohio State, Baylor and Memphis. He chose Duke.
"It was 50-50,'' Ray said.
How much time did Ray spend trying to woo Hood? "A lot,'' Ray said. "And you can't get that time back. I thought it was a really good chance. I wanted Rodney to get a chance to see what we could do on the court. But I was 0-0 and didn't have a coaching record, and the places he was considering transferring to, those places had records.''
So, Ray had to find guards with the loss of Bost, Bryant and Hood. He ultimately found five newcomers at the position in Andre Applewhite, Trivante Bloodman, Fred Thomas, Jacoby Davis and Craig Sword to go along with one junior college forward in Colin Borchert. The Bulldogs, hoping for some semblance of experience on the roster, held onto Jalen Steele, a 3-point shooter, and forward Wendell Lewis.
"We had nobody who could dribble the ball up the court,'' Ray said. "Nobody. I wanted to make sure we weren't mortgaging our future to plug holes so that now you don't have quality guys who can compete in the SEC. You walk a fine line if you're able to find guys who can come in and win games who are also good kids.''
Now back to the headlines on our college hoops page. Davis suffered a torn ACL during individual workouts on Monday and is out for the year.
Sword had a BB gun in his dorm room and didn't know that wasn't allowed, according to the school. He was subsequently arrested in what was deemed a misdemeanor. Ray issued a statement to the Jackson Clarion-Ledger and others. Some sort of disciplinary action is pending. But Ray will need Sword this season.
He has to patient and so does the fan base.
"All the media attention that comes with being an assistant coach, I never had to deal with that,'' said Ray. "Nobody cares about you or wants to talk to you. I had to deal with all that media attention.''
Ray wasn't the first choice, either. He knew that, and so did the boosters. "There were boosters and donors [who] I had to introduce myself to, especially those [who] wanted this candidate or that candidate, guys who didn't feel quite connected to the process who wanted someone else to be the head coach,'' said Ray.
How many times did he have to make those introductions?
"A lot,'' said Ray. "People in the South like to talk. But it was good.''
Ray is personable once you spend time with him. He has an infectious smile and an engaging personality. But he wasn't one of these self-promoting assistants. And while Clemson head coach Brad Brownell is loyal, he isn't a coach who draws attention to himself or shines the light on his assistants to get jobs. Ray wasn't the visible assistant at his previous spots (Purdue, Northern Illinois or Indiana State), either.
Athletic director Scott Stricklin had to find a coach who was long on character and discipline after Stansbury's final two seasons had its share of issues, notably when former player Elgin Bailey was involved in a fight in the stands with Sidney.
"I had to get guys to buy into what I was selling,'' said Ray. "I wasn't a name. The only way I could get them to buy in was to get them on the court and work with them. That was good, and we've had two weeks with them on the court that has been really good.''
Ray also had to tackle a problem he wasn't anticipating: altering the schedule.
Stansbury seemed to love putting his teams in difficult situations on the road. The team and program nearly imploded after a ridiculous road swing two seasons ago that took them to the Bahamas to Hawaii to Las Vegas in two weeks.
The Bulldogs were originally slated to play at Utah State on the way to the Maui Invitational. On the way back from Hawaii, they would visit Baylor. Oh, and the Bulldogs had to open the season in Troy's new facility.
"We still have to open up at Troy,'' said Ray. "But I pushed back the Utah State trip to the next year, and we got out of the series with Baylor. I didn't want to deprive our guys the chance to play in Maui.''
The depleted Bulldogs open up that tournament against North Carolina, which reloaded yet again.
"We'll still field a team,'' Ray said.
For Ray's sake, he hopes that he can slide back into anonymity while he rebuilds. And it would be nice to do it without any negative headlines.
January, 17, 2012
01/17/12
9:29
PM ET
College basketball could use a Heisman-like award, one main honor instead of the five mainstream national awards.
The problem is that finding a consensus for the Wooden, Naismith, AP, Rupp and Oscar Robertson honors is no easy task.
The awards voters do tend to coalesce behind one candidate. And maybe that will be the case again.
But it seems that this season's race will be as wide open as ever. If you need more evidence, take a look at the 25 finalists for the Wooden Award, released on ESPNU and ESPN.com on Tuesday.
It appears that the only two players who are consensus candidates are Kansas' Thomas Robinson and Creighton's Doug McDermott. It's not a reach to say these two players are the favorites in mid-January, a stunning development considering how much preseason hype Ohio State's Jared Sullinger and North Carolina's Harrison Barnes received. The amazing part thus far is that I don't believe Sullinger nor Barnes would be a first-team All-American if the voting were conducted today.
Before we get to the list of players compiled by the Wooden folks, it's important to note that these are simply the 25 players who they felt should be honored on their midseason list. Players who do not show up are still very much eligible to win the Wooden Award at the end of the season and will be given equal consideration.
So players who have legitimate claims to being on this list -- Maryland's Terrell Stoglin and Seton Hall teammates Herb Pope and Jordan Theodore come to mind -- still have a shot.
So without further ado, here are the 25 Wooden finalists (in alphabetical order):
Harrison Barnes, 6-foot-8, So., F, North Carolina Stat line: 16.8 ppg, 4.8 rpg
Chances: Fading. Still has a shot to be a second-team All-American. Barnes hasn't been the dominating player on the Tar Heels. To be fair, he has some of the best talent in the country (John Henson, Tyler Zeller and Kendall Marshall) surrounding him. UNC's 33-point loss to Florida State didn't help his case, either.
Will Barton, 6-6, So., F, Memphis Stat line: 18.2 ppg, 9.0 rpg
Chances: No shot. He could be the Conference USA Player of the Year, though. Barton has greatly improved and has been the most consistent player during the Tigers' inconsistent season.
William Buford, 6-6, Sr., G, Ohio State Stat line: 15.2 ppg, 4.6 rpg
Chances: No shot. Buford won't win Big Ten POY, either. He has been OSU's best perimeter threat, but he won't be a first-team All-American. Buford might not even be first-team All-Big Ten. He is an integral part of the Buckeyes' title hopes, but is not a POY contender.
Anthony Davis, 6-10, Fr., C, Kentucky Stat line: 13.1 ppg, 10.2 rpg, 4.6 bpg
Chances: High. Davis has been the most dominant post player in the country. He blocked a last-second shot by North Carolina's John Henson in December, preventing the Tar Heels from winning a game at Rupp. He alters and changes more shots than any other player. If the Wildcats win the national title, Davis will be one of the reasons why. He would be ahead of Ohio State's Jared Sullinger on the All-America ballot if you had to choose one of them.
Marcus Denmon, 6-3, Sr., G, Missouri Stat line: 17.8 ppg, 5.5 rpg
Chances: Not great. Denmon is the leading scorer for Mizzou. But it's hard to separate him from Kim English, Ricardo Ratliffe, Michael Dixon and Flip Pressey in his importance to the Tigers. They all have played an equal role in Missouri's impressive start. It will be interesting to see which of these players earns first-team All-Big 12.
Draymond Green, 6-7, Sr., F, Michigan State Stat line: 15.8 ppg, 10.1 rpg
Chances: In the mix. If he continues his current pace of scoring and rebounding, Green could end up nudging out Sullinger for Big Ten Player of the Year. The Spartans did lose at Northwestern on Saturday, but Green has been a tremendous leader. He will stay in the chase for a first-team All-American spot if his team stays in the race for the Big Ten title.
John Henson, 6-11, Jr., C, North Carolina Stat line: 14.4 ppg, 9.7 rpg
Chances: No shot. Henson didn't convert the biggest shot of his season against Kentucky. Davis blocked it. And if Barnes isn't the national player of the year, Henson isn't either. The 33-point loss to Florida State will haunt all Tar Heels candidates.
John Jenkins, 6-4, Jr., G, Vanderbilt Stat line: 19.8 ppg, 2.8 rpg
Chances: No shot. Jenkins is a superb shooter and scorer and is leading the revitalized Commodores. But his role isn't more important than Jeffery Taylor, Brad Tinsley or Festus Ezeli -- it is equally important. The 'Dores mid-nonconference slide hurts Jenkins' campaign. The success of the Kentucky freshmen also makes it almost impossible for Jenkins to get SEC Player of the Year.
Orlando Johnson, 6-5, Sr., G, UCSB Stat line: 20.2 ppg, 6.4 rpg
Chances: No shot. Johnson is having a stellar season for the Gauchos, and he may be one of the higher draft picks on this list. But the Gauchos are 8-6 and are trailing Long Beach State in the Big West. Johnson should be an All-American, but he won't make the first team.
Darius Johnson-Odom, 6-2, Sr., G, Marquette Stat line: 18.2 ppg, 3.3 rpg
Chances: No shot. DJO has had a superb season for the Golden Eagles. He has a legit shot at Big East Player of the Year. But that won't be enough to get a first-team All-American spot or the national POY. Marquette has been decent, but not great enough for DJO to stand out on that pedestal.
Kevin Jones, 6-8, Sr., F, West Virginia Stat line: 20.6 ppg, 11.1 rpg
Chances: Decent. Jones has put it all together as a senior and has put up just a monster season for the Mountaineers. Just seems like it's double-double after double-double for Jones, who will need to keep the Mountaineers in the top 3 of the Big East in order to stay in Wooden contention.
Perry Jones III, 6-11, So., C, Baylor Stat line: 14.2 ppg, 7.5 rpg
Chances: No shot at player of the year, but he is in the hunt for a first-team All-American slot. The problem for Jones' candidacy is that Quincy Acy has been a comparable inside scorer and guard Pierre Jackson has been an integral member of this team. Jones didn't help his case when he and the Bears were dominated by Kansas' Thomas Robinson in a loss on Monday night. But he can't win national POY if he isn't the Big 12 Player of the Year. And Robinson is the favorite for that honor.
Kris Joseph, 6-7, Sr., F, Syracuse Stat line: 13.7 ppg, 4.6 rpg
Chances: No shot. Joseph is leading the Orange, but this team is so deep, so talented and so balanced that you would have a hard time picking just him. Dion Waiters may be Syracuse's MVP. A number of other players have taken turns being the star for the Orange, too.
Michael Kidd-Gilchrist, 6-7, Fr., F, Kentucky Stat line: 13.4 ppg, 7.7 rpg, 49.4 FG percentage
Chances: Solid. Kidd-Gilchrist could be the SEC Player of the Year. And if he gets that honor, he'll be in contention for the national POY. Kidd-Gilchrist took a few games to get going, but once he did he was an offensive force. He has delivered on his talent and effort.
Jeremy Lamb, 6-5, So., G, Connecticut Stat line: 17.9 ppg, 4.2 rpg
Chances: No shot. Lamb is leading the Huskies in scoring. But UConn is still finding its way in the Big East. The Huskies haven't featured Lamb as much, either. Andre Drummond may end up being the team's featured scorer by season's end. Lamb isn't the Big East Player of the Year right now, so he isn't winning the national honor.
Damian Lillard, 6-3, Jr., G, Weber State Stat line: 25.5 ppg, 5.8 rpg, 3.5 apg
Chances: He won't win national POY, but he should be in contention for second-team All-American honors. Lillard is having a stellar season for the Wildcats, who are in first place in the Big Sky. He leads the nation in scoring and his stat line is as good as any in the country. The problem is that Weber has been in obscurity so far this season. Lillard will likely not be seen by the masses until March.
Doug McDermott, 6-7, So., F, Creighton Stat line: 24.3 ppg, 8.5 rpg, 62.1 FG
Chances: High. McDermott has been one of the most complete players in the country and is a first-team All-American, at the very least. He could be this season's Jimmer Fredette, coming from outside a power six conference to win the national player of the year honor. McDermott has led the Bluejays to the top of the Missouri Valley and into the Top 25. He is the focus of every opposing defense, too.
Scott Machado, 6-1, Sr., G, Iona Stat line: 13.1 ppg, 4.7 rpg, 10.3 apg
Chances: Not happening for POY, but he's in the hunt as a first-team All-American. Machado has been the most dominant point guard this season and easily leads the country in assists. Iona has played a decent schedule and is the team to beat in the MAAC. Few teams will want to face the Gaels in March, and Machado is one of the key reasons why.
Kendall Marshall, 6-4, So., G, North Carolina Stat line: 5.8 ppg, 9.6 apg
Chances: No shot. Marshall is a key for the Tar Heels. He hasn't been the best point guard in the country, but has been a solid contributor this season and does rank second behind Machado in assists. But that isn't enough to win the award or be a first-team candidate.
Mike Moser, 6-8, So., F, UNLV Stat line: 13.9 ppg, 11.2 rpg
Chances: No shot. But Moser has to be in contention for a first- or second-team All-American spot. His rebounding has been epic (especially against North Carolina). Moser and fellow UCLA transfer Chace Stanback have been the major reasons the Runnin' Rebels are ranked and in contention for the MWC title.
Arnett Moultrie, 6-11, Jr., C, Mississippi State Stat line: 16.5 ppg, 10.9 rpg, 0.9 bpg
Chances: Not good for POY, but he's a serious candidate for first-team All-American. Outside of Moser, Moultrie has had the most impact of any transfer. He has increased MSU's chances of being a serious threat to Kentucky in the SEC. Moultrie is a double-double machine for coach Rick Stansbury and has allowed the Bulldogs to avoid relying only on Renardo Sidney.
Thomas Robinson, 6-9, Jr., F, Kansas Stat line: 17.8 ppg, 12.3 rpg
Chances: High. Robinson is the POY favorite at this juncture. He should be a consensus first-team All-American. He has had to take on immense responsibility with the departure of the Morris twins and has responded without a hitch. He carries the weight of the incredible burden of losing his mother during last season. And yet he is as focused as ever in 2011-12. Robinson dominated in the rout over Baylor on Monday night with 27 points and 14 rebounds.
Mike Scott, 6-8, Sr., F, Virginia Stat line: 16.9 ppg, 8.9 rpg
Chances: He has no shot for national POY, but Scott is one of the favorites for ACC Player of the Year. He has been the most consistent big man in the league. Take Scott off the Cavs, and they don't come close to the top of the league standings. But Virginia did lose at Duke and also fell to TCU. Scott will have to keep the Cavs in the ACC's top three to have a chance at the league's POY.
Jared Sullinger, 6-9, So., F, Ohio State Stat line: 17.3 ppg, 9.3 rpg
Chances: Still strong. Sullinger has been battling injuries (back, foot) and missed the road game at Kansas in December. That's part of the reason he is not the favorite right now. Sullinger still has plenty of time to be a first-team All-American and the Big Ten Player of the Year. But it would help if he had some dominating performances down the stretch.
Cody Zeller, 6-11, Fr., C, Indiana Stat line: 14.8 ppg, 6.4 rpg, 1.4 bpg
Chances: No shot. But Zeller is in the chase for Big Ten Player of the Year. At the very least, he'll be the Big Ten Rookie of the Year. It's amazing that he's on this list and his older brother Tyler (a senior at North Carolina) is not. Cody has helped transform Indiana into a national player, but the Hoosiers' recent two-game skid does take his chances for Big Ten POY down a peg.
My midseason All-America team choices: First team: Robinson, McDermott, Davis, Moultrie, Machado Second team: Kidd-Gilchrist, Sullinger, Green, K. Jones, C. Zeller
November, 25, 2011
11/25/11
9:19
PM ET
The past three weeks have been quite a whirlwind.
I've seen 20 teams in a number of venues on both coasts.
So after a thankful day to be with my family -- and a big thanks to all my tremendous colleagues who grind every day on our editorial operation on ESPN.com and on both sides of the camera on ESPN -- here's a look at what I've picked up on after two weeks on the road. And remember, this only includes games I've seen in person.
[+] Enlarge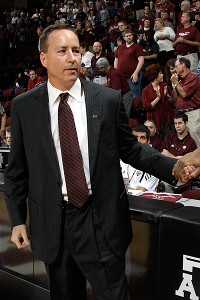 AP Photo/David J. PhillipTexas A&M's Billy Kennedy was diagnosed with Parkinson's disease before the start of the season.
Best venue: It was natural to be skeptical about whether or not the Carrier Classic could be pulled off. But it far exceeded my expectations. The Navy did what it does best -- tremendous organization. The enormity of the USS Carl Vinson was awe-inspiring. The men and women who serve on the ship, as well as the ship's leadership, couldn't have been more welcoming. They were so grateful to have a chance to show what they do on a daily basis. The two teams -- North Carolina and Michigan State -- were model guests and displayed tremendous appreciation. The pageantry of the event, from the patriotic opening to the scenic view of downtown San Diego, will be hard to ever duplicate due to the uniqueness of 11-11-11 and the inaugural nature of the game. And the outdoor game may have seemed like a gimmick, but it was well-played in spurts for being the season opener for both teams.
Best team: North Carolina. The Tar Heels have lived up to the hype as the No. 1 team in the country. They have flaws, especially their perimeter depth. But the overall length of the frontcourt, the ability to get out on the break and the potential to hit scoring spurts and run out on teams is impressive. The Heels have three players -- Harrison Barnes, Tyler Zeller and Kendall Marshall -- who will compete for the ACC POY and two others -- John Henson and James Michael McAdoo -- who will be tough to defend.
Signature moment: When Duke coach Mike Krzyzewski won game No. 903 against Michigan State, passed his mentor Bob Knight and became the all-time winningest men's coach in NCAA history. The impromptu embrace by Coach K and Knight was met by a swarm of photographers and a rare teary eye from Coach K. The moment was genuine, real and showed the true emotion of such an arduous task of grinding out wins in this sport for three-plus decades.
Most impressive half: Kentucky's complete domination of Penn State in the first half at the Mohegan Sun Arena. The Wildcats made it look like it was a guarantee game with an opponent from a weak Division II conference. To Penn State's credit, the Nittany Lions did respond the next day and beat South Florida. But Kentucky showed on this day that it had more offensive versatility with the emergence of Doron Lamb and Kyle Wiltjer.
Most dominating performance: Jared Cunningham, Oregon State. Cunningham went off for 37 points in an overtime win over Texas in the Legends Classic. Cunningham was a highlight reel a year ago but has settled down, working on his game and finding ways to score in a variety of ways. Hofstra coach Mo Cassara said he was the best guard they've gone against in quite some time after Cunningham lit up the Pride for 35 in Corvallis prior to the Texas game. Cunningham is a legit Pac-12 Player of the Year candidate.
Best sub: Syracuse's Dion Waiters. Waiters jump-started the Orange with 11 points off the bench in the comeback win over Virginia Tech in the NIT Season Tip-Off semifinal. Waiters is a game-changer when he's on the floor. He gives Syracuse a different look because of his ability to get into the lane quicker than Scoop Jardine. He's not as refined as Jardine and can be hit or miss, but when he's on he gives the Orange a different look.
Most courageous: Texas A&M coach Billy Kennedy and St. John's coach Steve Lavin. Kennedy is trying to come back from a series of health setbacks, most notably being diagnosed with Parkinson's disease. He went through incredible fatigue over a five-week stretch that weakened him and it doesn't help that he has bone spurs in his shoulder. The first-year A&M coach is beat up, but is making a comeback one step at a time. He's an inspiration and a model of perseverance.
Lavin, meanwhile, is returning from prostate cancer surgery that was more extensive than most. He had a seven-hour procedure to take out his prostate and also scrape other lymph nodes to ensure that the cancer was all gone. He said he is cancer-free, but is still working his way back from the exhausting surgery. Lavin has to manage his energy and that's why he was able to coach in the Garden for two days in a row but then needed to take a day off from the rigors of coaching earlier this week.
Biggest surprise: Stanford's blowout win over Oklahoma State. The Cowboys were obviously a bit distracted on Wednesday. Oklahoma State coach Travis Ford, who has been crushed by the horrific plane crash that cost the lives of women's coaches Kurt Budke and Miranda Serna, said there were no excuses. And there is this: Stanford was that good. Josh Owens scored 21 points and is, like Cunningham, a Pac-12 POY candidate. I'm not sure Stanford can continue this early-season success, but the Cardinal certainly have the look of an upper-division Pac-12 team.
Two to single out: Over the past three weeks, I took notice of two players who continue to exhibit maturity and professionalism in the way they handle themselves with the media and the respect they have for those older than them. Texas freshman Myck Kabongo has a tremendous presence about him. So too does Michigan State senior Draymond Green. You sense that both of these young men will be stars in whatever they choose to do going forward.
Player only scratching the surface: Kentucky's Anthony Davis will be a star by season's end with his ability to control the paint. He is such an immense talent with his length and game-changing shot-blocking. His offense will only continue to diversify.
Most important wins: Vanderbilt beating NC State and Oregon State in the closing moments. The Commodores found ways to win the Legends Classic with key defensive stops and timely shooting at the IZOD Center. The Wolfpack and Beavers are vastly improved from a year ago, but the Dores had to win these games to shed the sour taste of getting beat up by Cleveland State at home. Vandy will get big man Festus Ezeli back in a few weeks. So these wins were critical for this team's confidence.
Two teams to watch: Oregon State still has to win the games it should over the next month -- all against teams outside the power-six conferences and perhaps none against teams bound for the NCAA tournament. But the talent is in place with this team to make some noise in the Pac-12. The emergence of Ahmad Starks as a push-it point guard, the length of Eric Moreland and Devon Collier, the soft hands of Joe Burton inside and the scoring of Cunningham make this team a good watch.
NC State had talent when Mark Gottfried arrived and it has only gotten better. C.J. Leslie is a potential big-time scorer. Scott Wood can make shots. C.J. Williams and Alex Johnson are solid role players. DeShawn Painter is a rugged face-up and inside post player and the potential exists for Thomas de Thaey and Jordan Vandenberg to cause problems when they body people up in the lane. The ACC is weak beyond the top three, opening up a spot for the Wolfpack.
The great enigma: Mississippi State. After dropping a home game to Akron, the Bulldogs won the 2K Sports Classic benefiting Coaches vs. Cancer with wins over Texas A&M and Arizona. Arnett Moultrie and Renardo Sidney provide one of the tougher matchups of any big man combo. Dee Bost is a veteran point guard who knows how to run a team. But the two players who may hold the key to this team are Deville Smith and Rodney Hood, a pair of freshman guards who can change the game with their speed and shooting when inserted.
Incomplete read: Drexel. The Dragons were without two of their top three guards in Chris Fouch and Tavon Allen. Yet Drexel pulled away from Rider in impressive fashion during the Tip-Off Marathon. The CAA favorite has a tough inside, undersized player in Samme Givens and a grinding guard who can get points in Frantz Massenat. But then the Dragons fell flat in the Virgin Islands and lost to Norfolk State and scored 35 points against Virginia. Let's see how Drexel does once it's healthy before giving a full review.
Best coaching jobs: Kansas' Bill Self and Virginia Tech's Seth Greenberg. Neither team won when I saw them but they were going up against top-five squads in Kentucky and Syracuse. Self and Greenberg are maximizing the talent on their teams. They do have studs in Thomas Robinson (Kansas) and Dorenzo Hudson (Virginia Tech), but they get their teams to play as hard as they coach. Kansas' play in Maui deserves high praise and the Jayhawks will once again be in contention to win the Big 12. The Hokies will find a way to be on the bubble again. Neither team is as stocked as it has been in the past, but these two coaches will get these teams to reach their potential.
Best teams: Nothing I saw changed my opinion that North Carolina, Kentucky, Duke and Syracuse are all legitimate Final Four contenders. I have yet to see Ohio State, but put the Buckeyes in that group, as well.
Best game I missed: Well, that one is easy. The Kansas-Duke championship game at the Maui Invitational will go down as one of the best 40 minutes of the regular season. What a show that was.