Category archive:

Mississippi State Bulldogs
July, 26, 2012
07/26/12
4:01
PM ET
LAKE BUENA VISTA, Fla. -- Mississippi State was featured in two headlines on ESPN.com's college basketball page as of Thursday morning.
Neither was good for the upcoming season, especially for new head coach Rick Ray who is starting from scratch after Rick Stansbury "retired" after 14 seasons.
Stansbury had plenty of player movement during his tenure, including a high-turnover roster and a slew of players who went to the NBA, sometimes before they even arrived in Starkville under the previous NBA draft rule. But one thing Stansbury continued to do, in what's arguably one of the toughest recruiting spots in the SEC, was win.
He reached six NCAA tournaments and claimed five SEC West divisional titles. But he left a roster that imploded upon his departure.
The Bulldogs lost two seniors (Dee Bost and Brian Bryant) and two players who left a year early for the NBA draft. Arnett Moultrie, a four-year player after transferring from UTEP, was an expected departure. Moultrie was selected in the first round (27th overall) by Miami and traded to Philadelphia. He was a double-double machine for the Bulldogs at times. Renardo Sidney wasn't selected and probably would have been a headache for Ray had he stayed in school. Sidney consistently failed to get in shape, stay eligible and remain interested on the court.
The best player on the team was freshman guard Rodney Hood. Ray, a relatively unknown assistant from Clemson when he was hired, thought he had a chance to keep Hood when he got the job.
It didn't happen.
Once Hood said he was looking for another school, he became a coveted transfer who seriously considered Duke, Ohio State, Baylor and Memphis. He chose Duke.
"It was 50-50,'' Ray said.
How much time did Ray spend trying to woo Hood? "A lot,'' Ray said. "And you can't get that time back. I thought it was a really good chance. I wanted Rodney to get a chance to see what we could do on the court. But I was 0-0 and didn't have a coaching record, and the places he was considering transferring to, those places had records.''
So, Ray had to find guards with the loss of Bost, Bryant and Hood. He ultimately found five newcomers at the position in Andre Applewhite, Trivante Bloodman, Fred Thomas, Jacoby Davis and Craig Sword to go along with one junior college forward in Colin Borchert. The Bulldogs, hoping for some semblance of experience on the roster, held onto Jalen Steele, a 3-point shooter, and forward Wendell Lewis.
"We had nobody who could dribble the ball up the court,'' Ray said. "Nobody. I wanted to make sure we weren't mortgaging our future to plug holes so that now you don't have quality guys who can compete in the SEC. You walk a fine line if you're able to find guys who can come in and win games who are also good kids.''
Now back to the headlines on our college hoops page. Davis suffered a torn ACL during individual workouts on Monday and is out for the year.
Sword had a BB gun in his dorm room and didn't know that wasn't allowed, according to the school. He was subsequently arrested in what was deemed a misdemeanor. Ray issued a statement to the Jackson Clarion-Ledger and others. Some sort of disciplinary action is pending. But Ray will need Sword this season.
He has to patient and so does the fan base.
"All the media attention that comes with being an assistant coach, I never had to deal with that,'' said Ray. "Nobody cares about you or wants to talk to you. I had to deal with all that media attention.''
Ray wasn't the first choice, either. He knew that, and so did the boosters. "There were boosters and donors [who] I had to introduce myself to, especially those [who] wanted this candidate or that candidate, guys who didn't feel quite connected to the process who wanted someone else to be the head coach,'' said Ray.
How many times did he have to make those introductions?
"A lot,'' said Ray. "People in the South like to talk. But it was good.''
Ray is personable once you spend time with him. He has an infectious smile and an engaging personality. But he wasn't one of these self-promoting assistants. And while Clemson head coach Brad Brownell is loyal, he isn't a coach who draws attention to himself or shines the light on his assistants to get jobs. Ray wasn't the visible assistant at his previous spots (Purdue, Northern Illinois or Indiana State), either.
Athletic director Scott Stricklin had to find a coach who was long on character and discipline after Stansbury's final two seasons had its share of issues, notably when former player Elgin Bailey was involved in a fight in the stands with Sidney.
"I had to get guys to buy into what I was selling,'' said Ray. "I wasn't a name. The only way I could get them to buy in was to get them on the court and work with them. That was good, and we've had two weeks with them on the court that has been really good.''
Ray also had to tackle a problem he wasn't anticipating: altering the schedule.
Stansbury seemed to love putting his teams in difficult situations on the road. The team and program nearly imploded after a ridiculous road swing two seasons ago that took them to the Bahamas to Hawaii to Las Vegas in two weeks.
The Bulldogs were originally slated to play at Utah State on the way to the Maui Invitational. On the way back from Hawaii, they would visit Baylor. Oh, and the Bulldogs had to open the season in Troy's new facility.
"We still have to open up at Troy,'' said Ray. "But I pushed back the Utah State trip to the next year, and we got out of the series with Baylor. I didn't want to deprive our guys the chance to play in Maui.''
The depleted Bulldogs open up that tournament against North Carolina, which reloaded yet again.
"We'll still field a team,'' Ray said.
For Ray's sake, he hopes that he can slide back into anonymity while he rebuilds. And it would be nice to do it without any negative headlines.
January, 17, 2012
01/17/12
9:29
PM ET
College basketball could use a Heisman-like award, one main honor instead of the five mainstream national awards.
The problem is that finding a consensus for the Wooden, Naismith, AP, Rupp and Oscar Robertson honors is no easy task.
The awards voters do tend to coalesce behind one candidate. And maybe that will be the case again.
[+] Enlarge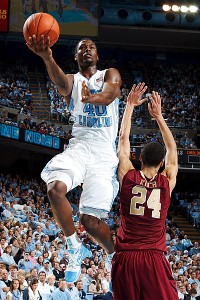 Peyton Williams/Getty ImagesA favorite in the preseason, Harrison Barnes hasn't been the dominating player for UNC.
But it seems that this season's race will be as wide open as ever. If you need more evidence, take a look at the 25 finalists for the Wooden Award, released on ESPNU and ESPN.com on Tuesday.
It appears that the only two players who are consensus candidates are Kansas' Thomas Robinson and Creighton's Doug McDermott. It's not a reach to say these two players are the favorites in mid-January, a stunning development considering how much preseason hype Ohio State's Jared Sullinger and North Carolina's Harrison Barnes received. The amazing part thus far is that I don't believe Sullinger nor Barnes would be a first-team All-American if the voting were conducted today.
Before we get to the list of players compiled by the Wooden folks, it's important to note that these are simply the 25 players who they felt should be honored on their midseason list. Players who do not show up are still very much eligible to win the Wooden Award at the end of the season and will be given equal consideration.
So players who have legitimate claims to being on this list -- Maryland's Terrell Stoglin and Seton Hall teammates Herb Pope and Jordan Theodore come to mind -- still have a shot.
So without further ado, here are the 25 Wooden finalists (in alphabetical order):
Harrison Barnes, 6-foot-8, So., F, North Carolina Stat line: 16.8 ppg, 4.8 rpg
Chances: Fading. Still has a shot to be a second-team All-American. Barnes hasn't been the dominating player on the Tar Heels. To be fair, he has some of the best talent in the country (John Henson, Tyler Zeller and Kendall Marshall) surrounding him. UNC's 33-point loss to Florida State didn't help his case, either.
Will Barton, 6-6, So., F, Memphis Stat line: 18.2 ppg, 9.0 rpg
Chances: No shot. He could be the Conference USA Player of the Year, though. Barton has greatly improved and has been the most consistent player during the Tigers' inconsistent season.
William Buford, 6-6, Sr., G, Ohio State Stat line: 15.2 ppg, 4.6 rpg
Chances: No shot. Buford won't win Big Ten POY, either. He has been OSU's best perimeter threat, but he won't be a first-team All-American. Buford might not even be first-team All-Big Ten. He is an integral part of the Buckeyes' title hopes, but is not a POY contender.
Anthony Davis, 6-10, Fr., C, Kentucky Stat line: 13.1 ppg, 10.2 rpg, 4.6 bpg
Chances: High. Davis has been the most dominant post player in the country. He blocked a last-second shot by North Carolina's John Henson in December, preventing the Tar Heels from winning a game at Rupp. He alters and changes more shots than any other player. If the Wildcats win the national title, Davis will be one of the reasons why. He would be ahead of Ohio State's Jared Sullinger on the All-America ballot if you had to choose one of them.
Marcus Denmon, 6-3, Sr., G, Missouri Stat line: 17.8 ppg, 5.5 rpg
Chances: Not great. Denmon is the leading scorer for Mizzou. But it's hard to separate him from Kim English, Ricardo Ratliffe, Michael Dixon and Flip Pressey in his importance to the Tigers. They all have played an equal role in Missouri's impressive start. It will be interesting to see which of these players earns first-team All-Big 12.
[+] Enlarge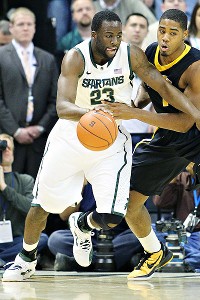 Mike Carter/US PresswireIf Michigan State stays in the Big Ten race, Draymond Green has a shot at first-team All-American.
Draymond Green, 6-7, Sr., F, Michigan State Stat line: 15.8 ppg, 10.1 rpg
Chances: In the mix. If he continues his current pace of scoring and rebounding, Green could end up nudging out Sullinger for Big Ten Player of the Year. The Spartans did lose at Northwestern on Saturday, but Green has been a tremendous leader. He will stay in the chase for a first-team All-American spot if his team stays in the race for the Big Ten title.
John Henson, 6-11, Jr., C, North Carolina Stat line: 14.4 ppg, 9.7 rpg
Chances: No shot. Henson didn't convert the biggest shot of his season against Kentucky. Davis blocked it. And if Barnes isn't the national player of the year, Henson isn't either. The 33-point loss to Florida State will haunt all Tar Heels candidates.
John Jenkins, 6-4, Jr., G, Vanderbilt Stat line: 19.8 ppg, 2.8 rpg
Chances: No shot. Jenkins is a superb shooter and scorer and is leading the revitalized Commodores. But his role isn't more important than Jeffery Taylor, Brad Tinsley or Festus Ezeli -- it is equally important. The 'Dores mid-nonconference slide hurts Jenkins' campaign. The success of the Kentucky freshmen also makes it almost impossible for Jenkins to get SEC Player of the Year.
Orlando Johnson, 6-5, Sr., G, UCSB Stat line: 20.2 ppg, 6.4 rpg
Chances: No shot. Johnson is having a stellar season for the Gauchos, and he may be one of the higher draft picks on this list. But the Gauchos are 8-6 and are trailing Long Beach State in the Big West. Johnson should be an All-American, but he won't make the first team.
Darius Johnson-Odom, 6-2, Sr., G, Marquette Stat line: 18.2 ppg, 3.3 rpg
Chances: No shot. DJO has had a superb season for the Golden Eagles. He has a legit shot at Big East Player of the Year. But that won't be enough to get a first-team All-American spot or the national POY. Marquette has been decent, but not great enough for DJO to stand out on that pedestal.
Kevin Jones, 6-8, Sr., F, West Virginia Stat line: 20.6 ppg, 11.1 rpg
Chances: Decent. Jones has put it all together as a senior and has put up just a monster season for the Mountaineers. Just seems like it's double-double after double-double for Jones, who will need to keep the Mountaineers in the top 3 of the Big East in order to stay in Wooden contention.
Perry Jones III, 6-11, So., C, Baylor Stat line: 14.2 ppg, 7.5 rpg
Chances: No shot at player of the year, but he is in the hunt for a first-team All-American slot. The problem for Jones' candidacy is that Quincy Acy has been a comparable inside scorer and guard Pierre Jackson has been an integral member of this team. Jones didn't help his case when he and the Bears were dominated by Kansas' Thomas Robinson in a loss on Monday night. But he can't win national POY if he isn't the Big 12 Player of the Year. And Robinson is the favorite for that honor.
Kris Joseph, 6-7, Sr., F, Syracuse Stat line: 13.7 ppg, 4.6 rpg
Chances: No shot. Joseph is leading the Orange, but this team is so deep, so talented and so balanced that you would have a hard time picking just him. Dion Waiters may be Syracuse's MVP. A number of other players have taken turns being the star for the Orange, too.
Michael Kidd-Gilchrist, 6-7, Fr., F, Kentucky Stat line: 13.4 ppg, 7.7 rpg, 49.4 FG percentage
Chances: Solid. Kidd-Gilchrist could be the SEC Player of the Year. And if he gets that honor, he'll be in contention for the national POY. Kidd-Gilchrist took a few games to get going, but once he did he was an offensive force. He has delivered on his talent and effort.
[+] Enlarge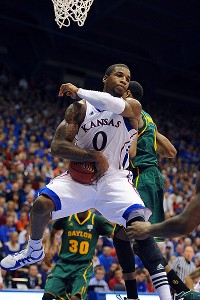 Peter G. Aiken/US PresswireBaylor's focus in its rematch with Kansas -- stopping Thomas Robinson, who had 27 points and 14 rebounds in their game in January.
Jeremy Lamb, 6-5, So., G, Connecticut Stat line: 17.9 ppg, 4.2 rpg
Chances: No shot. Lamb is leading the Huskies in scoring. But UConn is still finding its way in the Big East. The Huskies haven't featured Lamb as much, either. Andre Drummond may end up being the team's featured scorer by season's end. Lamb isn't the Big East Player of the Year right now, so he isn't winning the national honor.
Damian Lillard, 6-3, Jr., G, Weber State Stat line: 25.5 ppg, 5.8 rpg, 3.5 apg
Chances: He won't win national POY, but he should be in contention for second-team All-American honors. Lillard is having a stellar season for the Wildcats, who are in first place in the Big Sky. He leads the nation in scoring and his stat line is as good as any in the country. The problem is that Weber has been in obscurity so far this season. Lillard will likely not be seen by the masses until March.
Doug McDermott, 6-7, So., F, Creighton Stat line: 24.3 ppg, 8.5 rpg, 62.1 FG
Chances: High. McDermott has been one of the most complete players in the country and is a first-team All-American, at the very least. He could be this season's Jimmer Fredette, coming from outside a power six conference to win the national player of the year honor. McDermott has led the Bluejays to the top of the Missouri Valley and into the Top 25. He is the focus of every opposing defense, too.
Scott Machado, 6-1, Sr., G, Iona Stat line: 13.1 ppg, 4.7 rpg, 10.3 apg
Chances: Not happening for POY, but he's in the hunt as a first-team All-American. Machado has been the most dominant point guard this season and easily leads the country in assists. Iona has played a decent schedule and is the team to beat in the MAAC. Few teams will want to face the Gaels in March, and Machado is one of the key reasons why.
Kendall Marshall, 6-4, So., G, North Carolina Stat line: 5.8 ppg, 9.6 apg
Chances: No shot. Marshall is a key for the Tar Heels. He hasn't been the best point guard in the country, but has been a solid contributor this season and does rank second behind Machado in assists. But that isn't enough to win the award or be a first-team candidate.
Mike Moser, 6-8, So., F, UNLV Stat line: 13.9 ppg, 11.2 rpg
Chances: No shot. But Moser has to be in contention for a first- or second-team All-American spot. His rebounding has been epic (especially against North Carolina). Moser and fellow UCLA transfer Chace Stanback have been the major reasons the Runnin' Rebels are ranked and in contention for the MWC title.
Arnett Moultrie, 6-11, Jr., C, Mississippi State Stat line: 16.5 ppg, 10.9 rpg, 0.9 bpg
Chances: Not good for POY, but he's a serious candidate for first-team All-American. Outside of Moser, Moultrie has had the most impact of any transfer. He has increased MSU's chances of being a serious threat to Kentucky in the SEC. Moultrie is a double-double machine for coach Rick Stansbury and has allowed the Bulldogs to avoid relying only on Renardo Sidney.
Thomas Robinson, 6-9, Jr., F, Kansas Stat line: 17.8 ppg, 12.3 rpg
Chances: High. Robinson is the POY favorite at this juncture. He should be a consensus first-team All-American. He has had to take on immense responsibility with the departure of the Morris twins and has responded without a hitch. He carries the weight of the incredible burden of losing his mother during last season. And yet he is as focused as ever in 2011-12. Robinson dominated in the rout over Baylor on Monday night with 27 points and 14 rebounds.
Mike Scott, 6-8, Sr., F, Virginia Stat line: 16.9 ppg, 8.9 rpg
Chances: He has no shot for national POY, but Scott is one of the favorites for ACC Player of the Year. He has been the most consistent big man in the league. Take Scott off the Cavs, and they don't come close to the top of the league standings. But Virginia did lose at Duke and also fell to TCU. Scott will have to keep the Cavs in the ACC's top three to have a chance at the league's POY.
Jared Sullinger, 6-9, So., F, Ohio State Stat line: 17.3 ppg, 9.3 rpg
Chances: Still strong. Sullinger has been battling injuries (back, foot) and missed the road game at Kansas in December. That's part of the reason he is not the favorite right now. Sullinger still has plenty of time to be a first-team All-American and the Big Ten Player of the Year. But it would help if he had some dominating performances down the stretch.
Cody Zeller, 6-11, Fr., C, Indiana Stat line: 14.8 ppg, 6.4 rpg, 1.4 bpg
Chances: No shot. But Zeller is in the chase for Big Ten Player of the Year. At the very least, he'll be the Big Ten Rookie of the Year. It's amazing that he's on this list and his older brother Tyler (a senior at North Carolina) is not. Cody has helped transform Indiana into a national player, but the Hoosiers' recent two-game skid does take his chances for Big Ten POY down a peg.
My midseason All-America team choices: First team: Robinson, McDermott, Davis, Moultrie, Machado Second team: Kidd-Gilchrist, Sullinger, Green, K. Jones, C. Zeller
November, 25, 2011
11/25/11
9:19
PM ET
The past three weeks have been quite a whirlwind.
I've seen 20 teams in a number of venues on both coasts.
So after a thankful day to be with my family -- and a big thanks to all my tremendous colleagues who grind every day on our editorial operation on ESPN.com and on both sides of the camera on ESPN -- here's a look at what I've picked up on after two weeks on the road. And remember, this only includes games I've seen in person.
Best venue: It was natural to be skeptical about whether or not the Carrier Classic could be pulled off. But it far exceeded my expectations. The Navy did what it does best -- tremendous organization. The enormity of the USS Carl Vinson was awe-inspiring. The men and women who serve on the ship, as well as the ship's leadership, couldn't have been more welcoming. They were so grateful to have a chance to show what they do on a daily basis. The two teams -- North Carolina and Michigan State -- were model guests and displayed tremendous appreciation. The pageantry of the event, from the patriotic opening to the scenic view of downtown San Diego, will be hard to ever duplicate due to the uniqueness of 11-11-11 and the inaugural nature of the game. And the outdoor game may have seemed like a gimmick, but it was well-played in spurts for being the season opener for both teams.
Best team: North Carolina. The Tar Heels have lived up to the hype as the No. 1 team in the country. They have flaws, especially their perimeter depth. But the overall length of the frontcourt, the ability to get out on the break and the potential to hit scoring spurts and run out on teams is impressive. The Heels have three players -- Harrison Barnes, Tyler Zeller and Kendall Marshall -- who will compete for the ACC POY and two others -- John Henson and James Michael McAdoo -- who will be tough to defend.
Signature moment: When Duke coach Mike Krzyzewski won game No. 903 against Michigan State, passed his mentor Bob Knight and became the all-time winningest men's coach in NCAA history. The impromptu embrace by Coach K and Knight was met by a swarm of photographers and a rare teary eye from Coach K. The moment was genuine, real and showed the true emotion of such an arduous task of grinding out wins in this sport for three-plus decades.
Most impressive half: Kentucky's complete domination of Penn State in the first half at the Mohegan Sun Arena. The Wildcats made it look like it was a guarantee game with an opponent from a weak Division II conference. To Penn State's credit, the Nittany Lions did respond the next day and beat South Florida. But Kentucky showed on this day that it had more offensive versatility with the emergence of Doron Lamb and Kyle Wiltjer.
Most dominating performance: Jared Cunningham, Oregon State. Cunningham went off for 37 points in an overtime win over Texas in the Legends Classic. Cunningham was a highlight reel a year ago but has settled down, working on his game and finding ways to score in a variety of ways. Hofstra coach Mo Cassara said he was the best guard they've gone against in quite some time after Cunningham lit up the Pride for 35 in Corvallis prior to the Texas game. Cunningham is a legit Pac-12 Player of the Year candidate.
Best sub: Syracuse's Dion Waiters. Waiters jump-started the Orange with 11 points off the bench in the comeback win over Virginia Tech in the NIT Season Tip-Off semifinal. Waiters is a game-changer when he's on the floor. He gives Syracuse a different look because of his ability to get into the lane quicker than Scoop Jardine. He's not as refined as Jardine and can be hit or miss, but when he's on he gives the Orange a different look.
Most courageous: Texas A&M coach Billy Kennedy and St. John's coach Steve Lavin. Kennedy is trying to come back from a series of health setbacks, most notably being diagnosed with Parkinson's disease. He went through incredible fatigue over a five-week stretch that weakened him and it doesn't help that he has bone spurs in his shoulder. The first-year A&M coach is beat up, but is making a comeback one step at a time. He's an inspiration and a model of perseverance.
Lavin, meanwhile, is returning from prostate cancer surgery that was more extensive than most. He had a seven-hour procedure to take out his prostate and also scrape other lymph nodes to ensure that the cancer was all gone. He said he is cancer-free, but is still working his way back from the exhausting surgery. Lavin has to manage his energy and that's why he was able to coach in the Garden for two days in a row but then needed to take a day off from the rigors of coaching earlier this week.
Biggest surprise: Stanford's blowout win over Oklahoma State. The Cowboys were obviously a bit distracted on Wednesday. Oklahoma State coach Travis Ford, who has been crushed by the horrific plane crash that cost the lives of women's coaches Kurt Budke and Miranda Serna, said there were no excuses. And there is this: Stanford was that good. Josh Owens scored 21 points and is, like Cunningham, a Pac-12 POY candidate. I'm not sure Stanford can continue this early-season success, but the Cardinal certainly have the look of an upper-division Pac-12 team.
Two to single out: Over the past three weeks, I took notice of two players who continue to exhibit maturity and professionalism in the way they handle themselves with the media and the respect they have for those older than them. Texas freshman Myck Kabongo has a tremendous presence about him. So too does Michigan State senior Draymond Green. You sense that both of these young men will be stars in whatever they choose to do going forward.
Player only scratching the surface: Kentucky's Anthony Davis will be a star by season's end with his ability to control the paint. He is such an immense talent with his length and game-changing shot-blocking. His offense will only continue to diversify.
Most important wins: Vanderbilt beating NC State and Oregon State in the closing moments. The Commodores found ways to win the Legends Classic with key defensive stops and timely shooting at the IZOD Center. The Wolfpack and Beavers are vastly improved from a year ago, but the Dores had to win these games to shed the sour taste of getting beat up by Cleveland State at home. Vandy will get big man Festus Ezeli back in a few weeks. So these wins were critical for this team's confidence.
Two teams to watch: Oregon State still has to win the games it should over the next month -- all against teams outside the power-six conferences and perhaps none against teams bound for the NCAA tournament. But the talent is in place with this team to make some noise in the Pac-12. The emergence of Ahmad Starks as a push-it point guard, the length of Eric Moreland and Devon Collier, the soft hands of Joe Burton inside and the scoring of Cunningham make this team a good watch.
NC State had talent when Mark Gottfried arrived and it has only gotten better. C.J. Leslie is a potential big-time scorer. Scott Wood can make shots. C.J. Williams and Alex Johnson are solid role players. DeShawn Painter is a rugged face-up and inside post player and the potential exists for Thomas de Thaey and Jordan Vandenberg to cause problems when they body people up in the lane. The ACC is weak beyond the top three, opening up a spot for the Wolfpack.
The great enigma: Mississippi State. After dropping a home game to Akron, the Bulldogs won the 2K Sports Classic benefiting Coaches vs. Cancer with wins over Texas A&M and Arizona. Arnett Moultrie and Renardo Sidney provide one of the tougher matchups of any big man combo. Dee Bost is a veteran point guard who knows how to run a team. But the two players who may hold the key to this team are Deville Smith and Rodney Hood, a pair of freshman guards who can change the game with their speed and shooting when inserted.
Incomplete read: Drexel. The Dragons were without two of their top three guards in Chris Fouch and Tavon Allen. Yet Drexel pulled away from Rider in impressive fashion during the Tip-Off Marathon. The CAA favorite has a tough inside, undersized player in Samme Givens and a grinding guard who can get points in Frantz Massenat. But then the Dragons fell flat in the Virgin Islands and lost to Norfolk State and scored 35 points against Virginia. Let's see how Drexel does once it's healthy before giving a full review.
Best coaching jobs: Kansas' Bill Self and Virginia Tech's Seth Greenberg. Neither team won when I saw them but they were going up against top-five squads in Kentucky and Syracuse. Self and Greenberg are maximizing the talent on their teams. They do have studs in Thomas Robinson (Kansas) and Dorenzo Hudson (Virginia Tech), but they get their teams to play as hard as they coach. Kansas' play in Maui deserves high praise and the Jayhawks will once again be in contention to win the Big 12. The Hokies will find a way to be on the bubble again. Neither team is as stocked as it has been in the past, but these two coaches will get these teams to reach their potential.
Best teams: Nothing I saw changed my opinion that North Carolina, Kentucky, Duke and Syracuse are all legitimate Final Four contenders. I have yet to see Ohio State, but put the Buckeyes in that group, as well.
Best game I missed: Well, that one is easy. The Kansas-Duke championship game at the Maui Invitational will go down as one of the best 40 minutes of the regular season. What a show that was.
November, 16, 2011
11/16/11
6:37
PM ET
NEW YORK -- Rick Stansbury is facing the toughest coaching challenge of his career.
What should he do with Renardo Sidney?
And this time, Sidney's problems apparently aren't related to his behavior.
At issue is how to deal with a player who has so much talent and so much potential, yet continues to be an enigma.
This time, the issue is whether or not Mississippi State can afford to wait for Sidney to be in the shape the Bulldogs needs him to be, allowing him to play quicker at both ends of the court.
"He still has a ways to go,'' Stansbury said. "He's taking baby steps. So far, as in his life itself, has been better. He hasn't disrupted in practice. He's been a good teammate. That part of his life is a lot better. He continues to push himself. But he's got to push himself to get in shape and play more productive minutes. That's his challenge.''
Sidney missed Saturday's win over South Alabama with a groin injury.
"That's true,'' Stansbury said. "He really did.''
Stansbury said that Sidney will play Thursday night against Texas A&M in the semifinals of the 2K Sports Classic benefiting Coaches vs. Cancer. The winner of this game will meet the winner of Arizona-St. John's on Friday, with the losers matching up earlier in a consolation game.
Stansbury's grand plan was for the Bulldogs to have as formidable a front line as any in the SEC, maybe even any in the country. He envisioned a group that could challenge Kentucky's Anthony Davis, Terrence Jones and Michael Kidd-Gilchrist once Sidney joined UTEP transfer Arnett Moultrie. But that hasn't worked out according to plan.
Sidney didn't make the Bulldogs' trip to Europe in August, choosing instead to spend the summer working out with former NBA coach and player John Lucas. Lucas specializes in taking on dysfunctional cases and rehabbing them, whether it's from substance abuse, behavioral problems or simply getting into optimum conditioning.
Sidney's problems have been many. He didn't play as a freshman as the NCAA investigated his housing situation in Los Angeles when he moved from Mississippi to Southern California. He once committed to USC. He was essentially spurned by UCLA because he was deemed too high a risk. Stansbury jumped at the chance to get Sidney on the rebound when the USC situation imploded on him. And because of his size and strength -- he's listed at 6-foot-10 and 270 pounds -- Sidney is deemed too much of a potential talent to dismiss.
Sidney's family hired a lawyer, noted NCAA thorn Don Jackson from Alabama, and the case lasted for months. Sidney ultimately was suspended for the year and into the next season's first nine games. When Sidney was finally eligible, he got into a tussle in a practice that warranted a one-game suspension, then was involved in a nationally televised fight in the stands at Hawaii that cost him again.
He remained on the team. The other participant in the sparring session -- Elgin Bailey -- "asked" to transfer after the incident. Stansbury said at the time that the fight was over Bailey's not moving his feet as Sidney tried to exit the aisle at the Stan Sheriff Center while the pair were watching another game at the Diamond Head Classic. Regardless, the scene was ugly and cast a pall over Sidney and the program.
During that time period, Mississippi State dealt with absurd scheduling that took it from the Bahamas to Las Vegas to Hawaii to Las Vegas (losing to Virginia Tech and Saint Mary's in bookending a Hawaii trip that saw only one win in three games). The Bulldogs also crammed in four games in four nights, all to get games in before Sidney and junior guard Dee Bost (suspended for 14 games for a combination of not withdrawing from the NBA draft and being academically ineligible) could get ready for the SEC.
"We still found a way to get to 9-7 in the SEC,'' Stansbury said. "It would be nice to have everybody healthy and get some rhythm and be consistent.''
The Bulldogs had been together in the first few weeks of practice. The season opener against Eastern Kentucky went well. But then Akron arrived in Starkville last Wednesday and Zeke Marshall's 10 points, 6 boards and 5 blocks before fouling out were enough to disrupt Sidney (12 points) and Moultrie (2-of-13 shooting, 8 points) in Akron's surprising 10-point win.
Akron is a MAC title contender. South Alabama doesn't share the same status in the Sun Belt. Still, the Bulldogs were able to have much more offensive fluidity without Sidney. They were 2-of-13 on 3s against Akron -- a credit to the defense -- and were 8-of-27 from long range against South Alabama. Moultrie scored 28 points, and the guards had plenty of looks. Sidney's replacement, Wendell Lewis, doesn't match his potential. But who on this team does? No one, and that is the Stansbury dilemma.
The ball flows better on offense. The team can get up and down the court easier on defense.
The Bulldogs have a veteran lead guard in Dee Bost and more than serviceable wings in Rodney Hood and Brian Bryant. And Stansbury said the Bulldogs are starting to be whole again after freshman Deville Smith returned to the team and played three minutes against Akron and 19 minutes against South Alabama (4 assists, zero turnovers and 1 steal).
"It will make a difference,'' Stansbury said. "We can get Dee off the point some.''
The Bulldogs aren't going to make or break their season here in New York. But there is a real chance to make a difference and gain momentum -- for Sidney and for this team -- by getting wins without the drama.
"Texas A&M is really good, maybe not as good as the team last night [Kentucky],'' Stansbury said.
But to beat the Aggies, and to become an elite team that really does challenge Kentucky, Florida and possibly Vanderbilt and Alabama, not to mention Ole Miss, Mississippi State needs to figure out what to do with Sidney.
"This has been different, more so than anybody I've coached, for sure,'' Stansbury said. "We're trying to get him to play to his potential. No how matter how much we want it, or everybody else wants it, the challenge is for him to want to get there.''
Stansbury doesn't know how good Sidney and Moultrie will be together. It sounds good in theory. But it hasn't happened yet to feel as though it will work.
"I haven't seen it yet,'' Stansbury said. "There's no question they can play together. Arnett can play inside and out. There is plenty of room on and off the court. Arnett is a terrific rebounder. And the two of them would be tough to handle in there. But our challenge is not about minutes together but to have [Sidney] have productive minutes. We hope it gets better.''
Having Sidney on the court can be disruptive -- and even detrimental -- if he can't move well. The Bulldogs don't want to be susceptible to transition defense.
"That's our challenge,'' Stansbury said.
There are many challenges with Sidney, and Stansbury has been incredibly patient.
He took the risk, a gamble that some, but not all coaches, would take. Sidney was a hometown player who had plenty of NBA interest. Now that interest has waned considerably. If it were overwhelming, Sidney would have gone to the league last season. It wasn't. He stayed, and now he's still trying to find his footing. The Bulldogs are trying to figure this all out, as well. But they can't afford to drop games in the process. This week will be quite telling as to how this experiment ultimately will play out.
October, 3, 2011
10/03/11
6:17
PM ET
At this time last year, Ben Hansbrough's name didn't appear on the Wooden Award preseason watch list.
Five months later, he edged out Connecticut's Kemba Walker for Big East Player of the Year.
Using that as a backdrop, let's remember that the list of 50 Wooden nominees is flawed, much like any of the award lists. The Wooden Award does not allow its voters to nominate any freshmen or transfers (either four-year or junior college) on their ballots.
And with college basketball as loaded with talent as any year since 2007-08, narrowing it down to 50 is not easy. So below I've attempted to come up with the names that didn't make it, either as "just missed the cut" omissions or just because they're freshmen or transfers. These guys aren't on the list (which can be found here), but might show up when it's updated during the season.
This group is by no means definitive, either. There's no telling who else might emerge nationally as the games get under way.
Let's take a look …
The omissions (in alphabetical order):
Julian Boyd, Long Island: The Blackbirds are the favorite again in the Northeast Conference and the main reason is because Boyd is back and ready to dominate the stat sheet.
D.J. Cooper, Ohio: The diminutive point guard does a little bit of everything; he averaged 15.8 ppg, 7.5 apg and 5.0 rpg for the Bobcats last season.
[+] Enlarge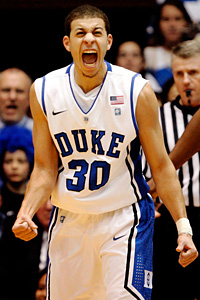 Streeter Lecka/Getty ImagesSeth Curry hasn't done enough to warrant a mention on a preseason watch list, but he might end up being a Wooden addition.
Jared Cunningham, Oregon State: Cunningham has some of the best hops in the sport and a chance to be a Pac-12 star, allowing the Beavers to finally move up in the standings this season.
Seth Curry, Duke: Curry was a standout shooter for the Blue Devils on their trip to China and could be one of the top scorers on the team.
Brandon Davies, BYU: Davies was recently reinstated to the Cougars, and the offense is expected to flow through him inside and out as BYU mounts a campaign to win the WCC in its first year in the league.
Matthew Dellavedova, Saint Mary's: SMC coach Randy Bennett envisions this as one of the best teams he's ever had, but a lot of that will have to do with whether Dellavedova can shoot like Mickey McConnell did last season.
Greg Echenique, Creighton: Echenique was a rebounding force for Venezuela this summer and should do even more for the Bluejays with a full season to work with.
TyShwan Edmondson, Austin Peay: The Governors should be the favorite in the Ohio Valley with a legit scorer like Edmondson, who has a strong man, Will Triggs, to take pressure off him.
Kyle Fogg, Arizona: Fogg is next in line to assume a leadership position for the Wildcats, who are in a position to compete for Pac-12 titles for years to come.
Kevin Foster, Santa Clara: As a sophomore, Foster sort of came out of nowhere to average 20.2 ppg and become one of the nation's top 3-point shooters.
Chris Gaston, Fordham: The Rams aren't any good, but the nation's leading returning rebounder (11.3 rpg) at least deserves a shout-out in this space.
Yancy Gates, Cincinnati: UC coach Mick Cronin said he'd be surprised if Gates wasn't one of the 10 names on the Big East preseason first team.
Malcolm Grant, Miami (Fla.): The Hurricanes have to play most of the season without big man Reggie Johnson, so Grant will have more opportunities to shine.
Rob Jones, Saint Mary's: Jones could be a double-double regular for the Gaels, and for Saint Mary's to win the WCC, Jones will have to be a star.
Doron Lamb, Kentucky: John Calipari says Lamb will be the Wildcats' best player. Just Coach Cal mind games, or the truth?
Meyers Leonard, Illinois: Leonard didn't contribute a whole lot as a freshman, but he was a hidden gem on the U.S. U-19 team in Latvia this summer. The Illini are expecting big things out of him.
C.J. McCollum, Lehigh: McCollum is the nation's leading returning scorer (21.8 ppg) and is in the top five in steals (2.5 spg). Oh, and he did that as a freshman. What more do you need to know?
Cameron Moore, UAB: The Blazers have been consistently good under Mike Davis and have had unheralded C-USA stars. Moore is the latest.
Toure' Murry, Wichita State: If the Shockers win the Missouri Valley over Creighton, a lot of the credit will end up going to the veteran Murry.
Brandon Paul, Illinois: Illini coach Bruce Weber was a bit surprised Paul didn't crack the top 50 on the Wooden list, given his overall importance to this team.
Ryan Pearson, George Mason: The Patriots are a trendy pick for the Top 25 and a lot of that has to do with the versatility of Pearson.
Damier Pitts, Marshall: The Thundering Herd are a real sleeper to gain an NCAA tourney berth out of Conference USA in large part because of Pitts.
Herb Pope, Seton Hall: Pope has come back from multiple life-threatening situations and has a real shot as a senior to put it all together and finally shine.
Terrence Ross, Washington: The Huskies can't be dismissed as a major player for the Pac-12 title, and if they win it, Ross will be a significant reason why.
Robert Sacre, Gonzaga: Sacre has matured into a solid post player, and that progress shows no signs of stopping as the Zags once again compete for the West Coast title.
Mike Scott, Virginia: If the sleeper Cavs mount a run to the NCAA tournament, the oft-injured Scott will be the reason why.
Renardo Sidney, Mississippi State: If Sidney is in shape and plays up to his potential, he has SEC Player of the Year potential and could be the difference between the Bulldogs making the NCAAs or NIT.
Andrew Smith, Butler: The Bulldogs will have fewer stars this season, but Smith has a chance to outshine Khyle Marshall and newcomer Roosevelt Jones with his scoring prowess in the post.
Chace Stanback, UNLV: Stanback's suspension to start the season is only one game, so that won't diminish his ability to lead the Rebels in their hunt for a Mountain West title.
Raymond Taylor, Florida Atlantic: FAU quietly won the Sun Belt East Division last season and Mike Jarvis' diminutive point guard was the catalyst behind the regular-season championship.
Hollis Thompson, Georgetown: If the Hoyas are to make the NCAA tournament again and be a pest in the upper half of the Big East, then Thompson needs a breakout season.
Kyle Weems, Missouri State: Doug McDermott is the one everyone is talking about in the Valley, but let's not forget that Weems is the reigning MVC Player of the Year. Too bad for the Bears he's their only returning starter.
Kendall Williams, New Mexico: The sophomore guard was the leading scorer in four postseason NIT games for the Lobos and should only get better with the addition of Australian Hugh Greenwood.
The transfers
Dewayne Dedmon, USC: Trojans coach Kevin O'Neill firmly believes this JC transfer is an NBA talent who could dominate the post and average a double-double for SC.
Arnett Moultrie, Mississippi State: The former UTEP big man is ready to have a bust-out season for a team that has serious bounce-back potential after a disappointing 2010-11 campaign.
Mike Rosario, Florida: The former Rutgers scoring guard finally has plenty of support around him and will put up numbers for a winner.
Rakim Sanders, Fairfield: The Boston College transfer should flourish after dropping down a level, and he should get coach Sydney Johnson another trip to the NCAA tourney. Johnson is beginning his first year at Fairfield after leading Princeton to the 2011 tourney.
Royce White, Iowa State: White is finally ready to be a star on the college scene after multiple transgressions at Minnesota.
Brandon Wood, Michigan State: The Spartans picked up a rare senior transfer (taking advantage of the graduate transfer rule) from Valparaiso who could be one of the best shooters in the Big Ten.
Tony Woods, Oregon: The embattled Woods arrived from Wake Forest after legal issues and has a chance to really shine as a double-double player for the first time in his career.
The freshmen
Bradley Beal, Florida: Beal has a chance to be a productive player in a frontcourt that has a vacuum after multiple seniors departed.
Gary Bell Jr., Gonzaga: Coach Mark Few has been anticipating Bell's arrival for over a year now. He's expected to step in and deliver right away.
Wayne Blackshear, Louisville: The Cardinals fancy themselves a Big East title contender, and that's partly because they consider Blackshear a star in the making.
Jabari Brown, Oregon: Brown was the star of the Ducks' trip to Italy with his scoring prowess, and expect that to continue in the Pac-12.
Jahii Carson, Arizona State: There is some question right now as to Carson's eligibility, but if he's good to go, the Sun Devils might become relevant in the Pac-12 again.
Erik Copes, George Mason: Copes was bound for George Washington before Karl Hobbs was fired; now he'll be a headline performer for the Patriots and first-year coach Paul Hewitt.
Anthony Davis, Kentucky: Davis has a chance to be the SEC Player of the Year and the No. 1 pick in the NBA draft, so expect him to be on the midseason list when freshmen are allowed.
Andre Drummond, Connecticut: He will be an immediate star and help lift the Huskies into the national title chase again. He's more than likely a future top-five pick in the NBA.
Myck Kabongo, Texas: Coach Rick Barnes has had quite a bit of success with big-time freshmen guards, and Kabongo is next in line.
Michael Kidd-Gilchrist, Kentucky: Gilchrist will be another star on what will be a headline team throughout the season.
Johnny O'Bryant, LSU: Coach Trent Johnson needs the Tigers to start trending upward again, and he has a shot with the arrival of the big man from Mississippi.
LeBryan Nash, Oklahoma State: OSU is a bit of a mystery team in the Big 12, but the All-American from Dallas could push the Cowboys into contention.
Austin Rivers, Duke: Rivers will have the ball in his hands quite a bit and appears to be the next Duke star in a lengthy list of recognizable names.
Josiah Turner, Arizona: The Wildcats will win the Pac-12 regular-season title if Turner is as good as advertised.
Cody Zeller, Indiana: If coach Tom Crean is going to turn the Hoosiers into a relevant team this season, it will be because of Zeller and his impact in the Big Ten.
September, 27, 2011
09/27/11
7:42
PM ET
Connecticut is putting on the full-court press to join the ACC in case the league decides to expand again. And Duke coach Mike Krzyzewski and North Carolina coach Roy Williams both told ESPN.com they would like to see the league eventually go to 16 teams, with two eight-team divisions.
But there is no sense of urgency in the ACC, especially since the Big East for the moment is making Pitt and Syracuse stay for 27 months per the league's bylaws. The conference has plenty of time to figure out how to schedule its 14-team league.
So the attention now returns to the SEC with Monday's official announcement that Texas A&M will join the conference for the 2012-13 season. That gives the league 13 teams.
Should there be more?
Like Krzyzewski and Williams, Kentucky coach John Calipari would eventually like to see his conference get to 16.
"I don't think this stuff is done yet," Calipari said. "I've said for months that there may be four conferences with 16 or 18 teams each. But I can tell you that the SEC at 13, 14 or 16 is going to be stable. We're fine. If they're going to add, I'd like us to go and get Virginia Tech, Maryland and Missouri to go along with Texas A&M. We're not going to do anything at the expense of academics. You're also going to see basketball step up in the next five years in the SEC."
Calipari tweeted Monday that he thought the move to add the Aggies was tremendous for the league and new coach Billy Kennedy, a native of SEC country (Louisiana).
"Texas A&M is a great school academically, has a well-run athletic department and will fit well," Calipari said. "Their fan base is ridiculous, just like all of us. The SEC is different. The SEC is about schools with strong fan bases and geography. We want the markets. There is no buyout in the SEC because no one wants to leave."
Vanderbilt coach Kevin Stallings said he would have been fine with the SEC staying put at 12 teams, but he's not against the expansion.
"I like the simplicity of an even number and I'm not sure it was completely necessary," Stallings said. "I don't think we're finished seeing movement and if so, if we end up at 14 or 16, if that's what the commissioner's office said we need, then I'm fine with it. Our league isn't going anywhere. We're as stable as any league in college athletics and we have visionaries who run our league. If they think we're better suited to be at 14 or 16, then I'm OK with that."
The SEC will run into issues on further expansion since it would be hard to take a team from a state where there is already a conference member. The new ACC buyout of up to $20 million poses a problem, too. But the new markets in new states is what Calipari was talking about when he rattled off Missouri, Maryland and Virginia Tech. Still, it would be extremely difficult to pry the Terrapins away from playing Duke and North Carolina every year or the Hokies from rival Virginia after Tech expended a lot of political capital with the Cavaliers to not block the school's move from the Big East to the ACC eight years ago.
The SEC's current number of 13 will be a scheduling issue for football and basketball. Football still has divisions, which is a matter unto itself as the league decides what to do with the Aggies and how to handle an unbalanced schedule.
The SEC got rid of divisions for men's basketball for this season, but the scheduling format still mirrors the football East-West split with each team playing its old side twice and the other once for the 2011-12 season.
Stallings was on an SEC committee to determine a 12-team, no-division schedule for 2012-13. The consensus was to have everyone play each other once (11 games), with seven more games coming from doubling up against league opponents to get to 18 league games. The SEC currently plays 16. The same formula is expected to be applied to a 13-team, no-division SEC next season. The Atlantic 10, which has 14 teams, has a format of playing only 16 league games with every team playing each other at least once, three teams twice.
The question for the SEC will be which rivalries are protected in a doubling-up scenario. There are a few natural ones to protect like Alabama-Auburn, Ole Miss-Mississippi State and Vanderbilt-Tennessee with newer ones like Kentucky-Florida and maybe more traditional ones like Tennessee-Kentucky or Florida-Georgia kept, as well. There could be a need to ensure Texas A&M plays LSU twice as well, or perhaps twice with Arkansas, a former rival from the Southwest Conference.
Whatever the case, Stallings doesn't seem all that worried.
"I think we just have to have an open mind going forward," he said. "We'll come to the best concept relative to 13."