Category archive:

Army Black Knights
September, 29, 2009
09/29/09
4:34
PM ET
Renardo Sidney's eligibility status for this season is at a stalemate.
The NCAA has requested specific documentation for the Mississippi State signee -- the income tax returns from Sidney's family to explain how it paid for housing while the Jackson, Miss., native was playing at Fairfax High in Los Angeles. But Sidney's Birmingham-based attorney, Donald Jackson, says he has provided plenty of information already and will not hand over that final piece.
The result is that no one at Mississippi State knows if the heralded 6-10, 260-pound forward will be able to play this season. Sidney can practice and has been with the Bulldogs, but whether he can play or not is mired in a standoff that seems like a smaller-scale health care debate. As is the case in Washington, neither side seems willing to budge.
Bracky Brett, MSU's director of compliance, said the NCAA Eligibility Center has determined that Sidney is not certified due to a nonresponse as it awaits the rest of the documents to be delivered by the Sidney family or its legal counsel. The Eligibility Center can either certify Sidney, not certify him or certify him with conditions, which could mean he would have to sit out games or a season, much like a foreign player who has amateurism issues.
Meanwhile, Jackson said he has contacted the Congressional Black Caucus, specifically representatives John Lewis, D-Ga., and Maxine Waters, D-Calif., over what he said is "a disturbing pattern in investigations against African-American student-athletes."
Jackson said he has follow-up meetings with the congressional members on the issue.
In an e-mail to ESPN.com, Jackson listed the specific items he has sent to the NCAA. The following list is in his words:
[+] Enlarge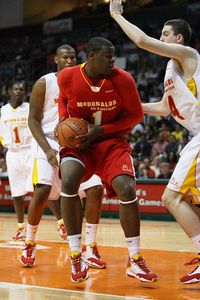 Doug Benc/Getty ImagesIf everyone is eligible, Renardo Sidney would be part of a loaded Mississippi State frontcourt.
1. Consultant Agreement between Renardo Sidney, Sr. and Reebok
2. Statement from Reebok official relative to Sidney contract
3. W2 forms provided by Reebok to Renardo, Sr. (2006-2008)
4. Affidavits from "boarders" that resided with Sidney family.
5. Cancelled checks payable from family of "boarders" to Sidney family. These payments were to cover rent and living expenses for the "boarders."
6. Affidavits from grandparents and step-grandfather of Renardo Sidney, Sr. attesting to their financial support of Sidney family.
7. Voluntarily produced income tax returns for multiple years documenting his financial condition and ability to assist in supporting Sidney family. The grandfather is a retired autoworker that made a mid six figure income during his employment in the auto industry. The step-grandfather is a retired National Guardsman who has served three tours in Iraq. He is currently employed as a Deputy Sheriff.
8. Loan documents and entire loan file from FDIC regulated financial institution documenting loan to assist family with "living expenses" during their final year in California.
9. Financial reports, bank statements and annual reports for L.A. Dream Team Foundation, non-profit corporation that supported Renardo, Sr.'s summer league basketball team. This includes public filings both in the State of California and with the Internal Revenue Service.
10. Article of Incorporation and Minutes of Board meetings of L.A. Dream Team Foundation.
11. Titles, copies of liability insurance policies and financing documents for all Sidney family vehicles.
12. Lease agreements on all family residences and/or statements from landlords relative to amounts and methods of payment for monthly lease payments.
13. Bank statements from all accounts maintained by the L.A. Dream Team Foundation
14. Copies of travel records from family's Southwest Airlines Rapid Rewards Program.
15. Copies of hotel, travel and expense receipts from all unofficial visits taken by student athlete and family.
16. Documentation of income earned by Patricia Sidney from 2006 through the present.
17. Cellular phone records for over two years for all members of the family including siblings that are entirely unconnected to this investigation.
18. Several hundred pages of actual coursework completed by Renardo Sidney, Jr. as a high school student. The student athlete was threatened with "non-certification" if he failed to produce the actual coursework.
According to Jackson, "the aforementioned documentation consists of three binders of documents, several faxed supplements and the academic information that was submitted to MSU (and ultimately the NCAA) in early July, 2009. The academic information was supplemented several times via facsimile."
But according to the NCAA, Jackson hasn't answered the specific request.
"Mr. Jackson continues to try to purposely confuse the matter at hand," Stacey Osburn, the NCAA's associate director for public and media relations, said in an e-mail. "The real issue is his failure to provide the requested documentation to the NCAA Eligibility Center on behalf of his client."
Osburn added that the Eligibility Center determines what records are necessary to determine initial eligibility.
"There is case precedent for requests of specific information, and the Eligibility Center's requests for information from Mr. Jackson's client is consistent with the established, standard process and previous requests for other prospective student-athletes," Osburn said.
Jackson said he has been working cooperatively with Mississippi State's outside legal counsel, Michael Glazier.
"We both want to see him on the floor but our obligations are different," Jackson said.
Brett agreed, saying Mississippi State has to protect the integrity of the university. He said the documentation requests by the NCAA Eligibility Center go to the Sidney family and Jackson, not to Mississippi State.
"We hope to have some resolution before the season starts but it could carry into the season and beyond," Brett said. "If he doesn't compete then it's like a redshirt year, but his five-year eligibility clock starts once he enrolls."
Sidney has been participating in individual workouts with the team and can take part in practice when it starts officially on Oct. 16, even if he's not cleared to play. Teams can conduct full team workouts for two hours a week at this point in the preseason, but Mississippi State coach Rick Stansbury has been reluctant because of Sidney's situation.
"Does this keep you from doing some team stuff? Yes, because no one knows for sure if he's going to play," said Stansbury on Tuesday while he was on the road recruiting. "It does make it difficult that they are prolonging the decision."
Stansbury said he can't control this situation so he's not spending too much time on the minutiae of the case. But he does have to think about playing the season without Sidney. If he does play, the Bulldogs will be a stronger team up front as Sidney would provide a buffer for shot-blocking senior center Jarvis Varnado.
"You know the impact Renardo could have, but there is a learning curve," Stansbury said. "We will be tough to play against with him. He can overcome the learning curve with his abilities."
There is no guarantee the Eligibility Center would certify Sidney, even if Jackson provided the NCAA with the requested financial documents. But if he doesn't, it does appear the Eligibility Center will simply hold its ground, which means this will likely drag deep into the season.
• Army will bring St. John's assistant coach Fred Quartlebaum on campus Wednesday in regard to the school's suddenly vacant head-coaching position. Quartlebaum was one of a half-dozen candidates interviewed for the position. Army athletic director Kevin Anderson also talked to Tulsa assistant David Cason, St. Mary's associate head coach Kyle Smith, Wake Forest director of basketball operations Walt Corbean, Arizona State assistant coach Dedrique Taylor and Cornell assistant coach Zach Spiker. Cason and Corbean are no longer part of the search. It's unclear how many of the other candidates will also visit the West Point campus. Anderson fired Jim Crews last week. Anderson said it was for multiple reasons, but there have been multiple reports that one of the issues was a confrontation with a player.
• Illinois State junior forward Bobby Hill suffered a torn ACL for the second straight season. Last year it was in his right knee and this time in his left. Hill was a JC All-American when he transferred to Illinois State and was expected to be a key contributor for coach Tim Jankovich. In a statement, Jankovich called Hill's injury "the toughest news I can remember ever receiving. It is difficult for me to put in words how devastated I am for him."
September, 24, 2009
09/24/09
3:01
PM ET
Army athletic director Kevin Anderson extended Jim Crews' contract for three years with a two-year option over the summer, but an issue came to his attention that he couldn't ignore and pushed him to terminate Crews' contract this week, Anderson told ESPN.com on Thursday.
"There was this one thing that came to my attention that I definitely couldn't overlook," Anderson said. "There were things, and there was one thing in particular that came to me that was overarching that led me to my conclusion."
Multiple sources close to the situation told ESPN.com that Crews yelled at a cadet. Anderson said that incident wasn't "the tipping point but contributed."
Anderson said Crews had a typical coach's contract, with clauses in it that could allow for termination. Anderson said negotiations with Crews are ongoing and that he would "do what's best for all parties." He also said there isn't a settlement as of now, but he didn't say whether there would be one in the future. He said he wasn't at liberty to say anything more because it was a personnel issue.
[+] Enlarge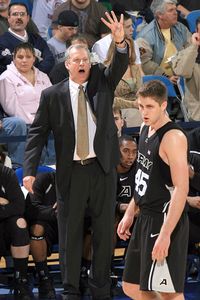 Matt Cashore/US PresswireJim Crews was fired Thursday after seven seasons coaching Army.
Calls to Crews weren't returned. But a source close to Crews who spoke with him this week said Crews was still trying to figure out why he was terminated. The source said Crews was aware of a cadet claiming he had disrespected him in the locker room but said that Crews had always modeled himself to be a man of honor and wasn't an "angry coach." The source said the disagreement in the dismissal would be whether he was fired for cause, which could mean Crews wouldn't get paid.
The source said Crews was disappointed over his relationship with Anderson having gone sour. Anderson didn't hire Crews; he was hired seven seasons ago by former Army athletic director Rick Greenspan, who in 2008 ultimately lost his job as AD at Indiana after NCAA sanctions arose against Kelvin Sampson, whom Greenspan hired, and the IU program. Crews, who played on Indiana's 1976 undefeated team coached by Bob Knight, coached for 17 seasons at Evansville before going 60-139 with the Black Knights.
The source said Anderson called Crews to a meeting a few days ago to inform him that a change was occurring.
"If there was something egregious that occurred with Jim, that would absolutely shock me because it's not him," said the source, who had worked with Crews before in Division I. "He can push kids, he can be intense, but I would put Jim Crews down as one of the great guys in the business."
Crews went with a number of present and former college basketball coaches to Iraq in August to coach soldiers in a basketball tournament.
Anderson is attempting to move swiftly to replace Crews and met in Chicago on Thursday with Tulsa associate head coach Dave Cason, according to multiple sources. Anderson wouldn't confirm the meeting Thursday.
Anderson has also reached out to St. John's assistant coach Fred Quartlebaum, who coached at the Naval Academy, Arizona State associate head coach Dedrique Taylor and former Army player and Duke director of basketball operations Chris Spatola, the son-in-law of Army grad and Duke head coach Mike Krzyzewski. According to a source, Anderson met with Wake Forest director of basketball operations Walt Corbean, a former Army assistant under current Wake coach Dino Gaudio when Gaudio was the head coach of the Black Knights, on Wednesday in Greensboro, N.C.
Another person Anderson could talk to is Ohio State video coordinator Kevin Kuwik, who served two missions in Iraq with the Indiana National Guard. He was also an assistant at Ohio and last season was the director of basketball operations at Butler.
Anderson appointed his deputy athletic director Gene Marshall to be the interim coach overseeing workouts while a head coach is found. Marshall played for UConn coach Jim Calhoun while Calhoun was the head coach at Northeastern in the late 1970s and early '80s.
Anderson said he informed assistants Jeff and Jim Platt and Kendrick Saunders and director of basketball operations Sean O'Keefe that he would honor their contracts for this season. He said they would have the option to stay under a new head coach, with practice beginning Oct. 16.
"I'm aware this wasn't the best time to go through this, and I'm not going to be hasty in my decision," Anderson said. "If we find the right person, we'll move forward. If we don't, then I'm not going to hire somebody to hire somebody. I'm not going to set somebody up to fail."
Anderson said Marshall may not be the interim coach for the season if a permanent head coach can't be found, leaving it open for one of the assistants to possibly take that tag.
Anderson, who is African-American, said he was irate over the insinuation in a published report that he was going to hire only a minority coach.
"I'm going to hire the best person for the job," Anderson said. "I'm offended by that."
Anderson said he has been leaning on a number of resources in the business, including Krzyzewski and Pitt coach Jamie Dixon. Dixon and Anderson are extremely close since the passing of Dixon's sister, Maggie, who led the Black Knights women's team to an improbable NCAA tournament appearance in 2006 before she died of a heart ailment on April 6, 2006 at 28.
Multiple sources told ESPN.com that whoever takes the Army head-coaching job has to understand he can't complain about the job when the cadets are going off to war in either Iraq or Afghanistan. One coaching source with experience at one of the military academies said, "the next coach has to understand the quality of life there and can't bitch about it. He has to embrace the mission of the school is far greater than the mission of the basketball program and deal with it."
Anderson said that this is true but added losing isn't acceptable, either, when in the global theater a loss means the end of life.
"Losing in Iraq and Afghanistan isn't an option, so we have to establish the importance of winning," Anderson said. "Our three pillars we're trying to develop here are the academics, the military and the leadership. If we accept losing, then we go off [to war] weak. We've got to develop effective and great leaders."
Anderson said he doesn't want a coach who can't win, or would shortchange the men on the team.
But that's why Anderson said he's not married to hiring a coach who has worked at one of the military academies. Maggie Dixon didn't.
"If I focus on that [previous military academy experience], then I won't find Maggie Dixon," Anderson said. "It's still a deep, deep pain in my heart. When I first hired her [when Dixon was an assistant at DePaul], everybody thought I was crazy. But she had that innate leadership quality. People were shocked to see how she had us playing, but she brought out the best in those women and they're doing great things in the Army today."
Anderson said he's not using a consulting firm for the impromptu search because he wants to be proactive if he's going to do this search quickly.
The Black Knights return four seniors and should be one of the upper-echelon teams in the Patriot League this season after losing at American in the conference semifinals last season.
"I do believe, regardless of this change, that we have tremendous leadership in our upper class," Anderson said of the Black Knights, who won 15 games in 2006-07, 14 in 2007-08 and 11 in 2008-09. "My expectations are that we can keep everybody together and they will continue to be competitive. We've seen progress the last three seasons but it hasn't been where I've exactly wanted it to be."