Category archive:

Texas A&M-CC Islanders
October, 11, 2011
10/11/11
10:27
AM ET
Throughout the years, Willis Wilson has interviewed for the head-coaching job at Illinois, Ohio State, Minnesota and Clemson.
He had his shots. But Rice's all-time winningest coach was always the fall-back candidate, a guy with a clean reputation who was the sensible-but-not-splashy choice.
So Wilson plodded along in Houston, making Rice competitive at times but never putting the Owls in the NCAA tournament. He spent 16 years at his alma mater at a time when the program played in a glorified high school gym with a big blue curtain that separated one side of the gym from intramural badminton on the other.
[+] Enlarge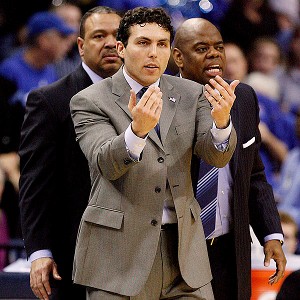 AP Photo/Lance MurpheyWillis Wilson (left) was Josh Pastner's assistant at Memphis the past two seasons.
So when he was let go by Rice in 2008 after a miserable 3-27 season, Wilson wanted a taste of big-time basketball. In 2009, he accepted an offer from Josh Pastner to become the rookie coach's trusted sidekick at Memphis. Pastner, a Houston native whose father, Hal, was a local AAU organizer, had known Wilson for years.
The environment Josh created in Memphis was great," Wilson said. "He was great to work for."
But Wilson wanted to get back to being a head coach, hopeful he could find a job that would be considered the best in its league.
So he jumped at the chance to replace Perry Clark at Texas A&M-Corpus Christi, convinced the Islanders fit that criterion despite finishing with the second-worst record in the Southland Conference last season.
"I wanted to be a head coach again at some point,'' said Wilson, 51. "I had a timetable in mind."
Did he take the right job, though? Having never gotten a shot in a "power six" league, Wilson has now taken a second brutally tough job in the state of Texas.
"I can see where someone sees that," Wilson said. "The only thing I would say is that this is one of those situations where, three years from now, they'll say, 'Holy cow, how'd they do that?' It's an ideal time to be in this job."
The Islanders are a relatively new member of Division I, but they have had some modest success. They advanced to the NCAA tournament in 2007 under Ronnie Arrow, who later took the South Alabama job.
Texas A&M-CC struggled to find its footing under Clark, though. After finishing just 10-21 in his fourth season, the former Tulane and Miami coach resigned in March.
At the time, Clark told ESPN.com that "coaching at this level was harder than I thought. I want them to find someone who can do this and thought it was better for everyone."
Well, apparently Wilson considers himself fit to coach at "this level." Wilson had to scrap for plenty at Rice. And if you listen to him long enough, he'll convince you his new program has the potential to be what Memphis is in C-USA or Butler is in the Horizon or Gonzaga in the WCC.
Wilson said that he has the enthusiastic backing of the administration and that the emphasis at Texas A&M-CC is to make the basketball program the face of the school. He said there is chatter about improving the practice facility, and he is convinced the locals will flock to the arena if the Islanders start winning.
"This program offers more potential than Rice," Wilson said. "Memphis was the class of the league, but Conference USA has been essentially a one-bid league. We're in a similar one-bid league. But there isn't a Memphis in our league. There isn't a Butler in our league. There isn't a Gonzaga in our league. There isn't an Old Dominion, for that matter, in our league."
The Southland has had a rotation of teams take a turn at the top, from Sam Houston State to McNeese State to Northwestern State to UT-San Antonio to Stephen F. Austin to Texas A&M-CC.
"We can position ourselves as being the top seed in our tournament, and, if you can consistently put yourself in a position to do that, then you can win games at a national level," Wilson said.
Of course, you need players to be successful. Four players were dismissed from the program this summer, so the Islanders are looking at a depleted roster that will largely be led by seven newcomers.
[+] Enlarge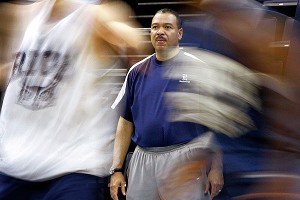 AP Photo/Mark HumphreyWilson spent 21 years as assistant then head coach at his alma mater Rice.
"It all boils down to getting players," Wilson said. "And I think we have the means to show that we can be the class of this league with facilities. We want to say something special here."
Wilson has had quite an offseason. He left Memphis, took the Corpus Christi job, then found out he was embroiled in an alleged Ponzi scheme led by Houston financial adviser David Salinas, who took his own life this summer as the Securities and Exchange Commission investigated him.
Salinas had been a Rice booster and made his inroads into the college basketball community through the Owls' staff in the 1990s, when Wilson was an assistant to Scott Thompson. Salinas later created an AAU program called Houston Select.
Wilson said that he last invested with Salinas in 1996 or '97 and that, with interest, his last statement said he was due $650,000.
"But I don't have a canceled check," Wilson said. "That's what it should have been with interest. I have to show proof that the money was there, and I don't have the bank records back that far."
That likely means the money Wilson thought he had invested for his retirement will never be seen.
So making the Islanders a success to help his own long-term security becomes even more crucial.
"You define success by getting to the tournament, and here we don't have to beat a Memphis or a Butler or a Gonzaga or the big three in the Colonial," Wilson said. "If we field good teams, we've got a chance to win our league and be better than anyone else. In Conference USA, no one in the league is ever going to have what Memphis has, and, in the WCC, no one is going to have what Gonzaga has. In our case, we have a chance to have more than everybody else in our league."
And that, in short, is why Wilson finds himself back at a small school in the Lone Star State.
"Will I have a greater opportunity to get to the NCAA or conference championship here?" Wilson said while comparing this job to his previous one at Rice. "The answer to that is yes."