Category archive:

Connecticut Huskies
December, 19, 2013
12/19/13
8:01
AM ET
HARTFORD, Conn. -- Shabazz Napier had his chances. He was so confident that the Connecticut Huskies would score, he even he passed on the final one, opting for a more open Omar Calhoun.
But none of them dropped for Napier, Calhoun or No. 10 UConn against the Stanford Cardinal's enveloping 2-3 zone. Not much went well in the second half as the Huskies went from leading by 10 at the half to a brutal 13-point, 5-for-31 shooting second half and lost for the first time this season 53-51 to a hungrier and more desperate Stanford team.
What happens next for both teams in their ensuing games -- Stanford against Michigan on Saturday at Barclays Center in Brooklyn and UConn at Washington on Saturday in Seattle -- could say a lot about their ultimate chase for a high finish in their respective conferences.
"We just had a bad shooting second half,'' said Napier, who entered the game as one of the national front-runners for national player of the year but had a mortal, 2-of-7 3-point shooting night. "We've got to get ready for Washington.''
UConn coach Kevin Ollie said earlier Wednesday he was approaching the Stanford game as a road game. He mirrored the scheduling to his time in the NBA in which the next day would bring a long trip. The Huskies are scheduled to leave Thursday for Seattle to get adjusted to the time change. UConn had lived on the edge to climb to No. 10, winning last-possession games against Maryland, Boston College, Indiana and the most thrilling one over Florida two weeks ago at Gampel Pavilion on a buzzer-beating, midrange shot by Napier.
The Huskies, though, were exposed a bit by Stanford's zone. Not every team will choose the style against UConn nor have the length the Cardinal guarded Napier with as Stanford coach Johnny Dawkins put Anthony Brown and Chasson Randle on Napier, a decision Dawkins said was a necessity to win.
But the Huskies will need to solve their interior issues if they are to win in Seattle, as well as stay with Louisville, Memphis and Cincinnati in the American Athletic Conference over the next three months. The Cardinal's length, Ollie's primary concern, was a factor that allowed Stanford to continue to limit UConn's second- and third-shot opportunities.
"This was huge for us,'' Stanford's Josh Huestis said."We knew inside our locker room we could compete with anybody, but not until you prove it.''
Stanford whiffed on its previous big games, giving up 112 points and losing at home to BYU on Nov. 11, getting blown out in the second half against Pittsburgh in the Legends Classic and fading from the list of any Pac-12 contenders as Oregon, Colorado and Arizona State all had at least one win to stand up and shout about.
"This was one of those big moments,'' Dawkins said. "This was big not just for us, but also for the Pac-12."
Dawkins was well aware the Cardinal needed to do their part to raise the profile of the conference. Beat Michigan in Barclays and suddenly Stanford, which lost senior guard Aaron Bright to a season-ending shoulder injury after the Pitt game, has to be taken seriously in the NCAA-bid chase.
Beating the No. 10 team in a true road game gives the Cardinal a signature win they coveted. Sweeping this second road swing to the East Coast can be a season changer. UConn has to make sure its season doesn't swing the other way on its road trip.
This was one game that showed the Huskies can look one dimensional, while the Cardinal proved they can diversify. UConn needs to make sure this was more of an anomaly, while Stanford must hope this is its norm.
December, 3, 2013
12/03/13
5:34
AM ET
STORRS, Conn. -- Shabazz Napier hit a game-winning, buzzer-beating jumper to beat Florida 65-64 in a thriller Monday at Gampel Pavilion. Here are five observations for the Huskies and Gators.
1. UConn and Napier came through late, again: Napier doesn't want to be compared to Kemba Walker.
It's not fair -- to Walker.
"Those are big shoes to fill,'' Napier said after his game winner.
"I'd have to win a national championship,'' Napier said of Walker's improbable run to claim Big East and NCAA tournament titles in 2011. "I'm trying to be myself.''
Napier learned from Walker and emerged from under his shadow a year ago with Walker off to the NBA. But a team Academic Progress Rate ban meant the Huskies couldn't go to the postseason, and anything Napier did wouldn't have the same cachet without the possibility of an NCAA tournament berth.
Walker made money shots for the Huskies during that magical run in 2011. No one is saying this season's Huskies are en route to a national title. But no one said that about UConn in 2011, either -- at any point until the Huskies won the Big East Tournament title.
Napier has had moments in his career already -- like beating Villanova in Philadelphia -- but nothing was quite like the walk-off shot he made Monday night.
"You always see highlight films of the guys hitting the last shot or guys at the free throw line making the free throws,'' Napier said. "You want to be the hero. You want to be the guy who's known as the hero at the end of the game. Growing up, I wanted to be Superman. Everyone wants to be a hero. I was fortunate enough to be in the right spot at the right time.''
The undefeated Huskies have late-possession wins over Maryland, Boston College and Indiana and now against a depleted, but gritty and determined, Florida team.
"I'm happy, but I'm a little exhausted,'' UConn coach Kevin Ollie said. "Another one-point game, but, once again, we showed our resolve. … You look on the stat sheet, and I don't know how we do it. They shoot 49 percent and outrebound us, but, at the end of the day, we get it done. It's a magical team. They've been through a lot.''
2. Napier might be the best late-game shooter: Napier isn't a lock for the first round of the NBA draft like the high-profile freshmen, but it's hard to go against Napier if a team needs one shot to win a game. Ollie said earlier Monday he doesn't hesitate to put the ball in his senior's hands for a late-game shot. It shows.
Florida coach Billy Donovan did everything he could to try and fluster Napier. Scottie Wilbekin, his lone point guard, was down with an ankle injury in the final three minutes, so the Gators went to a 1-3-1 zone. They attempted to trap Napier on the final possession and did a good job forcing a bad shot, but DeAndre Daniels tipped the ball back and Napier got it for a last-second shot in perfect position facing the basket.
"We got him to take a very, very difficult off-balance shot,'' Donovan said. "The guy that won the game for him was DeAndre Daniels. He made an unbelievable tip out, off balance, which kept the ball alive.''
True, but Napier still had to have the presence to bury the shot.
"Whenever we need a big shot, he makes that,'' Ollie said. "Whenever we need a play to be made, he made that. He's got so much heart. Hopefully, America is starting to look at him as that man. He's one of the big-time players to ever put this jersey on and walk on the court at Gampel.''
Napier also converted a four-point play, and tweaked his ankle in the process, to give the Huskies a one-point lead with 33 seconds remaining. Napier made a strong case to be on everyone's All-American watch list heading into the heart of December.
3. The Huskies are more than just Napier: Napier and Ryan Boatright are going to take the big shots in key situations, but UConn has other key contributors. Daniels' tip was the last of seven rebounds for the slender forward, who also finished with 14 points. Niels Giffey hit two critical 3-pointers and continues to be the ultimate glue player. The Huskies got outrebounded by the physical Gators. Ollie said after the game he could use big men with size like Florida's Patric Young -- in the future, but for now, he has thin forwards who he says "have heart.'' And that is working for the Huskies in late-game situations.
4. The Gators can't afford bad news on Wilbekin's ankle: Wilbekin -- who has already missed six games because of a suspension -- was erratic Monday, scoring 15 points and hitting two 3-pointers but committing three turnovers. Donovan said after the game he had no idea on the status of the point guard's turned right ankle. The Gators are still without star freshman guard Kasey Hill, who has a high-ankle sprain. Hill averaged 10 points in the four games he played. Donovan said Hill is probably two more weeks away from returning. Hill's game is speed and he hasn't been able to do anything because of the ankle injury. If Wilbekin is out for any extended period, the Gators will have to look to Dorian Finney-Smith or Michael Frazier to handle the ball some.
5. The Gators can be an SEC contender if healthy and eligible: Florida showed tremendous grit Monday. Casey Prather was unstoppable at times, scoring 19 points and grabbing seven boards. Young and Will Yeguete contributed in a variety of ways. If McDonald's All-American Chris Walker gets eligible (he has one online class left to finish), the Gators could have a formidable frontline. If Wilbekin and Hill get healthy and Finney-Smith and Frazier contribute on the perimeter, it would give the Gators more than enough to challenge Kentucky in the SEC. There are a lot of ifs, but it's still early.
February, 28, 2013
02/28/13
7:44
AM ET
STORRS, Conn. -- The possibilities of winning the Big East regular-season title and Big East coach and player of the year, and the outside shot at a No. 1 seed in the NCAA tournament were all within a minute of possibly evaporating.
Georgetown had been in control of UConn, up by 12 with just less than nine minutes to go in the game. But the Huskies have shown more resolve than any other team in the country this season, especially for one that has no postseason chance due to an NCAA academic progress rate penalty.
UConn had fought back to tie the game at the end of regulation on an Omar Calhoun 3-pointer that brought Hall of Fame coach Jim Calhoun out of his seat. Niels Giffey stole an inbounds pass and hurriedly missed a game winner at the buzzer.
Ryan Boatright missed a 3-pointer to win the game in the first overtime. And then UConn went up 78-71 with two minutes left.
Everything was slipping away from the Hoyas.
"We just needed to get stops and get quick baskets," Georgetown's Otto Porter said.
And they did. The Hoyas scored the final eight points of the second overtime, capped by a Porter slicing drive with eight seconds remaining to win 79-78.
Game over. Big East title in their sights. A No. 1 seed still a possibility. And awards to John Thompson III as coach and Porter as player of the year possibly on order and engraved.
"There's no one in that locker room that thought the game was over," Thompson said. "There was still a lot of time on the clock."
The Hoyas finish with Rutgers at home and at Villanova, and then conclude the Syracuse series with a season-ending game March 9. They hold a game lead in the standings over Marquette and Louisville, and are two up on Syracuse and Notre Dame.
With teams ahead of them losing and the Big East champ sure to be respected by the selection committee, a top seed is within reach.
The Big Ten is more of a grind -- but not by much this season. How many teams have won 10 in a row with ranked wins during that streak over No. 5 Louisville, at No. 8 Syracuse, versus No. 18 Marquette, at No. 24 Notre Dame and over a UConn team that beat Syracuse at home two weeks ago?
I'll venture to say none.
"We have a group that has a lot of resolve," JT3 said. "We just have a group that said, 'Let's figure out a way to win the game at halftime.'"
The game was hardly a good watch or well played at halftime with UConn up 22-19. But the second half, in which the Hoyas made eight 3s after only one in the first half, was highly entertaining. So, too, were the two overtime periods.
Porter had to score 33 of Georgetown's 57 on Saturday to win at Syracuse. He took one shot in the first half before finishing with 12 shots, making seven to finish with 22 points. The Hoyas showed they have a diversity of scorers, with D'Vauntes Smith-Rivera making three 3s, Markel Starks four and Jabril Trawick one.
Thompson said he never doubted the Hoyas' ability to win the league, even when they started 2-3 and lost at cellar dweller South Florida.
"I always thought we could," JT3 said.
Why?
"Because of everything you saw exhibited," said Thompson. "I thought this group had different pieces, unselfish pieces, and we fight for each other."
The Hoyas lost their second-leading scorer in Greg Whittington because of academics for the second semester. But you would hardly notice.
The Huskies played with such tremendous fight.
Shabazz Napier, who has been sensational in overtime periods this season and said it's because of his conditioning and late-game aggressiveness, knew the Huskies would be in the game to the final seconds. He was convinced Giffey's shot was going down, too.
The Huskies grew up with DeAndre Daniels playing his best game of his career with 25 points and 10 boards. Napier proved he's one of the best in the Big East. And if JT3 doesn't win coach of the year, Kevin Ollie must.
UConn hasn't stopped playing one possession, and easily could be in contention for the regular-season title save for a few second halves against Louisville and Villanova and a few late possessions at Marquette and St. John's.
"Everything happens for a reason, and this reason is teaching us another life lesson through this book that we're writing," Ollie said. "Another chapter. … Adversity is the intersection between character and opportunity. This team has character, and we had a great opportunity."
The Hoyas have had plenty, too, and continue to take advantage of them. What's next for Georgetown is still unknown since this team has a chance to make a deep run once it gets out of the Big East.
"I think we're playing our best basketball now," Thompson said. "I hope we're playing our best basketball in two weeks and then again in three weeks."
February, 22, 2013
02/22/13
9:50
PM ET
HARTFORD, Conn. -- The game(s) of the year in the Big East are upcoming between Georgetown and Syracuse and Syracuse and Louisville in the final three weeks of the season.
The game of the conference going forward occurred Thursday night and will again next Saturday in Cincinnati.
UConn beat Cincinnati 73-66 in overtime Thursday at the XL Center. The two teams have played competitive games, usually down to the final possession, in the past five years. The games have been physical but fair, always intense but respectful.
[+] Enlarge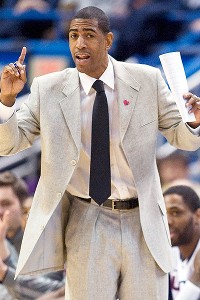 AP Photo/Jessica Hill,Kevin Ollie has UConn headed in a positive direction despite being ineligible for the tourney.
The new Big East, the one that for now will have the name, will need to be anchored by Cincinnati and Connecticut going forward. They are the two most established programs left behind after others fled to the ACC or chose to soon form their own conference.
Like it or not, Cincinnati and Connecticut are linked together. They both desperately wanted to be in the ACC but were passed over for Louisville. They would still jump at the chance to join the ACC and may if the Big Ten completes its British Empire-like expansion and gobbles up more land (grant-universities) areas out of its geographic footprint to get to 16.
The Big East looks like it will survive after a healthy competition between ESPN and NBC Sports to secure media rights, with sources confirming that ESPN matched NBC's offer. Barring a hiccup, ESPN will retain/acquire the new league's rights for the next seven years.
The Big East will have 18 members for next season, barring a last-minute dash by the seven Catholic schools. In 2014-15, Louisville and Notre Dame will be gone to the ACC, Rutgers to the Big Ten, and the Catholic seven to a new league. That will leave UConn, Cincinnati, South Florida with newbies Memphis, Temple, Central Florida, SMU, Houston, Tulane and likely East Carolina for a 10-team league. Adding Tulsa and/or UMass to increase the membership to 11 or 12 in all sports is possible.
Memphis and Temple have rich histories in men's basketball. But the new Big East will need anchors, programs that have been established to help shepherd in this new era. The only choices are UConn and Cincinnati.
After the game Thursday night, UConn coach Kevin Ollie said rivalries are with your conference foes and acknowledged that there is something healthy brewing between the Huskies and Bearcats.
"I think it already is (a rivalry)'' said UConn athletic director Warde Manuel. Manuel tossed in South Florida as well as a program committed to football and basketball. But this is strictly a men's basketball discussion and for the league to have a chance, UConn and Cincinnati have to maintain a high level of play, bring in NBA-type talent and play games down to the finish -- like Thursday night -- to keep viewers interested.
"I'm looking forward to the years competing against them,'' said Manuel. "We haven't played any of those other schools on a regular basis like Cincinnati. I like the feel of what we saw (Thursday night). We are in a similar position moving forward. And for the strength of the league, until the others can come up and develop a rivalry, this is the one. There is a lot of respect for both sides, and games like this solidify the rivalry.''
UConn, which would be an NCAA tournament team if it were eligible but is not due to an APR postseason ban, frustrated the NCAA-bound Bearcats by taking advantage of poor Cincinnati execution down the stretch and Shabazz Napier getting free for three 3s in overtime. Cincinnati coach Mick Cronin labored over the "inexcusable mistakes'' toward the end of the game and the need to play smarter.
[+] Enlarge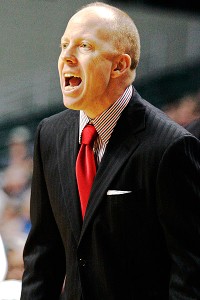 AP Photo/Skip PetersonMick Cronin's Cincinnati Bearcats are a natural rival for UConn.
But Cronin also spoke of the Big East's grind and how the league shows no mercy. The Bearcats are in a stretch where they played Pitt (loss), Villanova (win), Georgetown (loss), at UConn (loss) and play at Notre Dame, at Louisville and get UConn at home in the next week.
When the league splits, the gauntlet of conference games will mostly consist of two games against UConn with the hope that Memphis and Temple can be tough as well, albeit maybe not as intense.
"There's no doubt we're linked, but where it's going to be at going forward I don't know,'' said Cronin of the two schools. "Kevin and I have developed a friendship. We've talked a lot about taking over programs and we've sat together recruiting. He's one of the nicest guys in the world. Hopefully we can both stay relevant. If we both win, then it's a good blood rivalry for both of our programs.''
Cronin said the key will be for both schools to continue to recruit at a high level. That's a given.
But the players are already feeling as if there is something between the two schools, regardless if they'll be there when the league breaks up.
"I think you'll see Cincinnati and UConn be the two powerhouses no matter what,'' said Napier. "It has always come down to the last minute and in overtime. I enjoy playing that team.''
And the underclassmen and incoming recruits better as well. They are all stuck together until there is another shift in expansion. Who knows when that will occur. For now, UConn and Cincinnati have to be the two anchors of a league that desperately needs them to be elite.