Category archive:

Yale Bulldogs
August, 10, 2011
08/10/11
9:53
PM ET
The World University Games is usually the one international competition, outside of the Olympics, the U.S. expects to win.
Elite European players aren't usually in school. And in an Olympic qualifying year, the likelihood that national teams would have top players playing in this event is low.
Still, the Americans lost this event two years ago, falling to Russia in the semifinals. The U.S. beat Israel in the consolation game to take home the bronze medal with a 6-1 mark. Host Serbia won the gold.
Purdue coach Matt Painter is well-aware of the stakes in China over the next two weeks. The U.S. is coming off a disappointing fifth-place finish at the FIBA U-19 World Championships in Latvia last month. The gold in the World University Games isn't with Team USA, either.
And that's exactly why Painter, who will be assisted by Butler's Brad Stevens and Tennessee's Cuonzo Martin, wanted to put together a team, not an all-star tour.
"We have three weeks together and we have to have the right mindset,'' Painter said prior to leaving for China on Monday. Painter was an assistant on the U-19 gold medal team two years ago in New Zealand. "It's very important to be on the same page.''
That's why he was thrilled to see two players from that U-19 gold medal-winning team on this roster in Pitt's Ashton Gibbs and Kentucky's Darius Miller.
"It was important for them to talk about their experience in New Zealand and what it meant to sacrifice minutes and how important this was,'' Painter said.
On Thursday in Huizhou, the Americans play a Chinese team called New Century in an exhibition game before pool play starts Saturday. Based on the groupings, the U.S. should win its group with the toughest challenger probably being Israel (Finland, Hungary, Mexico and South Korea are also in Group D). Host China and Brazil are in Group A; Serbia, Turkey, Canada and Australia are in Group B; and Russia and Lithuania headline Group C. The medal round is Aug. 20-22.
Here is Painter's breakdown of the 12 finalists representing the United States:
Tim Abromaitis, Sr., F, Notre Dame: "He's a very good player, and a guy that we can swing between small forward and power forward. He'll cause a lot of matchup problems for other teams.''
Marcus Denmon, Sr., G, Missouri: "When he's on, he changes the game. He can be a high-energy guy. His performances in practice have been strong. He has the potential to carry this team with his shooting and energy.''
Ashton Gibbs, Sr., G, Pitt: "He's a tough, hard-nosed player that simply gets the job done. He comes early and stays late. He's a very good shooter, can make 3s and will knock down the shots for us. He's our point like he was for us on the U-19 team.''
Draymond Green, Sr., F, Michigan State: "He's a very versatile, intelligent basketball player. He knows what's going on. He plays hard and he cares. He wants to win. He will impact the game for us.''
JaMychal Green, Sr., F, Alabama: "He's a guy that is going to have to score down low for us. He's a very talented kid. He's going to have score and rebound for this team to win.''
Scoop Jardine, Sr., G, Syracuse: "He's a very experienced player who has played in a lot of big-time games. He will help us get through the dog days of pool play to the medal round. He's a point guard who will help us and create for himself.''
John Jenkins, Jr., G, Vanderbilt: "He's a big-time shooter. He needs to score for us. He has to be aggressive. He will look for his shot and help us defensively at the 2-guard. I think we'll win the battle at the 2-guard with him.''
Orlando Johnson, Sr., G, UC Santa Barbara: "He can score the basketball. He's a good shooter, can drive the ball, post-up and pull-up with his left hand. He has to help us defensively and put points on the board. He was someone who positively surprised us at the trials. We recruited him when he left Loyola Marymount, and I'm kicking myself now that we didn't get him. He's a really good player.''
Greg Mangano, Sr., F, Yale: "I think he was the right piece for this team. He plays his role. He defends and plays post defense. He runs the court and does the little things. He could do for us what Arnett Moultrie and John Shurna did for the U-19 team two years ago -- doing key things down the stretch in the medal round. We wanted that last spot on the team to be a player with size and it came down to him and Aaric Murray [West Virginia] and Yancy Gates [Cincinnati], and we just felt that Greg would complement the other guys.''
Trevor Mbakwe, Sr., F, Minnesota: "He's tough. He's hard to handle. He's got great energy. He's got a great motor. He can really move his feet on the perimeter. He's got an impressive work ethic and a joy to coach. We were always in awe of him at Purdue. He's got brute strength and athleticism and will do a great job for us around the basket.''
Ray McCallum, So., G, Detroit: "He's so talented. His young. But he can play either guard spot and you can tell how hungry he was to make this team. He was one of the last guys we invited but he has a chance to really impact these games.''
Darius Miller, Sr., G, Kentucky: "If we throw Darius in there with Abromaitis and Green, we can play different ways. He can help us play bigger or smaller. He has really improved his shooting since we had him in New Zealand. He's going to be good against a zone, and we'll just have to find the right place to play him. He's a very good player and will help us a lot defensively.''
August, 4, 2011
08/04/11
10:50
PM ET
The final two cuts were made in Colorado Springs for the World University Games team, and the unlucky pair was Connecticut's
Shabazz Napier
and West Virginia transfer
Aaric Murray
. Among those cut earlier in the week were
Yancy Gates
(Cincinnati),
John Shurna
(Northwestern) and
Khris Middleton
(Texas A&M).
Trust me, though, you will see plenty of Gates, Shurna and Middleton this season. All will star for their teams in high-profile games.
You can't necessarily say the same for Yale's Greg Mangano and UC-Santa Barbara's Orlando Johnson. Yet both of these players are among the 12 who will wear the Team USA jersey in China at the WUG. Since 1965, the Americans are 131-8 in the event, but are looking to bounce back from a surprising second-place finish in 2009.
[+] Enlarge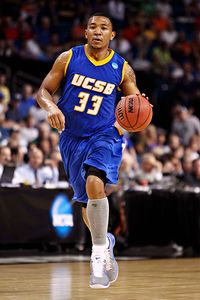 Derick E. Hingle/US PresswireOrlando Johnson flirted with the NBA, but decided to return to Santa Barbara.
Having Mangano and Johnson on this squad speaks volumes about their development on the national scale. Last season, the 6-foot-10 Mangano averaged a double-double (16.3 ppg, 10 rpg) for the Bulldogs, while Johnson led the Gauchos with 21.2 ppg and 6.2 rpg for the Gauchos.
"It's an honor and it validates OJ and his determination and dedication,'' UCSB coach Bob Williams said of his 6-5 wing making the cut. "He's the first Gaucho since Brian Shaw to be honored on the national stage. It will only heighten the attention that he will receive in and out of games this year.''
Johnson and Mangano both declared for the NBA draft in the spring, but withdrew shortly thereafter as it was apparent neither was gaining traction for a possible selection.
"Greg is a really good talent and he's got a European game to him,'' said Yale coach James Jones, who went to the Springs to watch one of the workouts. "He was second on our team in 3-pointers made, led the combine in rebounding out there. He's a local player who wanted to come to Yale.''
Jones said players like Mangano and Johnson making the WUG team shows there's talent at all levels of Division I. (Detroit's Ray McCallum Jr. also made the squad, but he was a high-major talent coming out of high school.)
"There are really good players,'' Jones said. "Greg was ninth in the nation in blocked shots and 18th in rebounding. I know a lot of those were against Ivy League competition, but we also played Illinois and Stanford. He's been able to play at a high level and he's got the potential to be a future pro if he continues to step up his game to another level.''
A few more quick hitters on this Thursday afternoon:
• Florida released its nonconference schedule, which presents plenty of challenges for the Gators. This may actually be one of Billy Donovan's toughest nonconference schedules, especially for a coach that doesn't like to leave home much. The Gators go to Big Ten favorite Ohio State on Nov. 15, play perennial Horizon League troublemaker Wright State in Tampa, go to Big East favorite Syracuse on Dec. 2, host one of the Pac-12 favorites in Arizona on Dec. 7, play Big 12 favorite Texas A&M on Dec. 17 and play likely top-three ACC team Florida State on Dec. 22 before facing a pesky Big East team in Rutgers on Dec. 29. A pesky Yale team arrives on Dec. 31 and the nonconference slate ends with always-tough UAB on Jan. 3. That's a heck of a way to test your team in the first month and a half of the season.
• The Big 12 released its first-ever round-robin, 18-game conference schedule. There are a number of games to circle. The two Baylor-Texas A&M games should be two of the best but come earlier in the schedule -- Jan. 2 in Waco and Feb. 1 in College Station. These two teams could be predicted 1-2 in the preseason poll with Missouri, Kansas and Texas right on their heels. But of course these two in-state teams played in years past under the old format. In the new 10-team league, everyone will play each other twice.
• Minnesota also released in nonconference slate. The Golden Gophers want to be considered an NCAA tournament team again, but they better win a watered-down Old Spice Classic in Orlando and then take out Virginia Tech and USC at home. Minnesota will need to enter the Big Ten with a strong nonconference record and a few significant wins, and hope those teams do well in their respective conferences.
• Missouri is selling premier courtside seats at $500 a pop for the Oct. 30 Mizzou-Missouri Southern exhibition game in Joplin, which will benefit that city's tornado relief fund.