Category archive:

George Washington Colonials
October, 5, 2011
10/05/11
7:03
PM ET
Karl Hobbs' nightmare was Mike Lonergan's dream.
Hobbs said in August, at a Jim Calhoun golf outing in Connecticut, that he had no idea he was going to get fired in late April, weeks after the normal coaching carousel takes a turn.
Lonergan anticipated that something could occur at George Washington. He had a hunch after longtime athletic director Jack Kvancz retired and the school hired America East commissioner Patrick Nero as his replacement.
Lonergan was right. Hobbs was out.
And after getting through a two-man race with Kansas assistant Joe Dooley, who had plenty of support after playing at GW, Lonergan was finally at peace in his college coaching career.
The new GW coach was home. And he won't leave again until he's done with coaching or the school makes a decision for him.
"This is my last job,'' said the 45-year-old Lonergan, who is from Bowie, Md., and went to Archbishop Carroll High. He ttended and played at Catholic University of America in D.C., coached there, met his basketball-coaching wife Maggie there and plans to stay in the area for the foreseeable future with her and their four children.
"I started coaching at 22 years old, and this is my 24th year in coaching. And while I'm not burned out, I don't want to do this when I'm 60 years old,'' Lonergan said. "This is really it for me. I've put together a staff of guys [who] I think can develop players the way we did at Catholic and Vermont.
[+] Enlarge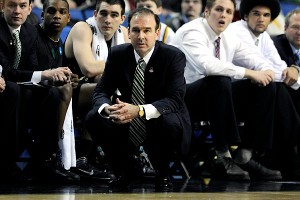 Richard Mackson/US PresswireAfter getting hired by George Washington, Mike Lonergan is finally at peace in his coaching career.
"When I leave, I want to leave the next guy with a great program. I think I'll end up being an AD at a D-3 or something and let my wife get back into coaching.''
Maggie Lonergan was the winningest coach in Catholic University women's history when she left her job in 2005 to follow her husband to Vermont. Mike Lonergan said the deal between them was that whoever got a Division I coaching job first, the other would give up his or her job so they could continue to raise a family. Lonergan took an assistant coaching job at Maryland for one year to replace his longtime friend Jimmy Patsos, who left to become the head coach at Loyola (Md.).
Midway through his one season with Gary Williams, Vermont started its replacement search for the legendary Tom Brennan, who announced he was retiring at the end of the season.
Lonergan was anxious about interviewing while working for Williams at the time, but he did get Williams' support to pursue the opening.
"Gary told me, 'You should do it,''' Lonergan said. "Mike Brey [a Maryland native and GW alumnus] told me he had been in the league at Delaware and said that Vermont was a hard job. But Catholic was a hard job. He told me that there was a strong fan base. I listened to him. He might have been the only guy, outside of Gary, to tell me to take the job.''
Part of the reason for Lonergan's concern was that he had to replace Brennan, a local legend. Brennan had three remarkable years at Vermont, leading the Catamounts to the NCAA tournament, including a stunning first-round win over Syracuse in 2005, his final season. UVM had plenty of off seasons under Brennan, but the latter three were magical in Burlington. And Brennan, who had his own statewide radio show, was as much of an iconic figure as he was a coach.
The personalities couldn't have been more opposite. Brennan is a comic who doesn't mind chatting up anyone around him, from the postman to the janitor. Lonergan is much more of an introvert and puts up a bit of anxiety because of his attention to detail.
"When I first got there, I regretted it for a month,'' Lonergan said. "We didn't have much back. We were starting over. And Coach Brennan was like the mayor. Everyone knew him.''
Brennan stayed in Burlington and eventually had a two-year run as an ESPN analyst -- and he was supportive of Lonergan.
The new coach kept Vermont at a high level, something that seemed difficult at the time. The Catamounts went to the NCAA tournament once (2010), had two NIT appearances (2007 and 2011) and a CBI appearance (2009).
But Lonergan was more than ready to make the jump to the Atlantic 10.
"When the [Colonials] changed ADs, I just had a feeling that they might make a move,'' Lonergan said. "There were other jobs that were out there that I heard about, like Towson and Bradley, but I just felt that I should lay low and see if this happened. I was guessing.''
Lonergan said he always looked at George Washington or Richmond as his dream job.
"It was the location,'' Lonergan said. "I knew it was going to be impossible to get into the ACC or the Big East from where I was. This is my recruiting area. It's where I'm most familiar. It's close to home. I know people say things like this, but it was my dream job.''
Williams said Lonergan was always looking at the GW job.
"He had the connections in the area,'' Williams said. "He's a regular guy. High school coaches like him. He doesn't knock your socks off when you met him. But his teams play well, and he's a good choice for them. He showed me something at Catholic. He wasn't worried about getting good big men because he couldn't. So he went after guys who could shoot 3s, a good point guard, and then they were going to cover you. He found guys who could play.''
"We're very different people. We're like the opposite brothers,'' said Patsos, who was the best man at Lonergan's wedding. Patsos said Lonergan, nicknamed "Fresh" for always being clean-cut, is a lot like Williams -- never completely happy but intense. "Mike Lonergan and I grew up going to games in the area. We were both at Catholic U. We saw GW go 1-27 when Joe Dooley was playing. We even thought it was a dream job then. GW is really a Washington school. I think it is his dream job. But the A-10 is difficult to top."
Patsos added that he agreed for Loyola to play GW every other year at the Smith Center. "Xavier and Dayton have raised their programs and Fran Dunphy and Temple are doing a great job. I'm glad Mike got his dream job, but it's going to really hard. But he's got time. He's got the rest of his life."
Hobbs anticipated that he would have one of his best teams in 2011-12. GW went 17-14 last season and a surprising 10-6 in the A-10. The Colonials are only six seasons removed from going 27-3 overall, 16-0 in the A-10 and losing in the second round of the NCAA tournament to Duke.
Lonergan didn't keep former associate head coach Roland Houston on his staff. Houston got a new gig at nearby George Mason, and GW's top recruit, Erik Copes, went with him. Former Georgia Tech coach Paul Hewitt is about to begin his first season at George Mason.
The GW staff of Hajj Turner, who was with Lonergan at Vermont, Pete Strickland and Kevin Sutton are all part of the development equation that Lonergan is professing. The return of top two scorers Tony Taylor and Dwayne Smith will help the Colonials become competitive in the A-10. Not having Copes hurts, though.
George Washington is now chasing Xavier, Temple and Richmond for a top spot in the A-10 every season. Xavier and Temple have separated themselves from the pack and are the benchmark for the rest of the league.
There is transition in the conference, though, with Dayton going through a coaching change (from Brian Gregory to Archie Miller). Saint Louis appears ready to mount a move under Rick Majerus. Rhode Island and Duquesne have been consistent of late, but just not good enough to merit NCAA berths. St. Bonaventure is looking to break through, with forward Andrew Nicholson leading the Bonnies, and Saint Joseph's can never be dismissed as a factor.
"We have to regain respect locally,'' Lonergan said. "It's all about what have you done lately. But six years ago isn't that long ago. We have to get the local guys to buy into that. We have to work hard in recruiting. We have to get lucky with a sleeper like we did at Vermont with Marqus Blakely or Joe Trapani, but at this level. And we've got to go international [like Mike Jarvis did at GW]. We also could use transfers. We'd love to get players who come back to this area who were homesick but don't have baggage and are good academically.''
The changing landscape in college sports hasn't filtered down to the A-10 yet. GW is likely in a decent position because of its location. Regardless, Lonergan isn't budging. He said this is his last job, and he is determined to make it work.
"I look at Coach Williams,'' Lonergan said. "He's enjoying life a bit more. I don't want to go on forever.''