Category archive:

Florida State Seminoles
May, 13, 2013
05/13/13
7:54
PM ET
Leonard Hamilton will be at the ACC meetings in Amelia Island, Fla., on Tuesday.
But he'll take a call if his phone rings.
Florida State is waiting to hear from Canadian and Huntington Prep (W.Va.) forward Andrew Wiggins, the top high school player in the country. Wiggins said he'll announce his school of choice on Tuesday, one day before the month-long spring signing period ends.
He could always sign beyond the month-long period, but it wouldn't be binding. The Seminoles, along with Kansas, North Carolina and Kentucky, are awaiting to see what the star recruit will do and whether his decision will alter the thought process for next season.
[+] Enlarge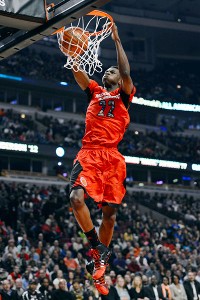 Mike DiNovo/USA TODAY SportsAndrew Wiggins has remained grounded off the court as the nation's top-ranked prospect.
Neither Hamilton nor any of the other coaches can talk about Wiggins until he signs a national letter of intent.
But Hamilton doesn't get too high or too low about recruiting. He has been involved at all levels of recruiting during the course of his long career as an assistant and head coach. "This is no different; it's always the same," Hamilton said about waiting for a recruit to make a decision. "We've had kids sign early. We've had kids sign late. You do what you can do and wait on the outcome. That's the way I am all the time. You do the very best job you can. The strategy isn't any different."
There's no need to make phone calls at this late stage. Wiggins will make up his mind and apparently decide on Tuesday. "Whenever a youngster is ready to make up his mind, you have to respect that," Hamilton said. "Every situation is different. Sometimes you make calls, sometimes you leave well enough alone. I've never been a high-pressure type of guy on anything. I've always tried to be respectful of the process and try to put myself in the young man's or family situation and try to treat the recruit the way I'd want to be treated in that situation."
Hamilton will certainly be excited if Wiggins chooses Florida State. The arrival of Wiggins will certainly put the Seminoles in the preseason Top 25 and in the heart of the ACC race with Duke, North Carolina and Syracuse in 2013-14.
The eternal optimist, Hamilton couldn't be more pumped about next season. Since his arrival at Florida State, I've never spoken to him when he didn't think his team would be a sleeper -- at the very least.
The Seminoles finished 9-9 in the ACC, 18-16 overall and lost to Louisiana Tech in the first round of the NIT last March. Florida State had seven newcomers and dealt with Ian Miller's injury, which nagged him throughout the season.
But the core of this team returns, minus Michael Snaer, the best bail-out shooter the Seminoles and the ACC have seen recently, and Terrance Shannon, who transferred to VCU.
"I'm extremely optimistic about the upcoming season," Hamilton said. "We've improved in all areas. We have Ian Miller back healthy. We have three 7-footers coming back. I like our incoming recruits [Jarquez Smith and Xavier Rathan-Mayes] a lot. Miller had a bone bruise last season and never practiced. He couldn't do walk through on game day. All he did was play in games. He toughed it out. We got to 9-9 with not much experience so I have to feel good about that."
Hamilton said he hopes the Seminoles won't need anyone to bail them out the way Snaer did the past two seasons. "We have great chemistry with this group, gym rats who are always around," Hamilton said. "I like the talent, and I think we're more versatile than what we've been in the past. We've got more off the bounce and have better overall shooters with nice size, length and athleticism."
Regardless of Wiggins' decision, Hamilton has a trip planned to Greece in August, which will be needed to get a jump on next season. Add Wiggins to the mix, and Hamilton has a huge advantage of 10 practices and games with a star player.
Florida State won the ACC tournament title the previous season for the first time in school history. Miami won the ACC regular-season and tournament title this past season. The Hurricanes will likely go through a rough transition period after losing some seniors. Florida State knew what that felt like this past season.
"In any league or college, high school or professional, it's hard to win a conference back-to-back," Hamilton said. "I think we have built our program to be very good and now we need to cross over to that elite level where you are competing for those championships each and every year. I thought we finished the season showing tremendous improvement. We regrouped, but we didn't drop out of sight.
"There were times when we had four or five freshmen on the court at the same time against veteran ACC teams," Hamilton said. "I thought we held our own even though we were inexperienced. I do feel we're more talented and versatile than we've been in the past and hopefully it reflects that in the way we play. I'm excited to go to Greece. It couldn't come at a better time for us. We could be one of those surprise teams, one of those two or three teams that comes out of nowhere. We're closer to being a complete team."
Yes, the Seminoles are very close, especially if they get Wiggins on Tuesday.
October, 4, 2012
10/04/12
6:19
PM ET
If anyone was wondering whether 15 schools could agree and get along in the new ACC, all they had to do was check the reaction to the new primary partners released Wednesday.
There was an unusual consensus. Every school was pleased.
The ACC had to adjust its scheduling format with the addition of Notre Dame, which could join anywhere from 2013 to 2015. The conference, committed to an 18-game schedule, had to lock in to two annual home-and-home series.
For a few schools, such as Virginia, there was nothing to ponder. The Cavaliers have two natural rivals in Virginia Tech and Maryland. Done.
"It makes sense geographically," UVa coach Tony Bennett said. "They've been our natural rivalries for years."
[+] Enlarge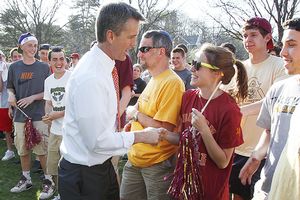 AP Photo/Michael DwyerCoach Steve Donahue believes BC's fans will be pumped to host old conference rivals Syracuse and Notre Dame each season.
Boston College landed two tough opponents, but the Eagles couldn't have been happier to get two schools that will help fill the usually staid Conte Forum. BC will play Notre Dame and Syracuse twice every season.
"It's great for our alumni and fans," Boston College coach Steve Donahue said. "I'm sure excited about it."
Understandbly, no school got both Duke and North Carolina. That would be too cruel, and it would be too hard to pull off with two other schools in the state in Wake Forest and NC State. The ACC had to balance the four schools, and it did.
Duke gets UNC and Wake Forest. NC State got UNC and Wake. Wake Forest got Duke and NC State. And of course that means Carolina got Duke and NC State, which based on the current trajectory of the four schools, is the toughest slate among the schools in North Carolina.
"I loved it," NC State coach Mark Gottfried said. "They got it right."
Wake Forest athletic director Ron Wellman, who is the 2014 chair of the men's basketball selection committee and understands the importance of getting quality teams on the schedule, said "playing two in-state rivals is the best scenario for us."
ACC associate commissioner Karl Hicks, who oversees basketball and scheduling in particular, said the majority of the matchups simply made sense.
The most intriguing issue was what to do with Notre Dame's second rivalry after Boston College. The Irish and Georgia Tech were paired up by process of elimination. Hicks said the schools have a rivalry in football, but not in basketball.
"Notre Dame has a lot of alumni in urban areas," Hicks said. "Maryland was a better fit with the partners they had [Pitt and Virginia]. Washington, D.C., would have been a good place [for Notre Dame], but Maryland's partners fit. Georgia Tech was the next one that made the most sense."
ND coach Mike Brey said it worked for him since he wanted to create new rivalries and, "I love Atlanta."
Tech coach Brian Gregory knew the Yellow Jackets would get Clemson as one rival and was overjoyed that the Irish were the other.
"I think it's great for us," Gregory said. "These are two great academic schools with great traditions. I think it will turn into a great rivalry."
Maryland coach Mark Turgeon said Pitt and Virginia are strong defensive teams which should provide four gritty games for the Terps every season. Pitt coach Jamie Dixon had no issue with Maryland and Syracuse as his school's natural rivals, saying that he expected as much based on geography.
The rest of the 14 games on the schedule will include two more home-and-home opponents (which will rotate every year) and five home and five road games that make up the other 10.
The other set partners are:
Clemson: Florida State and Georgia Tech
Florida State: Clemson and Miami
Miami: Florida State and Virginia Tech
Syracuse: Boston College and Pitt
Virginia Tech: Miami and Virginia
Hicks said the Miami-Virginia Tech series marries two former Big East rivals. Syracuse's two partners are also former Big East foes. Clemson and Florida State got natural regional rivals.
"I'm not bent out of shape one way or another," said Florida State's Leonard Hamilton, who added he wasn't against going to 20 league games. "I like the challenge night in and night out of 18 hard-nosed games."
What the two-team partner lists and the reaction proves is that a 16th team in men's basketball doesn't seem necessary. ACC commissioner John Swofford said the ACC isn't going to go to 16, and frankly, there's really no need.
June, 25, 2012
06/25/12
9:06
PM ET
Bernard James
already bought seven tickets for his family to the NBA draft Thursday in Newark, N.J. He said his ticket was paid for, but he's not on any official NBA draft list and won't be invited to sit in the green room.
[+] Enlarge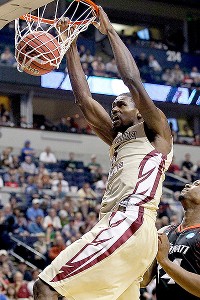 Kevin C. Cox/Getty ImagesHis time in the Air Force delayed his college career, but Bernard James hopes his age (27) doesn't prevent an NBA team from taking a chance on him.
Yet when James' name is announced, and it should be somewhere in the second round, he will proudly walk up on stage and shake deputy commissioner Adam Silver's hand.
There won't be a salute in return, but someone from the military should be on hand to do the honors.
"Being at the draft is a symbol of how far I've come," said James, 27, who played at Florida State for two seasons and helped the Seminoles win their first ACC tournament title in school history and earn consecutive NCAA tournament berths. "It shows the journey I've taken and how far I've come in basketball in the past 10 years."
If James is drafted, the symbolism of his selection could do wonders for military recruitment as an avenue that doesn't prohibit pursuing a professional basketball career. It could show prospective college players and NBA hopefuls that it's never too late to pursue a dream.
"He represents an awful lot," said Florida State coach Leonard Hamilton. "So many kids may drop out of school that don't handle things properly. This is a tremendous lesson that can be taught. He took care of his responsibilities, grew up in the service, and his parents exercised great patience with him, instead of panicking, by encouraging him to go into the service to try to find his way."
James joined the Air Force in 2003 and rose to the rank of staff sergeant. He completed three tours in the Middle East -- one in Iraq, one in Kuwait and one in Qatar -- and performed three different jobs in each. He worked base security in Qatar, was a customs official in Kuwait and essentially worked as a prison guard at a detainment facility in Iraq, he said.
After James left the Air Force, he went to Tallahassee Community College, where he first made contact with Florida State. After earning his associate's degree, he signed with the Seminoles in 2010.
He was a shot-blocker (164) and a high-percentage field-goal shooter (62.7 percent) during his two seasons at Florida State. He was also a lock for Hamilton in the locker room, adding maturity and leadership without being patronizing to his younger teammates. James averaged 8.6 points a game as a junior and 10.8 as a senior and saw his rebounding numbers climb from 5.9 to 8.1 during that span.
"He made a tremendous effort to be one of the boys, even though they weren't his age," said Hamilton. "He might have been older, but he was young in basketball. He stayed extremely humble and allowed himself to be taught. He would step up when he needed to make comments."
James wasn't sure he was NBA caliber after his first season at Florida State. He said he considered finishing his career with the Seminoles and then getting back into the Air Force as a commissioned officer.
"But then things kind of shifted, and I started to see an opportunity with basketball, so I wanted to chase it," said James.
Yet, amazingly, James said that in every interview he has had with NBA teams, his age comes up as a possible red flag. He said some teams weren't even aware that he served in the military.
"They kept saying that they weren't sure how they feel about it," said James of his age. "But then I make a few good points. I haven't been playing basketball that long [four years] and don't have the wear and tear on my body that other guys in the draft have had. I'm healthy. I don't have any injuries. I didn't miss any games in college. That should speak for the condition my body is in right now. I feel I could play well into my 30s since I started later."
James said his professionalism and maturity he gained from being in the military should also be a plus.
He has worked out for New York, Boston, Cleveland, Detroit, Houston, Charlotte, Washington, Golden State, Denver, Miami and Orlando, he said.
"Most of the guys in the room during the interviews don't even know [about being in the military]," said James. "But I bring it up to show the military service and values that were instilled in me that all transfer over."
Hamilton said James is not even close to his ceiling as a player.
"Anybody who uses his age as an issue needs to have themselves checked," said Hamilton, who coached the Washington Wizards before arriving at Florida State. "He has had a limited pounding on his body. I would love to see an athletic contest with someone 21 and see who wins. Line them all up and see who has the best body, is the strongest and quickest. He never missed a practice, never had an injury that caused him to miss a practice or a game in two years."
At 6-foot-10, James can be a defensive specialist, a rebounder and shot-blocker. Hamilton drew an analogy to Ben Wallace but said James is more skilled offensively.
"I can defend, rebound and block shots at the NBA level," said James. "My offense is improving, and I'm learning how to create my own shot. I was also a big help to my team with leadership in the locker room. A lot of times it wasn't what I said but in the way I carried myself. Other players saw that and fed off it."
James was honored with the Most Courageous Award by the United States Basketball Writers Association at the Final Four in New Orleans for his courage in uniform and the way he handled himself as a college player.
He may be 27, but he said he isn't even close to his prime.
"I can show that if you believe in something, you can work hard, chase it, and later in life you won't regret it," said James. "All of my military service, the values that have been instilled in me and my regimented lifestyle all transfer over to the NBA."
September, 22, 2011
09/22/11
5:10
PM ET
The ACC's decision to add Pitt and Syracuse will undoubtedly strengthen men's basketball more than its last round of expansion (Boston College, Virginia Tech and Miami).
But it will create more controversy given how a potential 14-team league might be divided.
The Panthers and Orange may come in 2012 if they can buy their way out of the Big East's exit demands of 27 months and a $5 million departure fee. The Big East has publicly stated that it wants the two schools in for the duration and for BCS purposes it may need them to ensure that the league still has the necessary amount of teams. The ACC is in no rush to add Pitt and Syracuse, but those two schools would rather not go through more than one lame-duck season.
Nevertheless, there is already discussion about how the two will be incorporated into the ACC. Formal talks on the matter won't occur until the annual meetings later in the academic year. But if the league goes to divisions, or at the very least goes to a divisional-style scheduling format, there still might be at least one team in a difficult spot: Wake Forest.
Virginia Tech coach Seth Greenberg looks at the divisional setup along regional lines -- and it makes some sense. ACC associate commissioner Karl Hicks agrees, and he acknowledged that's the way it might turn out.
If that were to happen, the North would have to be Virginia Tech, Virginia, Maryland, Pitt, Syracuse, Boston College and one more team.
The South would be Georgia Tech, Clemson, Florida State and Miami, and then there are the three schools in the Research Triangle (Duke, UNC and NC State) that would likely demand to be in the same division together.
[+] Enlarge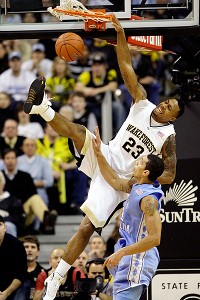 AP Photo/Chuck BurtonThroughout the years, Wake has savored its home games against powerhouses like North Carolina.
That leaves the Demon Deacons as the odd team out. Would Wake have to be put in the North, separated from its three in-state rivals?
The current 12-team divisional alignment in football isn't set up in a North-South split. Wake Forest is in the Atlantic and at least has NC State on its side with Maryland, Clemson, Florida State and Boston College. But the Demon Deacons' two in-state rivals that it would rather play more -- UNC and Duke -- are in the Coastal with Georgia Tech, Virginia Tech, Virginia and Miami.
Wake will make it clear that it doesn't want to be shipped away from the three other North Carolina schools if the league goes to two seven-team divisions. The Demon Deacons want in some form two games against the three in-state schools if there are divisions or if it's one 14-team league.
"If you do it North-South, then one North Carolina team has to be in the North,'' Wake Forest athletic director Ron Wellman said. "We want to play North Carolina more than we do. It's been four years since we played them at home in football, so we are interested in a concept where we play the North Carolina schools. That's a point of emphasis for us. As soon as we announce our schedule, our fans are disappointed that we don't play every North Carolina school in football or [twice in] basketball. Those rivalries were established before the league was in 1953.''
Wellman said when the ACC gets together next month, the topic of how to align a 14-team league will likely be discussed. Wake Forest is nearly two hours away from the Raleigh-Durham-Chapel Hill area, but Deacons fans clearly want to feel attached to the state's other ACC teams.
The other option for the conference would be to keep Wake Forest in the South and ship Miami to the North with the rationale that the Hurricanes would have to fly to every ACC school anyway due to its location (technically, the Hurricanes could drive to Tallahassee for FSU, but even that is a lengthy drive on a school night).
If the ACC were to go to 16 (which is the preferred number by Duke coach Mike Krzyzewski and North Carolina's Roy Williams, among others) and the additions were two more Big East schools (say, UConn and Rutgers), then geography naturally would put both in the North. That would be the easiest solution for the ACC, allowing Wake Forest to compete in the South.
Of course, there will be some other issues here, too. Maryland will demand that it still has its rivalry games with Duke and North Carolina. The Terps would still get to be paired with the two Virginia schools, but losing a Duke home game would seriously dampen the spirits in College Park.
In the end, Hicks said the league doesn't have to go to divisions.
"Ultimately, it will come down to a vote of the ADs and they'll decide what they'll want to do,'' Hicks said. "It will be hard to take those North Carolina schools and separate them. Rivalries and geography will be in play. The good news is that we have time to work through it. We do have permanent partners in our scheduling now. It's the same issue we have now in scheduling, but we added two more teams.''
• If Big 12 commissioner Dan Beebe is officially out of a job, then the NCAA tournament selection committee will have two of its 10 members not working while serving on the committee. The other is Jeff Hathaway, who was forced to retire at Connecticut as athletic director.
WAC commissioner Karl Benson, a former committee member, said that the personnel on the committee has always been overrated and that the committee will be fine since the system itself is all that really matters.
Hathaway's term as chair of the committee started on Sept. 1 (replacing the outgoing chair, Ohio State AD Gene Smith) and NCAA men's basketball tournament spokesperson David Worlock said there has been no change in his position. The same may be true of Beebe if he's officially out. The committee won't meet again until November, and the heart of their work doesn't really begin until January and February, anyway. Hathaway and Beebe certainly would have more time to focus on the national landscape.
The only issue that will be in play for the selection committee: Would Hathaway have to leave the room when UConn is discussed and would the same apply to Beebe when Big 12 teams are talked about, since neither would be employed by either entity?
The consensus from former committee members is that bringing in two more new members to go along with the two regularly scheduled new members to the committee wouldn't be prudent. No one wants to see a committee that has four of its 10 members doing the selections and seeding for the first time. So if Hathaway and Beebe both stay, then the only hiccup will be their role when the teams that they formerly served are being discussed.
March, 4, 2011
03/04/11
9:55
PM ET
BYU will be a focal point of discussion for the NCAA tournament selection committee throughout next week, according to a former committee member, after the Cougars' top rebounder,
Brandon Davies
, was dismissed from the team for an honor code violation.
[+] Enlarge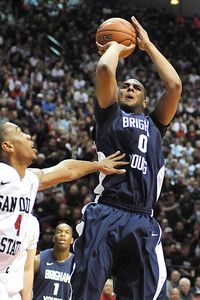 Christopher Hanewinckel/US PresswireHow will BYU be looked at by the selection committee without Brandon Davies ?
The former committee member, who wanted to remain anonymous, said BYU is "a different team without that guy, there's no question. For this to happen so late in the season, it makes it a compelling issue."
The former committee member said a good comparison for BYU would be last season's Purdue squad. When Robbie Hummel suffered a season-ending injury in a win over Minnesota on Feb. 24, the Boilermakers were 24-3, 12-3 in the Big Ten. The Boilermakers lost their next game at home against Michigan State, but then ripped off three wins in a row before losing again to Minnesota in the Big Ten tournament. So Purdue went 3-2 without Hummel before Selection Sunday and received a respectable No. 4 seed.
"Purdue dropped without Hummel, and my read after watching BYU lose to New Mexico is that BYU will drop as well," the former committee member said. "The interesting thing is, could San Diego State benefit from BYU's demise now? It's not going to be easy, but I was wondering if BYU was a No. 1 seed even before all of this. Obviously it's all open to interpretation."
BYU isn't the only team that will be thoroughly examined when it comes to seeding.
Florida State heads into Sunday's game at NC State without Chris Singleton for the fifth straight game. Singleton, the team's best all-around player, broke his right foot in a win over Virginia on Feb. 12. In his absence, the Seminoles won at Wake Forest, lost at Maryland, beat Miami and then lost to North Carolina on Wednesday on Harrison Barnes' 3-pointer. The Seminoles are confident that Singleton will be back -- soon, although he was still in a boot on the bench Wednesday.
Georgetown's Chris Wright broke his left, non-shooting hand in a loss against Cincinnati on Feb. 23. The Hoyas lost that game and then the next one against Syracuse. Wright had surgery and the Hoyas are expecting him back this season, but it's still unknown when.
"All these are legitimate issues that will be discussed by the committee and could have a bearing on actual selection into the tournament or seed," the former committee member said, "and if the question is on seed, then how far do they drop?"
The committee had to deal with this issue a year ago when Syracuse lost Arinze Onuaku, who was hurt in the Orange's Big East tournament loss to Louisville. The committee checked to see if Onuaku would return before seeding the Orange. Syracuse still received a No. 1 seed.
Syracuse had to let the committee know, according to those close to the situation, if and when Onuaku would return. The Orange may have received a No. 1 seed regardless of that information. But the committee has to evaluate what it is being told, what it knows more than what might occur.
The committee member who might have the toughest time next week is Utah State athletic director Scott Barnes. He has to recuse himself when the Aggies are discussed, whether for selection or seeding. They will be in a precarious position if they lose in the WAC tournament.
Also, the committee won't give any special attention to Alabama for winning the SEC West. There are no designations on any of the team sheets that state a team has won a conference division. The teams are presented as individual teams, not with conference affiliation.
March, 2, 2011
03/02/11
1:07
AM ET
Quick thoughts for the final week of the regular season:
• If Kansas State continues on its current pace and finishes in third place in the Big 12, why shouldn't Frank Martin be coach of the year in the league? Martin has dealt with multiple suspensions and defections and has the Wildcats positioned to be a threat to win the Big 12 conference tournament and go into the NCAAs on quite a high.
Even though it took until late in the season, Martin got Jacob Pullen to become the leader he needed him to be for the Wildcats. Martin is pushing the right buttons with this squad at the right time and, ultimately, isn't that how a coach should be judged? How a team finishes, not just how it starts, should be part of the criteria.
• Brigham Young's Jimmer Fredette is the leader for national player of the year. Why isn't Dave Rose getting similar attention for national coach of the year? Rose has the Cougars in position to nab a No. 1 seed or at the very least a No. 2. The Cougars have become a solid interior defensive team as evidenced by how they handled San Diego State on Saturday and they've been calm, cool and collected in hostile road games throughout Mountain West play. Rose has BYU on the verge of a historic season. He's also coached and developed Fredette into a star.
• I'd love to hear from the selection committee if wins over Duke by Florida State and Virginia Tech were the deciding factors in admitting them into the Dance. St. John's didn't need just its win over Duke to earn a bid. But will the Duke win be all the Seminoles and Hokies have to show on their résumés? The numbers may add up for selection but how much of that bid would be based on beating Duke?
• We had an interesting debate on our Experts show Tuesday about comparing middling high majors with conference champs from lower-tier leagues with a gaudy record. Belmont would be an interesting team to watch if the Bruins (19-1 in the Atlantic Sun, 27-4 overall) were to lose in the conference championship. They likely wouldn't get a bid but could be a first-round upset team if they make the tournament.
• The Colonial may be the most competitive conference tournament outside of the power six. The top four seeds -- George Mason, Old Dominion, VCU and Hofstra -- are all capable of winning the event in Richmond, Va. Drexel, the No. 5 seed, has shown that it can beat anybody in the league as well as lose to just about anybody. The winner of this tournament will be battle-tested for a first-round NCAA tournament matchup. A George Mason-ODU final would be an NCAA-caliber type affair.
• We chose our most disappointing teams on the Experts show Tuesday. Michigan State is an easy answer. But I believed Northwestern would make the Dance this season. That's the second time I've predicted Northwestern would make the field (last season being the first). The Wildcats didn't make it then, they won't make now -- they had a number of chances to win quality games and whiffed.
• WCC commissioner Jamie Zaninovich is on quite a roll of late. He lured BYU into the WCC after a deal with the WAC fell apart and he's getting the Cougars after what could be a historic season in Provo. This week he was named to a five-year term on the NCAA tournament selection committee, beginning in the fall. Zaninovich joins LSU athletic director Joe Alleva as the new members on the committee.
• Purdue's JaJuan Johnson has to be a first-team All-American. And if Purdue ends up tied with Ohio State for the Big Ten title then why shouldn't he be Big Ten Player of the Year over Ohio State's Jared Sullinger?
• A month ago Connecticut's Jim Calhoun and Kemba Walker looked like the coach and player of the year in the Big East. Now, I don't think Calhoun will win the award with St. John's Steve Lavin, Louisville's Rick Pitino, Notre Dame's Mike Brey and Pitt's Jamie Dixon ahead of him. Meanwhile, St. John's Dwight Hardy and Notre Dame's Ben Hansbrough may have the inside track on Big East Player of the Year.
• Long Beach State coach Dan Monson was relieved when he left Minnesota in 2006. He was able to secure the best job in the Big West and now has a league title. Minnesota continues to be a tough place to coach, as Tubby Smith has learned.
• Conference USA is highly competitive from top to bottom. But that doesn't mean it should get more than one bid. If forced to choose the stronger conference between the CAA and C-USA, I'd go with the CAA -- it will have more bids and a better chance to advance in the tournament.
• If there is one team that should be in a better position now it's Washington State. The Cougars crushed Washington in Seattle and secured the season sweep of the Huskies. But Wazzu shouldn't be 8-8 in the Pac-10. The Cougars had a chance to beat Kansas State at home in December and lost, beat Gonzaga and Baylor, and then lost to Butler in the Diamond Head Classic final. But Wazzu couldn't beat Arizona at home, lost at Oregon, and had befuddling losses to Stanford at home and at Arizona State. Wazzu has been the most erratic team in the Pac-10 and yet could end up winning the Pac-10 tournament.
February, 14, 2011
02/14/11
9:32
PM ET
Florida State will likely have the résumé to be an NCAA tournament at-large candidate, but will it have a team that is capable of competing at a high level without its best player,
Chris Singleton
, if he can't return from a fractured right ankle?
That will be the subjective decision the NCAA tournament selection committee has to make in three weeks when it breaks down the Seminoles' at-large profile, as well as their possible seeding for the field of 68.
Singleton, who is FSU's top defender and best all-around offensive player, suffered the injury during the first half of Florida State's win over Virginia on Saturday. Singleton scored 11 points in 10 minutes before stepping on a teammate's foot. He was scheduled to have surgery Monday.
Florida State has two top-50 wins so far, most notably over Duke at home (Boston College, as well). There are four wins against teams rated 51-100 (Clemson, NC State, at Miami, versus Baylor in the Diamond Head Classic). Clemson might be an NCAA team and Baylor is also on the bubble. The losses at home to Florida and Ohio State are quality losses and the one loss in the sub-150 range was at Auburn. Overall, Florida State has an RPI of 47, a record of 18-7, a nonconference strength of schedule at 250 and an overall strength of schedule at 92.
The ACC mark is 8-3 and the opportunity is there for a few more wins (at Wake Forest, at Maryland, Miami, North Carolina, at NC State). Even without Singleton, Florida State should win three of those five.
It all adds up to a likely NCAA tournament berth.
"Normally what you do is look at the body of work and if it's decent with Chris in the lineup then that helps, but you still have to watch how this team plays and does it jell together and does it affect leadership or does it fall apart," said a former selection committee member, who preferred his name not be used. "Winning games on the road against anybody is going to help. But I'd like to watch how they play and see if there is an impact.
[+] Enlarge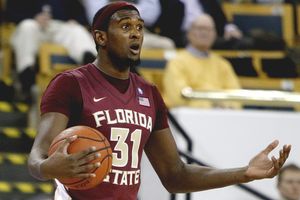 AP Photo/David GoldmanChris Singleton's foot injury is a severe blow to both Florida State's offense and defense.
"This team may be in or may not be in with or without him," said the committee member. "More than anything, it may affect how you seed this team. But if this team were to burst into flames and it's clearly not the same team, then the committee has to look long and hard as to whether or not they should get in."
Florida State coach Leonard Hamilton said Sunday night that the team is going to miss Singleton's defense more than his offense, but added that he's confident the Seminoles will be fine
"We're confident that we have enough talent for everybody to pick up the pace," Hamilton said. "There's not one particular person who is going to replace Chris Singleton. Duke made adjustments without Kyrie Irving. I feel we're capable of doing the same thing."
Florida State has already had to go without key players this season: Junior forward Xavier Gibson missed nine games with a broken left hand; sophomore forward Terrance Shannon missed four with a knee injury; junior guard Deividas Dulkys missed one; and freshman guard Ian Miller missed all three games in the Diamond Head Classic and ultimately sat out 11 total games with a strained groin. Florida State didn't have junior forward Jon Kreft for the first nine games of the season since he was ruled ineligible.
"I'm not going to allow me or my players or my staff to get caught up in how many games we have to win," Hamilton said. "I'm not going to play the 'what if' game. We just have to keep winning. Thank God they don't make the decision this weekend. None of the guys saying we're not in don't have a vote. Who knows what goes on behind those closed doors."
Defensively, the Seminoles have a system in place that has been solid. The back line isn't the same as it was a year ago with Solomon Alabi, but teams still have a hard time executing against Florida State. Not having Singleton means Hamilton does lose the versatility of using him as a defender from three of the five positions on the floor.
"Of course we have to evaluate how we defend and it will be different without his versatility," Hamilton said. "He has the quickness to guard the 2, 3 or 4. That is a luxury that we will miss, but we have Xavier and Terrance back and that gives us some pluses."
Florida State has been the second-most successful team in the ACC the past three seasons with 30 wins (Duke has 36, North Carolina has 27).
Hamilton is confident the success will continue with another NCAA tournament berth.
"I don't think it's time for anybody to panic," Hamilton said. "We're not going to make excuses. We will get the job done. There are still more road victories that could present itself. We still play Carolina at home. We've got more games and winning takes care of itself. I can't wait to get to practice."
Another committee member brought up precedent, such as when Cincinnati lost Kenyon Martin in the Conference USA tournament and was dropped from the overall No. 1 seed to a No. 2 or when Saint Mary's didn't have Patty Mills two seasons ago. When Mills returned in the West Coast Conference tournament, he wasn't the same player and neither were the Gaels. Saint Mary's didn't make the field that year.
"The toughest thing for the committee will be to play the 'what if' game. You can't say what if he was there or what if they had him," said another committee member. "You deal with what you have and if the individual is back, he's back. You have to look at everything: the RPI, winning games and if a significant player goes down you have to look at that, too. My guess is that the committee is going to spend a lot of time on Florida State. Or Duke, too, if Kyrie Irving were to come back -- or any other institution that is in a similar situation."
November, 30, 2010
11/30/10
5:37
PM ET
The Big Ten is seven or eight deep in potential NCAA tournament teams. The ACC has Duke and a host of teams that are hard to discern from No. 2 on down.
So of course the Big Ten will capture the ACC/Big Ten Challenge, right?
Not quite. Virginia revealed the unpredictability of this event on Day 1. The Cavaliers were expected to be battling at the bottom of the ACC and Minnesota, even with senior point guard Al Nolen out of the game due to injury, was expected to walk over the Cavs after winning the Puerto Rico Tip-Off last week.
[+] Enlarge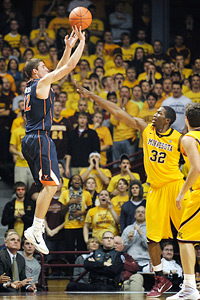 AP Photo/Tom OlmscheidJoe Harris' 24 points led Virginia to a surprising win over Minnesota on Monday night.
Instead, Virginia won 87-79 in Minneapolis, which might help the ACC win the event because it has advantageous matchups with top-ranked Duke hosting Michigan State, Clemson hosting Michigan, Virginia Tech hosting Purdue, Maryland visiting a weak Penn State team and toss-up ACC home games that include Iowa-Wake Forest and Indiana-Boston College, plus a potential upset if Florida State can beat Ohio State in Tallahassee.
For the sake of argument, that would mean home Big Ten victories by Northwestern (vs. Georgia Tech), Illinois (vs. North Carolina) and Wisconsin (vs. NC State) wouldn't even be enough to offset an ACC victory.
But regardless of what occurs, the ACC/Big Ten Challenge has provided an opportunity for a number of teams -- the opportunity to right a loss in an early-season tournament and/or pick up a much-needed quality win.
"We're all trying to figure ourself out now,'' Illinois coach Bruce Weber said. "Whether you're coming off a big win or a loss. Now you've got Big Ten, high-level games with a lot of attention. It's a good test for your team to figure out if you're for real or not. Your season can go in a lot of different ways. It's a good test to see how your team will respond, whether it's off a loss or a win.''
Florida State lost at home Sunday to Florida. The Seminoles could erase that with a win over second-ranked Ohio State, which has already won at Florida. Wisconsin is hosting NC State after losing to Notre Dame on Sunday in the final of the Old Spice Classic. The Badgers had already lost at UNLV. NC State dropped the title game of the Charleston Classic to Georgetown. Both teams could use a quality nonconference win.
Northwestern is undefeated and hoping to go to the NCAA tournament for the first time. But if the host Wildcats are to be taken seriously, shouldn't they beat Georgia Tech, which lost at Kennesaw State? Maryland failed to win a 2K Sports Classic game in New York against Pitt and Illinois. So if the Terps are a real threat to finish second in the ACC, shouldn't they win at struggling Penn State?
Purdue is fresh off a loss to Richmond in the final of the Chicago Invitational, and Virginia Tech lost Sunday night to UNLV in the final of the 76 Classic. The Hokies had already lost at Kansas State on Nov. 16. The combination of ensuring enough prep time and cost containment led Virginia Tech to chip in with Tulsa for a charter flight on the way to and from Anaheim. Hokies coach Seth Greenberg said the plane dropped Tulsa off early Monday morning. The Hokies arrived in Blacksburg at 8 a.m. after playing the night before against UNLV. The importance of the Purdue game pushed Greenberg to secure the flight.
Virginia Tech opened the season at home against Campbell, then went to Kansas State and UNC Greensboro (at Greensboro Coliseum, site of the ACC tournament) before visiting Anaheim for three games. The Hokies play Purdue at home, host Virginia to open the ACC schedule, host Penn State and then play Mississippi State at the Atlantis resort on Paradise Island in the Bahamas. This will be the first game heralded newcomer and Bulldogs center Renardo Sidney is eligible.
"This is a big stretch for us,'' Greenberg said. "The pre-Thanksgiving tournaments might make more sense when you're in the ACC/Big Ten Challenge. But we wouldn't get a Purdue to come to Blacksburg if it weren't for the Challenge. That's part of the culture. It's part of the business. Anytime you're playing an opponent like this, it's an opportunity. It sounds crazy now in November, but you're building your profile and your résumé.
"These games don't hurt you, but they can sure help you.''
He's right. So far, Virginia Tech has played three games against possible NCAA teams and lost two (Kansas State and UNLV) and the one it won (Oklahoma State) is a bubble team at best at this point. That's why a game against Purdue takes on even more significance, regardless of what event it is folded into. The Hokies won't get much bang out of a win over Penn State at home, leaving a neutral-site tilt against Mississippi State as their last significant nonconference game.
Virginia Tech knows all too well that it can't rely solely on the ACC getting its profile up to earn a potential at-large berth.
Duke and Michigan State, the opponents in the headline game in this event, will be fine either way. Both schools will be in the field, possibly as No. 1 seeds, and they'll play enough quality teams to place too much emphasis on this one game.
That's not the case for the other games.
North Carolina (lost two games in Puerto Rico) can turn its season around with a win at Illinois and a game against Kentucky at home Saturday.
Illinois beat Maryland and follows the Carolina game with a matchup in Seattle against Gonzaga on Saturday. Playing Missouri in St. Louis in a few weeks will create another opportunity for a quality win before the loaded Big Ten schedule.
"This is like a Big Ten week for us,'' Weber said. "We had a little test in New York. Now we have another test this week. These are really good games for us. We're at home. You hope you can win. But there are no guarantees.''
Just ask Minnesota, which appeared to be the one lock for the Big Ten when it hosted Virginia. The Cavs didn't see it that way.
No guarantees indeed.
November, 12, 2010
11/12/10
8:05
PM ET
College basketball starts with a heavy dose of weekend games, before ESPN's 24-hour Tip-Off Marathon offers up a slew of must-see affairs Tuesday. But before looking forward, there must be some housecleaning done on a few issues. So here are my first impressions from a sprinkling of games this week: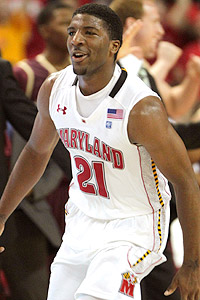 AP Photo/Rob CarrPe'Shon Howard made quite a first impression for Maryland this week.
Name to remember: Maryland freshman point guard Pe'Shon Howard
The offseason question for the Terps was who would replace Greivis Vasquez's leadership, moxie and overall late-game magic. The answer came rather quickly toward the end of the College of Charleston game. Howard made not just one, but two big-time shots to beat the Cougars. The second was all Howard, taking the ball down court and hitting a fall-back dagger of a jumper to win the game at the last second. I loved Maryland coach Gary Williams' stunned face as the buzzer sounded. He was obviously relieved, but also had to be thrilled that he had found a player who shares Vasquez's drive to do something special when the game matters most. Howard was an efficient 8-of-11 (2-of-7 at the line, though) in two games this week, scoring 19 points, dishing out 12 assists and snagging five steals.
Illinois can score: The Fighting Illini have been offensively challenged in recent years (who can forget the 38-33 loss to Penn State in '09?). But in two games this week -- albeit against poor competition -- Illinois averaged 81.5 points a game. That bodes well for a team that has plenty of talent that can push the basketball (expect games against North Carolina and at Gonzaga to be high-scoring affairs).
Texas has another stud freshman: Forward Tristan Thompson averaged 14.5 points in two games, but was even more impressive with a 17-point, seven-rebound, three-steal performance in a win over Louisiana Tech on Wednesday.
Pitt will rely on its veteran backcourt to win big: The Panthers played without injured forward Nasir Robinson in the first two games, and the consistency and production of the frontcourt is still an unknown. But Pittsburgh has two players in Ashton Gibbs and Brad Wanamaker who have matured into leaders, reliable scorers and money players in the final few minutes. Jamie Dixon can rely on these two to take over a game when needed. They carry themselves as mature young adults, ready to take the baton of leading Pitt to a possible Final Four.
Still-unresolved situations:
• Baylor coach Scott Drew said in a text message Thursday night that there had been no movement on reinstating senior guard LaceDarius Dunn for Friday's opener against Grambling State. The Bears can get by without Dunn for some time since the schedule is soft until Arizona State on Dec. 2 and Gonzaga in Dallas on Dec. 18.
• Kansas coach Bill Self said in a text Thursday night that he was hopeful there will soon be a resolution on the eligibility of point guard Josh Selby. But it didn't sound promising for the immediate future: Friday's game against Longwood and Monday against Valparaiso. Kansas starts the meat of its nonconference schedule with a rugged seven-game stretch -- Ohio, Arizona, UCLA, Memphis in New York, Colorado State, USC and at California. All of those teams, save perhaps Cal, should be in postseason contention. But the game against the defending Pac-10 champion is in Berkeley, which still makes it a difficult stop.
• Minnesota coach Tubby Smith suspended Devoe Joseph for a violation of team rules. The Gophers open against Wofford and then play Siena on Monday before going to Puerto Rico for three games, starting with Western Kentucky. Joseph is one of the better scorers for the Gophers, but this Minnesota team can take at least one suspension (unlike last season's team). In discussing this with the Minnesota staff Thursday night, I got the sense Joseph will be back sooner rather than later as long as he adheres to Smith's rules.
And now a glimpse at the weekend ahead:
Best games
No. 21 Georgetown at Old Dominion, Friday, 7 p.m. ET: The Monarchs are a CAA cofavorite, while Georgetown is a top-five Big East team. The Hoyas, who have lost two of their past three against the Monarchs, will be entering a rocking arena and will have to play well to win. This should have a February feel to it. Clearly, an ODU win will have more shelf life than a Georgetown road win. And the Hoyas have already started the season with one setback, as the school announced Friday that freshman center Moses Ayegba has to sit out the first nine games because someone who wasn't an immediate family member paid for his plane ticket to come to the United States before he enrolled in high school.
[+] Enlarge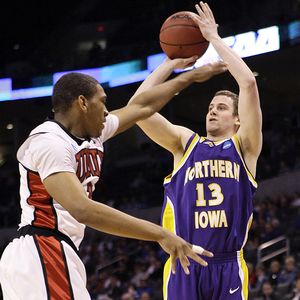 AP Photo/Tony GutierrezFresh off charming America in March, Johnny Moran and his UNI teammates open Friday at Syracuse.
Northern Iowa at No. 13 Syracuse, Friday, 7 ET (ESPN3): Don't be fooled into thinking this is the same Panthers team that upset Kansas. It's not. The Panthers lost too much of that squad to be looked at as a major threat to win at the Carrier Dome. But they will test the Orange zone. How well Kris Joseph emerges as the go-to guy and the impact of Fab Melo along the backline will be interesting developments to track.
Seton Hall at No. 22 Temple, Friday, 7:30 ET: The Pirates have been flying under the radar during all the Big East preseason talk, but still have enough talent to be a major player in the league's muddled middle. Meanwhile, Temple is the Atlantic 10 favorite and the one school at the top of the conference that has had no drama in the offseason. But a loss here at home could start the questions for Fran Dunphy's group.
Sneaky game to watch
Southern Miss at South Florida, Friday, 7 ET: The Golden Eagles project themselves as a real threat to take down Memphis in Conference USA. The Bulls are rebuilding a bit after losing Dominique Jones to the NBA. But USF is still a Big East team that won 20 games last season, so a road win here by Larry Eustachy's crew will go a long way toward earning credibility.
Notable debuts
East Tennessee State at No. 10 Kentucky, Friday, 7 ET (ESPN3): How well Brandon Knight plays at the point, Doron Lamb and Terrence Jones play on the wing and Eloy Vargas plays inside will all be interesting subplots for an Enes Kanter-less Kentucky squad. Don't forget that ETSU has gone to the NCAA tournament in each of the past two years. An upset is highly unlikely, but a young UK team had all sorts of problems with teams like Miami (Ohio) and Sam Houston State early this past season.
North Carolina A&T at No. 5 Ohio State, Friday, 7 ET (ESPN3): The Buckeyes' new stud forward, Jared Sullinger, is being billed as the possible Big Ten player/freshman of the year. Let's see if he lives up to the early-season hype.
Lipscomb at No. 9 North Carolina, Friday, 7 ET: The Tar Heels will be major players if freshman Harrison Barnes is a stud. This is our first look at America's No. 1 recruit, his fellow stud freshmen and a motivated group of UNC returnees.
Chattanooga at No. 20 Tennessee, Friday, 9 ET: The Vols have been the center of controversy this offseason due to the admitted NCAA violations by head coach Bruce Pearl and his staff. Then Tennessee lost an exhibition game to Indianapolis this week and had the critics howling. But the focus can, at least for now, return to the court and the expectations around Tobias Harris in his first game.
Detroit at New Mexico, Saturday, 9:30 ET: The Titans start the season at the refurbished Pit and get to unveil the hyped Ray McCallum Jr. The Lobos will play Tennessee transfer Emmanuel Negedu, who had to have a defibrillator put in his chest after he nearly died in 2009.
Tricky road starts
San Diego State at Long Beach State, Saturday, 7 ET: The MWC favorites begin a five-game road swing to start the season that will take them next to Spokane and then to Oxford, Ohio. Long Beach State is a Big West title contender and a heck of an opening challenge for a team with the highest expectations in SDSU history.
Florida State at UNC Greensboro, Sunday, 3:30 ET: The Seminoles, who fancy themselves to be a possible second-place finisher in the ACC, are going out of their way to challenge themselves this season with interesting road games. Florida State also goes to FIU on Nov. 18 and Loyola Marymount on Dec. 18 before opening up the Diamond Head Classic in Honolulu with a true road game against host Hawaii on Dec. 22.
October, 16, 2010
10/16/10
10:18
PM ET
Editor's Note: Andy Katz's revised top 25 was published on Friday with Purdue at No. 2. With Saturday's news of Robbie Hummel's devastating retorn ACL, Katz has issued an updated version:

1. Duke: No reason to move the Blue Devils. Kyle Singler and Nolan Smith had tremendous summers working out with the USA Basketball select team. The buzz around newcomer Kyrie Irving is just as high. The karma is all good in Durham with Mike Krzyzewski winning a gold medal at the FIBA World Championship in Turkey and the Blue Devils getting a commitment from one of the best players in the 2011 class in Austin Rivers.

2. Michigan State: The Spartans did dump Chris Allen, an indication that the differences between Allen and Tom Izzo were too wide to overcome. But Izzo is feeling quite good about the continued recovery of Kalin Lucas from an Achilles injury. Lucas will be treated carefully in practice over the next month as the Spartans see how much he can push himself. But Izzo is confident Delvon Roe is as healthy as he's been at MSU and fully expects Durrell Summers to be a star and Draymond Green to be a vocal leader.

3. Pittsburgh: The Panthers don't have the star power of the aforementioned top three. But this Panthers team is like an old-school Big East team that has experienced players who have been together and found roles. The summer trip to Ireland provided more positive bonding time for Jamie Dixon's crew as it takes on the role of Big East favorite. There were no flaws this summer, making it more palatable to move the Panthers up a few spots.

4. Kansas State: The Wildcats continue to have a positive vibe from their near brush with a Final Four berth. Kansas State returns Jacob Pullen and an expectation that returnees like Curtis Kelly and Jamar Samuels will continue to blossom. Clearly the rest of the Big 12 believes in the Wildcats, as well, since they were picked to win the league for the first time.

5. Ohio State: The Buckeyes have one of the top freshmen in the country in big man Jared Sullinger. Sure, they lost Evan Turner, but the rest of the wings return and the buzz on the Buckeyes remains that this team was more than Turner a year ago. If players like William Buford, David Lighty and Jon Diebler can handle the responsibility, the Bucks should be a national contender.

6. Kansas: Moving the Jayhawks up to No. 7 is clearly predicated on Josh Selby being eligible for the majority of the season. KU is waiting for Selby to get his academic clearance from the Eligibility Center. He can practice while this is pending, but Kansas needs him out on the court during the real stuff. There is still plenty of talent in Lawrence -- led by Marcus Morris, who coach Bill Self is convinced will be a star -- but Selby is the key for the Jayhawks to be top-10 good.

7. Villanova: The Wildcats didn't rely on Scottie Reynolds in his last few games as much and they survived. Reynolds' eligibility expired and Corey Fisher is the next one to pick up the mantel. Jay Wright had another solid offseason, coaching the USA Basketball select team. There is an expectation now that Wright's teams won't dip. Like Pitt, Villanova is considered a regular near the top of the league on a yearly basis.

8. Gonzaga: The Zags had quite a summer with Elias Harris, Kelly Olynyk and Robert Sacre all playing for their respective national teams. Gonzaga put together arguably the toughest nonconference schedule in the country, too. If Demetri Goodson and Steven Gray can elevate their game as lead guards after the departure of Matt Bouldin, the Zags will be deserving of a top-10 ranking.

9. Florida: The Gators return all five starters from last season's No. 10 seed in the NCAA tournament. But the addition of Patric Young is surely going to bolster this squad. Young won gold for the USA junior national team this summer and proved to be an invaluable member of that squad. His tenacity, hustle plays and overall team focus means he could be a difference-maker for Florida this season.

10. Syracuse: The Orange move up six spots from the May poll in large part because coach Jim Boeheim is almost never wrong about evaluating and projecting his team's talent. Most of the time he hits on the major contributors and Boeheim said Kris Joseph is ready to be a star. He also expects big man Fab Melo to have a monster season, notably on the defensive end where he can block shots and grab rebounds. While it's hard to see yet where and how much C.J. Fair and Dion Waiters will play, they have already impressed, meaning the freshman class will make this team even deeper.

11. Kentucky: If Enes Kanter's eligibility was a certainty, the Wildcats would move up into the top 10. His amateurism eligibility decision is still to be determined. But what can be stated is Kentucky showed on a trip to Canada that the returning players are up for the challenge of a new role. Darius Miller and DeAndre Liggins should flourish as John Calipari plays more of his dribble-drive-motion offense. Newcomers like point guard Brandon Knight, Doron Lamb, Terrence Jones and Stacey Poole are all ready to make major contributions.

12. Missouri: The Tigers move up a notch, even without newcomer Tony Mitchell, whose eligibility is in question and in a best-case scenario wouldn't be available until the Big 12 schedule starts. But Mike Anderson can't play the role of being underappreciated anymore. Missouri returns Kim English, a healthy Justin Safford, Marcus Denmon and adds a recruiting class that needs to get more love. Anderson is pushing the significance of point guard Phil Pressey and power forward Ricardo Ratliffe. If both are as impactful as projected, Mizzou may be a league title contender.

13. Illinois: My colleague Doug Gottlieb tabbed the Illini to win the Big Ten. I'm not going that far with Purdue, Michigan State and Ohio State to contend with. But Illinois has no excuse if this is not an NCAA season at the very least. Bruce Weber can't say enough about how much incoming freshman Jereme Richmond will mean to this team. Add him to an already talented roster that includes Mike Davis, Mike Tisdale, D.J. Richardson and returning lead guard Demetri McCamey and the Illini have their best chance since 2005 to challenge for a conference title.

14. North Carolina: Losing the Wear twins and senior Will Graves, the team's top 3-point threat, meant the Tar Heels had to drop a few slots. The talent is in place up front with the return of John Henson and Tyler Zeller and the addition of the top freshman in the country in Harrison Barnes. But the guard play is still a work in progress and an unknown with erratic Larry Drew II and the still-inexperienced Dexter Strickland and Leslie McDonald being joined by newcomers Reggie Bullock and Kendall Marshall.

15. Memphis: The Tigers did get Will Barton eligible after there were questions earlier in the summer once he missed the team's trip to the Bahamas. But all is good now. The Tigers certainly have the talent to be projected higher, but remember they didn't make the NCAAs last season and are leaning heavily on newcomers like Barton, Joe Jackson and Tarik Black. If the Tigers are to be worthy of the top 10, then returnees like Wesley Witherspoon and Will Coleman will have to continue their improvement.

16. Baylor: This is by far the biggest drop in my poll from May to October. The Bears were probably too high in that original poll. Losing Ekpe Udoh and Tweety Carter was significant and maybe I was putting too much emphasis on newcomer Perry Jones. But the reason for this drop is LaceDarius Dunn. He is currently suspended from game competition, but was just reinstated to the team to practice and attend class after allegations that he broke his girlfriend's jaw. But the uncertainty of Dunn's availability casts major doubt on whether the Bears can be a serious contender in the Big 12.

17. Washington: Like Jay Wright, there was positive karma with Lorenzo Romar sharing the coaching duties in Las Vegas for the USA Basketball select team. And the guard play is extremely solid with the return of Isaiah Thomas, Venoy Overton and Abdul Gaddy, wings Justin Holiday and newcomers led by Terrence Ross. Losing Quincy Pondexter shouldn't be underplayed, though. We'll know early enough about the Huskies when they go to the Maui Invitational with a possible semifinal matchup against Kentucky.

18. Butler: Shelvin Mack had a sensational summer and the buzz continues to build that he's one of the top guards in the country. Mack played on the USA select team and the more confident he becomes, the better chance Butler has of being back in the mix for a deep March run again. Sure, losing Gordon Hayward early to the NBA is hard to take for this group, but if Ronald Nored is healthy enough to be as much of a scorer as he was a defender and Matt Howard adds even more productivity and stays out of foul trouble, the Bulldogs won't disappoint.

19. Georgetown: The Hoyas return one of the best backcourts in the Big East with Austin Freeman, Chris Wright and Jason Clark. If Julian Vaughn, Hollis Thompson and newcomers Nate Lubick and Moses Abraham can help offset the loss of Greg Monroe, Georgetown will be in the chase in the Big East. The Hoyas put themselves in position early with another tough slate of nonconference games (going to Old Dominion, Temple and Memphis, to Kansas City to play Missouri, and adding a home game against always-tough Utah State) to gauge where this team will be in January.

20. Tennessee: I probably had the Vols slightly too high in May and the NCAA investigation swirling around the program doesn't help, let alone the self-imposed sanctions against the entire coaching staff that have left a cloud over the season. It shouldn't affect the on-court performance of the players, but it will certainly be a distraction for the coaches as they have to deal with questions throughout the fall. Tennessee still has one of the top newcomers in guard Tobias Harris, and if Scotty Hopson can make shots in bunches, the Vols should still finish in the top three in the loaded SEC East.

21. San Diego State: The Aztecs have quietly gone through the summer with their roster intact, led by one of the more underrated forwards in the country in Kawhi Leonard. Malcolm Thomas is another stud for coach Steve Fisher. If the point guard situation gets settled, the Aztecs should be a top-25 squad. San Diego State challenged itself with five straight games away from home to open the season, including going to Gonzaga before heading off to three games in Oxford, Ohio, as part of the CBE Classic. If the Aztecs survive that stretch, they'll be in a solid position to enter the MWC season as the favorite, fending off BYU, New Mexico and UNLV.

22. Minnesota: The Gophers got two players back that would have certainly helped in March. Lead guard Al Nolen, who became academically ineligible in February last season, is good to go, as is forward Trevor Mbakwe, who sat out last season pending an assault case. Mbakwe is back in the good graces at the school, which stood by him during the case. The Gophers went to Canada in August and returned an even more determined lot. Don't sleep on this squad, especially in the Puerto Rico Tip-Off Classic. Nolen, Mbakwe, Devoe Joseph, Blake Hoffarber, Ralph Sampson III and Rodney Williams are all capable of leading the Gophers to a tournament win and into the top 25.

23. Purdue: On Friday, I ranked Purdue No. 2 and wrote that "the Boilermakers haven't had a single hiccup during the offseason." Less than 24 hours later, Robbie Hummel retore his right ACL during the team's first full practice. The loss can't be overstated. The Boilers still have a pair of All-Big Ten players in JaJuan Johnson and E'Twaun Moore and are still very much an NCAA tournament team, but it's hard to foresee this being a Final Four contender without Hummel.

24. Temple: The Owls got pushed down a peg by my newfound belief in Minnesota. Temple is still my pick to win the A-10 with the return of Lavoy Allen and guard Juan Fernandez. The Owls once again have a monster schedule that should tell us plenty by January, with an opener against Seton Hall, quality games in the Old Spice Classic in Orlando, playing Maryland in D.C., hosting Georgetown and going to Villanova. The Owls go to Duke, too, but that's not until late February. Oh, and of course, this team has one of the top coaches in the game in Fran Dunphy.

25. Georgia: I was bullish on the Bulldogs in May and I haven't dropped off in October with the return of Trey Thompkins and Travis Leslie, two of the top talents in the SEC. Georgia also adds Tennessee State transfer Gerald Robinson, who should open up some scoring on the perimeter. UGA will certainly be pushed in an SEC East that could produce up to five NCAA tourney teams, but the Bulldogs have some summer buzz and momentum heading into that Old Spice Classic tournament in Orlando, especially with an opener against Notre Dame.
Who got pushed out of the poll?
Virginia Tech: The Hokies were No. 22 in my May poll, but they lost one of their key rotation players in J.T. Thompson to a knee injury. Of course, the return of Malcolm Delaney means they will be in the hunt for a top-two finish in the ACC and an NCAA berth. But the Hokies weren't an NCAA team last season and losing a key player pushed them down a few spots for now.
A dozen more to watch (in alphabetical order): BYU, Florida State, New Mexico, Texas, UNLV, Utah State, Vanderbilt, Virginia Tech, West Virginia, Wichita State, Wisconsin, Xavier