Category archive:

Florida Gators
December, 3, 2013
12/03/13
5:34
AM ET
STORRS, Conn. -- Shabazz Napier hit a game-winning, buzzer-beating jumper to beat Florida 65-64 in a thriller Monday at Gampel Pavilion. Here are five observations for the Huskies and Gators.
1. UConn and Napier came through late, again: Napier doesn't want to be compared to Kemba Walker.
It's not fair -- to Walker.
"Those are big shoes to fill,'' Napier said after his game winner.
"I'd have to win a national championship,'' Napier said of Walker's improbable run to claim Big East and NCAA tournament titles in 2011. "I'm trying to be myself.''
Napier learned from Walker and emerged from under his shadow a year ago with Walker off to the NBA. But a team Academic Progress Rate ban meant the Huskies couldn't go to the postseason, and anything Napier did wouldn't have the same cachet without the possibility of an NCAA tournament berth.
[+] Enlarge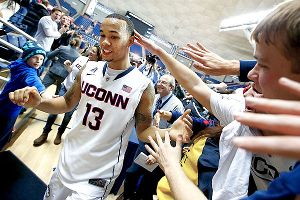 Jared Wickerham/Getty ImagesShabazz Napier had 26 points on 9-for-15 shooting to lead UConn to a win over Florida on Monday.
Walker made money shots for the Huskies during that magical run in 2011. No one is saying this season's Huskies are en route to a national title. But no one said that about UConn in 2011, either -- at any point until the Huskies won the Big East Tournament title.
Napier has had moments in his career already -- like beating Villanova in Philadelphia -- but nothing was quite like the walk-off shot he made Monday night.
"You always see highlight films of the guys hitting the last shot or guys at the free throw line making the free throws,'' Napier said. "You want to be the hero. You want to be the guy who's known as the hero at the end of the game. Growing up, I wanted to be Superman. Everyone wants to be a hero. I was fortunate enough to be in the right spot at the right time.''
The undefeated Huskies have late-possession wins over Maryland, Boston College and Indiana and now against a depleted, but gritty and determined, Florida team.
"I'm happy, but I'm a little exhausted,'' UConn coach Kevin Ollie said. "Another one-point game, but, once again, we showed our resolve. … You look on the stat sheet, and I don't know how we do it. They shoot 49 percent and outrebound us, but, at the end of the day, we get it done. It's a magical team. They've been through a lot.''
2. Napier might be the best late-game shooter: Napier isn't a lock for the first round of the NBA draft like the high-profile freshmen, but it's hard to go against Napier if a team needs one shot to win a game. Ollie said earlier Monday he doesn't hesitate to put the ball in his senior's hands for a late-game shot. It shows.
[+] Enlarge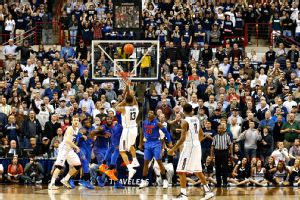 David Butler II/USA TODAY SportsFlorida stopped Shabazz Napier's initial shot, but he got one more look after fielding a tipped rebound.
Florida coach Billy Donovan did everything he could to try and fluster Napier. Scottie Wilbekin, his lone point guard, was down with an ankle injury in the final three minutes, so the Gators went to a 1-3-1 zone. They attempted to trap Napier on the final possession and did a good job forcing a bad shot, but DeAndre Daniels tipped the ball back and Napier got it for a last-second shot in perfect position facing the basket.
"We got him to take a very, very difficult off-balance shot,'' Donovan said. "The guy that won the game for him was DeAndre Daniels. He made an unbelievable tip out, off balance, which kept the ball alive.''
True, but Napier still had to have the presence to bury the shot.
"Whenever we need a big shot, he makes that,'' Ollie said. "Whenever we need a play to be made, he made that. He's got so much heart. Hopefully, America is starting to look at him as that man. He's one of the big-time players to ever put this jersey on and walk on the court at Gampel.''
Napier also converted a four-point play, and tweaked his ankle in the process, to give the Huskies a one-point lead with 33 seconds remaining. Napier made a strong case to be on everyone's All-American watch list heading into the heart of December.
3. The Huskies are more than just Napier: Napier and Ryan Boatright are going to take the big shots in key situations, but UConn has other key contributors. Daniels' tip was the last of seven rebounds for the slender forward, who also finished with 14 points. Niels Giffey hit two critical 3-pointers and continues to be the ultimate glue player. The Huskies got outrebounded by the physical Gators. Ollie said after the game he could use big men with size like Florida's Patric Young -- in the future, but for now, he has thin forwards who he says "have heart.'' And that is working for the Huskies in late-game situations.
[+] Enlarge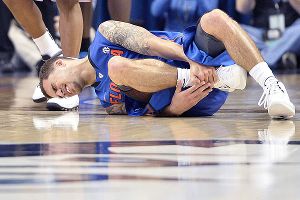 AP Photo/Bill Shettle/CSMFlorida senior point guard Scottie Wilbekin left Monday's game with a right ankle injury.
4. The Gators can't afford bad news on Wilbekin's ankle: Wilbekin -- who has already missed six games because of a suspension -- was erratic Monday, scoring 15 points and hitting two 3-pointers but committing three turnovers. Donovan said after the game he had no idea on the status of the point guard's turned right ankle. The Gators are still without star freshman guard Kasey Hill, who has a high-ankle sprain. Hill averaged 10 points in the four games he played. Donovan said Hill is probably two more weeks away from returning. Hill's game is speed and he hasn't been able to do anything because of the ankle injury. If Wilbekin is out for any extended period, the Gators will have to look to Dorian Finney-Smith or Michael Frazier to handle the ball some.
5. The Gators can be an SEC contender if healthy and eligible: Florida showed tremendous grit Monday. Casey Prather was unstoppable at times, scoring 19 points and grabbing seven boards. Young and Will Yeguete contributed in a variety of ways. If McDonald's All-American Chris Walker gets eligible (he has one online class left to finish), the Gators could have a formidable frontline. If Wilbekin and Hill get healthy and Finney-Smith and Frazier contribute on the perimeter, it would give the Gators more than enough to challenge Kentucky in the SEC. There are a lot of ifs, but it's still early.