Category archive:

South Florida Bulls
May, 22, 2012
05/22/12
7:22
PM ET
The Big East will send out its annual straw poll to its coaches to get their preseason predictions about the strength of the league's teams to help put together next season's conference schedule.
The league office said Syracuse's Jim Boeheim and Pitt's Jamie Dixon will be allowed to vote in the poll, even though the schools are leaving the conference for the ACC. They weren't invited to the conference meetings earlier this week in Florida.
The results of the poll will determine which teams face each other twice during the conference schedule. Having a tiered system based on those predictions has worked well for the Big East, rather than the predetermined rotations of which teams play each other twice used by the Big Ten, ACC and SEC.
[+] Enlarge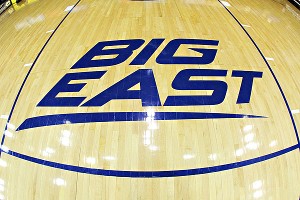 Bill Streicher/Icon SMIBig East coaches are confident the formula the league uses to determine conference schedules ahead of each season has helped in getting more NCAA tournament bids.
The Big East had 11 teams in the NCAA tournament in 2011; it sent nine teams last season. Coaches firmly believe handling scheduling this way is the reason.
"We've been able to give the league the flexibility to balance the schedule," Cincinnati's Mick Cronin said after the Big East meetings wrapped up Tuesday morning in Ponte Vedra Beach. "The repeat opponents have been set up by the hierarchy of the league in the summer. Something has been done right. We've had 11 teams and then nine teams in the NCAA. The coaches were against 18 league games but then it has helped us get more teams in [the tournament]."
Notre Dame coach Mike Brey agreed that the formula has worked for the Big East.
"It has driven us to get more bids," said Brey, who added it was odd not to have Boeheim at the Big East meetings for the first time during Brey's tenure at Notre Dame. "We've got to stay with this formula. It's not too constrictive. We don't want a rotation. We've got to keep an open mind. Some of it is by design, some of it is by luck, but it has really worked. You can sit there as a coach and say, 'If you're in the top eight, you're in the tournament.'"
There were 13 men's basketball coaches in attendance at Monday's meeting. Four coaches stayed to meet with athletic directors Tuesday. UConn's Jim Calhoun and Louisville's Rick Pitino weren't in attendance and neither were coaches from incoming 2013 members Temple (Fran Dunphy), Memphis (Josh Pastner) and SMU (Larry Brown).
According to Brey, the 11 other coaches in attendance, outside of him and Cronin, were: Stan Heath (South Florida), Ed Cooley (Providence), Kevin Willard (Seton Hall), Steve Lavin (St. John's), Mike Rice (Rutgers), Jay Wright (Villanova), Buzz Williams (Marquette), John Thompson III (Georgetown), Oliver Purnell (DePaul) and 2013 new members Donnie Jones (Central Florida) and James Dickey (Houston).
Heath said that there was even discussion about possibly opening up to 20 games from 18 when the new teams come into the conference.
"We had some conversation, but nothing was shot down," Heath said.
Heath, Cronin and Brey all said there was a renewed sense of optimism in the room, especially with presentations from television executives from NBC and Fox. ESPN and CBS have the current Big East rights, but the league will enter a new negotiating period in the fall.
"There was excitement over the TV presentation possibilities," Cronin said. "The Big East can't negotiate now but there was interest in our product. You could see people spending valuable time on the presentations and they say we'll be even stronger with the media market changes in adding Dallas, Houston and Orlando, which only helps the big picture."
The coaches agreed that the conference tournament must include all members in 2013, regardless of that number.
Heath said he brought up to the coaches that former USF player Kentrell Gransberry never played at Madison Square Garden during his career at South Florida because all the teams weren't invited.
"It's meaningful to the players and the teams even if it's one game," Heath said. "It's a big part of being in the Big East."
The format for the 2013 Big East tournament is still being discussed. There are 15 teams in the league this season with West Virginia's departure. Connecticut is currently not eligible for the tournament since it is not allowed to play in the postseason because of an NCAA ban for poor academics.
The coaches said the plan would be a for 14-team tournament with two games on Tuesday (instead of the previous four) and the rest of the schedule going forward from Wednesday on during championship week with the remaining teams.
Brey said the number of games for an 18-team Big East is still an issue.
"Everybody wants to play everybody," Brey said. "We can't have no-plays. And we need all of the schools to come to New York. A lot of these schools do a lot of business around the Big East tournament. We've got to figure out a way to do this. We're going to figure this all out together."
February, 27, 2012
02/27/12
5:09
PM ET
Quick hitters for a Monday:
• South Florida coach Stan Heath coached the Bulls to their 11th Big East win, leading them over Cincinnati on Sunday. The Bulls have won five of six games, holding opponents to fewer than 52 points each time. Their loss was to Syracuse, a game in which the Orange scored just 56.
"We grind it out," Heath said Sunday. "We're not great offensively but we guard."
[+] Enlarge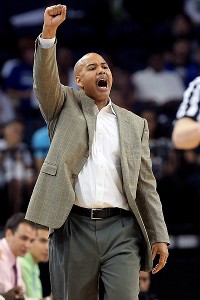 Kim Klement/US PresswireWith commitments for Chris Perry and John Egbunu, USF coach Stan Heath has his frontcourt of the future.
So, do the Bulls deserve an NCAA berth? Their overall résumé says no. The selection committee judges each team individually, regardless of conference affiliation, and the Bulls simply don't have any meat with the best nonconference win coming against Cleveland State. And only one of the 11 Big East wins was against a team in the top six (Cincinnati).
The Bulls have two games left, at Louisville on Wednesday and then home versus West Virginia on Saturday.
Beating Louisville would suffice for a top six Big East win. West Virginia would not.
"I think this team is worthy," Heath said of a bid. "I know we have to continue to win. But 11 wins in this conference? Should we be penalized for beating Pitt [twice] when they had a full deck? Or sweeping Villanova?"
Heath's point is that in a normal year picking up four wins against those two traditional powers would have meant a bid. But Pitt and Villanova will play on the first day of the Big East tournament. South Florida will not. The Bulls won't get a double bye but will likely have a single bye.
"We haven't lost to a team that isn't ranked in the Top 25 since Dec. 28 and the only other teams that can say that are Kentucky, North Carolina and Syracuse," Heath said. "We should get credit for the teams you're supposed to beat."
Notre Dame was awful in the nonconference. South Florida wasn't much better. The Irish have one more win in the Big East than South Florida. But the Irish beat elite Big East teams Syracuse, Marquette, Louisville and South Florida.
"It shouldn't be us or them," Heath said.
And it's not. The Bulls will be judged independently and that's why the 11 Big East wins isn't enough yet due to the unbalanced schedule. The Bulls continue to give themselves a chance. But they're not in yet.
• Drexel won the Colonial Athletic Association for the first time since joining the conference and will be the top seed in the CAA tournament. I've gone on record that I believe the selection committee will reward the Dragons for winning the CAA regular season outright, regardless of the nonconference RPI or strength of schedule. Drexel coach Bruiser Flint agrees. Flint said winning 17 games in a row and 23 out of 24 should count for something. The Dragons have lost one game in 2012 -- at Georgia State on Jan. 2. Flint makes one more strong argument: "We're good." Hard to debate.
• VCU was in the Final Four a year ago and to get back in the Dance, the Rams may need some help. Or will they? VCU finished second to Drexel and could be headed for a 1-2 matchup in the CAA tournament in VCU's home in Richmond. VCU coach Shaka Smart doesn't want to promote the Rams' case, but it's extremely similar to that of Drexel. VCU has won 14 out of 15 and has lost just three times in 2012. VCU took a while to figure itself out after losing most of the core from last season's team. One thing Smart said is that he wishes he could have replayed some of the nonconference games. Smart said this season's team had a better regular season than a year ago. And he quoted Butler's Brad Stevens that the pressure is on teams like VCU and Butler during the regular season but once they get in the NCAAs it's all off. All true.
• Harvard is potentially going to have to earn the NCAA bid again the hard way -- through a playoff game. The loss to Penn on Saturday means that the Crimson will have to sweep Columbia and Cornell on the road and then wait to watch Penn go to Princeton on March 6. That's assuming Penn sweeps Brown and Yale at home. If the home teams prevail and Penn beats Princeton, Penn will play Harvard in a playoff for the bid. If Princeton beats Penn and the Crimson win out, Harvard wins by not playing.
• Harvard coach Tommy Amaker said the Ivy is crazy like all the other conferences. And he won't dare look ahead past Columbia.
• Penn's Zack Rosen has been "super human," according to the Quakers' staff. Penn's staff firmly believes it has the defense to win these three games to force a playoff but this is still a tall task.
• Purdue coach Matt Painter said that putting more shooters on the floor offensively and playing better position defense has been the difference for the Boilermakers. Purdue clinched a bid -- if it was ever in doubt -- by winning at Michigan over the weekend.
• Wichita State coach Gregg Marshall isn't taking anything for granted with the Missouri Valley Conference title. The bracket has potholes for the Shockers. Indiana State could be the first opponent if it gets past Southern Illinois. Northern Iowa, which faces Illinois State, could be next, and then a possible final game against rival Creighton. "It is no easy road," Marshall said. "Indiana State won it last year. UNI was 11 in the RPI coming out of the nonconference. There are going to be a lot of tough teams."
• Butler has quite a road to get back to the NCAAs as the Horizon League automatic qualifier. The Bulldogs have to beat Wright State and then possible nemesis Milwaukee before playing at champ Valparaiso in a possible semifinal. "It's a tough draw and we look forward to the challenge," Butler's Brad Stevens said. Does this team have the ability to win three games? "We will find out."
• Georgia has won at Mississippi State and upset Florida at home. The Bulldogs could be a spoiler in the SEC tournament. How has Mark Fox done this so far? "Without [Trey] Thompkins and [Travis] Leslie we've been a jump shooting team," Fox said. "When it goes in, we can compete with most people."
November, 12, 2010
11/12/10
8:05
PM ET
College basketball starts with a heavy dose of weekend games, before ESPN's 24-hour Tip-Off Marathon offers up a slew of must-see affairs Tuesday. But before looking forward, there must be some housecleaning done on a few issues. So here are my first impressions from a sprinkling of games this week: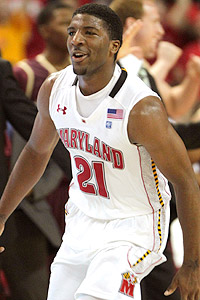 AP Photo/Rob CarrPe'Shon Howard made quite a first impression for Maryland this week.
Name to remember: Maryland freshman point guard Pe'Shon Howard
The offseason question for the Terps was who would replace Greivis Vasquez's leadership, moxie and overall late-game magic. The answer came rather quickly toward the end of the College of Charleston game. Howard made not just one, but two big-time shots to beat the Cougars. The second was all Howard, taking the ball down court and hitting a fall-back dagger of a jumper to win the game at the last second. I loved Maryland coach Gary Williams' stunned face as the buzzer sounded. He was obviously relieved, but also had to be thrilled that he had found a player who shares Vasquez's drive to do something special when the game matters most. Howard was an efficient 8-of-11 (2-of-7 at the line, though) in two games this week, scoring 19 points, dishing out 12 assists and snagging five steals.
Illinois can score: The Fighting Illini have been offensively challenged in recent years (who can forget the 38-33 loss to Penn State in '09?). But in two games this week -- albeit against poor competition -- Illinois averaged 81.5 points a game. That bodes well for a team that has plenty of talent that can push the basketball (expect games against North Carolina and at Gonzaga to be high-scoring affairs).
Texas has another stud freshman: Forward Tristan Thompson averaged 14.5 points in two games, but was even more impressive with a 17-point, seven-rebound, three-steal performance in a win over Louisiana Tech on Wednesday.
Pitt will rely on its veteran backcourt to win big: The Panthers played without injured forward Nasir Robinson in the first two games, and the consistency and production of the frontcourt is still an unknown. But Pittsburgh has two players in Ashton Gibbs and Brad Wanamaker who have matured into leaders, reliable scorers and money players in the final few minutes. Jamie Dixon can rely on these two to take over a game when needed. They carry themselves as mature young adults, ready to take the baton of leading Pitt to a possible Final Four.
Still-unresolved situations:
• Baylor coach Scott Drew said in a text message Thursday night that there had been no movement on reinstating senior guard LaceDarius Dunn for Friday's opener against Grambling State. The Bears can get by without Dunn for some time since the schedule is soft until Arizona State on Dec. 2 and Gonzaga in Dallas on Dec. 18.
• Kansas coach Bill Self said in a text Thursday night that he was hopeful there will soon be a resolution on the eligibility of point guard Josh Selby. But it didn't sound promising for the immediate future: Friday's game against Longwood and Monday against Valparaiso. Kansas starts the meat of its nonconference schedule with a rugged seven-game stretch -- Ohio, Arizona, UCLA, Memphis in New York, Colorado State, USC and at California. All of those teams, save perhaps Cal, should be in postseason contention. But the game against the defending Pac-10 champion is in Berkeley, which still makes it a difficult stop.
• Minnesota coach Tubby Smith suspended Devoe Joseph for a violation of team rules. The Gophers open against Wofford and then play Siena on Monday before going to Puerto Rico for three games, starting with Western Kentucky. Joseph is one of the better scorers for the Gophers, but this Minnesota team can take at least one suspension (unlike last season's team). In discussing this with the Minnesota staff Thursday night, I got the sense Joseph will be back sooner rather than later as long as he adheres to Smith's rules.
And now a glimpse at the weekend ahead:
Best games
No. 21 Georgetown at Old Dominion, Friday, 7 p.m. ET: The Monarchs are a CAA cofavorite, while Georgetown is a top-five Big East team. The Hoyas, who have lost two of their past three against the Monarchs, will be entering a rocking arena and will have to play well to win. This should have a February feel to it. Clearly, an ODU win will have more shelf life than a Georgetown road win. And the Hoyas have already started the season with one setback, as the school announced Friday that freshman center Moses Ayegba has to sit out the first nine games because someone who wasn't an immediate family member paid for his plane ticket to come to the United States before he enrolled in high school.
[+] Enlarge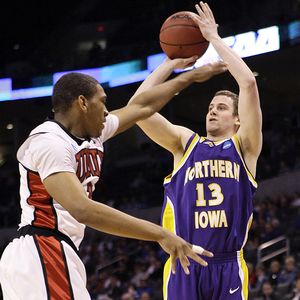 AP Photo/Tony GutierrezFresh off charming America in March, Johnny Moran and his UNI teammates open Friday at Syracuse.
Northern Iowa at No. 13 Syracuse, Friday, 7 ET (ESPN3): Don't be fooled into thinking this is the same Panthers team that upset Kansas. It's not. The Panthers lost too much of that squad to be looked at as a major threat to win at the Carrier Dome. But they will test the Orange zone. How well Kris Joseph emerges as the go-to guy and the impact of Fab Melo along the backline will be interesting developments to track.
Seton Hall at No. 22 Temple, Friday, 7:30 ET: The Pirates have been flying under the radar during all the Big East preseason talk, but still have enough talent to be a major player in the league's muddled middle. Meanwhile, Temple is the Atlantic 10 favorite and the one school at the top of the conference that has had no drama in the offseason. But a loss here at home could start the questions for Fran Dunphy's group.
Sneaky game to watch
Southern Miss at South Florida, Friday, 7 ET: The Golden Eagles project themselves as a real threat to take down Memphis in Conference USA. The Bulls are rebuilding a bit after losing Dominique Jones to the NBA. But USF is still a Big East team that won 20 games last season, so a road win here by Larry Eustachy's crew will go a long way toward earning credibility.
Notable debuts
East Tennessee State at No. 10 Kentucky, Friday, 7 ET (ESPN3): How well Brandon Knight plays at the point, Doron Lamb and Terrence Jones play on the wing and Eloy Vargas plays inside will all be interesting subplots for an Enes Kanter-less Kentucky squad. Don't forget that ETSU has gone to the NCAA tournament in each of the past two years. An upset is highly unlikely, but a young UK team had all sorts of problems with teams like Miami (Ohio) and Sam Houston State early this past season.
North Carolina A&T at No. 5 Ohio State, Friday, 7 ET (ESPN3): The Buckeyes' new stud forward, Jared Sullinger, is being billed as the possible Big Ten player/freshman of the year. Let's see if he lives up to the early-season hype.
Lipscomb at No. 9 North Carolina, Friday, 7 ET: The Tar Heels will be major players if freshman Harrison Barnes is a stud. This is our first look at America's No. 1 recruit, his fellow stud freshmen and a motivated group of UNC returnees.
Chattanooga at No. 20 Tennessee, Friday, 9 ET: The Vols have been the center of controversy this offseason due to the admitted NCAA violations by head coach Bruce Pearl and his staff. Then Tennessee lost an exhibition game to Indianapolis this week and had the critics howling. But the focus can, at least for now, return to the court and the expectations around Tobias Harris in his first game.
Detroit at New Mexico, Saturday, 9:30 ET: The Titans start the season at the refurbished Pit and get to unveil the hyped Ray McCallum Jr. The Lobos will play Tennessee transfer Emmanuel Negedu, who had to have a defibrillator put in his chest after he nearly died in 2009.
Tricky road starts
San Diego State at Long Beach State, Saturday, 7 ET: The MWC favorites begin a five-game road swing to start the season that will take them next to Spokane and then to Oxford, Ohio. Long Beach State is a Big West title contender and a heck of an opening challenge for a team with the highest expectations in SDSU history.
Florida State at UNC Greensboro, Sunday, 3:30 ET: The Seminoles, who fancy themselves to be a possible second-place finisher in the ACC, are going out of their way to challenge themselves this season with interesting road games. Florida State also goes to FIU on Nov. 18 and Loyola Marymount on Dec. 18 before opening up the Diamond Head Classic in Honolulu with a true road game against host Hawaii on Dec. 22.
August, 25, 2010
08/25/10
9:54
PM ET
While the Big East decided it won't change its tournament format for 2011, where and when its conference games will be played this season remains a long, drawn-out process.
The Big East handles its 18-game conference schedule using a poll voted on by the league's coaches in May. According to where teams are ranked, they're placed into tiers. In some years, there have been just three tiers, sometimes four, sometimes five or even six, depending on the discrepancy between the teams' point totals.
Creating a schedule for a 16-team league is inherently difficult, especially taking into consideration games played on national television. This season, the league is facing the toughest time it has had in finalizing its conference schedule because of the late release dates of schedules for professional sports teams that share venues with half of the league's teams.
The AHL minor league hockey schedule was released Tuesday, which affected home dates for the Providence Friars at the Dunkin' Donuts Center, the UConn Huskies at the XL Center, DePaul at Allstate Arena and Marquette at the Bradley Center. The NBA schedule was released later than normal this season (due in large part, the Big East thinks, because of the reshuffling of games to accommodate the changes brought on by LeBron James' free agency saga). The NHL television schedule was supposed to be released Wednesday, which would help with arenas that house NHL and Big East teams (Georgetown at the Verizon Center, St. John's at Madison Square Garden, Seton Hall at the Prudential Arena and Villanova for its handful of games at the Wachovia Center).
Georgetown and St. John's also share their venues with NBA teams as well as other events that come through New York and Washington, D.C., in the winter months. Even Louisville had scheduling issues in the past with events when it played at Freedom Hall. The new arena is still a public facility, although the Cardinals are the primary tenant.
Big East associate commissioner Tom Odjakjian, who has to put the master schedule together, has no idea when it will be finalized.
Associate commissioner Dan Gavitt said scheduling at the Wachovia Center, Madison Square Garden and the Verizon Center has historically been the most difficult to finalize.
For the 2010-11 season, there were five tiers, determining which teams are paired up together for their three repeat games.
The tiers, based on the coaches' poll, went like this:
Tier 1: Pitt and Villanova
Tier 2: Syracuse, West Virginia, Georgetown.
Tier 3: Louisville, St. John's, Notre Dame, Connecticut.
Tier 4: Marquette, Cincinnati, Seton Hall.
Tier 5: South Florida, Providence, Rutgers, DePaul.
Pitt and Villanova received 13 of the 16 first-place votes. One of the three first-place votes went to St. John's. Louisville coach Rick Pitino admitted he gave the Red Storm and new coach Steve Lavin a first-place vote May 14. "I was debating between St. John's, Pittsburgh, Villanova and Cincinnati, but I didn't want to put that on Mick [Cronin, Pitino's former assistant] so I went with St. John's."
Pitino told ESPN.com Wednesday that he was sticking with St. John's, saying in a text: "Nine seniors. Everyone but Pitt and Villanova lost key players."
St. John's was picked in the ballot to finish anywhere from first to 13th while Cincinnati's range spread from fourth to 13th. Coaches couldn't vote for their own teams.
Gavitt said the Big East has been fortunate that some of the league's notable rivalries, such as Pitt-West Virginia and Rutgers-Seton Hall, have been in tiers that allow the teams to play each other twice.
"If you're in one of the bottom [tiers] then you generally get one very difficult repeat and two repeats against your peers," Gavitt said. "If you are picked in the middle, then you don't end up playing one of the top-tier teams. But you don't get a bottom-tier team either. It hasn't happened yet where a rival is way down away from the other team."
Below is a list of each team's repeat assignments for the upcoming season:
Tier 1
Pitt: Villanova (1), West Virginia (2), South Florida (5).
Villanova: Pitt (1), Syracuse (2), Rutgers (5)
Tier 2
Syracuse: Villanova (1), Georgetown (2), Seton Hall (4).
Georgetown: Syracuse (2), St. John's (3), Cincinnati (4).
West Virginia: Pitt (1), Louisville (3), DePaul (5).
Tier 3
Louisville: West Virginia (2), Connecticut (3), Providence (5).
St. John's: Georgetown (2), Notre Dame (3), Cincinnati (4).
Notre Dame: St. John's (3), Marquette (4), Connecticut (3).
Connecticut: Louisville (3), Notre Dame (3), Marquette (4).
Tier 4
Marquette: Connecticut (3), Notre Dame (3), Seton Hall (4).
Cincinnati: Georgetown (2), St. John's (3), DePaul (5).
Seton Hall: Syracuse (2), Marquette (4), Rutgers (5).
Tier 5
South Florida: Pitt (1), Providence (5), DePaul (5).
Providence: Louisville (3), South Florida (5), Rutgers (5).
Rutgers: Villanova (1), Seton Hall (4), Providence (5).
DePaul: West Virginia (2), Cincinnati (4), South Florida (5).
Gavitt said that the Big East attempts to get the best intelligence it can from its coaches when pairing teams for their conference schedules.
"Over the last five years it has been right about 75 percent of the time," Gavitt said. "We're always going to have teams finish higher like Pitt and Syracuse did last year. You can't bat a thousand."
• The Big East is also mulling what to do with the SEC/Big East Invitational. The event is in its final year of its current format of playing at neutral sites, which it has struggled to schedule and fill. The Big East has been fortunate with the home run of Kentucky-Connecticut last December at MSG but even Syracuse-Florida in Tampa wasn't a sellout. Coaches would like to see the event continue but on campus sites with all 12 SEC schools going against 12 of the 16 Big East schools. There would be a three-year rotation for the 16 Big East schools of home/road and off (out of the event) over an eight-year time frame.
• The Big East is trying to lessen the number of Saturday-Monday turnarounds for teams to around three this season.
• A source in the Big East said there would have been serious discussion within the league to add Kansas and Kansas State had both schools been made available if expansion dismantled the Big 12 but that there has never been any real discussion about adding Memphis. Football coaches haven't been shy about the need for a ninth member for scheduling purposes but basketball coaches are against a 17th school, and for the Big East to add one or two members it has to be a home run on all fronts. Kansas and Kansas State would have been if they were available. But they're not.
May, 27, 2010
05/27/10
9:03
PM ET
NBA draft hype usually surrounds the elite talent in the lottery or the underclassmen who dominate the chatter.
Lost amid the headline names are players who are scrapping their way into the first round in the NBA's sanctioned Chicago pre-draft camp last week and in Minnesota this week -- the first of two group combines prior to the draft.
[+] Enlarge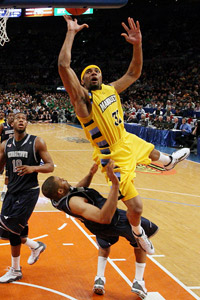 Jim McIsaac/Getty ImagesMarquette's Lazar Hayward isn't a household name, but he's proving himself with a strong work ethic.
Every year there are players, some seniors, and certainly juniors, who earn their draft position by proving to NBA personnel that they can play in the league, regardless of being pigeonholed into a position.
I'll give you three players who, through various sources, are proving that it's not all about the hype:
Lazar Hayward, Sr., F, Marquette: Wes Matthews became a major player for the Utah Jazz this past season, yet he wasn't drafted. Hayward and Matthews don't play the same position, but they came from the same school. And it matters. The work ethic out of Marquette is getting a positive vibe from NBA personnel in Chicago and those who were in Minnesota.
"He was one of the three best basketball players who participated in the workout,'' said one general manager who attended the Minnesota workouts. "He knows how to play. He's not sexy. But he knows who he is. If you put him on a playoff team that is picking in the 20s, you could plug him in the rotation.''
Hayward increased his minutes and scoring throughout his four years at Marquette, while playing for Tom Crean and Buzz Williams. He's a 6-foot-6 forward who has a nose for the ball and can crash the offensive glass. Will he sneak into the first round? His best shot might be for a team that has multiple picks, like Oklahoma City or Minnesota. But he's doing everything right to impress upon the decision makers that he'll be worthy of a first-round selection.
Hayward is proof that a player can earn his way into the NBA through development over a four-year career and without being a household name. "If you talk to coaches in the Big East, they'll tell you that he does everything for your team, playing the two, the three or the four,'' said the general manager. "He makes good decisions, boxes out and sets screens. He's perfect to play alongside big-time guys on the floor.''
Greivis Vasquez, Sr., F, Maryland: Vasquez was the ACC player of the year, so he was hardly a non-factor during the conference season. But he has been poorly tossed to the back of the line because he's a senior, and he wasn't billed as the quickest or the hotest name among point guards. He's behind John Wall, Evan Turner (yes, he has to have the ball in his hands to be effective, so put him in with the point guards), Avery Bradley and Eric Bledsoe.
But the numbers don't lie (19.6 points a game, 6.3 assists). The basketball IQ hasn't diminished, and his passion to play and to work is high among potential picks. "He's calmed down personality-wise and was terrific in the interviews,'' said one general manager. "How is he not the third-best point guard in the first round?''
You can easily make the case that if you take Vasquez behind Wall and Turner, you're getting an experienced, reliable playmaker. Bledsoe hasn't played the position for a full season by himself; he was the understudy to Wall at Kentucky in his only season there. Meanwhile, Bradley was never Texas coach Rick Barnes' choice at the position because he experimented with Varez Ward, Dogus Balbay, J'Covan Brown, Jai Lucas and Justin Mason.
Vasquez actually played the position. He's not as athletic as Darren Collison, the former UCLA standout. A year ago Collison was pushed as a possible second-round pick, but he was selected late first and ended up being a valuable player for New Orleans after Chris Paul was injured. Vasquez could end up serving a similar role to a potential playoff team looking for another experienced point.
Dominique Jones, Jr., G, South Florida: The common comment at the Chicago pre-draft camp was that Jones knew how to score big-time against Big East opponents.
So, too, did Luke Harangody of Notre Dame. But there are shortcomings with Harangody that teams will have to get over (athleticism, defensive liability, not long). With Jones, though, the upside is high with his body of work and his physical presence, earning him plenty of praise.
"Anyone good enough to get in the lane will play,'' said one general manager. "His jumper needs a lot of work, but what he can do against second-unit guys in the NBA is score. He can help teams that need a scorer off the bench. He really defends and is a better passer than people think. His interview was off-the-charts good.''
Jones averaged 21.4 points a game for the Bulls in the Big East.
There will be other three-to four-year players who didn't get much hype and will turn out to be solid additions, such as VCU's Larry Sanders. But what this proves, yet again, is that the formula to make the league isn't always about the one-and-done.
October, 6, 2009
10/06/09
7:45
PM ET
Stan Heath is pushing for
B.J. Daniels
to continue his newfound fame as quarterback at South Florida.
But he's not waiting for Daniels to return to the hardwood for the Bulls to make a football-like run in the Big East.
Daniels was a role player last season as a backup point guard and will likely serve in a similar capacity again. Heath has only kind words to say about Daniels and his 2-0 record (including a win at Florida State) since taking over for the injured Matt Grothe at quarterback.
Daniels isn't Charlie Ward, the former two-sport star at Florida State. He averaged 2.8 minutes, 0.5 points and 0.1 assists in 19 games for the Bulls last season.
But in Daniels' defense, he hasn't concentrated on basketball. He's not a program-changer at the point, but he does have a quick first step. He's more of a scorer than a point, and it's still to be determined what will happen with him after the football season, which now may extend deep into December or January with the Bulls' 5-0 start. Daniels leads the team in passing (602 yards with six touchdowns) and rushing (291 yards on 48 carries and three touchdowns).
If and when Daniels does return to hoops, what he may find is a South Florida team making some long-awaited noise. Heath is relying on a bevy of transfers to change the fortunes of a program that has fought for relevance in a crowded conference.
Ohio State transfer Anthony Crater will be eligible on Dec. 12 and is expected to gobble up a major portion of point guard minutes. Having Crater at the point allows Heath to move Dominique Jones off the ball more often, which could be a natural position for him.
Heath said Jones is already measuring up to players like Patrick Beverley and Sonny Weems from Heath's days at Arkansas.
"He's more consistent with his 3-point shot; he's added a very good mid-range game," Heath said. "I played him more as a point last year, but he'll be more of a wing and scorer and that will help him be more effective."
Jones, a 6-4 junior, averaged 18.1 points and 5.6 rebounds per game last season. He lit up Iona for 36 points. He should again be one of the more prolific scorers in the Big East. For the Bulls to be a factor, he must be. But they'll also have to get major contributions from 6-foot-10 journeyman Augustus Gilchrist (once appeared headed to Maryland and Virginia Tech), who averaged 10.2 points and 4.4 rebounds a game last season after becoming eligible after the fall semester.
Heath also brought back the maligned Mike Mercer, who didn't last at Georgia after playing 51 games there and then played in just four games for the Bulls last season before injuries and behavior got him tossed.
"I reinstated him this year. He graduated from school and in the summer we had a long talk and I felt like he did enough good things to warrant another chance," Heath said.
If Jones, Crater, Mercer, Gilchrist and the addition of 6-11 Westchester Community College (N.Y.) center Jarrid Famous can produce, the Bulls have a shot to be a pest in the Big East.
"Gilchrist is ready to step up, Jones is primed to have a really big year and Mercer is the extra guy that makes things happen," Heath said. "We'll add Crater to the lineup for the second semester to give us that speed point guard we haven't had. We'll have a good starting five with Famous. This is the year to move up; there is a little bit of a changing of the guard."
South Florida, which finished 9-22 last season (4-14 Big East), hasn't been to the postseason since an NIT appearance under Seth Greenberg in 2002. The last NCAA tournament berth came under Bobby Paschal in 1992.
The renewed optimism at USF is similar to what is going on at St. John's, a program that has struggled to survive in the 16-team Big East. The Red Storm see an opportunity to move up in the league and challenge for a single-digit finish. The same is true at South Florida.
"We had a hard time finishing games because of the lack of depth and inexperience," Heath said. "I definitely feel like we have a team that can win those games, and have a chance to get near that postseason."
The Bulls will need to make some noise in the nonconference schedule, potentially by winning on the road (at Conference USA's SMU), pulling off an upset against South Carolina or knocking off Davidson in the Charleston Classic. The Bulls also need to win some road games in the Big East. Virginia is the best "name" team in the home nonconference schedule, followed by Heath's former employer, Kent State (with which he surprisingly signed up for a home-and-home).
The Big East slate is daunting: The Bulls go to Louisville, Syracuse, Cincinnati, Georgetown, Notre Dame and Villanova for its most significant road games. Winning their share of home games against the likes of Notre Dame, West Virginia, Seton Hall, Pitt, St. John's, Cincinnati and Connecticut will be paramount to any kind of postseason bid.
• The NCAA Eligibility Center's decision to forbid deals on national letters of intent (first reported by the Sporting News) shouldn't come as a shock. But what it could mean, according to one major Division I head coach, is more scholarship aid letters signed than NLIs. The scholarship aid is not binding like the NLI.
No one should be na´ve to think that players don't sign with the coach more than the school. Xavier Henry signed with John Calipari and Memphis, and when Calipari left for Kentucky, Henry decided between Calipari at UK and Bill Self at Kansas, not Josh Pastner at Memphis. That's the reality. Kentucky and North Carolina, and at one point Indiana, may be the only schools where an elite player grows up in the state and says that's where he wants to play, regardless of the coach.
The NCAA hasn't been that tough on forbidding players from getting out of their NLIs after a coaching change (as exhibited by Henry's decision).
Taking out any potential side deals isn't likely to change the practice of looking at other options if a new coach is hired.