Category archive:

Georgia Tech Yellow Jackets
October, 4, 2012
10/04/12
6:19
PM ET
If anyone was wondering whether 15 schools could agree and get along in the new ACC, all they had to do was check the reaction to the new primary partners released Wednesday.
There was an unusual consensus. Every school was pleased.
The ACC had to adjust its scheduling format with the addition of Notre Dame, which could join anywhere from 2013 to 2015. The conference, committed to an 18-game schedule, had to lock in to two annual home-and-home series.
For a few schools, such as Virginia, there was nothing to ponder. The Cavaliers have two natural rivals in Virginia Tech and Maryland. Done.
"It makes sense geographically," UVa coach Tony Bennett said. "They've been our natural rivalries for years."
[+] Enlarge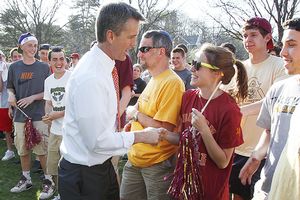 AP Photo/Michael DwyerCoach Steve Donahue believes BC's fans will be pumped to host old conference rivals Syracuse and Notre Dame each season.
Boston College landed two tough opponents, but the Eagles couldn't have been happier to get two schools that will help fill the usually staid Conte Forum. BC will play Notre Dame and Syracuse twice every season.
"It's great for our alumni and fans," Boston College coach Steve Donahue said. "I'm sure excited about it."
Understandbly, no school got both Duke and North Carolina. That would be too cruel, and it would be too hard to pull off with two other schools in the state in Wake Forest and NC State. The ACC had to balance the four schools, and it did.
Duke gets UNC and Wake Forest. NC State got UNC and Wake. Wake Forest got Duke and NC State. And of course that means Carolina got Duke and NC State, which based on the current trajectory of the four schools, is the toughest slate among the schools in North Carolina.
"I loved it," NC State coach Mark Gottfried said. "They got it right."
Wake Forest athletic director Ron Wellman, who is the 2014 chair of the men's basketball selection committee and understands the importance of getting quality teams on the schedule, said "playing two in-state rivals is the best scenario for us."
ACC associate commissioner Karl Hicks, who oversees basketball and scheduling in particular, said the majority of the matchups simply made sense.
The most intriguing issue was what to do with Notre Dame's second rivalry after Boston College. The Irish and Georgia Tech were paired up by process of elimination. Hicks said the schools have a rivalry in football, but not in basketball.
"Notre Dame has a lot of alumni in urban areas," Hicks said. "Maryland was a better fit with the partners they had [Pitt and Virginia]. Washington, D.C., would have been a good place [for Notre Dame], but Maryland's partners fit. Georgia Tech was the next one that made the most sense."
ND coach Mike Brey said it worked for him since he wanted to create new rivalries and, "I love Atlanta."
Tech coach Brian Gregory knew the Yellow Jackets would get Clemson as one rival and was overjoyed that the Irish were the other.
"I think it's great for us," Gregory said. "These are two great academic schools with great traditions. I think it will turn into a great rivalry."
Maryland coach Mark Turgeon said Pitt and Virginia are strong defensive teams which should provide four gritty games for the Terps every season. Pitt coach Jamie Dixon had no issue with Maryland and Syracuse as his school's natural rivals, saying that he expected as much based on geography.
The rest of the 14 games on the schedule will include two more home-and-home opponents (which will rotate every year) and five home and five road games that make up the other 10.
The other set partners are:
Clemson: Florida State and Georgia Tech
Florida State: Clemson and Miami
Miami: Florida State and Virginia Tech
Syracuse: Boston College and Pitt
Virginia Tech: Miami and Virginia
Hicks said the Miami-Virginia Tech series marries two former Big East rivals. Syracuse's two partners are also former Big East foes. Clemson and Florida State got natural regional rivals.
"I'm not bent out of shape one way or another," said Florida State's Leonard Hamilton, who added he wasn't against going to 20 league games. "I like the challenge night in and night out of 18 hard-nosed games."
What the two-team partner lists and the reaction proves is that a 16th team in men's basketball doesn't seem necessary. ACC commissioner John Swofford said the ACC isn't going to go to 16, and frankly, there's really no need.
July, 16, 2012
07/16/12
8:02
PM ET
Any ACC team that is stuck at the bottom of the league better be on an upward trend
when Syracuse and Pitt arrive
, or they could be banished to the cellar for a number of years.
That's why this is a critical transition year for Georgia Tech.
The once-proud Yellow Jackets have been mired in mediocrity for a few seasons over two coaches, from former coach Paul Hewitt to current one Brian Gregory.
[+] Enlarge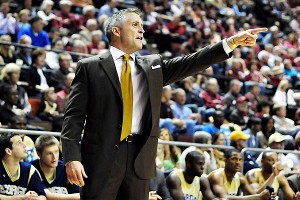 Melina Vastola/US PresswireGeorgia Tech coach Brian Gregory is hoping to improve upon an 11-20 debut season as Yellow Jackets' head coach.
Gregory was dealt a few hurdles in year one, having to play games in suburban Atlanta and downtown to limited audiences.
But now the Yellow Jackets can finally move into permanent digs, as the newly-remodeled McCamish Pavilion will be open for business when they play Tulane on Nov. 9.
How much of a difference will a new home mean to Georgia Tech?
"There is obviously going to be excitement surrounding the games," said Gregory. "It was hard to create a good atmosphere. It was difficult. We will have enough of the tradition with the Dome and the support beams, so people will recognize the old [Alexander] Memorial Coliseum.
Here are three questions for Georgia Tech heading into the 2012-13 season:
1. How much of an impact will freshman Corey Heyward's ACL injury have on the team?
"It will hurt us," said Gregory. "We return Mfon [Udofia] and Pierre Jordan, but the opportunity was there to play another guard and get him experience. He was going to be important to us this year. He has great toughness and really defends. Anytime there is an injury like that you feel crappy."
Gregory said Heyward, who will likely miss the season, was the only freshman on campus during the first summer session. So there was an early connection.
Gregory said the other three freshmen -- 6-8 Robert Carter, 6-6 Marcus Hunt and 6-3 Chris Bolden -- will have a huge impact. Considering the Yellow Jackets finished 4-12 in the league, 11-20 overall, there's no reason they shouldn't.
"They're all going to bring us something that we struggled with last year," said Gregory. "Bolden brings an exceptional perimeter shooter. Hunt brings us good toughness on the perimeter, and he can score the basketball. He's a very good perimeter rebounder. Carter can give us the post position inside and has a high skill level. They are all going to play."
2. Which returnees need to have breakout seasons?
Gregory dismissed leading scorer Glen Rice Jr. last season with six games remaining. Gregory said so far no team has picked up Rice as a transfer for his final season.
"For us to take another step, our guard play has to improve," said Gregory. "We were at the bottom in the ACC in assist-to-turnover ratio, and we need to shoot a better percentage and guard. We need to make better decisions. Mfon, Brandon Reed and [Daniel] Miller have to elevate their game to make us a better team. Mfon averaged a 3-to-1 assist-to-turnover ratio in the last seven games, so he has made great improvement."
3. How far away is Gregory from having Georgia Tech playing as his teams did at Dayton?
Don't expect it next season. The Flyers had quick guards and could push the basketball during Gregory's final seasons.
That's not happening yet at Georgia Tech.
"We're a full season away from doing it for 40 minutes," said Gregory. "We can maybe do it for stretches and play at a faster pace and defend with more pressure. I still think we won't be able to extend our defense as much. We have to adjust. Our big guys are good interior defenders. I still think our defensive field goal percentage was too high.
"We can't play the way we did at Dayton, but I still want us to push the ball offensively in the open court," said Gregory. "We can still make plays out of our defense and rebound and get out in the open court."
The additions of Pitt and Syracuse put even more pressure on a school like Georgia Tech that has to separate itself from Boston College, Wake Forest and, now probably, Virginia Tech at the bottom of the league. There is room for growth but with NC State and Maryland on the rise, Georgia Tech can't stand idle.
"We can't just take one step," said Gregory. "We've got to take two or three steps. We have to get to the point where in the ACC, like the Big East, there are seven or eight or nine teams that can get in the tournament. The Big East did it. We can too."
September, 22, 2011
09/22/11
5:10
PM ET
The ACC's decision to add Pitt and Syracuse will undoubtedly strengthen men's basketball more than its last round of expansion (Boston College, Virginia Tech and Miami).
But it will create more controversy given how a potential 14-team league might be divided.
The Panthers and Orange may come in 2012 if they can buy their way out of the Big East's exit demands of 27 months and a $5 million departure fee. The Big East has publicly stated that it wants the two schools in for the duration and for BCS purposes it may need them to ensure that the league still has the necessary amount of teams. The ACC is in no rush to add Pitt and Syracuse, but those two schools would rather not go through more than one lame-duck season.
Nevertheless, there is already discussion about how the two will be incorporated into the ACC. Formal talks on the matter won't occur until the annual meetings later in the academic year. But if the league goes to divisions, or at the very least goes to a divisional-style scheduling format, there still might be at least one team in a difficult spot: Wake Forest.
Virginia Tech coach Seth Greenberg looks at the divisional setup along regional lines -- and it makes some sense. ACC associate commissioner Karl Hicks agrees, and he acknowledged that's the way it might turn out.
If that were to happen, the North would have to be Virginia Tech, Virginia, Maryland, Pitt, Syracuse, Boston College and one more team.
The South would be Georgia Tech, Clemson, Florida State and Miami, and then there are the three schools in the Research Triangle (Duke, UNC and NC State) that would likely demand to be in the same division together.
[+] Enlarge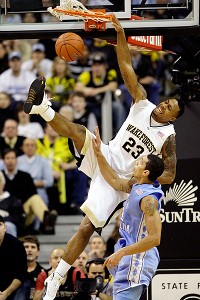 AP Photo/Chuck BurtonThroughout the years, Wake has savored its home games against powerhouses like North Carolina.
That leaves the Demon Deacons as the odd team out. Would Wake have to be put in the North, separated from its three in-state rivals?
The current 12-team divisional alignment in football isn't set up in a North-South split. Wake Forest is in the Atlantic and at least has NC State on its side with Maryland, Clemson, Florida State and Boston College. But the Demon Deacons' two in-state rivals that it would rather play more -- UNC and Duke -- are in the Coastal with Georgia Tech, Virginia Tech, Virginia and Miami.
Wake will make it clear that it doesn't want to be shipped away from the three other North Carolina schools if the league goes to two seven-team divisions. The Demon Deacons want in some form two games against the three in-state schools if there are divisions or if it's one 14-team league.
"If you do it North-South, then one North Carolina team has to be in the North,'' Wake Forest athletic director Ron Wellman said. "We want to play North Carolina more than we do. It's been four years since we played them at home in football, so we are interested in a concept where we play the North Carolina schools. That's a point of emphasis for us. As soon as we announce our schedule, our fans are disappointed that we don't play every North Carolina school in football or [twice in] basketball. Those rivalries were established before the league was in 1953.''
Wellman said when the ACC gets together next month, the topic of how to align a 14-team league will likely be discussed. Wake Forest is nearly two hours away from the Raleigh-Durham-Chapel Hill area, but Deacons fans clearly want to feel attached to the state's other ACC teams.
The other option for the conference would be to keep Wake Forest in the South and ship Miami to the North with the rationale that the Hurricanes would have to fly to every ACC school anyway due to its location (technically, the Hurricanes could drive to Tallahassee for FSU, but even that is a lengthy drive on a school night).
If the ACC were to go to 16 (which is the preferred number by Duke coach Mike Krzyzewski and North Carolina's Roy Williams, among others) and the additions were two more Big East schools (say, UConn and Rutgers), then geography naturally would put both in the North. That would be the easiest solution for the ACC, allowing Wake Forest to compete in the South.
Of course, there will be some other issues here, too. Maryland will demand that it still has its rivalry games with Duke and North Carolina. The Terps would still get to be paired with the two Virginia schools, but losing a Duke home game would seriously dampen the spirits in College Park.
In the end, Hicks said the league doesn't have to go to divisions.
"Ultimately, it will come down to a vote of the ADs and they'll decide what they'll want to do,'' Hicks said. "It will be hard to take those North Carolina schools and separate them. Rivalries and geography will be in play. The good news is that we have time to work through it. We do have permanent partners in our scheduling now. It's the same issue we have now in scheduling, but we added two more teams.''
• If Big 12 commissioner Dan Beebe is officially out of a job, then the NCAA tournament selection committee will have two of its 10 members not working while serving on the committee. The other is Jeff Hathaway, who was forced to retire at Connecticut as athletic director.
WAC commissioner Karl Benson, a former committee member, said that the personnel on the committee has always been overrated and that the committee will be fine since the system itself is all that really matters.
Hathaway's term as chair of the committee started on Sept. 1 (replacing the outgoing chair, Ohio State AD Gene Smith) and NCAA men's basketball tournament spokesperson David Worlock said there has been no change in his position. The same may be true of Beebe if he's officially out. The committee won't meet again until November, and the heart of their work doesn't really begin until January and February, anyway. Hathaway and Beebe certainly would have more time to focus on the national landscape.
The only issue that will be in play for the selection committee: Would Hathaway have to leave the room when UConn is discussed and would the same apply to Beebe when Big 12 teams are talked about, since neither would be employed by either entity?
The consensus from former committee members is that bringing in two more new members to go along with the two regularly scheduled new members to the committee wouldn't be prudent. No one wants to see a committee that has four of its 10 members doing the selections and seeding for the first time. So if Hathaway and Beebe both stay, then the only hiccup will be their role when the teams that they formerly served are being discussed.
July, 18, 2011
07/18/11
7:07
PM ET
Paul Hewitt sat inside a Savannah, Ga., hearing room with the NCAA's Committee on Infractions on April 15, unemployed and waiting to defend himself against a possible major violation that had been tagged under his watch at Georgia Tech.
But he never got a chance to speak.
There are conflicting reports as to why. A source close to COI chair Dennis Thomas, commissioner of the Mid-Eastern Athletic Conference, said he never told Hewitt he couldn't talk during the hearing. But at least two sources who were in the room told ESPN.com that Thomas said to them Hewitt didn't need to speak since he wasn't mentioned in the case and wasn't in jeopardy.
The thrust of the hearing was based on Yellow Jackets football and whether the school should have declared receiver Demaryius Thomas ineligible after he accepted $312 worth of clothing in 2009 from former Tech quarterback Calvin Booker, who had been working for a sports agent at the time.
[+] Enlarge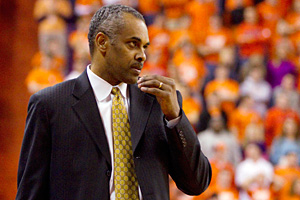 Joshua S. Kelly/US PresswirePaul Hewitt was fired after 11 seasons in Atlanta.
The sources said Hewitt was told by Dennis Thomas to sit there and not say anything since there were no penalties assessed to him. Yet, Georgia Tech had offered up to the COI a one-game suspension of Hewitt, even though it had fired him the previous month. The COI never dealt with the one-game penalty and didn't asses it. Hewitt never spoke during the hearing and neither did his attorney.
According to one source, Georgia Tech focused its attention on defending the football allegations and didn't pay as much attention to basketball. Hewitt was already gone. And the reaction from the school was that the sanctions were likely to be secondary in nature.
Hoops was more of an add-on to the football violations as the basketball focus group was looking into the camp that was conducted on Georgia Tech's campus. The finding was that the Yellow Jackets held an on-campus camp in May 2009 and that the program's academic advisor at the time, former player Jon Babul, was taking notes. Hewitt and his assistants were not at the camp.
The other issue Hewitt and his attorney, Stu Brown, had with the charge was that the rule put in place about the event came about during an NCAA session on Oct. 29, 2009, several months after Georgia Tech's camp.
Hewitt didn't receive any penalty from the COI and it didn't seem to affect his reputation much considering George Mason hired him as head coach just two weeks later. Still, the COI hit the men's basketball program currently being run by former Dayton coach Brian Gregory with a reduction of two recruiting days and four official visits over a two-year period. There were no phone call, off-campus recruiting or scholarship reductions from the hearing.
All of this adds up to more of a secondary penalty. The football program had to vacate the 2009 ACC championship and the athletic department was levied a $100,000 fine, but the damage to men's basketball is minimal at best, so this likely won't stick to Hewitt in the years to come.
Still, there is a stigma attached to a major violation under your watch.
"I'm disappointed,'' Hewitt said. "We have a difference of opinion of what happened.''
Hewitt said when LuAnn Humphrey of the NCAA enforcement staff spoke at the ACC meetings in May 2010, he realized that there might be a potential violation. He said that's when the questions started from the NCAA.
"Now my name is tied to a major violation penalty,'' said Hewitt. "It bothers me that my name is tied to a major violation that in May of 2009 wasn't in place.''
Hewitt said he wasn't on campus during the event and said there was no contact with his staff during the event. The enforcement staff charged that in May of 2009 and 2010 the event was run and operated by the program's graduate assistant. Georgia Tech and the NCAA agreed on the facts but not on the type of infractions. Tech called it secondary while the NCAA deemed it major.
The other secondary violation listed was the 10 impermissible tickets that were left by the men's basketball staff. The tickets became a violation, according to the NCAA, when they were left for people who had activity with possible student-athletes. According to multiple sources, the tickets were left for former players Matt Harpring, James Forrest and Dion Glover, who had been working out with kids who were 12 and 13 years old.
It has certainly been an eventful spring for Hewitt. He was fired. He went before the COI but didn't speak. He was hired at George Mason. He then left for a month to coach the USA U-19 World Championship team through the trials in Colorado Springs and into the tournament in Latvia, where the team finished fifth.
Now he'll be on the road next week for the final 10 days of the July evaluation period.
"We had a great group of guys,'' Hewitt said of the USA team. "We had that one game where we didn't shoot well, going 0-for-9 on 3s. There will be benefits in the long run. Everyone that went through it made an incredible sacrifice.''
Hewitt said he regretted that the Americans weren't able to play Lithuania for the gold medal in a raucous road environment in neighboring Riga, Latvia. USA had lost to the Lithuanians in an exhibition but then beat them during pool play.
"We didn't get that chance to play them in that crowd,'' Hewitt said of the eventual gold-medal winners. "I'm not sure we would have beaten them, but I like our chances.''
Hewitt said one of the toughest breaks for the Americans was losing Cal's Allen Crabbe during the trials to a broken nose and concussion. He said as soon as that happened and Crabbe was deemed unable to go on the trip, he knew shooting was going to be an issue for the team.
"I remember sitting there with Randy Bennett [assistant coach on the team and head coach at Saint Mary's] and saying, 'Damn, I hope it's not serious,''' Hewitt said. "He would have made the team. I think coming in he and [Creighton's Doug] McDermott were the best 3-point shooters.''
Hewitt said outside of the obvious choices of McDermott, Joe Jackson (Memphis), Patric Young (Florida) and Jeremy Lamb (Connecticut), he said he could see Meyers Leonard of Illinois having a breakout season after his play with Team USA.
"He's got a lot of potential,'' Hewitt said. "He's athletic. He can shoot the 15-foot shot. He can block shots. He runs well.''
As for his Patriots? George Mason is the predicted favorite in the CAA and added a major impact player in Erik Copes, a top-50 recruit who originally signed with George Washington before Karl Hobbs was fired.
"He's here, he's all set and he's ready to go,'' Hewitt said.
April, 6, 2011
04/06/11
7:53
PM ET
This spring's coaching carousel is mirroring the NCAA tournament -- it's unpredictable.
But there is a common theme that has been woven through some of the recent hires: Coaches, even assistant coaches, are staying because they are being paid well and enjoy the comfort of their situation, and they aren't going to a new situation unless they feel they must.
Look at what has occurred:
• NC State hired former Alabama coach Mark Gottfried, who was fired from his job two years ago, after athletic director Debbie Yow couldn't get VCU's Shaka Smart or Wichita State's Gregg Marshall. She also made overtures to plenty of high-profile candidates like Texas' Rick Barnes and Texas A&M's Mark Turgeon, who weren't going to move to Raleigh from well-paid, comfortable situations and compete against Duke and North Carolina.
Gottfried will recruit well. He'll schmooze well with the media. He'll coach well. But it's hard not to see that Yow didn't settle since she hadn't contacted Gottfried until Sunday night and then hired him Tuesday morning.
Yow, the ex-AD at Maryland, then lashed out at her former employee, Maryland coach Gary Williams. It was no secret they had a contentious relationship. In response to a reporter's question about whether she was difficult to work with, Yow said: "I don't have a reputation across all men's basketball of being difficult to work with. I have a reputation of not getting along with Gary Williams, who has tried to sabotage the search. Come on, we all know that. OK, so whatever. It's not a reputation. It's Gary Williams out there doing his thing. Whatever."
Well, Williams said Wednesday morning: "I never said anything to anybody. I coach basketball at the University of Maryland. I care about my program. I don't go around talking about other jobs and making sure someone doesn't take a job. I'm an easy target."
Yow's comments at the news conference were disrespectful to Gottfried, essentially saying that had she been free to go get her own coach without Williams sabotaging her, she would have landed someone other than Gottfried. Well, the Williams-Yow relationship had nothing to do with landing Gottfried. Coaches staying put -- Smart, Marshall and Richmond's Chris Mooney (who got a new deal) -- created the opportunity for Gottfried.
• Missouri went with a safe pick with Miami's Frank Haith, who knows the area well but wasn't in the NCAA tournament this season. Georgia Tech did the same thing by hiring Dayton's Brian Gregory, who is a solid coach with a tremendous work ethic. But that's three power six conference schools that hired a coach who was not in the NCAA tournament this season.
• Utah went with a coach from the NBA, Larry Krystkowiak. The ex-New Jersey Nets assistant, who led Montana to consecutive NCAA tournament appearances in 2005 and 2006, is well-known in the region. But he wasn't a traditional hot name hire from the NCAA tournament.
• Oklahoma might have pulled off the best hire in terms of finding a coach who was in the NCAAs, is familiar with the area, and was willing to move: UNLV's Lon Kruger.
• Dayton hired Arizona assistant Archie Miller after Duke assistant Steve Wojciechowski decided against the Flyers. He makes too much money at Duke and has a great situation.
• The only situation where a school couldn't retain its head coach due to money was Princeton. Sydney Johnson went to Fairfield because the Stags pay more. End of story. He isn't going to weep at the podium after a Fairfield game. Johnson loved Princeton and genuinely felt awed by the Tigers beating Harvard in dramatic fashion and then nearly beating Kentucky. But Johnson was shopping around to Towson and Bradley before landing at Fairfield. Fairfield is ready to win the MAAC with Derek Needham back and Boston College transfer Rakim Sanders eligible. Princeton needs to start paying in the $300,000 range to keep someone like Johnson. If Princeton AD Gary Walters decides to stay in the family, he will likely turn to Brian Earl, Mitch Henderson or Mike Brennan. If not, the job is wide open.
• BYU and Dave Rose agreed to a new deal as expected. BYU finally paid a high rate to keep a coach.
• Miami should consider former Boston College coach Al Skinner for its opening. Skinner is the all-time winningest coach in BC history and would be perfect for the personnel, with Reggie Johnson a Craig Smith-like force inside. The Hurricanes probably can't afford to lure Frank Martin out of Kansas State to his hometown. Miami can't slip in the ACC.
• Haith's departure from Miami on the heels of Paul Hewitt's firing at Georgia Tech leaves the ACC with only one African-American coach among the 12 schools -- Florida State's Leonard Hamilton.
June, 25, 2010
06/25/10
6:07
PM ET
NEW YORK -- You can blame it on poor advice, workouts, injuries, the NCAA's very early early-entry withdrawal date or whatever else you might choose.
But it's hard not to think about the players who came out early and went undrafted Thursday night.
Not everyone's situation was dire, of course. There's no reason to pick on any early-entrant that went in the first round. They made a wise decision. Period.
If you want, you could point out that Elliot Williams might have gone higher next season than No. 22 or Dominique Jones could have landed at a better number than No. 25 or certainly Kentucky's Daniel Orton may have been a much higher selection next season than No. 29.
But Williams can be a fit as a solid backup guard on a likely playoff team (Portland), Jones should fit in well as a scorer off the bench in Dallas and Orton should get a shot to grow and mature with the consistently surging Magic.
But for now, let's examine the rest of the relevant early-entrants:
The Mistakes
Hassan Whiteside, Marshall (No. 33 -- Sacramento): Whiteside declared to be at least a mid-first round pick. Sure, his coach Donnie Jones split for Central Florida, but had he played for Tom Herrion next season I'd be shocked if he wasn't a lottery pick in 2011. Instead, this raw 6-foot-11, 227-pound center went No. 33 to Sacramento, where he might not make the squad after the Kings selected DeMarcus Cousins of Kentucky at No. 5 and earlier in the week made a deal to acquire veteran center Samuel Dalembert from the Sixers.
[+] Enlarge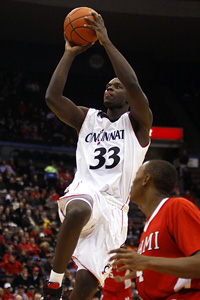 AP Photo/Tony TribbleThe much-hyped Lance "Born Ready" Stephenson was drafted 40th overall on Thursday.
Lance Stephenson, Cincinnati (No. 40 -- Indiana): The Pacers do need guards and maybe Stephenson can flourish with Indiana if he makes the squad. But there's no way, with all the hype he had coming out of New York, that he projected himself to be a middle second-round pick. Stephenson had a real shot next season with the Bearcats to be an all-Big East player. He would have refined his game and been able to mature even more. Now he'll have to scratch out a career the hard way.
Gani Lawal, Georgia Tech (No. 46 -- Phoenix): This is actually one of those cases where the player may have been better served leaving early last year. He was a borderline first-round pick a year ago. He's more mature and maybe more ready to handle the NBA now, but the middle of the second round has to be a major disappointment. His best hope is that free agent Amare Stoudemire hits the road and frees up a little room at power forward.
Solomon Alabi, Florida State (No. 50 -- Dallas to Toronto): I was stunned Alabi slipped this far. I'm sure he and his representation were too, considering he was bandied about as a first-round pick from 19 on down. Alabi could have been the dominant shot-blocking center next season in college, much like Mississippi State's Jarvis Varnado. Alabi had to work on his offensive game and would have been featured even more by Florida State. Instead, he now has to make the Raptors. Not an easy road.
Derrick Caracter, UTEP (No. 58 -- Los Angeles Lakers): Caracter had a complete transformation with his body, mind and attitude for Tony Barbee last season after a dysfunctional career at Louisville. He was a real player. Had he stayed to play for new coach Tim Floyd next season, I'd be stunned if he didn't improve his overall game and become at least a first-round pick. Instead, he chose to bolt and now he'll have a difficult time making a squad and may be forced to go overseas.
The Good Fits
Terrico White, Ole Miss (No. 36 -- Detroit): White was convinced he was a first-round pick and he nearly went to Atlanta at No. 24. Washington would have had interest had it kept its pick at No. 30. But going to the Pistons could be a good move for White. He should fit in quite well under the Joe Dumars plan and Dumars might see some of himself in White if he can become a better defender and a true pro. White has the stocky build to deal with the physical style of the NBA. He's a tremendous athlete too and could flourish on the break.
Devin Ebanks, West Virginia (No. 43 -- Los Angeles Lakers): Ebanks was a projected first-round selection when he came out of high school. He could have tantalized some NBA personnel a year ago after his freshman season. But there were questions during his sophomore season after an early, unexplained three-game absence and an offensive game that faded at times. His defensive game-changing ability made him an integral part of West Virginia's Final Four appearance. He was considered a first-round talent, but he slipped a bit. He was fortunate he landed with the Lakers. If he makes the squad, he could be a Trevor Ariza-like find for L.A. His defense would be much welcomed by the champions and he has a real shot to make this squad. Going to the best team in the league isn't a bad spot to land, even in the second round.
Hard To Know
Armon Johnson, Nevada (No. 34 -- Portland): Johnson was a relative unknown nationally. He wasn't a lock to be in the first round had he stayed around Reno, so going this high in the second was probably better than expected. But it's unclear if he can make the Blazers, so the location might not work out well.
Darington Hobson, New Mexico (No. 37 -- Milwaukee): Hobson had a stellar season for the Lobos. Had he returned he might not have been any higher than where he went this season. The Bucks probably can't keep all of their picks, so he'll have to work hard to make the squad.
Tiny Gallon, Oklahoma (No. 47 -- Milwaukee): Gallon was one of the more polite players I met during the NBA draft combine in Chicago last month. He is clearly trying to make this work. It didn't work out at OU. If he can stick with the Bucks as a second-round pick, that's better than most expected when he left after only one season.
The Enigma
Willie Warren, Oklahoma (No. 54 -- Los Angeles Clippers): Warren could be a steal for the Clippers. If he makes the team, he'll be joining former teammate Blake Griffin, who will play his rookie season next year after being hurt all of last season. But that's a big if. Warren was a preseason all-American and the preseason Sporting News player of the year. Instead, he battled injuries and illnesses throughout the season, was questioned about his poor body language and clearly wanted out of OU. His drop from headline name to afterthought is almost unheard of within one year in the basketball world. He was humbled by his play and the Sooners' swoon last season. Now he's been pushed further down by being selected at No. 54. How he reacts to his latest setback will tell us quite a bit about his desire and character going forward.
The Forgotten
Armon Bassett, Ohio: He had a memorable run in the MAC tournament and contributed to the Bobcats' stunning win over Georgetown in the first round of the NCAA tournament. He wasn't going to go back to Ohio. He didn't get selected, so it's likely off to Europe unless he can land on a summer-league team and make his way.
Charles Garcia, Seattle: Garcia was a hit early for NBA scouts. He drew their attention with his productivity on the glass. But he wasn't able to crack the second round and will have to see if he can make a squad.
[+] Enlarge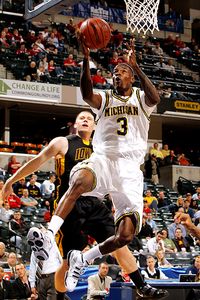 Jonathan Daniel/Getty ImagesManny Harris was one of the more notable college players left on the sidelines at the NBA draft.
Manny Harris, Michigan: Harris must not have enjoyed playing for the Wolverines much last season or got horrible advice. Or both. Harris had a chance to be a all-Big Ten first-teamer and a candidate for conference player of the year had he stayed in school. He did not and he didn't get drafted.
Courtney Fortson, Arkansas: Fortson had been suspended at Arkansas during his career. Had he been able to stay with the Hogs, he would have been one of the top point guards in the SEC. Alas, he could not. Fortson will have to find his own way and try to earn money around the globe.
Mac Koshwal, DePaul: Koshwal could have returned to play for Oliver Purnell and make some headlines in the Big East. Instead, he goes unselected. Not a good tradeoff.
Sylven Landesberg, Virginia: Landesberg couldn't have come back to the Cavs after being suspended at the end of the season. He had to make his way through the draft. It didn't happen and now he'll likely have to earn coin overseas.
Tommy Mason-Griffin, Oklahoma: There is no explanation for this decision unless he simply had no choice. He wasn't going to get drafted. He did not.
Elijah Millsap, UAB: The legacy of his family name in the NBA didn't do much for him. Had he returned to play for Mike Davis, he would have had a shot to increase his profile. Now he'll have to forge a difficult path.
A.J. Ogilvy, Vanderbilt: This one is a real shame for Kevin Stallings and his Vandy players. The Commodores would have had a real shot to compete for a top-two spot in the SEC East with the return of Ogilvy. Without him, they will likely be fending off Georgia for fourth. The Australian has a real shot to earn significant dollars overseas, but going unselected was hardly the projection he probably had for himself.
Samardo Samuels, Louisville: There was a buzz about Samuels' excellent work ethic late in the draft process. That might be enough to carry him onto a summer-league team and get a real shot to make a fall camp roster. But there's no way he thought that was his path when he decided to leave the Cardinals. Had he stayed he would have been one of the top big men in the Big East. He would have had free promotion from network television. Instead, he will have to make a team in an obscure manner.
May, 10, 2010
05/10/10
10:13
PM ET
Major conference meetings for athletic directors and coaches start this week and extend through the month.
The ACC meetings have begun. The Big Ten is on deck.
There may be no pressing decisions to be made, but there will be plenty of chatter on expansion -- how the NCAA tournament selection committee will handle a new 68-team tournament in 2011 and whether or not a tectonic shift will occur in college sports.
Everyone is still waiting to see what the Big Ten will do as it contemplates whether to expand by one team to get to 12, by three to get to 14 or by five for a mega 16-team league that is sure to be extremely disruptive to its brethren in college athletics.
There's no reason to pretend that this is a basketball decision. It's not. It's about football first, which means dollars more than anything else. Travel issues are a concern but academic compatibility for the Big Ten, maybe more so than any other major conference, is a primary issue.
After a number of conversations on the subject in the last 10 days, including with one source that has direct knowledge of what the Big Ten may do, there was this piece of advice for those of us who like to speculate: Think out of the box.
No one seems to dispute the obvious that if the Big Ten were to expand by one there is only one choice: Notre Dame. The Irish are the one school that can allow the league to feed a 12th mouth and not dip below $22 million for the other 11. Rutgers, Missouri, Nebraska, Pitt, Syracuse or Connecticut just can't do it on their own and none of them brings the national appeal and overall cachet of the Fighting Irish.
So if you think out of the box, as advised, then seriously look at three schools that will be meeting this week with their conference members and another that will be part of another conference meeting this month.
The Big Ten isn't restricted to inviting only schools from the 63-member Association of American Universities (of which every current league school is a member), but it would certainly help on the academic side. Prestige of universities is important. Location in a major, travel-accessible city helps as well.
That's why at least one source said Maryland and Georgia Tech from the ACC and Vanderbilt out of the SEC make sense. In terms of location, Nashville, Tenn., is less than 400 miles from Columbus, Ohio. Bloomington, Ind., is only four hours away from Nashville. Champaign, Ill., is five hours away.
Vanderbilt makes a lot of sense academically because it is similar in many regards to a school like Northwestern. Of course, leaving the SEC for any league is a possible reach because of the money the SEC produces. The natural rivalries for Maryland and Georgia Tech (the latter of which joined the AAU just last month) in the ACC might be too much to leave, but the money the Big Ten could offer may make this interesting.
Of course the Big Ten could decide to do nothing -- or like the NCAA going with the 68-team basketball tournament over the more-hyped 96, could go with a much tamer expansion, adding just one.
There may be some dominoes that have nothing to do with the Big Ten. The Mountain West has to decide if it will make a run at adding Boise State from the WAC regardless of what occurs. The MWC could be even more proactive and raid the WAC by grabbing Boise, Fresno State and Nevada. TCU is making a play for the Big 12 if the league were to lose Missouri or Nebraska to the Big Ten or Colorado to the Pac-10.
The Pac-10 has to consider Utah and Colorado as possible additions or the staid league could just stay put as it has done for decades. BYU could be the odd school out, not invited to join either the Pac-10 or the Big 12.
There are still plenty of chairs to move and the picture might not be any clearer after this month. But at least there will be plenty of chatter on the subject to make things more interesting in the dog days of summer.
April, 28, 2010
04/28/10
10:43
PM ET
A record number of early entrants are expected to be on the official NBA list when it is made public this week.
But according to members from the conference that helped push a shortened window for testing for the NBA draft, the reason for it has nothing to do with a new NCAA deadline to withdraw.
Instead, coaches in the ACC have been told that the high number of players declaring this spring -- a number that could be well past 100 when the list is made official by the NBA as early as Thursday -- is because there's a fear of a league lockout and dwindling rookie salaries in 2011 and beyond.
"It's the fear of the lockout," said Georgia Tech coach Paul Hewitt. "And it's the fear of the rookie wage scale going down. That's what I've been told."
The ACC was at the forefront of pushing for a shortened window in the early-entry draft process. Underclassmen had two months to test the NBA draft process before this season. The NCAA has changed the rules as to what has been permissible over the years. There was a time when players testing the draft process had to pay their own way to team workouts, and even to the pre-draft camp. Then the NBA was allowed to pay for players at the draft camp but not for team workouts. Then the rules changed again, allowing teams to pay as the NCAA struggled to keep up with the money trail.
But there were a number of complaints from college coaches who said the players were taking too long to decide, holding their programs hostage during the NBA draft process and waiting until the NBA's deadline to withdraw: 10 days before the draft in mid-June. That deadline from the NBA hasn't changed, but the NCAA deadline has been moved up from mid-June to May 8, leaving players less than two weeks from the April 25 deadline to decide if they will stay in the draft.
NBA teams are allowed to start working out players Thursday. In the past, NBA teams weren't allowed to work out players until May, and in some years not until after the pre-draft camp, which is usually in late May. This year it is May 19-22 in Chicago. That had usually been a gauge for underclassmen to get a sense of whether they were able to get into the late first round before making a decision on whether to stay in the draft. But that option is not open to them this year, with the early deadline.
ESPN.com conducted an informal poll of NBA teams Wednesday to see if they were even going to have workouts during the brief April 29-May 8 window. More than half responded, and only two teams -- the Blazers and the Lakers -- said they were planning on having one workout during this window.
Kentucky coach John Calipari said he thought about having a workout this weekend for freshman point guard Eric Bledsoe, the one certain early entrant who is testing the draft, but he lined up "three to four teams who I trust who are going to work him out" before the May 8 deadline. The other possible fence-sitter is freshman Daniel Orton, although it appears he could be leaning toward staying in the draft with fellow freshmen John Wall and DeMarcus Cousins as well as junior Patrick Patterson.
Hewitt said he feels bad for the players who are on the fence and waiting to see if they're going to get workouts.
Maryland coach Gary Williams said the rush of underclassmen this year is all due to the perception of a possible lockout, not a shortened window. "What we've been told is that they'll come out, and if they don't make it then it would be better to just go to Europe for a year and already get going in case there is a lockout next year," Williams said.
Williams saw no issue with the shortened window and said if it doesn't work, then the NCAA membership should address it again. Williams has always been a proponent of players leaving directly out of high school as opposed to the current rule that requires draft picks to have been out of high school for a full year, as well as to turn 19 during the calendar year of the draft.
North Carolina's Roy Williams was one of the more outspoken coaches two years ago when he had three players (Tywon Lawson, Wayne Ellington and Danny Green) testing the draft process down to the final hours. All three returned after none of them was guaranteed a top-20 draft spot. Their return, coupled with 2008 national player of the year returnee Tyler Hansbrough, put the Tar Heels on the path to the 2009 national title.
If the shortened window had been in place two years ago, Williams said only Lawson might have stayed in the draft. "Danny would not have gone at all. Wayne wouldn't have stayed in the draft; Tywon might have," Williams said. "Is this perfect? No. But it's far better than what we had -- two months of waiting in 2008. Guys were working out 12 to 14 times. I had as many as 18 different teams represented at games. I'm one of those guys who lets scouts come to practice."
Williams said shortening the window, and NBA teams not opting for workouts in this shortened time period, is a way the "clubs justify the large scouting [budgets]. They spend thousands of dollars all season watching and evaluating. They don't want to make bad decisions. They see games all year."
The purpose of past workouts has been for the coaches and general managers (the latter to get out some time, the former not at all during the season) to get a first-hand look at a player in their particular facility. Still, workouts have been overplayed in the past. Rarely is a player selected strictly on how he works out. Usually the workout hurts the player more than it helps push him to be drafted. A player who doesn't work out against another player can be common practice among elite draft picks.
Williams said sophomore Ed Davis, who was out with a broken bone in his hand toward the end of the season, considered the fear of a lockout as one of his reasons for staying in the draft. "That was a factor but so was that fact that he got hurt," Williams said. "In my opinion, the window could be a little longer [than a week], but two months was too long. In football they get just three days."
Calipari added that "two months is too long, but one week isn't long enough. These kids can't get a true gist of where they are. There are 70 kids that think they're the last 10 picks of the first round. But once they start sliding and the team hasn't worked you out, they're not picking you."
November, 12, 2009
11/12/09
6:22
PM ET
Here are 10 programs that will jump within their respective conferences after a disappointing 2008-09 season:

Georgia Tech
2008-09 record: 2-14 ACC, 12-19 overall
Reason for optimism: The Yellow Jackets brought in arguably the best freshman center in Derrick Favors. He'll team with Gani Lawal to form a formidable frontcourt. Georgia Tech is healthy on the perimeter and deeper than it was a year ago. The Yellow Jackets also should finally know how to close out games. (Yes, I know they needed overtime to hold off Indiana of Pennsylvania in an exhibition game.) They're the only team in the ACC that will play North Carolina and Duke twice, so they should have the best power rating of any of the 12 ACC teams.
What could happen: Georgia Tech could win the ACC. Yes, the talent is in place for the team to go from two wins to the league title.
What's likely to happen: The Yellow Jackets should win nine to 11 games in conference play. That would be at least a seven-win swing, good enough to get them into the NCAA tournament.

Iowa State
2008-09 record: 4-12 Big 12, 15-17 overall
Reason for optimism: Craig Brackins returns to the Cyclones, and he has the potential to be a Big 12 Player of the Year candidate and All-American. Add junior college transfer Marquis Gilstrap, and the Cyclones could have one of the best one-two scoring punches besides Kansas and Texas in the Big 12. Iowa State's Hilton Coliseum also is one of the best home courts in the country. Don't be surprised if the Cyclones knock off one of the big boys at home this season.
What could happen: The Cyclones could pluck off a few key wins -- perhaps winning at least one game among Duke, Kansas (twice) and Texas to earn an NCAA tournament berth.
What's likely to happen: Iowa State should improve to at least a nine-win team in the Big 12 and be squarely on the tourney bubble in March.

Oregon
2008-09 record: 2-16 in the Pac-10, 8-23 overall
Reason for optimism: Coach Ernie Kent is billing Jamil Wilson as one of the top freshmen he has coached. If Wilson is as good as advertised, the Ducks have a real shot to climb in what should be a shaky Pac-10. The return of senior point guard Tajuan Porter and the likely improvement of a sophomore class that underachieved last season should give this team hope. Adding assistant Mike Dunlap should help in game management, too.
What could happen: The Ducks have enough talent to finish third in the Pac-10, jumping from two wins to 10 or 11.
What's likely to happen: Oregon probably will be in a tussle with Oregon State, UCLA and Arizona to finish in some order of 3 through 6 in the conference and be on the NCAA tournament bubble. The problem is the Ducks' nonconference slate might not be ranked high enough to earn a bid.

St. John's
2008-09 record: 6-12 Big East, 16-18 overall
Reason for optimism: The Red Storm are the only Big East team that returns all five starters. Coach Norm Roberts has focused on this season to be his best. Losing Anthony Mason Jr. for the start of the season hasn't hurt as much because Mason didn't play last season or on the team's trip to Canada during Labor Day weekend. This team already has learned how to play without him. The other thing going for St. John's -- if the Red Storm are ready to handle the pressure -- is the Big East is open to change this season. Plenty of moves could happen, with teams such as Marquette and Providence sliding to the bottom of the league, and that should allow the Red Storm to climb. That challenge will be daunting but nowhere near as imposing as it was a year ago.
What could happen: This is still the same group of players who finished 6-12 in the Big East, albeit in a stronger conference. Moving ahead of Seton Hall, Cincinnati, Pitt, Notre Dame and Syracuse would be quite a feat.
What's likely to happen: The Red Storm will be in the mix for a top-10 finish in the Big East and could move into the eight- or nine-win range in the league. But even that is likely to mean more of an NIT berth than an NCAA one.

Indiana
2008-09 record: 1-17 in the Big Ten, 6-25 overall
Reason for optimism: The carnage of the Kelvin Sampson era has finally subsided, and under the leadership of coach Tom Crean, the Hoosiers finally can begin to rebuild. Indiana adds an experienced transfer in former Georgetown guard Jeremiah Rivers, who will team with sophomore Verdell Jones III. The Hoosiers still will be one of the youngest teams in the Big Ten, but there is plenty of fight in this group.
What could happen: The Hoosiers could move past Iowa and Penn State to finish at least ninth in the Big Ten with possibly five wins in the league.
What's likely to happen: The problem is the league may be the best it has been this decade. The Hoosiers draw tough road games at Illinois, Michigan, Ohio State, Purdue and Minnesota. The only break is that Michigan State will visit Indiana, but the Hoosiers won't make a return trip to East Lansing. Indiana probably won't make the postseason, but it will show an improvement in the win-loss record in the league and be a peskier putout.

Charlotte
2008-09 record: 5-11 Atlantic 10, 11-20 overall
Reason for optimism: The 49ers are banking on Boston College transfer Shamari Spears to be their go-to inside scorer. He already proved to have soft hands during exhibition play. Finishing in practice was never an issue for Spears at BC, but when the lights were on, his fingers became butter at times. If he can be a lock for the 49ers inside, he'll prove to be the perfect balance to guards Ian Andersen and DiJuan Harris. Losing Lamont Mack hurts the scoring pop, but this team may be better-balanced.
What could happen: The Atlantic 10 will be dominated by Dayton, with Xavier and Richmond on the Flyers' heels. But don't dismiss the 49ers. They have the potential to make a significant jump into the nine- or 10-win mark. Charlotte will play Xavier twice and get two shots at Richmond. Playing at Dayton won't help, but the 49ers will have a chance to compete with the others for second.
What's likely to happen: Charlotte still should finish no higher than fourth, but it will earn enough good will through its record and ranking (playing at Louisville, at Old Dominion, home against Georgia Tech and at Tennessee) to earn a postseason berth of some kind.

Fresno State
2008-09 season: 3-13 WAC, 13-21 overall
Reason for optimism: Paul George. Can I say it again? Paul George. He is a star and one of the NEXT athletes ESPN has been pushing. The Bulldogs under Steve Cleveland have been all over the place, but there is a sense that things should settle down in a league that doesn't have an intimidating team. Sure, Utah State is the favorite in the WAC, and Nevada has Luke Babbitt, but it's not as if Fresno State can't climb from three wins to at least eight in the league.
What could happen: The Bulldogs should be in the mix, at least in the middle of the pack.
What's likely to happen: Expect Fresno State to affect the WAC race but fall short of a postseason berth.

Rice
2008-09 season: 4-12 in CUSA, 10-22 overall
Reason for optimism: The Owls recruited well under Ben Braun. The freshman class should increase the talent quickly in Houston.
What could happen: If the freshmen can produce quickly, a four-win improvement isn't totally out of the question.
What's likely to happen: The problem with moving up to eight wins is that the league is even more balanced this season with Memphis, UTEP, Tulsa and Houston capable of winning the conference.
Florida Atlantic
2008-09 season: 2-16 in the Sun Belt, 6-26 overall
Reason for optimism: Owls coach Mike Jarvis is talking up freshman point guard Raymond Taylor as the next Shawnta Rogers, his former diminutive but highly productive scorer at George Washington. The Owls will be one of the youngest teams in the league, but they should be more talented and productive.
What could happen: The Sun Belt will be led by Western Kentucky, North Texas and Denver, but it's not as if any of those teams is intimidating. There is room for FAU to climb significantly in the league standings from two wins into the seven or eight range.
What's likely to happen: FAU will climb, but it won't be enough to yield a postseason berth. If there is improvement this season, then postseason could be in the discussion in 2011.

Hartford
2008-09 season: 2-14 in the America East, 7-26 overall
Reason for optimism: Let's start with Binghamton's implosion. That should send last season's champ down to the bottom of the league, pushing up a team like Hartford. The rest of the conference is solid and has some noteworthy players, including Vermont's Maurice Joseph and Marqus Blakely. New Hampshire and Boston University should be in the mix for the title, too. But there is room for advancement for the Hawks. Newly named assistant Rick Brunson, a longtime NBA player, was added to Dan Leibovitz's staff and has raved about junior college transfer Milton Burton. Having a healthy Joe Zeglinski on the perimeter will help the balance. If this team can defend and rebound, it will have a shot to move into the eight-win range in the America East.
What could happen: Remember, the Hawks played for the America East automatic berth in 2008, and they'll host the first two rounds of the conference tournament this season. So a run to the title game isn't out of the question if they can make the Chase Arena at Reich Family Pavilion rock.
What's likely to happen: The Hawks will improve their win total but won't reach the postseason.
October, 15, 2009
10/15/09
1:36
AM ET
Quick hitters for Wednesday:
• America East coaches privately doubted that Binghamton coach Kevin Broadus would even make it to Friday for the opening of practice. Clearly, they were correct in their prediction.
Wednesday's announcement that Broadus has been put on an indefinite paid leave of absence shouldn't be a shock. Assistant coach Mark Macon, a former NBA player and Temple great, is getting his chance to be a head coach. Broadus will likely search for a settlement at this juncture, since his contract was extended to 2013-14. The odds of Broadus' returning to Binghamton are practically nil, especially after he last week admitted to violating NCAA regulations by contacting two recruits during an evaluation period.
The consensus is that whoever fills the Binghamton slot on a full-time basis in 2010-11 will likely find the standards even more stringent, making it a tougher job than it already was in the America East.
• Buffalo coach Reggie Witherspoon is wondering why the Bulls didn't push harder to get a return game from Purdue. The Bulls have been extremely successful in playing hardball in scheduling the past four seasons, getting a Big East team to come to Buffalo after holding out a game to the last minute.
Buffalo helped Purdue fill a spot in its schedule after the Boilermakers moved their game against Ball State from Dec. 5 at Mackey Arena to Dec. 19 at Conseco Fieldhouse for the Wooden Tradition. Buffalo took $80,000 for the date but didn't get a return game in 2010-11. There's no guarantee Purdue would have agreed, but there is a chance, considering it's October and the Boilermakers are still looking for a game.
• Marquette coach Buzz Williams said former Kentucky coach Billy Gillispie is expected to come up to observe the Golden Eagles practice in the coming weeks. Williams worked for Gillispie at Texas A&M. Williams said he's glad Gillispie's lawsuit with Kentucky is over so that Gillispie can move toward finding a full-time head coaching job.
Gillispie wanted $6 million from Kentucky but got a shade under $3 million. There's no way Kentucky fired him in the spring thinking they had to pay him the full $6 million. Gillispie's settlement means Kentucky basketball is paying out more than $6 million in coaching salaries when combined with John Calipari and his staff. If Gillispie can get his life in order after a DUI arrest and reported rehab stint, the settlement should help him land at least an assistant job in the coming years. Athletic directors would likely run away from a coach who is involved in litigation against his former employer.
• Dino Gaudio's contract extension with Wake Forest through 2013-14, announced Wednesday, is much deserved. Gaudio guided the Demon Deacons through their most difficult period after the tragic death of former coach Skip Prosser. Gaudio has had a bit of a staff shakeup, but not for anything but personal advancement and proximity for those who have departed. Gaudio is well respected in the ACC, and there is no reason to believe the Demon Deacons won't continue to be a player in the conference.
• Florida's Billy Donovan received the John Wooden Legends of Coaching honor Wednesday, joining quite an impressive list of names. The previous winners are: Rick Barnes (Texas), Pat Summitt (Tennessee), Gene Keady (Purdue), Jim Boeheim (Syracuse), Jim Calhoun (Connecticut), Mike Montgomery (Stanford), Roy Williams (Kansas), Denny Crum (Louisville), Lute Olson (Arizona), Mike Krzyzewski (Duke) and Dean Smith (North Carolina). Donovan's two consecutive national titles could prove to be a tough feat for other coaches to match. On this list, only Summitt, Calhoun, Crum, Williams, Krzyzewski and Smith have even won multiple national titles.
The one obvious name not on this list who should be next year's honoree is Tom Izzo of Michigan State. Izzo has been to five Final Fours and won one national title.
• If Dallas Lauderdale (broken bone in right hand) is out for Ohio State when the Buckeyes play North Carolina at Madison Square Garden on Nov. 19, the Buckeyes will be at a decided disadvantage against the Tar Heels' towering front line. Ohio State would likely have to go small with the inability to match Ed Davis, Deon Thompson, John Henson and friends in the post.
• Georgia Tech coach Paul Hewitt can't catch a break with injuries lately. Point guard Moe Miller is still recovering from a concussion after a car accident. Miller is expected to be with Iman Shumpert in the backcourt, helping feed a loaded frontcourt of Gani Lawal, Derrick Favors and Zach Peacock. The Yellow Jackets, when healthy, are deeper, more talented and experienced from the two-win ACC team last season.
Hewitt told the Associated Press that Miller needs time to rest and heal after his head hit the car window during the accident. Miller had two concussions last year and missed seven games after suffering a broken nose in one of the incidents.