Category archive:

Iowa State Cyclones
July, 24, 2012
07/24/12
7:47
PM ET
Iowa State became Transfer U under Fred Hoiberg, and it still is to some extent, with Michigan State senior transfer Korie Lucious trying to fill the void left by
Royce White
last season.
But if the Cyclones are to build upon the momentum gained from last season's NCAA tournament win, they have to blend freshmen with their second-chance transfers.
Hoiberg is confident his incoming class will give the Cyclones the right mix to remain relevant.
Freshman Georges Niang has been the most impressive of the new lot, according to Hoiberg, but the coach has been pleased with the impact as well of the other three, Nkereuwem Okoro, Sherron Dorsey-Walker and Naz Long, as well. Iowa State has commitments for its 2013 class from Matt Thomas out of Wisconsin and Monte Morris from Michigan to shore up the perimeter.
"I love this group, and with the two new commits and the guys coming in, we're excited about our future; the future is bright," Hoiberg said. "We've got a good mix right now. Five seniors and the young guys are very good players."
Gone from last season's 23-11 team are White, Scott Christopherson and Chris Allen, the Cyclones' top three scorers. All three were transfers from other Division I schools. Chris Babb, another transfer, was the fifth-leading scorer and returns, and the Cyclones will look to yet another transfer this season in Michigan State's Lucious. Utah senior forward transfer Will Clyburn is also eligible. And Anthony Booker, Tyrus McGee and Percy Gibson will add depth.
"The one thing we didn't have [last season] was a true point guard," Hoiberg said. "We gave a scholarship to Bubu Palo at mid-semester and he gave us solid minutes. We'll have a much more traditional point guard. We'll play faster. We'll have more athletic wings."
Hoiberg said he won't change the way he is building this program. But he has better balance. The schedule will play out well for the Cyclones with a tournament in Las Vegas in which they'll open up against Cincinnati and then play either Oregon or host UNLV. The Cyclones added a home-and-home series with BYU, beginning in Ames. The rest is more than manageable, although the annual rivalry game with Iowa will be even tougher because of the Hawkeyes' improvement.
Kansas will be the favorite in the Big 12, with Baylor, Texas and Kansas State likely on its heels. Oklahoma State and Oklahoma should be much improved. West Virginia and Iowa State could be the wild cards in the mix, putting the Big 12 in position to possibly have eight of its 10 teams in the mix for NCAA tournament bids in late February.
"The blueprint is to have as much talent as possible and, at first, when we got here, it happened to be transfers," said Hoiberg, who signed a new eight-year deal after last season that will push him through 2021. "It worked well for us and we'll always look for transfers here. We had great chemistry together and it showed later in the year. That being said, we want freshmen in this program. We have an enthusiastic group and we've got great kids and players in this program for the next four years."
May, 2, 2012
05/02/12
5:54
PM ET
If the most pressing issue for the Big 12 in its new configuration is how to schedule West Virginia road trips, there isn't much to be concerned about going forward.
The Big 12 men's basketball coaches wrapped up their meetings Tuesday in Phoenix with its new members -- West Virginia and TCU -- replacing the departed Missouri and Texas A&M.
[+] Enlarge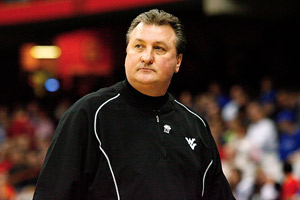 Chris Chambers/Getty ImagesThe Big 12 welcomes WVU, which has made five straight NCAA tourney trips under Bob Huggins.
And the consensus was that the league is actually as strong as it's ever been.
"I never questioned the stability," Texas coach Rick Barnes said. "The anchors were always the ones that wanted to keep it together -- Texas, Oklahoma and Kansas. I know our AD [DeLoss Dodds] never wavered on keeping the league together. We're very comfortable with where it is right now."
The Big 12 made an easy switch in adding West Virginia and TCU. The league will continue as a 10-team conference for the foreseeable future with a new television agreement that will ensure even more status quo.
Kansas is coming off an appearance in the national title game. Baylor made an Elite Eight trip for the second time in three years. And four others made the NCAA tournament, meaning 60 percent of the league went dancing. The odds are high that the Big 12 can duplicate that percentage going forward.
And keeping the conference at 10 teams also ensures that the round-robin schedule will continue. The Big 12 is now the only conference among the power six that plays a true round-robin.
"It's the best basketball league in the country," Barnes said. "Divisional play wasn't fair. [With the round-robin] you play everybody twice and the rivalries continue, so we can build our league."
Even though his team won the conference yet again last season, Kansas coach Bill Self said the 18-game, round-robin schedule was "tiring."
"I thought it was long. My opinion is that the perfect number of league games is 16," he said. "But it was still great and it was better from a fan perspective to play everybody twice. But it's a long season."
Iowa State coach Fred Hoiberg called the league slate a "grind" but added that crowning a true champion was a "great format, and it really prepared you for the postseason."
New Kansas State coach Bruce Weber didn't have a true round-robin with Illinois in the Big Ten. But he did when he was at Southern Illinois in the Missouri Valley.
"As far as getting in the NCAA tournament, it helps your RPI and gets you more quality games," Weber said.
Trent Johnson, who came over from LSU to TCU, said he enjoyed the Pac-10's round-robin schedule while head coach at Stanford and that it "was the right way to determine a true champion."
West Virginia coach Bob Huggins agreed.
"It just makes it hard if you don't play everybody twice," Huggins said. "It's more fair to play everybody home-and-home. I think we went to Syracuse 12 years in a row. Well, maybe it was three, maybe four."
Weber, Johnson and Huggins all said they were impressed by the growing sense of stability in the Big 12.
As for going to Morgantown, a place that is 870 miles away from its nearest Big 12 neighbor (Iowa State)? Well, this is an era in which every team travels by charter, so by and large the coaches contacted by ESPN.com didn't seem all that concerned. Hoiberg said the trip to WVU will be looked at like the road trip to Colorado in the Big 12 before the Buffaloes left.
As for the Mountaineers' schedule, Huggins said he wouldn't be against playing several road games -- a Texas road trip for example -- in early January, when school isn't in session.
The Big 12 said that's unlikely, however.
"It's not my call," Huggins said. "I'll do what they want."
October, 21, 2011
10/21/11
3:22
PM ET
KANSAS CITY, Mo. -- In 2011-12, the Big 12 will be the only power-six conference playing a true round-robin schedule to determine a regular-season champ.
And if the decision were up to the men's basketball coaches (although it never is), they would rather see the balanced schedule continue, regardless of what Missouri decides to do with its conference affiliation.
The Big 12 has 10 remaining schools this season after losing Nebraska (Big Ten) and Colorado (Pac-12). So the conference finally was able to scrap the unbalanced schedule that was based on a north-south football split that saw Texas and Kansas playing only once every season. The need to have those two teams play twice was so real that Texas coach Rick Barnes said he looked into playing a nonconference game against the Jayhawks at one point.
Texas A&M is off to the SEC in 2012, but the Big 12 has already replaced the Aggies with TCU for next season. If Missouri were to leave at some point for the SEC, it would leave the Big 12 with nine schools. That's where Kansas coach Bill Self would stop, if it were up to him.
[+] Enlarge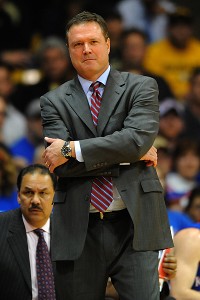 Ron Chenoy/US PresswireBill Self has certainly had plenty of opinions on the realignment occurring in college sports.
"I want nine, that's what I want, to choose to stay at nine," Self said. "That way we would have 16 league games and a round-robin instead of 18. If we don't do nine, then I'd rather do 12 for 16 games."
Multiple Big 12 sources said Mizzou is leaning toward a departure to the SEC, but there is still a chance that the Missouri board of curators could decide to stay in the Big 12 with the new revenue sharing and grant of rights for Tier I and Tier II television games.
If the Tigers leave, then the Big 12 has to decide if it wants to go to 10 (Self's wish of nine is highly unlikely) or bump up to 12. The choices for either are centered on West Virginia, Louisville and Cincinnati from the Big East and BYU, which is an independent in football and in the WCC for everything else.
"I'd like to stay at 10 for a bit and see what happens with it," Barnes said. "I'd love to see us at 10. I love the round robin. When I was in the ACC and Big East, we were at nine teams. As long as we keep Kansas, we're going to have a good league."
Barnes said that as Self walked by to give him a ribbing. But Barnes did say playing 16 games allows the Big 12 schools to play a "great non-league schedule."
Oklahoma State coach Travis Ford wants to see the Big 12 pull an ACC and be proactive, going after elite basketball schools the way the ACC did with Pitt and Syracuse.
"I have so many mixed emotions here, but I'd love for Louisville, West Virginia and Cincinnati to come in for basketball and make us a 12-team league," Ford said. "But if we went 12 and went divisions, I wouldn't be a fan of that. I do like 10. I like that the schedule is fair. And I think it will be exciting for fans to see all the teams come through the gym. We'll have a true champion. A guy like me from Kentucky, I'd love to see Louisville. Boy, what a great basketball league you'd have. But we're in a good position now."
Oklahoma coach Lon Kruger is coming off a true round-robin schedule in the Mountain West while at UNLV. He doesn't want to see a change.
"It's a true champion," Kruger said. "It's good for the fans too. It's the best way to determine a championship."
Iowa State coach Fred Hoiberg agreed with that assessment. So, too, did Baylor's Scott Drew, Kansas State's Frank Martin and Texas Tech's Billy Gillispie.
The Pac-10 used to have a true champion, the ultimate grind of home-and-home with every school. But then the additions of Utah and Colorado meant there would be unbalanced scheduling. A true champ isn't a foreign concept and happens in various conferences in Division I. The Missouri Valley comes to mind.
Less is more for the men's basketball coaches. They'd like to see the league preserve something that they've coveted for some time -- a true home-and-home with every school.
This season -- Texas A&M's last -- will give the Big 12 the feeling of truly being a conference. If Missouri is in the league next season, then the Big 12 can experience two seasons of this so-called scheduling bliss.
Beyond that is still a great unknown. The basketball coaches don't have a vote. They have a voice and they have expressed it. But clearly, like almost everything else, this will be a football-driven decision.
That seems to be a common theme of late.
October, 3, 2011
10/03/11
6:17
PM ET
At this time last year, Ben Hansbrough's name didn't appear on the Wooden Award preseason watch list.
Five months later, he edged out Connecticut's Kemba Walker for Big East Player of the Year.
Using that as a backdrop, let's remember that the list of 50 Wooden nominees is flawed, much like any of the award lists. The Wooden Award does not allow its voters to nominate any freshmen or transfers (either four-year or junior college) on their ballots.
And with college basketball as loaded with talent as any year since 2007-08, narrowing it down to 50 is not easy. So below I've attempted to come up with the names that didn't make it, either as "just missed the cut" omissions or just because they're freshmen or transfers. These guys aren't on the list (which can be found here), but might show up when it's updated during the season.
This group is by no means definitive, either. There's no telling who else might emerge nationally as the games get under way.
Let's take a look …
The omissions (in alphabetical order):
Julian Boyd, Long Island: The Blackbirds are the favorite again in the Northeast Conference and the main reason is because Boyd is back and ready to dominate the stat sheet.
D.J. Cooper, Ohio: The diminutive point guard does a little bit of everything; he averaged 15.8 ppg, 7.5 apg and 5.0 rpg for the Bobcats last season.
[+] Enlarge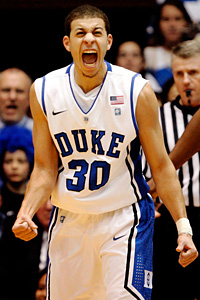 Streeter Lecka/Getty ImagesSeth Curry hasn't done enough to warrant a mention on a preseason watch list, but he might end up being a Wooden addition.
Jared Cunningham, Oregon State: Cunningham has some of the best hops in the sport and a chance to be a Pac-12 star, allowing the Beavers to finally move up in the standings this season.
Seth Curry, Duke: Curry was a standout shooter for the Blue Devils on their trip to China and could be one of the top scorers on the team.
Brandon Davies, BYU: Davies was recently reinstated to the Cougars, and the offense is expected to flow through him inside and out as BYU mounts a campaign to win the WCC in its first year in the league.
Matthew Dellavedova, Saint Mary's: SMC coach Randy Bennett envisions this as one of the best teams he's ever had, but a lot of that will have to do with whether Dellavedova can shoot like Mickey McConnell did last season.
Greg Echenique, Creighton: Echenique was a rebounding force for Venezuela this summer and should do even more for the Bluejays with a full season to work with.
TyShwan Edmondson, Austin Peay: The Governors should be the favorite in the Ohio Valley with a legit scorer like Edmondson, who has a strong man, Will Triggs, to take pressure off him.
Kyle Fogg, Arizona: Fogg is next in line to assume a leadership position for the Wildcats, who are in a position to compete for Pac-12 titles for years to come.
Kevin Foster, Santa Clara: As a sophomore, Foster sort of came out of nowhere to average 20.2 ppg and become one of the nation's top 3-point shooters.
Chris Gaston, Fordham: The Rams aren't any good, but the nation's leading returning rebounder (11.3 rpg) at least deserves a shout-out in this space.
Yancy Gates, Cincinnati: UC coach Mick Cronin said he'd be surprised if Gates wasn't one of the 10 names on the Big East preseason first team.
Malcolm Grant, Miami (Fla.): The Hurricanes have to play most of the season without big man Reggie Johnson, so Grant will have more opportunities to shine.
Rob Jones, Saint Mary's: Jones could be a double-double regular for the Gaels, and for Saint Mary's to win the WCC, Jones will have to be a star.
Doron Lamb, Kentucky: John Calipari says Lamb will be the Wildcats' best player. Just Coach Cal mind games, or the truth?
Meyers Leonard, Illinois: Leonard didn't contribute a whole lot as a freshman, but he was a hidden gem on the U.S. U-19 team in Latvia this summer. The Illini are expecting big things out of him.
C.J. McCollum, Lehigh: McCollum is the nation's leading returning scorer (21.8 ppg) and is in the top five in steals (2.5 spg). Oh, and he did that as a freshman. What more do you need to know?
Cameron Moore, UAB: The Blazers have been consistently good under Mike Davis and have had unheralded C-USA stars. Moore is the latest.
Toure' Murry, Wichita State: If the Shockers win the Missouri Valley over Creighton, a lot of the credit will end up going to the veteran Murry.
[+] Enlarge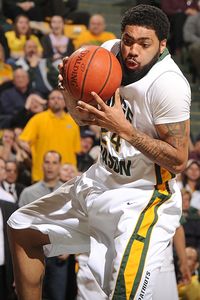 Rafael Suanes/US PresswireRyan Pearson looks to lead Mason to another run to the NCAAs.
Brandon Paul, Illinois: Illini coach Bruce Weber was a bit surprised Paul didn't crack the top 50 on the Wooden list, given his overall importance to this team.
Ryan Pearson, George Mason: The Patriots are a trendy pick for the Top 25 and a lot of that has to do with the versatility of Pearson.
Damier Pitts, Marshall: The Thundering Herd are a real sleeper to gain an NCAA tourney berth out of Conference USA in large part because of Pitts.
Herb Pope, Seton Hall: Pope has come back from multiple life-threatening situations and has a real shot as a senior to put it all together and finally shine.
Terrence Ross, Washington: The Huskies can't be dismissed as a major player for the Pac-12 title, and if they win it, Ross will be a significant reason why.
Robert Sacre, Gonzaga: Sacre has matured into a solid post player, and that progress shows no signs of stopping as the Zags once again compete for the West Coast title.
Mike Scott, Virginia: If the sleeper Cavs mount a run to the NCAA tournament, the oft-injured Scott will be the reason why.
Renardo Sidney, Mississippi State: If Sidney is in shape and plays up to his potential, he has SEC Player of the Year potential and could be the difference between the Bulldogs making the NCAAs or NIT.
Andrew Smith, Butler: The Bulldogs will have fewer stars this season, but Smith has a chance to outshine Khyle Marshall and newcomer Roosevelt Jones with his scoring prowess in the post.
Chace Stanback, UNLV: Stanback's suspension to start the season is only one game, so that won't diminish his ability to lead the Rebels in their hunt for a Mountain West title.
Raymond Taylor, Florida Atlantic: FAU quietly won the Sun Belt East Division last season and Mike Jarvis' diminutive point guard was the catalyst behind the regular-season championship.
Hollis Thompson, Georgetown: If the Hoyas are to make the NCAA tournament again and be a pest in the upper half of the Big East, then Thompson needs a breakout season.
Kyle Weems, Missouri State: Doug McDermott is the one everyone is talking about in the Valley, but let's not forget that Weems is the reigning MVC Player of the Year. Too bad for the Bears he's their only returning starter.
Kendall Williams, New Mexico: The sophomore guard was the leading scorer in four postseason NIT games for the Lobos and should only get better with the addition of Australian Hugh Greenwood.
The transfers
Dewayne Dedmon, USC: Trojans coach Kevin O'Neill firmly believes this JC transfer is an NBA talent who could dominate the post and average a double-double for SC.
Arnett Moultrie, Mississippi State: The former UTEP big man is ready to have a bust-out season for a team that has serious bounce-back potential after a disappointing 2010-11 campaign.
Mike Rosario, Florida: The former Rutgers scoring guard finally has plenty of support around him and will put up numbers for a winner.
Rakim Sanders, Fairfield: The Boston College transfer should flourish after dropping down a level, and he should get coach Sydney Johnson another trip to the NCAA tourney. Johnson is beginning his first year at Fairfield after leading Princeton to the 2011 tourney.
Royce White, Iowa State: White is finally ready to be a star on the college scene after multiple transgressions at Minnesota.
Brandon Wood, Michigan State: The Spartans picked up a rare senior transfer (taking advantage of the graduate transfer rule) from Valparaiso who could be one of the best shooters in the Big Ten.
Tony Woods, Oregon: The embattled Woods arrived from Wake Forest after legal issues and has a chance to really shine as a double-double player for the first time in his career.
The freshmen
Bradley Beal, Florida: Beal has a chance to be a productive player in a frontcourt that has a vacuum after multiple seniors departed.
Gary Bell Jr., Gonzaga: Coach Mark Few has been anticipating Bell's arrival for over a year now. He's expected to step in and deliver right away.
Wayne Blackshear, Louisville: The Cardinals fancy themselves a Big East title contender, and that's partly because they consider Blackshear a star in the making.
Jabari Brown, Oregon: Brown was the star of the Ducks' trip to Italy with his scoring prowess, and expect that to continue in the Pac-12.
Jahii Carson, Arizona State: There is some question right now as to Carson's eligibility, but if he's good to go, the Sun Devils might become relevant in the Pac-12 again.
[+] Enlarge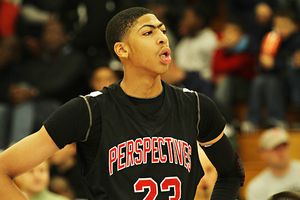 Brendan NolanThere seems to be little doubt that freshman Anthony Davis will have a major impact for UK.
Erik Copes, George Mason: Copes was bound for George Washington before Karl Hobbs was fired; now he'll be a headline performer for the Patriots and first-year coach Paul Hewitt.
Anthony Davis, Kentucky: Davis has a chance to be the SEC Player of the Year and the No. 1 pick in the NBA draft, so expect him to be on the midseason list when freshmen are allowed.
Andre Drummond, Connecticut: He will be an immediate star and help lift the Huskies into the national title chase again. He's more than likely a future top-five pick in the NBA.
Myck Kabongo, Texas: Coach Rick Barnes has had quite a bit of success with big-time freshmen guards, and Kabongo is next in line.
Michael Kidd-Gilchrist, Kentucky: Gilchrist will be another star on what will be a headline team throughout the season.
Johnny O'Bryant, LSU: Coach Trent Johnson needs the Tigers to start trending upward again, and he has a shot with the arrival of the big man from Mississippi.
LeBryan Nash, Oklahoma State: OSU is a bit of a mystery team in the Big 12, but the All-American from Dallas could push the Cowboys into contention.
Austin Rivers, Duke: Rivers will have the ball in his hands quite a bit and appears to be the next Duke star in a lengthy list of recognizable names.
Josiah Turner, Arizona: The Wildcats will win the Pac-12 regular-season title if Turner is as good as advertised.
Cody Zeller, Indiana: If coach Tom Crean is going to turn the Hoosiers into a relevant team this season, it will be because of Zeller and his impact in the Big Ten.
September, 19, 2011
09/19/11
9:45
PM ET
The current 10-team Big 12 has only one season as it's currently configured.
What a shame.
When Nebraska (Big Ten) and Colorado (Pac-12) bolted, the league was left with 10 schools that are all on the upward trend. There are no bad teams. None. All of the schools are now fully committed to making men's basketball a premier sport. Finally, the Big 12 was going to have a true round-robin schedule in the sport. The Big 12 was going to be the newest and only major conference to play a balanced schedule.
And this season promises to deliver on one of the country's most competitive conference races.
But the Aggies will soon be gone for the SEC, if they can get over their legal woes, and the rest of the league is in serious doubt. If Oklahoma hadn't started the latest round of Big 12 exploration, nine remaining Big 12 schools would be together and all would be relatively well. But the Sooners are indeed exploring and that means four could bolt to the Pac-12, with Oklahoma leading Texas and those two schools dragging Oklahoma State and Texas Tech, too.
It's a tough pill to swallow for the men's basketball coaches at the remaining schools.
"Look at those nine teams in all major sports -- football, men's and women's basketball, baseball, I don't understand," Kansas State coach Frank Martin said. "What other league has what we do top to bottom?"
Added Kansas coach Bill Self: "I think every school but Iowa State [and Texas Tech] has been to the Elite Eight since 2004. No other league could probably say that."
Here are the facts the Big 12 likes to tout:
• The nine schools have combined for a total of 201 NCAA tournament appearances.
• Of the 115 NCAA victories in the history of the Big 12 (since 1996-97), a total of 109 wins (94.8 percent) have come from the nine teams that would make up the league if the Big 12 remained together.
• The Big 12 has earned 80 NCAA bids in its history (since 1996-97), all but nine (88.8 percent) have come from those nine schools.
• The Big 12 has 24 NCAA bids in the past four years and 42 since 2004. Only six of those bids came from one of the three other teams (Texas A&M).
• A total of 24 of the 26 consensus All-Americans in Big 12 history have come from the remaining nine schools.

So let's pause for a moment and actually consider what could be lost from a basketball standpoint if the remaining nine don't stay together …
Kansas: This one is easy. KU is one of the five best programs in the country. Phog Allen is easily one of the top three venues in the sport. The Jayhawks consistently rank in the top 10. Bill Self won a national championship in 2008.
Texas: Rick Barnes has one of the best jobs in the country. Texas can pluck the best talent in the state or go elsewhere as it did with Kevin Durant and its host of Canadian imports (Tristan Thompson, Cory Joseph, Myck Kabongo et al). The Longhorns are consistent winners, usually play a national schedule and are regulars in the NCAA tournament.
Kansas State: The Wildcats were dormant not long ago, but Frank Martin (with an opening assist from Bob Huggins) has helped resurrect the program and ensured that Kansas State is a regular in the NCAA tournament. The Wildcats were in the Elite Eight two seasons ago. The passion for the Wildcats isn't equal to Kansas, but it's not too far behind anymore.
Baylor: The Bears were a disappointment a season ago but were in the Elite Eight in 2010. Baylor has hauled in some elite talent over the last few years, and it's clear that Scott Drew can get it done on the recruiting trail. The Bears already have the fifth-ranked class in the country lined up for 2012 and have a potential lottery pick (Perry Jones) suiting up for another year in Waco.
Iowa State: The Cyclones have hit a rough patch of late, but go back a few years and ask what opponents thought of going into Hilton Coliseum. They will tell you that it was one of the toughest environments in the league. Fred Hoiberg is going with a combination of transfers and new recruits. Let's see if that works. But you can't deny the talent he is bringing into Ames. If it works, Iowa State suddenly is relevant again.
Missouri: The Tigers have consistently had a winner in the region and been an Elite Eight team, despite coaching changes. If Frank Haith stays on despite the Miami allegations, he has an opportunity to continue the winning ways in Columbia. Athletic director Mike Alden is backing Haith, and that's a good sign for now. The Tigers have tremendous fan base, too.
Oklahoma State: The Cowboys haven't been a Big 12 title team, but Travis Ford has had them as a regular pest in the league. Oklahoma State has as passionate a following as any of these schools, and Gallagher-Iba is a gem of an arena. Ford's recruiting has picked up, and the Cowboys are clearly on the rise.
Oklahoma: The Sooners are in a rebuilding mode after the gut of early entries, attrition and an NCAA investigation sent OU down to the bottom of the league. But this is a proud program that has had a history of national talent and success. Lon Kruger is an undervalued coach who has won wherever he has coached in college. There is apathy in the hoops fan base, but this program will trend upward under Kruger.
Texas Tech: The Red Raiders haven't done much on the court lately, but they hired the right coach in Billy Gillispie. He has won in the state of Texas at UTEP and Texas A&M. He will win in Lubbock. The fan base needs to be prodded, but Gillispie will produce a product that will be a consistently decent team.
So that's what could've been.
"It would no question be an extremely strong basketball league," Ford said. "One of the positives of staying together, it keeps us all together in the region. Our rivalries would be strong. That will help with the excitement with the fans. I think it's a premier basketball league and this is the first year we're playing everybody twice. Even if it went to nine teams, it will be a battle every single night."
These schools have and will continue to produce strong, NBA-level talent. It would be too bad if they can't keep it all together.
"The Big 12 has had the most NBA lottery picks, first-round picks, total picks in the last four years and almost all of them have come from the nine schools left," Baylor coach Scott Drew said, clearly conscience of the league's talking points. "Since 2002, nine schools have had 17 Elite Eight teams and that's the most of any conference in the country. The second highest is the Big East with 14."
As you can tell, the Big 12 coaches are ready with ammunition. They don't have to be. Just look at the preseason top 25 when it comes out next month. More than likely, four of those remaining nine will be ranked -- Baylor, Missouri, Kansas and Texas (along with Texas A&M).
That speaks for itself.
November, 8, 2010
11/08/10
8:51
PM ET
PITTSBURGH -- As the season tips off Monday night with a soft opening (something akin to debuting a new restaurant to family and friends during the week before the big weekend rush), there are still legitimate concerns about some significant players who are out.
• Pitt will play Rhode Island without starting forward Nasir Robinson (right knee surgery) in the opener of the 2K Sports Classic benefiting Coaches vs. Cancer. (The other opening games at the event include UC Irvine at Illinois, Navy at Texas and Seattle at Maryland). Robinson said early Monday that he has been biking to get movement back and is hopeful he can play on Nov. 18 against Maryland in the semifinals at Madison Square Garden.
[+] Enlarge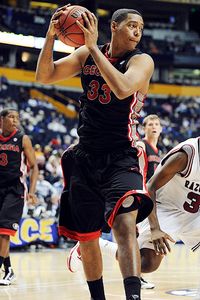 Don McPeak/US PresswireAn ankle sprain will keep SEC preseason player of the year Trey Thompkins out of Georgia's season opener.
• Georgia coach Mark Fox said Sunday night that SEC preseason player of the year Trey Thompkins won't play in the Bulldogs' opener Friday against Mississippi Valley State because of a high right ankle sprain. Fox said the Georgia training staff is aggressively treating the sprain.
The Bulldogs have a rough early season schedule with a home game against Colorado on Nov. 16, which is hardly a pushover with NBA-level players in Cory Higgins and Alec Burks. They then visit Saint Louis on Nov. 20, which would have been a much more difficult game had the Billikens not suspended two of their best players in Kwamain Mitchell and Willie Reed.
Georgia's schedule gets tougher with a game against Notre Dame in the first round of the Old Spice Classic in Orlando on Nov. 25. Once that tournament is over, the Bulldogs play always-pesky UAB before its rivalry game at Georgia Tech on Dec. 7.
Do the Bulldogs need Thompkins for all of them? No. But, for a team in a rugged SEC East, losing games early can add up when it comes time for selection or seeding in March. Had the schedule been softer earlier, then there might not be as much cause for concern.
• It's hard to project if Kansas will have point guard Josh Selby for the opener against Longwood on Friday. There has been no indication from the NCAA that he will be cleared of an amateurism issue.
• The most discussed player who is dealing with an amateur issue is Kentucky's Enes Kanter. But unlike Selby, Kanter can't practice. The question for Kanter is: Did he receive more than the allowable expenses while playing for a Turkish professional team as a teenager? His case will be interesting for the NCAA since the organization got rid of the one-for-one game suspension rule. This comes down to expenses. How will the NCAA interpret what was fair for a player to receive and still maintain any amateurism before he transferred to the United States to play? Of course, this is with the understanding that there was no signed contract or agent agreement.
Kentucky is clearly a more legitimate contender with Kanter playing inside. But he's not as far along as DeMarcus Cousins was a year ago, and he doesn't have the maturity or locker-room ability that Patrick Patterson had last season. Kanter's overall impact is still hard to gauge, especially early in the season when he's still trying to adjust to the college game.
Kentucky coach John Calipari said Monday that he's treating it as if Kanter is an injured player who he is not able to contemplate playing since he's not practicing. Kentucky opens Friday against East Tennessee State, and there is no expectation that Kanter will be cleared for the game. The Wildcats then visit Portland to play the Pilots on Nov. 19 before facing Oklahoma in the first round of the Maui Invitational on Nov. 22.
• Baylor coach Scott Drew hasn't given any indication whether senior guard LaceDarius Dunn will be cleared to play for the Bears' opener against Grambling State. Dunn has been suspended from competition after an assault charge was leveled against him.
• Iowa State learned late Monday afternoon that Minnesota transfer Royce White is ineligible to play. The Cyclones were waiting to see if White had to sit out the year in residence (even though he never played for Minnesota) since he was suspended over multiple issues (theft for one). The NCAA denied White's waiver Monday. Iowa State is appealing the decision, and the school announced that it will appeal to a committee of faculty representatives and athletic directors. White transferred to Iowa State on July 12.
Coach Fred Hoiberg said White has been a major impact player for the Cyclones, giving them a scorer in the post and a beast on the boards. He said White bench pressed 185 pounds 22 times, "which would have made him one of the top players at the NBA combine." Iowa State opens the season against Northern Arizona on Friday. The Cyclones desperately need White in the rough Big 12, especially with the departure of Craig Brackins. The Cyclones' primary post is 6-foot-11 senior Jamie Vanderbeken, but he would not compare to the production that the 6-foot-8 White could produce, if eligible.
"We are disappointed in the decision, but we will start the appeal process immediately,'' Hoiberg said Monday afternoon in a statement. "We will exhaust every option available to try and restore Royce's eligibility. Royce is disappointed as well, but he is appreciative of our intent to appeal the decision."
June, 16, 2010
06/16/10
7:49
PM ET
Nebraska and Colorado can't get out of the Big 12 fast enough for the remaining 10 schools to relish the most competitive college basketball league in the country.
"If you look at who we lost and where they've been basketball-wise, we got stronger,'' Texas A&M coach Mark Turgeon said. "It's going to be a great league. How great would it be, if, when we have 10 teams, that we get six to seven teams in the NCAA tournament in good years? As basketball coaches, we knew we wanted to save this league because we knew we had something special.''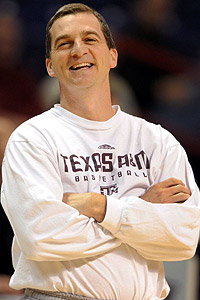 Steve Dykes/US PresswireTexas A&M coach Mark Turgeon is all smiles after hearing about his new league.
The current plan is for the Huskers to leave for the Big Ten by next summer for the fall of 2011. Meanwhile, Colorado exits for the Pac-10 in 2012, giving the league one more season of 12 teams and a 16-game men's basketball schedule, and a possible season of 11 teams and a 16- or 18-game schedule before the league goes to a tidy 10 teams in 2012. The plan for 2012-13 is an 18-game schedule with home-and-home games.
It might sound simplistic, but the Big 12 held on to a football divisional schedule even though the league standings were 1 through 12. While Kansas State and Missouri have become major national players the past two seasons, Nebraska and Colorado were still in the North. That meant the Big 12 South traditionally had tougher home-and-home games. Not having Kansas and Texas play twice in recent years, save last season's nosedive from Texas, was a disservice to the league.
Kansas coach Bill Self said the ACC, Big East, SEC, Big Ten and Big 12 didn't have true champions. Only the Pac-10 did.
But the RPI and the overall scheduling for the teams in the Big 12 North (Kansas, Kansas State, Missouri and Iowa State) will change dramatically.
"We're trading four games with Nebraska and Colorado for another game against Oklahoma, Texas, Baylor, Texas A&M and Texas Tech,'' Self said of the true home-and-home series and the jump to two more overall league games from 16 to 18.
"When we didn't get in four years ago and two years ago, we were criticized for being in the weaker Big 12 North, and therefore our conference record was weaker than teams in the Big 12 South,'' Kansas State coach Frank Martin said. "Well, the only thing that will matter is that we play everybody twice -- no ifs, ands or buts. That argument is no longer valid. ''
That's when the Big 12 becomes unquestionably the best college basketball conference in the country. No dogs. None. Not even Iowa State, which has slid toward the bottom but still has potentially one of the better home court in the country.
The Pac-10 had the envy of other power conferences because of its schedule. The true round-robin schedule produces a real regular-season champion. There is no way to hide behind the premise that the regular-season champion doesn't matter as much because the teams don't play the same schedule.
What the Pac-10 had over its fellow power conferences, it will lose once it adds Colorado and possibly Utah, which will mean 12 teams. Washington coach Lorenzo Romar said the familiarity and consistency of home-and-home games was a huge plus. He said he remembered how tough it was being in an unbalanced schedule in Conference USA with St. Louis, Cincinnati, Marquette, Louisville and Charlotte. Losing the home-and-home aspect within the Pac-10 is something Romar said he'll have to sit down, digest and figure out the best course of action for the league, assuming it will drop from 18 to 16 games.
Turgeon said he wasn't thrilled to jump from 16 to 18 league games just in number alone, but the format is the best. No one is questioning that.
No one seems to question the direction of every program in the remaining Big 12, with Kansas, Kansas State, Baylor and Missouri -- four schools that were being left out of possible expansion -- likely in the top 20 this fall. Texas won't be far behind. Oklahoma State has been a consistent winner. Oklahoma had one disastrous season but is two seasons removed from being a national title contender with then-player of the year Blake Griffin. Assuming OU coach Jeff Capel won't let the Sooners slide again, they should be in the thick of the chase soon. The coaches all agree Texas Tech's Pat Knight is ready to turn the corner this season as a factor in the Big 12 mix. The question is whether Iowa State can regroup and recruit under new coach Fred Hoiberg? If he can, there is no weak link in the bunch and there are no wins that can be counted on to get into the NCAA tournament in a given season.
If the football side agrees that other programs (Memphis, Louisville or Mountain West schools) wouldn't add serious value to the league, the compacted Big 12 could easily exist for years and become one of the most competitive leagues in the country.
The Big 12 has produced national players of the year in Griffin (Oklahoma) and Kevin Durant (Texas), and one who was close to earning it in Michael Beasley (Kansas State).
Duke and North Carolina won the past two national championships. However, outside of Memphis and Kentucky these past two seasons, Big 12 schools have had some of the top storylines in the country. That should only continue as the league matures into a 10-team conference that will become the envy of the other power-six schools because of how easily it will be managed.
Navigating wins will be tough, but there will be no letdowns. Every game will be important. As rivalries are enhanced, interest in conference games will increase, and to the benefit of the Big 12, the ratings might rise, too.
January, 20, 2010
01/20/10
9:08
PM ET
Lucca Staiger
celebrated with his teammates in the locker room after Iowa State beat Nebraska.
He was at practice Monday, prepping for Wednesday's game against Texas Tech.
He showed no signs of pulling off what would ultimately be one of the most selfish moves a player on any team could make.
He quit on his teammates, on the staff and on the school Tuesday when he walked into Iowa State coach Greg McDermott's office and said he was going to play in Germany.
This was hardly a quick decision. McDermott said Staiger had a plane ticket to go back to his native Germany.
"You don't buy a plane ticket home if it's not in the works," McDermott said Wednesday. "I'm disappointed. He knew when he practiced Monday that he wasn't going to play against Texas Tech."
Staiger released a statement Tuesday saying he had an opportunity to play professionally in his home country and decided to pursue it right away. He said he would miss his teammates and thanked the fans. He also had a telling statement that he felt it was "important to make this move now because the opportunity might not be there in the future for me."
That's almost the exact thing that happened to Florida in February 2004 when Christian Drejer bolted on Billy Donovan and the Gators in the middle of the SEC season for a pro contract in Spain.
It didn't matter that the season was still going on. A deal was on the table and Drejer, like Staiger, felt pressure to take it immediately rather than wait to see if it would be there at the end of the season.
McDermott said he wouldn't have had any problems with Staiger for leaving for a pro career in Germany after the season was over.
"What happens is they'll say if you don't take the offer now, it's not going to be there," Donovan said Wednesday. "Drejer was told if he didn't take the offer, an $800,000 a year deal, then he's not going to get it. He wasn't going in the first round that year. So they go back."
Donovan said the mentality for a foreign player, who really only wants to be a pro, isn't the same as an American. They're not viewing college basketball in the same prism as an American since college basketball isn't treated the same way overseas.
"Christian told one of our coaches after it happened that he had no idea that it would be such a big deal," Donovan said.
That's what's hard to understand. How could Drejer -- and in this case, Staiger -- not think that this was an affront to his teammates, turning his back on them in the middle of a season?
"His goal was to play professionally and I think he saw that the NBA wasn't going to happen," McDermott said. "I would understand at the end of the season. I can't rationalize it now."
Iowa State's administration has backed Staiger the past three seasons, working with him as he tried to gain eligibility. Staiger had to sit out his freshman season because he played for a professional team in Germany, and then he played 32 games last season before appearing in all 17 games this season. He was averaging 9.4 points and shooting 42.5 percent on 3s.
"His case helped others and now you don't see players sitting out the whole year like [Nebraska freshman] Christian Standhardinger," McDermott said. Standhardinger, also from Germany, had to sit out the Huskers' first 15 games due to amateurism eligibility issues. The NCAA has taken a hard stand on international players who were on a team with professionals, even if they weren't being paid.
"What I don't understand is why come back from Christmas break?" McDermott said. "We had four or five days. It made no sense to me. Obviously he didn't care about his team."
Staiger clearly didn't, at least not in the same way someone else might. This illustrates Donovan's point that an international player might not see college basketball in the same prism as an American. But that is still hard to understand.
Staiger started against the Cornhuskers in Lincoln on Saturday. He played 25 minutes and scored seven points. The Cyclones played only eight players, and it was more like seven because Dominique Buckley got just six minutes.
Staiger's departure leaves the Cyclones with eight scholarship players after McDermott decided that suspended freshman guard Chris Colvin would dress Wednesday.
"Whether he plays or not, I'm still not sure," McDermott told The Des Moines Register. "We will have him available to play if we need him."
Colvin was suspended the past three games for violating team rules.
"It's not fair to the other seven players," McDermott said of not giving the Cyclones a chance to win. McDermott suspended Colvin from games, but not practices.
Junior guard Charles Boozer went down with a torn ACL in a loss to Texas on Jan. 13. Senior center Jamie Vanderbeken (knee, foot injuries) has been hurt and has played in only 10 games. McDermott said Vanderbeken will seek a medical redshirt for an additional season. The 12th scholarship player, freshman guard Antwon Oliver, is redshirting and won't come off that status.
Staiger's 3-point shooting (48-for-111; team highs for 3s made and attempted) will be missed, though. McDermott said he will lean heavily on sophomore Scott Christopherson (19-of-38 on 3s) to make some 3s. But of course this means more of a load on Craig Brackins (16.3 ppg, 8.1 rpg) and Marquis Gilstrap (14.7, 8.9).
The Cyclones had NCAA tournament aspirations when the season started. They are 12-5 overall, 1-1 in the Big 12, and their best wins include Iowa, Saint Louis, Houston and Nebraska, none of which will be an NCAA team. If Iowa State has any shot, it has to come by beating elite Big 12 teams.
That mission begins Saturday against Kansas.
December, 17, 2009
12/17/09
12:45
AM ET
No more excuses for Iowa State.
This is when the season really starts.
During the next 10 games, the Cyclones will find out whether they're real players or pretenders this season.
Iowa State coach Greg McDermott has quite a slate in front of him during the next five weeks, with games against Bradley, Houston, Texas and Kansas at home, Duke in Chicago and road trips to Nebraska, Texas Tech and Oklahoma.
Coming off a frustrating three-game slide with losses to Northwestern in Chicago, at home to his former employer (Northern Iowa) and at Cal, the Cyclones picked off rival Iowa in a much-needed win on Friday.
"We have plenty of opportunities," McDermott said Wednesday while visiting ESPN's Bristol, Conn., campus. "I'm disappointed that we're 7-3, but we're still in good shape to finish off the nonconference strong and go into the Texas game [on Jan. 13] with confidence. You can't play Texas as a fragile team. You have to have a swagger when you play them at home."
Injuries to big men Jamie Vanderbeken (foot) and LaRon Dendy (knee) haven't helped, but more importantly, the Cyclones can't finish big games, losing by two points to both Northwestern and Northern Iowa.
"We've been in position, but we haven't finished games," McDermott said. "Sometimes your team needs to win, and that's what we're lacking right now. We've had a tough time in the program recently with experience and end-of-game possessions."
The Cyclones easily could be a player in the Big 12 and an NCAA-bid chase if they knock off Duke on Jan. 6 at the United Center, where the Cyclones should have more of a following. They also need to take care of the other four home nonconference games and probably beat at least one of the two giants, Kansas or Texas.
"Those are our first two home games in the league," McDermott said. "We're going to find out a lot about ourselves early. But we've got an opportunity to put ourselves back on the map and in the conference race."
Iowa State will play four top-15 teams -- Texas, Duke, Kansas twice -- and only one of those games will be a true road game.
"We have all the pieces now," McDermott said. "We've got an experienced point guard in Diante Garrett, a backup in Chris Colvin that gives us a lift getting to the basket, two shooters in Scott Christopherson and Lucca Staiger, an athletic wing in Marquis Gilstrap who can go to the bucket, and Jamie Vanderbeken and Justin Hamilton back and LaRon Dendy, who can get to the offensive glass."
McDermott said that once the 6-foot-11 Vanderbeken returns to full strength, he'll force fewer double-teams on All-Big 12 forward Craig Brackins because of his ability to make 3s and stretch the defense.
He said Brackins, who can go for 40 points but doesn't need to this season, is more efficient, more selective and more unselfish in distributing.
"In a short period of time, we'll know," McDermott said of ISU's progress. "We have to be playing with confidence at that time. We lost three games in a two-week period, and there was some of it in the locker room of, 'Oh, here we go again,' but we came out with the intensity [against Iowa]."
McDermott said the team got into trouble when it was a court-to-court game against Northern Iowa and Northwestern rather than up-tempo affairs. The Cyclones will have to play various ways to be consistent in the Big 12.
Iowa State still has a shot to be a player. The Big 12 will provide plenty of ranked opponents, and the nonconference slate still presents that marquee matchup with Duke. If the Cyclones don't put themselves in position to earn a bid, they'll have only themselves to blame.
November, 12, 2009
11/12/09
6:22
PM ET
Here are 10 programs that will jump within their respective conferences after a disappointing 2008-09 season:

Georgia Tech
2008-09 record: 2-14 ACC, 12-19 overall
Reason for optimism: The Yellow Jackets brought in arguably the best freshman center in Derrick Favors. He'll team with Gani Lawal to form a formidable frontcourt. Georgia Tech is healthy on the perimeter and deeper than it was a year ago. The Yellow Jackets also should finally know how to close out games. (Yes, I know they needed overtime to hold off Indiana of Pennsylvania in an exhibition game.) They're the only team in the ACC that will play North Carolina and Duke twice, so they should have the best power rating of any of the 12 ACC teams.
What could happen: Georgia Tech could win the ACC. Yes, the talent is in place for the team to go from two wins to the league title.
What's likely to happen: The Yellow Jackets should win nine to 11 games in conference play. That would be at least a seven-win swing, good enough to get them into the NCAA tournament.

Iowa State
2008-09 record: 4-12 Big 12, 15-17 overall
Reason for optimism: Craig Brackins returns to the Cyclones, and he has the potential to be a Big 12 Player of the Year candidate and All-American. Add junior college transfer Marquis Gilstrap, and the Cyclones could have one of the best one-two scoring punches besides Kansas and Texas in the Big 12. Iowa State's Hilton Coliseum also is one of the best home courts in the country. Don't be surprised if the Cyclones knock off one of the big boys at home this season.
What could happen: The Cyclones could pluck off a few key wins -- perhaps winning at least one game among Duke, Kansas (twice) and Texas to earn an NCAA tournament berth.
What's likely to happen: Iowa State should improve to at least a nine-win team in the Big 12 and be squarely on the tourney bubble in March.

Oregon
2008-09 record: 2-16 in the Pac-10, 8-23 overall
Reason for optimism: Coach Ernie Kent is billing Jamil Wilson as one of the top freshmen he has coached. If Wilson is as good as advertised, the Ducks have a real shot to climb in what should be a shaky Pac-10. The return of senior point guard Tajuan Porter and the likely improvement of a sophomore class that underachieved last season should give this team hope. Adding assistant Mike Dunlap should help in game management, too.
What could happen: The Ducks have enough talent to finish third in the Pac-10, jumping from two wins to 10 or 11.
What's likely to happen: Oregon probably will be in a tussle with Oregon State, UCLA and Arizona to finish in some order of 3 through 6 in the conference and be on the NCAA tournament bubble. The problem is the Ducks' nonconference slate might not be ranked high enough to earn a bid.

St. John's
2008-09 record: 6-12 Big East, 16-18 overall
Reason for optimism: The Red Storm are the only Big East team that returns all five starters. Coach Norm Roberts has focused on this season to be his best. Losing Anthony Mason Jr. for the start of the season hasn't hurt as much because Mason didn't play last season or on the team's trip to Canada during Labor Day weekend. This team already has learned how to play without him. The other thing going for St. John's -- if the Red Storm are ready to handle the pressure -- is the Big East is open to change this season. Plenty of moves could happen, with teams such as Marquette and Providence sliding to the bottom of the league, and that should allow the Red Storm to climb. That challenge will be daunting but nowhere near as imposing as it was a year ago.
What could happen: This is still the same group of players who finished 6-12 in the Big East, albeit in a stronger conference. Moving ahead of Seton Hall, Cincinnati, Pitt, Notre Dame and Syracuse would be quite a feat.
What's likely to happen: The Red Storm will be in the mix for a top-10 finish in the Big East and could move into the eight- or nine-win range in the league. But even that is likely to mean more of an NIT berth than an NCAA one.

Indiana
2008-09 record: 1-17 in the Big Ten, 6-25 overall
Reason for optimism: The carnage of the Kelvin Sampson era has finally subsided, and under the leadership of coach Tom Crean, the Hoosiers finally can begin to rebuild. Indiana adds an experienced transfer in former Georgetown guard Jeremiah Rivers, who will team with sophomore Verdell Jones III. The Hoosiers still will be one of the youngest teams in the Big Ten, but there is plenty of fight in this group.
What could happen: The Hoosiers could move past Iowa and Penn State to finish at least ninth in the Big Ten with possibly five wins in the league.
What's likely to happen: The problem is the league may be the best it has been this decade. The Hoosiers draw tough road games at Illinois, Michigan, Ohio State, Purdue and Minnesota. The only break is that Michigan State will visit Indiana, but the Hoosiers won't make a return trip to East Lansing. Indiana probably won't make the postseason, but it will show an improvement in the win-loss record in the league and be a peskier putout.

Charlotte
2008-09 record: 5-11 Atlantic 10, 11-20 overall
Reason for optimism: The 49ers are banking on Boston College transfer Shamari Spears to be their go-to inside scorer. He already proved to have soft hands during exhibition play. Finishing in practice was never an issue for Spears at BC, but when the lights were on, his fingers became butter at times. If he can be a lock for the 49ers inside, he'll prove to be the perfect balance to guards Ian Andersen and DiJuan Harris. Losing Lamont Mack hurts the scoring pop, but this team may be better-balanced.
What could happen: The Atlantic 10 will be dominated by Dayton, with Xavier and Richmond on the Flyers' heels. But don't dismiss the 49ers. They have the potential to make a significant jump into the nine- or 10-win mark. Charlotte will play Xavier twice and get two shots at Richmond. Playing at Dayton won't help, but the 49ers will have a chance to compete with the others for second.
What's likely to happen: Charlotte still should finish no higher than fourth, but it will earn enough good will through its record and ranking (playing at Louisville, at Old Dominion, home against Georgia Tech and at Tennessee) to earn a postseason berth of some kind.

Fresno State
2008-09 season: 3-13 WAC, 13-21 overall
Reason for optimism: Paul George. Can I say it again? Paul George. He is a star and one of the NEXT athletes ESPN has been pushing. The Bulldogs under Steve Cleveland have been all over the place, but there is a sense that things should settle down in a league that doesn't have an intimidating team. Sure, Utah State is the favorite in the WAC, and Nevada has Luke Babbitt, but it's not as if Fresno State can't climb from three wins to at least eight in the league.
What could happen: The Bulldogs should be in the mix, at least in the middle of the pack.
What's likely to happen: Expect Fresno State to affect the WAC race but fall short of a postseason berth.

Rice
2008-09 season: 4-12 in CUSA, 10-22 overall
Reason for optimism: The Owls recruited well under Ben Braun. The freshman class should increase the talent quickly in Houston.
What could happen: If the freshmen can produce quickly, a four-win improvement isn't totally out of the question.
What's likely to happen: The problem with moving up to eight wins is that the league is even more balanced this season with Memphis, UTEP, Tulsa and Houston capable of winning the conference.
Florida Atlantic
2008-09 season: 2-16 in the Sun Belt, 6-26 overall
Reason for optimism: Owls coach Mike Jarvis is talking up freshman point guard Raymond Taylor as the next Shawnta Rogers, his former diminutive but highly productive scorer at George Washington. The Owls will be one of the youngest teams in the league, but they should be more talented and productive.
What could happen: The Sun Belt will be led by Western Kentucky, North Texas and Denver, but it's not as if any of those teams is intimidating. There is room for FAU to climb significantly in the league standings from two wins into the seven or eight range.
What's likely to happen: FAU will climb, but it won't be enough to yield a postseason berth. If there is improvement this season, then postseason could be in the discussion in 2011.

Hartford
2008-09 season: 2-14 in the America East, 7-26 overall
Reason for optimism: Let's start with Binghamton's implosion. That should send last season's champ down to the bottom of the league, pushing up a team like Hartford. The rest of the conference is solid and has some noteworthy players, including Vermont's Maurice Joseph and Marqus Blakely. New Hampshire and Boston University should be in the mix for the title, too. But there is room for advancement for the Hawks. Newly named assistant Rick Brunson, a longtime NBA player, was added to Dan Leibovitz's staff and has raved about junior college transfer Milton Burton. Having a healthy Joe Zeglinski on the perimeter will help the balance. If this team can defend and rebound, it will have a shot to move into the eight-win range in the America East.
What could happen: Remember, the Hawks played for the America East automatic berth in 2008, and they'll host the first two rounds of the conference tournament this season. So a run to the title game isn't out of the question if they can make the Chase Arena at Reich Family Pavilion rock.
What's likely to happen: The Hawks will improve their win total but won't reach the postseason.