Category archive:

Boise State Broncos
November, 30, 2012
11/30/12
11:24
PM ET
Boise State may have had one of the most significant victories of the season at Creighton this week.
For the Broncos.
For the Mountain West.
For the Big West.
For Leon Rice.
The Broncos' 13-point win, eight days after a near loss at Michigan State (won by four), wasn't as close as the score. Boise State was the dominant team in Omaha. And that alone should be shocking considering Creighton was coming off an impressive two-game sweep in Las Vegas over Wisconsin and Arizona State and had one of the top players in the country on its side in Doug McDermott.
[+] Enlarge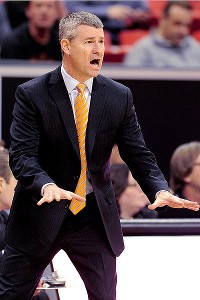 Ethan Miller/Getty ImagesThe goal now for Leon Rice's Broncos is to keep winning on the road.
Boise State has proven that it may just be relevant in men's basketball after all, not just in football. The timing could not have been better. The Mountain West is one of the top leagues in the country with depth nearly eight teams down. Yes, eight of the nine legitimately have postseason chances now that Boise State has a shelf-life win.
The victory is a boon for the rest of the league that can now pickup power-rating points when playing Boise State. The win also gave credibility to the rebuilding job done by the former Gonzaga assistant Rice, which is now well underway. If the Broncos can turn this into a postseason berth of some sort in March, then the Big West will be the recipient next season of not just one, but two teams with momentum heading into the conference (San Diego State is the other).
"There's no question it was a milestone to show we've made progress,'' said Rice. "You don't always get those. Sometimes you don't get rewarded with a win.''
The trick for Boise State will be to keep the Broncos moving forward with wins over Seattle and Utah on the road. That's not easy, but this young Boise team -- with 10 freshmen and sophomores -- is proving it can handle any environment.
"I think people realized in our league that our guys battle,'' said Rice. "We started three freshmen last year, and it paid off. We're not an experienced team. That's the level we want to play at in the Mountain West. We have three teams that can be in the top 25, maybe four with Colorado State (UNLV, San Diego State and New Mexico have all had a turn already this season). The game at Michigan State encouraged me so much. They believed in themselves that they could win. They carried that into the Creighton game.''
Derrick Marks scored 18-straight points against the Bluejays. He finished with 35.
"He's just getting better and better,'' said Rice. "He had his moments last year, but he was battling being a freshman and inconsistency. Right now these guys are playing so unselfishly. They move the ball so well. The team chemistry is amazing and it started two years ago.''
Rice may have also developed a blue print to beat Creighton. He said he wasn't going to let McDermott and Greg Echenique beat him, so he doubled on them. McDermott still had 21 and Echenique nine. Still, the Bluejays had to work for everything.
"The hardest thing in Division I is to get road wins, and we've got three in a row,'' said Rice. "Our whole thing is to be physically and mentally tough. Now we've got to do that against Seattle, too.''
August, 1, 2012
08/01/12
9:15
PM ET
The Big East couldn't afford to lose Boise State and San Diego State in football for 2013, so it didn't hesitate to help out their men's basketball programs with marquee nonconference opponents.
When the two schools agreed to become football-only members, there was a promise made about four guaranteed nonconference games in hoops in their first four years as members.
It was never publicly announced, but two of those games will come against new all-sport members Memphis and Temple, the last two programs added to the Big East. The schools for the two other home-and-home series are to be determined with the help of the league office.
The biggest winner in this deal is Boise State, but San Diego State, Memphis and Temple may not be as pleased with the forced partnership.
The Broncos are playing their last season in the Mountain West and are expected (like the Aztecs) to join the Big West in all non-football sports, although that won't be known until that league's presidents vote at the end of the month.
To get two home-and-home series over a two-year period against Memphis and Temple is a coup for Boise, which struggles to get nonconference games regardless of league affiliation.
"I don't care who you are, it's really tough to get home games," Boise State coach Leon Rice said. "Memphis is a perennial top 25 program, and in the last eight years, Fran [Dunphy] has Temple rolling. You can't get those type of teams into Taco Bell Arena. That's terrific."
[+] Enlarge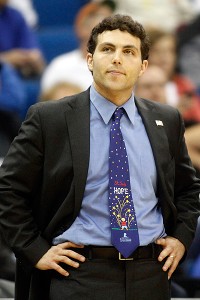 AP Staff PhotoSafe to say Memphis coach Josh Pastner isn't thrilled with two mandated nonconference games.
For some.
Memphis coach Josh Pastner isn't exactly gung-ho about the arrangement. He's wondering if the Tigers should be getting into guaranteed nonconference games against Boise State and San Diego State or anyone else without knowing how many Big East games the league will play in 2013-14.
"Will it be 20 or 18 or 16?" said Pastner of the future 18-team Big East, which will lose Syracuse and Pitt after this season but is adding Memphis, Temple, SMU, UCF and Houston for men's basketball.
"We have some commitments prior to joining the Big East with other events," added Pastner, who has Memphis in the 2013 Old Spice Classic in Orlando. "We've got a lot of balls we're juggling in our schedule starting next year. We need to have some concrete decisions before we move forward."
In addition, the Tigers' series with Tennessee ends after this season. There will be public pressure to continue the annual rivalry, but it's not a lock. Pastner said he wanted to hold off on renewing the in-state series so he has a clean slate to review the commitments from the Big East.
"Is there going to be an SEC/Big East Challenge? Then you add Boise State and San Diego State? There isn't a lot of room for error," Pastner said.
San Diego State coach Steve Fisher didn't want to publicly comment on the subject yet. He has heard about Temple and Memphis being locked in, but Fisher wants scheduling flexibility -- and anticipates being able to lure top 25-type teams to San Diego, even as a member of the Big West.
Of course, Temple and Memphis would fit that criteria quite well as both have been perennially successful programs over the years.
As for the Owls, they do have some recent experience with football-related scheduling mandates. As the school's football team competed in the Mid-American Conference, the men's basketball team was saddled with four MAC games last season, two home and two away.
But Temple could adjust to playing San Diego State and Boise State without having to worry about the MAC games. In conference play, the Owls are swapping two Big 5 teams (Saint Joseph's and La Salle) for one (Villanova), but they will still have to play St. Joe's and La Salle outside the league, along with Penn.
Still, the Owls, Tigers and Aztecs don't even come close to the scheduling problems of Boise State.
Rice said this has been the most challenging year scheduling-wise for him, even going back to his time as a Gonzaga assistant. The Broncos were in conference limbo for so long that it couldn't really schedule any Mountain West, WAC or Big West teams in nonconference games. Boise did commit to a tournament at UNLV in 2013, taking a chance that they wouldn't be conference members at the time.
The Broncos have a return game this season against Big West member UC Santa Barbara, but no Big West teams for 2013-14. They have a four-year deal with Utah and host LSU in a return game of a home-and-home series. They also play at Creighton in the MWC/MVC Challenge and at Michigan State in an exempt one-game event.
"And we have the MWC schedule this year, which will have some top-15 teams," Rice said. "We're trying to build a high-quality non-league schedule. Next year would be one of our veteran teams as we move into the Big West. I wanted to stack the scheduling going into the league, but that hasn't happened yet."
But Rice said he saw "in writing" that Memphis and Temple were locked in for 2013-14. So if they do indeed get in the Big West alongside San Diego State, they suddenly have quality games on the schedule for that season.
Boise State is also expected to get financial help from the Big East to offset any travel costs with the Big West, since all the schools are in California and Hawaii.
For a move that was made strictly for football purposes, it sure seems as if the Boise State men's basketball program will reap the benefits.
July, 6, 2012
07/06/12
6:59
PM ET
When it came to bylaws about departing teams, the Horizon, Colonial and America East didn't buckle.
There are consequences that come along with a departure. Being ineligible for the conference tournament is one of them for these leagues. Butler (Horizon) and Virginia Commonwealth (CAA) accepted that and got to the Atlantic 10 as fast as possible.
What school wouldn't do the same if the opportunity existed? Scheduling, television exposure and tourney access are the most important reasons -- outside of the financial benefits -- for being in a conference.
Take away the ability to play for an automatic NCAA tournament berth and the season can seem like a waste. Postseason bans, such as the one USC had recently and the one Connecticut will endure this season, take the air out of the season -- even if the schools and coaches do all they can to create a new goal of winning a regular-season title.
Even though both would likely be contenders for at-large berths, Butler and VCU took no chances.
Boston University, on the other hand, probably would leave for the Patriot League tomorrow if it could. The Terriers weren't pleased with the decision by the America East to uphold its bylaws, but they are stuck. The current team will have to deal with it.
Old Dominion and Georgia State were hoping the CAA would lift its ban, but it did not. Georgia State went as far as to explore trying to get into the Sun Belt sooner, but that didn't happen.
The Horizon, CAA and America East are actually not the norm historically.
After losing members in the past decade, the Big East, Atlantic 10, Big West, C-USA, Mountain West and WAC have not even broached the subject, much like the Big 12 didn't when it lost members to the Pac-12, Big Ten and SEC. The Big East didn't block West Virginia from playing in the conference tournament a year ago after it announced its hasty departure to the Big 12. Perhaps the smaller conferences are worried that the league will have only one bid and don't want it to go to the school with one foot out the door.
[+] Enlarge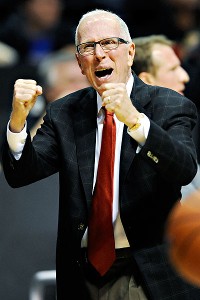 Christopher Hanewinckel/US PresswireSteve Fisher and the Aztecs will get a chance to compete in their final MWC tourney.
But when I asked some of the coaches playing in their final season in a conference, the question was met with near astonishment.
Pitt coach Jamie Dixon wanted to know if I was joking. San Diego State's Steve Fisher said he hadn't even heard of these conferences not allowing schools to participate. Utah State's Stew Morrill said he didn't think the WAC would do such a thing since previous schools that left weren't treated in that manner. Memphis coach Josh Pastner said he would be incredibly disappointed if that occurred. (C-USA took away the conference tournament from the city of Memphis but didn't remove the Tigers' ability to play for the title.)
But what would happen if these conferences turned on the departing teams in 2013? It's too late to change the bylaws and isn't going to happen, but it's still fun to play the "what if" game.
What effect would it have had on the Big East to take Pittsburgh and Syracuse out of the tournament?
A serious blow. The league may be squabbling with the two schools -- and will do so in court with Pitt -- but it needs these two in the conference tournament as long as possible. Syracuse is a natural draw at Madison Square Garden. Taking the Orange out of the Big East would have been a major mistake. The Orange and Panthers still don't have a definitive arrival date in the ACC, but it's likely to be in the summer of 2013.
What would it have done to Syracuse and Pitt for a potential at-large berth?
Likely no issue at all. Both have teams that look like virtual locks for an at-large bid.
What would happen to the Atlantic 10 if Temple and Charlotte weren't allowed in the tournament?
Let's be honest: Charlotte won't be missed on its way back to Conference USA. But Temple's departure will be a hit, as the Owls have consistently been a major part of the A-10 tournament. Not having a Temple presence, prior to the Owls' exit to the Big East, would have hurt the tourney's debut in Brooklyn. Bringing in Butler and VCU will offset the loss, but Temple still is very much associated with the A-10 brand.
What if the Big West banned Pacific?
That would be just cruel. The Big West has had teams leave before, and it might happen again. Plus, this is coach Bob Thomason's final season after a quarter-century at his alma mater, and he said he has a team that could challenge for the Big West title. He has been a loyal member, and Pacific is leaving for the all-private WCC. No harm in letting the Tigers finish up, and it won't hurt the Big West one bit.
What if Conference USA blocked Memphis, SMU, UCF and Houston?
Then C-USA would have a tournament that lacked any sort of buzz. Marshall is a legitimate title challenger to Memphis, and UTEP should be in contention. If the Tigers had been blocked from being in the tournament, after it was taken from the city, C-USA's relevance during Championship Week would have been diminished even more. It's still hard to say how many Memphis fans will travel to Tulsa, Okla., but the Tigers do have a significant following. This was a smart move by the league to not play bitter politics with the departing members.
What would the Mountain West tournament be like without San Diego State and Boise State?
A bit less exciting. The Aztecs have been one of the consistent winners in the MWC with UNLV and New Mexico. Take SDSU, off to the Big West, out of the event in Las Vegas, and the tournament would lose luster. No offense to Boise, but no one would likely notice if the Broncos weren't invited. But SDSU matters a great deal. The Aztecs will be a top-25 team alongside UNLV. Taking them out of the conference tournament would have been a storyline the MWC doesn't need in March.
What would a WAC tournament look like without Utah State and San Jose State?
Not worth it. USU has been the benchmark program in the WAC since Morrill arrived. New Mexico State can't anchor the conference on its own. NMSU needs a rival, and Utah State has been that nemesis. San Jose State wouldn't be missed, but the Aggies' absence would have been a glaring omission in Las Vegas. Rebuilding Utah State will likely need the tournament to get a bid this season, but the WAC was in no position to be punitive. So the Aggies will have one final chance to represent the WAC before it joins SJSU and former WAC members Fresno State and Nevada in the Mountain West.
May, 8, 2012
05/08/12
7:54
PM ET
The Big West meets next week, and whether to expand again is an agenda item.
Don't expect tremendous movement.
And that could spell doom and gloom for Boise State basketball.
Boise State made a football decision earlier this year to join the Big East in 2013 and place all of its other sports in the WAC.
The Big West wasn't an option. The Big West gladly accepted San Diego State's application for the rest of its sports, highlighted by men's basketball, after the Aztecs joined the Broncos' football program in the Big East.
At the time it all made sense. The WAC had regional teams Idaho, Denver and Seattle as well as Utah State, San Jose State and New Mexico State.
[+] Enlarge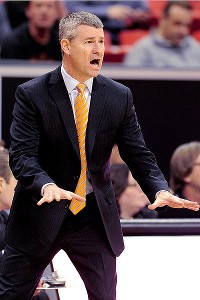 Ethan Miller/Getty ImagesWhat conference will include Boise State basketball may become a topic during recruiting for Broncos coach Leon Rice.
But Utah State and San Jose State are heading to the Mountain West in a year. That leaves Idaho and NMSU scrambling for a home (other WAC members Louisiana Tech, UTSA, Texas-Arlington and Texas State are all leaving). The Idaho Statesman reported that Idaho has talked to the Big Sky about possibly going back to that conference. Big Sky commissioner Doug Fullerton said he hasn't talked to Boise State.
All Boise State is saying is that it is monitoring the latest news on conference alignment, according to the Idaho Statesmen.
The Big West also is monitoring everything, commissioner Dennis Farrell said.
But the league didn't move the first time on Boise when it had the chance. The Big West was thrilled to get San Diego State to keep in its all-California/Hawaii league. The Warriors join the league in 2013 in every sport but football, which will be in the MWC.
The Big West was willing to go to 11 schools with the addition of the Aztecs. But the league knew Pacific was likely to leave, and it did, for the WCC. That put the Big West back to a manageable 10. There has been no movement to go to 12 or 14. There will likely be interest from Denver, Seattle, possibly NMSU and certainly Cal State Bakersfield.
But Farrell and the league are committed to only adding teams that make the Big West significantly better. San Diego State did. No one else on this list would move the meter in television and nonconference scheduling, and, most importantly, would only add to the cost of travel for all sports.
The best-case scenario is if the Big East option were to fall apart for Boise State and it decided to go back to the Mountain West. Boise State and San Diego State joined the Big East for the potential increase in television revenue more than an automatic qualification in the BCS that will end in two seasons (Boise State and SDSU would have one shot at this in 2013). The MWC would gladly take the Broncos back, and one of the reasons, according to sources, that the MWC held at 10 football schools with the addition of San Jose State and Utah State is in case Boise and/or SDSU change their minds.
But short of that happening, Boise State is in a perilous situation. The WAC could technically survive with the addition of Bakersfield and Utah Valley to a group of NMSU, Idaho, Denver and Seattle. Is that really what Boise wants?
Boise had best make a strong plea to the Big West to convince the league's athletic directors and presidents that the Broncos are worth the cost and the addition of another time zone (Mountain).
Boise State basketball coach Leon Rice has been in the dark on this throughout the season. He hasn't concerned himself about this issue as he builds the program. But it will be hard to avoid the subject during the offseason's recruiting calendar.
December, 9, 2011
12/09/11
11:34
PM ET
The fallout from the Big East's shakeup in football and basketball this week will continue for weeks, if not months or years.
[+] Enlarge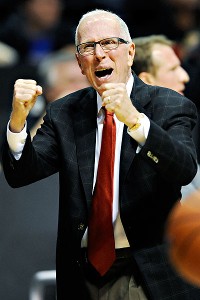 Christopher Hanewinckel/US PresswireSan Diego State could be the Gonzaga of the Big West under Steve Fisher.
So after another week of changes, the basketball winners and losers can be summed up this way:
Winner
The Big West: Getting San Diego State is a major coup for this league. Steve Fisher's Aztecs are going to be an NCAA tournament team on a regular basis and a national player for getting marquee games. SDSU has a chance to be the Gonzaga of the Big West. The Aztecs won't be as good as the old UNLV teams that won a national title, but being the dominant player that can attract marquee games and attention for the Big West is a great get.
Loser
The Big East: You simply can't make this three-team trade (Out: Pitt, Syracuse, West Virginia; In: Central Florida, Houston, SMU) and not come out looking worse. The pool of teams the Big East had to choose from was small, but it still could have made a few more moves to appease football and basketball. The conference acquired new television markets, but the quality of play will go down and the matchups for the television partners won't be as palatable.
Biggest mess
The 2013 season: If Big East commissioner John Marinatto gets his way, the Big East will have 19 members for one season when the three new schools come aboard and Pitt, Syracuse and West Virginia have to stay. Big East associate commissioner Tom Odjakjian will have a thankless job as he tries to schedule a season that will keep him up at night.
The ongoing fight
West Virginia: The Mountaineers want to play in the Big 12. The Big East says they have to stay. This will likely end up being decided by a judge.
The unknown
Boise State: If coach Leon Rice can continue to improve the program, the Broncos can flourish in the WAC and become a player for a bid quicker there than in the Mountain West.
The potential
Houston, which has a solid recruiting class in 2012, and SMU have had their moments in the past, but the school that gets the tag as the one with the most potential of all the additions could be Central Florida. The Knights have a shot to make more of an impact in the Big East than South Florida has because of UCF's location and facilities. The Knights must stay out of the way of the NCAA's enforcement group after getting caught with violations that cost coach Donnie Jones the first three games of the C-USA season. Still, Jones has taken down Florida and Connecticut on neutral courts in each of the past two seasons.
The biggest question
When the 2014 season begins, will Louisville, Connecticut and Notre Dame be in the Big East? We just don't know.
December, 7, 2011
12/07/11
5:18
PM ET
San Diego State and Boise State men's basketball, along with the rest of their sports, are moving from the MWC to the Big West and WAC, respectively, now that their football programs are heading to the Big East for the fall of 2013.
Multiple sources confirmed early Wednesday that San Diego State would go to the Big West, pending approval by the conference's board of directors, while Boise State plans to announce that it will join the WAC in all sports except football.
[+] Enlarge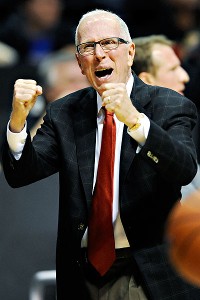 Christopher Hanewinckel/US PresswireSan Diego State coach Steve Fisher says moving to the Big West will help his program grow.
When contacted Tuesday, neither men's basketball coach -- SDSU's Steve Fisher or Boise State's Leon Rice -- has an issue with leaving the Mountain West for another conference.
Fisher's Aztecs are now established after their Sweet 16 run last season. They are relevant in laid-back San Diego, and Viejas Arena is one of the hidden gems in the country due to its passionate fan base. The Aztecs are off to a fantastic start this season, despite losing four of five starters. They beat Pac-12 favorite Cal at home and won at Arizona, and their only losses are to Valley favorite Creighton at home and at Big 12 title contender Baylor.
Fisher is so comfortable in San Diego State's current state that he has no issue about heading to the Big West. This is more about the Aztecs as a program, rather than any conference affiliation.
"Football appears headed to the Big East, and if we go to another league, we'll continue to grow the program,'' said Fisher, who said he expects the Aztecs to land in the Big West. A Big West source said late Tuesday night that San Diego State will join the league, but the conference's board of directors hasn't met to officially discuss the matter. That will likely occur soon.
The Big West already has taken in Hawaii for all sports except football. The Rainbow Warriors, who will leave the WAC, will join the Big West in 2012, while their football program goes to the Mountain West. The Mountain West won't accept a member without football, but is willing to take a program that only gives it football. The WCC, which looks at state schools, or the Big Sky weren't options.
The Big West will be a cost-saving move for the rest of the Aztecs' programs, and it certainly helps the baseball program since the all-California (plus Hawaii) league is a national player in that sport.
Fisher said that a move to a league (like the Big West) that has an ESPN television contract will change the Aztecs' scheduling. San Diego State's games against Cal, Creighton and Arizona didn't get the national exposure Fisher wanted.
"The one real big positive is that it would get us on the ESPN family of networks, and that will help our program and be a huge sell for us,'' said Fisher. The Mountain West Conference doesn't have a contract with ESPN. MWC teams can appear on an ESPN network only in a tournament that ESPN televises or in a nonconference road game against a school in a league that has a deal with ESPN.
"I believe that this will make it easier for us to schedule teams from the Midwest or the East,'' Fisher said. "It will greatly enhance our ability to recruit. And that's the lifeblood of any program. If I were to approach Illinois or Louisville and say you'll be on national television, that will resonate more than [saying] you'll be on local cable. I think we've got a lot going for us that we've created over a period of time. We are in a good position right now.
"Change should not be feared, but change should be an exciting time for us,'' Fisher said.
The Mountain West has changed recently with BYU's departure to the WCC. Utah's basketball program is in a terrible situation right now. But the Utes still have a national name, and their exit to the Pac-12 was another hit to the MWC. And adding Fresno State and Nevada don't equate to BYU.
Big West matchups against Long Beach State or UC Santa Barbara may resonate locally more than games against Colorado State or Wyoming, as long as Fisher can make good on his guarantee that he'll be able to land even more national games. The hope is that San Diego State can command a Gonzaga-like national schedule prior to the conference slate. And there's no reason to think that a deeper Big West couldn't land multiple NCAA bids in the future.
San Diego State's success so far this season is another indicator that Fisher has a program to build on, rather than just a hot team from a season ago.
"If you asked me before the season, I was nervous about this season,'' Fisher said. "We lost a lot of players, but we have nine that suit up that are really, really playing well together. It's been a wonderful start.''
[+] Enlarge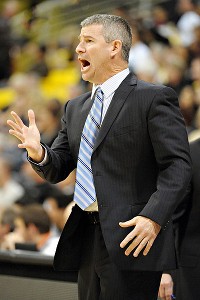 Kirby Lee/US PresswireBoise State coach Leon Rice isn't paying attention to the conference shake-up.
Meanwhile, Boise State was supposed to be rebuilding in Rice's second season. Yet the Broncos are 7-1, with their only loss coming at Long Beach State. They haven't played a strong slate but did beat a quality squad (Indiana State) at home. Boise State will learn more about itself in a winnable game at LSU on Dec. 10, and faces a very difficult game at surging Denver on Dec. 17, which is bound for the WAC. This is Boise's first and only season in the MWC.
"I was definitely concerned with having 11 new guys, but we're playing well together right now,'' Rice said.
The Broncos' move from the Big Sky to the Big West to the WAC to the MWC to the WAC again won't have much of an effect on the program's growth.
Rice said he was told that all options are being explored. The WAC does offer regional teams Idaho, Denver, Seattle and Utah State, which is still in the conference for 2013. One reported scenario which called for Utah State and San Jose State to replace Boise State and San Diego State in the MWC could be on hold.
One source with direct knowledge of the situation said the MWC may hold off on adding Utah State and San Jose State if a full merger with Conference USA occurs. If that happens -- and with C-USA losing three members (Houston, SMU and Central Florida) to the Big East in all sports -- the MWC and C-USA may see the benefit of merging and being at 16 to 18 members versus expanding again on their own.
"I'm not paying attention to any of this right now,'' Rice said. "Seriously, I could care less. We're in the middle of our season, we're grinding away. I have no control over it. I'll just be excited wherever we go and whatever happens. I don't think it matters. San Diego State would be leaving, too. So the Mountain West would be changing. The gap between the Mountain West and the Big East or the WAC won't be that much different. You wouldn't believe how little I've focused on it.
"Our football team moved from the WAC to the Mountain West, and then BYU, Utah and TCU all leave, so the league isn't the same when they get there,'' Rice said. "I don't want to speculate or even look at it.''
An MWC without San Diego State means UNLV and New Mexico should dominate at the top, while Colorado State, Wyoming, Nevada and Fresno State likely take turns at No. 3. If the MWC doesn't join C-USA in a full merger, the league will need to put Utah State and San Jose State back in the mix and weaken the WAC. The WAC would then be led by New Mexico State and possibly Denver, but would lack the depth Boise State could have gotten in the MWC.
But it won't matter to coach Rice. Just like it's irrelevant to Fisher. The mood for both is more inward now. If a program takes care of itself and wins, regardless of its conference affiliation, it can get noticed with possible nonconference games and a postseason berth.
San Diego State is a new member of the Western elite and can stand on its own under Fisher.
Boise State is so new in trying to become relevant in hoops that moving to the WAC may not alter much at all in its rebuilding process.
Both schools are moving football to the Big East at the expense of the rest of their sports. But neither coach seems to be upset about it. So why should anyone else?
September, 8, 2010
09/08/10
12:18
AM ET
Leon Rice had never scheduled recruiting visits around a football weekend while working for Mark Few at Gonzaga.
He didn't have parties at his house with the players to sit down and watch a football game. He never called a recruit after a football game to gauge his interest.
He is doing that now. And will continue to do so.
The new Boise State men's basketball coach is trying to maximize the attention the Broncos' football team received with a No. 3 preseason ranking and a thrilling, nationally televised win against Virginia Tech on Monday night.
"How could you not be excited here after watching that game, seeing the new Nike uniforms from Boise and then the way they won,'' Rice said. "We were all on the edge of our seats the whole game.''
In the wake of Boise's big win, Rice said he called the Broncos' core recruits. And he purposely delayed the first official visits until BSU's first home football game, against Oregon State on Sept. 25.
[+] Enlarge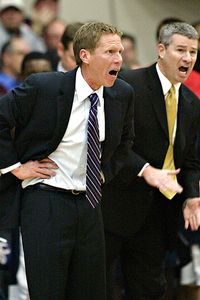 AP Photo/Dino VournasWhile at Gonzaga, Leon Rice, right, was never able to take advantage of an elite football program.
Gonzaga didn't have a lead-in during the fall prior to basketball and it wasn't necessarily a negative. And Boise State hoops can and has in the past had a national football program as an entree to basketball and it's not as if it's yielded a lot of high-level recruits. But Rice is nevertheless going to try to exploit it as much as possible.
No one is expecting Rice to deliver a conference title this season -- the school's last in the WAC -- or in the short term in the Mountain West. But with Utah (which will play Boise State in a new four-year, home-and-home series beginning this season) and BYU gone, the Broncos have a legitimate chance to at least eventually be in the top four.
If a school has a strong, national basketball program but lags decidedly in football, it's much harder to bring the football program up to the same speed. The reverse shouldn't be as difficult if the hoops program can land a few key recruits.
Boise State has seven seniors and they will be counted on heavily this season. Rice's plan is to possibly redshirt a few bigs to work out with Oregon transfer forward Drew Wiley and hope that the football team's national profile will help land a stellar, program-changing recruiting class.
• In nonconference play, Georgetown coach John Thompson III continues to challenge the Hoyas in a way that offers up plenty of power-rating possibilities, as well as a way to simulate the Big East.
A year ago, Georgetown opened at Tulane before playing Temple in its second game. Both were wins, one easily on the road, and the Owls game by just one point. Taking a road game at Savannah State might have seemed odd, but the Hoyas didn't present any airs about going on the road to a low-major. Then, of course, there was the trio of games that would challenge most teams -- against Butler for the Jimmy V Classic in New York, against Washington in the Wooden Classic in Anaheim four days later and then against Old Dominion, which has become a nemesis of sorts for the Hoyas.
Toss in the Duke game in the middle of the Big East schedule and the Hoyas ended up having quite a challenging schedule (two true road games, national champ, national runner-up, Sweet 16 team and CAA champ).
As for this season, Thompson finalized the schedule this week by accepting a home game against WAC favorite and perennial postseason team Utah State on Dec. 4. That game against the Aggies comes five days before the Hoyas go to Temple, one of the favorites for the A-10 title.
Thompson said Tuesday that he had to be convinced to play Utah State -- a rare treat for Aggies coach Stew Morrill, whose program will play at a power-six conference school for the first time since 1992-93 (at Rutgers).
"I knew they were a terrific team, a veteran team,'' said Thompson. "It's going to be a really good game. I wanted to challenge our guys again before the Big East play.''
The three Big East-like games against three teams that will likely play three contrasting styles start off Nov. 30 in Kansas City against Missouri's fastest 40 minutes in basketball, followed by Utah State at home and Temple on the road.
Even before that slate against three likely NCAA tourney teams, the Hoyas play in the Charleston Classic in South Carolina. The field isn't that deep (NC State, Coastal Carolina, Wofford, Charlotte, George Mason, East Carolina, USC Upstate). But that doesn't matter as long as Georgetown gets a final against the Wolfpack, a top-five contender in the ACC. The season starts with the Hoyas going to Old Dominion, which has knocked them off in two of the past three meetings. They also get the unenviable task of facing Memphis at the FedEx Forum on Dec. 23. The Tigers are the C-USA favorite and a consensus top-15 team.
Thompson said the Hoyas are taking a year off from the Duke series after completing the four-year, home-and-home deal. He said he would like to continue the rivalry in the future.
Georgetown will start the season looking to replace lottery pick Greg Monroe in the middle. The guard play of the Hoyas -- led by Chris Wright and Austin Freeman -- should make this a Big East title contender and a team with a power rating worthy of a solid seed.
There was a time when Georgetown could coast through the nonconference slate without too many challenges. That era is over. Playing in the Verizon Center means dates can be tough to get and hosting tournaments is not often an option. So the Hoyas must venture out across the country and also accept tricky home games. JT3 gets this. Shoring up the schedule with dangerous Utah State proves it.
June, 7, 2010
06/07/10
7:17
PM ET
Big 12 commissioner Dan Beebe is one of the 10 members of the NCAA tournament selection committee and was on the inside of the decision-making process that led to the change from a 65- to a 68-team field, despite the assumption nationally that the 96-team format was a done deal.
On Sunday night, Beebe emphasized that difference between perception and reality as he deals with the swirling rumors that his conference will implode after getting raided by the Big Ten and the Pac-10.
And that's why we need some perspective here before the assumption is made that the entire current format will be thrown into chaos with a land grab by the Big Ten and Pac-10.
Based on discussions Sunday night with a number of high-ranking sources throughout the NCAA (including those who have been in some of the direct talks on these topics during the past decade), here is some relevant information on the various possibilities:
• If the Big Ten can persuade Notre Dame to join the league, the expansion discussion is over. The Big Ten doesn't need anyone else but the Irish to accomplish its goal of increasing its value. The networks have lined up to get the Irish deal from NBC, and adding ND would enhance the Big Ten television property. All conference television contracts have a clause that they are subject to change if there is a membership change, meaning they can be worth more money (with Notre Dame) or less (if, say, the ACC were to lose members even after doubling its current deal).
• Being in the Association of American Universities is a major deal for the academic side of Notre Dame. If the Irish could be assured that they would get an 11-vote bloc of Big Ten schools to usher in Notre Dame as a member, that could sway the Irish hierarchy to move toward the Big Ten. If the Irish have no shot at the AAU, that could be a deciding factor against their joining the Big Ten. Getting into the AAU makes a Big Ten acceptance a lot easier.
• Romancing Notre Dame has been going on since the 1920s. The timing has to be right. There will be a critical mass of alumni who will want to remain as a football independent. For every other sport, being in the Big Ten makes more sense than the Big East, although this isn't a decision about the rest of them.
• Notre Dame wouldn't want to be one of five additions to the Big Ten. The Irish won't want their addition to be devalued.
• Big Ten commissioner Jim Delaney and Notre Dame athletic director Jack Swarbrick have a longstanding relationship. Swarbrick was instrumental in bringing Big Ten championship games to Indianapolis while working in Indiana with the sports commission.
• Delaney won't get burned here. He's considered one of the most savvy and shrewdest negotiators in college athletics. He's not going to issue an invitation and get turned down.
• If Notre Dame were to join the Big Ten, the rest of the chatter would halt. The Big East could bump up Villanova football to FBS to avoid expansion, or it could add a member to stay at 16.
• If Notre Dame is the only grab by the Big Ten, there is no need to toy with Missouri and Nebraska.
• That means the ultimatum doesn't make any sense. Why would the Big 12 tell Missouri and Nebraska they have to be in or else? What's the consequence? The Big 12 isn't going to boot them out of the league. If they don't get an invite to the Big Ten, the chances are that nothing happens to the Big 12.
• The Longhorns won't do anything that won't benefit Texas. They don't want to leave unless they have to get out. Texas enjoys being the deal-maker in the Big 12 rather than just another school, albeit an important one, in the Pac-10 or even the Big Ten.
• Pac-10 presidents gave commissioner Larry Scott the go-ahead to look at expansion, but the academic profile of schools the league would invite is critical, much like the Big Ten. Not all the Big 12 schools meet this standard.
• UCLA and USC get the most money in the Pac-10 because of appearances. Both schools won't want to lose that status in a new, expanded conference.
• The Pac-10 can only expand and expect to make enough money on a television deal with Texas. Adding random Big 12 and/or MWC schools won't increase the value of a proposed television deal.
• The Big Ten Network deal that Delaney has is based on subscription fees and makes more money than the Pac-10 could on its own.
• The Pac-10's best hope is for a television merger with the Big 12, forming a mega TV deal. The Pac-10 and Big 12 television deals are up in 2012, and both leagues have confirmed discussions on a television agreement.
• A number of sources find it hard to believe that Kansas would somehow be left with nothing. Football drives this, but the power; prestige; tradition; and, most important, ratings of basketball do have serious value. It's akin to leaving out Duke in some sort of ACC chaos.
• Underselling the value of the new $10.8 billion deal with the NCAA tournament is a mistake. It matters. This is a football-driven discussion, but it's not at the expense of disrupting the entire NCAA tournament plan.
• A number of conference presidents are trying to ensure that any potential move makes sense. (For example, did Boston College to the ACC make sense?)
• Boise State would probably take a MWC invite, but does the MWC want to invite Boise State without knowing what will happen to the Big 12?
• All of this is relative to the discussions going on at the Pac-10 and the Big Ten. But so many of the doomsday scenarios could be tamed if Notre Dame were to tell the Big Ten yes.
April, 12, 2010
04/12/10
5:58
PM ET
Leon Rice learned what Billy Grier did before him: Mark Few isn't leaving Gonzaga.
So despite the niceties of making promises -- either verbal or in writing -- about a succession plan to replace Few, Rice realized that he couldn't sit idle waiting for the day that Few might bite at a supposedly higher-profile gig.
[+] Enlarge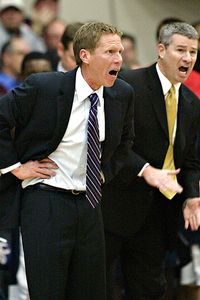 AP Photo/Dino VournasLeon Rice, right, arrives at Boise State after spending 11 seasons on Gonzaga's coaching staff.
Few could have been seriously considered at Indiana prior to Kelvin Sampson's hiring in 2006. He most certainly could have been hired at a Pac-10 school like Arizona if he had expressed serious interest in leaving Gonzaga.
Grier, Few's former assistant, realized three years ago Few wasn't going anywhere and took the San Diego job. In his first season, the Toreros beat Gonzaga to win the WCC tournament and upset Connecticut in the first round of the NCAA tournament.
Rice was next in line to get the Gonzaga job and if there ever was a time for Few to leave it was this season. Oregon was open. Few grew up in the Eugene area. The job was his as soon as Ernie Kent was fired. Once again, Few was courted but decided to stay put.
Rice wasn't looking to leave Gonzaga. But then he got word that Boise State was interested. On the East Coast, the chatter is always that Rutgers is the sleeping giant in the Big East. Once Fred Hill is officially out at Rutgers that same talk will start up with whoever lands the job.
On the West Coast, especially in the Northwest, Boise State is quietly earning that moniker. If in the next few years expansion causes a tectonic shift in conference alignments, Boise State will be one of the most coveted programs, thanks in large part to its success on the football field. That means the basketball program has to keep up and Rice is now charged with the task of increasing Boise State's profile to make the Broncos a more attractive option.
Boise State has made a meteoric rise from the Big Sky to the Big West to the WAC where the football team, playing on its famed home blue turf, has turned itself into a national contender. Former basketball coach Greg Graham, a former assistant at Oregon, led the Broncos to the NCAA tournament in 2008 and an NIT appearance in 2004 during his eight seasons at the school.
"A lot of people want to be Gonzaga, especially on the West Coast," Rice said. "What [Boise State has] done with the commitment to the football program has been at the highest level. It's one thing to talk about it and it's another to have a blue print, and they've done it in football and that impressed me."
Rice said he never had anything in writing from Gonzaga athletic director Mike Roth that he would succeed Few. But it was understood, just like the Zags have done in the past from the late Dan Fitzgerald to Dan Monson to Few.
"You're never ready to leave Gonzaga," Rice said. "But what [Boise State athletic director] Gene [Bleymaier] was offering was too good a fit to ever pass it by."
Rice, 46, has never been a head coach in Division I. He received a five-year deal with a salary of $400,000 a year. And, as one would expect, his first 10 days on the job have been a whirlwind.
The Zags finished their season Sunday, March 21, after falling in the second round of the NCAA tournament to Syracuse in Buffalo, N.Y. Rice flew to Boise, Idaho, Monday, interviewed Tuesday, went back to Spokane, Wash., on Wednesday and was offered the job Thursday at 3:30 p.m. By 6 p.m. he and his wife, Robin, and three sons, Brock, Max and Kade, were in the car driving to Boise, where they would check into their hotel at 3 a.m. for a Friday news conference.
What we sometimes miss about these decisions is what occurs at home. The Rices and Fews have been nearly kin throughout the past 11 seasons. Their children have been raised together and have spent time at each other's houses almost daily. Robin Rice and Marcy Few are like sisters. Both Mark Few and Leon Rice said the decision was difficult because of the emotional drain on both families. The children were in tears and sadness swept over the two families for days.
"That's why it was really important for my family to be with me at the press conference," Rice said. "I wanted them to see how much of a big-time environment it was. I wanted them to get juiced up about it. I wanted them to have that same excitement about it. They had never been to Boise."
Rice's 12-year-old son Brock is a huge Boise State football fan. Meeting coach Chris Petersen and quarterback Kellen Moore was an immediate thrill but more memorable, perhaps, was running sprints and calling signals on the blue turf.
After the initial introduction, however, Rice got right to work.
"You feel like you've got to do everything in one day," Rice said. "You feel overwhelmed."
Boise State finished 5-11 in the WAC, 15-17 overall but did win four of its last six games before falling to league champ Utah State in the conference tournament. As Rice arrived on campus, the Broncos were about to head off on spring break. Having the players gone for the first week was actually helpful for Rice. He had to hire a staff and did so immediately, plucking Dave Wojcik from Wake Forest (before he would have been fired with Dino Gaudio's staff a week later) San Francisco assistant Jeff Linder and Wyoming assistant Shaun Vandiver.
Rice met with the players individually as soon as they returned, telling them he would run a system similar to Gonzaga and listened to what their expectations were.
The Broncos have eight seniors on the roster next season, six of them scholarship players.
"That should tell you what the next 18 months are going to be like," Rice said of filling scholarships with what he hopes is a collection of high school seniors, four-year transfers and junior college players. "There will be a big opportunity to get guys to come in and play."
With a senior-dominated roster there will be immediate expectations. It's a move similar to what athletic directors have done at Boston College and St. John's this season and at Providence two seasons ago -- fire the head coach with a senior-dominated roster so the new coach has a chance to be successful in his first season.
"With this many seniors the goal is to get them to have a great senior year," Rice said.
And now the grind continues. Rice's family is back in Spokane, where Rice was Sunday night for a quick stop during April recruiting. He will commute to Spokane to see his family until his sons finish the school year before they all move to Boise later in the spring.
Boise State's hire of Rice didn't get the fanfare of Steve Lavin at St. John's or Steve Donahue at Boston College, but to those out west it is a hire that will be as intriguing to watch as any. Boise State is primed for a major move soon, and the basketball program must be in synch with an already booming football operation.
"Everything has been happening so fast," Rice said.
And it likely won't slow down for at least a year, if that quickly.
March, 22, 2010
03/22/10
6:10
PM ET
The coaching carousel is in full tilt for the spring, and there were plenty of rumors to chase this weekend. Many of them proved to be untrue. Here are some of the things I culled from various sources over the weekend:
St. John's: Rick Pitino told ESPN.com on Sunday that he intends to finish his career at Louisville. Florida coach Billy Donovan told ESPN.com he's not involved at St. John's and he's "happy where I'm at." Florida athletic director Jeremy Foley also confirmed to ESPN.com that he hasn't been contacted by St. John's, calling the bluff on any Donovan-to-St. John's story.
So where does that leave the Red Storm after the heavy hitters? Well, there is plenty out to choose from. If the Red Storm want Virginia Tech's Seth Greenberg or Georgia Tech's Paul Hewitt, they'll have to get them in a clandestine way without any kind of formal search. Can it be done? Possibly. But the money has to be large, with assurances that there is a real commitment in place. I concur with Dick Vitale. If it ends up being another solid coach who doesn't have national name recognition, even someone with strong New York ties, why get rid of Norm Roberts?
Seton Hall: Siena's Fran McCaffery and Richmond's Chris Mooney appear to be strong candidates. That doesn't mean they're the only candidates, but the Pirates are said to be looking for a fresh face with a clean track record after the Bobby Gonzalez debacle. If the Pirates push, they can probably land McCaffery, while Mooney might be harder to pry away from an elite A-10 job. But both may have to think twice, given the talent returning to their respective teams next season.
Oregon: Mike Bellotti's decision to step down as athletic director makes it even more clear that former AD and influential Oregon booster Pat Kilkenny will make the hire with the nod from Nike's Phil Knight, who has invested in Oregon as much as any high-profile alumnus at any other school. Don't be surprised to see the next Oregon coach coming from the family of coaches who work with Nike. The next Oregon coach has be someone who can sell the program to the boosters and aid in filling the arena and the boxes. Gonzaga's Mark Few gets first crack, and then it could down the line with elite Nike-sponsored coaches such as Minnesota's Tubby Smith and recent Nike addition Jamie Dixon of Pitt. The level of interest for any on these coaches is unknown.
Iowa: The Hawkeyes formed a search committee on campus. This isn't a search for a new professor. The basketball coach must be a fantastic recruiter and energize a sleeping fan base at this moment. But they also need a proven coach. That's why the Hawkeyes could do no wrong with Utah State's Stew Morrill or Dayton's Brian Gregory. According to sources, both would listen if called. Morrill has been one of the most underrated coaches in the country for over a decade. Gregory has Dayton as an A-10 contender. Gregory was once in the Big Ten as an assistant under Tom Izzo.
Central Florida: Three interesting names keep floating up here: Minnesota Timberwolves assistant Reggie Theus, former Alabama coach and current ESPN analyst Mark Gottfried, and Appalachian State coach Buzz Peterson. UCF needs to make a splash of a hire. Theus would certainly fit that description.
Boise State: Here's who is not going to Boise: LSU's Trent Johnson. I spoke with him Sunday, and he reassured me that any chatter of him going back to Boise was ridiculous. He said he has one of the top recruiting classes coming to Baton Rouge. Now, former Montana coach Larry Krystkowiak is a viable candidate and is seriously in the mix. But so too should be Portland's Eric Reveno. Weber State's Randy Rahe and Gonzaga assistant Leon Rice are on the radar. Boise State should be a coveted job since there could be a day in the near future when Boise State joins the MWC.
• If Penn hasn't hired interim coach Jerome Allen yet, there could be some movement with Lafayette's Fran O'Hanlon. I'd still be surprised if Allen didn't get the job.
• IPFW's Dane Fife is expected to be in play at Toledo. But the more Ohio State wins, the likelier it becomes that you could see someone like Jeff Boals. Don't be surprised when the MAC looks to the Big Ten for hires.
• Hawaii hired former USC assistant Gib Arnold because of his strong local ties. His father, Frank, was the former coach there. Expect Arnold to keep up a mix of international players with mainland JC players and high school seniors to get the Warriors back to relevance.
• As for Charlotte, Buzz Peterson worked for the Charlotte Bobcats, so going to Charlotte from Appalachian State would make perfect sense. I've had a number of coaches say the Charlotte job is one of the best in the A-10.
• Houston coach Tom Penders resigned Sunday, according to multiple reports. While Texas assistant Rodney Terry should be in the mix, is there anyone who doesn't think former Kentucky and Texas A&M coach Billy Gillispie gets the job?
• Fordham should just hire alumnus Mike Rice of Robert Morris. He's a sound, intense coach. Would they get a bigger name? Probably not.
The hot names: Ben Jacobson, Northern Iowa; Steve Donahue, Cornell; Tony Barbee, UTEP.
Barbee should be in play at DePaul and Auburn if he chooses to leave what could be another CUSA champ at UTEP next season.
Jacobson should be patient and make sure he doesn't do something that doesn't make sense (such as going to a bottom-dweller).
Donahue needs to leave Cornell if he wants to climb. The Big Red may never be at this point again. But Donahue is comfortable, so if the right move isn't out there, he should be patient.
A few random thoughts from the first weekend:
• The Mountain West Conference did a sensational job of getting four teams in the NCAA tournament. All four teams represented well in either the first or second round. But not getting a team in the Sweet 16 still limits the MWC from being treated with true credibility as a proven elite league. The MWC must break through with a Sweet 16 team soon.
• Decisions abound for the NBA draft among players who were ousted in the first weekend. Remember, under a new NCAA rule, players have until May 8 to withdraw from the NBA draft. That means there will be roughly a week to make a decision on staying in the draft (the NBA deadline to withdraw is still 10 days before the draft). There won't be much time for workouts.
So from the teams that have lost, who has to make decisions about leaving for the NBA or at least testing the draft for a week?
Kansas: Cole Aldrich and Xavier Henry.
Georgetown: Greg Monroe
Georgia Tech: Gani Lawal and Derrick Favors.
Gonzaga: Elias Harris.
Florida State: Solomon Alabi.
UTEP: Derrick Caracter.
BYU: Jimmer Fredette
Texas: Avery Bradley and Jordan Hamilton.
• For the record, Butler athletic director Barry Collier said he wasn't fired at Nebraska and left more than $1 million on his contract to return to his alma mater.