Category archive:

Northwestern Wildcats
April, 11, 2013
04/11/13
6:02
PM ET
New Northwestern coach Chris Collins left his comfort zone as an assistant at Duke. But he didn't venture outside his area of expertise when he returned to where he grew up.
He is now at a school where the pool of talent is small and is limited by the highest academic standards in the Big Ten.
Collins, who been on the job for a little more than a week, has one goal, and that is to get Northwestern to the NCAA tournament for the first time.
Since he arrived in Evanston last week, his main focus has been on these five items:
[+] Enlarge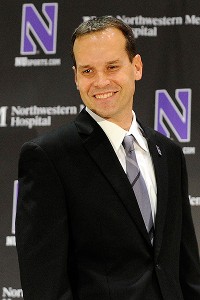 David Banks/USA TODAY SportsChris Collins hopes to duplicate some of Duke's success at NU.
1. Know his team: Collins has spent the first week working on developing relationships with his returning players. "We're on the quarter system, and that kind of helps us. They'll be in school until June, so it gives me time to work our guys out some and get to know them in individual meetings and get on the court to get to know them as players. I've got to develop relationships with the whole team." Collins held his first individual workouts Tuesday with the hope that his players could immediately understand his coaching style and get a feel for how he wants them to play. One of the key decisions he's waiting on is from leading scorer Drew Crawford, who missed all but 10 games this season with a torn labrum. Collins said Crawford could do a fifth year because he has graduated. "He's being sought after," Collins said. "It's the new free agency. He loves it here. He's been a good player." Collins said he expects JerShon Cobb, who was suspended for the year because of academic issues, to return.
2. Assemble a staff: Collins decided to keep assistant Tavaras Hardy, who played at Northwestern and recruited many of the players on the current roster. But that's been his only hire so far. "I have to take time to figure out what's going to be the right mix. I need guys who are going to complement me in all areas of coaching, recruiting and player development and all of those things. I have to take my time to get it right." Collins said he's not sure whether he will hire anyone from Duke. He will be able to lean on his father, Doug, in an advisory role when the NBA season is over. Obviously, that could turn into something more if the senior Collins doesn't return to coach the Philadelphia 76ers next season.
3. Recruit: Collins is visiting one-time Northwestern commit Jaren Sina, a point guard out of Lake Hopatcong, N.J., this weekend. Sina asked for and received his release when Bill Carmody was fired. Nate Taphorn, a 6-7 forward from Pekin, Ill., has never wavered in his commitment to Northwestern and will honor his national letter of intent. "The fact that I'm at a similar type of school helps," said Collins when comparing Duke and his current situation. "We will aspire to attract the same quality player and character kid at Northwestern."
4. Get to know his surroundings: Collins is back in the Midwest and Chicago. Although he needs to figure out his recruiting needs, he also has to embed himself in the area. Northwestern is a national-profile job, and he understands its importance to the Chicago area and the state. He will need to make a concerted effort to get out and know key basketball people in the city and beyond.
5. Family: This is usually the time of year when Chris is at home with his wife and two elementary school-age children. Instead, he's staying in a hotel while the rest of his family stays in North Carolina so the children can finish school. The plan is to attempt to sell their house near Duke, find one near Evanston and decide on schools. "There's so much on your plate right now," Collins said. "You're working long days, and there are so many loose ends. We've got to find a place to live." Collins was on the Team USA staff last summer, which meant a long summer in Europe. Now a new job has meant no free time to be around the family, and he's missing the spring sports season at home. That can be a stressful situation for anyone. "It puts a strain on everything in your family," Collins said. "But fortunately I have a great family, and they've been supportive through all of this. But it has made it crazy."
July, 20, 2012
07/20/12
6:40
PM ET
Everything that could go right has gone right for Bill Carmody since another heartbreaking ending to the elusive NCAA tournament quest.
Carmody got a vote of confidence from athletic director Jim Phillips and has multiple seasons left on his contract. The announcement on March 22 meant he would return for his 13th season. Carmody could have easily been sacked after the Wildcats finished 8-10 in the Big Ten, 19-14 overall.
Then, as if a gift had been placed at their Evanston doorstep, 6-8 Louisville senior Jared Swopshire (3.4 ppg, 3 rpg in 13.1 mpg) decided to transfer and play for the Wildcats immediately since he could seek a waiver as a graduating senior with a year left of eligibility.
The addition of Swopshire gave Carmody a much-needed replacement for John Shurna on the roster. He's not a better scorer, but a much more reliable defender who has the length needed to hang in the Big Ten.
The buzz over the arrival of 7-foot freshman center Alex Olah is real, to add even more size to the physically challenged frontcourt (see: trying to guard Jared Sullinger or Draymond Green last season). And the addition of 6-9 TCU transfer Nikola Cerina means the Wildcats actually have depth inside to go along with five returning key players -- Drew Crawford, Dave Sobolewski, Alex Marcotullio, JerShon Cobb and Tre Demps.
Oh, and the recruiting has been sensational by Northwestern standards, with the 2013 commitment from Jaren Sina, a 6-2 point guard from Lake Hopatcong, N.J., with the credit going to assistant Fred Hill, a Jersey native and former Rutgers head coach. Last Sunday, the Wildcats picked up a commitment from in-state forward Nate Taphorn, who is another lanky, offensive-minded fit for Carmody facing the basket.
"I feel so much better,'' Carmody said. "Everything seems to be on the upswing.''
[+] Enlarge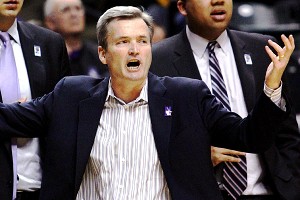 AP Photo/Kiichiro SatoNorthwestern has slowly made progress under Bill Carmody, but not enough to make the school's first NCAA appearance.
Northwestern has never been to the NCAA tournament. This has become common knowledge and a lingering storyline, partly because Carmody has put the Wildcats in position as a bubble team the past two seasons. According to Northwestern, only five schools in the nation -- Kansas, Duke, Ohio State, Georgetown and Northwestern -- haven't lost to a team with an RPI lower than 100 over the last two seasons.
And yet, Carmody hasn't had a winning season in the Big Ten in his 12 years at the school. In two of the past four, he has won eight league games, and 20 overall. But he has also lost at least 14 games overall in each of the past four years.
Now here we are, on the brink of another season in Evanston. Will the drought finally end for the long-suffering Wildcat fans?
"It's going to happen,'' Carmody said. "The level of talent is up and better than it's been. We're shooting to make it this year, but I think we're solid for the next three or four years.''
Carmody has built a program in which the Wildcats are a pain to play, according to almost any coach you talk to in the Big Ten.
"I think we're more like everyone else now,'' Carmody said. "Guys want to come here. Swopshire plays in the Final Four, and he and his father call us up because they like the way we're playing. They like the style, the way we have freedom out there.
"We're just involved with better kids now. I feel really jacked up a bit. We're looking forward and closing out this [2013] class. We're a viable alternative.''
Carmody insists he is not focused on being the one who finally gets the Wildcats to the NCAAs. He has poured everything into making this work.
"I want to get this done, but I don't think in those terms,'' Carmody said. "I'm happy that the program is so solid right now. It could happen this year or next year. It could happen this year and not next year. We're a part of the discussion now at the beginning of the season.''
The problem for the Wildcats has been their inability to close.
Five of NU's 10 league losses last season came by a combined total of 12 points. Throw in the Big Ten tourney and the Cats had three overtime losses. The hardest one to take was losing to Ohio State at home by two on a layup by Sullinger, who was left open on a terrific lead pass.
"I think about a lot of it,'' Carmody said. "We certainly could have won. We needed a guy to beat someone off the dribble. We hadn't had that, and that's really important, and we're working on that. If you don't have that, then you have to come through with perfect plays and everything has to go right.
"Other teams have a guy that can set a high-ball screen and go one-four low and go. I think we're going to remedy those things.''
Carmody said his focus in the offseason and during summer workouts has been on the offensive end.
"So we don't have those situations again,'' he said. "Swopshire is going to play. He does everything pretty well. He can get six or seven rebounds and nine or 13 points. He'll guard. He understands how to do things. He's smaller than Shurna but plays bigger on the glass. He'll help us.''
The Wildcats have tended to put too much pressure on winning in the Big Ten. The good news is that they get more opportunities than most. But Northwestern can't afford to come into conference play without a stable of wins to impress the selection committee.
That will put even more pressure on the Cats to win in South Padre Island (where MVC contender Illinois State is in the field) and then clean up with two high-profile home games against Butler and Stanford and attempt to steal a road win at Baylor.
Regardless, once again, Northwestern is in the preseason discussion as a possible tournament team. The Wildcats won't be picked ahead of Indiana, Ohio State, Michigan, Michigan State, Wisconsin and/or Minnesota. But the Wildcats have the talent to be as high as fifth or sixth, and even finishing as low as seventh wouldn't preclude them from a bid.
That's what Carmody has done -- elevate Northwestern at least into the discussion.
But can the Cats finally take that next step? Finally break through?
Stay tuned.
February, 13, 2012
02/13/12
9:25
PM ET
Quick hitters for a Monday as we hit the stretch run of the season:
• Kentucky freshman Anthony Davis should be the new front-runner for national player of the year. Kansas' Thomas Robinson deserves all the adulation he has received for what he has done to this point in his career and this season for the Jayhawks. But no player changes the game the way Davis has in the SEC this season. He should be the SEC player of the year and at the very least a runner-up if he's not the choice for national player of the year.
[+] Enlarge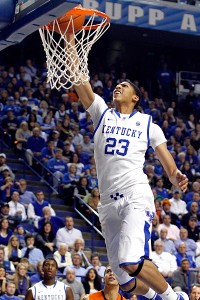 AP Photo/James CrispFreshman forward Anthony Davis "changes the game for everybody, for our team, for everybody," says Kentucky coach John Calipari.
Kentucky coach John Calipari said Monday, "He changes the game for everybody, for our team, for everybody. He does it without changing his demeanor. He doesn't have a selfish bone in his body. That's what makes him the most valuable player out there."
• When asked about Illinois coach Bruce Weber's job security, Illini athletic director Mike Thomas gave the standard response about evaluating the entire program, like he would for all 18 sports, at the end of the season. That doesn't necessarily sound like he's backing Weber.
One source close to the situation said Weber has had a good relationship with Thomas and that Thomas hasn't given him any indication that he's out.
Know this: Weber is a genuinely nice man. He attempts to do everything the right way. He coached the 2005 Illinois team exceptionally well and was within five minutes of a national title in St. Louis. The program has been on and off the bubble ever since, it seems.
The best-case scenario at some point may be if Weber moved on, on his own, for a fresh start. Regardless of what occurs in 2012-13, the Illini have enough talent to be an elite Big Ten team next season. That's of course if Meyers Leonard decides to stay put.
• Staying too long in one place isn't a false theory. That's why some coaches may regret not jumping when they had the chance. Weber may be one of them. Jim Baron at Rhode Island could be another.
• I won't be surprised if Northwestern's Bill Carmody leaves even if the Wildcats make the NCAA tournament for the first time ever. Carmody has put every ounce of his sweat into trying to get this program into the tournament. He constantly looks like the weight of the world is on his shoulders. If he doesn't make the tournament, there's nothing wrong with knowing he gave it everything he had and the program never quite got over the hump. The Wildcats have to win a few key upcoming home games to try to influence the committee that they are worthy. Of course, if Carmody were to finally break through and make the NCAAs, the recruiting may go to another level and he would have to stay. But at Northwestern, just making the tournament would qualify as enough for him to move on.
• The BracketBuster games looked tantalizing good a few weeks ago. But losses by Nevada, Iona, Creighton, Murray State and Saint Mary's have lowered the interest/importance a tad. The hottest teams since the matchups were announced are Long Beach State, Wichita State, Drexel and VCU. If you could reseed and have those four teams play in some form, that would still provide plenty of pop. Long Beach State is at Creighton, Wichita at Davidson, Drexel at Cleveland State and VCU hosts Northern Iowa. The Saint Mary's-Murray State game still has enormous value for the Racers. A win and everyone will settle down a bit about the Racers' at-large hopes. A loss and suddenly they are tossed back into the pool. The expectations for these teams to run the table from the moment the matchups are announced is simply an unfair expectation.
• I don't think I've ever picked a team in November to make the Final Four and then not have that squad even make the NCAA tournament. Xavier could be the first.
• There is a strong chance multiple teams from power six conferences will have double-digit conference wins and not get bids. This is the repercussion of having unbalanced schedules. Two teams to watch for this are South Florida and NC State. The coaches know they can't complain about winning 10 games in the Big East or ACC if they didn't beat any of the top four teams in the conference.
• Valparaiso coach Bryce Drew won't win national coach of the year. But he better win the Horizon League honor. I saw this team in an exhibition game in November. There was no reason to suspect the Crusaders would be leading the Horizon and on their way to a possible NCAA tournament berth. If you had to take which Drew brother would be in first place on Feb. 13 in his respective conference, it wouldn't have been close. Scott Drew of Baylor would have been the choice.
• San Diego State's new rival in the Big West in 2013 will be Long Beach State. But the games simply won't feel as grand as when the Aztecs play UNLV. Everyone squawks about Missouri and Kansas playing in the future. Well, SDSU and UNLV should continue their series, as well. It's regional, easy travel and both programs are going to stay at a high level for the near future.
• Murray State has tremendous respect among the coaches to only fall seven spots to No. 14 in the ESPN/USA Today poll after losing at home to Tennessee State. But what about Wichita State? The Shockers got no respect from the coaches after rocking Creighton in Omaha and establishing themselves as the premier team in the Valley. Wichita wasn't in the Top 25 released Monday.
• I don't know which way I would lean for the national coach of the year award. The candidate list is quite long with Kentucky's John Calipari, Syracuse's Jim Boeheim, Missouri's Frank Haith, Kansas' Bill Self, Georgetown's John Thompson III, Notre Dame's Mike Brey, UNLV's Dave Rice, San Diego State's Steve Fisher, Saint Mary's Randy Bennett, Murray State's Steve Prohm and Michigan State's Tom Izzo.
July, 28, 2011
07/28/11
4:19
PM ET
LAKE BUENA VISTA, Fla. -- Quick hitters after talking to several coaches here at the AAU nationals:
• The U.S. World University Games team -- led by Purdue coach Matt Painter (U.S. team head coach) along with Butler coach Brad Stevens and Tennessee coach Cuonzo Martin (U.S. assistants) -- continues to lose key players. Xavier's Tu Holloway turned down the invite to stay and play with his XU teammates. Wisconsin's Jordan Taylor is having minor ankle surgery. And now Painter said that UConn forward Alex Oriakhi is also out in order to rest an injury. Stevens said losing Oriakhi will be a big blow since the team that heads to China next month for the competition needs a rebounder like him in the tournament. Painter said Detroit's Ray McCallum Jr. and UConn's Shabazz Napier were added to the tryout list. Pitt's Ashton Gibbs and Syracuse's Scoop Jardine are still on the roster and are certainly favored to make the squad.
• There are still 22 players trying to make the U.S. squad and they'll compete and train in Colorado Springs from Aug. 4-7. The event runs Aug. 13-22 in Shenzhen, China. A number of players could use this international stage as a springboard for their college seasons; these players include Alabama's JaMychal Green, Texas A&M's Khris Middleton, Kentucky's Darius Miller, Northwestern's John Shurna, Minnesota's Trevor Mbakwe, Vanderbilt's John Jenkins, Michigan State's Draymond Green, Missouri's Kim English and Marcus Denmon and Notre Dame's Tim Abromaitis.
But perhaps more than any other player, Cincinnati's Yancy Gates needs to make this team and show he can be a force in order for the Bearcats to continue their rise in the Big East. Last season, he was suspended for a game due to team-related issues. Cincinnati coach Mick Cronin said Gates can come out of this looking like a team player and a stronger player who can change his image with a positive performance in China.
• Painter said fifth-year senior Robbie Hummel is tired of answering questions about his right knee (ACL surgery). And so are the Boilermakers. He said Hummel should be good to go once the season starts. Meanwhile, the Boilermakers are troubled by the foot surgery for John Hart that will keep him out for an extended period. Hart has had trouble with his right foot for quite some time.
• Villanova coach Jay Wright said JayVaughn Pinkston has been cleared by the school to play for the Wildcats this season. Pinkston was not allowed to play last season due to an assault charge. He was expected to have a major impact on last season's team prior to the incident. The Wildcats are prepping for a trip to Amsterdam, where they will play a few national teams. Wright said the Wildcats will be much different than any squad he's coached in recent years, with the team centered more around big men rather than being guard-oriented.
[+] Enlarge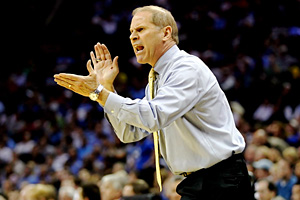 Kevin C. Cox/Getty ImagesJohn Beilein is looking forward to the two new guards he'll have on campus this season.
• Michigan coach John Beilein said the addition of freshmen guards Trey Burke and Carlton Brundidge should allow Stu Douglass to return to his natural off-guard position. Losing Darius Morris to the NBA draft was a huge blow to the Wolverines, but Tim Hardaway Jr. showed with the U-19 team in Latvia that he can create quite well with the ball in his hands. If the freshmen can be facilitators and Douglass can play off them, the Wolverines may not take a step back. Michigan is in the Maui Invitational in a loaded field, has to travel to upstart Virginia in the ACC-Big Ten Challenge, and gets a sleeper Big 12 team at home in Iowa State. The Wolverines are likely going to add a nonconference game at Arkansas that will take place during the Big Ten season.
• While on a recruiting trip in February, North Carolina coach Roy Williams took a side trip to an aircraft carrier in San Diego to see what it would be like in advance of the Carrier Classic on Nov. 11 against Michigan State. The USS Carl Vinson will be the host of the game, but it wasn't the ship that Williams toured. Williams wanted to see how this would work with a game on top of the ship deck. He couldn't get over the narrow passageways through the ship and wondered how his taller players would maneuver through the ship to get to the deck. Well, apparently there will be a lift that will help that occur so that shouldn't be a problem.
• Williams isn't ruling out Leslie McDonald coming back this season from an ACL injury. Williams said McDonald will have surgery on Aug. 3 and made it clear there's no reason to make any declarative statements at this juncture about a return.
• There was no consensus among the coaches in Orlando about whether to add a stipend, how it would be handled and how it could be divided up for all student-athletes. UConn's Jim Calhoun and Louisville's Rick Pitino said they would like to see $75 to $100 a week for the athletes -- roughly $400 a month.
• Not one coach endorsed the NCAA's new draft early-entry withdrawal date of April 10, 2012, after which no player will be allowed to enter the NBA draft. Makes you wonder why this was passed. Every coach who discussed it said it would lead to more poor decisions of players leaving early.
• Ole Miss coach Andy Kennedy tossed out this prediction about Vanderbilt: The Commodores are a Final Four contender.
• Old Dominion coach Blaine Taylor has gone to the Fred Hill makeover school. Hill, the former Rutgers head coach and current Northwestern assistant, was bald when he was head coach of the Scarlet Knights. Now he's gone with long hair in the back and new glasses. As for Taylor, he got rid of his famed mustache and dark hair. He's gone with something of an auburn or almost light red look. He was standing to the side of our TV set, and I wasn't the only one who had no idea who he was until you could read ODU on his golf shirt.
• Stanford is prepping for a trip to Spain in early September. The Cardinal and coach Johnny Dawkins need to get away to figure out who will stand out for them now that Jeremy Green is gone.
• New Fairfield coach Sydney Johnson squeezed in a team trip to Italy next month, which will be critical for him to get to know his players more and see how Boston College transfer Rakim Sanders meshes with a team that won the MAAC regular-season title last season and is back almost in full.
• The travel some of these coaches put on themselves is a bit ridiculous. Dawkins was in Orlando on Monday, then took off for Phoenix and then Los Angeles before he headed back to Orlando by Thursday. Temple coach Fran Dunphy was in Orlando on Monday and was off to Phoenix before a return to Orlando by the end of the week.
• New Maryland coach Mark Turgeon said he has reviewed his team enough to know that scoring up front will be a challenge. He said he'll likely go with four guards on the court on a consistent basis.
• Northwestern's Bill Carmody clearly wanted to be noticed in showing his school spirit. He had a rather loud pair of purple sweat pants that I'm not sure you could or would want to buy at the campus bookstore. Michigan State's Tom Izzo went with Spartan green, which Carmody pointed out, but the green was certainly more muted than the purple.
December, 22, 2010
12/22/10
5:16
PM ET
NEW YORK -- If you left Madison Square Garden at halftime Tuesday night, you might start to believe that this is finally the season Northwestern earns its first NCAA tournament bid.
But if you stuck around for the second half and saw the Wildcats' defense shredded by offensively-challenged St. John's, then it would be natural to pause yet again.
So, we're still unsure if the Wildcats are going to make a historic run to the tournament, especially in a season in which the NCAA selection committee gave them three more chances thanks to the increase in at-large berths from 34 to 37 for the 68-team field.
"We don't talk about it too much but it's on our minds, and everyone knows that's what we're trying to do,'' Northwestern coach Bill Carmody said after the Wildcats lost for the first time this season, 85-69 to St. John's in the final of the Holiday Festival. Northwestern led 40-37 at halftime but got blitzed by the Red Storm's 80 percent shooting in the second half. Suddenly, St. John's Justin Brownlee (21 points) and Dwight Hardy (24) played like first-team all-Big East players. While they deserve credit for their proficiency, the looks they got weren't being contested.
[+] Enlarge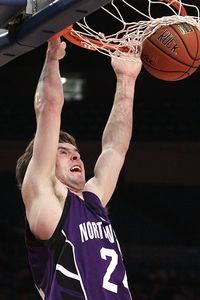 AP Photo/Kathy WillensJohn Shurna led the Wildcats with 28 points, but it wasn't enough against St. John's.
"We have work to do on the defensive end,'' Carmody said. "We have to develop this team, get wins and then get good. We're pretty good offensively, been pretty good on the defensive end but not for an entire game.''
The Wildcats do have scorers, especially junior forward John Shurna. He doesn't have the intimidating physique or a fundamentally sound shot. But that doesn't matter.
Shurna's push shot 3-pointer goes in and his ability to take contact and finish was evident with three three-point plays en route to scoring 28 points. Drew Crawford (17 points) can light it up as well, Michael "Juice" Thompson (eight assists and one turnover) is a strong, sturdy point guard who can control a game, and freshman wing JerShon Cobb gives the Wildcats an athletic wing in the Devin Ebanks mold that they've lacked.
"I think we're better prepared for the Big Ten this year,'' said Thompson. "I definitely think we're mentally tougher than last year and more experienced. Last year left a bad taste in our mouth, not making the NCAA tournament. We don't want to go through that again. It's a constant reminder that we have to work harder.''
But there are weak links, like Luka Mirkovic's aversion to scoring. The big man in the middle can board (11 rebounds) but was 1-of -6 from the field, and at one point, he was two feet from the basket and instead of going up strong, he decided to kick the ball back out. He will have his hands full with Ohio State's Jared Sullinger, Purdue's JaJuan Johnson, any of the trio of big men at Michigan State and the plethora of bigs at Minnesota, or if he has to help on Wisconsin's Jon Leuer or Illinois' Mike Tisdale.
And the bench doesn't give the Wildcats much either, save for Alex Marcotullio (one 3-pointer, eight points against St. John's).
"I feel good about Crawford, Shurna, Thompson and Cobb, but I've got to get the bench to help out,'' Carmody said. "We have to play eight or more.''
Carmody said the Wildcats may have worn down a year ago with the near 40-minutes-per-game-averages by Thompson (37.7) and Shurna (36.4). That team was trying to figure out how to play without Kevin Coble, who broke his foot prior to the season. He didn't return. This season, he left in the summer, before the Wildcats even had to adjust to playing without him.
Still, losing games late last season to Penn State (twice), at Iowa and at Indiana killed any NCAA chances.
The Wildcats started this season 8-0 before falling to the Red Storm. But the schedule wasn't strong, as their best wins came at home over a mediocre Georgia Tech team and rebuilding Creighton.
If Northwestern is going to make history with a bid, it will have to be earned in the Big Ten. The start of conference play is unforgiving with games at Purdue (Dec. 31), vs. Michigan State (Jan. 3) and at Illinois (Jan. 6).
"What do you want us to do -- play Wisconsin and Minnesota? It's a great conference,'' Carmody said. "I think we'll be ready. We have to stay healthy.''
Shurna said the NCAA tournament hasn't been discussed by the coaching staff. But it's the white elephant in the room. Everyone knows the Wildcats have a chance this season and can't let it slip away. Northwestern will get plenty of power-rating points in the Big Ten, but the Wildcats must win games against the elite teams. Winning nine games in the league -- at a minimum -- won't mean as much if it's not the right nine.
"Last year we dropped games at the back end of the schedule that we should have won,'' Shurna said. "Hopefully, things will turn out better this year.''
Had the Wildcats knocked off St. John's, it would have given them a true road win against a Big East team that has a shot to finish in the top 10 in the conference.
Sure, the Red Storm had already lost to St. Bonaventure at home and at Fordham, but they have a shot to make something of their season and become a pest in the Big East. St. John's, which still plays Duke and at UCLA, will likely have a decent power rating when the season ends.
Beating the Red Storm would have looked better than Northwestern's two other true road wins -- at Northern Illinois and Texas-Pan American. Those games won't do much for the Wildcats when the résumé is examined by the selection committee.
Northwestern's long-suffering and loyal alumni are like Cubs fans in Chicagoland, seemingly optimistic but always ready for a letdown.
The Wildcats were dejected after the loss Tuesday night, but there was no sense of despair. This team truly believes it can win enough games in the Big Ten to make the NCAA tournament. The players have known all along they would have to earn it in the conference.
"We do feel we have a great chance,'' Thompson said. "It's up to us. We have to work hard. We need to win games we should win and get better each day. ''
But that won't be enough if the Wildcats don't knock off the Big Ten's elite. If they do, they'll make history at season's end.
November, 30, 2010
11/30/10
5:37
PM ET
The Big Ten is seven or eight deep in potential NCAA tournament teams. The ACC has Duke and a host of teams that are hard to discern from No. 2 on down.
So of course the Big Ten will capture the ACC/Big Ten Challenge, right?
Not quite. Virginia revealed the unpredictability of this event on Day 1. The Cavaliers were expected to be battling at the bottom of the ACC and Minnesota, even with senior point guard Al Nolen out of the game due to injury, was expected to walk over the Cavs after winning the Puerto Rico Tip-Off last week.
[+] Enlarge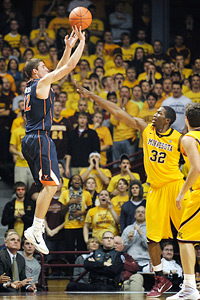 AP Photo/Tom OlmscheidJoe Harris' 24 points led Virginia to a surprising win over Minnesota on Monday night.
Instead, Virginia won 87-79 in Minneapolis, which might help the ACC win the event because it has advantageous matchups with top-ranked Duke hosting Michigan State, Clemson hosting Michigan, Virginia Tech hosting Purdue, Maryland visiting a weak Penn State team and toss-up ACC home games that include Iowa-Wake Forest and Indiana-Boston College, plus a potential upset if Florida State can beat Ohio State in Tallahassee.
For the sake of argument, that would mean home Big Ten victories by Northwestern (vs. Georgia Tech), Illinois (vs. North Carolina) and Wisconsin (vs. NC State) wouldn't even be enough to offset an ACC victory.
But regardless of what occurs, the ACC/Big Ten Challenge has provided an opportunity for a number of teams -- the opportunity to right a loss in an early-season tournament and/or pick up a much-needed quality win.
"We're all trying to figure ourself out now,'' Illinois coach Bruce Weber said. "Whether you're coming off a big win or a loss. Now you've got Big Ten, high-level games with a lot of attention. It's a good test for your team to figure out if you're for real or not. Your season can go in a lot of different ways. It's a good test to see how your team will respond, whether it's off a loss or a win.''
Florida State lost at home Sunday to Florida. The Seminoles could erase that with a win over second-ranked Ohio State, which has already won at Florida. Wisconsin is hosting NC State after losing to Notre Dame on Sunday in the final of the Old Spice Classic. The Badgers had already lost at UNLV. NC State dropped the title game of the Charleston Classic to Georgetown. Both teams could use a quality nonconference win.
Northwestern is undefeated and hoping to go to the NCAA tournament for the first time. But if the host Wildcats are to be taken seriously, shouldn't they beat Georgia Tech, which lost at Kennesaw State? Maryland failed to win a 2K Sports Classic game in New York against Pitt and Illinois. So if the Terps are a real threat to finish second in the ACC, shouldn't they win at struggling Penn State?
Purdue is fresh off a loss to Richmond in the final of the Chicago Invitational, and Virginia Tech lost Sunday night to UNLV in the final of the 76 Classic. The Hokies had already lost at Kansas State on Nov. 16. The combination of ensuring enough prep time and cost containment led Virginia Tech to chip in with Tulsa for a charter flight on the way to and from Anaheim. Hokies coach Seth Greenberg said the plane dropped Tulsa off early Monday morning. The Hokies arrived in Blacksburg at 8 a.m. after playing the night before against UNLV. The importance of the Purdue game pushed Greenberg to secure the flight.
Virginia Tech opened the season at home against Campbell, then went to Kansas State and UNC Greensboro (at Greensboro Coliseum, site of the ACC tournament) before visiting Anaheim for three games. The Hokies play Purdue at home, host Virginia to open the ACC schedule, host Penn State and then play Mississippi State at the Atlantis resort on Paradise Island in the Bahamas. This will be the first game heralded newcomer and Bulldogs center Renardo Sidney is eligible.
"This is a big stretch for us,'' Greenberg said. "The pre-Thanksgiving tournaments might make more sense when you're in the ACC/Big Ten Challenge. But we wouldn't get a Purdue to come to Blacksburg if it weren't for the Challenge. That's part of the culture. It's part of the business. Anytime you're playing an opponent like this, it's an opportunity. It sounds crazy now in November, but you're building your profile and your résumé.
"These games don't hurt you, but they can sure help you.''
He's right. So far, Virginia Tech has played three games against possible NCAA teams and lost two (Kansas State and UNLV) and the one it won (Oklahoma State) is a bubble team at best at this point. That's why a game against Purdue takes on even more significance, regardless of what event it is folded into. The Hokies won't get much bang out of a win over Penn State at home, leaving a neutral-site tilt against Mississippi State as their last significant nonconference game.
Virginia Tech knows all too well that it can't rely solely on the ACC getting its profile up to earn a potential at-large berth.
Duke and Michigan State, the opponents in the headline game in this event, will be fine either way. Both schools will be in the field, possibly as No. 1 seeds, and they'll play enough quality teams to place too much emphasis on this one game.
That's not the case for the other games.
North Carolina (lost two games in Puerto Rico) can turn its season around with a win at Illinois and a game against Kentucky at home Saturday.
Illinois beat Maryland and follows the Carolina game with a matchup in Seattle against Gonzaga on Saturday. Playing Missouri in St. Louis in a few weeks will create another opportunity for a quality win before the loaded Big Ten schedule.
"This is like a Big Ten week for us,'' Weber said. "We had a little test in New York. Now we have another test this week. These are really good games for us. We're at home. You hope you can win. But there are no guarantees.''
Just ask Minnesota, which appeared to be the one lock for the Big Ten when it hosted Virginia. The Cavs didn't see it that way.
No guarantees indeed.
July, 8, 2010
07/08/10
9:38
PM ET
Credit Duke coach Mike Krzyzewski for giving college upperclassmen more opportunities to not only get seen, but to improve for a quick sojourn in Las Vegas later this month.
The USA Basketball experience at the national team level has become an NBA deal.
But according to Syracuse coach Jim Boeheim, an assistant on the national team since 2006, Coach K pushed to solely fill the USA Select Team that will compete against the national team with collegiate upperclassmen.
"Hopefully we didn't miss anybody," Boeheim said. "The only reason this is happening is because Mike made sure of it. It's a great thing to get the college guys exposure and a chance to play like this."
Boeheim met with the junior national team committee last month to come up with a roster, combing through some of the nation's elite upperclassmen. Incoming freshmen like Harrison Barnes (North Carolina), Jared Sullinger (Ohio State) and Kyrie Irving (Duke) have already been on a USA team (Irving just won gold in San Antonio at the U18 tournament last month) or will likely get the opportunity shortly when they're in the NBA.
But giving these upperclassmen a chance to compete for the United States and improve their all-around games this summer was a must. Potential star seniors like Purdue's Robbie Hummel (knee surgery), Michigan State's Kalin Lucas (Achilles) and Northwestern's Kevin Coble (foot) were all still rehabbing and not ready to be invited to the event.
Boeheim said they tried to include all of the top players heading into next season, but there were some omissions like Washington's Isaiah Thomas, Ole Miss' Chris Warren, Michigan State's Durrell Summers, Colorado's Alec Burks and Virginia Tech's Malcolm Delaney. They all have legitimate gripes for not being on the roster.
Washington coach Lorenzo Romar, who, along with Villanova's Jay Wright, will be a co-head coach during the July 19-24 training camp in Las Vegas, was a bit miffed at Thomas being left off the roster. Still, Romar, who was back from Germany on Thursday after watching the U17 team compete at the world championships, is looking forward to the opportunity to coach an all-star collegiate team for a week.
Despite some omissions, the roster is still a who's who of potential stars for this season:
Lavoy Allen, Temple: Should compete for A-10 Player of the Year honors with Richmond's Kevin Anderson.
William Buford, Ohio State: Should be the go-to shooter for the Buckeyes as they learn to play without Evan Turner.
LaceDarius Dunn, Baylor: Will have to go solo without Tweety Carter in the backcourt, but has Perry Jones instead of Ekpe Udoh to help form an elite outside-inside combination.
Jimmer Fredette, BYU: Fredette is having a terrific summer so far and his game is improving daily. His shooting will get him drafted and if he can prove in Vegas that he can defend, it will help his stock even more.
[+] Enlarge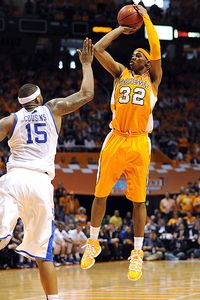 Don McPeak/US PresswireOnce a McDonald's All-American, will Hopson make "the leap" to stardom this season?
Scotty Hopson, Tennessee: Hopson could really step out and show NBA personnel that he can be a deft shooter for the Vols during the season.
Scoop Jardine, Syracuse: This is an interesting selection, but with Boeheim as the chair of the committee it makes sense to give Jardine a shot. He should be one of the better point guards in the Big East.
JaJuan Johnson, Purdue: Johnson decided against declaring for the NBA draft and should be one of the top shot-blockers this season as he tries to lead the Boilermakers to the national title.
Jon Leuer, Wisconsin: Leuer's profile continues to rise. He'll be the go-to player for the Badgers, a Big Ten Player of the Year candidate and an NBA draft pick next year.
Shelvin Mack, Butler: He could and should be one of the top guards in the country. Mack has a pro body and will only increase his scoring load without Gordon Hayward. This is another golden chance to prove to the NBA how good of a pick he will be in a year.
Marcus Morris, Kansas: KU coach Bill Self said Morris is a star in waiting. Morris will get his shot at proving that to everyone in Las Vegas.
Jacob Pullen, Kansas State: Pullen is a shooter and will need to be on the ball even more without Denis Clemente. This should provide good preparation for him.
John Shurna, Northwestern: Shurna got plenty of pop for making the gold-medal-winning U19 team last summer. He continues to grow into top talent in the Big Ten.
Kyle Singler, Duke: Singler enters the season as one of the favorites for national player of the year honors. He made a sound, intelligent choice to remain in school as he rounds his game out even more.
Chris Singleton, Florida State: Singleton is a very solid defender, and if he's a real leader he could be the reason the Seminoles stay relevant this season.
Nolan Smith, Duke: Smith might be the best late-clock shooter on this team and in all of college. If he plays well here, he'll certainly improve his draft profile. He's one of the reasons Duke could win the title again.
Trey Thompkins, Georgia: The Bulldogs are my sleeper pick this season and a lot of it is because of Thompkins. He blossomed for the U.S. last summer and is getting another shot to prove how much he has developed.
Mike Tisdale, Illinois: Tisdale cut late last summer by USA Basketball. He gets another shot to prove he belongs in this group. He's long and lanky as well as a good shooter, but he'll have to prove that he can board and defend against strength.
Kemba Walker, Connecticut: The Huskies will be his team next season. He can fly up court, but has to learn to play under control in order to be an NBA-level player.
Chris Wright, Dayton: Wright flew under the radar a bit and this could give him plenty of opportunities to raise his profile if he can play well during this week.
Tyler Zeller, North Carolina: The Tar Heels will be led by Barnes and John Henson, but Zeller still has NBA skills with his fundamentals, size and reach. But during this week, he needs to prove that he is durable.
You'll notice that no Pitt players like point guard Ashton Gibbs or big man Gary McGhee are on the roster. That's because the Panthers will be in Ireland on a summer trip.
It is unknown as to how many scrimmages this select team will have against the national team, which is prepping to go to the World Championships in Turkey next month.
"This is a great opportunity for these guys to go out and play and get a little bit of structure," Romar said by phone from Cleveland's King City Classic. "They'll be playing against great players."
June, 29, 2010
06/29/10
9:52
PM ET
College coaches always want time to spend with their entire teams -- incoming freshmen included -- during the summer, something previously disallowed by the NCAA.
However, one way to get around the rule now is to go on a foreign trip. For the first time, the NCAA is allowed incoming freshmen to join the offseason excursions.
Prior to leaving, a team gets 10 practices, although they don't have to be 10 in a row. It's a welcome addition to the summer schedule for any coach.
Four of the most important trips that teams will be going on this summer are:
Kentucky: The Wildcats will travel to Canada in August for John Calipari's first look at new high-profile freshmen Enes Kanter, Brandon Knight and Terrence Jones as they mesh with the returnees in a quest to keep the Wildcats atop the SEC.
Oregon: The Ducks are off to Italy as new coach Dana Altman looks to find his footprint in the program in advance of the Ducks moving into a new state-of-the-art facility.
Northwestern: The Wildcats have a real shot to make the NCAA tournament for the first time. Going on a foreign trip with Kevin Coble back after a season-ending foot injury could make a huge difference in the Wildcats' quest to make the field of 68. Northwestern, like Oregon, is off to Italy.
Pittsburgh: The Panthers are the pick to win the Big East with the return of every starter save Jermaine Dixon. The last time Pitt went on a foreign trip it was to Canada in August 2004. Coach Jamie Dixon had just completed his first year and the core of the group was still young with Levon Kendall, Carl Krauser, Chevon Troutman, Ronald Ramon and Chris Taft highlighting the roster. That team finished 20-9 and was a No. 9 seed.
The expectations are even higher for this group. That's why Dixon wanted to take advantage of the new rule, and the team will be in Ireland from July 29 to Aug. 9.
From a basketball perspective, the practices -- like the one the Panthers held last Friday and will again this Friday -- are key. The most important issue for Pitt is figuring out the rotation, especially up front.
Pitt has several big men, Nasir Robinson, Gary McGhee, Dante Taylor, J.J. Richardson and Lamar Patterson, who will all have to figure out their roles. In the backcourt, the Panthers will likely go with a three-guard lineup of returnees Ashton Gibbs, Brad Wanamaker and Gilbert Brown in place of Jermaine Dixon. But incoming freshmen Isaiah Epps and Cameron Wright could certainly push those three at times. Learning how they handle the road will be key for Jamie Dixon.
Dixon said that when he took the team to Canada in 2004, he was hoping to find an effective 3. He didn't on the trip and said he was still searching in March.
This roster isn't devoid of options for him. But he'll learn quite a bit more on this excursion and he'll have plenty to ponder come October.
This opportunity exists because the Panthers took advantage of an invite from Pittsburgh Steelers owner Dan Rooney, who is the current U.S. ambassador to Ireland. The team will get a reception in Dublin at the U.S. Embassy. The trip includes two games in Cork, two in Dublin and two in Belfast, Northern Ireland. The team will meet with PeacePlayers International, an organization that uses basketball to promote peace and togetherness between Protestant and Catholic youth in Northern Ireland. A year ago, the Pac-10 tried unsuccessfully to quash foreign trips. The rationale by the league in trying to trash these trips was cost-cutting and that not all schools could afford them. True. Most have to raise separate funds. But not all go, and if they want to invest in a trip that can be beneficial to their team, there is no harm done.
The Pac-10's effort was sincere, but it was also short-sighted. You can argue that these trips are junkets if you'd like. And for some schools they are. But if the players and coaches want to get something out of it more than basketball -- like opening their minds to issues outside of their comfort zone (see: Northern Ireland) -- then there can be an educational experience that comes out of the sojourn.
• Louisville's appeal to get Memphis guard Roburt Sallie eligible for next season is based on Sallie graduating and now apparently pursuing a graduate major that Memphis doesn't offer; Louisville didn't say what that exact major was. Sallie would be playing for his third school and fourth coach in his Division I career after being denied admission to Nebraska before he made his way to Memphis under John Calipari and then Josh Pastner.
• At its ongoing meetings in Chicago this week -- in addition to deciding how the new opening-round games will be formatted -- the NCAA tournament selection committee will review whether it will move the opening-round games from Dayton and whether it will have them on one day (Tuesday) or two (Tuesday and Wednesday).
June, 7, 2010
06/07/10
7:17
PM ET
Big 12 commissioner Dan Beebe is one of the 10 members of the NCAA tournament selection committee and was on the inside of the decision-making process that led to the change from a 65- to a 68-team field, despite the assumption nationally that the 96-team format was a done deal.
On Sunday night, Beebe emphasized that difference between perception and reality as he deals with the swirling rumors that his conference will implode after getting raided by the Big Ten and the Pac-10.
And that's why we need some perspective here before the assumption is made that the entire current format will be thrown into chaos with a land grab by the Big Ten and Pac-10.
Based on discussions Sunday night with a number of high-ranking sources throughout the NCAA (including those who have been in some of the direct talks on these topics during the past decade), here is some relevant information on the various possibilities:
• If the Big Ten can persuade Notre Dame to join the league, the expansion discussion is over. The Big Ten doesn't need anyone else but the Irish to accomplish its goal of increasing its value. The networks have lined up to get the Irish deal from NBC, and adding ND would enhance the Big Ten television property. All conference television contracts have a clause that they are subject to change if there is a membership change, meaning they can be worth more money (with Notre Dame) or less (if, say, the ACC were to lose members even after doubling its current deal).
• Being in the Association of American Universities is a major deal for the academic side of Notre Dame. If the Irish could be assured that they would get an 11-vote bloc of Big Ten schools to usher in Notre Dame as a member, that could sway the Irish hierarchy to move toward the Big Ten. If the Irish have no shot at the AAU, that could be a deciding factor against their joining the Big Ten. Getting into the AAU makes a Big Ten acceptance a lot easier.
• Romancing Notre Dame has been going on since the 1920s. The timing has to be right. There will be a critical mass of alumni who will want to remain as a football independent. For every other sport, being in the Big Ten makes more sense than the Big East, although this isn't a decision about the rest of them.
• Notre Dame wouldn't want to be one of five additions to the Big Ten. The Irish won't want their addition to be devalued.
• Big Ten commissioner Jim Delaney and Notre Dame athletic director Jack Swarbrick have a longstanding relationship. Swarbrick was instrumental in bringing Big Ten championship games to Indianapolis while working in Indiana with the sports commission.
• Delaney won't get burned here. He's considered one of the most savvy and shrewdest negotiators in college athletics. He's not going to issue an invitation and get turned down.
• If Notre Dame were to join the Big Ten, the rest of the chatter would halt. The Big East could bump up Villanova football to FBS to avoid expansion, or it could add a member to stay at 16.
• If Notre Dame is the only grab by the Big Ten, there is no need to toy with Missouri and Nebraska.
• That means the ultimatum doesn't make any sense. Why would the Big 12 tell Missouri and Nebraska they have to be in or else? What's the consequence? The Big 12 isn't going to boot them out of the league. If they don't get an invite to the Big Ten, the chances are that nothing happens to the Big 12.
• The Longhorns won't do anything that won't benefit Texas. They don't want to leave unless they have to get out. Texas enjoys being the deal-maker in the Big 12 rather than just another school, albeit an important one, in the Pac-10 or even the Big Ten.
• Pac-10 presidents gave commissioner Larry Scott the go-ahead to look at expansion, but the academic profile of schools the league would invite is critical, much like the Big Ten. Not all the Big 12 schools meet this standard.
• UCLA and USC get the most money in the Pac-10 because of appearances. Both schools won't want to lose that status in a new, expanded conference.
• The Pac-10 can only expand and expect to make enough money on a television deal with Texas. Adding random Big 12 and/or MWC schools won't increase the value of a proposed television deal.
• The Big Ten Network deal that Delaney has is based on subscription fees and makes more money than the Pac-10 could on its own.
• The Pac-10's best hope is for a television merger with the Big 12, forming a mega TV deal. The Pac-10 and Big 12 television deals are up in 2012, and both leagues have confirmed discussions on a television agreement.
• A number of sources find it hard to believe that Kansas would somehow be left with nothing. Football drives this, but the power; prestige; tradition; and, most important, ratings of basketball do have serious value. It's akin to leaving out Duke in some sort of ACC chaos.
• Underselling the value of the new $10.8 billion deal with the NCAA tournament is a mistake. It matters. This is a football-driven discussion, but it's not at the expense of disrupting the entire NCAA tournament plan.
• A number of conference presidents are trying to ensure that any potential move makes sense. (For example, did Boston College to the ACC make sense?)
• Boise State would probably take a MWC invite, but does the MWC want to invite Boise State without knowing what will happen to the Big 12?
• All of this is relative to the discussions going on at the Pac-10 and the Big Ten. But so many of the doomsday scenarios could be tamed if Notre Dame were to tell the Big Ten yes.
December, 18, 2009
12/18/09
4:37
PM ET
Quick hitters for Friday during exam week (not for me, but for those NCAA student-athletes):
• When I was with Minnesota in Anaheim at the 76 Classic, I never got the sense that Royce White was going to return to the team. White, who announced recently that he's leaving Minnesota because of his legal troubles, had a much different case than Trevor Mbakwe in that there seemed to be only one side.
The Gophers had a hard time defending the shoplifting charge and were starting to really question if it made sense for White to be a part of the program. Mbakwe, who is currently suspended pending an assault case, always had a much better chance of joining the team if he is proven innocent. Minnesota coach Tubby Smith doesn't put up with much and he wasn't about to disrupt his program if there was no need. White's announcement that he's no longer a part of the program was likely a preemptive move on his part, before a decision was officially made for him by the Gophers.
• Boston College's plan was to bring in Brady Heslip early so he could redshirt and learn Al Skinner's system. Heslip has already graduated from Burlington, Ontario's Nelson High but has been playing at New Hampton Prep (N.H.). Skinner announced Thursday that Heslip was joining the squad. He will technically be eligible to play this month but unless there is a glaring need for a sharp shooter -- which there is -- the Eagles will likely continue to redshirt him. But if the 6-2 guard has a quick learning curve and is knocking down shots then the Eagles might be tempted to bring him off his redshirt.
• The Bob Cousy Award named its candidates for the honor for the top point guard in the country. Harvard's Jeremy Lin was not one of them. According to at least one member of the committee Lin wasn't nominated by the Crimson. But he will be added. He should. Lin is one of the top point guards in the country.
• I'm not sure you could get any basketball coach among Pitt's Jamie Dixon, Syracuse's Jim Boeheim, Rutgers' Fred Hill, Nebraska's Doc Sadler or Missouri's Mike Anderson to say they would want to leave their current conference and go to the Big Ten. Sources close to the situation in the Big East claim there is mutual interest among the Big Ten and Rutgers. That may be the case, and it is so early in the process, but I still don't get how Rutgers makes sense. I don't see the Big Ten penetrating the New York media market when Rutgers can't consistently do it. Rutgers basketball in the Big Ten would be a disaster. It's barely surviving in the Big East. Memphis would have to be the choice for the Big East if it loses a member. Central Florida is fool's gold. Memphis' faithful care about the Tigers more than any other prospective school's fan base. It's not even close. The Florida infatuation is limited to the big three in the state -- Florida, Florida State and Miami.
• There is no reason to be optimistic that Renardo Sidney will play for Mississippi State this season. The NCAA will conduct more interviews next week with the Sidney family. The key thing here is this: The NCAA is under no legal pressure to clear Sidney to play. Sidney's legal team won't sue to get a court injunction because Mississippi State won't play him without an NCAA clearance and run the risk of one day having to vacate games.
• Two of most inspirational stories so far this fall have been BYU's Dave Rose coming back from a rare pancreatic cancerous tumor and the graduation of Duquesne shooting victim Sam Ashaolu. I'm no longer a voting member of the United States Basketball Writers Association, but both are deserving honorees of the Most Courageous Award.
• Penn may flirt with current Siena and former Quaker coach Fran McCaffery but it might be considered a lateral move. McCaffery has told me in the past how much he loves his gig. Penn is arguably the best job in the Ivy League but Siena is the top job -- with scholarships -- in the MAAC.
• As much as Siena, Niagara and Rider got the early-season pub, the best team in the MAAC may end up being Fairfield. Coach Ed Cooley was raving in the preseason about his combo of Yorel Hawkins and Derek Needham, both averaging in the mid-teens.
• The A-10 is deep, but maybe too deep. There is no question that Charlotte, Rhode Island, Temple, Dayton, Richmond, La Salle, Xavier and Saint Joseph's have the capability to beat each other up and to sleep on Duquesne, George Washington and Saint Louis in league play would be a mistake. The problem for the A-10 may come if the top four to five teams have four or five losses.
• Watching high school senior Jared Sullinger play Thursday night must make Ohio State melt. The Buckeyes could desperately use Sullinger -- now. If Evan Turner comes back from his fracture in his back to play next season then the Buckeyes -- with Sullinger -- should be in line to compete for the Big Ten title and make a deep NCAA run. Sullinger holds the ball like an oversized grapefruit, can handle the ball and post up. He's everything the Buckeyes need now to shore up the middle, assuming they get Turner back.
• It's amazing that UCLA at Notre Dame Saturday has no pregame buzz. That speaks volumes about the season the Bruins are having and the drop the Irish suffered after losing at home to Loyola Marymount.
• I did say on a preseason Big East show on ESPNU that West Virginia would win the league by two games. That was before Syracuse emerged as not only a league title threat but a national championship threat as well. Still, I do like the Mountaineers quite a bit. Maybe not as much as the Orange right now, but West Virginia will continue to improve and the addition of Turkish center Deniz Kilicli in early February could be a huge boost, filling a necessary big man void.
• Good to see Mike Davis at ease at UAB. Watching Davis coach the Blazers to the rout of Cincinnati might have been the most comfortable I've seen Davis in a decade.
• Seriously, I would not be surprised if Washington State won the Pac-10. Washington and Cal should win the league but there is no reason to have complete faith in either one of those squads. No one in the league has been as dominant as Klay Thompson at Wazzu.
• Tasmin Mitchell came back to LSU for his senior season to be a leader and a productive player. He hasn't disappointed. Mitchell has been Mr. Everything and so far, averaging nearly 17 points and almost nine boards a game for the Tigers. He had a 24-point and 18-rebound game for the Tigers against SE Louisiana.
• I'm not sure I've seen a player come back from major knee surgery (ACL) as well as Ole Miss' Chris Warren. He has been superb, averaging 19 a game for the Rebels. The two Ole Miss-Mississippi State games should be dandies.
• Coach of the year so far? If you don't have Northwestern's Bill Carmody on the list then you're missing something. Carmody has done an outstanding job putting the Wildcats at 8-1 without Kevin Coble (foot injury and done for the year). The Wildcats looked toast after losing at home to Butler and now are cruising with wins over Iowa State, Notre Dame and NC State. None of those wins may be NCAA-caliber but the Wildcats will be in contention for a bid from this point forward.