Category archive:

Arkansas Razorbacks
September, 27, 2011
09/27/11
7:42
PM ET
Connecticut is putting on the full-court press to join the ACC in case the league decides to expand again. And Duke coach Mike Krzyzewski and North Carolina coach Roy Williams both told ESPN.com they would like to see the league eventually go to 16 teams, with two eight-team divisions.
But there is no sense of urgency in the ACC, especially since the Big East for the moment is making Pitt and Syracuse stay for 27 months per the league's bylaws. The conference has plenty of time to figure out how to schedule its 14-team league.
So the attention now returns to the SEC with Monday's official announcement that Texas A&M will join the conference for the 2012-13 season. That gives the league 13 teams.
Should there be more?
Like Krzyzewski and Williams, Kentucky coach John Calipari would eventually like to see his conference get to 16.
"I don't think this stuff is done yet," Calipari said. "I've said for months that there may be four conferences with 16 or 18 teams each. But I can tell you that the SEC at 13, 14 or 16 is going to be stable. We're fine. If they're going to add, I'd like us to go and get Virginia Tech, Maryland and Missouri to go along with Texas A&M. We're not going to do anything at the expense of academics. You're also going to see basketball step up in the next five years in the SEC."
[+] Enlarge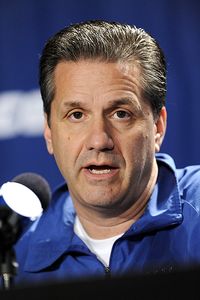 Howard Smith/US PresswireJohn Calipari would like to see the SEC add Missouri, Virginia Tech and Maryland.
Calipari tweeted Monday that he thought the move to add the Aggies was tremendous for the league and new coach Billy Kennedy, a native of SEC country (Louisiana).
"Texas A&M is a great school academically, has a well-run athletic department and will fit well," Calipari said. "Their fan base is ridiculous, just like all of us. The SEC is different. The SEC is about schools with strong fan bases and geography. We want the markets. There is no buyout in the SEC because no one wants to leave."
Vanderbilt coach Kevin Stallings said he would have been fine with the SEC staying put at 12 teams, but he's not against the expansion.
"I like the simplicity of an even number and I'm not sure it was completely necessary," Stallings said. "I don't think we're finished seeing movement and if so, if we end up at 14 or 16, if that's what the commissioner's office said we need, then I'm fine with it. Our league isn't going anywhere. We're as stable as any league in college athletics and we have visionaries who run our league. If they think we're better suited to be at 14 or 16, then I'm OK with that."
The SEC will run into issues on further expansion since it would be hard to take a team from a state where there is already a conference member. The new ACC buyout of up to $20 million poses a problem, too. But the new markets in new states is what Calipari was talking about when he rattled off Missouri, Maryland and Virginia Tech. Still, it would be extremely difficult to pry the Terrapins away from playing Duke and North Carolina every year or the Hokies from rival Virginia after Tech expended a lot of political capital with the Cavaliers to not block the school's move from the Big East to the ACC eight years ago.
The SEC's current number of 13 will be a scheduling issue for football and basketball. Football still has divisions, which is a matter unto itself as the league decides what to do with the Aggies and how to handle an unbalanced schedule.
The SEC got rid of divisions for men's basketball for this season, but the scheduling format still mirrors the football East-West split with each team playing its old side twice and the other once for the 2011-12 season.
Stallings was on an SEC committee to determine a 12-team, no-division schedule for 2012-13. The consensus was to have everyone play each other once (11 games), with seven more games coming from doubling up against league opponents to get to 18 league games. The SEC currently plays 16. The same formula is expected to be applied to a 13-team, no-division SEC next season. The Atlantic 10, which has 14 teams, has a format of playing only 16 league games with every team playing each other at least once, three teams twice.
The question for the SEC will be which rivalries are protected in a doubling-up scenario. There are a few natural ones to protect like Alabama-Auburn, Ole Miss-Mississippi State and Vanderbilt-Tennessee with newer ones like Kentucky-Florida and maybe more traditional ones like Tennessee-Kentucky or Florida-Georgia kept, as well. There could be a need to ensure Texas A&M plays LSU twice as well, or perhaps twice with Arkansas, a former rival from the Southwest Conference.
Whatever the case, Stallings doesn't seem all that worried.
"I think we just have to have an open mind going forward," he said. "We'll come to the best concept relative to 13."
July, 6, 2011
07/06/11
10:41
PM ET
The Cleveland Cavaliers made a highly publicized play for Michigan State coach Tom Izzo in June 2010, but Izzo turned down a lucrative financial offer to stay with the Spartans.
A year later, Minnesota Timberwolves general manager David Kahn asked about Washington coach Lorenzo Romar. But it's not going any further than that initial inquiry. Romar isn't heading to Minneapolis.
Will that be the only flirtation with a college coach in the NBA this offseason? Have we entered an era when college coaches may not venture into the NBA because for the high-level coaches, the money won't be much of a difference?
Possibly.
"If it's based on money, I'm not sure coaches will make that transition, especially if they like where they are," Romar said. "The guys that make that type of NBA money are already established."
It seems NBA teams are now seeking the coaches who have been players or assistants such as Mark Jackson or Dwane Casey.
"I just don't see it happening," Pitt coach Jamie Dixon said of elite college coaches making the jump. "I think the NBA will continue to recycle guys unless it's a former college guy like Kelvin Sampson."
Sampson has been an assistant with the Milwaukee Bucks and was recently interviewed by the Pistons. He's gone the assistant route after running afoul of NCAA rules at Oklahoma and Indiana.
"Once you take the top guys out, guys like Phil Jackson, Doc Rivers, the average salary is much more comparable to the college coaches," said Duke associate coach Chris Collins, whose father, Doug, is the head coach of the Philadelphia 76ers. Elite college coaches like John Calipari, Billy Donovan and Mike Krzyzewski are already making more than $3-4 million per year.
"To do it, it has to be that you want to challenge yourself in something new," Collins said. "Financially, coaches like Lon Kruger and some of those other guys, it was a such a big-money deal it was hard to say no. Mike Montgomery, did it and it was something he couldn't turn down."
Leonard Hamilton was in a similar situation when Michael Jordan plucked him from Miami to coach the Washington Wizards. Hamilton got a significant payday but was fired, then landed back in Florida, this time coaching Florida State.
"The trend is to go find a coach that has a relationship with the players," Hamilton said. "But I'm not so sure it won't come back again. The rules are changing with allowing zone, and teams aren't running as many sets."
Still, Hamilton said there will be coaches who see the allure of coaching in the NBA regardless of the financial terms that may be similar.
"A lot of coaches have the aspiration to coach at the highest level," Hamilton said. "If they had the opportunity, I think most coaches, regardless of pay, would welcome it. I think it will change in the near future where college coaches will get the chance again."
A few more news and notes ...
• The schedules for the 2011-12 season are starting to shape up, including in the Hoosier State. As previously announced, Butler will play Purdue, and Indiana will take on Notre Dame at an event at Conseco Fieldhouse in Indianapolis. But the Bulldogs also will play at Indiana after the two schools agreed to be part of a multiteam event during which they'll play three home games against weaker teams. Butler associate head coach Matthew Graves said the Bulldogs aren't in a traditional neutral-site tournament this season but will play in the Maui Invitational in 2012. Butler also signed a home-and-home series with Gonzaga beginning next season in Spokane with the Bulldogs getting the return game in 2012-13. Butler also will host Xavier and Louisville and travel to Stanford next season.
• Missouri coach Frank Haith is trying to offset a number of departures, as the Tigers have only three scholarship players for 2012-13. That's why he took on transfers Keion Bell (Pepperdine), George Goode (Louisville) and Earnest Ross (Auburn) and is now looking at Brian Oliver (Georgia Tech). Oliver is deciding among Penn State, Seton Hall and Missouri, according to a source.
• Former Arkansas sharpshooter Rotnei Clarke is down to Butler and Oklahoma for his new destination, according to a source. Clarke would have one season of eligibility remaining but must sit out next season.
June, 22, 2011
06/22/11
3:15
AM ET
Rotnei Clarke
has admittedly been indecisive about his playing career at Arkansas and his on-again/off-again desire to transfer, but all too often voices other than his own have been speaking on his behalf about his plans.
In an interview with ESPN.com on Tuesday, Clarke said he plans on sifting through the possible destinations over the next two days in order to make an informed decision about his next two seasons -- a redshirt year sitting out and his final season as a senior.
Once he transfers to a new locale outside of Arkansas and the SEC, Clarke is banking on being out of the spotlight, improving his overall game and coming back onto the scene in 2012-13 without the drama that surrounded his exit from Fayetteville.
Clarke received his release from Arkansas on Monday, after some initial resistance from Mike Anderson. It's a saga that became unnecessarily muddied and one in which everyone involved shares some of the blame.
First, some background. Clarke led Arkansas in scoring this past season with 15.2 points per game, making a team-high 43.8 percent of his 3-pointers. He was the team's instant offense, going off for 36 points (including six 3s) in an 11-point win at Vanderbilt. But the 6-foot, 184-pound guard out of Verdigris, Okla., couldn't do enough for the Razorbacks to escape a 7-9 SEC finish (18-13 overall) that left Arkansas without a postseason berth and ultimately coach John Pelphrey without a job. But Clarke was never completely satisfied as a Hog. Multiple sources said he had gone to the previous coaching staff after his sophomore season and asked for a release, only to later decide that he wanted to stay for his junior season. Sources also said that Clarke's uncle, Kelly Clarke (who was his high school coach) was making multiple calls to Gonzaga during Clarke's career to see if there was interest in him transferring.
Rotnei confirmed that he did consider leaving after his sophomore season. He said he later found out that his uncle was speaking on his behalf. His father Conley, Kelly's brother, said he was also unaware that his brother was making exploratory calls. Both Rotnei and his dad said Kelley wasn't authorized to speak on his son's behalf.
Nevertheless, Kelley made an attempt to see whether Nebraska was interested in Clarke transferring last January when he called his former boss, Doc Sadler. Kelly and Sadler had worked together at Westark JC in Arkansas. Sadler had recruited Rotnei to the Cornhuskers and once he wasn't going to get Rotnei, a source close to Sadler said he steered him toward Arkansas.
Rotnei Clarke said he was aware that calls were made in January and he quickly quashed the transfer talk. Conley Clarke said there had been a difference of opinion on how Rotnei's situation should be handled within the family.
Ultimately, Rotnei stayed with the Hogs. He finished his season and he was on a tear by the end, scoring 21, 26, 17, 24, 26 and 18 points in the final six games.
Once Pelphrey was fired in mid-March, Clarke considered transferring. But he was advised by athletic director Jeff Long and assistant athletic director Jon Fagg to wait to see who the next coach would be at Arkansas. So he did. Anderson, who was Nolan Richardson's assistant in the 1990s and a one-time interim coach when Richardson was fired, left Missouri to take the gig. Clarke said he initially told Anderson that he would stay.
"I didn't think it was fair to my teammates to leave,'' Clarke said.
Meanwhile, Anderson granted releases to junior Jeff Peterson and sophomore Glenn Bryant, two players who played 29 and 31 games respectively last season. Bryant has already transferred to Eastern Michigan. Peterson has graduated, but could still play next season with one season of eligibility.
As for Clarke, he went through initial workouts and then decided he needed a fresh start.
"It wasn't just the workouts,'' Clarke said. "I just felt like it wasn't the right situation for me. It wasn't just the style of play.''
Clarke sought out Anderson and told him wanted to transfer. According to multiple sources, Anderson initially said no because of Clarke's ability to make shots and be an impact player for the Razorbacks, saying he was too good to leave. But he also wanted Clarke to talk to Long and Fagg, who weren't in town at the time.
Clarke balked at the initial reaction from Anderson and told Jeff Goodman of CBSSports.com last week that he was refused a release.
Clarke ultimately received the release a few days later after talking to Long and Fagg. On Monday, Anderson said to ESPN.com: "I want guys who want to be here. Nothing has ever changed with that.''
Anderson, through the help of former assistant coach Rob Evans' work on keeping the recruits together, was able to keep Pelphrey's highly touted recruiting class. The group has two top-10 players at their position in point guard B.J. Young and power forward Hunter Mickelson, as well as top-12 shooting guard Ky Madden. Forwards Aaron Ross and Devonte Abron round out a class that was ranked ninth overall by ESPN. Madden, Mickelson and Ross are from Arkansas. Ross is the only one of the five who is unlikely to be eligible due to academics, according to a source with direct knowledge of the situation.
Anderson is trying to instill the "fastest 40 minutes of basketball" that he started at UAB, where he led the Blazers to the Sweet 16, and continued at Missouri, where he led the Tigers to the Elite Eight.
"I like the versatility of the class, guys that fit the uptempo style,'' Anderson said. "I like their instincts. More than anything they want to be here, get better and they've all been here this summer, doing involuntarily weightlifting and spending time with their teammates. I'm excited about these freshmen. I want guys to come in here and do things the right way.''
At least one upper administration source said Anderson has come into Arkansas with a hard line. He wants accountability, players going to class, showing up for workouts and won't budge on his demands. The administration so far has been very pleased with the direction Anderson is taking.
That said, he clearly could have handled the Clarke situation better, issuing him a release immediately instead of making the situation more difficult than it should have been.
Clarke is a talent and now the suitors are lining up. The problem is that a school needs to have a scholarship available in July for Clarke for next season and then in 2012-13. Gonzaga is not an option. The Zags don't have a scholarship and aren't interested in pursuing Clarke after the overtures from his uncle the past year. Nebraska doesn't have a scholarship either.
Oklahoma could be an option under new coach Lon Kruger, but Clarke said he doesn't necessarily need to return to his homestate. Clarke isn't allowed to transfer within the SEC, but he said he wouldn't want to do that anyway with the chance that he would be an even bigger distraction.
Clarke said he asked Arkansas officials on Tuesday for the names of all of the programs who contacted the school about him and will now go through the process of contacting the schools where he fits best.
His family moved to nearby Springdale, Ark., when Clarke decided on the Razorbacks and his father said there are no plans for the family to uproot and move again next season. He said his wife has signed a contract to teach next school year, but he wouldn't rule out moving for Clarke's final season of playing.
At the end of the day, the right thing was done at the conclusion of this mini-drama. But not before a controversial week locally and to a certain extent nationally. Clarke, for one, regrets how it all went down and wishes it had not become such a big deal in the first place.
"It's not what I intended,'' Clarke said. "I didn't want coach Anderson and the staff to look bad. I believe that they will turn this program around. I know they want to win and I'm confident that they will.''
March, 24, 2011
03/24/11
7:02
PM ET
NEW ORLEANS -- Some quick hitters:
• Coach Mike Anderson created a niche in Missouri with his style of play, but the Tigers were rarely able to take that act on the road. He managed to quiet the turmoil from the Quin Snyder era after his own first few rocky seasons. Reaching the Elite Eight in 2009 and the NCAA tournament three consecutive years can go a long way toward settling things, but now Missouri athletic director Mike Alden is in a bit of quandary after Anderson's departure for Arkansas. Alden has a potential Big 12 contender on his hands next season but can't hire a coach with a completely different style from Anderson's. He would be wise to make a play for BYU's Dave Rose, who is expected to be on the radar of rival Oklahoma as well.
Rose could stay in Provo, Utah, for the rest of his career and be very content, but he deserves a shot to coach at a higher level in a conference like the Big 12. Rose is a Houston native and is familiar with recruiting the Southwest dating back to his time coaching junior college.
If the Tigers don't go in that direction, Missouri State's Cuonzo Martin should be high on the list as well as VCU's Shaka Smart, who will be a hot commodity for a number of coaching vacancies from Tennessee to NC State and now possibly Missouri. So will Richmond's Chris Mooney, but as I said above, he might not fit the Tigers' playing style. Rose, Martin and Smart likely would adapt easier to this crew.
Alden can't afford for the Tigers to slip, especially with the talent that is in place, else some players could leave.
As for Anderson, his move to Arkansas makes sense, but you have to wonder whether this should have happened two coaches ago for the Razorbacks.
• If you're looking for a coach to pull a Herb Sendek and leave a team even though he's not in danger of being fired, the coach who may take that cue is Illinois' Bruce Weber. If Weber could land another quality power-six job, he should get a change of scenery.
• Good thing the Southeast Regional isn't in the Louisiana Superdome (which is under renovation), the site of the 2012 Final Four. The NCAA is expecting 12,000 fans inside the New Orleans Arena for Thursday night's games. That wouldn't look good inside the Superdome, which has a capacity of more than 55,000.
• Saint Mary's coach Randy Bennett won't go to Utah after interviewing for the position. Whether that was his call is unknown. Regardless, Bennett has built a program in Moraga, Calif., that is now a consistent challenger to Gonzaga and should be to BYU as well once the Cougars join the WCC. The Gaels will have company, though, with San Francisco on the rise, Santa Clara improving and the always-formidable Portland.
Bennett has built a niche in the beautiful valley area in Moraga outside Oakland. The Gaels have tapped into an Australian pipeline but also have sprinkled in plenty of big-time talents like Diamon Simpson, Omar Samhan and of course this year's WCC Player of the Year, Mickey McConnell.
• It's amazing how the Utah job has become such an afterthought in the coaching carousel. It should make Utes fans appreciate everything Rick Majerus did during his tenure as head coach. The Utes were a few possessions from winning the national championship in 1998, but Utah basketball pales in comparison to the level BYU is at right now. Utah's move from the MWC to the Pac-12 sounds much grander than BYU's move to the WCC next season, but it may not be as significant. Any chatter of trying to get Rose to switch addresses within Utah is foolish. There's no way that will happen.
• Utah athletic director Chris Hill has done an outstanding job of hiring football coaches, but he'd better get this college basketball hire right; the program is in dire need of an infusion of energy.
• Fresno State is one of the better jobs open outside the power-six conferences. Various camps have sent feelers connected to the following coaches: Montana's Wayne Tinkle; former Arizona State and Ole Miss coach Rob Evans, who was most recently on John Pelphrey's staff at Arkansas; and Minnesota Timberwolves assistant Reggie Theus. Each would be a quality hire if the Bulldogs decide to go in any of these directions.
• Wyoming would love to get Old Dominion's Blaine Taylor for its coaching vacancy, but he's not going from one of the best jobs in the Colonial to one of the worst in the Mountain West. Wyoming also wouldn't have minded getting Utah State's Stew Morrill, another coach who won't move to Laramie.
October, 1, 2010
10/01/10
11:38
PM ET
Arkansas' current
top-five recruiting ranking
for the Class of 2011 doesn't mean anything for this season. No number of wins will be attributable to how well the Razorbacks recruited in this particular cycle.
And it won't wipe away the mediocrity that has befallen the Razorbacks for the past decade or first three seasons under John Pelphrey.
For a number of reasons -- whether a roster that was constantly in flux or some poor personnel decisions and actions by a number of players (including star point guard Courtney Fortson, who ultimately left after two erratic seasons in Fayetteville) -- Arkansas hasn't been able to reach sustainable growth under Pelphrey.
But there is reason to believe that might be about to change.
The Hogs have already gathered commitments from four players in the ESPNU 100, led by Missouri wing B.J. Young. The other three -- guard Ky Madden, forward Aaron Ross and center Hunter Mickelson -- are all elite, in-state players.
With six weeks left before the start of the November signing period, Arkansas is alongside basketball royalty, sitting at fourth behind Kentucky, Duke and North Carolina and ahead of Syracuse, Arizona and Louisville.
"I'm not sure what it all means, but it's something that's a tribute to how hard our assistant coaches are working and our players," Pelphrey said. "Like preseason rankings and awards, it's great for our fans and for people to talk about. But we don't pay too much attention to it because it has very little to do with winning and losing. But I guess I'd rather have our name in there than not."
ESPN National Director of Recruiting Paul Biancardi, the former Wright State head coach and Ohio State and Boston College assistant, said the ESPN.com rankings are still fluid but "nevertheless this should be a top-10 class." Biancardi said that the state of Arkansas hasn't had this much talent in one class in a long time and the Hogs staff made the Arkansas Wings AAU team a priority. They also didn't get discouraged when things turned sour on and off the court.
"John Pelphrey and his staff have been working at it since they got to Arkansas," Biancardi said. "Pelphrey even went to Germany attending USA basketball games to follow [Memphis native and top-10 recruit) Adonis Thomas. It's impressive that they landed B.J. Young from St. Louis since his mom is from Arkansas and he still has family there. If he makes it academically and this group grows together, they could accomplish the kind of success that Arkansas fans are looking for."
At the beginning of last season, Arkansas had five players under suspension, including Fortson, who didn't return until January. Two seasons ago, the Razorbacks beat nationally ranked Texas and Oklahoma in nonconference play before going 2-14 in the SEC. They were better last season in the league, but are still 9-23 in the SEC over the last two seasons.
Pelphrey discussed the attrition the program has had to deal with, losing Patrick Beverly and Marcus Monk among others and trying to deal what was until now a down cycle of local talent.
"We knew it was going to be a challenge to replace those guys, and it certainly didn't go perfectly," Pelphrey said. "We spent an enormous amount of time [in local recruiting]. We've been able to lay a foundation over the last year-and-a-half, even though we didn't get the results we've wanted. I do believe we've got a core group of guys that are hard-nosed and tough."
Part of the reason for optimism is the Hogs play in the SEC West, which isn't nearly as competitive as the SEC East, which could churn out as many as five NCAA tournament teams this season.
There is some talent in place, too. Arkansas returns sharpshooter Rotnei Clarke and power forward Marshawn Powell, who is out right now with a broken left foot suffered in August, but should be ready to go by Oct. 15. They welcome three newcomers -- guards Rickey Scott and Mardracus Wade and forward Marvell Waithe -- that Pelphrey says are a continuation of this new "culture" in Fayetteville.
"The young men we have joining us will have a huge impact," Pelphrey said. "We've got a solid foundation of juniors that will help us pave the way to hopefully get back to where we were in the past. We've got good guard depth, more than we've had in some time. We've yet to have a bad day here. Everyone is showing up with a great attitude and excited to be coached."
Pelphrey said the atmosphere within the football program has helped create a winning environment. Pelphrey, who was an assistant at Florida and knows about big-time football at the Swamp, saw firsthand the passionate fan base for the Alabama-Arkansas top-10 showdown last Saturday. The basketball program had four recruits in for the football weekend.
The expectation that is now focused on football -- even with the loss to the Tide -- will eventually fall onto the basketball team. The Hogs are a national championship program, winning a title in 1994 under Nolan Richardson. Having a memorable player from that team, Scotty Thurman, on the staff now as a director of student-athlete development surely reminds the loyalists of those 1990s glory years. Pelphrey's staff, which has a Florida-lean with former Gator assistant Tom Ostrom and former Gator guard Brett Nelson, along with respected assistant Rob Evans, a former head coach at Arizona State and Ole Miss, lends even more credibility to this program's upswing.
The key for this season is for it not to bridge last season's mediocrity and next season's expected success, but to instead create real momentum for 2011-12.
"I know recruiting takes on a life of its own and it's exciting for everyone," Pelphrey said. "That's not a bad thing. We've got a wonderful tradition here, a passionate fan base and we've got a mascot -- there are a lot of Tigers, Lions and Bears but there is only one Razorback. We're all very proud of that. We're working hard, but there is an element of luck. I like the expectations, and growing up where I did [in Kentucky] and playing where I played [at UK], I understand that."
June, 25, 2010
06/25/10
6:07
PM ET
NEW YORK -- You can blame it on poor advice, workouts, injuries, the NCAA's very early early-entry withdrawal date or whatever else you might choose.
But it's hard not to think about the players who came out early and went undrafted Thursday night.
Not everyone's situation was dire, of course. There's no reason to pick on any early-entrant that went in the first round. They made a wise decision. Period.
If you want, you could point out that Elliot Williams might have gone higher next season than No. 22 or Dominique Jones could have landed at a better number than No. 25 or certainly Kentucky's Daniel Orton may have been a much higher selection next season than No. 29.
But Williams can be a fit as a solid backup guard on a likely playoff team (Portland), Jones should fit in well as a scorer off the bench in Dallas and Orton should get a shot to grow and mature with the consistently surging Magic.
But for now, let's examine the rest of the relevant early-entrants:
The Mistakes
Hassan Whiteside, Marshall (No. 33 -- Sacramento): Whiteside declared to be at least a mid-first round pick. Sure, his coach Donnie Jones split for Central Florida, but had he played for Tom Herrion next season I'd be shocked if he wasn't a lottery pick in 2011. Instead, this raw 6-foot-11, 227-pound center went No. 33 to Sacramento, where he might not make the squad after the Kings selected DeMarcus Cousins of Kentucky at No. 5 and earlier in the week made a deal to acquire veteran center Samuel Dalembert from the Sixers.
Lance Stephenson, Cincinnati (No. 40 -- Indiana): The Pacers do need guards and maybe Stephenson can flourish with Indiana if he makes the squad. But there's no way, with all the hype he had coming out of New York, that he projected himself to be a middle second-round pick. Stephenson had a real shot next season with the Bearcats to be an all-Big East player. He would have refined his game and been able to mature even more. Now he'll have to scratch out a career the hard way.
Gani Lawal, Georgia Tech (No. 46 -- Phoenix): This is actually one of those cases where the player may have been better served leaving early last year. He was a borderline first-round pick a year ago. He's more mature and maybe more ready to handle the NBA now, but the middle of the second round has to be a major disappointment. His best hope is that free agent Amare Stoudemire hits the road and frees up a little room at power forward.
Solomon Alabi, Florida State (No. 50 -- Dallas to Toronto): I was stunned Alabi slipped this far. I'm sure he and his representation were too, considering he was bandied about as a first-round pick from 19 on down. Alabi could have been the dominant shot-blocking center next season in college, much like Mississippi State's Jarvis Varnado. Alabi had to work on his offensive game and would have been featured even more by Florida State. Instead, he now has to make the Raptors. Not an easy road.
Derrick Caracter, UTEP (No. 58 -- Los Angeles Lakers): Caracter had a complete transformation with his body, mind and attitude for Tony Barbee last season after a dysfunctional career at Louisville. He was a real player. Had he stayed to play for new coach Tim Floyd next season, I'd be stunned if he didn't improve his overall game and become at least a first-round pick. Instead, he chose to bolt and now he'll have a difficult time making a squad and may be forced to go overseas.
The Good Fits
Terrico White, Ole Miss (No. 36 -- Detroit): White was convinced he was a first-round pick and he nearly went to Atlanta at No. 24. Washington would have had interest had it kept its pick at No. 30. But going to the Pistons could be a good move for White. He should fit in quite well under the Joe Dumars plan and Dumars might see some of himself in White if he can become a better defender and a true pro. White has the stocky build to deal with the physical style of the NBA. He's a tremendous athlete too and could flourish on the break.
Devin Ebanks, West Virginia (No. 43 -- Los Angeles Lakers): Ebanks was a projected first-round selection when he came out of high school. He could have tantalized some NBA personnel a year ago after his freshman season. But there were questions during his sophomore season after an early, unexplained three-game absence and an offensive game that faded at times. His defensive game-changing ability made him an integral part of West Virginia's Final Four appearance. He was considered a first-round talent, but he slipped a bit. He was fortunate he landed with the Lakers. If he makes the squad, he could be a Trevor Ariza-like find for L.A. His defense would be much welcomed by the champions and he has a real shot to make this squad. Going to the best team in the league isn't a bad spot to land, even in the second round.
Hard To Know
Armon Johnson, Nevada (No. 34 -- Portland): Johnson was a relative unknown nationally. He wasn't a lock to be in the first round had he stayed around Reno, so going this high in the second was probably better than expected. But it's unclear if he can make the Blazers, so the location might not work out well.
Darington Hobson, New Mexico (No. 37 -- Milwaukee): Hobson had a stellar season for the Lobos. Had he returned he might not have been any higher than where he went this season. The Bucks probably can't keep all of their picks, so he'll have to work hard to make the squad.
Tiny Gallon, Oklahoma (No. 47 -- Milwaukee): Gallon was one of the more polite players I met during the NBA draft combine in Chicago last month. He is clearly trying to make this work. It didn't work out at OU. If he can stick with the Bucks as a second-round pick, that's better than most expected when he left after only one season.
The Enigma
Willie Warren, Oklahoma (No. 54 -- Los Angeles Clippers): Warren could be a steal for the Clippers. If he makes the team, he'll be joining former teammate Blake Griffin, who will play his rookie season next year after being hurt all of last season. But that's a big if. Warren was a preseason all-American and the preseason Sporting News player of the year. Instead, he battled injuries and illnesses throughout the season, was questioned about his poor body language and clearly wanted out of OU. His drop from headline name to afterthought is almost unheard of within one year in the basketball world. He was humbled by his play and the Sooners' swoon last season. Now he's been pushed further down by being selected at No. 54. How he reacts to his latest setback will tell us quite a bit about his desire and character going forward.
The Forgotten
Armon Bassett, Ohio: He had a memorable run in the MAC tournament and contributed to the Bobcats' stunning win over Georgetown in the first round of the NCAA tournament. He wasn't going to go back to Ohio. He didn't get selected, so it's likely off to Europe unless he can land on a summer-league team and make his way.
Charles Garcia, Seattle: Garcia was a hit early for NBA scouts. He drew their attention with his productivity on the glass. But he wasn't able to crack the second round and will have to see if he can make a squad.
Manny Harris, Michigan: Harris must not have enjoyed playing for the Wolverines much last season or got horrible advice. Or both. Harris had a chance to be a all-Big Ten first-teamer and a candidate for conference player of the year had he stayed in school. He did not and he didn't get drafted.
Courtney Fortson, Arkansas: Fortson had been suspended at Arkansas during his career. Had he been able to stay with the Hogs, he would have been one of the top point guards in the SEC. Alas, he could not. Fortson will have to find his own way and try to earn money around the globe.
Mac Koshwal, DePaul: Koshwal could have returned to play for Oliver Purnell and make some headlines in the Big East. Instead, he goes unselected. Not a good tradeoff.
Sylven Landesberg, Virginia: Landesberg couldn't have come back to the Cavs after being suspended at the end of the season. He had to make his way through the draft. It didn't happen and now he'll likely have to earn coin overseas.
Tommy Mason-Griffin, Oklahoma: There is no explanation for this decision unless he simply had no choice. He wasn't going to get drafted. He did not.
Elijah Millsap, UAB: The legacy of his family name in the NBA didn't do much for him. Had he returned to play for Mike Davis, he would have had a shot to increase his profile. Now he'll have to forge a difficult path.
A.J. Ogilvy, Vanderbilt: This one is a real shame for Kevin Stallings and his Vandy players. The Commodores would have had a real shot to compete for a top-two spot in the SEC East with the return of Ogilvy. Without him, they will likely be fending off Georgia for fourth. The Australian has a real shot to earn significant dollars overseas, but going unselected was hardly the projection he probably had for himself.
Samardo Samuels, Louisville: There was a buzz about Samuels' excellent work ethic late in the draft process. That might be enough to carry him onto a summer-league team and get a real shot to make a fall camp roster. But there's no way he thought that was his path when he decided to leave the Cardinals. Had he stayed he would have been one of the top big men in the Big East. He would have had free promotion from network television. Instead, he will have to make a team in an obscure manner.
February, 8, 2010
02/08/10
10:00
PM ET
Arkansas is in first place in the SEC West, has won four straight and has the one point guard not named
John Wall
or
Devan Downey
in the SEC you definitely would need to keep an eye on if you had to choose a third to watch.
But the vindication in Fayetteville hasn't dealt only with the winning streak and newfound standing in the SEC or even the need to check out game-changer Courtney Fortson.
Although Arkansas coach John Pelphrey didn't use the word "vindication" in a conversation Saturday night, he clearly is peeved that the Razorbacks were ripped for their character after an August rape allegation against three players. This past week, the special prosecutor of the case decided not to file charges against the three players in question -- Marcus Britt, Glenn Bryant and Nick Mason. DNA testing proved they didn't commit the act they were accused of doing. Britt, Bryant and Mason originally were suspended from the team at the beginning of the season for a violation of team rules.
Unrelated to the August incident, Fortson and Razorbacks starter Stefan Welsh also were suspended to start the season for violations of team rules. Walsh has played in 20 of the team's 23 games and averages 21.4 minutes a game (6.6 points). Fortson has been back for nine games, and the Hogs are 5-4 with him as their lead guard. He scored 35 points in a win over Mississippi State, 27 in a victory at Georgia and 24 in a win over Auburn.
The Hogs' current four-game win streak has "reaffirmed all along that I knew these were the hardest-working guys," Pelphrey said. "A lot of people were saying that they didn't have character. They were saying, 'What's going on at Arkansas?' I'm happy for them. They kept showing up for work."
Pelphrey had a rough go last season as the Hogs won just two SEC games after nonconference home wins over then-No. 4 Oklahoma and then-No. 7 Texas. And the offseason issues, suspension of Fortson and 8-11 start (1-3 in the SEC) after Kentucky blitzed the Hogs by 31 didn't help.
But the Hogs didn't wilt after that loss to Kentucky. They beat Mississippi State in their next game, sending a message that they could contend for the league title with the Bulldogs and Mississippi, which they beat in Oxford three days later.
Even though the rape charges were eventually dropped, there were other general issues.
"There were standards of being a Razorback that weren't met," Pelphrey said. "I have tremendous respect and honor being the head coach here. I couldn't be more happy for who I work for -- Chancellor [David] Gearhart and [athletic director] Jeff Long. I just really appreciate them."
Pelphrey said he was proud that he was the last coach longtime Arkansas athletic director Frank Broyles hired and that Long had told him he wished he had hired him, too.
"I know who we've recruited, and I know how we're going about it and what we place a value on," Pelphrey said. "I understand the value of going to school and being a student-athlete and mastering those. We've got a great foundation to build on what the Razorbacks have done in the past."
Pelphrey said he never wavered no matter what was said about his program.
"I felt bad for the University of Arkansas, and it turns my stomach with some of things that were being said about our young guys," Pelphrey said. "There will be some days that you have to deal with [off-the-court issues], but this shouldn't have been one of them."
Pelphrey said he knew that shots were being taken at the program. But at no point, he said, was there any sense that things were out of control with the program. The support of Gearhart and Long never was in question, and both senior administrators were involved in the program-building process, he said.
"I don't let that other stuff affect me," Pelphrey said. "I was very fortunate at a young age to play at the University of Kentucky. There are [more than 4] million [people] in the state of Kentucky, and not one of them thought I should be on scholarship."
Pelphrey cited a story from early in his Kentucky career when late Kentucky play-by-play announcer Cawood Ledford called him over during warm-ups to tell him that a caller from Paducah, Ky., wanted to know whether he was still on the team.
"That's not the most flattering comment made about you," Pelphrey said. "I was at a young age, having to understand that people will pick at you and say things. But once I became a starter and all-league, then everyone raises the bar. I'm OK with that. We're going to recruit the players that fit what we want to do."
Pelphrey wasn't the first choice for the job. Arkansas flirted with plenty of big-name coaches before it settled on the former Kentucky player, Florida assistant and, more recently, South Alabama head coach.
Pelphrey said he doesn't wake up on a daily basis waiting for affirmation from a blog or a Web site to get him going.
"Seeing a young man improve, that's what I enjoy; working for who I work for is what I enjoy; and seeing how hard our guys play and then winning, that's pretty special and unique," Pelphrey said.
Pelphrey said that Fortson has taken pressure off Michael Washington, Marshawn Powell and Rotnei Clarke because he makes everyone around him better, play faster and move. The Hogs are suddenly a tough out, and with two games against LSU, one at Alabama and one at Auburn and home games against South Carolina, Vandy and Ole Miss, it's hard not to see Arkansas sticking around near the top of the SEC West in the coming weeks.
But what is certain from this point forward is that Pelphrey is hopeful he won't have to defend the character of his players or program for the foreseeable future.
September, 10, 2009
09/10/09
5:00
PM ET
Arkansas head coach John Pelphrey was on the road recruiting Wednesday as his world seemed to be spinning out of control.
Even though University of Arkansas officials were hopeful that the three unnamed basketball players would not be charged after being accused of rape by a female student at a fraternity, there was naturally anxiety that the program had taken a body blow. The first news early in the afternoon was that an investigation was being conducted into rape allegations involving the players at the Phi Gamma Delta fraternity house Aug. 27. That story was all over the Internet and on local television news in the state. Hours later, local prosecutor John Threet would tell The Associated Press that no charges would be filed because the statements from the woman didn't prove she was unaware a sex act had occurred or that she was unable to say no. Both distinctions were important aspects of the case that could have led to a sexual assault charge, the prosecutor said.
"There was a lot of damage control, communicating to a lot of people about the information," Pelphrey said. "It's been a very, very unfortunate situation. We're trying to get to a number of spots [in recruiting] and we're trying to communicate."
What Pelphrey had to do was squash any rumblings about a program gone wild. How he and the university handle the situation going forward might tell a lot about the future of this season and this program.
The prosecutor's statement cleared the players of any charges. Late Wednesday, Arkansas vice chancellor and director of athletics Jeff Long issued a telling statement. After saying no charges were filed against the students, Long added that the school cooperated in the investigation and that these were "very serious allegations and we treated them as such." He made sure everyone knew the matter is hardly closed.
"Now that the criminal legal process has been completed, we will review the available information to determine if any athletic department rules or policies have been violated. Following that review, we will take appropriate action."
Pelphrey can't afford for his players to act in a questionable manner, even if it's not criminal. Long will make an attempt to determine if further action will be taken against the three players. Pelphrey has no choice but to support any decision Long makes.
In Pelphrey's brief two seasons, the list of issues he has had to deal with is more than the SEC wins he picked up last season (two).
This spring, fifth-leading scorer Jason Henry was suspended before the SEC tournament for a violation of team rules. He is no longer on the squad.
Star freshman point guard Courtney Fortson was suspended for his malcontent behavior last season. He missed one game -- a home game against Kentucky -- before he was reinstated.
"We still feel like he has the potential to do more," Pelphrey said. "For him to achieve more, he's got to be the hardest worker every day and be able to handle adversity."
Sophomore Marcus Britt, who averaged 18.9 minutes a game last season, was was suspended after being charged with driving while intoxicated in May.
Freshmen Andre Clark and Brandon Moore played sparingly last season and then transferred.
Last season, Montrell McDonald quit the team in December and senior Marcus Monk was declared ineligible in late January, ending his basketball career. In addition, Moore and McDonald joined Fortson and Henry as players that sat through in-season suspensions.
This doesn't even include the mess with Patrick Beverley, whom Pelphrey didn't recruit but did coach for one season. Beverley was suspended in August 2008 and later left the university to pursue professional opportunities. He later said someone wrote a paper for him.
Clark, Moore, Henry and McDonald were a part of the 2008 recruiting class.
In a move to help the school's standing in the Academic Progress Report, Henry stayed on until he finished the semester. Moore stayed through the summer and left eligible. He is going to Florida International and was there the first part of the summer, but returned the second part of the summer to help the APR. McDonald's departure was a playing-time issue. Clark apparently didn't fit in to Arkansas' plans and now attends a junior college in Illinois.
Remaining are Fortson (14.8 ppg, 5.9 apg), a possible all-SEC guard, and sharpshooter Rotnei Clarke (12.2 ppg, 39.3 percent on 3-pointers). They are now sophomores, joined by returning forward Michael Washington, who withdrew from the NBA draft despite averaging 15.5 points and 9.8 rebounds a game as a junior.
The Hogs also return Stefan Welsh, who averaged 11.5 points a game. So they do have four double-digit scorers returning. And staff expects the players coming in to be better than the ones that left.
Much is expected of 6-7 incoming freshman Marshawn Powell. He is termed a "beast" for his frontcourt ability and expected to be a future NBA player. The staff has looked at Powell as someone who will "shock a lot of folks."
Newcomers Delvon Johnson, a long shot-blocker, and athletic wing Jemal Farmer are expected to contribute immediately. Defensive-minded forward Glenn Bryant may not be ready to step into a role yet, and point Julysses Nobles will back up Fortson.
Those newcomers will need to be effective in the SEC this season, with Mississippi State and Ole Miss expected to challenge for an NCAA berth out of the SEC West. Five of the six teams in the East -- Kentucky, Florida, Tennessee, Vanderbilt and South Carolina -- should be in contention for a tourney bid.
But last season, after igniting enthusiasm by beating Oklahoma and Texas in nonconference play, the Hogs finished a disappointing 2-14 in the SEC, 14-16 overall. And then the off-the-court issues continued to pile up.
"We'd all like to live in a world where we don't have to deal with this, but as a coach you'll probably have to deal with something like this," Pelphrey said. "We'd love to have smooth sailing but when something comes our way we deal with it. We have enough checks and balances in place to handle it."
Pelphrey said the offseason of workouts has gone well and reiterated there have been good things happening for the program.
But there now need to be results during the season to move beyond the negativity that can permeate a program when off-court issues arise. Beating Texas and OU last season raised expectations for the program, only to see them fall flat in SEC competition.
"I understand the excitement in the program and the passion that we have here," said Pelphrey, who has seen that level of pride in a program as a player at Kentucky and then as an assistant at the beginning of the basketball renaissance at Florida under Billy Donovan.
"We knew the situation when we took over and the challenges that lie ahead of us. We're so excited about the opportunity to build it back up and to do something to repeat the success of the past, since our history here is tremendous."