Category archive:

Notre Dame Fighting Irish
February, 15, 2013
02/15/13
3:38
PM ET
Kentucky and Notre Dame are the two most intriguing teams heading into the weekend for two completely different reasons.
The Wildcats will be playing their first game without Nerlens Noel after he suffered a torn ACL Tuesday night in Gainesville. Noel is out for the season and has been a dominant presence for the Wildcats on the defensive end.
[+] Enlarge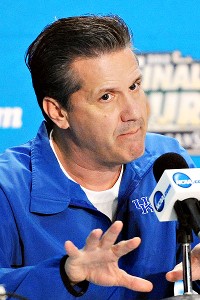 Richard Mackson/US PresswireJohn Calipari is eager to see how his Wildcats play without Nerlens Noel.
The Wildcats' season, selection and seeding is at stake when they start the final seven games of the SEC regular season beginning Saturday at Tennessee.
Meanwhile, Notre Dame is still feeling the lingering effects of last Saturday's five-overtime win over Louisville. The Irish had to go to overtime to knock off DePaul midweek at home, and they have a dangerous game Saturday at Providence.
The Irish, who beat Kentucky in South Bend in the SEC-Big East Challenge earlier this season, are still trying to figure out how to play without Scott Martin.
The two teams aren't locks for a deep run, but they have become interesting to watch down the stretch.
Kentucky coach John Calipari said Friday that the Wildcats have had only one practice without Noel. He wasn't pleased with the play of at least two players during the Gators game. "We had some no-shows,'' Calipari said without naming names.
But Calipari was quick to say the absence of Noel can't be put all on Willie Cauley-Stein -- he'll need to have help. "I don't want it to be all about him,'' Calipari said. "We need other guys. This is a great opportunity for our guys. We'll stay positive.''
The Wildcats finish with four home games and three on the road. The Cats get Florida and Missouri at home. But nothing can be taken for granted, especially with road games at Arkansas and Georgia following Saturday's in Knoxville.
The onus will be on Alex Poythress and Kyle Wiltjer to do more in the post. Calipari said the way the Cats defend will change without the anchor inside who can deflect, block and alter shots.
"Everyone is counting us out,'' Calipari said. "Maybe we'll surprise. We are what we are, and we'll see what we can do."
The Irish don't have to worry about selection, with wins over Kentucky, Cincinnati and Louisville. But the final stretch of games against Providence, Pitt, Marquette and Louisville on the road are dicey, as are home games against Cincinnati and St. John's.
[+] Enlarge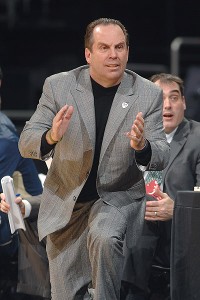 Mitchell Layton/Getty ImagesMike Brey has learned to enjoy the twists and turns of a season.
Regardless, Notre Dame coach Mike Brey is embracing this season and what's left. He's having a great time coaching this team, and he's not going to change his demeanor.
"I just want to have fun with this thing,'' Brey said. "I remember in the huddle against Louisville and thinking back to the four-overtime game against Georgetown 11 years ago and thought about how much fun I had during that game. I was having fun with this game. We were so fortunate to even be in that game.''
Brey said he's figuring out how to play with this team not having Martin on the court. He wouldn't rule out a return this season, but it's not a lock.
Garrick Sherman has earned double-digit minutes off the bench after his extra-period play against Louisville. Guards Eric Atkins and Jerian Grant have never been an issue, and neither has Jack Cooley. But Brey is now working out more of a two-man platoon system with the four forwards -- Cooley, Sherman, Tom Knight and Zach Auguste -- and that has worked well.
Brey said he has to be loose with this group.
"I don't want us uptight,'' Brey said. "That's my biggest thing. We're still improving. Because we're playing more players, everyone is engaged. The lineups aren't set, and the whole team has been so positive. It has made for a good February so far. I'm not uptight, and our team reacts well to that."
Calipari has his most challenging weekend -- and weeks -- ahead since he arrived at Kentucky. Brey is facing one of the more enjoyable times in his career. Both have plenty of security to experiment and maximize this time.
"I've got a 10-year contract,'' Brey said. "Maybe younger coaches can't afford to be looser. But I can.''
October, 4, 2012
10/04/12
11:19
AM ET
If anyone was wondering whether 15 schools could agree and get along in the new ACC, all they had to do was check the reaction to the new primary partners released Wednesday.
There was an unusual consensus. Every school was pleased.
The ACC had to adjust its scheduling format with the addition of Notre Dame, which could join anywhere from 2013 to 2015. The conference, committed to an 18-game schedule, had to lock in to two annual home-and-home series.
For a few schools, such as Virginia, there was nothing to ponder. The Cavaliers have two natural rivals in Virginia Tech and Maryland. Done.
"It makes sense geographically," UVa coach Tony Bennett said. "They've been our natural rivalries for years."
[+] Enlarge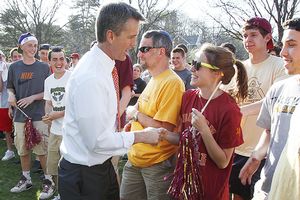 AP Photo/Michael DwyerCoach Steve Donahue believes BC's fans will be pumped to host old conference rivals Syracuse and Notre Dame each season.
Boston College landed two tough opponents, but the Eagles couldn't have been happier to get two schools that will help fill the usually staid Conte Forum. BC will play Notre Dame and Syracuse twice every season.
"It's great for our alumni and fans," Boston College coach Steve Donahue said. "I'm sure excited about it."
Understandbly, no school got both Duke and North Carolina. That would be too cruel, and it would be too hard to pull off with two other schools in the state in Wake Forest and NC State. The ACC had to balance the four schools, and it did.
Duke gets UNC and Wake Forest. NC State got UNC and Wake. Wake Forest got Duke and NC State. And of course that means Carolina got Duke and NC State, which based on the current trajectory of the four schools, is the toughest slate among the schools in North Carolina.
"I loved it," NC State coach Mark Gottfried said. "They got it right."
Wake Forest athletic director Ron Wellman, who is the 2014 chair of the men's basketball selection committee and understands the importance of getting quality teams on the schedule, said "playing two in-state rivals is the best scenario for us."
ACC associate commissioner Karl Hicks, who oversees basketball and scheduling in particular, said the majority of the matchups simply made sense.
The most intriguing issue was what to do with Notre Dame's second rivalry after Boston College. The Irish and Georgia Tech were paired up by process of elimination. Hicks said the schools have a rivalry in football, but not in basketball.
"Notre Dame has a lot of alumni in urban areas," Hicks said. "Maryland was a better fit with the partners they had [Pitt and Virginia]. Washington, D.C., would have been a good place [for Notre Dame], but Maryland's partners fit. Georgia Tech was the next one that made the most sense."
ND coach Mike Brey said it worked for him since he wanted to create new rivalries and, "I love Atlanta."
Tech coach Brian Gregory knew the Yellow Jackets would get Clemson as one rival and was overjoyed that the Irish were the other.
"I think it's great for us," Gregory said. "These are two great academic schools with great traditions. I think it will turn into a great rivalry."
Maryland coach Mark Turgeon said Pitt and Virginia are strong defensive teams which should provide four gritty games for the Terps every season. Pitt coach Jamie Dixon had no issue with Maryland and Syracuse as his school's natural rivals, saying that he expected as much based on geography.
The rest of the 14 games on the schedule will include two more home-and-home opponents (which will rotate every year) and five home and five road games that make up the other 10.
The other set partners are:
Clemson: Florida State and Georgia Tech
Florida State: Clemson and Miami
Miami: Florida State and Virginia Tech
Syracuse: Boston College and Pitt
Virginia Tech: Miami and Virginia
Hicks said the Miami-Virginia Tech series marries two former Big East rivals. Syracuse's two partners are also former Big East foes. Clemson and Florida State got natural regional rivals.
"I'm not bent out of shape one way or another," said Florida State's Leonard Hamilton, who added he wasn't against going to 20 league games. "I like the challenge night in and night out of 18 hard-nosed games."
What the two-team partner lists and the reaction proves is that a 16th team in men's basketball doesn't seem necessary. ACC commissioner John Swofford said the ACC isn't going to go to 16, and frankly, there's really no need.
September, 18, 2012
09/18/12
12:52
PM ET
Notre Dame is expecting to play in the Big East the next two seasons, but whenever the Fighting Irish do join the ACC, coach Mike Brey is ready to completely change his nonconference schedule.
Brey said Notre Dame athletic director Jack Swarbrick told the school's coaches to prepare for two more seasons -- including this one -- in the Big East. That would mean shaving one season off the 27-month requirement under the Big East bylaws. (Of course, if the Irish pay more than the required $5 million exit fee, then everything is seemingly on the table.)
As soon as Brey heard the plan from Swarbrick, he met with his staff over the weekend and let them know what he wants to do in 2014 and beyond.
Brey wants to play the Big East's Catholic-based institutions, especially long-standing rivals Marquette and DePaul, in nonconference home-and-home series. Brey said he would like to add Villanova, St. John's and possibly Georgetown into the rotation of schools the Irish want to play. Brey said he wants to play at least two to three of those five schools every season.
"We're not in Philadelphia anymore so we definitely want Villanova, we want to go to New York with St. John's and keep DePaul and Marquette," Brey said. "We will be in the D.C. area with Maryland, but we'd still like to play Georgetown. Villanova, DePaul, Marquette, St. John's and possibly Georgetown are definitely the five I'd like to do."
[+] Enlarge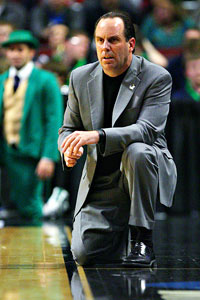 Dennis Wierzbicki/US PresswireMike Brey wants to retain many of the rivalries the Irish have built in the Big East.
Remember, the Irish -- in addition to an 18-game league schedule -- will also have the ACC/Big Ten Challenge and the Crossroads Classic to schedule around. In the 15-team ACC, the conference is expected to take the top 12 teams in the RPI from the previous year to face off with the Big Ten in the Challenge. At the Crossroads in Indy, the Irish have signed up for two more years in the event that includes Notre Dame, Butler, Indiana and Purdue.
Brey said he wants to keep the Crossroads going since it was a hit in Indiana, was cost-effective for the Irish with a bus trip and was a "great money-maker for us."
"We have had calls from Kansas, UCLA, Arizona and others," Brey said, "but I want us committed to doing these [Big East Catholic schools, Crossroads, ACC-Big Ten]."
Brey said he is hopeful the Irish aren't leaving on poor terms in the Big East and would be stunned if the conference's like-minded institutions would shun Notre Dame in the future. Keep in mind, Boston College couldn't get former Big East teams outside of Providence to play on a regular basis after the Eagles left the Big East for the ACC.
"We talked about a non-league game with BC after they left and I got a strong vibe from the Big East office," Brey said. "I took that suggestion and didn't play them. I guess it could happen with us, but I don't sense Villanova wouldn't want to play home-and-home or St. John's. I know DePaul and Marquette want to keep the Midwest Catholic rivalry going since it goes way back."
Brey said recruiting for the Irish will change, now that they can offer a Midwest kid the chance to play in the ACC -- along with players from the Southeast.
"We can get involved in the Carolinas, Virginia and Atlanta," he said. "We've always recruited D.C. and New England."
Brey said he believes ACC commissioner John Swofford's pledge that he doesn't want to go beyond 15 teams, and anticipates the ACC will become the Big East and gobble up eight or nine NCAA bids every season.
"So many people were jealous of the Big East, of us getting eight to nine to 10 to 11 bids," Brey said. "I think the ACC will move into that territory and get eight out of 15 teams in. It's kind of exciting to finish in the top half of the league and know that you can go to the tournament. That's gettable. It keeps hope alive when it's tough in November and December and you can still get a bid."
Brey said he will miss the Big East, Madison Square Garden and the chance to be the senior statesman in the league with Jim Calhoun retiring and Jim Boeheim off to the ACC.
"For me it will be like having a new coaching job without leaving, without having to rebuild," Brey said. "It's going to be a new challenge and at this point in my career I like it. I have great security. I want to give it a shot."
May, 22, 2012
05/22/12
12:22
PM ET
The Big East will send out its annual straw poll to its coaches to get their preseason predictions about the strength of the league's teams to help put together next season's conference schedule.
The league office said Syracuse's Jim Boeheim and Pitt's Jamie Dixon will be allowed to vote in the poll, even though the schools are leaving the conference for the ACC. They weren't invited to the conference meetings earlier this week in Florida.
The results of the poll will determine which teams face each other twice during the conference schedule. Having a tiered system based on those predictions has worked well for the Big East, rather than the predetermined rotations of which teams play each other twice used by the Big Ten, ACC and SEC.
[+] Enlarge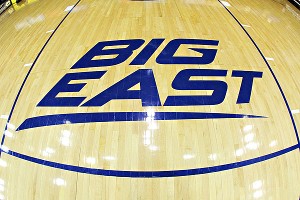 Bill Streicher/Icon SMIBig East coaches are confident the formula the league uses to determine conference schedules ahead of each season has helped in getting more NCAA tournament bids.
The Big East had 11 teams in the NCAA tournament in 2011; it sent nine teams last season. Coaches firmly believe handling scheduling this way is the reason.
"We've been able to give the league the flexibility to balance the schedule," Cincinnati's Mick Cronin said after the Big East meetings wrapped up Tuesday morning in Ponte Vedra Beach. "The repeat opponents have been set up by the hierarchy of the league in the summer. Something has been done right. We've had 11 teams and then nine teams in the NCAA. The coaches were against 18 league games but then it has helped us get more teams in [the tournament]."
Notre Dame coach Mike Brey agreed that the formula has worked for the Big East.
"It has driven us to get more bids," said Brey, who added it was odd not to have Boeheim at the Big East meetings for the first time during Brey's tenure at Notre Dame. "We've got to stay with this formula. It's not too constrictive. We don't want a rotation. We've got to keep an open mind. Some of it is by design, some of it is by luck, but it has really worked. You can sit there as a coach and say, 'If you're in the top eight, you're in the tournament.'"
There were 13 men's basketball coaches in attendance at Monday's meeting. Four coaches stayed to meet with athletic directors Tuesday. UConn's Jim Calhoun and Louisville's Rick Pitino weren't in attendance and neither were coaches from incoming 2013 members Temple (Fran Dunphy), Memphis (Josh Pastner) and SMU (Larry Brown).
According to Brey, the 11 other coaches in attendance, outside of him and Cronin, were: Stan Heath (South Florida), Ed Cooley (Providence), Kevin Willard (Seton Hall), Steve Lavin (St. John's), Mike Rice (Rutgers), Jay Wright (Villanova), Buzz Williams (Marquette), John Thompson III (Georgetown), Oliver Purnell (DePaul) and 2013 new members Donnie Jones (Central Florida) and James Dickey (Houston).
Heath said that there was even discussion about possibly opening up to 20 games from 18 when the new teams come into the conference.
"We had some conversation, but nothing was shot down," Heath said.
Heath, Cronin and Brey all said there was a renewed sense of optimism in the room, especially with presentations from television executives from NBC and Fox. ESPN and CBS have the current Big East rights, but the league will enter a new negotiating period in the fall.
"There was excitement over the TV presentation possibilities," Cronin said. "The Big East can't negotiate now but there was interest in our product. You could see people spending valuable time on the presentations and they say we'll be even stronger with the media market changes in adding Dallas, Houston and Orlando, which only helps the big picture."
The coaches agreed that the conference tournament must include all members in 2013, regardless of that number.
Heath said he brought up to the coaches that former USF player Kentrell Gransberry never played at Madison Square Garden during his career at South Florida because all the teams weren't invited.
"It's meaningful to the players and the teams even if it's one game," Heath said. "It's a big part of being in the Big East."
The format for the 2013 Big East tournament is still being discussed. There are 15 teams in the league this season with West Virginia's departure. Connecticut is currently not eligible for the tournament since it is not allowed to play in the postseason because of an NCAA ban for poor academics.
The coaches said the plan would be a for 14-team tournament with two games on Tuesday (instead of the previous four) and the rest of the schedule going forward from Wednesday on during championship week with the remaining teams.
Brey said the number of games for an 18-team Big East is still an issue.
"Everybody wants to play everybody," Brey said. "We can't have no-plays. And we need all of the schools to come to New York. A lot of these schools do a lot of business around the Big East tournament. We've got to figure out a way to do this. We're going to figure this all out together."
February, 7, 2012
02/07/12
11:38
AM ET
The selection committee adheres to its body of work mantra for a reason. Getting an NCAA bid isn't about one game; it's earned over the course of the regular season and conference tournament.
But one game can change a season -- and certainly the perception of a team.
[+] Enlarge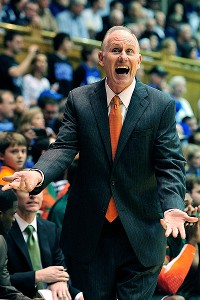 Grant Halverson/Getty Images Miami coach Jim Larranaga says his team's win over Duke has the Hurricanes back in the NCAA conversation.
It did for Notre Dame when the Irish beat top-ranked and previously undefeated Syracuse on Jan. 21. It has for Miami, too, after the Hurricanes knocked off Duke at Cameron Indoor Stadium on Super Bowl Sunday.
The two teams, which appeared to have no shot on New Year's Day because of injuries (Notre Dame's Tim Abromaitis played in just two games and is out for the season, and Miami's Reggie Johnson returned to the lineup Dec. 17 after missing four nonconference losses with a knee injury), are now suddenly involved in the NCAA conversation.
Who says college basketball's regular season is meaningless? It means something because it gives teams that looked dead on arrival a chance to earn bids in March.
"There are certain games that draw national attention; that's one of them," Miami coach Jim Larranaga said of the Duke win. "You knock off a top-5 team (Duke was No. 5 at the time), especially when you're not ranked, it helps catapult you forward into the conversation."
Larranaga takes a more pragmatic view of earning a bid. He was well-schooled in this at George Mason when the Patriots had to win a late-season BracketBusters game at Wichita State in 2005-06 to convince the selection committee of their worthiness.
"You don't get judged on a test halfway through the questions," Larranaga said. "When you're in the mid-majors it's hard to move up [in the power rankings]. You might be at 60, but it's hard to get up to 50. In our league [ACC], you can go from 30 from 60. But you can also go down to 80 quickly, too."
The Hurricanes' season could have easily spun in an opposite direction the past week. Miami needed double overtime to beat Maryland at home before the overtime victory at Duke. The Hurricanes had to play the overtime sessions versus Maryland without Johnson (fouled out), and they didn't have center Kenny Kadji (sat out with injury). Backup big man Raphael Akpejiori had fouled out too, leaving the Canes undermanned versus the Terps.
Miami (14-7, 5-3 ACC) still has plenty of work to do, with two games against Florida State and one against North Carolina at home. Five of its final eight are at home, beginning with Virginia Tech on Thursday night.
Meanwhile, the Irish (15-8, 7-3 Big East) followed up the Syracuse win with road wins at Seton Hall and Connecticut and a home win over Marquette.
They beat Pitt in late December and won at Louisville in double overtime, but there was still reason to doubt this team after consecutive losses to UConn and at Rutgers, which came before the Syracuse win.
Notre Dame coach Mike Brey, who said he's never had more fun coaching a team, told his squad in the locker room at Gonzaga after a 20-point loss on Nov. 30 that the team isn't very good but "let's see if we can make progress by Christmas. Abro isn't coming back. These are the guys playing the roles. This is our team."
Brey said the win at Seton Hall was one of the most impressive of the season, since it came four days after the Orange victory.
"We just had the biggest win in the history of our program so we might have had a free pass but when we win that showed signs of being special," Brey said.
That's why Miami's game against Virginia Tech on Thursday will be critical to see if the Canes are in it for the long haul.
Brey has settled on a solid rotation, and the tandems of Jack Cooley and Scott Martin inside and Jerian Grant and Eric Atkins on the perimeter have worked seamlessly. Finding Pat Connaughton as the fifth starter has settled everything else, with Alex Dragicevich coming off the bench.
The Irish finish with two games against West Virginia (starting in Morgantown on Wednesday) and one at Georgetown. Overall, they have four home games and four road games left on the schedule.
"In our league it's been time and time again," Brey said of earning a bid through the conference. "We were so off the map in November and December and rightfully so. But the perception changes [with the Syracuse win], inside the locker room. The kids really digested that they've got a shot, and it builds confidence. It's all about riding the momentum of a win like that. You can ride that to get in position. We've done that.
"We've ridden this to get a bid," Brey said. "It's never too late due to the power of our league."
Larranaga and Miami now have a shot to do the exact same thing.
October, 14, 2011
10/14/11
10:15
AM ET
Locked out by NBA owners,
Kemba Walker
is spending his October working out with his former Connecticut teammates.
Walker doesn't have second thoughts about declaring for the NBA draft. He was gone as soon as the Huskies won the national title, and his decision was probably made far earlier.
As college basketball practices begin Friday evening and the lockout continues, it is worth pondering the players who might be questioning their moves last spring and what their old college teams would look like right now if they'd made the decision to stay in school.
It was no secret that the lockout was a likely occurrence. The possibility was hardly a secret. Yet plenty of questionable moves were made by players who decided to stay in the draft. Some were selected later than they were projected; others weren't selected at all.
[+] Enlarge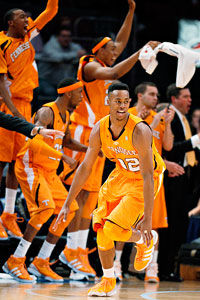 AP Photos/Henny Ray AbramsUndrafted Scotty Hopson certainly could've helped the rebuilding efforts at Tennessee.
Scotty Hopson, Tennessee: Hopson had no business leaving for the NBA, even if Bruce Pearl had not been fired. Hopson was never a consistent shooter and didn't continue to progress on an upward trajectory. He wasn't selected in the NBA draft like his teammate Tobias Harris, who landed in the first round. Had Hopson realized he wasn't going to get picked -- something that he had to have heard many times -- then he would have been a key bridge for new coach Cuonzo Martin. Martin could have used Hopson's experience and shooting to keep the Volunteers relevant in a transition year. Hopson would have been a volume shooter and improved his chances of being selected in 2012. Instead, Hopson and the Vols both lost. Tennessee is in rebuilding mode and will have a hard time staying afloat in the SEC.
Jereme Richmond, Illinois: Richmond clearly had issues, as evidenced by his arrest on assault and weapons charges in August. So it might have been best for all parties that he split. But maybe, just maybe, had he decided to return to Illinois he wouldn't have found himself over the summer as an undrafted, lost young man. This may be a reach, but it would be interesting to see what could have occurred in his life had he decided to stick out his commitment to Illinois. If he had bought into the program for a second year, he would have helped offset some significant senior losses for the Illini. In the end, Illinois wins by not having his baggage on the squad. Richmond lost by declaring, not being selected and now seemingly untouchable due to his arrest. Illinois is a team that has the potential to be a sleeper in the Big Ten with Brandon Paul and Meyers Leonard. But there are plenty of question marks to lock in the Illini as an NCAA tournament team.
Carleton Scott, Notre Dame: Scott surprised the Irish by staying in the NBA draft. He had a chance to play one more season with Tim Abromaitis and help Notre Dame offset the loss of valued senior leader Ben Hansbrough. Scott was never going to be a star for the Irish. He wasn't going to be a lock for the NBA, either. His best bet was to play professional basketball somewhere internationally. Notre Dame was going to take a step back with Hansbrough's departure anyway, but the Irish could have used another anchor inside to keep their head above water in a rugged middle of the conference. Now the Irish is depleted in the post. Scott could have definitely helped there.
Cory Joseph, Texas: Joseph did find his way into the first round, barely. So it's hard to completely fault him here, despite failing to leave his mark in Austin. The Longhorns have one of the top guards in the country in freshman Myck Kabongo. Joseph could have complemented Kabongo and allowed the Horns to have a stellar backcourt. Texas will still have talent, but will be lacking experience. The Longhorns were going to lose Tristan Thompson and Jordan Hamilton early to the draft. But it wasn't a given that Joseph was going to leave, too. The triple hit might be too much for UT to overcome with so many teams competing for the Big 12 title.
Shelvin Mack, Butler: Would Mack have gone to three straight national championship games? The odds would have been exceedingly low. Losing Matt Howard was a crushing blow to the Bulldogs. I didn't blame Mack for leaving last April because of the sting of losing two straight national championship games. Mack had come back without teammate Gordon Hayward and now he was expected to do it again without Howard? Still, the lockout is on, and Mack isn't in Washington playing for the Wizards. Put Mack on the Bulldogs next to Ronald Nored and newcomer Roosevelt Jones with Andrew Smith and Khyle Marshall inside, and the Bulldogs are once again an intriguing threat to go deep. If the lockout lasts well into the winter, Mack may watch Butler games and find himself at Hinkle Fieldhouse longing for his final season of eligibility. It would be a shame if the lockout lasts for months and Mack sits idle. He had one more run in him.
Travis Leslie and Trey Thompkins, Georgia: The Bulldogs made the NCAA tournament last season. If Leslie and Thompkins had come back alongside returnee Gerald Robinson, UGA would have made the NCAAs again. The SEC is stronger this season with possible NCAA teams Kentucky, Florida, Vandy, Alabama and Mississippi State. Georgia would have comfortably made it six. Instead, the Bulldogs are rebuilding or at least seriously retooling under Mark Fox.
[+] Enlarge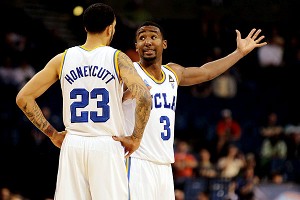 Kim Klement/US PresswireUCLA will still contend in the Pac-12, but Tyler Honeycutt and Malcolm Lee might've been the difference in taking the next step in March.
Tyler Honeycutt and Malcolm Lee, UCLA: The Bruins have a loaded frontcourt with Reeves Nelson, Josh Smith and North Carolina transfers David and Travis Wear. But the Bruins are lacking proven, productive experience on the perimeter. That could be the difference between an NCAA berth and a team that could have made a run toward New Orleans. Honeycutt and Lee didn't get drafted in the first round, going in the second instead. And now they can't play in the NBA for the foreseeable future. UCLA will still be a Pac-12 title contender and NCAA team. But the possibilities had those two returned to Westwood have to gnawing at coach Ben Howland.
Josh Selby, Kansas: Selby wasn't eligible and then he was hurt and never played a full season for the Jayhawks. He didn't get into the first round, either. And it's too bad. Selby should have shown more maturity, or at least someone associated with him maybe could have advised him better. He needed to play a full season to prove that he could do it. If he had, then the Jayhawks would be much more likely to make a Big 12 title run and Final Four quest. The Jayhawks were still selected to win the Big 12 on Thursday. But that might be more out of fear of selecting Baylor or Texas A&M and getting burned by KU once again.
DeAndre Liggins, Kentucky: Liggins did well enough to warrant a second-round selection, and the Wildcats aren't hurting, either. They are a consensus top-four selection in the preseason. But Kentucky still lacks overall experience. Sure, Terrence Jones and Darius Miller are back, but toss in Liggins and suddenly the Cats don't have to rely so much on the freshmen. Liggins would have fit in even better with his length, and the style UK will play this season with the long set of newcomers that John Calipari brought in this season. Liggins may long to be in Rupp Arena if the lockout drags and the Wildcats are pushing for a return trip to the Final Four.
Jordan Williams, Maryland: Williams was selected high in the second round and fulfilled his dream of being an NBA draft pick. His return may not have changed Gary Williams' decision to retire. But had the talented sophomore stayed he would have been beloved by new coach Mark Turgeon, who thirsts for a big halfcourt playes like Williams. He would have been one of the premier bigs in the country and relished his role as the anchor on a Maryland team that would have fed him even more in the post. Maryland probably wasn't an NCAA team even if Williams had returned, but he would have been featured even more as a junior. Now he sits idle and the Terps under Turgeon are in complete rebuild mode.
Darius Morris, Michigan: Morris missed a potential tying bucket against Duke in the NCAA tournament. If he had returned to join Tim Hardaway Jr., there is a chance the seeds would have been reversed if the two teams played again this season. Morris could have been a difference for Michigan. Instead, the Wolverines lack experience next to Hardaway and he loses a quality sidekick who can be just as disruptive as he can be offensively. Morris was picked by the Lakers in the second round, but he's not playing for them now. Michigan may get another crack at Duke if the two teams win first-round games in the Maui Invitational. Meet in Maui with Morris and the Wolverines probably would have been the pick. Instead, Michigan is once again the underdog, seeking respect as a consistent national player.
September, 20, 2011
09/20/11
2:35
PM ET
Here are some quick hitters during this crazy week in college sports …
• Villanova is trying to use its rising football program as a way to get in somewhere in the ACC or a Big 12/Big East hybrid. The school is hoping the Philadelphia market and the ability to get its football to FBS status (unlike, say, Georgetown) is attractive. And by the way, Nova is not pleased about the way Pitt helped block the Wildcats from being accepted into the Big East for football.
• If what's left of the Big East became a basketball-driven league, it would still be a very attractive conference. Imagine if the league were Villanova, St. John's, Georgetown, Marquette, DePaul, Seton Hall, Providence and possibly Notre Dame, then add Xavier, Butler, Saint Louis, Dayton, Creighton and maybe Saint Joseph's.
• The remaining non-FBS teams in the Big East have to commit to unity for a setup like this to work. The problem with this idea is that it still wouldn't command major media dollars. Non-football conferences don't make the major money. Check out my colleage Dana O'Neil's take on it here.
• The Big East is saying the right things by holding Pitt and Syracuse to the 27-month departure bylaw. But it's in the best interest of the remaining Big East schools to let the schools go so that they can figure out what the conference will look like in two or three years. Multiple lame-duck seasons serve no purpose.
• Pitt is having some selective memory these days about refusing to play Boston College after the Eagles broke off to the ACC eight years ago. The Big East office was not a fan of anyone playing the Eagles in anything and made that clear to Pittsburgh. The Panthers were supposed to play BC in the Jimmy V Classic but were replaced with Indiana.
• The Barclays Arena in Brooklyn will provide the New York City area with multiple opportunities to host conference tournaments. The ACC, Big East and A-10 should all have choices for tournaments in the coming years.
• Adding Missouri to the Southeastern Conference makes the most sense for what the league wants from a 14th member. The SEC wants the perception to be that it is adding a new market (St. Louis/Kansas City) and a school that has some respect academically. Texas A&M obviously delivers a major market (Houston) and respect. But there aren't really two other natural schools out there for the SEC to bump up to 16.
• Pac-12 commissioner Larry Scott will have to do some serious convincing when he talks to his presidents -- especially the Bay Area ones -- about adding Oklahoma State and Texas Tech with Texas and Oklahoma. I would love to hear that conversation.
• I like that Mountain West commissioner Craig Thompson is being proactive, but the proposed MWC-Conference USA confederation to have a football championship that would decide a BCS bid is odd. Would it really produce an automatic qualifier to the BCS? Would there be some sort of basketball agreement?
• Texas would still rather stay in the Big 12 and have all of its program compete in the region. But it all depends on Oklahoma at this point.
• Can you imagine if the ACC added Notre Dame and Connecticut to get to 16? The Irish are always solid under Mike Brey and UConn is a three-time national champ. The top of the ACC would be scary good. But moving up from the bottom would be extremely difficult for some programs. The jobs at Wake Forest and Boston College would get even tougher.
• It really is amazing to think about how much super-conference talk is going on recently and yet Butler played in the last two national championship games and VCU was in the Final Four last season. March reminds us that there are hundreds of others schools competing in Division I and plenty of high-level players and coaches. It's not all about the big boys!
• The NCAA still hasn't decided on the fate of ousted Connecticut athletic director Jeff Hathaway. He's the men's basketball tourney committee chair yet is currently jobless. But a number of former committee members and current Big East officials want Hathaway to be on the committee for this final season as long as the NCAA can figure out a way around him not having a job. Hathaway would be able to focus solely on the task of running the committee, which meets again later in the fall.
• Michigan State coach Tom Izzo is as excited about this season as he has been in years. The Spartans are finally relatively healthy and it's clear some of the issues in the locker room are gone. Meanwhile, North Carolina coach Roy Williams, whose team will face off with Izzo in the Carrier Classic on Nov. 11, said he has been told the pickup games in Chapel Hill involving a number of locked-out NBA players have really helped his crew develop.
• UCLA's Class of 2012 commitments from the East and South, Kyle Anderson (New Jersey) and Jordan Adams (Georgia), continue to show the Bruins are a national program. Every former UCLA coach has consistently said the Bruins can't simply recruit California. UCLA has to be a national player to be a national contender. The recruiting by the Bruins and rival Arizona -- the top two teams in the latest ESPN rankings -- is a credit to Ben Howland and Sean Miller, who cut their teeth recruiting in the cut-throat East Coast. But it also shows that the down cycle of the Pac-12 elite was merely a blip on the radar.
August, 10, 2011
08/10/11
2:53
PM ET
The World University Games is usually the one international competition, outside of the Olympics, the U.S. expects to win.
Elite European players aren't usually in school. And in an Olympic qualifying year, the likelihood that national teams would have top players playing in this event is low.
Still, the Americans lost this event two years ago, falling to Russia in the semifinals. The U.S. beat Israel in the consolation game to take home the bronze medal with a 6-1 mark. Host Serbia won the gold.
Purdue coach Matt Painter is well-aware of the stakes in China over the next two weeks. The U.S. is coming off a disappointing fifth-place finish at the FIBA U-19 World Championships in Latvia last month. The gold in the World University Games isn't with Team USA, either.
And that's exactly why Painter, who will be assisted by Butler's Brad Stevens and Tennessee's Cuonzo Martin, wanted to put together a team, not an all-star tour.
"We have three weeks together and we have to have the right mindset,'' Painter said prior to leaving for China on Monday. Painter was an assistant on the U-19 gold medal team two years ago in New Zealand. "It's very important to be on the same page.''
That's why he was thrilled to see two players from that U-19 gold medal-winning team on this roster in Pitt's Ashton Gibbs and Kentucky's Darius Miller.
"It was important for them to talk about their experience in New Zealand and what it meant to sacrifice minutes and how important this was,'' Painter said.
On Thursday in Huizhou, the Americans play a Chinese team called New Century in an exhibition game before pool play starts Saturday. Based on the groupings, the U.S. should win its group with the toughest challenger probably being Israel (Finland, Hungary, Mexico and South Korea are also in Group D). Host China and Brazil are in Group A; Serbia, Turkey, Canada and Australia are in Group B; and Russia and Lithuania headline Group C. The medal round is Aug. 20-22.
Here is Painter's breakdown of the 12 finalists representing the United States:
Tim Abromaitis, Sr., F, Notre Dame: "He's a very good player, and a guy that we can swing between small forward and power forward. He'll cause a lot of matchup problems for other teams.''
Marcus Denmon, Sr., G, Missouri: "When he's on, he changes the game. He can be a high-energy guy. His performances in practice have been strong. He has the potential to carry this team with his shooting and energy.''
Ashton Gibbs, Sr., G, Pitt: "He's a tough, hard-nosed player that simply gets the job done. He comes early and stays late. He's a very good shooter, can make 3s and will knock down the shots for us. He's our point like he was for us on the U-19 team.''
Draymond Green, Sr., F, Michigan State: "He's a very versatile, intelligent basketball player. He knows what's going on. He plays hard and he cares. He wants to win. He will impact the game for us.''
JaMychal Green, Sr., F, Alabama: "He's a guy that is going to have to score down low for us. He's a very talented kid. He's going to have score and rebound for this team to win.''
Scoop Jardine, Sr., G, Syracuse: "He's a very experienced player who has played in a lot of big-time games. He will help us get through the dog days of pool play to the medal round. He's a point guard who will help us and create for himself.''
John Jenkins, Jr., G, Vanderbilt: "He's a big-time shooter. He needs to score for us. He has to be aggressive. He will look for his shot and help us defensively at the 2-guard. I think we'll win the battle at the 2-guard with him.''
Orlando Johnson, Sr., G, UC Santa Barbara: "He can score the basketball. He's a good shooter, can drive the ball, post-up and pull-up with his left hand. He has to help us defensively and put points on the board. He was someone who positively surprised us at the trials. We recruited him when he left Loyola Marymount, and I'm kicking myself now that we didn't get him. He's a really good player.''
Greg Mangano, Sr., F, Yale: "I think he was the right piece for this team. He plays his role. He defends and plays post defense. He runs the court and does the little things. He could do for us what Arnett Moultrie and John Shurna did for the U-19 team two years ago -- doing key things down the stretch in the medal round. We wanted that last spot on the team to be a player with size and it came down to him and Aaric Murray [West Virginia] and Yancy Gates [Cincinnati], and we just felt that Greg would complement the other guys.''
Trevor Mbakwe, Sr., F, Minnesota: "He's tough. He's hard to handle. He's got great energy. He's got a great motor. He can really move his feet on the perimeter. He's got an impressive work ethic and a joy to coach. We were always in awe of him at Purdue. He's got brute strength and athleticism and will do a great job for us around the basket.''
Ray McCallum, So., G, Detroit: "He's so talented. His young. But he can play either guard spot and you can tell how hungry he was to make this team. He was one of the last guys we invited but he has a chance to really impact these games.''
Darius Miller, Sr., G, Kentucky: "If we throw Darius in there with Abromaitis and Green, we can play different ways. He can help us play bigger or smaller. He has really improved his shooting since we had him in New Zealand. He's going to be good against a zone, and we'll just have to find the right place to play him. He's a very good player and will help us a lot defensively.''
May, 6, 2011
05/06/11
11:34
AM ET
To put it simply, Maryland is one of the best jobs in the country.
The Terrapins can boast fertile recruiting territory in the Beltway and surrounding areas. Maryland fans are as loyal and passionate as any in college basketball. The facilities are top-notch.
Yes, North Carolina and Duke are the perennial favorites in the ACC, but there's no shame in being the third-best job in the conference behind those two. That just means it's among the top 10 or 15 in the country. So why wouldn't top-tier coaches run to College Park if athletic director Kevin Anderson calls to find a replacement for Gary Williams, who abruptly resigned Thursday?
Well, after discussing the topic with a number of sources that have direct knowledge on the subject as it relates to these coaches, there are reasons that make moving to Maryland difficult.
Some of the key points that have come up:
• How many coaches leave an elite job to go to another elite job when things are going well?
• How many coaches in their late 40s or early 50s want to rebuild again if they don't have to?
• How many coaches want to go to a team next season that will likely miss the postseason when they have an NCAA tourney team on their own campus?
• How many want to re-invent themselves in a new community and go through the rigors of establishing new contacts?
• How many are willing to go laterally financially if they're already making millions in their current job?

A while back, moving to Maryland from a school like Pittsburgh (see Jamie Dixon) would've been a no-brainer. But now schools like Pitt have emerged as national players, which makes a decision to leave a good situation a tough one to digest.
[+] Enlarge

AP Photo/Rob CarrKevin Anderson has already hired a football coach during his short tenure as Maryland's AD. Now he has the monumental task of replacing Gary Williams.
The big-to-big moves of note recently were easy to explain. Roy Williams went from Kansas to North Carolina. That's two of the top five jobs in the country and Williams is a UNC alumnus. Bill Self left Illinois to replace Williams at Kansas, and that one made sense too.
Herb Sendek going from NC State to Arizona State was a geographic move and one in which he simply didn't feel appreciated enough at his old school.
Ben Howland left Pittsburgh for UCLA. Pitt was a new player in the Big East at the time. UCLA is, well, UCLA and Howland is from Santa Barbara. No need for an explanation.
Frank Haith going from Miami to Missouri was an obvious move. Missouri is a much better job. Mike Anderson going from Missouri to Arkansas was an easy choice since he had once coached at Arkansas.
But not every situation provides an obvious answer.
Let's look at the candidates Maryland will likely pursue based on a number of sources. It may not be limited to this list, but these guys will likely be among the first to get a call, if they haven't already:
Mike Brey, Notre Dame: This one seems obvious. Brey, 52, is from Maryland. He has a beach home in Delaware. He coached at Delaware. He played at George Washington. But he also hasn't lived in the area for more than two decades. Yes, Brey had a senior-laden team last season, including Big East player of the year Ben Hansbrough. But the Fighting Irish will be better than the Terrapins next season and Brey feels like he has created his own program in South Bend. He doesn't necessarily have the energy to re-start his career. He loves coaching the Irish and doesn't need a new challenge. If he were in his 40s, he might reconsider. But if he were asked now if he wants to stay at Notre Dame or coach at Maryland, his answer would likely be to stick with the Irish.
Jamie Dixon, Pitt: Dixon and Anderson have a special relationship. Anderson was the athletic director who hired Dixon's late sister Maggie at Army. They have shared a closeness since her death. So Dixon will likely be asked by his friend for advice, but it's not likely he will take the Maryland job if asked unless something were to change. Pitt is a Big East power now and has been within a layup of the Final Four. Dixon is entrenched in the Pittsburgh community. There is no reason for him to leave.
Jay Wright, Villanova: Wright has built Nova into a Big East perennial power. He has recruiting locked up in the corridor. He has coached the Wildcats to the Final Four. And he is extremely comfortable in Philadelphia. If there is a next move for Wright, it's likely to the NBA. Wright doesn't need to jump to a basketball-football school. According to sources, Wright wouldn't leave Villanova for Maryland.
Tubby Smith, Minnesota: Smith was reportedly high on the lists at Georgia Tech and NC State but claimed all along he had no plans of leaving Minneapolis. Georgia Tech couldn't have paid him what he could command anyway. Smith is from Maryland, so it would make sense for him to go home. But is that what Anderson wants? Smith is in his 60s and Williams just retired at 66. Smith is in the same coaching era as Williams, Mike Krzyzewski, Jim Boeheim, Jim Calhoun and Roy Williams. He has coaching left in him, but Maryland is in a rebuilding situation. Yes, Jim Larranaga at age 61 just went to Miami, but the Hurricanes have players and can win next season. Smith is an intriguing name with a national title to his credit, but would he be a long-term solution?
Mark Few, Gonzaga: Few has flirted with plenty of jobs in the past, notably Indiana. But he's never bitten. He loves his life in Spokane and with the Zags. He has built a national name at Gonzaga and the Zags recruit at a high level now. He makes over $1 million and is firmly entrenched in the Northwest. He would listen, according to sources, but would he really be willing to go from Spokane to College Park? Does Anderson want to pluck someone who doesn't have any ties to the area, as good a name as he is nationally?
Brad Stevens, Butler: Stevens should only leave Butler for a top 10-15 national job after coaching the Bulldogs to consecutive national title games. This is one of those jobs he would have to listen to if called. But Stevens has never worked outside Indiana. Is this the right fit for him? Anderson would hit a home run with this hire. Stevens has become one of the most well-respected coaches in the business in such a short time, drawing immense praise from none other than Krzyzewski the past two seasons. But would Stevens leave the two-time defending national runner-up? Tough call. If Stevens is going to move, he'll likely stay in the Midwest at an elite job in the Big Ten.
Mark Turgeon, Texas A&M: Turgeon played at Kansas. He fully understands what it's like to be at a basketball-crazed school. He coached at one in Wichita State. He would enjoy being at a basketball-first school like Maryland. He has done a wonderful job keeping the Aggies relevant in the Big 12 and A&M will again be in the mix in the conference title race next season. But would Turgeon be the choice for Anderson? That's still an unknown. As one source said, Turgeon may not be the news conference name that Tubby Smith would be on day one, but two years into his tenure at Maryland they would know they had an elite coach and a winner.
Sean Miller, Arizona: This is by far the most intriguing name. If this were a year ago, Miller would have probably run to Maryland. His first year at Arizona wasn't easy after taking over for two interim coaches who succeeded Hall of Famer Lute Olson. But Miller then coached the Wildcats to the Pac-10 title and a trip to the Elite Eight. He has an elite recruiting class coming to Tucson. This is a great time to be in the Pac-12 at a school like Arizona because it is winnable with so many programs in flux. Unlike Dixon, Wright, Brey, Few or even Stevens, Miller isn't entrenched in his community or the school. He went from Xavier to Tucson just two years ago. He is an East Coast coach, he played at Pitt and coached in the ACC at NC State. So he would be a great fit at Maryland, but is he willing to move after bringing back some of the glory to Zona? Is he willing to start over again and rebuild? Does he have the energy for that type of move again? This might be the most agonizing call.
Shaka Smart, VCU: Obviously Smart's name wouldn't have been on this list a year ago. But that was before he coached the Rams to an improbable Final Four run. He committed to VCU by staying put this offseason and the school upped his salary quite a bit. But he would almost certainly jump at an offer from Maryland. The question: Is this too big a leap for Maryland to make?
Johnny Dawkins, Stanford: Dawkins is from Maryland. He is an all-time great Duke player. He is trying to establish himself at Stanford, but it doesn't appear he's done enough to warrant interest from the Terps. But he does have a name that would resonate locally and in the ACC.
There likely will be others, possibly some names from the NBA. But any list that Anderson checks off should at least begin with the aforementioned coaches. Maryland shouldn't aim for anything less.
February, 7, 2011
02/07/11
3:34
PM ET
Mike Brey put up the Big East standings last Monday in the Notre Dame locker room and added his own slogan for the Irish: chase it down.
The "it" here is the Big East regular-season title that suddenly is a realistic achievement after the Irish beat Pitt at the Petersen Event Center on Jan. 24.
Since then, the Irish won at DePaul on Thursday and beat Rutgers at home Sunday. Pitt hasn't lost either, holding on to a two-game lead in the loss column over the Irish. But Sunday night the Panthers got word that junior point guard Ashton Gibbs is out for 10-14 days with an MCL injury to his left knee, which likely puts him out for the next three Pitt games, including Monday at West Virginia and Saturday at Villanova.
[+] Enlarge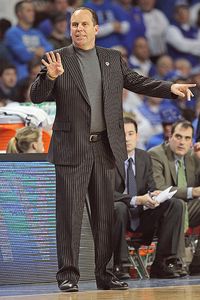 Andy Lyons/Getty ImagesMike Brey has his Fighting Irish in contention for a Big East regular-season title.
Suddenly, the Irish's chance to win the Big East regular-season title doesn't seem like a reach. Sure, they need Pitt to lose a few games and the Irish still have to win, with three of the next four on the road.
"I told our guys that it was great to cut down the nets in Orlando [at the Old Spice Classic in November], but wouldn't it be great to be the regular-season champs?" Brey said Sunday night after their win over Rutgers. "I've included the phrase to chase it down in everything we do now. I've said to beat DePaul we have to defend and rebound to chase it down. We're two games behind Pitt, let's keep the pressure on. We're going to talk about this."
Brey said his initial hope with the Irish in the preseason, and especially after winning the Old Spice Classic, was to be a top-four Big East seed and get a double-bye in the Big East tournament. Barring a collapse, that scenario seems like a lock. The perennial on-the-bubble Irish are possibly looking at their highest seed ever under Brey (the previous high was a five).
And all of this is occurring after losing former Big East Player of the Year Luke Harangody and Tory Jackson.
"We've never felt more confident as a group and they're growing and believing in each other," Brey said. "We can be better on the road. This group talked about [winning the Big East] in the summer and the preseason. They need to hear it from me to make a run for it, to verbalize it and talk about it. This is an older group that can handle things really well. If we come up short and get the double-bye, then that's still mission accomplished."
Brey said beating Pitt on the road was the defining moment for this team so far. It took any concern about being on the bubble off the radar. It also sets up the Irish to reach 20 wins earlier in the season (24 games) than it ever has in the history of the program, he said, if Notre Dame beats Louisville on Wednesday.
Notre Dame won in Orlando by beating Georgia, Cal and Wisconsin -- the latter two likely will be in the NCAAs. Taking down Gonzaga, Georgetown, Connecticut, St. John's, Cincinnati and Marquette at home only added to the résumé and power rating. The losses on the road to Kentucky in Louisville, at Syracuse, Marquette and St. John's were almost expected. The win at Pitt was not.
To beat Pitt, Brey deployed the "burn" offense, a tactic he came up with last season when Harangody was hurt. And now it's his specialty offense that he'll bring out on command, especially with a finisher in Ben Hansbrough. He said the Pitt game was the first time he used it for an entire game.
"We were looking like a bubble team a year ago after Luke got hurt and we talked as a staff that we needed to play slower in the league, that we couldn't keep up with the track meet," Brey said. "We know there are times we can [score] 85 but we had to shorten this thing. So we taught them to get it to single digits [on the shot clock] and make a play. Last year it was at Marquette we did it and against Pitt in the Big East tournament. There are other times we may use it at the end of a half or coming out of timeout to burn it down."
Brey said he hasn't had any problems selling the offense to the team. He said the team has bought in completely and is confident that opposing teams get frustrated when the Irish go to the burn.
"I had to come up with something to survive [in the Big East this season and the end of last season]," Brey said. "This league is about adjusting to the personnel. We had to give ourselves a chance to win and this group believes in it and there may be no one better at the end of the clock, nobody better in the country than Ben Hansbrough."
Hansbrough has put himself in the conversation with Connecticut's Kemba Walker and Georgetown's Austin Freeman for Big East Player of the Year. Hansbrough has been the primary reason the Irish are even looking at challenging Pitt for the conference title. He scored 19 points in the win over Pitt and that was after he put up 28 in the victory over Marquette. He had another solid week with 24 at DePaul and 25 against Rutgers.
No one could have projected Hansbrough would be this much of a star while he was a role player at Mississippi State, which was an odd match for Tyler's little brother.
"Ben is driving us," Brey said. "There's a will and a drive and a competitiveness to him and he's channeling it correctly for us to pick his spots. He's a flat-out assassin. He's really led and is setting a great tone. He's a hungry guy and one of those gym rats."
This Irish team has players who manage the clock, are coachable and don't make many mistakes. Hansbrough, Tim Abromaitis, Carleton Scott, Scott Martin, Tyrone Nash, Eric Atkins and Jack Cooley have all bought into the burn offense and the possibility that the Irish can contend for a Big East title.
"It's not a pipe dream," Brey said. "If you look at Pitt's schedule and now about Ashton Gibbs, this thing is going to be interesting. We just have to keep the pressure on everybody in our cluster at the top of the standings. We're verbalizing it now. Our theme is to chase it down, chase down the Big East regular-season championship."