Category archive:

Arizona State Sun Devils
August, 7, 2013
08/07/13
11:31
AM ET
No team heading off on a foreign trip needs it more to be a springboard than Arizona State.
The Sun Devils travel to China on Thursday, and if this trip works well for them, they may just be a Pac-12 top-four team this season -- bound for the NCAA tournament for the first time since 2009.
Jahii Carson is banking on it.
He came back for a third year of college (his second playing after being academically ineligible as a freshman) to lead ASU into the NCAAs. The pieces are in place for just that, especially after the Sun Devils picked up an immediately eligible transfer in Penn State's Jermaine Marshall (15.3 PPG last season).
Carson is done with school after this season, barring some sort of setback. This is it. He has talked to James Harden, the most famous Sun Devil to play under Herb Sendek since he arrived in 2006. Harden led ASU to its only tourney appearance under Sendek, and Carson is desperate for trip No. 2.
"If I don't make it to the NCAA tournament," Carson said, "it would be a killer."
[+] Enlarge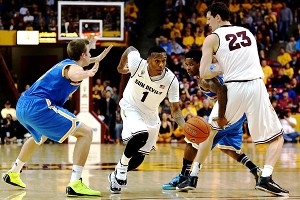 Mark J. Rebilas/USA TODAY SportsAs one of the top point guards in America, Jahii Carson hopes to add NCAA tournament to his list of accomplishments.
Last season, he led the Sun Devils with 18.5 points and 5.1 assists a game, and ASU had its moments, finishing 9-9 in the league and 22-13 overall after losing to Baylor in the NIT second round.
Carson could have bolted to the NBA draft. No one would have faulted him. But he didn't. He stayed true to his decision to finish what he started, to get to the NCAAs and be ready to play in the NBA, not just be drafted. He went to the LeBron James Skills Academy this summer, played at the adidas Nations tournament and was a fixture in the gym in Tempe.
So why did he stay?
"Two things: He's smart, and he's confident," Sendek said. "Most guys are in a hurry to get there. He didn't buy into that. He wants to polish certain parts of his game. He was much more comfortable taking a long-term view. Unless he was a clear-cut lottery pick, it made more sense to come back."
Carson credits the addition of former NBA coach Eric Musselman to the staff as a sage adviser in the process. He also said none of the coaches have ever held him back.
Carson said he's done going to parties at what is generally considered quite the party school. He said the time has come to focus on basketball. And it is no secret he's likely done with college after this season.
"Depending on how the season goes, Coach Sendek said this should be the last year and Coach Musselman too," Carson said. "There's no reason to keep me longer if we reach our goals."
Carson said adding Marshall gives the Sun Devils something they didn't have last season. His maturity, scoring ability and experience will immediately benefit ASU. And the continued improvement of Jordan Bachynski inside should help offset the production loss of 6-foot-6 swingman Carrick Felix.
Sendek and Musselman have tweaked the way they'll play this season. They practiced in the spring with a 24-second shot clock to get even more possessions and to use Carson's quick-strike ability.
"We're not trying to overcomplicate this," Sendek said. "We're trying to push the ball in transition, but obviously against the better teams we won't be able to score as much in transition. But we want our guys to have that mindset. Everybody has to buy into it. The big guys are mobile and can run. We don't have someone who will slow us down."
Sendek mentioned Bachynski and Eric Jacobsen as big men who can run. He said he's looking forward to seeing how Jacobsen and Calaen Robinson do on the trip to China.
"They don't have a lot of game experience," Sendek said. "It's to their advantage to get them as much playing time as we can."
Sendek said he'll need to find a backup point guard to Carson on this trip. He doesn't have one going into the season. Clearly, Carson will eat up minutes, but someone else has to be prepared.
Not having Felix means the Sun Devils lost a leader in the locker room, so Carson will have to do even more in that regard. He can. He says he will.
Sendek said there are unanswered questions about this crew, but there is one thing no one questions: This team needs to make the NCAA tournament.
"We've had some good seasons, but we haven't gotten into the tournament as much as we'd like," said Sendek, who is entering his eighth season at ASU. "We've been on the precipice as much as anybody. The league is going to be extremely good and arguably as good as since I've been here. It's very balanced and competitive. We can compete for this. I like this team. It's as good as we've had here."
May, 4, 2012
05/04/12
12:58
PM ET
UCLA's recent mediocrity hasn't been celebrated or seen by the rest of the Pac-12 as an opportunity.
Instead, the conference desperately needs the Bruins to come back -- and fast. Having Arizona dip, even just for one season, didn't help either.
So when the coaches gathered this week for the annual spring meetings in Phoenix, the mood was upbeat. The Pac-12 -- that ultimate big-boy punching bag in college basketball lately -- has two of the nation's top three recruiting classes. And they're from the league's two most prestigious programs.
[+] Enlarge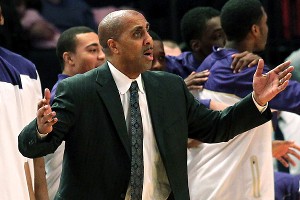 Anthony Gruppuso/US PresswireYou know it's a down year when your regular-season champ doesn't make the NCAA tournament.
"I think any buzz for our league is good for everybody,'' Oregon State coach Craig Robinson said. "As competitors, we would like the buzz to be about us, but as long as it's somebody in our conference and especially a brand name like UCLA, that can only be good for the rest of us.''
The Pac-12 had only two teams make the NCAA tournament in 2012, and one of those (Cal) was in the First Four in Dayton and lost. Regular-season champ Washington didn't get a bid, an embarrassing situation for the conference, which became the first big six league to not have its regular-season winner receive a bid.
Utah arrived in the conference and was abysmal in its first season, finishing 3-15 in the Pac-12 and 6-25 overall. Arizona State fell apart and finished 10-21. USC was decimated by injuries and was the worst of all, finishing a stunning 1-17 in league play and 6-26 overall.
The saving face of the Pac-12 was actually new member Colorado. The Buffaloes won the conference tournament, beat UNLV in the NCAA tourney and hung around with Baylor before losing in the Round of 32.
But perception of the league being down wasn't a reach. It was reality. The numbers and results didn't lie. The Pac-12 was an almost hard-to-fathom 1-25 against the RPI top 40 in nonconference play.
So with Arizona loaded up with four ESPNU 100 recruits in the Class of 2012 and UCLA having secured Kyle Anderson in the fall, the Bruins kept up the momentum in the spring by grabbing another top-five recruit (Shabazz Muhammad) and a four-star big man (Tony Parker).
That's not just good for those two schools, it's welcomed by the rest of the league.
Don't think Pac-12 commissioner Larry Scott didn't take notice of the Bruins' big April.
"It's extremely important,'' Scott said. "The public and media follow big brands, and it doesn't get any bigger than UCLA basketball in our conference.
"Having them have a strong recruiting class [and] a new Pauley Pavilion to move into is great news for our conference. We've got new TV deals. The timing couldn't be better.''
The conference's coaches have long complained about the television package and a general lack of national exposure. A few years ago, first-place Cal was at USC in a critical game and it wasn't even televised.
Well, the Pac-12 finally has a new TV package that will allow every conference game to be televised on one of three networks: ESPN, Fox or the new Pac-12 Network. The league will shift from a straight Thursday-Saturday/Sunday schedule to one that has more flexibility.
[+] Enlarge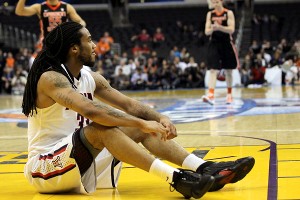 Stephen Dunn/Getty ImagesThe Pac-12 tourney has had some thrillers over the years, but few in L.A. bothered to notice.
In addition, the conference tournament now has a chance to have a sellout with the league choosing Las Vegas as the neutral destination. The Pac-12 had struggled mightily to draw consistent crowds to the Staples Center in Los Angeles. That shouldn't be the case at a destination venue like the MGM Grand, where the Pac-12 will become the fourth conference to play its conference tournament in Vegas, joining the Mountain West (Thomas & Mack Center), WCC and WAC (both at the Orleans Arena).
What will this conference look like by next March, though?
A year ago, the league was gutted by early entrants to the NBA draft at USC, UCLA, Washington, Washington State, Arizona and Stanford.
"Our league wasn't going to be good in the nonconference in November or December because of who left,'' Oregon coach Dana Altman said. "And then UCLA lost Reeves Nelson [dismissed early in the season] and so we weren't in a position to do well.''
Now they must be.
"We need some top-10 teams,'' said Cal coach Mike Montgomery, who has consistently been a Pac-12 title contender at Stanford and Cal. "We didn't have any, and it hurt us. Based on the recruiting, Arizona and UCLA should be in the mix.
"You need good teams going in. It will help us all if we're competing against better teams. Our RPI goes up. One through nine we were pretty good last year.''
The early onus will be on UCLA. The Bruins have to show well at the Legends Classic in Brooklyn, N.Y., with Georgetown and ESPN.com preseason No. 1 Indiana in the four-team field.
"We've had some bad losses out there,'' Montgomery said of the Pac-12's shoddy nonconference record lately. "Typically, everyone looks at UCLA and makes a judgment. It may not be fair or right and they haven't been the best team, but when they [are down], it hurts everybody. It's incumbent on everybody to win the games [you're supposed to win] in the pre-conference.''
Montgomery didn't excuse his own team. The Bears beat no one of significance outside league play last season and were annihilated by Missouri and UNLV.
"We didn't perform well, and that hurt our league,'' Montgomery said. "The impressions start early. We shouldn't lose games we shouldn't lose, because then when the league plays each other, we're screwed. We can't do anything to improve the reputation. That's on all of us to have a better November and December heading into the conference.''
USC coach Kevin O'Neill isn't doubting the Pac-12's ability to bounce back this season with several NCAA tournament teams.
"And we plan on being one of them,'' O'Neill said of the Trojans, led by Jio Fontan, who missed last season with a knee injury. "UCLA and Arizona had top recruiting classes, and that helps everybody improve. I think it's great. We'll see how they react to stressful situations.
"All our teams look good on paper, and we should be one of the top leagues in the country. We lost more pros in this league than the five other power leagues together the last few years. We're producing great players and most are doing well. But all of that is going to change. It's going to be a great year for our league.''
October, 3, 2011
10/03/11
11:17
AM ET
At this time last year, Ben Hansbrough's name didn't appear on the Wooden Award preseason watch list.
Five months later, he edged out Connecticut's Kemba Walker for Big East Player of the Year.
Using that as a backdrop, let's remember that the list of 50 Wooden nominees is flawed, much like any of the award lists. The Wooden Award does not allow its voters to nominate any freshmen or transfers (either four-year or junior college) on their ballots.
And with college basketball as loaded with talent as any year since 2007-08, narrowing it down to 50 is not easy. So below I've attempted to come up with the names that didn't make it, either as "just missed the cut" omissions or just because they're freshmen or transfers. These guys aren't on the list (which can be found here), but might show up when it's updated during the season.
This group is by no means definitive, either. There's no telling who else might emerge nationally as the games get under way.
Let's take a look …
The omissions (in alphabetical order):
Julian Boyd, Long Island: The Blackbirds are the favorite again in the Northeast Conference and the main reason is because Boyd is back and ready to dominate the stat sheet.
D.J. Cooper, Ohio: The diminutive point guard does a little bit of everything; he averaged 15.8 ppg, 7.5 apg and 5.0 rpg for the Bobcats last season.
[+] Enlarge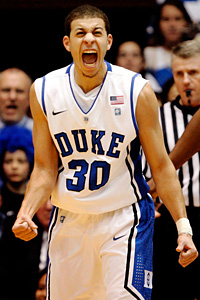 Streeter Lecka/Getty ImagesSeth Curry hasn't done enough to warrant a mention on a preseason watch list, but he might end up being a Wooden addition.
Jared Cunningham, Oregon State: Cunningham has some of the best hops in the sport and a chance to be a Pac-12 star, allowing the Beavers to finally move up in the standings this season.
Seth Curry, Duke: Curry was a standout shooter for the Blue Devils on their trip to China and could be one of the top scorers on the team.
Brandon Davies, BYU: Davies was recently reinstated to the Cougars, and the offense is expected to flow through him inside and out as BYU mounts a campaign to win the WCC in its first year in the league.
Matthew Dellavedova, Saint Mary's: SMC coach Randy Bennett envisions this as one of the best teams he's ever had, but a lot of that will have to do with whether Dellavedova can shoot like Mickey McConnell did last season.
Greg Echenique, Creighton: Echenique was a rebounding force for Venezuela this summer and should do even more for the Bluejays with a full season to work with.
TyShwan Edmondson, Austin Peay: The Governors should be the favorite in the Ohio Valley with a legit scorer like Edmondson, who has a strong man, Will Triggs, to take pressure off him.
Kyle Fogg, Arizona: Fogg is next in line to assume a leadership position for the Wildcats, who are in a position to compete for Pac-12 titles for years to come.
Kevin Foster, Santa Clara: As a sophomore, Foster sort of came out of nowhere to average 20.2 ppg and become one of the nation's top 3-point shooters.
Chris Gaston, Fordham: The Rams aren't any good, but the nation's leading returning rebounder (11.3 rpg) at least deserves a shout-out in this space.
Yancy Gates, Cincinnati: UC coach Mick Cronin said he'd be surprised if Gates wasn't one of the 10 names on the Big East preseason first team.
Malcolm Grant, Miami (Fla.): The Hurricanes have to play most of the season without big man Reggie Johnson, so Grant will have more opportunities to shine.
Rob Jones, Saint Mary's: Jones could be a double-double regular for the Gaels, and for Saint Mary's to win the WCC, Jones will have to be a star.
Doron Lamb, Kentucky: John Calipari says Lamb will be the Wildcats' best player. Just Coach Cal mind games, or the truth?
Meyers Leonard, Illinois: Leonard didn't contribute a whole lot as a freshman, but he was a hidden gem on the U.S. U-19 team in Latvia this summer. The Illini are expecting big things out of him.
C.J. McCollum, Lehigh: McCollum is the nation's leading returning scorer (21.8 ppg) and is in the top five in steals (2.5 spg). Oh, and he did that as a freshman. What more do you need to know?
Cameron Moore, UAB: The Blazers have been consistently good under Mike Davis and have had unheralded C-USA stars. Moore is the latest.
Toure' Murry, Wichita State: If the Shockers win the Missouri Valley over Creighton, a lot of the credit will end up going to the veteran Murry.
[+] Enlarge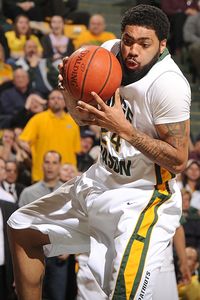 Rafael Suanes/US PresswireRyan Pearson looks to lead Mason to another run to the NCAAs.
Brandon Paul, Illinois: Illini coach Bruce Weber was a bit surprised Paul didn't crack the top 50 on the Wooden list, given his overall importance to this team.
Ryan Pearson, George Mason: The Patriots are a trendy pick for the Top 25 and a lot of that has to do with the versatility of Pearson.
Damier Pitts, Marshall: The Thundering Herd are a real sleeper to gain an NCAA tourney berth out of Conference USA in large part because of Pitts.
Herb Pope, Seton Hall: Pope has come back from multiple life-threatening situations and has a real shot as a senior to put it all together and finally shine.
Terrence Ross, Washington: The Huskies can't be dismissed as a major player for the Pac-12 title, and if they win it, Ross will be a significant reason why.
Robert Sacre, Gonzaga: Sacre has matured into a solid post player, and that progress shows no signs of stopping as the Zags once again compete for the West Coast title.
Mike Scott, Virginia: If the sleeper Cavs mount a run to the NCAA tournament, the oft-injured Scott will be the reason why.
Renardo Sidney, Mississippi State: If Sidney is in shape and plays up to his potential, he has SEC Player of the Year potential and could be the difference between the Bulldogs making the NCAAs or NIT.
Andrew Smith, Butler: The Bulldogs will have fewer stars this season, but Smith has a chance to outshine Khyle Marshall and newcomer Roosevelt Jones with his scoring prowess in the post.
Chace Stanback, UNLV: Stanback's suspension to start the season is only one game, so that won't diminish his ability to lead the Rebels in their hunt for a Mountain West title.
Raymond Taylor, Florida Atlantic: FAU quietly won the Sun Belt East Division last season and Mike Jarvis' diminutive point guard was the catalyst behind the regular-season championship.
Hollis Thompson, Georgetown: If the Hoyas are to make the NCAA tournament again and be a pest in the upper half of the Big East, then Thompson needs a breakout season.
Kyle Weems, Missouri State: Doug McDermott is the one everyone is talking about in the Valley, but let's not forget that Weems is the reigning MVC Player of the Year. Too bad for the Bears he's their only returning starter.
Kendall Williams, New Mexico: The sophomore guard was the leading scorer in four postseason NIT games for the Lobos and should only get better with the addition of Australian Hugh Greenwood.
The transfers
Dewayne Dedmon, USC: Trojans coach Kevin O'Neill firmly believes this JC transfer is an NBA talent who could dominate the post and average a double-double for SC.
Arnett Moultrie, Mississippi State: The former UTEP big man is ready to have a bust-out season for a team that has serious bounce-back potential after a disappointing 2010-11 campaign.
Mike Rosario, Florida: The former Rutgers scoring guard finally has plenty of support around him and will put up numbers for a winner.
Rakim Sanders, Fairfield: The Boston College transfer should flourish after dropping down a level, and he should get coach Sydney Johnson another trip to the NCAA tourney. Johnson is beginning his first year at Fairfield after leading Princeton to the 2011 tourney.
Royce White, Iowa State: White is finally ready to be a star on the college scene after multiple transgressions at Minnesota.
Brandon Wood, Michigan State: The Spartans picked up a rare senior transfer (taking advantage of the graduate transfer rule) from Valparaiso who could be one of the best shooters in the Big Ten.
Tony Woods, Oregon: The embattled Woods arrived from Wake Forest after legal issues and has a chance to really shine as a double-double player for the first time in his career.
The freshmen
Bradley Beal, Florida: Beal has a chance to be a productive player in a frontcourt that has a vacuum after multiple seniors departed.
Gary Bell Jr., Gonzaga: Coach Mark Few has been anticipating Bell's arrival for over a year now. He's expected to step in and deliver right away.
Wayne Blackshear, Louisville: The Cardinals fancy themselves a Big East title contender, and that's partly because they consider Blackshear a star in the making.
Jabari Brown, Oregon: Brown was the star of the Ducks' trip to Italy with his scoring prowess, and expect that to continue in the Pac-12.
Jahii Carson, Arizona State: There is some question right now as to Carson's eligibility, but if he's good to go, the Sun Devils might become relevant in the Pac-12 again.
[+] Enlarge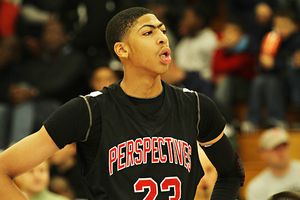 Brendan NolanThere seems to be little doubt that freshman Anthony Davis will have a major impact for UK.
Erik Copes, George Mason: Copes was bound for George Washington before Karl Hobbs was fired; now he'll be a headline performer for the Patriots and first-year coach Paul Hewitt.
Anthony Davis, Kentucky: Davis has a chance to be the SEC Player of the Year and the No. 1 pick in the NBA draft, so expect him to be on the midseason list when freshmen are allowed.
Andre Drummond, Connecticut: He will be an immediate star and help lift the Huskies into the national title chase again. He's more than likely a future top-five pick in the NBA.
Myck Kabongo, Texas: Coach Rick Barnes has had quite a bit of success with big-time freshmen guards, and Kabongo is next in line.
Michael Kidd-Gilchrist, Kentucky: Gilchrist will be another star on what will be a headline team throughout the season.
Johnny O'Bryant, LSU: Coach Trent Johnson needs the Tigers to start trending upward again, and he has a shot with the arrival of the big man from Mississippi.
LeBryan Nash, Oklahoma State: OSU is a bit of a mystery team in the Big 12, but the All-American from Dallas could push the Cowboys into contention.
Austin Rivers, Duke: Rivers will have the ball in his hands quite a bit and appears to be the next Duke star in a lengthy list of recognizable names.
Josiah Turner, Arizona: The Wildcats will win the Pac-12 regular-season title if Turner is as good as advertised.
Cody Zeller, Indiana: If coach Tom Crean is going to turn the Hoosiers into a relevant team this season, it will be because of Zeller and his impact in the Big Ten.
September, 29, 2010
09/29/10
2:38
PM ET
The new 12-team Pac-10 will likely follow the lead of the new 12-team Big Ten. In other words, starting in the 2011-12 school year, it looks like the conference will split into two divisions for football but remain one, 12-team entity in basketball that plays 18 conference games.
The Big Ten already formally announced its two football divisions and will make its official decision about basketball at its annual meetings this spring, with the consensus being there will be 18 league games with every team playing each other at least once, rivalries protected and the other crossover games done on a random basis for competitive balance.
The Pac-10 athletic directors meet next week (Oct. 6-7) and are likely to follow a similar path, with the final say going to the presidents and chancellors who will meet on Oct. 21.
There are still a number of options for the football divisions, from a simple split between North (Washington, Washington State, Oregon State, Oregon, Utah, Colorado) and South (Cal, Stanford, UCLA, USC, Arizona State, Arizona) and variations off that, as well as a zipper option with each rivalry split to form the two divisions (Washington and Washington State on different sides with Utah and Colorado being the two new rivals). Of course, in football, much like the Big Ten did with Ohio State-Michigan, if a rivalry was split in divisions, that game would be one of the mandatory crossover games every season.
More than likely, the men's basketball schedule will have 11 games against every other team, the 12th game would be against the natural rival and then the other six games would be chosen at random, leaving four schools that a team would play only once a season.
The hitch in the Pac-10's scheduling is that every school wants at least one road trip to L.A. and the Bay Area for recruiting and alumni purposes. League officials have to be cognizant of that sentiment.
Oregon State coach Craig Robinson said it was his preference to make sure the Beavers, or for that matter every school, gets to L.A. and the Bay Area each season.
"And we have to play Oregon every year twice, I don't think we should skip that one," Robinson said.
The Pac-10 is the last power-six conference to still play a true round robin schedule in men's basketball. But when the Pac-10 gives up that title, the Big 12 will assume the role of being the only power-six conference that anoints a true champion. The Big 12 will be a 10-team league in 2011-12 with the departure of Nebraska (Big Ten) and Colorado (Pac-10). The conference has already made it known it will play a true, 18-game round-robin schedule when it's a 10-team league.
Twelve teams might be the perfect number for football with two six-team divisions and a championship game. But going from 10 to 12 in men's basketball takes away the equitable scheduling and the true champion and creates a competitively imbalanced schedule. That's what the Big East, Big Ten, SEC, ACC and Big 12 have dealt with lately. The Pac-10 has not.
"I would select the model that gives the opportunity for us to play each other home-and-home as many times as possible in the shortest window of years," Arizona State coach Herb Sendek said. "You want every team to touch each other in the shortest time possible. That's the fairest way to do it."
UCLA athletic director Dan Guerrero said there have been a number of different models discussed, such as playing 16, 18 or even 20 or 22 league games.
"But the overall sentiment is to stay at 18," Guerrero said. "You want a scheduling model where you play your natural rival and do some home-and-homes. We might go to Oregon but they don't come and return. We might play host to Oregon State but not go to Corvallis. Nothing is definitive."
Guerrero said a number of athletic directors are on record as saying they covet being in the Los Angeles market and "we're looking at ways to make that happen."
Guerrero said the consensus among the athletic directors was to go with one division, 18 games and avoid any no-plays in basketball.
"Those are the parameters to build a model around," Guerrero said. "We could have gone with a 22-game model and still kept the double round robin, but that limits nonconference flexibility. I think 18 is the most appropriate."
Guerrero just came off leading the men's basketball selection committee, which created the "First Four" format under the newly expanded 68-team tournament. In that format, Guerrero and the other nine members of the committee reached a compromise where two of the games will involve the last four 16th-seeded teams and two of the games will include the last four at-large teams.
Guerrero has been a peacemaker/mediator with these types of NCAA issues and his experience should serve him well at the Pac-10 meetings next week.
September, 23, 2010
09/23/10
2:47
PM ET
When was the last time a head coach actually got a recruit based on a phone conversation?
"Kids say coaches say the same thing and a lot of coaches say kids say the same things," Xavier coach Chris Mack said. "You get a recruit on campus and they see who you are, who your staff is and what your program is about. I'm not sure how a couple of extra phone calls are going to seal the deal in my opinion. With all the restrictions on phone calls, there's only so much you can do."
And that's why when more revelations come out about how many impermissible phone calls are being made by coaches, it makes you wonder -- why? Isn't there another way for a player to get to know who a coach is and what he's about?
Really, how much can a coach, who could be some 20 to 30 to 40 years older than the player he's recruiting, really discuss over the phone with a 16- or 17-year-old kid?
With so many NCAA restrictions on these conversations and the elimination of texting, some coaches are finding a new medium to show their personalities. Mack and Arizona State's Herb Sendek have become two of the best at expressing themselves on Twitter.
Coaches can't direct messages at a recruit, but they know very well that recruits who are following them can view the tweets.
And believe it or not, a coach's personality can come through in 140 or fewer characters.
Want an example? On Thursday afternoon, CoachChrisMack tweeted the following:
"Cool Coach Mack always pulling up to open gyms in his 4 Runner. Nevermind the 2 car seats in the back, along w the sippy cups and crumbs."
[+] Enlarge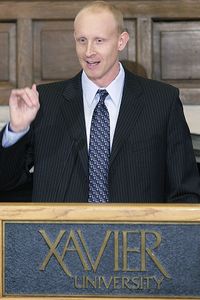 AP Photo/Al BehrmanXavier's Chris Mack is one of the more prolific users of Twitter among college coaches.
Mack also has no hesitation in airing his random thoughts on just about any topic.
"Never understood the idea of bathroom attendants at fancy restaurants. Seems strange …"
"Why does the automated lady on cell phone voice mail greetings tell you that you can hang up when you're finished? Do people not know that??"
There is a Larry David element to Mack's tweets that may fly with some recruits and may not with others, but certainly there's a chance that parents or guardians could relate.
"You can see who has an assistant tweeting for them and who doesn't," Mack said. "There are no secrets anymore. You go into a workout in the gym and that kid is going to tweet about you as soon as you walk out. You better not go back the next day because that will be tweeted too.
"Twitter can be dangerous. But I like to use it in a lighthearted way, showing the strengths of our program and express who I am and what I'm about. I don't want to be a bulletin board for Xavier basketball on every tweet. I'm more than that and I want the kids I'm recruiting to know that I'm a dad, a husband and a real person and that if you send your kid here, it will be a great experience."
Coaches like Kentucky's John Calipari and Indiana's Tom Crean were two of the very first to latch on to Twitter and they've both used the medium to show their interests and views on a variety of topics. Recently, Crean even expressed his displeasure over the NFL's fining of his brother-in-law, head coach John Harbaugh of the Baltimore Ravens. Tweets written by UKCoachCalipari are read by more than 1.1 million "followers" and are tracked breathlessly in Bluegrass Country.
As for Sendek, he has a dry wit and more of a low-key personality. He was dwarfed in the Triangle by Duke and North Carolina when he was at NC State, so trying to stand out in that area was almost impossible. Now he's at Arizona State, where getting support for the Sun Devils' basketball program in a pro sports town is even tougher.
So Sendek was pushed by ASU sports information director Doug Tammaro to get his quick wit onto the web. That has led to HerbSendek sending out thoughts like: "Do u stick ur big toe in the water to check the temperature or just do the cannonball and jump right in?" or "At Olive Garden, Love their salad!" or "My daughter, Catherine, just cut my hair. Looking real good. Watch out, Brad Pitt."
Are those the kind of thoughts that will directly influence a recruit? Of course not. But what about tweets like this: "Dad was math teacher and coach. Mom was a nurse. Dad always let me tag along. Mom stopped working to raise kids. Blessed w/great childhood."
Or these: "Growing up, on Sundays we would listen to polka music on the radio. To help stay connected, I have some polkas on my ipod." … "Both my grandfathers were coal miners. A hard life. Calls to mind Chinese proverb … When u drink the water, remember who dug the well."
In a few quick tweets, you might have learned more about Sendek's personality and background than you would have in a few contrived phone conversations.
Make no mistake: This is a recruiting tool.
Such as when Sendek tweets: "I just found out that James Harden, jHARD13, has over 30,000 follows on Twitter. Is it the beard?" or "I have been working on special situations for the upcoming season. Love to study the game. Always more to learn."
"I'm just trying to drive traffic for Sun Devil basketball," Sendek said. "I'm trying to generate interest in the program. It is a noninvasive way for recruits to plug in, too."
Sendek said he thinks his personality does come across on the phone, but that expressing himself on Twitter has allowed recruits and their family members to see even more of who he is.
"There are so many ways now to get to know the whole person better," Sendek said. "It's an opportunity to learn more about the person and the family to share your vision of the program. There are only so many times you can talk to someone on the phone. I think if we were to call every day that would run the risk of turning someone off anyway."
And that's why for Mack, Sendek and others, using Twitter in a lighthearted, personal way works for them and ultimately has allowed those following them -- whether they're fans or recruits -- to get to know the coaches even better in a less intrusive, NCAA-permitted way.
December, 30, 2009
12/30/09
2:30
PM ET
The Pac-10 hadn't beaten a ranked team through November or well into December.
Its record against the rest of the power six conferences was abysmal.
There was just cause to anticipate the league was heading for its worst season in a quarter century, possibly only one or two bids to the NCAA tournament.
The latter isn't still out of the question, but it's now more unlikely with the recent developments as the league begins its conference season Thursday -- the only of the power six leagues that plays a true round-robin schedule.
Cal, the preseason favorite, didn't have one of its best players in Theo Robertson for losses in New York against Syracuse and Ohio State, and at New Mexico.
[+] Enlarge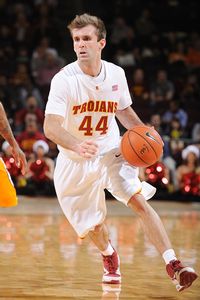 Matt A. Brown/Icon SMIMike Gerrity is one of three players USC was without at one point so far this season.
USC didn't have post player Alex Stepheson for a loss against Loyola Marymount and didn't have point Mike Gerrity or forward Leonard Washington for losses to LMU, Nebraska, at Texas and at Georgia Tech.
No one is saying the Bears would have swept the three mentioned losses or that the Trojans would have erased their four losses if they had those players on the court. But with UCLA, which has had injuries and a defection, down this season at 5-7, the perception of the league goes south with the Bruins. That's the same perception that happened to the ACC when North Carolina had a subpar season in the middle of the previous decade.
"Anybody that knows basketball doesn't think UCLA will be an easy out,'' Arizona State coach Herb Sendek said. "Their personnel is too good, the coaching too outstanding and to think you can go into Pauley like we have to Thursday and get an easy win?''
Coaches in the league are doing what they should, which is, naturally, to pump up the league as the conference season starts. But there is reason to believe the conference will perform better over the next two months.
"I said this early: 'People were quick to judge the Pac-10,''' Washington coach Lorenzo Romar said. "There were several teams that weren't at their full compliment of players.''
Romar cited USC, which is now one of the older teams in the league with upperclassmen Gerrity, Stepheson, Marcus Johnson and Dwight Lewis. He mentioned Cal and even tossed in Oregon, which lost at Portland and to Montana without center Michael Dunigan, fell to Saint Mary's without starting guard Tajuan Porter and is still without senior forward Joevan Catron since Nov. 21.
Are they excuses? Sure. But there are reasons for the frailty of the league when it was going through a transition of losing a glut of players to exhausted eligibility and the NBA draft.
"I feel like we can compete with anybody in the country with all our guys,'' said USC coach Kevin O'Neill, whose Trojans have the conference's only two wins over ranked teams in Tennessee and UNLV. Washington beat Texas A&M at home after the Aggies had dropped out of the Top 25.
"I think our league is a four-bid league for sure,'' O'Neill said. "It's not what we've had the last two years; it's not a six-bid league. But it should be a four-bid league.''
USC may be in the strongest position with the nonconference wins over the Vols and Rebels. The NCAA tournament selection committee will judge the Trojans a bit differently since they didn't have Gerrity, Stepheson and Washington for all or some of the previous losses.
The key for the Trojans will be to keep winning and finish in the top three. Giving a bid to a team that might finish lower in the conference standings than another that doesn't receive a bid is possible if the overall résumé is better. That could be the case with USC.
"There's nothing worse than playing without a true point guard,'' O'Neill said. "The projected favorites should be the projected favorites but there's not a huge separation from the top to the bottom. Everybody is pretty good.''
Romar said the Huskies are close to being a "really good team," especially if they can be better defensively and continue to share the ball. Senior forward Quincy Pondexter is having an all-Pac-10 season so far.
The Huskies didn't win the two big games on the schedule away from Seattle, losing to Georgetown in Anaheim, Calif., and at Texas Tech. But if Washington were to finish first or second, the Huskies will likely be in position for a bid. Cal will likely be judged differently, as long as it finishes in the top two, for playing without Robertson.
USC has the best profile among the rest of the teams. Washington doesn't have the signature win (sorry, but LSU won't be a great get unless the Tigers can go on a run in the SEC West), and Arizona State is lacking one as well. ASU beat LSU in New York, but couldn't win any of its marquee games (save for a win against San Diego State) in losing to Duke in New York, Baylor at home and at BYU. Wazzu missed out on beating Gonzaga and Kansas State in its name games earlier this season. But sleeping on the Cougars, with the league's most proficient scorer in Klay Thompson, and the Sun Devils, which has been much more efficient offensively than expected, would be a mistake.
Even Oregon State is tough to figure once again. The Beavers were the surprise team a year ago with seven Pac-10 wins after rocky nonconference play. The same thing occurred this season. The Beavers couldn't beat Sacramento State or Illinois-Chicago but did win at George Washington and against Fresno State.
Roberto Nelson, a freshman guard from Santa Barbara, has been OSU's best player in practice, according to the staff. But Nelson is only a partial qualifier now and won't be eligible unless he passes the standardized test. And even then, coach Craig Robinson said, he has to decide if it's worth playing Nelson this season or waiting until next season for a full schedule.
The season opens Thursday and Saturday with the Oregon schools in Washington, the Arizona schools in Los Angeles and Stanford at Cal.
"This conference is really, really young, and there were growing pains,'' ASU point guard Derek Glasser said. "Everyone is starting to play better of late. I'm not saying we're going to get six in [the NCAA tournament], but three or four. We'll see how it plays out. But I think we'll be definitely a three- or four-bid-worthy conference.''
The way that occurs could be Cal and Washington finishing first and second, USC third and a fourth team winning the conference tournament. That is all highly plausible.