Category archive:

Murray State Racers
May, 16, 2011
05/16/11
12:35
PM ET
New Texas A&M coach Billy Kennedy said late Sunday night by text that he would be pushing assistant Steve Prohm to replace him at Murray State.
If Prohm gets the job, he'll be well on his way toward a potential higher-level gig.
Murray State has become one of the hottest jobs to get off the traditional coaching grid. The résumés of the former coaches back up the importance of being the head coach of the Racers.
Three of the last four coaches at Murray State made significant leaps.
Mark Gottfried went from Murray to Alabama.
Mick Cronin followed Tevester Anderson, and three years later he was the head coach at Cincinnati.
Kennedy just finished his fifth season and he was scheduled to be introduced as the next head coach at Texas A&M on Monday.
"It's a great job because they want to win," Gottfried said of Murray State. "They make a commitment to basketball and expect championships and NCAA tourneys. It's a coaching launching pad and they accept that."
That's the key statement. The Racers know who they are and don't try to fool anyone. Murray State is the class program of the Ohio Valley Conference and it is located in a state that deeply loves the sport. But the Racers have found a way to differentiate themselves in the OVC by winning on a consistent basis. Murray will never be Louisville or Kentucky. Some might even argue Western Kentucky has more of a national name. And Morehead State had its moment in March by knocking off Louisville in the NCAA tournament.
But inside and outside of the commonwealth, Murray State has quite a deal of respect around the sport.
"Murray State is a great job because of the tradition, support of the university and the community," Cronin said. "I have never been treated as well in my life as I was by the people in Murray, Kentucky. It's just a special place.
"Although it is a mid-major job, winning is expected there and there is pressure to keep the tradition going. The fans are passionate so there are similarities to the high-major jobs in college basketball."
Murray has had consistent rivalries with strong contenders like Austin Peay and Tennessee Tech, and the emergence of Morehead State has certainly helped the conference. So will the recent addition of Belmont, which will move to the OVC from the Atlantic Sun after next season.
As for Prohm, he was with Kennedy as an assistant at Southeastern Louisiana as well as Murray State. So the easiest transition for the Racers' administration would be to promote. If they don't, then low-major head coaches looking to jump up and certainly significant assistants will draw interest.
The Vermont job is open as well, and so is Navy after head coach Billy Lange left to rejoin Jay Wright's Villanova staff. UVM brought in Washington assistant Raphael Chillious and former Boston College assistant and current Northeastern associate head coach Pat Duquette over the weekend as two of the possible replacements (there are supposedly two others) for Mike Lonergan, who left for George Washington. Former Catamounts player and fan favorite Jeff Brown, who now coaches at nearby Middlebury College, told ESPN.com he wasn't going to pursue the job.
It's clear neither of those openings compares to the springboard that has become Murray.
The Racers have had a consistent presence atop the conference standings and have made several NCAA tournament appearances over the past decade, including an upset win over fourth-seeded Vanderbilt, followed by a two-point loss to eventual nation runner-up Butler in 2010.
The respect this program has amid college coaches and administrators is high. Cronin mentioned that coaching at Murray is tremendous prep work for a high-level job because it is essentially a high-level job.
So Kennedy should be in position to handle any scrutiny at Texas A&M. He landed the Aggies job by hanging around in the search while some higher-profile coaches (Buzz Williams, Josh Pastner, Gregg Marshall) took themselves out of the running early. And ultimately he was a better fit for A&M than Northern Iowa's Ben Jacobson, who talked to the school a few hours after Kennedy interviewed.
In the end, Texas A&M hired Kennedy, who will likely see his salary double. But he does leave behind one of the hidden gems in coaching, a job that should be coveted by plenty and will likely continue to be a stepping-stone to a power-six job.
August, 26, 2010
08/26/10
12:01
PM ET
Murray State beat Vanderbilt in the first round of the NCAA tournament last season and came within a bucket of defeating eventual runner-up Butler in the second round.
With all but two of its top-10 scorers returning, why can't Murray State win just one more game and be a Sweet 16 team in 2011?
Murray State coach Billy Kennedy, who has seen the Racers improve from 16 to 18 to 19 to 31 wins last season, certainly believes his team is worthy of such a projection.
[+] Enlarge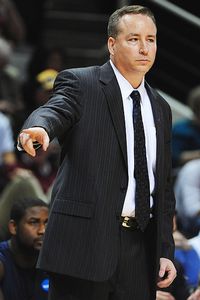 Kyle Terada/US PresswireAfter winning 31 games and upsetting Vandy in the tourney, what will Murray State and Billy Kennedy do for an encore?
"That's what we're attempting to do,'' said Kennedy. "We know now we can win in the tournament. You're never quite sure until you do it. Our guys were very disappointed in losing to Butler.''
Butler coach Brad Stevens said earlier this summer that Murray State was the Bulldogs' hardest NCAA game prior to the final against Duke.
"You don't feel like you're an NCAA tournament team unless you win,'' Kennedy said. The win over Vandy was the Racers' first tourney victory since 1988. They had 10 appearances between '88 and 2010. "Now we realize we can do something. We've got a group back that has experienced significant games.''
There was one question Kennedy faced over the spring and summer: Did he need to dramatically change the nonconference schedule to earn a possible at-large berth after his squad won 31 games a year ago and could be a Top 25 team in 2010-11?
He tried and accomplished a bit, but the reality is Murray State probably can't get an at-large berth out of the poorly perceived Ohio Valley Conference. A loss in the OVC tournament would mean the Racers failed to win a game in nearby Nashville.
"We won 29 games [heading into the OVC title game], but had we lost to Morehead State [in the OVC final], I don't think we would have gotten in,'' Kennedy said. "It's not fair, but that's reality. I don't think it matters. I think we have to win the tournament no matter what. Everybody talks about taking the next step and being a legit mid-major like Gonzaga, but very few programs are able to parlay that into games. And no one wants to go to Murray, Ky. They're not coming here. They don't have to come here.''
Murray State opened the season a year ago at Cal in the CVC and lost by five. The Racers didn't face another power-six or top-eight conference team the rest of the season.
The schedule is markedly better this season with a road game (no return) at Ole Miss on Nov. 17. The Racers then grabbed the last spot in the 76 Classic in Anaheim, opening with Stanford and then playing UNLV or Tulsa in a second game. If the Racers get to the final of that tournament, they could face Virginia Tech or Oklahoma State. The best-case scenario for Murray State is to play likely NCAA-bound teams UNLV and Virginia Tech to go along with another possible NCAA team in Ole Miss.
Win two of those games, and there is a chance an at-large bid could be had, but only if the Racers also run through the OVC. The rest of the nonconference schedule is somewhat light, as you would expect, save a rivalry game against in-state Western Kentucky at home.
Kennedy said he took the "money game" at Ole Miss because the Racers recruit in the deep south. He said he doesn't like playing one-way games without a return out of region.
Getting on a neutral floor against possible NCAA teams in Anaheim could be a springboard to a possible Top 25 spot.
But Kennedy still says the Racers have to win the OVC tournament.
One of the two players gone for the upcoming season is Danero Thomas, who hit the shot that beat Vanderbilt. Thomas didn't make a shot in four attempts in the game against Butler in Round 2.
Top scorers Isacc Miles and B.J. Jenkins (both seniors), sophomore guard Isaiah Canaan and junior forward Ivan Aska will be counted on to be the leaders again.
"This is a seasoned group and if we can stay healthy, with our schedule, we've got a great chance to win and build confidence,'' Kennedy said.
The Racers won 17 straight games last season. Would they have to do something similar to get noticed again? Not if they can create a name for themselves in Anaheim. None of the other OVC teams are going to crack the Top 25 or be NCAA worthy unless they win the conference tournament. But it's hard to dismiss how much Murray State will have to deal with while being the target for every road game in the league.
"We've got games we can win and what we saw last year when Butler had that amazing run [20 in a row prior to the NCAA, 25 before losing to Duke] is that they felt they could beat anybody in the country,'' Kennedy said. "That's what they were able to do. That's what we're attempting to do.''
January, 26, 2010
01/26/10
2:25
PM ET
Siena is in the midst of a three-game road swing and is currently without its best player,
Edwin Ubiles
, who is out with a shoulder injury.
If the Saints, who are cruising in the MAAC with a 10-0 record, can survive this stretch -- let alone another five-game string against upstart Iona and Fairfield at home and Niagara, Canisius and Rider on the road -- still unbeaten in the league, then the BracketBusters opponent on either Feb. 19 or 20 will be even more important to the Saints' NCAA at-large hopes.
It's essentially Butler or bust.
If the Saints can win this week (at St. Peter's Thursday and at Marist on Saturday), there's a very good chance the Saints will be Butler's opponent in the highest-profile BracketBusters game. Matchups will be made this weekend so teams have a few weeks to deal with travel and scouting.
The concept has done wonders for some and been irrelevant for others, but one thing is certain: Teams that have an outside shot at an NCAA tourney at-large or are looking for a seed boost once they qualify as an automatic can't go wrong with another quality nonconference game in late February.
Some teams won't get that chance. The West Coast Conference isn't participating in the event and there are some omissions from other conferences like the Summit (only Oral Roberts and not Oakland), the America East (no Maine), the Big Sky (served up only Montana State and not Northern Colorado or Weber State).
There are 98 teams involved in 49 games during BracketBusters. The 11 games that will air on the ESPN family of networks are determined first and then the conference commissioners will pair up the remaining 76 teams.
Home and road teams are already set for the event, so it's a bit difficult to maneuver who can go where. But the most important aspect of matching teams should be done based on who has a shot to be in the field. Not all of the 22 set teams are in that group. Actually, maybe only six could have an outside shot at an at-large.
[+] Enlarge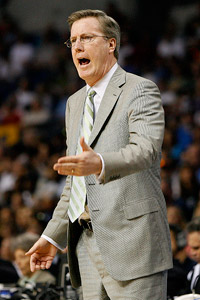 AP Photo/Mike CarlsonFran McCaffery is hoping BracketBusters provides a way to boost his team's NCAA at-large chances.
Siena is one of them.
"It's going to mean something and I would say if we could have a phenomenal league record and beat Butler and then not lose until the finals of the [MAAC] then we'd have a shot," said Siena coach Fran McCaffery. "We'll be right there in that discussion, but we don't want to get ahead of ourselves and assume the next five or six games."
McCaffery would actually be in favor of holding off on announcing the BracketBusters matchups until a few more weeks. But nevertheless, he still wants that Butler game. From a storyline perspective, it makes sense. Those are two of the better-known programs in the field and each has had some NCAA tournament success (Siena has won its last two first-round games).
"We're hoping we can put ourselves in position to get an at-large bid," McCaffery said. The problem for the Saints will be the six games prior to a possible showdown with Butler at Hinkle Fieldhouse in Indianapolis.
Ubiles didn't play against Manhattan on Jan. 18, played 33 minutes in a win over Loyola (Md.) on Jan. 21, but then missed the road game at Manhattan on Sunday. Meanwhile, guard Kyle Downey, who scored 16 points in Ubiles' absence in the first Manhattan game, broke his foot and is now out, possibly for the season.
"We're short-handed for this tough stretch, but I know we have to keep winning," said McCaffery.
Siena did beat Northeastern early in the season for what might turn out to be a solid win. It was a game McCaffery said was scheduled because "nobody wanted to play us and nobody wanted to play them and we're two hours away." But losses to Temple, St. John's, Georgia Tech and Northern Iowa were the supposed "up" games that the Saints failed to win.
Meanwhile, Butler has been rolling in the Horizon at 9-0 with a 16-4 record overall. That mark includes a win at Northwestern and home victories against Ohio State (without Evan Turner) and Xavier. Playing Clemson on a neutral court and UAB on the road (both losses) will help the power rating.
A year ago, Butler coach Brad Stevens said beating Davidson on the road was a key win for helping the Bulldogs get an at-large bid after losing to eventual champ Cleveland State in the conference tournament.
"We were coming off two losses that week before the Davidson game," Stevens said. "And you don't want to be on a losing streak at that time of the year. Doubt starts to creep in. That was a good win that got us going in the right direction."
Stevens knows the Bulldogs will get a quality BracketBusters opponent as the premier home team. There was a time when the staff was anticipating Wichita State as a possible opponent, but two losses last week for the Shockers have led to a belief that it could be Siena. Louisiana Tech, which tops the WAC, is also a possibility, but the name value of a Siena-Butler matchup may have more cachet.
The Bulldogs are handling their business in the Horizon as they become the top draw in every opposing building. That won't change as the Bulldogs go to Green Bay on Friday (ESPNU, 9 ET) and then to Milwaukee, two places the Bulldogs lost last season.
With Matt Howard staying out of foul trouble in the league after being in it throughout the nonconference, the Bulldogs are getting more of a complete effort. Gordon Hayward has been a Horizon MVP and barring a complete collapse, the Bulldogs are in good shape as far as the NCAA tournament is concerned.
Joining Butler as a BracketBusters home squad is Northern Iowa (8-1, 17-2), which leads the Missouri Valley. But Siena has already played Northern Iowa (the Panthers won 82-65) and that's why it makes more sense to send Siena to Butler and Louisiana Tech to Northern Iowa. The latter matchup may not seem headline-worthy to the mainstream fan, but these are the leaders in the WAC and MVC and both teams are talented enough to win a first-round NCAA tournament game.
If you were to pit Siena-Butler and Louisiana Tech-Northern Iowa, you'd likely have four teams that are going to be in the field of 65 matching up a few weeks before Selection Sunday.
The other hot teams are in the Colonial, but they obviously can't go up against each other. Northeastern, Old Dominion, George Mason and William & Mary all could be in play for the CAA's automatic bid with the Tribe the most likely at-large candidate because of nonconference wins over Wake Forest and Maryland on the road and Richmond at home.
That's why the question of who will play at GMU and Northeastern and where ODU and William & Mary will play during BracketBusters will be a fluid process this week.
I'd like to see the following: Wichita State at Northeastern as two of the top teams in the MVC and CAA; William & Mary hitting the road to play the best team in the Ohio Valley (Murray State); ODU traveling to Green Bay, pitting one of the top teams in the CAA against the second-best in the Horizon; and Charleston, which took out North Carolina, makes sense at George Mason in a matchup of two of the best from the Southern and CAA.
"We need a good game," said Northeastern coach Bill Coen, whose Huskies have won 11 games in a row, the third-longest streak in the country. "We've used all our mulligans and probably need to stay perfect the rest of the way to get an at-large berth. But in the spirit of the BracketBusters, we'd like to play our way into the conversation."
Northeastern failed to win games in the nonconference against potential NCAA teams Siena, Rhode Island and Saint Mary's before a humbling loss to Western Michigan in Honolulu on Dec. 23 -- its last loss -- set the team straight.
"It was good for us to be on the road because we had to take a hard look at ourselves," Coen said. "It was like a foreign tour. We were together all the time and had to go eat together breakfast, lunch and dinner and figure it out."
What happened was Northeastern got back to defending and Chaisson Allen started to play the point like Coen expected, teaming up with potential CAA Player of the Year Matt Janning.
Now Coen says the Huskies are cheering for a BracketBusters game "that will help us the most."
They're not alone.