Category archive:

Kentucky Wildcats
September, 4, 2013
09/04/13
5:36
PM ET
The voices who can chime in on this weekend's Hall of Fame induction of Rick Pitino are many, spanning the spectrum from various levels of college basketball to the NBA.
Walter McCarty has one of the more unique perspectives on Pitino. He was recruited by him and played for him at Kentucky, including on the 1996 national title team. He was also on the Boston Celtics when Pitino coached. And then worked as an assistant coach for Pitino at Louisville.
McCarty, now back with the Celtics as an assistant with new coach Brad Stevens, discussed Pitino and what he has meant to him:
"We were so well prepared for games [at Kentucky]. It's how we practiced. We always outworked everyone. He broke every detail down. I just think our preparation showed in practice every day. If we wanted to win, that's what we did. And we did it with confidence. It was the same thing as I got older and worked for him. I realized that as a coach after playing for him. That's why he has been so successful. It didn't matter who we played. It could be North Carolina or Eastern Kentucky. We prepared the same. We never overlooked anyone. I just have so much respect for the way he prepares and teaches his players. He's been great for me and a great mentor and a great friend and a great person to learn from.
[+] Enlarge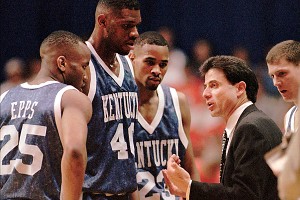 AP Photo/John ReedWalter McCarty (40) played a major role for one of the sport's greatest teams: the 1996 UK Wildcats.
"In high school, he was the first coach who was honest with me. He wasn't someone who came in and said you could start. Coach P was very honest in the beginning. He said, 'I don't know how much you're going to play or if you can play. But you'll need to work hard every day. You have a chance to be a really good player.' He was the first coach who I really trusted and really believed in. I trusted him early on. He was honest. He didn't blow smoke on me. He respected me as a player. He also was allowing me to come in and be me. I had to gain weight. I had to weigh in every day just to be able to start. It was tough but he knew I could get stronger. He was honest and I appreciated that. He was a great person for us and was always there if we ever needed him. He was a father to us all.
"Off the court, we had fun. On the court, it was not. For two-and-a-half hours Coach P kicked our butts. It was tough. We could see significant change as to how we were getting better. We trusted everything coach said. We ate it up. We put the hours in and soaked up all the knowledge. We had an awesome experience. I loved playing for him.
"In the pros, we had some small victories. There were a lot of egos that didn't come together. I knew the vision coach had and I knew what we had. Antoine [Walker] understood what his style was, but other people who had been in the NBA didn't get it. They didn't know. If coach got on you or screamed at you, two minutes later he had forgotten about it. We didn't sit there and sulk. A lot of players couldn't take that. I think it rubbed players the wrong way. They didn't want to be confronted and didn't want him to embarrass them. He had so much success at Kentucky and he wanted the same success at Boston. I think he was a little impatient. He wanted success so badly, but it just didn't happen that way. The players didn't have the patience. He never got certainty of who was in and out. It was unfortunate. I definitely think he did good work in the pros but it was a bad formula and a bad group at the time.
"Working for him, well, we had already trusted each other and become good friends. But we had never spent a lot of time together like that. We watched tape together, recruited and spent a lot of time together. I had always been a player, then I was in the office all the time. We were driving together. We spent a lot of time together and got to know each other more. It was at a deeper level. We became friends, not just as a coach friend. I saw a different side of Coach P. We became really close and I got to know him on that level. I learned so much. I would always pick his brain about recruiting and coaching and why he was doing this or doing that in a way.
"I wanted to know how creates the magic. I wanted to know everything. I just really appreciate it. It was just awesome. I saw him as a human being. I saw him enjoying life instead of being a drill sergeant.
"I definitely wouldn't be coaching without him. If I didn't go to Kentucky, I don't think I would have learned how to prepare and work hard. Everything I learned, I learned from him. I know I wouldn't be sitting here where I am now if it weren't for him. He worked so hard for our dreams to come through to be professional basketball players and to provide for our family. If it weren't for him, I doubt I would be nearly as successful as I am today.
"He told us want to do with our money, he gave us more than just tools for basketball. He gave us tools to be successful in the world. No other coach out there has done as much for his players, not just the star players, but anybody who played for him. You could be the 15th player on the team, but if you played for Coach P, he made sure you got it. He was around for life.
"To me, it's way overdue for him to be in the Hall of Fame. Looking back, I would have loved to have seen what his numbers would have been if he stayed in college. I think he would have been inducted earlier. He's been through a lot. He has a great family and a great heart. He deserves it. He has accomplished a lot. He's enjoying life right now and enjoying his players and family. When I played for him he was always great, but he was really driven. He wasn't having a lot of fun. Like most people, he was trying to accomplish certain goals. Now he's enjoying reaping all the benefits of those hard days. It's much deserved.''
McCarty's words are strong. They include raw emotion and exude passion for Pitino. The same is true for David Padgett, who was recruited to go to Kansas, went for one season, and then landed at Louisville and sat out the year the Cardinals went to the 2005 Final Four. Padgett is now in his third year as an assistant at IUPUI. Here's Padgett on Pitino's impact:
[+] Enlarge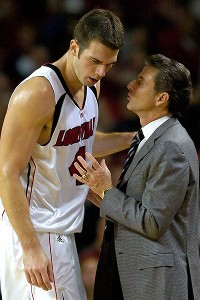 AP Photo/Timothy D. EasleyIUPUI assistant David Padgett is now part of Rick Pitino's extensive coaching tree.
"Probably beside my parents, he has affected my life as much as anybody. I played for my dad and he had an impact, but it's amazing how much I learned from him and continue to do so. If I'm ever to be able to become a head coach, I'm sure 90 percent will be based on what I learned from him as a player. You don't realize how much you learn while you're there, even off the court. But he had a big impact over the four years I was there.
"From what I have heard, coach has calmed down. But one thing that hasn't changed is the competitiveness and desire to win and succeed. He's really enjoyed where he is right now and success he's had. I was there early on in his tenure at Louisville. We had some pretty good success but the last couple of years I think he's enjoying where he is and he's comfortable. He wants to finish there and be a Cardinal for the rest of his career. He's really in a happy place.
"I don't know if I could put into words what he has meant to basketball. He's one of the only coaches to win a national title at two different schools and the impressive stat is taking three different schools to the Final Four. It's hard enough to take one school. The impact he's had on so many players from Walter McCarty to Billy Donovan. Over 30 years, he has impacted so many people's lives on and off the court. It speaks volumes how successful his former assistants have been as head coaches. His coaching tree extends really, really far.
"I spent a year after playing overseas at Louisville as a grad assistant. It was like a trial run. It was good to spend a year to see how the other side works. I ended up really enjoying it. I was fortunate to get the job here. But when I need advice I can call him. He has had a huge impact on me. How much? It's immeasurable, just from a resource standpoint. He can pick up and get someone a job and help. If you ever need advice. To have Rick Pitino atop the resume is pretty impressive and I know he would do anything in the world for me and I would for him. I'm fortunate to be a part of his life.
"It's long overdue for him to get into the Hall of Fame. I think my senior year he was up for it. He didn't get in for a couple of years and I couldn't figure out why. He's one of the greatest coaches in the history of the game. The way he got in this year -- winning it all -- was picture perfect. I'm ecstatic for him. It's just an unbelievable honor and I'm proud I know him.''
Editor's Note: For more reflections on Rick Pitino's career, read our full coverage in the Nation blog.
June, 26, 2013
06/26/13
10:29
PM ET
Kentucky forward
Kyle Wiltjer
is likely headed to the West Coast to redshirt next season.
But he could be back at Kentucky playing on a loaded team. And there's always a chance he could redshirt next season -- in Lexington.
He has options, and Kentucky is open to any of them.
In an era when coaches and players bicker with each other over transferring, the Wiltjer-John Calipari-UK potential separation went about as smoothly as any of these similar situations in the past few years.
Wiltjer was open with Calipari and the Kentucky fan base and administration about his intentions to pursue another opportunity that might fit his skill set. Calipari delivered to him the news in a transparent fashion too.
There seem to be no hidden agendas. The problem with too many of these transfer/blocking situations is one side or both sides aren't dealing straight with each other on the timing of the departure and the intentions of both parties.
"He's handled this well," Calipari said. "He can come back. He knows that. He called me, and he was honest about it."
The Wildcats will have plenty of frontcourt pieces if Wiltjer leaves. Alex Poythress and Willie Cauley-Stein returned and have already been pushed in practice by incoming freshmen Julius Randle and Dakari Johnson.
Wiltjer is exploring his options, and there are plenty of takers for his services in his native Northwest, from Gonzaga and Portland to Oregon and Oregon State. The Zags thought they had a real shot to land him out of high school in Portland, Ore., three years ago and are considered the early leader at this time.
Wiltjer needs to get stronger. Calipari told him as much when the two met. If he chooses to go with a redshirt season, Wiltjer can bulk up in much the same way Kelly Olynyk changed his body during his redshirt junior year to turn into an All-American and a likely lottery pick.
That said, Calipari has the luxury of a stacked roster. He doesn't need Wiltjer. He still wants him, but UK's season hasn't been altered by Wiltjer's late June decision to explore his options.
That's not the norm when a player decides to leave. But anger and resentment can be avoided if there is an open dialogue between the player and the coach when the season ends.
A player should explore his options if he wants to look for a better fit, more playing time or somewhere closer to home, let alone if there's a coaching change. But he should be mature and responsible enough to convey those thoughts as soon as he has them so the coach and school can prepare to go in another direction.
May, 8, 2013
05/08/13
5:11
PM ET
From the first time Nerlens Noel worked out at Kentucky, John Calipari knew he had something special on his hands.
"He had something in him; he could take it all to another level,'' Calipari of Noel. "He had that will to win. I've had players like that in Derrick Rose and Brandon Knight. They can grab stuff from within that normal guys can't do. They make plays out of nothing to win a game. They're not afraid.''
He's hoping to see the same from two newcomers, big men Julius Randle and Dakari Johnson, and continued development from Willie Cauley-Stein.
Can Cauley-Stein find consistency and perform at a high level, such as when he had four blocks against Florida on the final day of the SEC season or scored 20 against Vanderbilt? Will Calipari play the 7-foot sophomore with the enforcing Randle or Johnson? Where does freshman Marcus Lee fit in? How will Calipari use Alex Poythress and Kyle Wiltjer this time around?
The backcourt will actually be less confusing, with twins Aaron Harrison and Andrew Harrison and James Young anchoring the positions and getting most of the touches. But the frontcourt, from the 3 to the 5, will offer Calipari more options than he's had since he's been at Kentucky.
"We're going to be much stronger physically at all positions,'' said Calipari, who is still in the running for 6-foot-7 small forward Andrew Wiggins, the No. 1 player in the 2013 class. "Our post presence will be there with Dakari Johnson and Marcus Lee. He's a lot like Nerlens in terms of blocking shots and going after balls. He's bouncy with great energy, but he's not as big. Willie is coming back with one thought in mind: He wants to do something on the basketball court and in the tournament. He's got something to prove to himself. He's got a great frame of mind. He understands he's got to do it and do something different.''
Calipari said he's thinking about going with two taller players at the 3 and 4: Cauley-Stein and the 6-10 Johnson. The coach said he also has the option of putting Randle at the 3 and Cauley-Stein at the 4. Poythress will need to be a leader and a strong man. Wiltjer has to pick his spots and take advantage of the mismatches he can provide.
"There will be a lot of teams ahead of us, but we'll be deeper and the bench will be a great friend of mine,'' said Calipari, who with such a loaded squad will be able to hold playing time over players' heads throughout the season. "I'll be able to play like we played at Memphis. We'll be pressing and getting after people because we have more people. We're going to have competition.''
Noel Update: The former Kentucky big man is rehabbing from a season-ending ACL injury that occurred on Feb. 12 at Florida. Noel is working out with the team of specialists from the office of famed orthopedic surgeon Dr. James Andrews in Birmingham, Ala. Calipari said Kentucky wanted Noel to be treated by one of the nation's best, not out of disrespect to the doctors in Lexington, but because he said they didn't want NBA officials questioning whether his surgery went well and whether he was ready to compete for the No. 1 pick in June.
"There is a trust level when the NBA talks to Dr. Andrews,'' Calipari said. "Jon Hood had his surgery here [in Kentucky] and it all went well. But we didn't want the NBA to have any questions. He's going to be fine. He's ahead of schedule. When you have a season-ending injury, you want the NBA teams to feel that he's as good as new.''
Noel, who could become UK's third No. 1 overall pick in the Calipari era, was a game-changer for Kentucky as a freshman. He blocked 12 shots in a critical road win at Ole Miss down the stretch. Four days later, Noel had 19 points and 14 rebounds in a key avenging road win at Texas A&M. If Noel hadn't gotten hurt at Florida, the Wildcats would have almost certainly earned a bid to the NCAA tournament.
February, 15, 2013
02/15/13
11:38
PM ET
Kentucky and Notre Dame are the two most intriguing teams heading into the weekend for two completely different reasons.
The Wildcats will be playing their first game without Nerlens Noel after he suffered a torn ACL Tuesday night in Gainesville. Noel is out for the season and has been a dominant presence for the Wildcats on the defensive end.
The Wildcats' season, selection and seeding is at stake when they start the final seven games of the SEC regular season beginning Saturday at Tennessee.
Meanwhile, Notre Dame is still feeling the lingering effects of last Saturday's five-overtime win over Louisville. The Irish had to go to overtime to knock off DePaul midweek at home, and they have a dangerous game Saturday at Providence.
The Irish, who beat Kentucky in South Bend in the SEC-Big East Challenge earlier this season, are still trying to figure out how to play without Scott Martin.
The two teams aren't locks for a deep run, but they have become interesting to watch down the stretch.
Kentucky coach John Calipari said Friday that the Wildcats have had only one practice without Noel. He wasn't pleased with the play of at least two players during the Gators game. "We had some no-shows,'' Calipari said without naming names.
But Calipari was quick to say the absence of Noel can't be put all on Willie Cauley-Stein -- he'll need to have help. "I don't want it to be all about him,'' Calipari said. "We need other guys. This is a great opportunity for our guys. We'll stay positive.''
The Wildcats finish with four home games and three on the road. The Cats get Florida and Missouri at home. But nothing can be taken for granted, especially with road games at Arkansas and Georgia following Saturday's in Knoxville.
The onus will be on Alex Poythress and Kyle Wiltjer to do more in the post. Calipari said the way the Cats defend will change without the anchor inside who can deflect, block and alter shots.
"Everyone is counting us out,'' Calipari said. "Maybe we'll surprise. We are what we are, and we'll see what we can do."
The Irish don't have to worry about selection, with wins over Kentucky, Cincinnati and Louisville. But the final stretch of games against Providence, Pitt, Marquette and Louisville on the road are dicey, as are home games against Cincinnati and St. John's.
Regardless, Notre Dame coach Mike Brey is embracing this season and what's left. He's having a great time coaching this team, and he's not going to change his demeanor.
"I just want to have fun with this thing,'' Brey said. "I remember in the huddle against Louisville and thinking back to the four-overtime game against Georgetown 11 years ago and thought about how much fun I had during that game. I was having fun with this game. We were so fortunate to even be in that game.''
Brey said he's figuring out how to play with this team not having Martin on the court. He wouldn't rule out a return this season, but it's not a lock.
Garrick Sherman has earned double-digit minutes off the bench after his extra-period play against Louisville. Guards Eric Atkins and Jerian Grant have never been an issue, and neither has Jack Cooley. But Brey is now working out more of a two-man platoon system with the four forwards -- Cooley, Sherman, Tom Knight and Zach Auguste -- and that has worked well.
Brey said he has to be loose with this group.
"I don't want us uptight,'' Brey said. "That's my biggest thing. We're still improving. Because we're playing more players, everyone is engaged. The lineups aren't set, and the whole team has been so positive. It has made for a good February so far. I'm not uptight, and our team reacts well to that."
Calipari has his most challenging weekend -- and weeks -- ahead since he arrived at Kentucky. Brey is facing one of the more enjoyable times in his career. Both have plenty of security to experiment and maximize this time.
"I've got a 10-year contract,'' Brey said. "Maybe younger coaches can't afford to be looser. But I can.''
February, 12, 2013
02/12/13
4:21
PM ET
Kentucky doesn't have to be as deep, talented or efficient as last season's team. So don't bother comparing the two.
Or the year before that, or the year prior under John Calipari.
The rest of the country isn't comparable, either.
There are no dominant teams in college basketball, such as the Wildcats were last season.
Florida appeared to be on track for a dominant season in the SEC, but the Gators are looking much more mortal after flopping at Arkansas. An injury to Will Yeguete has taken away Florida's top defender on the press and created a potential crack in the efficiency of the Gators.
Kentucky has won five straight games against the Gators and enters Tuesday night's rivalry game only a game back in the loss column. A win over Florida would completely overturn the perception of the SEC race, as well as Florida's and Kentucky's fortunes.
"Coach [John] Calipari is great at improving individual players and about being unselfish," said sophomore Kyle Wiltjer. "We've been practicing really hard and it has translated into practice and into the game. We're always confident and the team has found its roles and identity."
Wiltjer said Kentucky took too many plays off early in the season, lost its intensity and didn't have the fire or defensive commitment for every possession.
That much was obvious in losses at Notre Dame and at home to Baylor earlier in the season, and even more so in a home loss to Texas A&M, when Elston Turner scored 40 on the Cats, and at Alabama in a low-scoring game Kentucky probably should have won.
But the focus has been there of late in winning five straight, finishing off at Ole Miss, holding on at Texas A&M in overtime and winning as expected against South Carolina and Auburn at home.
Remember, Calipari had to deal with Ryan Harrow being ill and ineffective early in the season at the point before settling down, incorporating a transfer in Julius Mays, getting Archie Goodwin and Alex Poythress to become much more committed on the defensive end, working on Wiljter to become an all-around player and waiting on Nerlens Noel to figure out just how good he could become.
Noel is leading the country in blocks at 4.5 a game and 5.7 during SEC play. His 12 blocks at Ole Miss probably felt like 25 judging by the way the Rebels couldn't get anything going in the paint.
"He's become so much more aggressive on both ends of the court," said Wiltjer.
Look, the Gators are as efficient a team in the country in manufacturing points and even better on the defensive end.
But the competition will change with Kentucky's arrival on Tuesday in Gainesville.
Kenny Boynton and Mike Rosario should have the advantage on the perimeter, but the wing and post play of Kentucky may well prove to be tougher. Erik Murphy may have a harder time finding open spots if Kentucky is committed to defense by using its length. Patric Young and Noel can tussle inside, but Noel's intimidation in blocking shots could be more effective then Young's strong man game.
A month ago, this game certainly would have been projected as a Florida win. That perception has changed and the reality is this could be the first of two games between these teams heading for a late-possession finish.
In an era with rivalries dwindling, Kentucky-Florida is the best the SEC has to offer. The reason is the two teams have separated themselves among the lot.
There is plenty at stake between two top-10 teams when No. 4 Michigan and No. 8 Michigan State meet on Tuesday in East Lansing because both teams have a shot at the Big Ten title.
But there may not be more intrigue than Kentucky-Florida. A Kentucky win in Gainesville would suddenly send a message to the rest of the country that this Kentucky team has what each of the past three Wildcats teams under Calipari had -- the makeup of a possible Final Four team.
A loss won't end that possibility, especially on the road to the Gators. But how the Wildcats play in this environment will go a long way toward proving whether a deep tourney run is possible again.
November, 16, 2012
11/16/12
3:53
AM ET
Kentucky coach John Calipari isn't upset at all over losing to Duke Tuesday night.
He needed to figure out his team and the loss has allowed him to zero in on some issues.
He said the issues are:
Alex Poythress has to be a strong man inside.
Kyle Wiltjer needs more touches and shots.
Archie Goodwin has to play under control if he's going to be a point.
Kentucky's coaching staff wants the Wildcats to add more wrinkles, but Calipari would much rather focus on strengthening what they do well.
Calipari added that he had immense respect for this Duke team and said the Blue Devils are much better than he thought.
As for his comment to me at halftime about Duke flopping, Calipari once again said he was joking. Of course, anything he says at this point goes viral.
• The latest reform movement in the NCAA should be on the transfer/waiver issue. The inconsistency continues. Oregon got Arsalan Kazemi for this season after he won his waiver to play immediately upon transferring from Rice. Traditional transfers, such as Rodney Hood from Mississippi State to Duke, sit. The NCAA should have one set of rules -- either everyone can go or everyone sits.
• New York's importance in the sport of college basketball is on full display this week. The 2K Sports Classic, CVC Classic, Legends and NIT are all at Madison Square Garden or Barclays Center in one week, bringing 16 teams to New York City in a seven-day period.
• The NIT is the last of these early-season tournaments that end up in a neutral site without predetermined semifinals. That's why non-power six schools should plead to get into the event. Delaware beat Virginia to land in MSG. Youngstown State beat Georgia but won't be going to Brooklyn. The Penguins knew the deal when they signed up for the Legends. The reason this won't change is for planning purposes. Television needs to know and the organizers have to get a gauge on selling ticket packages. If they didn't know who would be in New York it would make it extremely difficult to sell.
November, 2, 2012
11/02/12
2:01
AM ET
Anthony Davis had a dominating performance for the New Orleans Hornets in a season-opening loss to the San Antonio Spurs on Wednesday night.
Davis scored 21 points, grabbed seven boards, made all nine free throw attempts and converted 6 of 12 field goals in the 99-95 loss.
None of this would have occurred had Davis not gone to college for a year.
Davis will go down as one of the best examples to keep rules allowing one-and-dones at a bare minimum for the NBA and the NCAA. Having players stay two years in college would be the optimum for both organizations, but that might be a reach. The National Basketball Players Association held firm on not yielding ground on that subject during the last negotiations and will likely do so going forward.
Davis was a guard three years ago in high school. He was a center last season at Kentucky and played power forward against the Spurs.
The one year in college is a must -- at the very least -- for players to develop and make a contribution when they arrive in the pros. ESPN's new NBA analyst Flip Saunders said Thursday during our ESPNU college basketball podcast that only a few players could make the jump immediately from high school. He coached one of them: Kevin Garnett.
"We gave Anthony a confined environment where he was loved and looked after before he moves on,'' Kentucky coach John Calipari said Thursday. "If you don't perform, you can be thrown out. There isn't someone holding your hand as a professional. I know, I've been there.''
Calipari said he wishes the players' association would get together with the NBA and encourage players to stay at least a few years in college.
"It helps them and it helps basketball in general,'' said Calipari. "It's what's in the best interest for everybody.''
Calipari said the baseball rule of three years in college once the player matriculates won't ever be plausible in the NBA.
"Now it's one year versus two years,'' said Calipari. "It won't go beyond that, and we're not going back. So how do we encourage them to stay? How about taking care of their insurance for that one year? We're only talking about 20 kids, not 500. Ask Anthony Davis if he was better off going to Kentucky for a year. Would he have been better off going straight? Every once in a while, there is a kid that goes straight out of high school that can make it work, like Garnett, Kobe, LeBron.''
The Davis example is by far the best of a player who maximized his one year and became a star in college and a productive player on Day 1 of the NBA season. Marquis Teague stayed one year at Kentucky and didn't play for Chicago in the Bulls' opener (they are without starting guard Derrick Rose).
Teague clearly would have benefited from another year at Kentucky. It's possible he wouldn't have even been an NBA draft pick out of high school.
Davis would have been selected high based on his height and potential but would have been lost had he been allowed to bypass college. He said many times before the draft that he wasn't even ready for Kentucky when practice started a year ago.
"When you're a year older, you're more physically and mentally mature,'' said Calipari. "You're pushing your mind to be better and you're more prepared for another year. Coming to Kentucky didn't do that. I don't have a magic wand.''
Kentucky has been the poster program for one-and-done players of late due to its success in March and April, as well as the first-round numbers in June.
But it's clear the NBA and the players' association can't go back to allowing players to go straight out of high school. Well, they can -- but they won't get nearly the product, the professionalism, the maturity and the development they are getting with at least one year in college. Davis is a freak of nature. But he was too raw and underdeveloped as a basketball player to leave out of high school even if the option were available.
He knows it. The Hornets know it. He would have been lost, lacked confidence and probably been pushed around in his first year. He wouldn't know the pressure of performing on a large stage, dealing with a crush of media and handling stressful late-game situations.
He was 9-for-9 at the free throw line in his first NBA game. That's because he has been in these pressure situations -- even for just one season.
October, 26, 2012
10/26/12
4:58
PM ET
HOOVER, Ala. -- John Calipari isn't buying the Kentucky hype of being an SEC title preseason favorite.
And neither are his colleagues.
Calipari said Thursday that if he were making the selections instead of the media, he would pick Kentucky sixth or maybe even seventh. Of course, he was kidding -- sort of.
The Wildcats won't finish sixth or seventh. But a Kentucky finish as low as third, perhaps, isn't out of the question based on a few key things: The Wildcats have zero experience, a new point guard and aren't as far along as they were a year ago two weeks prior to the season opener.
"We're not very good,'' Calipari said of the Wildcats. "We don't individually guard, and we're not collectively defending. We're not real tough, and we don't sprint the floor. Other than that we're not bad.''
The Wildcats have 10 days of practice prior to the season opener against upstart Maryland on Nov. 9 at the Barclays Center in Brooklyn. Duke is next on the schedule in the Champions Classic in Atlanta on Nov. 13.
Calipari said the Wildcats have a lot to work on, from pick-and-roll defense to post defense. He said he has the team's attention.
And while the Wildcats have oodles of talent -- from the front line of freshmen Nerlens Noel, Willie Cauley-Stein and Alex Poythress to a high-motor scorer in Archie Goodwin to a stretch-four shooter in Kyle Wiltjer -- the ability to intimidate their league opponents isn't a factor this season.
You didn't have to sense it during Thursday's media day in suburban Birmingham. It wasn't being disguised.
"Who predicted [Kentucky first]? The media, and you guys know a lot but don't know everything,'' said Georgia coach Mark Fox. "John has a very talented team. What he doesn't have this year that he had a year ago are returning players and key pieces. He's got a lot of new faces. He's obviously done a remarkable job, and when league play comes around he'll be a contender. It will be about who stays healthy and how much they grow.''
Calipari inherited Patrick Patterson in his first season at Kentucky. He had DeAndre Liggins, Josh Harrellson and Darius Miller in his second. If you want to count them as veterans, add sophomores Doron Lamb and Terrence Jones to Miller on last season's title team.
Relying on only one player who was a contributor last season -- Wiltjer -- is new ground for Calipari.
"It's a good question because he's never had to go through it,'' said Auburn coach Tony Barbee, a former assistant under Calipari at Memphis and a one-time player under Calipari at UMass. "He'll be as talented as any team in the league, but every team he's ever had from Memphis to the UMass teams had young talent with a core veteran presence to help mentor them. He doesn't have that this year, and I'm not sure how he does it since this is the first time.''
There are alternatives to Kentucky. Florida coach Billy Donovan, Tennessee's Cuonzo Martin and Missouri's Frank Haith all are confident they have teams that can compete for the SEC title.
"For us there is more of a known,'' said Donovan. "They're unknown on how good is Nerlens going to be? How good is Poythress going to be?''
Haith, coaching in his first season in the SEC, said there are a lot of outstanding teams in the league and he added Arkansas in that mix, too.
"Every team in the league can be beat,'' said Martin. "They have great talent and a great coaching staff and they're the national champs, so everybody is attacking them. Last year they were young and very talented, hit a stride and never looked back.''
Last March, Vanderbilt beat Kentucky for the SEC tournament title.
"I haven't seen them, so I can't really say if it feels different,'' said Vandy coach Kevin Stallings. "I was shocked they were able to take that team with so many freshmen and win the national championship. But they had a couple of experienced guys on that team and that helped. I don't know if this team has a different feel yet. I'll have to see it. Obviously they're talented.
"But I could see Florida for sure, for sure, for sure. I think Billy's team is really good. I don't know much about Missouri. I haven't eyeballed them yet. But it wouldn't surprise me at all to see Florida win the league.''
Florida has a trio of experienced players in Kenny Boynton, Patric Young and Erik Murphy. Missouri has the preseason player of the year in Phil Pressey and another all-star candidate in Michael Dixon Jr., as well as high-profile transfers. The Vols have one of the strongest big men in Jarnell Stokes and a rising stud in Trae Golden.
"I was surprised that [Kentucky] became unbeatable,'' Stallings said of last season's UK team that rolled through the SEC with a 16-0 record in the regular season. "I shouldn't count them out because [Calipari] has done it with freshmen before. He might be able to do it again. But Florida will have something to say about it.''
August, 30, 2012
08/30/12
10:45
PM ET
The NCAA will have a potentially precedent-setting case if it decides to grant expelled Xavier forward
Dezmine Wells
immediate eligibility.
Wells took a visit Thursday to Kentucky. If he doesn't commit to the Wildcats right away, according to a source, he likely would visit Maryland during the weekend. Terrapins assistant coach Bino Ranson was on the Xavier staff while Wells was being recruited to the school. Memphis is also very much in the mix.
Each school would try to get Wells a waiver so he could play this season, despite the fall semester already starting. But the NCAA has a clear rule on this matter. NCAA spokesperson Stacey Osburn said schools have the ability to file a waiver to allow immediate competition due to special circumstances.
The rule is 14.5.1.2, detailing disciplinary suspension:
A student who transfers to any NCAA institution from a collegiate institution while the student is disqualified or suspended from the previous institution for disciplinary reasons (as opposed to academic reasons) must complete one calendar year of residence at the certifying institution. (Revised: 1/14/97 effective 8/1/97)
Osburn said the NCAA staff would review the waiver and consider several factors, including what "caused the dismissal from school and the results of any institutional appellate processes."
But would the NCAA grant immediate eligibility to a player who was expelled from another school? That is the question. It would certainly put Xavier in a poor light if that were to occur.
Wells was expelled for a "serious violation of the Code of Student Conduct.'' Xavier athletic director Mike Bobinski told ESPN.com that the athletic department had nothing to do with the decision and that this was the university's call.
The Xavier conduct board ruled on the matter, which involved allegations of a sexual assault. The ruling was upheld by an appeals board at the university, but a county grand jury declined to charge Wells on Tuesday, and Hamilton County prosecutor Joe Deters and Wells attorney Merlyn Shiverdecker issued strong statements about the way in which Xavier handled the case
On the court, the Wells departure is a crushing blow for the Musketeers, who already were losing Tu Holloway, Mark Lyons and Kenny Frease off last season's Sweet 16 team.
Wells started 32 games as a freshman in 2011-12 and was set to be the team's leading returning scorer. He was on the Atlantic 10 all-rookie team and averaged 9.8 points and 4.9 rebounds.
So where will he end up? If Wells was cleared to play immediately, he obviously would be a huge boost for any of the reported finalists.
He would give scoring and rebounding help, as well as much-needed game experience to Kentucky's youthful team. The Wildcats will lean heavily on freshmen like Willie Cauley, Alex Poythress and Nerlens Noel, along with sophomore Kyle Wiltjer and Wright State transfer Julius Mays. But Wells would add even more depth and pop to the defending champs.
Memphis would have playing time available next to Tarik Black, Shaq Goodwin, Ferrakohn Hall and Adonis Thomas.
But Maryland may need his game experience more than any other team, with the youngest roster among the three contenders. The Terrapins have some veteran experience, but also will be trying to incorporate five freshmen into the mix, including Shaquille Cleare and Jake Layman. Evan Smotrycz is a Michigan transfer and has to sit out the year.
Will Wells have to do the same? First he has to pick a school, then he'll wait to see on the waiver.
The case is tricky. A precedent would be set. And the direction of a season could change for one of the schools, with the decision on his eligibility possibility not coming until the start of practice in October.
June, 15, 2012
06/15/12
6:44
PM ET
WALTHAM, Mass. -- Vanderbilt's
John Jenkins
, Kentucky's
Doron Lamb
and Florida's
Erving Walker
were all part of a Boston Celtics workout Thursday and shared some thoughts on their former teams in the SEC:
• Jenkins was at Vandy's workout Wednesday in Nashville and left with the impression that the Commodores are hardly gutted after losing him, Jeffery Taylor and Festus Ezeli.
"They know they lost a lot but they can't have any slippage,'' Jenkins said. "I was highly impressed with what the bodies look like. There was good talking, showing leadership.''
Jenkins said Rod Odom and Kyle Fuller were leading the workouts in much the same fashion that he and his fellow upperclassmen had done previously.
"That's important to me because I'm the one that put my arm around them when they came up,'' Jenkins said. "They understand what has to be done. I was highly impressed by the workout.''
Jenkins said he expects Odom and Fuller to do the same with incoming freshmen A.J. Astroth, Kevin Bright and Sheldon Jeter.
But the Dores will almost certainly take a step back without the shooting of Jenkins and Taylor, Taylor's defense, and the inside scoring of Ezeli.
• Lamb said Vanderbilt and Florida were the two SEC teams that pushed the Wildcats the most during his two years in Lexington.
"They got us in that game,'' Lamb said of the SEC title game. "But we won the national championship. Those were the two toughest teams for us. We had a lot of hard games, but those were the main games we got up for.''
• Lamb didn't bite on whether Kentucky is now missing a shooter like himself, which is what Anthony Davis said about next season's Wildcats. Still, Lamb expects UK to be in the thick of the title chase again.
• Jenkins and Lamb guarded each other quite a bit in the Celtics workout. Jenkins' strength is catch-and-shoot. Lamb is much more of a combo guard. Jenkins had trouble getting past Lamb, but that may not mean as much since a team would be drafting Jenkins as a pure shooting guard while Lamb could play both guard positions. Both players are likely to be drafted somewhere in the 20s.
• Jenkins is heading back to Denver (20th pick) for a second workout and may visit Cleveland (24th pick) a second time. Boston picks at 21 and 22.
• As for Walker, he said the Gators should be the favorite in the SEC next season over Kentucky and Missouri.
"They've still got Kenny Boynton, Patric Young, Erik Murphy, and I expect big things out of Mike Rosario,'' Walker said. "Mike got down a bit with me and Kenny being there and Brad [Beal] coming in. But he practiced hard and competed with us and will be a great scorer. They'll be right there to make a run at the Final Four.''
• Walker said losing in the Elite Eight and missing the Final Four two years in a row was hard to digest.
"We gave up late leads two years in a row,'' said Walker of the Gators losing in consecutive regional final games to Butler (2011) and Louisville (2012). "It sucks. We could have done more. I always wanted to see what it would feel like. We would have definitely given Kentucky a run since we got closer and closer.''
Kentucky beat Florida three times last season, twice during the regular season and once in the SEC tournament.
"They blew us out the first time, but it was closer at home and then right there in the SEC tournament,'' Walker said. "We had a great run.''
• Walker is unlikely to get drafted, but still competes extremely hard, especially on the defensive end.
• I'll be surprised if Boston keeps both 21 and 22, but the Celtics need to make sure there is a palatable trade. This is a huge summer for Boston's two 2011 draft picks, Purdue's E'Twaun Moore and JaJuan Johnson, who didn't get a chance to play much as rookies.
• Charlotte is entertaining offers for the No. 2 pick and would look to move down for multiple picks. But the Bobcats do like their options at No. 2 if they keep the pick, according to a source.
• Houston is unlikely to keep both 14 and 16, according to a source, but the Rockets don't fret at the prospect of retaining both.
• Utah would like to get into the first round if possible, according to a source.
• At 17th, Dallas could check out of the first round for the right price, said a source.
• The most interesting debate in the top five is where Thomas Robinson and Michael Kidd-Gilchrist will land. The certainties, at least at this juncture according to team sources, are Anthony Davis to New Orleans and Bradley Beal and/or Harrison Barnes staying in the top four. That means either Robinson or Kidd-Gilchrist could slide out of the top four to Sacramento at No. 5 or below.