Category archive:

Louisville Cardinals
September, 4, 2013
09/04/13
10:36
AM ET
The voices who can chime in on this weekend's Hall of Fame induction of Rick Pitino are many, spanning the spectrum from various levels of college basketball to the NBA.
Walter McCarty has one of the more unique perspectives on Pitino. He was recruited by him and played for him at Kentucky, including on the 1996 national title team. He was also on the Boston Celtics when Pitino coached. And then worked as an assistant coach for Pitino at Louisville.
McCarty, now back with the Celtics as an assistant with new coach Brad Stevens, discussed Pitino and what he has meant to him:
"We were so well prepared for games [at Kentucky]. It's how we practiced. We always outworked everyone. He broke every detail down. I just think our preparation showed in practice every day. If we wanted to win, that's what we did. And we did it with confidence. It was the same thing as I got older and worked for him. I realized that as a coach after playing for him. That's why he has been so successful. It didn't matter who we played. It could be North Carolina or Eastern Kentucky. We prepared the same. We never overlooked anyone. I just have so much respect for the way he prepares and teaches his players. He's been great for me and a great mentor and a great friend and a great person to learn from.
[+] Enlarge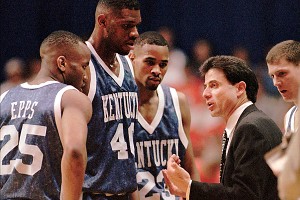 AP Photo/John ReedWalter McCarty (40) played a major role for one of the sport's greatest teams: the 1996 UK Wildcats.
"In high school, he was the first coach who was honest with me. He wasn't someone who came in and said you could start. Coach P was very honest in the beginning. He said, 'I don't know how much you're going to play or if you can play. But you'll need to work hard every day. You have a chance to be a really good player.' He was the first coach who I really trusted and really believed in. I trusted him early on. He was honest. He didn't blow smoke on me. He respected me as a player. He also was allowing me to come in and be me. I had to gain weight. I had to weigh in every day just to be able to start. It was tough but he knew I could get stronger. He was honest and I appreciated that. He was a great person for us and was always there if we ever needed him. He was a father to us all.
"Off the court, we had fun. On the court, it was not. For two-and-a-half hours Coach P kicked our butts. It was tough. We could see significant change as to how we were getting better. We trusted everything coach said. We ate it up. We put the hours in and soaked up all the knowledge. We had an awesome experience. I loved playing for him.
"In the pros, we had some small victories. There were a lot of egos that didn't come together. I knew the vision coach had and I knew what we had. Antoine [Walker] understood what his style was, but other people who had been in the NBA didn't get it. They didn't know. If coach got on you or screamed at you, two minutes later he had forgotten about it. We didn't sit there and sulk. A lot of players couldn't take that. I think it rubbed players the wrong way. They didn't want to be confronted and didn't want him to embarrass them. He had so much success at Kentucky and he wanted the same success at Boston. I think he was a little impatient. He wanted success so badly, but it just didn't happen that way. The players didn't have the patience. He never got certainty of who was in and out. It was unfortunate. I definitely think he did good work in the pros but it was a bad formula and a bad group at the time.
"Working for him, well, we had already trusted each other and become good friends. But we had never spent a lot of time together like that. We watched tape together, recruited and spent a lot of time together. I had always been a player, then I was in the office all the time. We were driving together. We spent a lot of time together and got to know each other more. It was at a deeper level. We became friends, not just as a coach friend. I saw a different side of Coach P. We became really close and I got to know him on that level. I learned so much. I would always pick his brain about recruiting and coaching and why he was doing this or doing that in a way.
"I wanted to know how creates the magic. I wanted to know everything. I just really appreciate it. It was just awesome. I saw him as a human being. I saw him enjoying life instead of being a drill sergeant.
"I definitely wouldn't be coaching without him. If I didn't go to Kentucky, I don't think I would have learned how to prepare and work hard. Everything I learned, I learned from him. I know I wouldn't be sitting here where I am now if it weren't for him. He worked so hard for our dreams to come through to be professional basketball players and to provide for our family. If it weren't for him, I doubt I would be nearly as successful as I am today.
"He told us want to do with our money, he gave us more than just tools for basketball. He gave us tools to be successful in the world. No other coach out there has done as much for his players, not just the star players, but anybody who played for him. You could be the 15th player on the team, but if you played for Coach P, he made sure you got it. He was around for life.
"To me, it's way overdue for him to be in the Hall of Fame. Looking back, I would have loved to have seen what his numbers would have been if he stayed in college. I think he would have been inducted earlier. He's been through a lot. He has a great family and a great heart. He deserves it. He has accomplished a lot. He's enjoying life right now and enjoying his players and family. When I played for him he was always great, but he was really driven. He wasn't having a lot of fun. Like most people, he was trying to accomplish certain goals. Now he's enjoying reaping all the benefits of those hard days. It's much deserved.''
McCarty's words are strong. They include raw emotion and exude passion for Pitino. The same is true for David Padgett, who was recruited to go to Kansas, went for one season, and then landed at Louisville and sat out the year the Cardinals went to the 2005 Final Four. Padgett is now in his third year as an assistant at IUPUI. Here's Padgett on Pitino's impact:
[+] Enlarge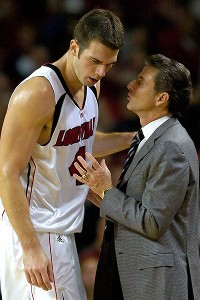 AP Photo/Timothy D. EasleyIUPUI assistant David Padgett is now part of Rick Pitino's extensive coaching tree.
"Probably beside my parents, he has affected my life as much as anybody. I played for my dad and he had an impact, but it's amazing how much I learned from him and continue to do so. If I'm ever to be able to become a head coach, I'm sure 90 percent will be based on what I learned from him as a player. You don't realize how much you learn while you're there, even off the court. But he had a big impact over the four years I was there.
"From what I have heard, coach has calmed down. But one thing that hasn't changed is the competitiveness and desire to win and succeed. He's really enjoyed where he is right now and success he's had. I was there early on in his tenure at Louisville. We had some pretty good success but the last couple of years I think he's enjoying where he is and he's comfortable. He wants to finish there and be a Cardinal for the rest of his career. He's really in a happy place.
"I don't know if I could put into words what he has meant to basketball. He's one of the only coaches to win a national title at two different schools and the impressive stat is taking three different schools to the Final Four. It's hard enough to take one school. The impact he's had on so many players from Walter McCarty to Billy Donovan. Over 30 years, he has impacted so many people's lives on and off the court. It speaks volumes how successful his former assistants have been as head coaches. His coaching tree extends really, really far.
"I spent a year after playing overseas at Louisville as a grad assistant. It was like a trial run. It was good to spend a year to see how the other side works. I ended up really enjoying it. I was fortunate to get the job here. But when I need advice I can call him. He has had a huge impact on me. How much? It's immeasurable, just from a resource standpoint. He can pick up and get someone a job and help. If you ever need advice. To have Rick Pitino atop the resume is pretty impressive and I know he would do anything in the world for me and I would for him. I'm fortunate to be a part of his life.
"It's long overdue for him to get into the Hall of Fame. I think my senior year he was up for it. He didn't get in for a couple of years and I couldn't figure out why. He's one of the greatest coaches in the history of the game. The way he got in this year -- winning it all -- was picture perfect. I'm ecstatic for him. It's just an unbelievable honor and I'm proud I know him.''
Editor's Note: For more reflections on Rick Pitino's career, read our full coverage in the Nation blog.
June, 20, 2013
06/20/13
9:20
AM ET
The FIBA U-19 World Championships may not resonate here at home, but the goal of winning gold has never been more explicit within USA basketball.
As the seriousness of the men's national team has taken on a new level in the last eight years, the junior national team has followed that example.
Coaches are returning. Players are, too. Suddenly, playing for Team USA has value -- as it should.
But this is not an all-star team. This is a team that will compete in Prague next week, crafted to fit Florida's Billy Donovan's coaching style. He wanted a team that could press, rebound, defend and generate turnovers. The havoc fits the way one of his assistants -- VCU's Shaka Smart -- loves to coach.
"I like this team a lot,'' Donovan said. "More than anything this group of kids understands the sacrifice and attitude and work ethic.''
Here is the final 12-man roster and Donovan's assessment of what they've done and can do for Team USA, which begins play in the Czech Republic on June 27. The gold-medal game is set for July 7.
Michael Frazier, 6-4, G, So., Florida
"He comes in as the best shooter. One of the things we struggled with was behind the line. He really provides shooting. In our scrimmage against Air Force he was 4 of 6. He can be a spot-up shooter against a zone and help us space the floor a bit.''
Aaron Gordon, 6-6, F, Fr., Arizona
"He's really, really athletic. He's got a great motor. He can play the 3, the 4. He's really, really good in the press. He's really, really active, and he's going to be a very good player with a great motor.''
[+] Enlarge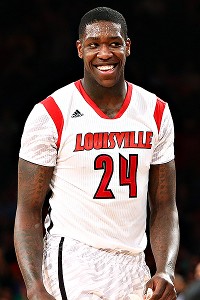 Debby Wong/USA TODAY SportsMontrezl Harrell will have an increased role at Louisville this season and his experience with Team USA should help.
Jerami Grant, 6-6, F, So., Syracuse
"He's been sick with strep throat. But he'll be healthy [for the tournament]. Like Gordon, he gives us another versatile frontcourt guy. Like Gordon, he can play a 3, 4 and 5 and his shooting has gotten better. He was on the team a year ago. He gives us great length and is versatile.''
Montrezl Harrell, 6-7, F, So., Louisville
"He's like Gordon and Grant in that he's really athletic. His skill level has gotten better [since last year]. He's really active. We can do a lot of things defensively with those three guys in Gordon, Harrell and Grant. We can press and switch and they can guard a lot of different positions, get out and run a little bit. We could play all three at the same time.''
Jahlil Okafor, 6-10, C, Whitney Young HS, Chicago
"He's really, really skilled in the low post. He's got a big body with a long wingspan. The way we're playing fast, running and pressing, he's the guy we can throw the ball inside and he'll make good things happen. He's a lot more mature than his age. He's going to play well with the pick-and-roll. He's a big, strong kid. We can go high-low with him and he can work his way to the basket. He's got a good skill level.''
Elfrid Payton, 6-3, G, Jr., Louisiana-Lafayette
"He came in as the surprise. He's really rangy and a very good defender. He can play multiple positions. He's really crafty with the ball and can get in the lane. The best thing he does is pass. He's a really good on-ball defender.''
Marcus Smart, 6-4, G, So., Oklahoma State
"He's been great leadership-wise. I think he's gotten better shooting the ball. His presence and competitiveness and strength and size will help us. So will his will. He came back to school and to us and that really helps our team. He has an incredible presence. I will play him at the point. But he'll also play the 2 and 3. We've got a lot of guys who can play different positions.''
Jarnell Stokes, 6-8, F, Jr., Tennessee
"He's really physical. He was with us last year and he can be a monster around the basket for us. Last year, we kept more guards. This year, more frontcourt guys.''
Rasheed Sulaimon, 6-3, G, So., Duke
"He's a good scorer. He was with us last year. He's shooting the ball with more consistency. He's more comfortable with the international line. We've got to get him to take over more of a leadership role. He was on the trip last year with Smart [when Donovan led them to the gold in Brazil for the U-18 title]. And he played a lot with Duke and that's important.''
Mike Tobey, 6-11, F, So., Virginia
"He's been really good. I think he'll really help us against the zone. After the first day or two, he adjusted and played really well.''
Nigel Williams-Goss, 6-3, G, Fr., Washington
"He's got a lot of the intangibles. He's a great leader and a really good motor. He's more advanced than his age. He's always played at a high level. He'll play the 2 for us.''
Justise Winslow, 6-6, F, St. John's HS, Houston
"He's a 6-6 guy that can play the 2, 3, 4 and really good in the press. The thing that's good for him is his overall skill, passing and unselfishness. He can guard several different positions. He's really athletic. He's a pass-first player that can slash to the basket.''
April, 9, 2013
04/09/13
4:04
AM ET
ATLANTA -- That's what we all want.
That's what the sport needs and craves.
What Louisville and Michigan did Monday night in the national championship game must be duplicated for college basketball to thrive. Officials need to find ways to increase freedom of movement when the rules committee meets next month.
Players need to work on their skill set, especially making the open jumper and 3-pointer. Converting on the offensive putback and at the free throw line are musts too.
Louisville won the national title 82-76, and both teams made eight 3s, attempting nearly the same number of free throws and shooting better than 45 (Louisville) and 52 percent (Michigan).
[+] Enlarge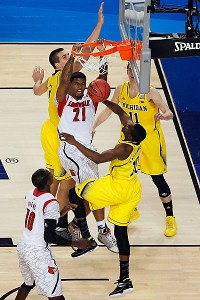 Kevin C. Cox/Getty ImagesChane Behanan and Louisville helped put on a show in the national title game.
Beauty.
There was no slogging through 40 minutes. The clutching and grabbing wasn't the norm. Players ran, pushed tempo, forced turnovers and raced down the other end.
"I enjoyed it," Michigan coach John Beilein said. And that was after his team lost the national title game.
Beilein was thoroughly entertained and said that college basketball continues to sustain itself. It reinvented itself again for 40 minutes on Monday night. Beilein and Louisville coach Rick Pitino predicted Sunday that there was a chance, if both teams played to their offensive potential, this game's final score could be in the 70s or 80s.
It was.
"Sometimes expectations get so high, I knew it would be a great game," Pitino said. "You never know if you're going to win. The other night I knew that Michigan-Syracuse wouldn't be a great game. I knew our game against Wichita State wasn't going to be a great game because of the type of defense Syracuse and Wichita play.
"I knew [the title game] would be a great game. Two great offensive teams doing battle. Two great backcourts, great frontcourts, great talent. I was so happy to see that, because I knew it would be a great game. Didn't know we'd win, but I knew it would be a great game."
OK, so now comes the hard part: How does college basketball keep this going?
I searched for answers immediately after the game and found two sage men sitting a few rows behind the court, former Arkansas coach Nolan Richardson and former South Carolina/Wake Forest coach Dave Odom.
"When you play any way that you need to play to win, then that's what can happen," Richardson said.
Richardson said Louisville wasn't pressing like his Razorbacks team did in the 1990s. That's OK. They may not have had an identity like the Hogs or UNLV in the '90s, but there is still something to work with, a style that can be copied with the commitment and personnel.
Odom echoed Richardson's assessment: A team must be able to play differently to pull off an entertaining victory with a final score that isn't locked in the 50s or low 60s.
"[Louisville was] the most versatile team in the country," Odom said. "They could play fast; they could play in the 70s or the 80s. To beat Wichita State, they could play in the 50s or 60s. You've got to have a versatile team to meet the requirements of the night. What coaches do in the offseason is that they remember what won and try to mimic it."
[+] Enlarge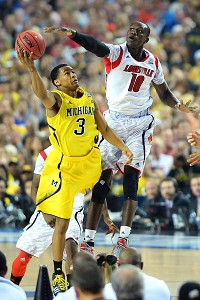 Robert Deutsch/USA TODAY SportsWhen guys like Trey Burke have room to make plays, college hoops can be an offensive game.
But they do it only if they have the players.
"Can it happen?" said Louisville's Luke Hancock, the Final Four's MVP. "It's rare that you'll get two teams like that on the floor together. We're a pretty good team, and Michigan is a great team. It's rare that type of matchup happens."
The Butler-UConn game in 2011 was a brutal watch. Neither team could score effectively. There have been other years when one team had been dominant offensively and the other slogged through the game. In 2008, Kansas-Memphis provided drama and big shots.
But title games that produce high-scoring, must-see affairs have been rare.
Coaches aren't going to suddenly change the way they approach the game. But if the personnel provides an alternative, if there is an opportunity to emphasize the offensive skills, then it can happen.
Look, this was a national title game in which two players -- Michigan's Spike Albrecht and Hancock -- ended up in a shootout while other players struggled. Having players who can finish on the offensive glass and those who can flush the ball on a drive are a plus. There was a little bit of everything in this national championship game.
Copying the game plan sounds easy enough. Actually pulling it off is probably wishful thinking. But we can hope it occurs.
Coaches, players and officials unite. Watch what occurred in the Georgia Dome on Saturday night. Build off it. Believe that it can be possible. Finish the shots that must be made, look for the opportunity to run when it's available, defend and force turnovers to ensure there is tempo change to create more possessions.
This is all possible and plausible if there is a commitment to change and making sure the game is as entertaining on a regular basis as the national title game was Monday night.
"You know, a lot of times when you get to the Final Four, you get to a championship, the game's not always great, not always pretty," Pitino said. "This was a great college basketball game."
Let's hope that this was not a fluke but rather the start of something that will create a hunger for more.
February, 6, 2013
02/06/13
9:44
AM ET
Louisville coach Rick Pitino visited with me for a Katz Korner piece in this week's ESPN The Magazine. Here is the full version of the Q&A I had with Pitino:
What has made your press so effective over the years?
Pitino: It's probably three aspects: One is knowing the other team's press offense really well from a scouting standpoint. Two, having great pursuit from the front and from behind, and three, it has been the players that I'm coaching.
How were you able to keep the core of this team together for a potential run at a second straight Final Four?
Pitino: I don't make those decisions. The pros do, and none of our players were very high for them on a pro list. We go to [NBA executive vice president, basketball operations] Stu Jackson. And like in Peyton Siva's case, is he a first-round draft choice and the answer is no. Are there any other first-round draft choices and the answer was no. I don't usually do it, and I leave it up to the NBA committee.
[+] Enlarge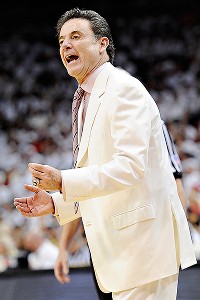 Jamie Rhodes/USA TODAY SportsRick Pitino says he'll miss the Big East tournament, but he's looking forward to the ACC and its home arenas.
How worried were you when Gorgui Dieng went down?
Pitino: I wasn't too worried because we knew it would be a four to six weeks-type deal.
How would you compare the Yum! Center to all the other buildings you've coached in college or the NBA?
Pitino: I think it's the finest right now, but I haven't seen the Barclays Center. But I think it's the finest basketball arena. It was built strictly for basketball and nothing else and it has all the bells and whistles. It is a pro arena and has everything you could possibly want. It's overlooking the Ohio River so it's got the aesthetics inside and out of a great place.
How would you compare the passion for basketball at Louisville to your previous stops in college and in the NBA?
Pitino: I think Louisville and Lexington are two of the best in all of basketball at the college or pro. It has two programs that are always at the top in the top three in attendance. We're the No. 1 revenue producer in college basketball, and we topped our nearest rival by $15 million last year. [These] two programs in a very small state have as much revenue and attendance that probably double every Big East team except Syracuse. It's the best I've been around.
What did you think the chances were that the seven Catholic schools would eventually bolt when Memphis and Temple were added to the Big East?
Pitino: I thought the Catholic schools made a big mistake two years ago when they saw the writing on the wall of all these football schools dictating everything and basically not being part of the decision-making process. I thought they should have done it a long time ago because they can get themselves a heckuva TV package. They can have one of the premier basketball conferences around, and they can dictate their own athletic programs and don't have to be at the mercy of football.
What will you miss most about the Big East?
Pitino: The Big East tournament.
What are you most looking forward to in the ACC?
Pitino: I have not been to Cameron Indoor. I have not been to Clemson. I have not been to Virginia Tech. I have not been to Florida State. There are a lot of arenas I haven't been to as a coach. So I guess it's the excitement of doing something new.
Why do Peyton Siva and Russ Smith work so well together?
Pitino: I think Peyton Siva would work well with anybody. It doesn't matter who he's with. He doesn't care about the other person getting exposure. There are some people who are seniors would be upset by the attention someone younger was getting. Peyton doesn't let it bother him at all. He just does the best job for the team.
What type of player fits your style?
Pitino: Something that has been lacking the last couple of years, we've had the defensive intensity, but [have] not been able to shoot the basketball. And that's the last two years, more than any other time in 35 years in pro and college that I didn't have shooters. I made up my mind this time to go out and get guys who could shoot the basketball consistently. I think we've done that with our recruiting.
If you had the power to change the draft rule, what would you do?
Pitino: I would do the same thing that football has. I would have the same exact system. I think the one-and-done is bad for basketball. I think they should allow the kids to go right out of high school or have the same rule as football or a combination of both. I think the one-and-done is a bad rule.
What advice would you give coaches who may consider at some point leaving college basketball and coaching in the NBA, even if they're at an elite program like you were at Kentucky?
Pitino: I would advise all of them to be an assistant in the pros first, to not go straight to [head] coaching because it's impossible to do. It's a different game. It's almost a different sport in terms of the psychology and in terms of the travel and in terms of the handling of people. I was fortunate to be an assistant under Hubie Brown. You cannot go from a head coach in college to a head coach at the NBA level because the game is so different.
How much longer do you want to coach?
Pitino: I'm writing a book right now, and the whole book is based on one day. Put all your efforts into one day. That's pretty much what I'm doing. I used to do that where I signed a 10-year contract with the Celtics that will take me to 50. But ever since that Celtics deal, I've never done that. As long as I wake up and love what I'm doing, I'm going to coach.
January, 23, 2013
01/23/13
4:08
PM ET
If Louisville is to reach its ceiling this season, the onus will be on
Chane Behanan
and
Montrezl Harrell
to get to the gym at odd hours and practice taking -- and making -- countless free throws.
The Cardinals are coming off consecutive losses heading into Saturday's game against Georgetown, notably a court-storming setback at Villanova Tuesday night.
In that game, the Cardinals shot 12-of-24 from the free-throw line, as Behanan was 3-of-9 and Harrell was 0-for-2.
Coach Rick Pitino admits that the free-throw struggles down the stretch played a big role in the 73-64 loss to the Wildcats.
"The 4-spot is what we have to fix, both of those guys are shooting [free throws] in the 50 percentile,'' said Pitino. "We can't have them shoot 50 percent and expect to win close games.''
Behanan is shooting 54.2 percent at the charity stripe, while Harrell is at 51.5 percent.
"These two guys foul shooting, that's a major detriment,'' said Pitino. "We can't go to the foul line in late-game situations. We've got to cure that right now.''
How do you do it in late January?
"It takes a lot of work and repetition,'' said Pitino. "It's on the players; they'll have to do it on their own after we show them the technique. They'll have to get in the gym and do it themselves due to the 20-hour rule.''
The 20-hour rule limits the practice time with the coaching staff.
"Without the 20-hour rule, I'd cure it,'' said Pitino. "Because of that, they have to do it on their own.''
Of course, Behanan and Harrell weren't the sole reasons for the loss to the Wildcats or to Syracuse this past Saturday. The Cardinals turned the ball over too many times against Syracuse late, and it didn't help that there were unforced turnovers again -- not to mention a total of 17 overall -- in the loss to Villanova.
Still, Louisville has the personnel and the veteran leadership to right this issue, win the Big East and compete for a Final Four berth in Atlanta thanks to a backcourt of Peyton Siva and Russ Smith, a slashing scoring wing in Wayne Blackshear and a defensive stopper on the back line in Gorgui Dieng.
There is no need to panic. But there is work to be done.
"I always want to keep getting better going into the Big East tournament,'' said Pitino. "It's our philosophy to play your best basketball in conference tournaments so you can go right into the NCAA tournament. That's what we're trying to do.''
January, 21, 2013
01/21/13
9:39
AM ET
Monday musings on the day to celebrate Dr. Martin Luther King's life, a once-in-a-generation American and one of the most important figures in American/world history:
[+] Enlarge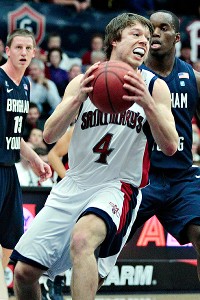 Cary Edmondson/US PresswireMatthew Dellavedova played a big role in one of the weekend's frantic finishes.
• March Madness' opening weekend has plenty of drama. But is there any way to bottle this past week, preserving and recreating it in late March?
Think about this: Ole Miss' Marshall Henderson connected on a 3-pointer at the buzzer to force overtime in a win at Vanderbilt. Saint Mary's Matthew Dellavedova hit a shot to beat BYU at the buzzer in Provo. Butler's Roosevelt Jones sank a floater off of a steal to shock Gonzaga at the horn at Hinkle. And I'll toss in Bradley's Will Lemon Jr., who beat Missouri State on a final shot, too.
Those were last shots, but there were also thrilling final moments in Syracuse's win at Louisville, Michigan State's defense of Ohio State at the end of its victory in East Lansing, and Wichita State successfully defending Creighton on two 3-point attempts to preserve a win.
• The more I watch the final possession in the Gonzaga-Butler game, the more I don't understand why David Stockton didn't throw the ball toward his own basket rather than in the middle of the court. If the ball goes to that end, and even if it gets stolen, then Butler would have had to go nearly 90 feet and someone like Jones would have had to take a 3-pointer, not a floater in the lane.
The Gonzaga meltdown on the final possession was reminiscent of the 2006 Sweet 16 loss to UCLA in Oakland. In that game, the Zags would have won if J.P. Batista hadn't been picked when he brought the ball down, allowing Jordan Farmar to steal and feed Luc Richard Mbah a Moute for a layup and a one-point lead with 8.6 seconds left. That play ultimately propelled the Bruins to the first of three consecutive Final Fours. Few can forget Adam Morrison crying in disbelief after that game.
• How did Texas A&M beat Kentucky again at Rupp? The Aggies have lost their last two games to Florida at home and at Alabama. Elston Turner, who went for 40 against Kentucky, scored four against Florida, going 1 of 10 from the floor. He scored 13 against the Tide.
• Kentucky's defense has been tighter since the loss to Texas A&M. The Wildcats gave up 65 points to Tennessee and 53 to Auburn, including shutting down the Tigers on 3s (0-for-15).
• Playing Purdue in a regional CBS game may have sounded like a good plan for West Virginia last year. But it made no sense for the Mountaineers to wedge that game in between Big 12 contests, and it looks even worse three days after losing at Iowa State. West Virginia got hammered 79-52 to fall to 8-9 overall and is currently 1-3 in the Big 12. A non-conference game in mid-January or mid-February should have purpose, especially if it's on the road.
• I was starting to be intrigued by Washington's 4-0 start to the Pac-12 (with three road wins) until the previously Pac-12-winless Utah Utes won in Seattle. Now, it appears the Huskies' wins were a product of a soft start to the conference schedule.
[+] Enlarge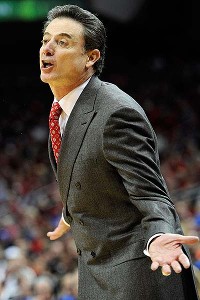 Jamie Rhodes/USA TODAY SportsRick Pitino has one more shot at Syracuse and then will have to wait until they meet in the ACC.
• The Syracuse-Louisville rivalry has been one of the better matchups in the past five years. It will take a hiatus next season when the Orange go to the ACC, only to resume in 2014-15 when the Cardinals join the league, too. When they do play in the ACC, can we call it a Big East game, because that's what it will feel like?
• When the season ends, don't be surprised if it looks like Larry Eustachy walked into the best situation of the first-year coaches. Colorado State was a ready-made conference contender and NCAA team when Eustachy took over.
• I don't understand how San Diego State scored only nine points in a half at Wyoming. I know Xavier Thames was hurt, but the Aztecs simply didn't show up.
• Wyoming gets credit for making me eat my words from our "First Take" show last Friday. The Luke Martinez brawl story and his subsequent suspension appeared to have zapped the energy out of the Cowboys in a loss at Fresno State. But Wyoming locked up on defense, stunned the Aztecs and are right back in the mix. Larry Shyatt deserves praise for getting this team refocused quickly.
• The most anticipated coaching matchup this week is in Manhattan, Kan., where Bruce Weber and Kansas State have a legitimate chance to upset Kansas and fuel the rivalry between he and Kansas coach Bill Self just a wee bit.
• North Carolina and Kentucky will make the NCAA tournament. There is too much mediocrity in the ACC and SEC, and both teams have too much talent to completely fold. We've seen flashes this past week of the potential in UNC's win over Maryland as well as Kentucky's win over Auburn. Neither team has a true leader, and both teams still make plenty of mistakes on the defensive end and, at times, in shot selection. But I'll be surprised now if either misses the field.
• I love that Harvard played Memphis close on Saturday. This was good scheduling by Memphis' Josh Pastner to give his team a challenging game in the middle of Conference USA play. The majority of teams in CUSA won't give the Tigers as many issues as Harvard did over the course of 40 minutes.
• Arizona State coach Herb Sendek wasn't a bad coach a year ago. He didn't have Jahii Carson -- he was supposed to, but Carson was ineligible. It's about players.
• Criticizing Tom Crean for the blow-by handshake with Bo Ryan was all in good fun after Indiana lost to Wisconsin last Tuesday. But Crean was classy with his Saturday tweet celebrating "College GameDay" at Butler and what it means to the state to have Indiana and Butler recognized nationally within a three-week period.
• I can't imagine how down Iowa coach Fran McCaffery would have been if his Hawkeyes had blown the Wisconsin game after failing to close out close games against Indiana and Michigan State at home.
• Louisville fans are a passionate bunch, and I love it. I had more reaction to my tweet that Michigan's guards Trey Burke and Tim Hardaway Jr., were the top backcourt by a nudge over Louisville's Russ Smith and Peyton Siva than any other I have posted in the past few weeks.
• Congrats to St. Bonaventure for winning at Temple, for the first time ever, in what is the Owls' final season in the A-10. The Bonnies get picked on for being in a remote outpost in New York. Yet, they have held their own in the conference as evident by winning the league tournament last March. Good for the Bonnies to stand up and be noticed yet again with this final sendoff to Temple.
• The most befuddling result of the weekend may have been Rhode Island winning at Saint Louis.
• Michael White was an out-of-the-box hire at Louisiana Tech. The Bulldogs are 7-0 in the WAC and appear ready to push Utah State and New Mexico State out of the favored status perch.
[+] Enlarge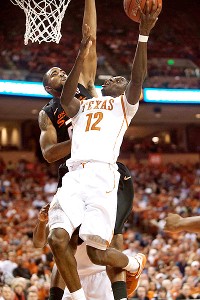 Brendan Maloney/US PresswireWhen Myck Kabongo returns, it may be too late to save Texas.
• This Texas season has been probably Rick Barnes' most frustrating in Austin. The Longhorns have had multiple chances to win marquee games and, outside of North Carolina at home, have swung and missed. The Big 12 winless 'Horns get Myck Kabongo back on Feb. 13, but it's hard to believe there will be enough time or games left for Kabongo to make enough of a difference for his team to make a tourney run.
• Put Mark Lyons in the category of most important one-year players recently after he lit up Arizona State in the rivalry game to keep Arizona on Oregon's heels.
• Xavier hasn't played Butler or VCU yet, but the Musketeers are still undefeated in the A-10 after a rocky non-conference.
• Does it seem like Marquette always plays late-possession games in the Big East?
• Wichita State coach Gregg Marshall told me having forward Carl Hall return to the team was like getting an appendage back. You could see why, as Hall was such a key piece in the Shockers' win over Creighton. His presence inside and ability to get to the line was a difference.
• Creighton forward Doug McDermott has so many ways to score that I see him successfully finding a rotation spot on an NBA roster.
• I saw Fran Fraschilla tweet this out, but he's onto something about the Sunflower State. The three atmospheres at Kansas, Kansas State and Wichita State have to rank up there with any state in the country. If they're all full -- and most of the time they are -- then each venue can rock.
• If you thought Phil Pressey was Missouri's most important player, you may have been wrong. In my opinion, it is clearly Laurence Bowers. The Tigers aren't the same team without him, losing badly at Ole Miss and Florida without his inside presence.
• Florida versus the field in the SEC for the regular-season and conference tourney titles? I'll take Florida. Propose the same scenario for Kansas in the Big 12, and I'm taking Kansas.
May, 22, 2012
05/22/12
12:22
PM ET
The Big East will send out its annual straw poll to its coaches to get their preseason predictions about the strength of the league's teams to help put together next season's conference schedule.
The league office said Syracuse's Jim Boeheim and Pitt's Jamie Dixon will be allowed to vote in the poll, even though the schools are leaving the conference for the ACC. They weren't invited to the conference meetings earlier this week in Florida.
The results of the poll will determine which teams face each other twice during the conference schedule. Having a tiered system based on those predictions has worked well for the Big East, rather than the predetermined rotations of which teams play each other twice used by the Big Ten, ACC and SEC.
[+] Enlarge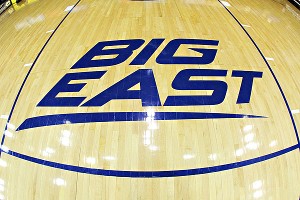 Bill Streicher/Icon SMIBig East coaches are confident the formula the league uses to determine conference schedules ahead of each season has helped in getting more NCAA tournament bids.
The Big East had 11 teams in the NCAA tournament in 2011; it sent nine teams last season. Coaches firmly believe handling scheduling this way is the reason.
"We've been able to give the league the flexibility to balance the schedule," Cincinnati's Mick Cronin said after the Big East meetings wrapped up Tuesday morning in Ponte Vedra Beach. "The repeat opponents have been set up by the hierarchy of the league in the summer. Something has been done right. We've had 11 teams and then nine teams in the NCAA. The coaches were against 18 league games but then it has helped us get more teams in [the tournament]."
Notre Dame coach Mike Brey agreed that the formula has worked for the Big East.
"It has driven us to get more bids," said Brey, who added it was odd not to have Boeheim at the Big East meetings for the first time during Brey's tenure at Notre Dame. "We've got to stay with this formula. It's not too constrictive. We don't want a rotation. We've got to keep an open mind. Some of it is by design, some of it is by luck, but it has really worked. You can sit there as a coach and say, 'If you're in the top eight, you're in the tournament.'"
There were 13 men's basketball coaches in attendance at Monday's meeting. Four coaches stayed to meet with athletic directors Tuesday. UConn's Jim Calhoun and Louisville's Rick Pitino weren't in attendance and neither were coaches from incoming 2013 members Temple (Fran Dunphy), Memphis (Josh Pastner) and SMU (Larry Brown).
According to Brey, the 11 other coaches in attendance, outside of him and Cronin, were: Stan Heath (South Florida), Ed Cooley (Providence), Kevin Willard (Seton Hall), Steve Lavin (St. John's), Mike Rice (Rutgers), Jay Wright (Villanova), Buzz Williams (Marquette), John Thompson III (Georgetown), Oliver Purnell (DePaul) and 2013 new members Donnie Jones (Central Florida) and James Dickey (Houston).
Heath said that there was even discussion about possibly opening up to 20 games from 18 when the new teams come into the conference.
"We had some conversation, but nothing was shot down," Heath said.
Heath, Cronin and Brey all said there was a renewed sense of optimism in the room, especially with presentations from television executives from NBC and Fox. ESPN and CBS have the current Big East rights, but the league will enter a new negotiating period in the fall.
"There was excitement over the TV presentation possibilities," Cronin said. "The Big East can't negotiate now but there was interest in our product. You could see people spending valuable time on the presentations and they say we'll be even stronger with the media market changes in adding Dallas, Houston and Orlando, which only helps the big picture."
The coaches agreed that the conference tournament must include all members in 2013, regardless of that number.
Heath said he brought up to the coaches that former USF player Kentrell Gransberry never played at Madison Square Garden during his career at South Florida because all the teams weren't invited.
"It's meaningful to the players and the teams even if it's one game," Heath said. "It's a big part of being in the Big East."
The format for the 2013 Big East tournament is still being discussed. There are 15 teams in the league this season with West Virginia's departure. Connecticut is currently not eligible for the tournament since it is not allowed to play in the postseason because of an NCAA ban for poor academics.
The coaches said the plan would be a for 14-team tournament with two games on Tuesday (instead of the previous four) and the rest of the schedule going forward from Wednesday on during championship week with the remaining teams.
Brey said the number of games for an 18-team Big East is still an issue.
"Everybody wants to play everybody," Brey said. "We can't have no-plays. And we need all of the schools to come to New York. A lot of these schools do a lot of business around the Big East tournament. We've got to figure out a way to do this. We're going to figure this all out together."
March, 27, 2012
03/27/12
10:54
AM ET
Peyton Siva
is not Kemba Walker.
Never has been. Never will be.
But Louisville is mirroring Connecticut, circa 2011, with its NCAA tournament run.
[+] Enlarge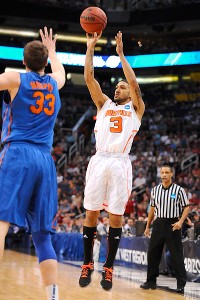 Christopher Hanewickel/US PresswireLike Connecticut, last season's champion, Peyton Siva's Cardinals are peaking at the right time.
The similarities aren't lost on UConn coach Jim Calhoun or this season's Big East tournament runner-up, Cincinnati.
The Huskies lost their last regular-season game last season to Notre Dame and then won 11 straight to win the national title.
Louisville lost its final game of the regular season at Syracuse. The Cards have won eight in a row.
"If you look at the two teams, they both played unbelievable defense during their run," Cincinnati coach Mick Cronin said. "The one glaring difference is that Louisville doesn't have the national player of the year in Kemba Walker [note: BYU's Jimmer Fredette won POY]. They don't have a lottery pick."
Louisville won the Big East tournament with an impressive run through Seton Hall, Marquette, Notre Dame and Cincinnati.
The Cardinals have survived gritty games against upstarts Davidson and New Mexico and then handled Michigan State before an epic comeback/Florida meltdown result in the Elite Eight.
Oh, and now they're in the Final Four and facing rival Kentucky -- the same team, albeit much more formidable than last season's version, that the Huskies had to beat to get to the national title game.
"I see it," Calhoun said in comparing his team from last season to this season's Louisville squad. "We started off great and sagged off during a stretch, but then won 11 in a row. They've won eight in a row. And they have incredible confidence."
Calhoun said the most impressive aspect of the Cardinals is that they haven't stopped doing what they do, which is relying on their defense to win games.
"They just keep playing," Calhoun said. "They keep up the defensive pressure, and they got better and better. Kemba gave us an outlet. He put incredible pressure on teams one-on-one. There are some comparisons. There's no question that they're such a better team than earlier in the year, and they hit their stride in the Big East tournament."
Calhoun said he laughs at the prospect that the Big East tournament is a deterrent to winning the national title. "We won the national title every time we won the Big East tournament," Calhoun said of his three titles. "I really think there are good benefits going back-to-back-to-back against really good teams."
UConn had to win five games to win the Big East tournament title a year ago. Louisville had to win one less.
"For teams that play hard, it's just lace them up and let's go," Calhoun said.
And playing Kentucky to get to the title game makes the two teams' runs seem similar.
"It's a coincidence in many, many ways," Calhoun said. "VCU and Butler were there for us and in many ways, even though they were good basketball teams, there was a feeling that if they got by UConn they [Kentucky] would win their first title since 1998. Not that Ohio State and Kansas can't win the title, but getting by Kentucky for Louisville will be an emotional deal for them."
So can Louisville pull a Connecticut and beat Kentucky, too?
"Peyton Siva has to play the game of his life," said Cronin. "And [center] Gorgui Dieng has to stay out of foul trouble. And Louisville has to make shots with Kyle Kuric, Russ and Chris Smith. [They have to make] perimeter shots, with Kentucky's size around the rim. They have to get Kentucky spread out a bit.
"Kentucky is such an overwhelming favorite to win this game," Cronin said. "But so many of the national champions have won their conference tournament. It's all about getting hot at the right time. Louisville believes it's the underdog, which gives them an edge and they're hanging on every detail Coach [Rick] Pitino is giving them. No team is playing with as much humility as Louisville is right now."
Sound familiar? It should.
March, 20, 2012
03/20/12
12:06
PM ET
A Sweet 16 appearance elevates a program to the next level.
A Final Four moves it up another notch.
The matchups usually make the difference in getting this far. Talent -- and star power -- also play big roles.
There is a certain level of pressure for all coaches and programs. For some, it's self-induced. For others, it comes from a passionate fan base. Some programs need to reach the Final Four for the season to be considered a success. Some do not.
With that being said, here is our Final Four pressure-meter (1 feels the least amount of pressure and 10 feels the most):
[+] Enlarge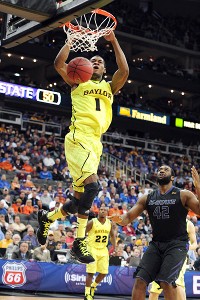 Peter G. Aiken/US PresswirePerry Jones' Bears have the talent to reach New Orleans, but they have a big hurdle to clear in the South Region.
Baylor (5): The men's team doesn't need to make a Final Four appearance. The women will take care of that, as they are the favorites to win the national title. But the men's team has the makeup to make this run a rare one. Few teams have length like the Bears do, and it's unlikely that Perry Jones III will stick around for a third season. The reason Baylor doesn't have as much pressure to reach the Final Four, even though it has the personnel to make it to New Orleans, is the bracket it's in. Kentucky could stand in the way of Baylor's potential first men's Final Four appearance. The Wildcats are the clear favorites, so expecting the Bears to advance to the Final Four from the South wouldn't be fair.
Cincinnati (3): Cincinnati has survived suspensions and a bumpy ride in the Big East. The Bearcats thrived at the end of the season and reached the conference title game. Mick Cronin and this crew have exceeded expectations by reaching the Sweet 16. Playing one of the favorites in Ohio State takes more pressure off the Bearcats. This ride now is all about extra credit for Cronin and Co.
Florida (4): The Gators won two national titles in consecutive seasons. It will be hard for any program to duplicate that -- ever again. Keeping a team together like the '04 class for the '06 and '07 titles will be extremely difficult to match unless the NBA draft rules change again. The Gators had an easier road to the Sweet 16 thanks to a depleted Virginia team and playing Norfolk State, which exhausted itself with the stunning upset over Missouri. But the Gators don't need to get to the Final Four. If Florida does reach New Orleans with this flawed group and its suspect inside game, it would be quite a feat. The Gators are the lowest remaining seed in the West, too. Expecting them to get past Marquette and possibly top seed Michigan State would be a bit much.
Indiana (3): Tom Crean has turned the corner in Bloomington. There was legitimate reason to be concerned last season. But Crean recruited exceptionally well, getting a star in Cody Zeller, and he got his players to believe they could win big-time games. The victory over Kentucky will resonate for some time. Reaching the Sweet 16 gives Crean even more credibility and respect in the state. However, for this team to get past Kentucky would be asking too much. No one should expect a win over the Wildcats again. To advance to the Elite Eight and the Final Four would be sensational accomplishments. Even though the fan base expects greatness, Indiana has already exceeded any expectations by getting this far.
Louisville (5): The Cardinals are the "pro" team in town. And like Kentucky, the expectations include Final Four appearances. But Louisville has gone through a slew of injuries, and there was no reason to believe it could maintain a high level of play throughout the season. Still, the Cards survived to reach the Sweet 16 and face top-seeded Michigan State. The most pressure may be felt in trying to keep up with rival Kentucky. The expectation is that the Wildcats will be in the Final Four, so why not join them and create even more frenzy in a hoops-crazed state?
Kansas (9): The Jayhawks have two of the top players at their positions in Thomas Robinson and Tyshawn Taylor. Kansas expects to compete for conference and national titles, regardless of personnel, every season. And while Bill Self had to deal with rotation players not being eligible, including top newcomer Ben McLemore, the Jayhawks still won the Big 12 regular-season title for the eighth straight time. Kansas survived against Purdue, but had it not been for a guard meltdown the Jayhawks may be idle right now. Instead, they have new life in the Midwest, thanks to NC State's Sweet 16 run and North Carolina potentially being without Kendall Marshall in the Elite Eight (if the Tar Heels get past Ohio). The pressure has ratcheted up for the Jayhawks. If Marshall is out for this weekend in St. Louis, the Jayhawks are the new favorites in the Midwest.
[+] Enlarge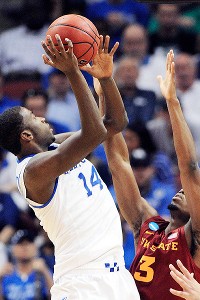 Jamie Rhodes/US PresswireAs the favorite to win the title, Michael Kidd-Gilchrist and Kentucky have to feel the pressure.
Kentucky (10): The Wildcats are the front-runners to win the national title, not just get to the Final Four. Let's be honest, anything less than a title would be a disappointment. No team in the Sweet 16 has as much pressure to get to the Final Four as Kentucky. The Wildcats have the most talent, the national player of the year in Anthony Davis, and plenty of other pro talent on the roster (Michael Kidd-Gilchrist, Terrence Jones and Doron Lamb). Darius Miller also played in the Final Four last season. John Calipari has coached in three Final Fours. The Wildcats are playing a team that handed them their only regular-season loss. A possible matchup with Baylor is more than formidable. The Bears can match Kentucky's length and shooting, but Baylor's defense has never been its strong suit. The region still lays out well for Kentucky in SEC-rich Catlanta.
Marquette (6): The Golden Eagles play as hard, if not harder, than any other team in the field. Marquette's beat down of BYU in the second half and its ability to run past Murray State late were quite impressive. Now, the Eagles get a Florida team that it matches up well with since they can defend the 3-point shot. Marquette should be the favorite in this game and has the personnel and the toughness to beat Michigan State or Louisville. A Final Four isn't expected with this group, but now the bracket has opened up a bit with Missouri gone. A loss in the Elite Eight makes more sense, but there is some pressure for Marquette to advance with Jae Crowder and Darius Johnson-Odom leading the way. The Eagles have been to a Final Four with Dwyane Wade under Crean. A berth for Buzz Williams would raise his coaching profile.
Michigan State (8): The Spartans lost one of their key rotation players in Branden Dawson in the final regular-season game against Ohio State. But they won the Big Ten tournament title without him and earned a No. 1 seed in the NCAAs. Draymond Green has been the most valuable player so far in the NCAA tournament and has a legit shot to lead the Spartans to another Final Four. Michigan State expects Final Fours under Tom Izzo, but this team certainly didn't look the part early in the season. It has matured into a title contender. And while the bracket is filled with potential hurdles, the Spartans have the pressure of being a top seed and the expectation of a Final Four appearance.
North Carolina (8): The Tar Heels would have had a 10 in this spot if Marshall didn't fracture his wrist against Creighton and have surgery on Monday. Now, the pressure of reaching the Final Four has dropped a few spots. North Carolina was as healthy as it had been in weeks at the start of the game with the Bluejays. But the Marshall injury makes the Tar Heels extremely vulnerable. Ohio is capable of pulling off another upset. And if the Tar Heels get past Ohio, a revenge-minded NC State team or title-contending Kansas awaits. The Tar Heels were built to win a title. That's why Harrison Barnes didn't opt for the NBA. Tyler Zeller had opportunities, as well. The roster is deep enough to absorb injuries to Leslie McDonald and Dexter Strickland. Let's see if it can take its worst hit and survive without Marshall or having him only on a limited basis. The expectations for a Final Four may have dropped outside of Chapel Hill, but it hasn't inside the Dean Smith Center. Carolina should expect to be in the Final Four yet again. It's just tougher with Marshall's injury and Kansas potentially looming.
NC State (2): The Wolfpack have far exceeded expectations under Mark Gottfried. NC State was the last team revealed on Selection Sunday. It had to be one of the last teams in the field prior to the four at-large teams that played in the First Four. NC State lost a 19-point lead at Duke, and the Wolfpack couldn't close out UNC in the ACC tournament. But they grinded out wins over San Diego State and Georgetown in their first two games of the tournament. This program has had low expectations for years. The Final Four would be gravy on what has already been deemed a highly successful season. The Wolfpack draw Kansas and if they somehow get past KU (not improbable), they could face a rematch with UNC. One can only imagine the scene in Raleigh if NC State, and not UNC, made the Final Four.
[+] Enlarge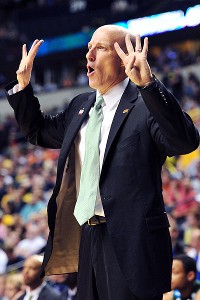 Don McPeak/US PresswireOhio coach John Groce could be walking into a difficult situation if he leaves for Illinois.
Ohio (1): The Bobcats are one of the tournament's great stories. Ohio played one of the more dramatic conference tournament title games when it knocked off Akron in thrilling fashion. The Bobcats got a decent seed at 13 and were matched up against a flawed Michigan squad. Ohio was aggressive and had the more experienced lead guard in D.J. Cooper (vs. the heralded Trey Burke) against the Wolverines. The Bobcats then faced a 12-seed in South Florida that couldn't score and was playing its third game of the tournament. Now, Ohio is playing with house money. The Bobcats have zero pressure in reaching the Final Four. Sure, they are facing a North Carolina team that will likely be sans Marshall. But to expect Ohio to win two more and get to the Final Four would be unfair. Ohio has already made its mark with this Sweet 16 appearance and coach John Groce can likely write his own ticket to a higher-paying job in the Big Ten if he chooses to do so.
Ohio State (9): The Buckeyes would have been a 1-seed if they had beaten Michigan State in the Big Ten title game. Jared Sullinger is healthy again, and the personnel hasn't changed. The Buckeyes possess some of the top players at their respective positions in Aaron Craft (top on-ball defender), William Buford (elite shooter) and Deshaun Thomas (a tough matchup as a face-up forward). Ohio State drew an instate rival in Cincinnati. The Bearcats will muck up the game and challenge everything. The top part of the bracket would be just as difficult with either a lock-down defensive team in Wisconsin or an up-and-down transition squad with a pesky zone in top seed Syracuse. But the Orange don't have Fab Melo, so if you were to re-rank the East bracket, the Buckeyes would have to be the favorites. That puts more pressure on Ohio State, and with Sullinger possibly leaving for the NBA, the window to reach the Final Four is now.
Syracuse (9): The Orange were built for a Final Four run. No team had players coming off the bench like Dion Waiters, C.J. Fair and Michael Carter-Williams. Fair is starting now, but the overall depth is still impressive. Melo's ineligibility knocks the Orange down from a 10. The expectation was Final Four or bust since they started showing their dominance during the Big East season. Syracuse has tremendous versatility with Scoop Jardine, Brandon Triche and Kris Joseph all able to make key shots. The Orange weren't tested by Kansas State after surviving a scare from UNC Asheville. The expectation is that it should beat Wisconsin and play against Ohio State. Syracuse may not be projected to beat the Buckeyes in a possible Elite Eight matchup now, sans Melo, but the pressure is there to get to a Final Four with a group that won't be together next season.
Wisconsin (4): Bo Ryan has never reached the Final Four. But he has had better teams projected to go farther. This squad has improved more than any of the previous teams he's coached at Wisconsin. The Badgers lost three early-season home games, and that rattled their confidence. But it didn't take away their resolve. Wisconsin found its shooting stroke, maintained its defensive intensity and got star-level play out of a role player in Ryan Evans. Jordan Taylor is still the leader and will take -- and make -- the big shots. The Badgers were the more polished team in wins over Montana and Vanderbilt. The expectation to knock off Syracuse isn't high. But if that occurs, then a team they already beat -- Ohio State -- could be standing in their way. The Badgers' last Final Four appearance was in 2000. The fan base is hungry for another run, but it doesn't need one. Ryan would like one, but he knows this may not be his best shot. Still, it's plausible in the current bracket.
Xavier (3): The Musketeers may not have been here had it not been for an A-10 title game appearance. Xavier had to mount a season-long repair project to get to this point. And it worked. Coach Chris Mack deserves as much credit for this run as the criticism he took for the way he initially handled the post-brawl situation. He matured as a coach during the season, dealt with his own knee injury and clearly got his lead guards, notably Tu Holloway, to refocus on the task at hand. Xavier survived Notre Dame by playing smarter than the Irish. It showed more moxie than Lehigh in finishing with a strong kick. No one is expecting Xavier to make the Final Four, even those that projected the Musketeers to do so in November. But Baylor is beatable. Taking down Kentucky would be quite a feat. The pressure is low. Xavier has already exceeded the expectations of a team that once had Final Four aspirations but didn't play that way for most of the Atlantic 10 season. Now that it's two wins away, the pressure is even lower. Xavier has already done well to finish the season on a high.
December, 28, 2011
12/28/11
11:24
AM ET
Maybe I was naive at times, but I never believed Rick Pitino was leaving Louisville.
Not once.
Not when stories surfaced that he was looking at the NBA or even another college job, especially after news of his sordid affair and subsequent extortion attempt by his mistress was made public two years ago.
[+] Enlarge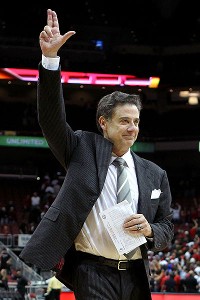 Andy Lyons/Getty ImagesIf you judge his results solely on the court, it's clear Louisville's Rick Pitino is a Hall of Famer.
The reports and rumors of a potential job search were all worth checking out. But Pitino never left. The university could have simply divorced itself from him because of the embarrassment of the situation. But they backed Pitino, and now the issue is no longer divisive to the school's supporters. However, there will always be detractors.
Now, according to Pitino, there is an official end to his tenure at Louisville. He said Tuesday he's done with coaching once his contract runs out after the 2016-17 season.
Pitino's world changed forever on 9/11 when his brother-in-law, Billy Minardi, was killed in the World Trade Center. He helped move Minardi's family to Louisville. A campus building was named for Minardi. Roots were planted in Louisville. Priorities changed. You can take sides on whether you believe Pitino. He is flawed and will be severely damaged by his own misdeeds.
But it didn't make sense for him to bolt at the time.
Leaving Louisville would have meant fleeing. And for what? No other college job could provide what Louisville had delivered for Pitino. He had already coached at Kentucky. North Carolina, Duke and Kansas were never options, either.
No other college job would pay him a top salary or would be able to deliver the pro-like atmosphere he got at Louisville. Pitino makes $3 million a year, and his salary will go up to $3.9 in 2013. The KFC Yum! Center is up and running, and he said it is the finest facility he has ever seen, and not just in the college arena. Pitino said earlier this month that the Yum! Center provides a tailgating-like environment for basketball because people enjoy being there hours prior to tipoff.
Pitino brought his son, Richard, back to the bench after he "left'' for Florida, which coincidentally happened after the revelation of the affair. Richard is back on the bench and all appears to be good again.
The NBA could have been an option for the Louisville coach. But the memories of Pitino's time with the Celtics weren't exactly positive, and no NBA team was running to hire him -- even with his extensive résumé. The likelihood that he would have been given the opportunity to coach a franchise that was on the upside or already in the playoffs was slim.
So he'll finish his coaching career at Louisville. And if we judge the results solely on the court, then there is no question that Pitino is a Hall of Famer. Pitino led Providence, Kentucky and Louisville to the Final Four. His run at PC in 1987 will go down as one of the best in Big East history. Every Friar team and coach since is held up to that standard.
Pitino came to Kentucky at the perfect time, and he got the Wildcats back to their rightful place among the great programs in the country. The NBA-type talent in Lexington continues today with his new rival, John Calipari. Calipari is bound to win a national title at Kentucky at some point, and it may be in April. Pitino's run to multiple Final Fours in the mid- '90s included a national championship under his coaching. The Wildcats then won another title with his players, who were skillfully coached by his former assistant, Tubby Smith. All of that created a legacy for Pitino.
On to Louisville … the Cardinals went to a Final Four and are now competing for the top spot in the Big East on a regular basis.
If Louisville remains in the Big East for Pitino's final four seasons (the league changes substantially in 2013), the Cards should be one of the regular favorites (along with Connecticut, if the Huskies are still in the league as well).
Pitino was the most outspoken of any Big East coach when he said that any potential expansion plans should include basketball schools Memphis and Temple. It still might, but the initial wave of expansion for all sports brought in Houston, Central Florida and SMU -- a poor trade-off for the exits of Pitt, Syracuse and West Virginia in two seasons. Pitino was correct in what the Big East needed, regardless of his position in the long term at Louisville.
Now the recruits that Pitino signs next season will be his final four-year class, if they were to stay through his final season.
And if it's any indication of what has occurred recently, then a number of them will be hard-working players who overachieve. Pitino's teams are consistently well-conditioned. They may not be the most skilled, but they don't quit.
This Louisville team isn't the fourth-best team in the country, despite what the rankings claim. The Cardinals have left home once -- winning at Butler -- and could have lost a couple of times at home already (Vandy and Western Kentucky). But to their credit, they did not.
Louisville could still finish fourth or fifth in the Big East behind Syracuse, Connecticut, Georgetown and/or Marquette. But that won't diminish what Pitino has done with this team and program.
If he walks away from coaching in 2017, then it will close out quite a career -- one that he certainly maximized every season.