Category archive:

Baylor Bears
February, 23, 2012
02/23/12
9:48
AM ET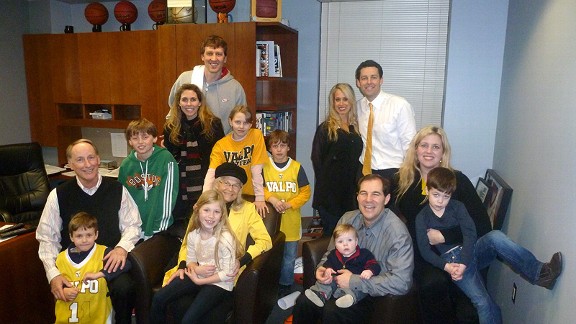 Courtesy of the Drew FamilyThe Drew family shared a happy moment Tuesday night after receiving news that Janet Drew's condition had improved.
We all remember the hugs, the ones that have so much emotion, tremendous meaning and end with tears unleashed.
The Drews had one that will last their lifetimes on Tuesday night.
It was in Bryce Drew's Valparaiso office. His mother, Janet, had sneaked into the basketball offices behind the arena, catching the final five minutes of the Crusaders' first Horizon League title with a clinching win over Loyola (Ill.) in overtime. She had just returned from a Chicago-area hospital, where she had been in and out every week since a bladder cancer diagnosis in October.
Homer Drew was there too. He is feeling as well as he has since his October prostate cancer surgery, sounding as youthful as ever with tremendous energy.
Baylor coach Scott Drew and his family had arrived as a surprise. A recruiting trip turned into a family excursion to see Janet, his father, his sister Dana, who has tirelessly supported both parents as they battle cancer, and, of course, his brother, Bryce, who won a conference championship in his first season as a head coach.
The 24-hour period may have been the most glorious for this family in years. Scott won a key game for Baylor against Texas, Bryce won the conference title, and the news on Janet had finally turned.
She had tests all day in Chicago on Tuesday. An MRI of her brain and CAT scans of her stomach and chest were done. All came back negative. The small cell cancer, which could still exist in her body but is so small it hasn't bonded yet, wasn't found on the screens. She has to go back in six months for another checkup, and she still has kidney issues from diabetes and complications from the surgeries that put a strain on them. The chemotherapy is over. Radiation is next.
But for the first time there was relief.
And the need for a hug.
"It was a wonderful hug," said Homer. "It was a hug of joy. It was a hug of hearing that with Janet everything came back well with the tests. It was a wonderful 24 hours. It was a wonderful, wonderful day -- the culmination of everything going well and a thank you Lord."
Scott had made the decision after the Texas game. He was going recruiting. But he wanted to bring the family. His mother had the most important tests since her diagnosis.
"I wanted to be there for the good news or, if it wasn't good, to be there to support her," said Scott. "There hadn't been a week that she wasn't in and out of the hospital."
Bryce's title adds to what has been an improbable year. The two tragic cancer diagnoses have dominated the Drew family's lives. The plan was to travel to Waco, Texas, from their Valparaiso, Ind., home, see the world, and enjoy retirement now that Bryce had taken over for Homer at Valpo. But the surgeries and the subsequent treatments have been the daily focus for both parents.
Yet throughout his first season as a head coach, Bryce has on multiple occasions finished practice and headed to Chicago to be with his mother. He has shared the responsibility with Dana in caring for his parents.
[+] Enlarge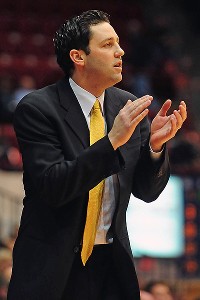 Andrew Weber-US PRESSWIRE Bryce Drew and his family received some much-needed good news on Tuesday night.
"Bryce has done a phenomenal job," Scott said. "He had a team with limited depth, and they came together. But what I really respect is that he's been there every day to take care of my mom, who has been in pain. He's done that while coaching. He had to prepare for that game [Tuesday], to try to win a championship, not knowing if he was going to get news if our mom was going to live or die."
Bryce said he can't forget the smiles. The smiles from everyone in his office. There was just raw emotion and so much exhausted relief.
"It was just so great to see them both, to see them smiling," said Bryce. "We've had so many challenges the last five months. My dad is doing awesome. He's such a bundle of energy. My mom got some fantastic news. My brother flew in with his wife and kids. It was so great."
Homer had encouraged Scott to make the trip. He said Scott had never seen Bryce coach and he wanted to surprise him. The timing of Janet's tests also made it a must.
"It was right to be there," said Scott. "It was a Sweet 16 moment."
The improbability of Valparaiso winning the Horizon League can't be dismissed, either.
Valpo was in a rebuilding situation and didn't have two of its top projected big men for the season. The Crusaders didn't have the résumé-building nonconference victory like Cleveland State did at Vanderbilt, either. Butler was coming off two national title game appearances, and while the Bulldogs struggled early, they got their act together in conference and still may finish second. Detroit had the preseason player of the year in Ray McCallum Jr.
Yet Valpo beat Butler in overtime in December and swept Cleveland State and Detroit. The Crusaders head into Friday's regular-season finale against Butler (ESPNU, 7 p.m. ET) with a 13-4 record Horizon League record, two games ahead of Butler and 2½ games ahead of Cleveland State and Detroit. They locked up the the double-bye in the conference tournament and need to win only two games to gain the league's automatic NCAA berth.
The NIT bid is secure if that fails. And the Horizon Player of the Year Award could go to Valpo junior wing Ryan Broekhoff.
"We've won a lot of close games," said Bryce. "We went smaller defensively, sometimes going with a 6-4 guy playing the 4. But we've been more versatile. Going smaller has helped our offense too."
The Crusaders had to play at Loyola Marymount in a BracketBusters game without junior forward Kevin Van Wijk. He should be back for Friday's game after sitting out with a bruised knee.
Valparaiso's program has provided magic moments before. Everyone remembers Bryce hitting a shot to knock off Ole Miss in the first round of the 1998 NCAA tournament. That iconic image is everywhere on campus.
But if this team, coached by Bryce Drew, in a year in which it has endured such sadness and despair in the family, gets to the NCAA tournament, it would be sweeter than anything that occurred in '98. There may not be a mural like the one from that season, but the Drew family will always remember this season.