Arizona shows balance in win over Duke
November, 30, 2013
11/30/13
5:16
AM ET
NEW YORK -- Arizona freshman Aaron Gordon watched the Champions Classic two weeks ago, like most college basketball fans.
After studying the teams -- notably the three led by freshmen -- he realized that he was in the perfect spot at Arizona.
"The offense runs through the freshmen,'' said Gordon of Kentucky, Duke and Kansas. "At Arizona, it's more equal-opportunity and more team-oriented.''
And that's why Arizona -- at least as November ends -- looks more like a potential national champion than Duke after a 72-66 NIT Season Tip-Off victory at a raucous Madison Square Garden on Friday night.
Duke has arguably the top freshman and maybe the best player in the country in Jabari Parker. But Arizona has the more complete team.
[+] Enlarge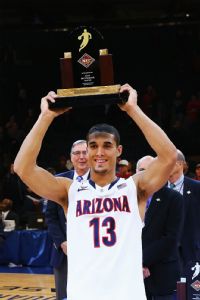 Al Bello/Getty ImagesArizona's Nick Johnson was named MVP of the NIT Season Tip-Off.
Parker, and offensive partner Rodney Hood, are the focus for Duke. But if they're not touching the ball, there is cause for concern. How much Duke can rely on Quinn Cook, Rasheed Sulaimon or anyone inside beside Parker to get a bucket is unknown. And the defense is still a work in progress after giving up 90 points to a depleted -- and at the time one-win -- Vermont team last week.
Gordon is an integral part of Arizona's team, a definitive difference-maker, but he's hardly the reason the Wildcats win.
"I'm the glue guy on a team that has talent," Gordon said. "You can stick me in the middle of all these pieces and we have all the potential in the world.''
Arizona has met every challenge so far this season: Winning at San Diego State at one of the more hostile road venues, coming back from down 19 to Drexel here Wednesday and being down six to Duke with 13 minutes left before turning it into a 10-point lead.
Gordon guarded Parker for long stretches Friday, and helped lead Parker to his five turnovers and 7-of-21 shooting. But Arizona coach Sean Miller put Brandon Ashley and Rondae Hollis-Jefferson on him, too. Those are three players with length and defensive activity, where most teams might be lucky to have two. Oh, and the Wildcats have a developing power player in the half court in Kaleb Tarczewski.
That's just up front. Arizona now has a go-to, get-a-bucket player in late-possession situations in Nick Johnson, a backup shooter in Gabe York and the one piece that was desperately lacking a year ago in point guard T.J. McConnell, a transfer from Duquesne. McConnell went from one of the worst high-level programs to one of the best. He sat out last season, got stronger, more comfortable and has suddenly assumed a leadership role (eight assists and two turnovers Friday).
Ask any of the Arizona players where the difference lies from last season in terms of legitimately chasing a title, and they all point to McConnell.
"You have to start with the point guard,'' Johnson said. "It's a big role, especially when it's played right. T.J. is a pass-first point guard. He makes the right pass. He's developed over the years and he's going to be crucial to our team.''
[+] Enlarge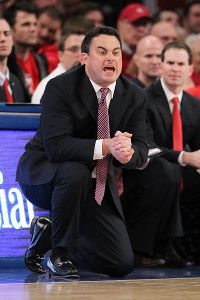 Al Bello/Getty ImagesCoach Sean Miller's Wildcats are undefeated on the season.
The Wildcats displayed that flip-a-switch mentality in both games here this week. When they were down big to Drexel or even multiple possessions to Duke, which seemed like more, they were never rattled.
"We're a complete team,'' McConnell said. "We can guard at every position. Not just one player is trying to score for us.''
Gordon echoed that the talent means the Wildcats are never out of the game. The Wildcats, added Ashley, have "so many dudes who can do so many things.''
Miller, who said he lost to Duke as an assistant at NC State so many times that he can't even count, also fell to the Blue Devils in the Elite Eight as an assistant at Xavier in 2004 and as Xavier's head coach years later in a regular-season game at the Meadowlands. Now, he has won two in a row over Duke. Arizona knocked off Duke in the 2011 Sweet 16 before losing to Kemba Walker and UConn in the Elite Eight. That game had more meaning, obviously, but this one, at this time, creates even more of a feeling of confidence in the Wildcats' title chase.
"It obviously raises (our confidence), and Duke speaks for itself,'' said McConnell.
"But it doesn't change anything,'' said Johnson. "It just adds to our belief. We know what our talent is. We knew it four months ago when we were practicing to get ready for the season. Now this verifies it a little bit. We're just seven games into the season. We were 14-0 last season.''
This year is different, though. The talent isn't the same. The roles are more defined. The early-season competition doesn't compare, with more to come at Michigan on Dec. 14 before the Pac-12 favorites are every conference team's target for two-plus months.
"It was a big test and we passed,'' said Johnson. "I honestly didn't think we played our best basketball of the season and we still won.''
And that's why Arizona was and is one of the favorites to win the title.