Gonzalez gambling for Seton Hall's future
September, 4, 2008
09/04/08
4:36
PM ET
Bobby Gonzalez is clear that in order for Seton Hall to be competitive in the 16-team Big East, he's got to take a gamble or two.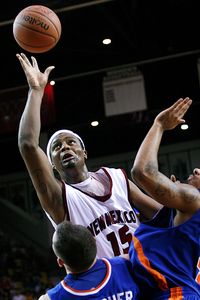 Ivan Pierre Aguirre/US Presswire
Pennsylvania native Herb Pope is headed to Seton Hall after one season at New Mexico State.
The third-year Pirates coach isn't hiding from his objective. He accepted two high-profile transfers within the past week --
Keon Lawrence
from Missouri and
Herb Pope
from New Mexico State -- with the hope that both will be eligible for this season.
"This league is a joke. They're talking about 10 teams going to the NCAA tournament," Gonzalez said late Wednesday night. "If you want to get into the top six or seven in this conference, you've got to be creative and you've got to take transfers. I'm not sure what they're saying about Gonzo, saying that I'm taking too many borderline guys, a gamble. But the [Seton Hall] president backs me, and I feel they're all worth the gamble."
Both players are appealing the NCAA's requirement that forces transfers sit out one year before they're eligible. Gonzalez said the case for Lawrence, who is from Newark, should be a "layup" because his father is ill and his mother is going through a tough time.
"There's all kinds of stuff," Gonzalez said of Lawrence, who led the Tigers in minutes played last season (29.2) and was fourth on the team in scoring (11). "He's got to be there for his mom. Selfishly, from a basketball standpoint, him playing in the Prudential Center … He's a local hero around Newark. Keon's a big name. He's big down here."
Gonzalez said he has no idea if Missouri will support Lawrence's attempt to get an appeal to play right away. In previous cases where the player did win the appeal -- notably when Tyler Smith transferred from Iowa to Tennessee to be near his father, who had terminal cancer -- the previous school supported the decision.
Gonzalez said Lawrence won't be academically eligible until after the first semester because the junior doesn't have enough transferable credits from Missouri. He would have to pass 15 credits in the first semester to be eligible by mid-December, the coach said. Gonzalez is also hoping Missouri won't be too upset about Lawrence's transfer since the Tigers and Pirates are in opposite brackets in the Puerto Rico Tip-Off Classic in November, and Lawrence wouldn't be available to Seton Hall during that tournament.
Gonzalez said Pope wanted to come back closer to his Pittsburgh-area home to be near his family, who is also going through a tough time, but because Pope testified against the person who shot him while in high school, going back to an area school such as Duquesne, Pitt or West Virginia might not be in his best interest. Gonzalez believes Pope could also win the appeal to play this season.
The Pirates have gotten an official release from NMSU, Gonzalez said. NMSU coach Marvin Menzies, who was upset with Pope's abrupt transfer, said Gonzalez never called him about the sophomore forward. Gonzalez said that is true, but he argued that the Pope transfer was initiated by those close to Pope and that Seton Hall didn't tamper with the process.
Meanwhile, Gonzalez is waiting to see if Michael Glover, who was declared ineligible last year at Seton Hall, would win his lawsuit against the Big East and the NCAA to gain eligibility.

We could be a dangerous team, a sleeper team. We could be in the middle of the Big East race at the end of the year.
--Bobby Gonzalez
"If he were eligible last year we would have won 20 games, not 17; he could have been an all-rookie Big East [player]," Gonzalez said of the 17-15 Pirates last season. "He definitely would be a major impact guy. Who knows? We could believe in miracles and get Keon Lawrence, Michael Glover and Herb Pope [this season]."
Gonzalez said he's not fazed by the uncertainty of this season's roster. He's confident in the core group of players returning, led by junior guard Eugene Harvey (13.3 ppg), senior guard Paul Gause (played in only 16 games last season due to a broken bone in his right hand and a torn ACL in his left knee), Duquesne transfer 6-6 junior Robert Mitchell, 6-5 all-Big East rookie team member Jeremy Hazell (12.8 ppg) and forward John Garcia (6.9 ppg, 7 rpg).
"I can handle this," Gonzalez said. "This is exciting. We could be picked 12th, 13th or 14th, and that's probably accurate. But on the other hand, the possibilities are exciting. If something all of a sudden breaks here [with Lawrence and/or Pope], then we could be a dangerous team, a sleeper team. We could be in the middle of the Big East race at the end of the year."
Gonzalez will have to sit the first game of the Big East season for his behavior during and after a March 9 game against rival Rutgers. Gonzalez said he was informed the game wouldn't be against one of the three teams the Pirates play twice -- Rutgers, St. John's or Connecticut -- and it would be on the road. But the official Big East conference schedule has yet to be released.
"It will be a quick blip," Gonzalez said of the suspension, although he did admit to Big East commissioner Mike Tranghese that he was out of line. He said Tranghese was explicit about coaching behavior at the beginning of the season.
"If guys get out of line, then they were going to get banged [with a penalty], and I understand that," Gonzalez said. "I'm going into my third year. I'm not saying I'm Jim Boeheim or Jim Calhoun and they get preferential treatment. I made a mistake and went into the press conference and I talked about an official and I was frustrated and it was the end of the year and it was my fault. I came to terms with that in the spring and apologized publicly. It won't be a big deal. I just screwed up at the wrong time."
Gonzalez said he has four years left on his contract, and he claimed he's not worried about his job security. Gonzalez won seven Big East games last season.
"By the middle of the year we could be a dangerous team, and as a coach that's exciting," Gonzalez said. "In this league, that's what you've got to do."
Final nugget
• First-year LSU coach
Trent Johnson
said that the Tigers will resume workouts Thursday afternoon despite the school still being closed in the wake of Hurricane Gustav. He said the plan is for classes to resume Monday.
Johnson rode out the storm in his apartment near campus, while the Baton Rouge players stayed home and a few other players evacuated to Monroe, La., and Atlanta. He went to the Pete Maravich Assembly Center to help emergency personnel who were handling some evacuees. Johnson said power has been restored to parts of campus, but not all. He said there are a number of downed trees, but the PMAC didn't sustain any damage like the football stadium, which will need some quick repairs.
"I was very impressed with the state of Louisiana and the preparation they had," said Johnson, who previously was coaching at Stanford. "I've been through brush fries and earthquakes, but this is my first [hurricane]. The damage wasn't as bad as everyone made it out to be."