Slive ready for role as committee chair
October, 1, 2008
10/01/08
3:16
PM ET
Tip-off to the college basketball season is six weeks away, and Mike Slive already is starting to get ready for the most important, most scrutinized and most easily recognizable side gig he'll have during his tenure as SEC commissioner.
As the commissioner of the conference with the deepest, most passionate and largest fan base in football, Slive's name certainly is notable in the South. But after negotiating two major long-term television deals this summer for the SEC with ESPN and CBS, Slive's next major task is ensuring that the NCAA tournament selection committee is run well during the next six months.
[+] Enlarge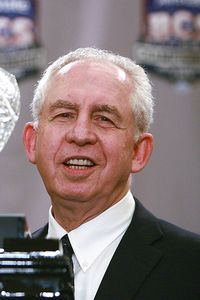 Doug Benc/Getty ImagesWith the BCS and March Madness on his plate, SEC commissioner Mike Slive will surely keep busy this year.
SEC football is a machine that purrs quite well year after year. But the basketball committee takes on the personality of its chair nearly every year. Last season, Tom O'Connor of George Mason led from a basketball perspective. He was everywhere during the season. He was approachable and had a firm grasp on the evolving scene in the sport. Princeton athletic director Gary Walters had more of a numbers approach to the process when he was committee chairman. He was very savvy to all the nuances of every criteria that goes into selecting and seeding. Slive is a lawyer and knows how to negotiate issues diplomatically. He can delegate and won't rush into decisions. "We're all sensitive to the enormity of the task," said Slive, who added that he has begun to plan his December travel schedule so he can attend games out of his Birmingham, Ala., region. "We understand the responsibility that goes with it and develop the ways in which we can evaluate the information." "Mike is an astute and diplomatic person," Walters said. "He has the unique ability to develop consensus. When Mike speaks, people listen." Slive, O'Connor and Walters have known each other for nearly 40 years. "Candidly, the heavy lifting for Mike was this summer with those TV contracts," Walters said. "Now that those are in place, he'll have the scheduling flexibility to address the demands of the committee chair." Walters said Slive can't ignore fall football, but the two have exchanged e-mails recently about the role of the chair. "Even though Mike is the commissioner of the most powerful conference in the United States, he'll be able to carve the time he knows he needs," Walters said. Walters was the chair of the committee in 2007 after serving for five years. "Mike has a tremendous staff, and he'll be able to balance," O'Connor said. "He'll be very systematic in his approach. He's above reproach. We're all on the same page." O'Connor said he fully expects a similar schedule as a year ago when the committee upped the number of conference calls and in-person meetings. This season is a bit different because the committee also is doing site surveys and selecting Final Fours from 2012 to 2016. The 10 cities being considered are Atlanta, Detroit, Houston, Indianapolis, Minneapolis, New Orleans, North Texas (home to the new Dallas Cowboys stadium), Phoenix, San Antonio and St. Louis. The Final Four in April will be in Detroit and in 2010 in Indianapolis at Lucas Oil Stadium. In 2011, it is slated for Reliant Stadium in Houston. Slive said the committee will select five of the 10 cities to host the five Final Fours from 2012 to 2016. (No team will repeat as host.) The 10-member committee comprises Slive, O'Connor (for one more season), UCLA athletic director Dan Guerrero (who will be the chair of the committee in 2010), UConn athletic director Jeff Hathaway, Texas-San Antonio athletic director Lynn Hickey, Xavier athletic director Mike Bobinski, Kent State athletic director Laing Kennedy, Ohio State athletic director Gene Smith, UC-Riverside athletic director Stan Morrison and Utah athletic director Chris Hill. The committee will meet the second week in November in Indianapolis. The committee expects to meet in person again in January and in February. It will have a lengthy conference call before it comes together for the selection process in March in Indianapolis. One could argue that the tournament committee has become as much of, if not more than, a seeding committee as a selection one (because usually only a few spots are up for debate). It has one of the most demanding committee jobs in the NCAA. You could say that the committee on infractions has an arduous task of being fair and balanced when hearing testimony and reading NCAA-style depositions from an investigation. But those committee members are faceless to the general public. The NCAA tournament committee is the highest-profile group in the organization. Neither Slive nor Walters said the committee did or would look at nonconference schedules for their strength when they come out in the fall. They don't want to get any kind of preconceived notions. "What looks like an easy game today might be an incredibly tough one because of a good recruiting year," Walters said. "It's premature to look at the schedules and draw assumptions that could turn out to be inaccurate." Slive was quick to say that he, like the other committee members, looks at each season with a fresh outlook. Slive will be diplomatic. He likely won't share too much of what criteria he weighs more than others. If Slive handles this job as he does his others, he will be very careful not to offend. He will evaluate all the information, then ensure that the group speaks as one. In the end, the only thing that matters is that the tournament is fair and balanced in March.