Wake hits refresh button with exciting freshmen
October, 21, 2008
10/21/08
5:32
PM ET
WINSTON-SALEM, N.C. -- Saturday's Wake Forest practice was nearly two hours old, and coach Dino Gaudio's voice was still sharp. "Farouq, box out!" Gaudio said in an echoing, cavernous Lawrence Joel Coliseum.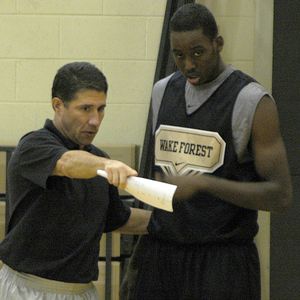 Luke Schwartz
Wake Forest coach Dino Gaudio goes over instructions with freshman Al-Farouq Aminu.
"Run, run, run!" Gaudio said again to his three freshmen big men -- Al-Farouq Aminu, Ty Walker and Tony Woods, the most celebrated recruiting class since Wake Forest brought in Chris Paul.
"Tony, don't sit down!" Gaudio said during a water break. "Never sit down in practice." "Quit standing up!" Gaudio said to Woods and Walker. "You've got to get in a [defensive] stance." The constructive criticism won't end for a while. It might not for months. Sure, there was and will be compliments, such as when Farouq, without hesitation, put the ball on the court and drove to the basket unscathed to show his instinct as a scoring wing. But these three freshmen are the reason for renewed NCAA tournament expectations for the first time since Paul left in 2005 after his sophomore season. "They're still young and still have a tremendous amount to learn," said Gaudio, entering his second season since the sudden passing of his best friend and mentor, and Wake's previous coach, Skip Prosser. "They play too upright and don't know how hard they have to play," Gaudio said. "We tell them all the time, the low man wins in this game. The lower you are, the quicker you are. The lower you are, the stronger you are." All three, the 6-9 Aminu, 6-10 Walker and 6-10 Woods, are lanky, lack definition, and were getting pushed around by the thicker returning players
James Johnson
and
Chas McFarland
. "We're on those guys hard because we're counting on them," Gaudio said. "They have to quickly adjust." Watching Aminu (Farouq when saying his first name, not Al), Woods and Walker shows just how much more freakish last season's heralded freshman class was. Michael Beasley, Kevin Love, Derrick Rose, O.J. Mayo and Eric Gordon -- all lottery picks -- had developed bodies that were well beyond their collegiate class. "Those guys were older," Woods said of at least Mayo, who was 20 during his freshman year at USC. "They had NBA bodies since, like, the ninth grade," Woods said. "They made it look too easy. That's not the case here. I don't see us coming in and being the man." Aminu said freshmen such as Mayo, Beasley and Love had "pro bodies already. I'm young. It might take me a couple of years." The 2007 freshman class skewed the learning curve for the class of 2008. USC's
DeMar DeRozan
and UCLA's
Jrue Holiday
are expected to be studs with a major impact on their teams, and might check out after one year if they reach their expectations. But the maturation is hardly the same for everyone, and the three at Wake fully understand they have to be patient and hope everyone else is as well. Woods said there was too much hype on the Demon Deacons class, ranked No. 6 in the final ESPN.com Scouts Inc. poll. "It's hard to live up to the hype," Woods said. "I wish it wasn't, but that's the way it is." "It's definitely put us in a predicament where we have to live up to our names and things like that," Walker said. "It's a big jump from high school to college. The players are so much stronger than you, so much better, run faster." Walker added that the freshmen of 2007 were blessed with "God-given talent, we are too. But sometimes it takes longer than in certain individuals."
Saturday's practice was a snapshot. Check back with Wake when it goes to the underrated Anaheim Classic next month over Thanksgiving weekend (just watch and see how many teams are in the NCAAs in March that played in this event, such as Arizona State, Baylor, Saint Mary's and maybe Providence and UTEP). By then, maybe the freshmen will be more ready to assume a starring role.
Watching this practice, it is clear how much Aminu will help with his offensive skills off the dribble, a potential matchup problem at small forward, and how much of a defensive presence Woods and Walker can become for a team that was vertically challenged a year ago, when the Demon Deacons missed the postseason despite going 17-13 overall, 7-9 in the ACC.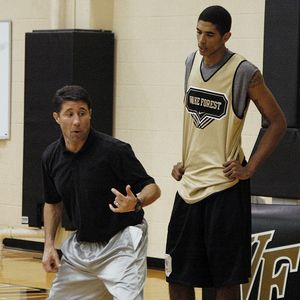 Luke Schwartz
Wake Forest hopes its freshmen class, including Ty Walker, can help bring the Demon Deacons back to the tourney.
Gaudio said none of the three freshmen would start if the season were to begin this week. The Demon Deacons return all five starters. McFarland, a junior, didn't look like he was going to give up any minutes. He got the ball in the post and easily turned around and scored on multiple possessions.
"All three of them have talent, but they've got to realize it's a whole different level from high school to college," said McFarland, who started 27 of 30 games last season. "You can't take a possession off or you'll get your ass kicked. I don't think anybody's spot is solidified." None of the three freshmen complained about being the focal point of the coaching staff early in practices. Johnson, who was an unheralded freshman a year ago but ended up leading the team in scoring at 14.6 points per game, said he had no clue how hard he had to play a year ago. "During the first open gym, guys were diving on the floor, running back and forth, I got so winded so fast," Johnson said. "It took until our first exhibition to click. It's hard at first. You're used to putting your hands on your knees when you get tired. But the upperclassmen kept reminding me. They'll get it. They'll run hard." Johnson was one of the players, as well as the injured junior guard
Ishmael Smith
(wearing a boot because of a broken foot for a few more weeks), who was encouraging the three freshmen to push themselves and play smarter. "It's been challenging," Woods said. "Guys are my size, my strength if not stronger. I'm trying to be in condition, get low and learn the plays. It's challenging." Walker said he anticipates that at least one of the three will start, saying he wouldn't be surprised if it were Aminu. Johnson can play power forward, Aminu small forward and then McFarland at center with Walker and Woods off the bench. The guards are set with sophomore
Jeff Teague
(13.9 behind Johnson) a lock at the point and then a rotation of a healthy Smith, junior
L.D. Williams
, senior
Harvey Hale
and sophomore
Gary Clark
. A year ago, Gaudio had to start two of the three in the class -- Johnson and Teague -- because of the talent gap and low numbers. The depth on this team, except at the point, allows Gaudio to use minutes as a hammer over the freshmen big men, who may not be ready -- yet. "They're going to have to earn everything they get," Gaudio said. They all understand that. But Gaudio should feel comfort in knowing that none of the three, at least in words and when you watch them in their actions, so far appear to have a foot out the door in the spring. The one-and-done class of 2007 may not have coattails in Winston-Salem. "I'll guarantee probably three years here or as long as it's possible to reach my potential to the next level," Walker said. "Tony has the same time range as me. Farouq and us kind of made an agreement. Farouq might not stay all four years if he's doing good. But we all want to stay as long as possible."