USC roster deep even as Stepheson awaits waiver
October, 27, 2008
10/27/08
8:55
PM ET
LOS ANGELES -- Alex Stepheson took the feed in the post and dunked with authority.
Granted it was a drill, and there was no defensive pressure, but the emphatic slam signaled a significant change for USC.
If Stepheson's presence was this pronounced in practice, what would happen if he were granted a waiver to play without sitting out a season after transferring from North Carolina? The balance of power in the Pac-10 could shift within L.A.
[+] Enlarge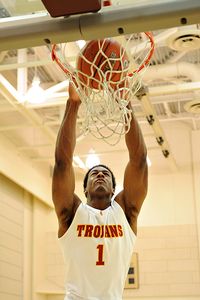 USC Athletic Department The season is a waiting game for Alex Stepheson as the NCAA reviews his request for a hardship waiver.
Stepheson could have that kind of impact if an NCAA committee grants his wish to play immediately due to a family hardship.
Put Stepheson next to junior forward Taj Gibson and the Trojans would have the most experienced front line in the conference. Add these two to a starting perimeter of junior guards Daniel Hackett and Dwight Lewis and arguably one of the top freshmen in the country in DeMar DeRozan, and suddenly the Trojans could have the most experienced and talented starting five in the conference. Nudging out an experienced Arizona State and challenging UCLA for the Pac-10 title wouldn't be out of the question.
Stepheson, a 6-foot-9, 235-pound junior out of Harvard-Westlake High in Los Angeles, said he transferred out of North Carolina to be closer to his family. He is still awaiting approval from the NCAA to see if he can play immediately. In the meantime, he's in with the starting unit in practice, as he was last week when ESPN.com checked in at the Galen Center.
"He is a terrific rebounder,'' USC coach Tim Floyd said. "The difficult thing right now is that we have to play one way with him and another way without him. Without him we'll play four [guards] out and one in [Gibson or another forward], and with him we'll play different.''
Stepheson's case is fluid and could be decided any day. He said the NCAA has asked for more documentation, notably from his parents' doctors.
"My parents' health is bad, my sister has issues too,'' Stepheson said. "It's hard for my parents to function, so I do what I can. I transferred back here to be closer to them and help them around the house and move around.''
Stepheson said he would rather not go into detail about what the specific condition is with which his parents are dealing. But Stepheson said he has been able to get home plenty despite being a full-time student and practicing with the team for hours each day.
"We live about 6.5 miles from SC, so I can get there within 15 minutes and help them out,'' Stepheson said. "I'm home a lot, every other day, taking the trash out, helping my mom carry stuff and talking to my dad to keep him positive.''
Stepheson said that originally he considered winning an appeal to be a reach, but said now that he's involved in the process, it's hard not to think about playing this season.
"I want to play, but there's always next year,'' Stepheson said.
Stepheson can offer a unique perspective on the depth of USC's talent. The Trojans' second unit is filled with solid role players; this squad is devoid of a scrub from one to 14.
Donte Smith is a solid JC transfer at the point; Leonard Washington is a bruising wing who can board and make a midrange jumper; veteran big men Keith Wilkinson, the one senior who will log serious minutes, and Kasey Cunningham know Floyd's system well; Mamadou Diarra, a slender shot-blocker, is finally healthy after being banged up a year ago; and if Marcus Simmons comes back from a yearlong ankle injury, he could be a vital role player off the bench, too.
The Trojans also get swing man Marcus Johnson, a transfer from Connecticut who is eligible in mid-December. Even freshman Percy Miller, better known as rapper Romeo (formerly Lil' Romeo) and son of rapper Master P, could stroke a few shots and handle the point if need be during practice. Floyd said that big man Nikola Vucevic from Montenegro might end up redshirting because there is so much depth up front.
Former South Carolina coach Dave Odom, who was observing practice last week, said he wondered if there were seven or eight teams in the country with more talent than USC.
"We're pretty similar in that we both have talent and a deep bench this year,'' Stepheson said of his former team, the consensus No. 1 Tar Heels. "I think we match up well with North Carolina.''
Stepheson said he wasn't sure what to expect when he transferred from a program that thinks "national championship" every season.
"But everyone here has a great work ethic and is working extremely hard with the intention on winning a national championship,'' Stepheson said.
Having him eligible would help.
"He's a big difference-maker, rebounding the ball and blocking shots and has so much experience off the court, too,'' Gibson said. "He's an animal in the weight room. He would help me a lot in the Pac-10. There are a lot of tough games in the Pac-10, and having another big man down there would be better for me.''
[+] Enlarge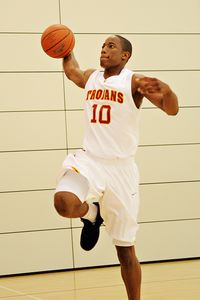 USC Athletic Department Freshman DeMar DeRozan is expected to be an immediate contributor.
Stepheson played in 75 games the past two seasons with the Tar Heels. He averaged only 4.5 points a game last season but that was largely because of some players ahead of him named Tyler Hansbrough and Deon Thompson (Brandan Wright the previous season, too).
"We appear to be a better posting team with more guys who can post since we've only had one since we've been here, in Taj, and now we've got four,'' Floyd said. "We will be a better rebounding team. That's been the thorn in our side.''
If Stepheson gets denied, it will put more pressure on Gibson. But he has just as much if not more help than a season ago.
O.J. Mayo is gone after his one season in college, and so, too, is Davon Jefferson up front. But the addition of DeRozan might make up for Mayo quickly. DeRozan is incredibly smooth in getting to a spot to score. He isn't very verbal just yet, but has blended in quite well with the first unit. He reeks of star quality.
DeRozan said he is impressed with how hard the Trojans are working so far and how athletic the team is. But the feeling is mutual.
"He's handling everything so well,'' Hackett said. "He has a lot of poise on the court and has a great understanding of the game.''
Hackett said Mayo probably felt more responsibility than DeRozan to come in and produce. A year ago, the Trojans were riddled with injuries, lacked experience and had a depleted roster. DeRozan arrives with a stocked roster, a healthy team and the ability to slide onto the court without wearing the burden of the Trojans' win-loss record on his shoulders.
"The pressure is on him because he's in L.A.,'' said Gibson, who could add that DeRozan is from L.A., too, making it even more important to do well at home. "He comes to play and he knows what he has to do.''
Floyd said he's been impressed by how well DeRozan has handled the learning curve thus far. He doesn't have to worry about DeRozan's reactions to new situations.
"At times, he's got drop-your-jaw talent,'' Floyd said of the 6-7 swingman. "He's going to be a great addition. He's a special talent. He should be able to have an impact early on."
Add to that Hackett and Lewis, who don't crave or receive headlines often but are experienced perimeter players in a sport in which veteran guards help teams advance deep into March.
"Last year we had a lot of hope but we didn't finish strong,'' Gibson said of the first-round NCAA tournament loss to Kansas State. "This year, we've got a veteran team, and with Alex hopefully eligible and Hackett and Dwight Lewis and a whole bunch of contributors like Dante and DeMar helping us a lot, the sky's the limit.''