Curry, Abrams will still make noise at the point
November, 3, 2008
11/03/08
6:33
PM ET
Davidson's Stephen Curry and Texas' A.J. Abrams are going through a transition of taking over the point from integral members of their respective Elite Eight runs a year ago.
Curry is replacing Jason Richards on the ball. Abrams is taking over for D.J. Augustin.
[+] Enlarge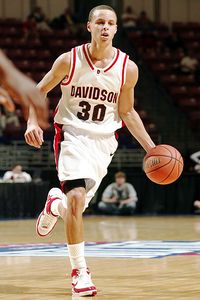 Willis Glasgow/WG Sports Photos /US PresswireStephen Curry will keep scoring points now that he's at the point.
It shouldn't be as much of a problem as it would seem. The concern is always that you're taking away your best shooter, so by helping one position you're potentially hurting another. But neither Curry nor Abrams is going to shy away from taking shots. They are still expected to be the focal points of their respective perimeter options.
"A.J. is just like Steph Curry, they both have a great understanding of the game and stay within themselves,'' said Texas coach Rick Barnes, whose Longhorns scrimmaged Davidson in Austin over the weekend. "They don't care where you put them on the floor. They both have a great understanding of the game.''
Davidson coach Bob McKillop, who heaped high praise on the Longhorns' intense defensive effort, said Abrams handled the position quite well.
"He's a terrific scorer,'' McKillop said.
Barnes said Curry, like Abrams, is an all-around basketball player.
"It doesn't matter where he plays,'' Barnes said. "Bob has a system that he runs, and they execute it and believe in it. They are so team-oriented.''
McKillop loved the experience of scrimmaging Texas. He said traveling on the road with this group, dealing with a tough defensive team and getting pushed will only help the Wildcats in preparation for the season. Davidson has a potential showdown with Texas' top Big 12 rival in Oklahoma in a possible NIT Season Tip-Off second-round game later this month.
Texas wowed McKillop with its rebounding prowess, too. Dexter Pittman presented plenty of problems for the Wildcats. So, too, did Connor Atchley, who isn't as thick or strong, but still has the long-armed reach to be a pest on the back line.
"This was one of those experiences where Steph Curry grew as a point guard by leaps and bounds,'' McKillop said. "We could not have had a better laboratory. He's going to do it [play the point] and do it very well.''
[+] Enlarge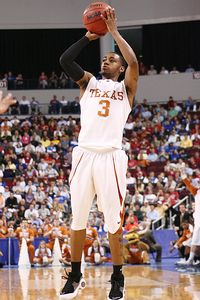 Nelson Chenault/US PresswireThe Longhorns need A.J. Abrams to fill the gap left by D.J. Augustin.
The shooting of Bryant Barr and William Archambault was also a plus for Davidson against Texas, according to McKillop. Former Harvard signee Frank Ben-Eze didn't play but is expected to start practicing Monday.
• Texas will next scrimmage Gonzaga in a neutral site in Denver over the weekend.
• There were a slew of these scrimmages across the country. Virginia Tech and Georgetown have scrimmaged the past few seasons. They did again over the weekend in Washington, D.C. The Hoyas were pleased with their effort and the consensus that freshman center Greg Monroe could be a special player. The same is true of freshman guard Jason Clark. Virginia Tech coach Seth Greenberg concurred on Clark saying that he could "really shoot the ball.'' Meanwhile, Greenberg said having Big John, John Thompson III's Hall of Fame father, speak to his team was a highlight. Greenberg said Big John commands such respect by the players that they were attuned to his every word.
The Hokies need another scorer, and against Georgetown, Greenberg was pleased with the productivity of sophomore Dorenzo Hudson. While the Hoyas have a system that works for them and just takes time to develop, the Hokies are trying to find their identity with this group. Greenberg is hoping to see much more defensive ball pressure from this group. Both teams are heading to loaded Thanksgiving week fields. Georgetown is in the Orlando Old Spice Classic with the likes of Michigan State, Gonzaga and Tennessee while Virginia Tech will be with USC, Memphis and Xavier in Puerto Rico.
• Miami coach Frank Haith isn't shying away from pumping up freshman forward DaQuan Jones. He's a "beast,'' according to Haith, and while he gets lost defensively at times, his "talent is off the charts.'' Still, Haith isn't going to start Jones. He's going with one of the top guards in the country in senior Jack McClinton, junior James Dews and senior Lance Hurdle. He will bring Jones off the bench with senior forward Brian Asbury. The frontcourt of Cyrus McGowan, Dwayne Collins and a rotation behind them of Jimmy Graham and Adrian Thomas makes the Hurricanes the deepest team under Haith in his five years on the job.
• Interesting story in the Tucson Citizen by Lute Olson's doctor, Steven Knope, explaining more about the stroke and depression. There is an unbelievable amount of disclosure on the medical condition, something you normally don't see.
• The Memphis Commercial Appeal had a telling story about how Derrick Rose wants to be introduced at Chicago Bulls games.
• USC is still awaiting word on whether Alex Stepheson will win his appeal to play immediately instead of sitting out after transferring from North Carolina.
• Herb Pope was denied his appeal to play immediately at Seton Hall after transferring from New Mexico State. Pope is from the Pittsburgh-area. Seton Hall is in New Jersey. This was going to be one of the tougher hardship waivers to prove about the need to be closer to home due to duress since he wasn't playing in his home state. Pope will be eligible in 2009-10 with three years of eligibility remaining.