Holiday's over as UCLA frosh prepares for college game
November, 4, 2008
11/04/08
4:17
PM ET
WESTWOOD, Calif. --
Jrue Holiday
found out as soon as he had to defend
Darren Collison
that college basketball may not be as easy as the heralded freshman class of a year ago made it look.
[+] Enlarge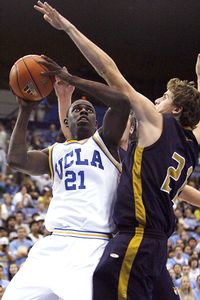 AP Photo/Gus RuelasUCLA freshman Jrue Holiday hopes to make a quick transition to the college game.
The 2007-08 freshman class skewed the learning curve for this fall's crew. Derrick Rose, Michael Beasley, O.J. Mayo, Kevin Love and Eric Gordon came into college looking like men, played like adults, put up huge numbers, dominated their position at times, and moved on to be the focus of the NBA draft last June. Two of the top five freshmen this fall play in Los Angeles -- Holiday is at UCLA and friend and longtime local rival
DeMar DeRozan
is at USC. Unlike Love and Mayo, who had to produce immediately for their respective squads to challenge for the NCAAs, DeRozan and Holiday don't face the same pressure. They will produce, but their teams won't be relying on just them. Holiday can hide behind Collison if need be at the start of the season, while DeRozan can yield to
Daniel Hackett
,
Dwight Lewis
or
Taj Gibson
. "On the first day of workouts, just the intensity level from a high school practice was different," the 6-foot-3 Holiday said. "In high school you could mess around. But here they go hard every single play." Holiday and Collison went to an adidas event over the summer, which gave the freshman a chance to learn from the three-year UCLA point guard. "I learned how he cuts people off, usually dribbles by them and slows down, too, so they can't get past him," Holiday said, describing how Collison uses different speeds to his advantage. "He sees the floor well." Holiday said the freshmen from a year ago did make it look too easy. But early on in practice he found his legs were dead. "They made it look super easy," Holiday said of last year's freshmen. Holiday says the right things and doesn't even talk about being one-and-done. He said he didn't hear much of that kind of chatter among the freshmen in this class. He said the only people he will listen to are his close friends and family. He said no one is pushing him to the NBA. The eye-opening experience came during pickup games when the three seniors -- Collison,
Josh Shipp
and
Alfred Aboya
-- all showed how they can play a fast game, but under control. "They didn't rush, they saw the whole floor and you can see their maturity," Holiday said. But Holiday is fine with the expectations that ultimately this UCLA freshman class -- Holiday and fellow guards
Malcolm Lee
and
Jerime Anderson
and forwards
Drew Gordon
and
J'mison Morgan
-- are expected to help the veterans of Aboya, Shipp, Collison,
James Keefe
and
Michael Roll
get to a fourth straight Final Four. "I love the expectations," Holiday said. "I've been so excited since the last game of my high school career. I wish I could have played last year."
Final nugget
• Aboya and Shipp both said the hardest of the three Final Fours was the first because they made it to the title game before losing to Florida. The Bruins lost in the national semifinals in 2007, again to Florida, and then in the national semifinals to Memphis last April in San Antonio.
"You don't want to lose like that," Shipp said. "We want to do whatever it takes to get back and win it this time." The Bruins expect to play more up-tempo this season without Love in the middle. Love could run, but the Bruins weren't about to leave him out of the offense so the team played at his pace. Funneling the offense through Love made the most sense since he could generate open shots with his exceptional passing skills. Shipp said he anticipates the Bruins will be much more guard-oriented, press a bit more and push the ball as much as possible this season. "The heartbreaker was the first year, making it to the championship game," Aboya said. "We get to the finish line but we haven't crossed it."